I have never driven a stick shift in my life, and now I'm facing a three-day rally-car program that ends in a multiterrain race. Through trees. And rocks. And debris. I know absolutely nothing about cars, racing, or motor sports in general, but when my buddy, Street Bike Tommy, asked me if I wanted to participate in a DirtFish rally school, I said "yes."
Logan Stark, Tim Montana (one of our favorite, most deranged friends), and I are meeting Tommy in Snoqualmie, Washington, to thrash around in the Pacific Northwest. After going through airport security, en route to Washington, I turn to Logan and ask, "So this is like NASCAR, right? We're on some track, driving around in circles?"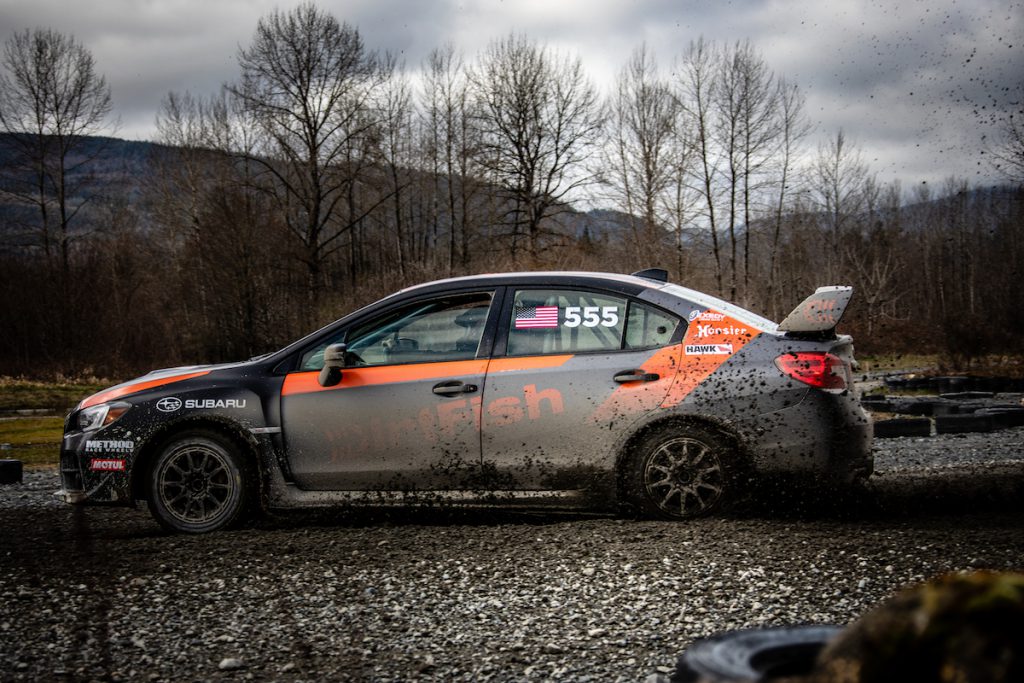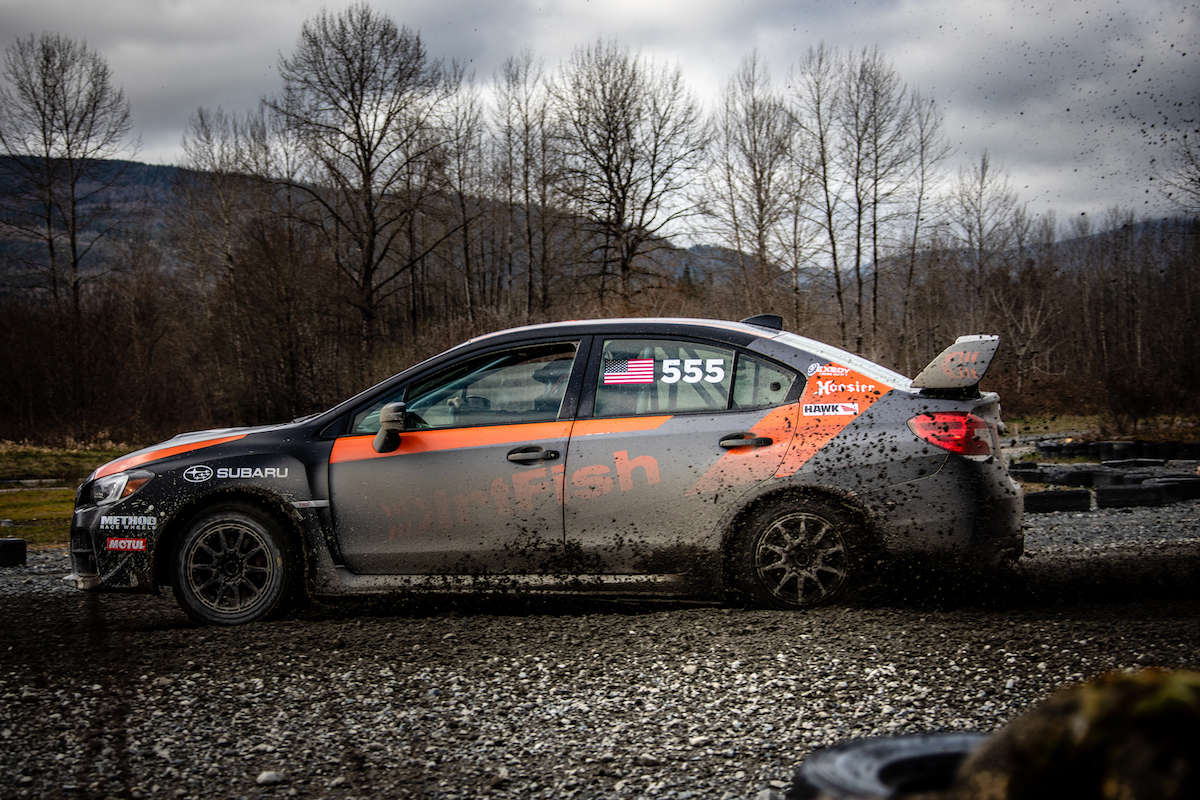 He turns to face me, eyes wide.
"WHAT? No. Have you ever driven a manual car?"
"Eh, no? What does that have to do with anything?"
"Oh, dear God," he says.
Apparently, everyone besides me knows that these rally cars are not automatic, and as Logan explains the basics of rally racing, I realize that I'm totally fucked. Not only am I going to be learning how to speed through a muddy obstacle course, but I'm going to be doing it while relearning how to drive.
I'm not sweating. You're sweating.
It's clear from Day One at rally school that my classmates are much more experienced than I am when it comes to anything with a motor. Directly to my left sits Mia Chapman, a seven-time off-road racing champion, whom Redbull had snatched up. In front of her sits Leah Bauer, a USXC snowmobile and vintage road racer, not to mention an all-around badass. The rest of the room consists of people already well versed in the mechanics of a manual car: Street Bike Tommy, who obviously has some experience from Nitro Circus and Pastranaland, Tim Montana, who tackles everything he does with the enthusiasm of a crack-addled squirrel, and Logan Stark, who is immediately good at anything new he sets his mind to doing. I have decided that my main goal of the weekend is to not piss my pants.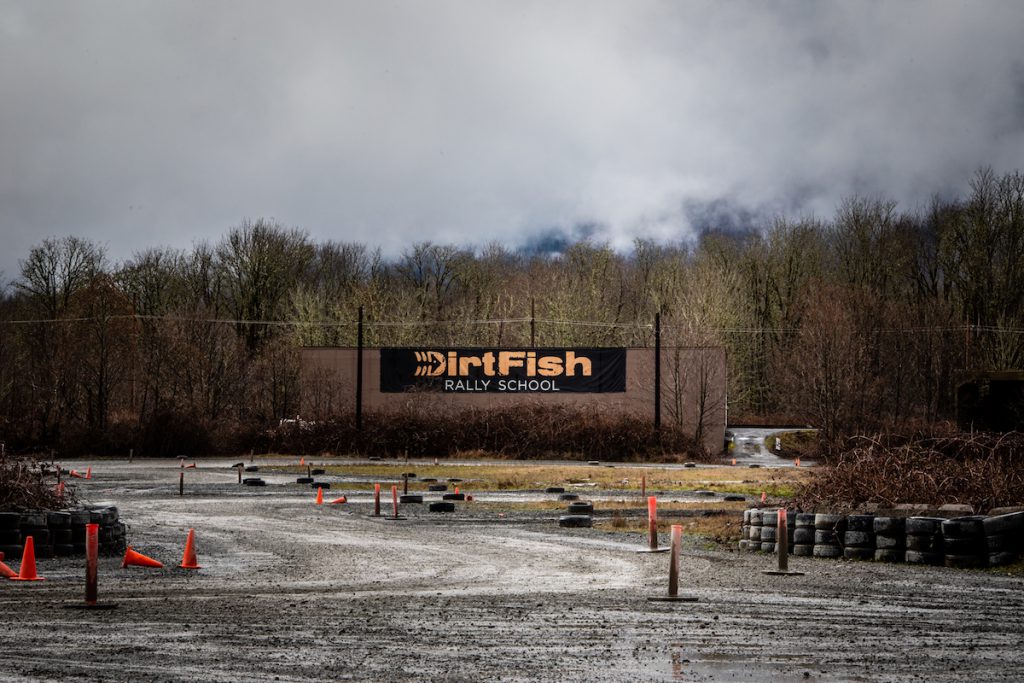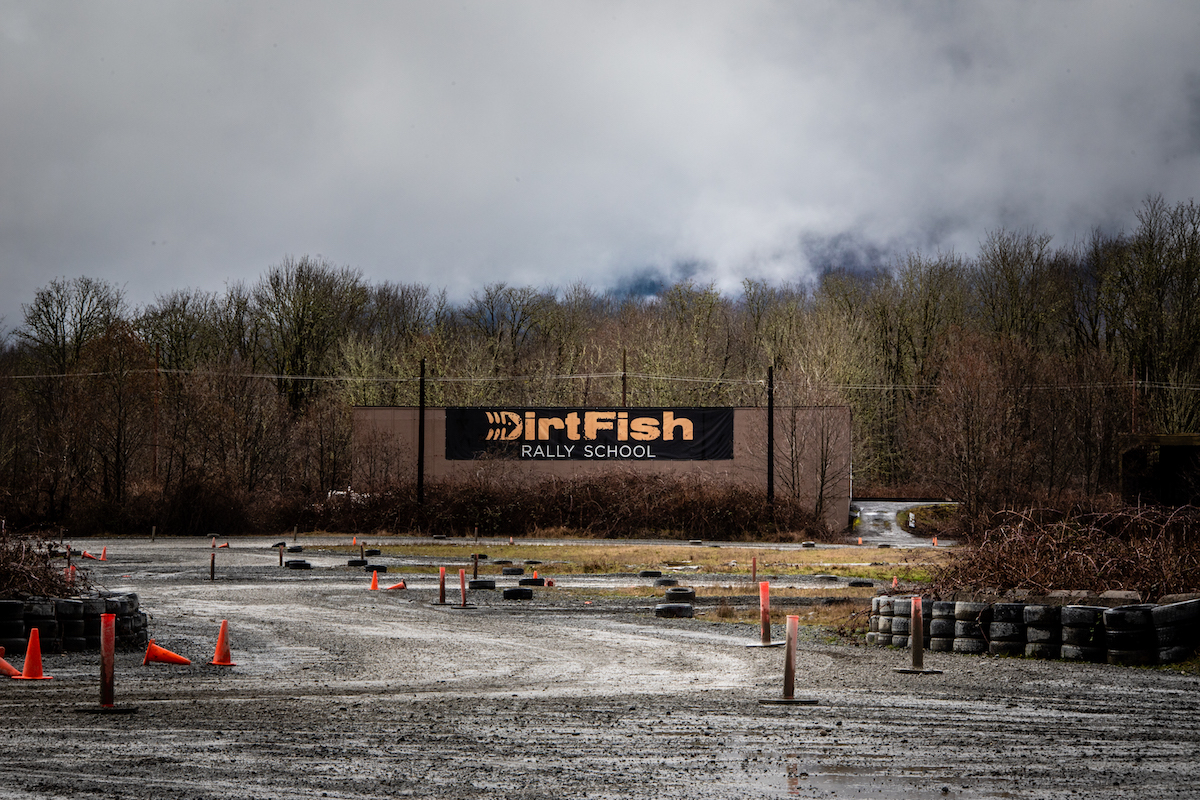 As we take our seats in the classroom, our instructor gives us a bit more information about the company and the program we are about to complete. We learn that DirtFish is the most prestigious rally school in all of North America, teaching car control, confidence, and safety behind the wheel through advanced driving techniques built from the roots of rally. The particular cars that we will be driving are 300-horsepower, all-wheel-drive Subaru Impreza STIs. This information means nothing to me; our instructor might as well be speaking a foreign language. What does strike a chord is the origin of the "DirtFish" name. Allegedly, the cars look like fish whipping around through the dirt from an aerial view, like little car-fish flipping about in dirty water.
Class officially begins, and we start with a few basic rally techniques, the first of which is "lift, turn, wait." For the vehicle to steer efficiently, weight must be transferred onto the tires responsible for turning the car. This is done by lifting off the throttle (the "gas" pedal, I learn), turning the wheel, and waiting for the inputs to take effect. Brakes also aid in turning a car. Lifting off the throttle, turning the wheel, and riding the brakes for the desired effect ("lift, turn, wait") works very well in slippery corners. The notion that we will be steering these cars with the pedals at our feet blows my mind. I may or may not be used to driving with my knee while I eat snacks in my fancy 2012 Ford Escape.
It's finally time to make our way down to the first muddy course and apply these lessons to actual driving. I find my instructor, Michelle, waiting for me by my car, the Subaru marked No. 71.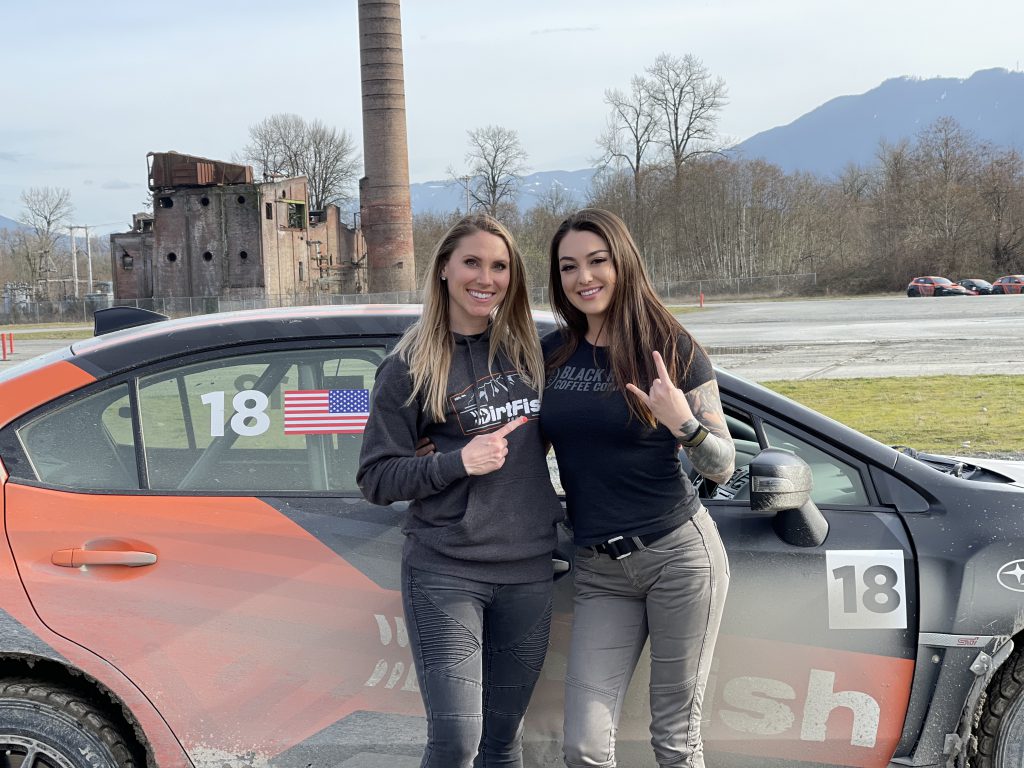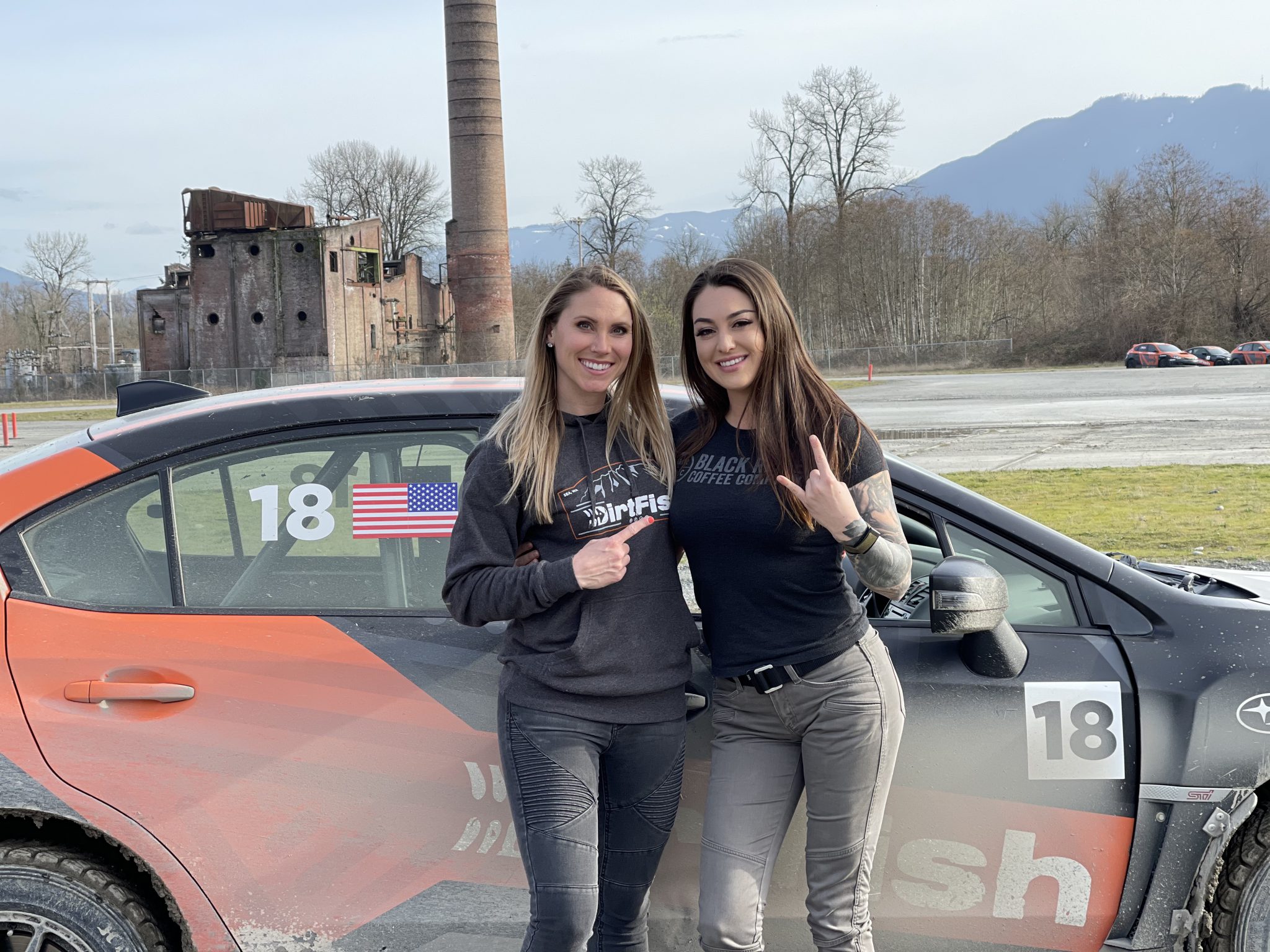 "Hey, I'm Heather. I've never done this before. I mean, I don't even know how to start this thing."
Michelle smiles and reassures me that all kinds of people come through the program with varying degrees of experience, and many of them are beginners as well. Since she seems confident in my ability to pick this up, I decide to do my best to not send us both to our deaths. It would be a shame to fly straight through the rather ominous-looking barn that stands a mere few yards away; my friends and co-workers would have so many laughs at my funeral. After a quick demo, she helps me gear up and shows me how to strap myself into the driver's seat of the modified car. There's a speaker system and microphone worked into my helmet, several pedals at my feet, and a gear shifter to my right side. I feel like I'm in a rocket ship, about to fly this thing into space. Michelle instructs me to hold my left foot down on the clutch (leftmost pedal) and start the car by turning the key. With my left foot remaining on the clutch, I shift into first gear and give the car some throttle (rightmost pedal) with my right foot. My left foot has to leave the clutch while the right foot gives it just enough throttle to make the vehicle move forward and not shit out and die immediately. I feel the car lurch ahead, and she cheers next to me.
"You didn't stall it on your first try! So awesome!"
I feel a tiny glimmer of success peek through the knot of anxiety in the pit of my stomach. As Michelle guides me through a few laps around a circle of cones, the switching between pedals and gears becomes like a chaotic, coordinated dance. After our first exercise, I am fueled with shaky confidence that I am determined to build. After a long day of sweat and dirt, we are all exhausted. The mental strain it takes to make these cars glide through the mud and gravel is beyond what we imagined. Nothing a few cold beers won't fix.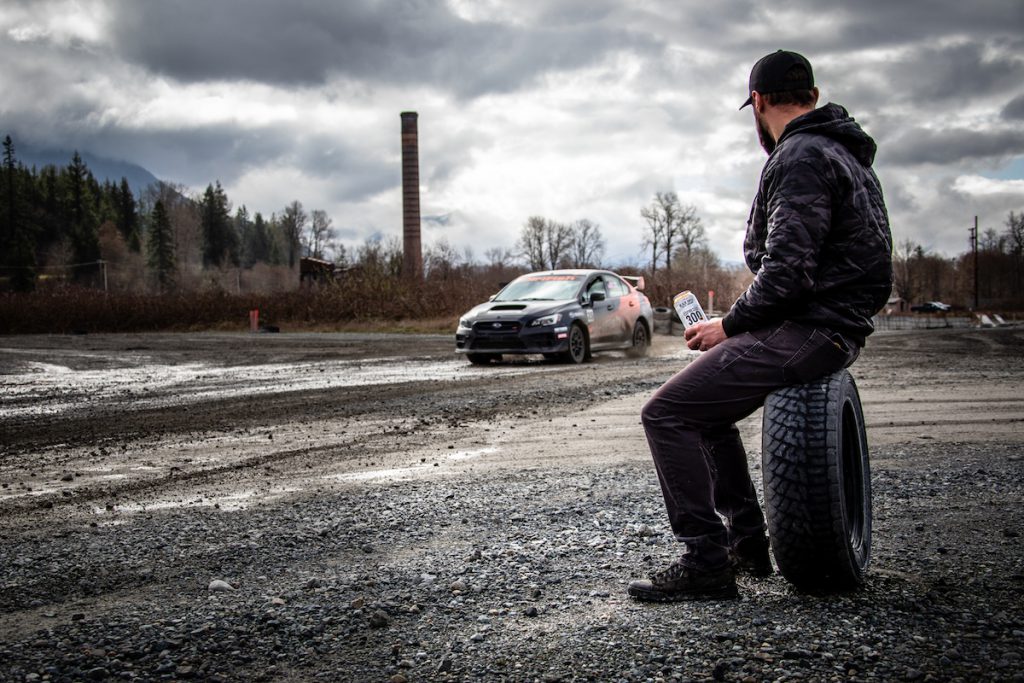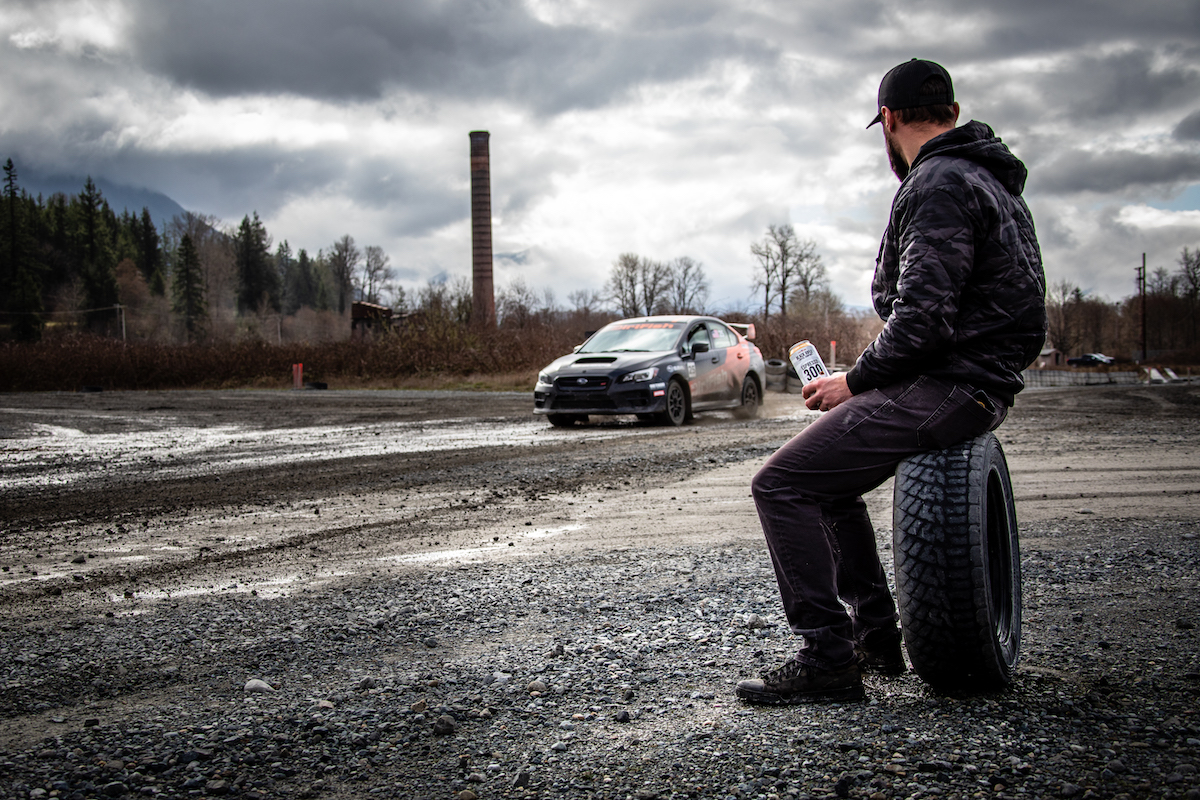 Day Two kicks off with renewed energy and a thirst to learn. And, of course, some friendly shit-talking. Tommy and Tim are arguing over who can drive the fastest, and Logan throws gas on the fire by mentioning monetary bets. Meanwhile, I'm just happy to be starting Day Two without any casualties. We begin the first exercise by practicing pendulum turns. These are turns that occur when you are on the "wrong" side of the road, and you must glide the car around a curve. We are told to ride the brakes, countersteer to control the slide, visually establish the late apex line, release the brakes to rotate the car, and unwind the steering wheel as the vehicle spins at the exit. Easy, right? Sink or swim, little dirt fish.
After another quick demo, I am strapped into the driver's seat of car No. 555, with my new instructor Mitch guiding me through each attempt. We hammer through the turn again and again and again until everyone finally grasps it. A quick debriefing and discussion put my mind at ease — even the seasoned professionals and trash-talkers in the course are having hiccups and struggles.
Next up is an extended course called "The Boneyard," a series of curves, turns, straightaways, and countless cones. Despite the ever-increasing difficulty, I somehow manage to keep up with the rest of the class, although I am still timid about going too fast. "The Wedge" is our final course of Day Two, which smashes all of our obstacles together into one giant, all-encompassing track that consists of gravel, mud, and tarmac. I wonder if I should be more concerned about this as I watch "Street Bike Tommy" drive head-on into a long row of stacked tires. Tim Montana adds this new material to his arsenal of shit talk, and I decide to give him the name "Tommy Ten Tires."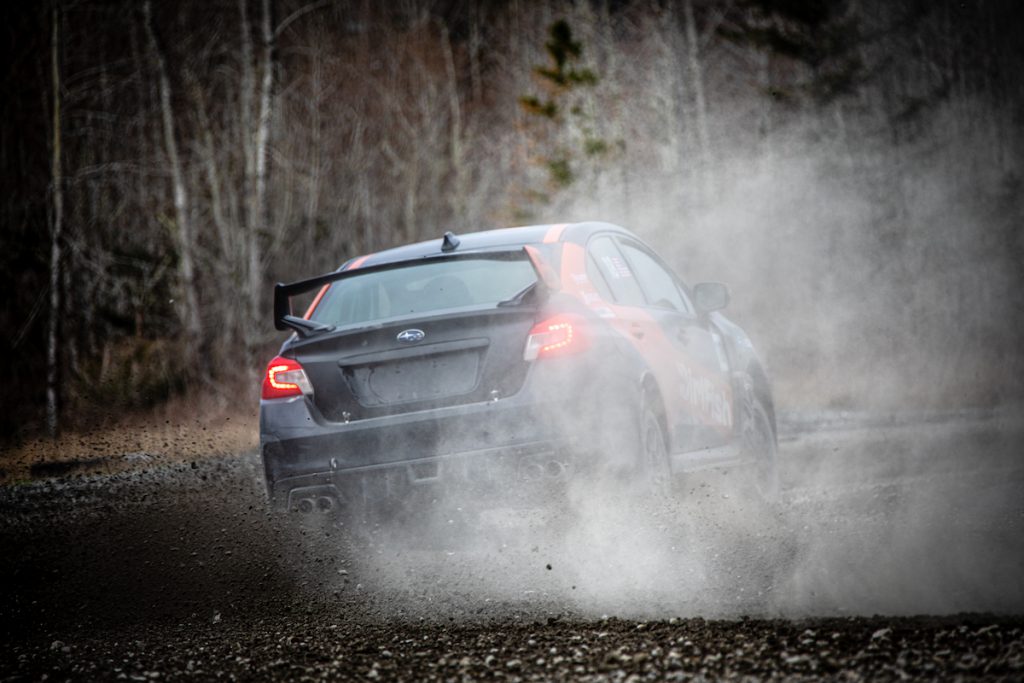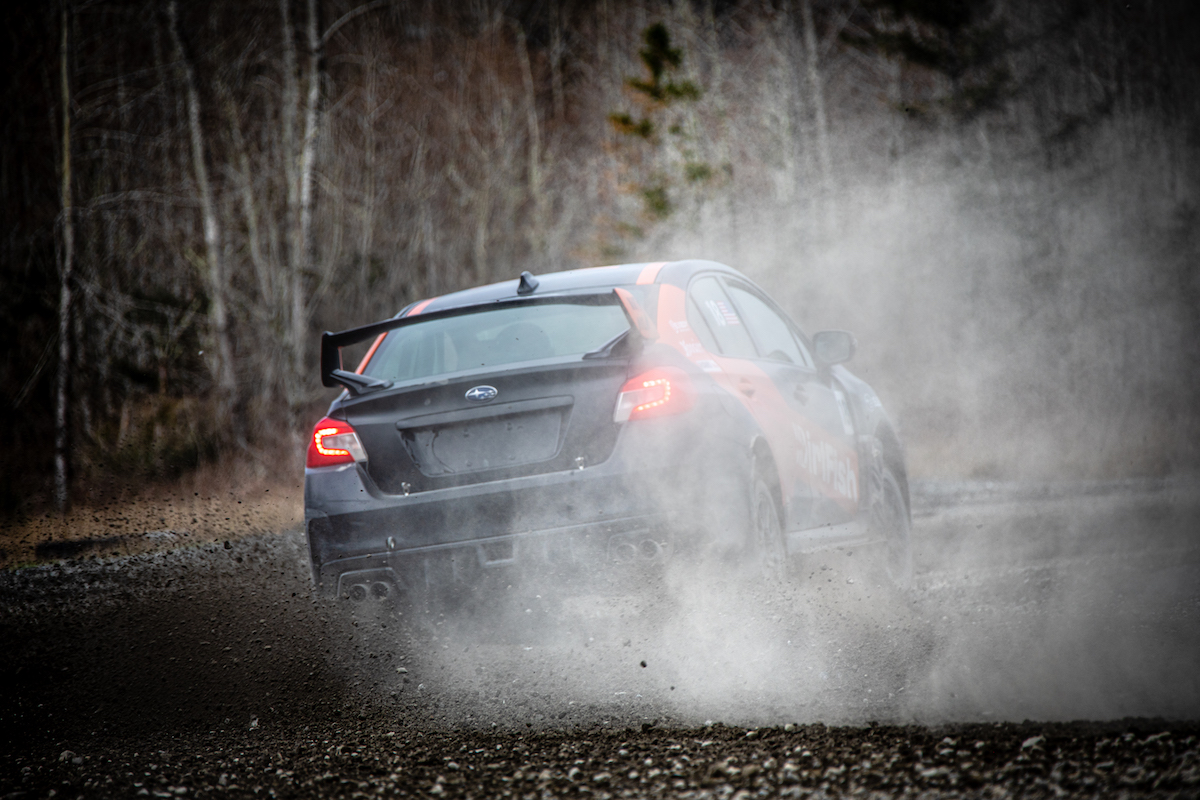 It's my turn for "The Wedge," and I have another new instructor, Nate, who seems as laid back a person as they come. As we climb into the rally car, I wonder out loud if I have all of my emergency contact information up to date. No matter. I gingerly ease off the clutch and apply some throttle. After a bumpy start, I begin to tear through the first half of the course. I am becoming increasingly relaxed as Nate relays instructions, and I slide across the tarmac toward the finish line. I wrap up my first lap with almost no mistakes. Hell yeah, brother!
On my second lap around, I take a tight turn a little too quickly and drift toward a set of four cones. I know even before it happens that I am taking all four of those motherfuckers out. And that's exactly what I do. I let out a series of expletives and death-grip the wheel while Nate swiftly talks me through correcting my mistake. After I get back on track, he howls with laughter and shrugs off my blunder as par for the course in the art of rally racing. The pressure dissipates as I remember we are all out here making mistakes to learn how to correct them before tackling more dangerous terrain. On my third lap around, I see a single, smashed cone lying in the middle of the track.
"Well, at least I'm not the only one out here hitting a bunch of cones."
"No," he says, "that was also you."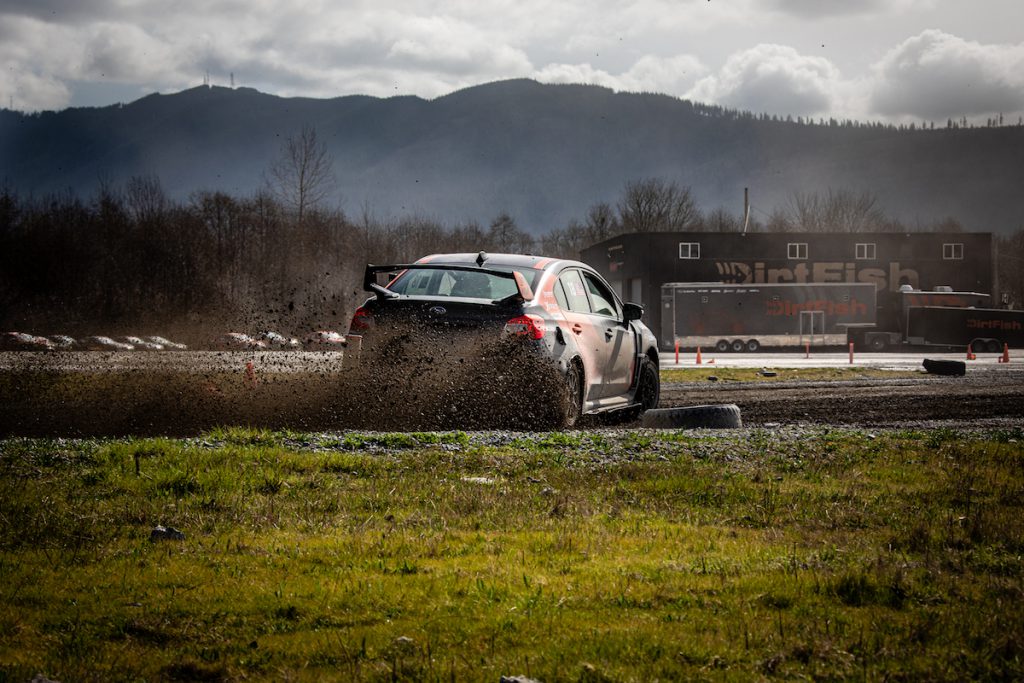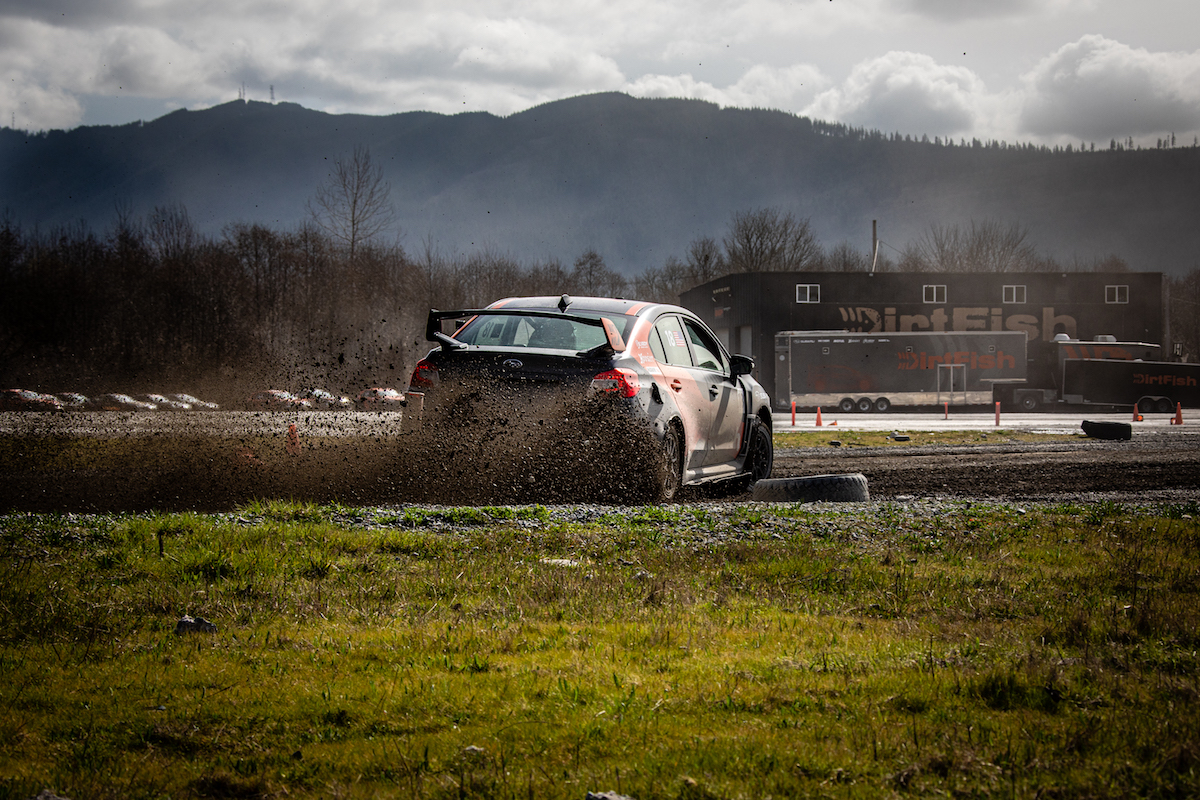 Apparently, when I Tokyo Drift-ed into the four cones on the last lap, I ended up dragging one of them underneath the car for a bit before it detached itself. We are now both hysterically laughing as I barrel through the finish line. Day Two is wrapped, and now it's time to rest and refuel for our last day.
Day Three begins with more warmups preparing for our final 2.5-mile course, complete with actual trees, boulders, and ditches. All of the instructors' constant insistence to "have fun" above all else keeps the morning lighthearted and exactly that — fun. Before we know it, it's finally time to apply our amateur skills to the actual rally-racing terrain. We know that technically this will be a timed race; however, we are all more eager to experience the culmination of all that we learned and demonstrate our newly acquired skills than we are to win a race.
I gear up and strap into the passenger seat of car No. 18 with Nate in the driver's seat. He takes me through the course, and we whip around the trail and through the trees with ease. The demonstration is over, and it's the student's turn to ride the lightning. What started as an intimidating experience has become something I must tackle with every fiber of my being. I change seats with Nate, and as I take the wheel, I have the sobering realization that the purpose of all of our training was to lead us to this exact moment.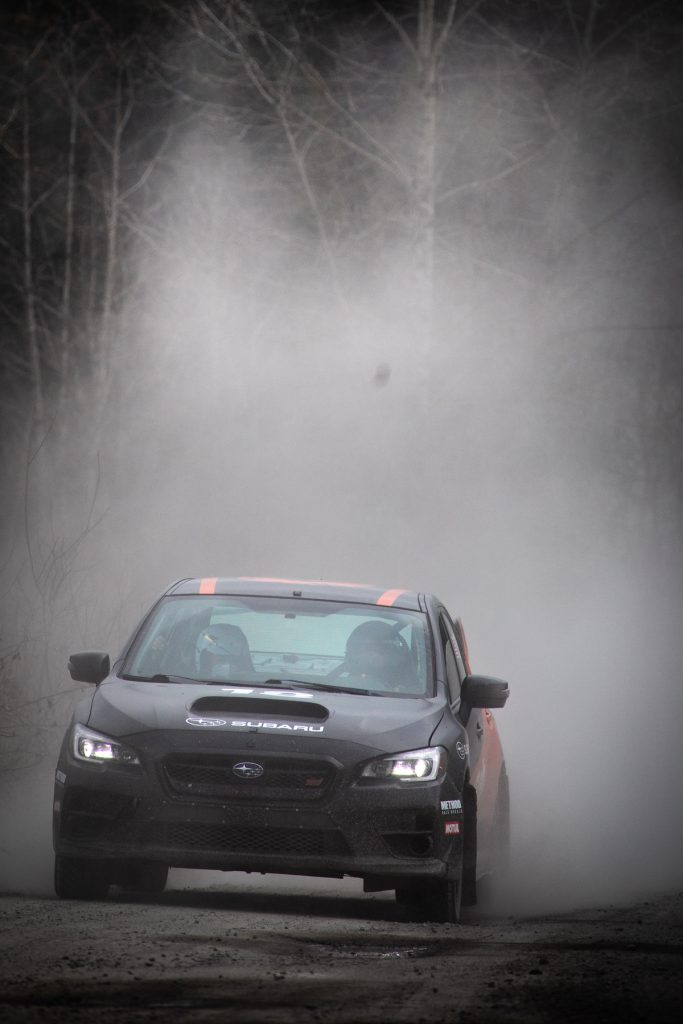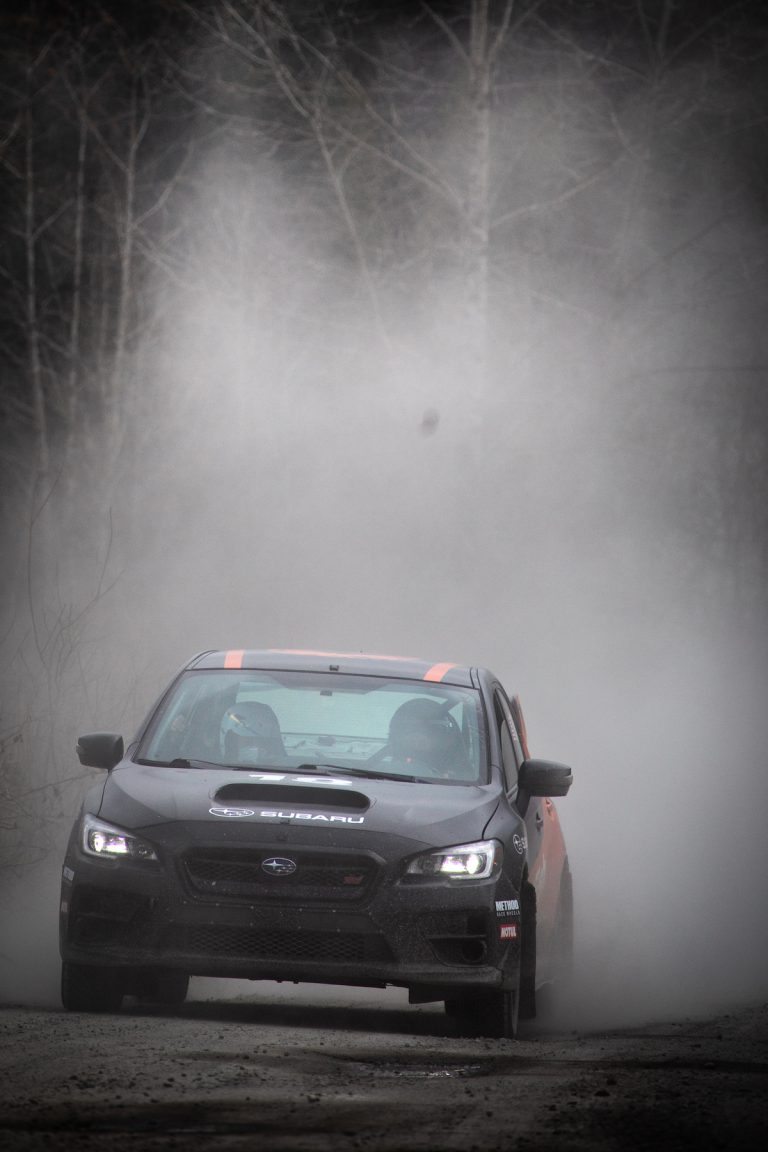 I put my foot to the throttle and propel us through the starting line and into the first half of the course, which consists of very unforgiving trees and hazards. I can feel my heart racing as the car picks up speed, and Nate feeds me instructions. I apprehensively take each corner and turn, making sure I don't send us both flying straight into a ditch. As I round the last part of vegetation, I am back at the familiar gravel and tarmac that I've practiced on for days. Weaving and sliding, I reach the end of the course and turn back around to run through it once more in the opposite direction. With my newly developed nerves of steel and Nate's interspersed instruction and laughter, I have completed the first of three rounds of the course. Let me tell you, the adrenaline rush is unlike anything I've ever experienced.
As I pull up to the starting line for a second round, Nate points to the car ahead of us through the trees and says, "LET'S GO CATCH THEM!" I happily oblige as I whip around the first of several turns with increasing speed, sending dirt and gravel flying behind us. Around the third turn, I see a stray cone in the middle of the trail; obviously, one of the cars in front of us had collided with it and flung it out of place.
"HIT THAT CONE! HIT IT!" Nate shouts.
"YEAH, FUCK THAT CONE!" I yell back.
Once again, we are howling with laughter.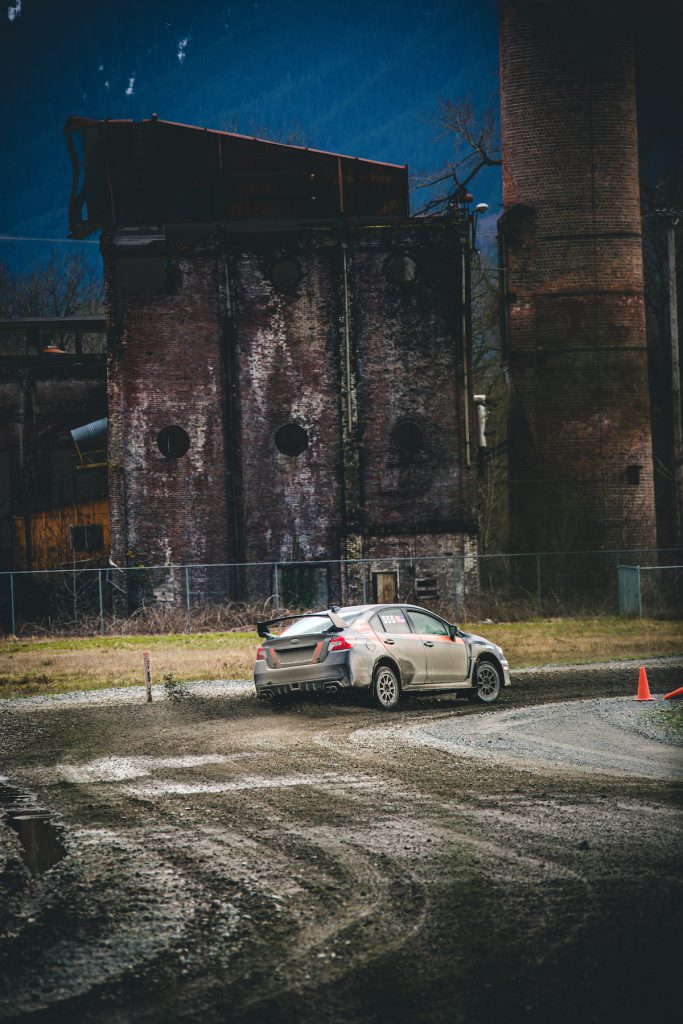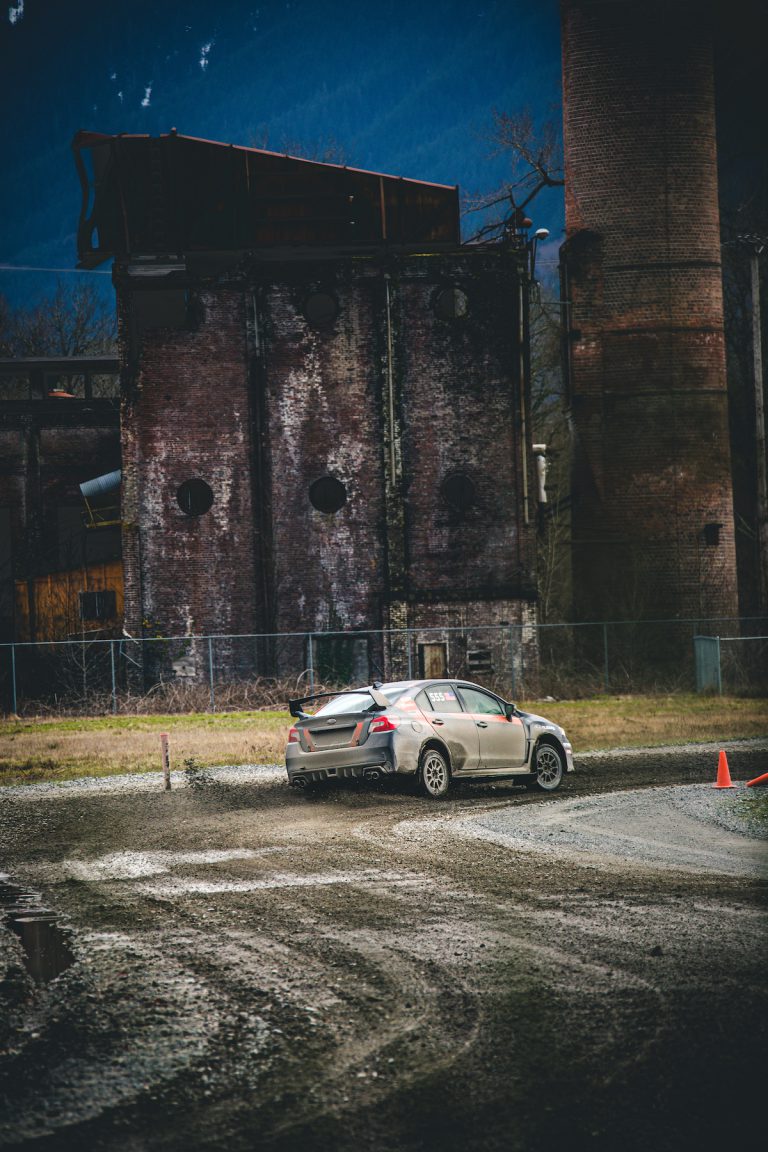 In three days, I'd gone from not knowing how to even start a car with a manual transmission to completing a difficult rally course that even experienced drivers struggle with at times. New friends were made, high-fives were had, celebratory beers were mandatory, and, of course, more shit talk was shared. (To this day, Tommy and Tim still have conflicting opinions about who owes whom money.)
All things considered, there is only one lingering question: When do we get to go back for round two?
Read Next: Smagical Thinking: The Life and (Near) Death of Phil Smage