Sized perfectly for subcompact and micro pistols
Compatible with RMS and RMSc mounts
Price: $200
Toughness is lacking
Bushnell is expanding its red dot lineup with two reflex sights for the subcompact and micro pistols that are gaining popularity as carry guns. The compact Bushnell RXC-200 and ultracompact RXU-200 use the common RMS and RMSc pattern found on popular personal defense pistols like the Glock 43, Smith & Wesson Shield, SIG P365, and Springfield Hellcat.
I took both to the range, zipped through a quick 100 rounds, and conducted a few practical application tests to get an idea of what makes these pistol red dots tick.
READ NEXT – Why People Love or Hate the 1911 Pistol
---
Setting Up the Quick Test: Bushnell RXC-200 and RXU-200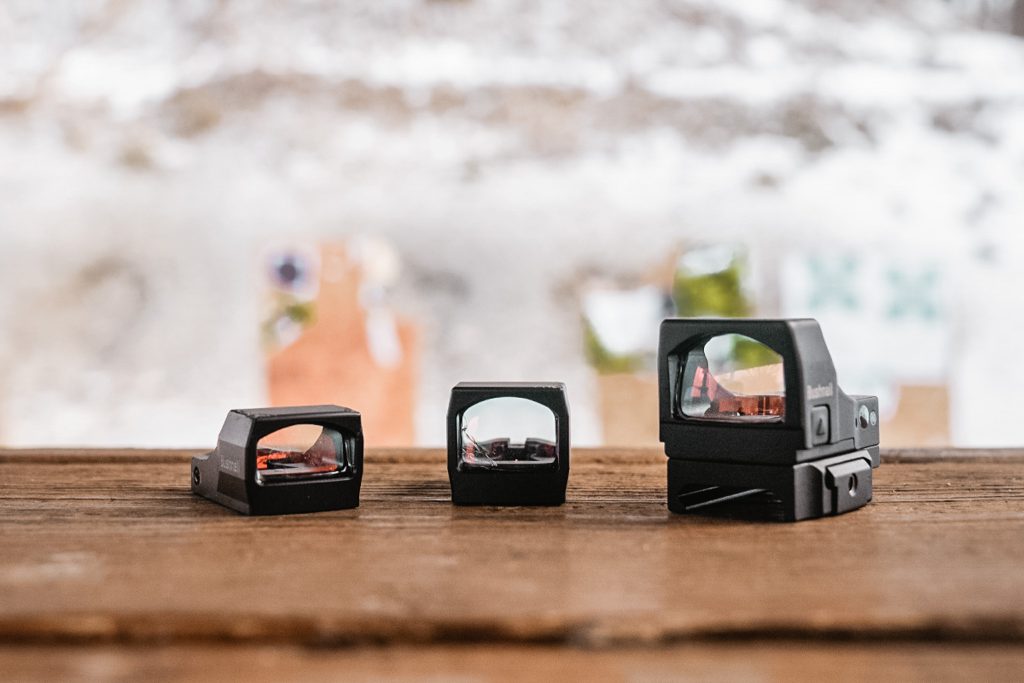 The test mule for the day was the Springfield Armory Hellcat Pro. If there's any pistol that will make a micro-compact red dot look like a bloated rifle optic, this is it because the Hellcat Pro shares the original Hellcat's svelt 1-inch slide width. That's great for carrying concealed, as long as your optic doesn't hang off the sides and get snagged on everything it touches. The 15-round magazine gave me plenty of chances to see if the RXC-200 and RXU-200 could keep me on target between shots.
Those shots came in the form of Remington UMC target-load 9mm ammunition. It doesn't generate as much recoil as high-pressure defensive ammunition, but it's comparable to what most people shoot regularly. Besides, I had other ideas for testing these optics' durability. The pistol and ammunition ran without missing a beat.
---
ZEROING AND ADJUSTMENTS
Zeroing these optics was simple and straightforward, thanks in part to the Torx driver that Bushnell provides with each optic. It did involve some guesswork, though, because the adjustment screws don't provide any kind of tactile, visual, or audible feedback that indicates how far you've turned them.
I found myself estimating quarter-turn and eighth-turn adjustments to get on target. This is presumably a cost-saving measure and, at the distances most people will zero and use a pistol this small, not a dealbreaker.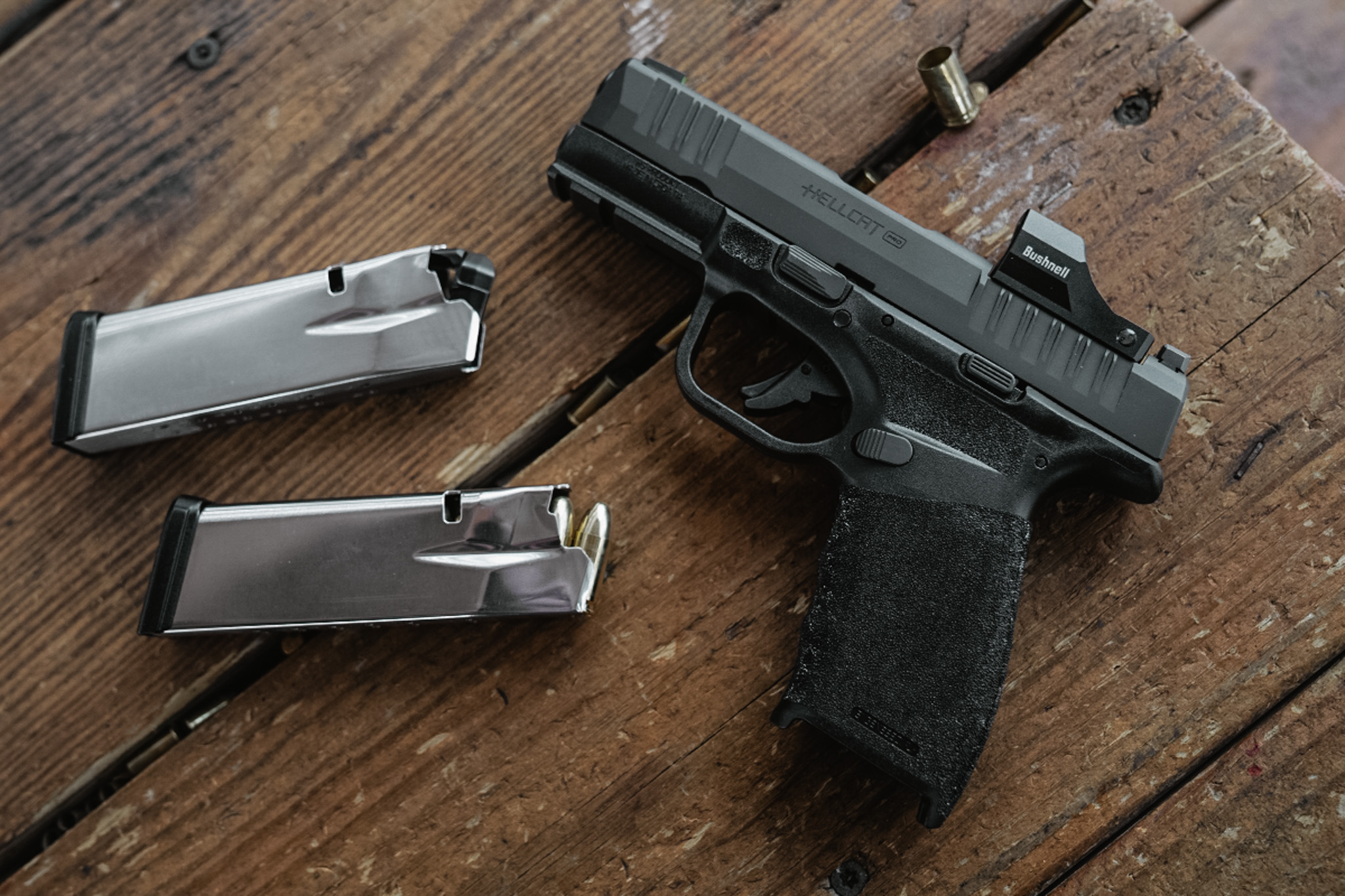 Bushnell's LED is crisp and bright, and it adjusts brightness automatically depending on the amount of ambient light. I found the transition time to be extremely quick, so moving from light to dark or vice versa while looking through the optic is about as seamless as I can hope for.
Some shooters — particularly those with more time behind a red dot — prefer manual adjustments. That's fine, but newcomers might appreciate having the guesswork done for them. This approach may not be ideal for everyone every time, but it's always close enough to get the job done.
---
ALWAYS ON AND 50,000 HOURS OF BATTERY LIFE
Another user-friendly feature is the always-on function of the easy-to-acquire 6-MOA dot. There is no power button and no shaking the optic awake. These optics are always on and queued up to the appropriate brightness.
Still, Bushnell estimates that users can expect up to 50,000 hours of battery life. That means you would change batteries every five years. When the time comes, you will have to remove the optic to access the CR2032 battery underneath.
GOOD GEAR – Show Your BRCC Pride With A Surf And Destroy Mug
---
MOUNTING THE RED DOT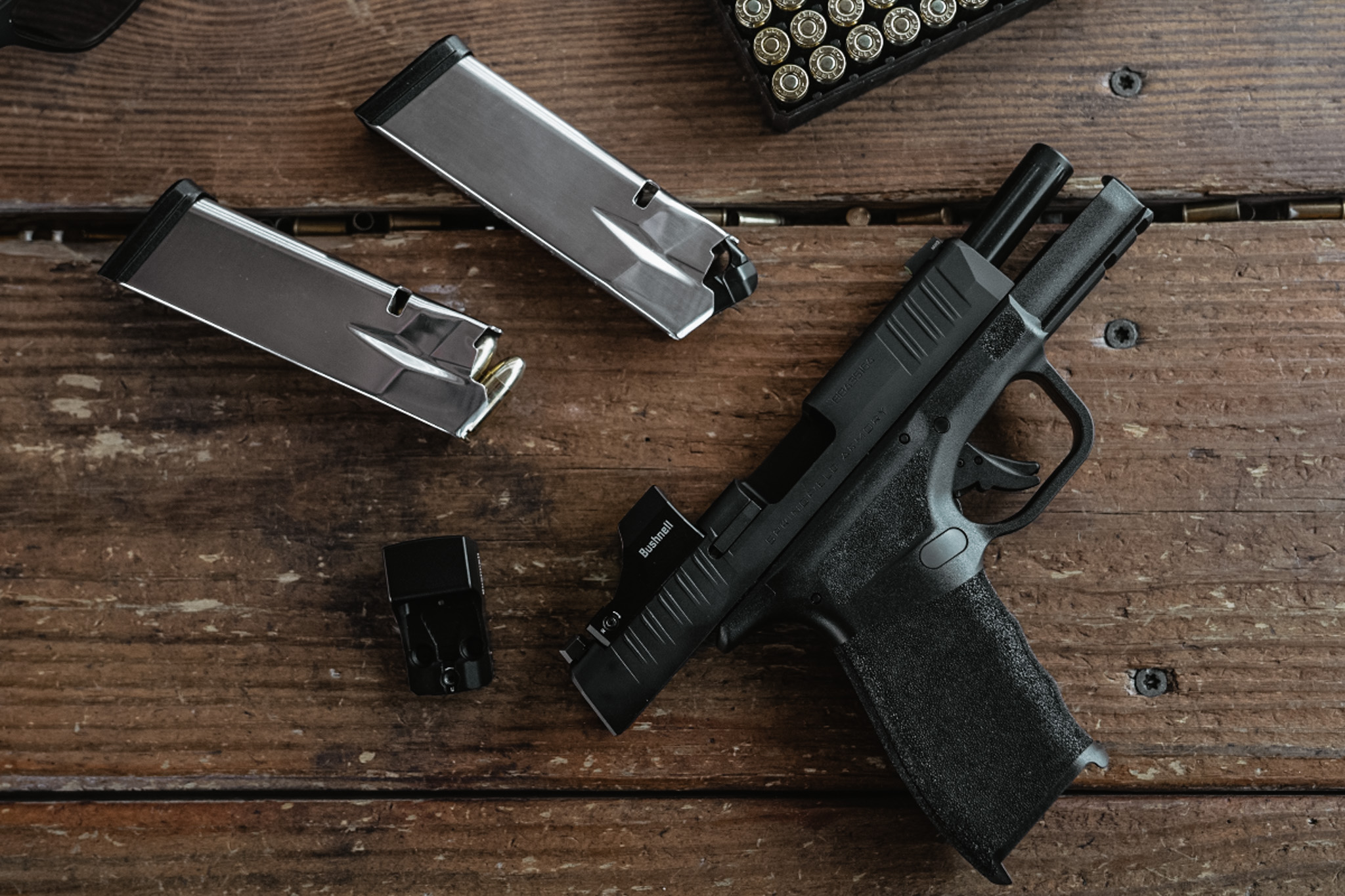 The RXC-200 is a mere four millimeters taller than the RXU-200 and the two have the same width, but the RXC-200 provided more of a speed advantage than I expected. If minimizing size is your priority, though, the RXU-200 is hard to beat.
At 11mm tall, it seemed to hug the Hellcat Pro's sights on the range and blend into the top of the slide when not in use. It's possible to be proficient with either size as long as you invest in quality training.
Snappy 9mm recoil was no issue for either optic. I also racked the slide with the optic every time during this test — sometimes using my hand, sometimes using the bench. That includes extensive dry-firing prior to loading live rounds. After establishing a zero, both optics held firm under this kind of treatment.
READ NEXT – How to Comply With the New Pistol Brace Rule, According to the ATF
---
Torture Test Fail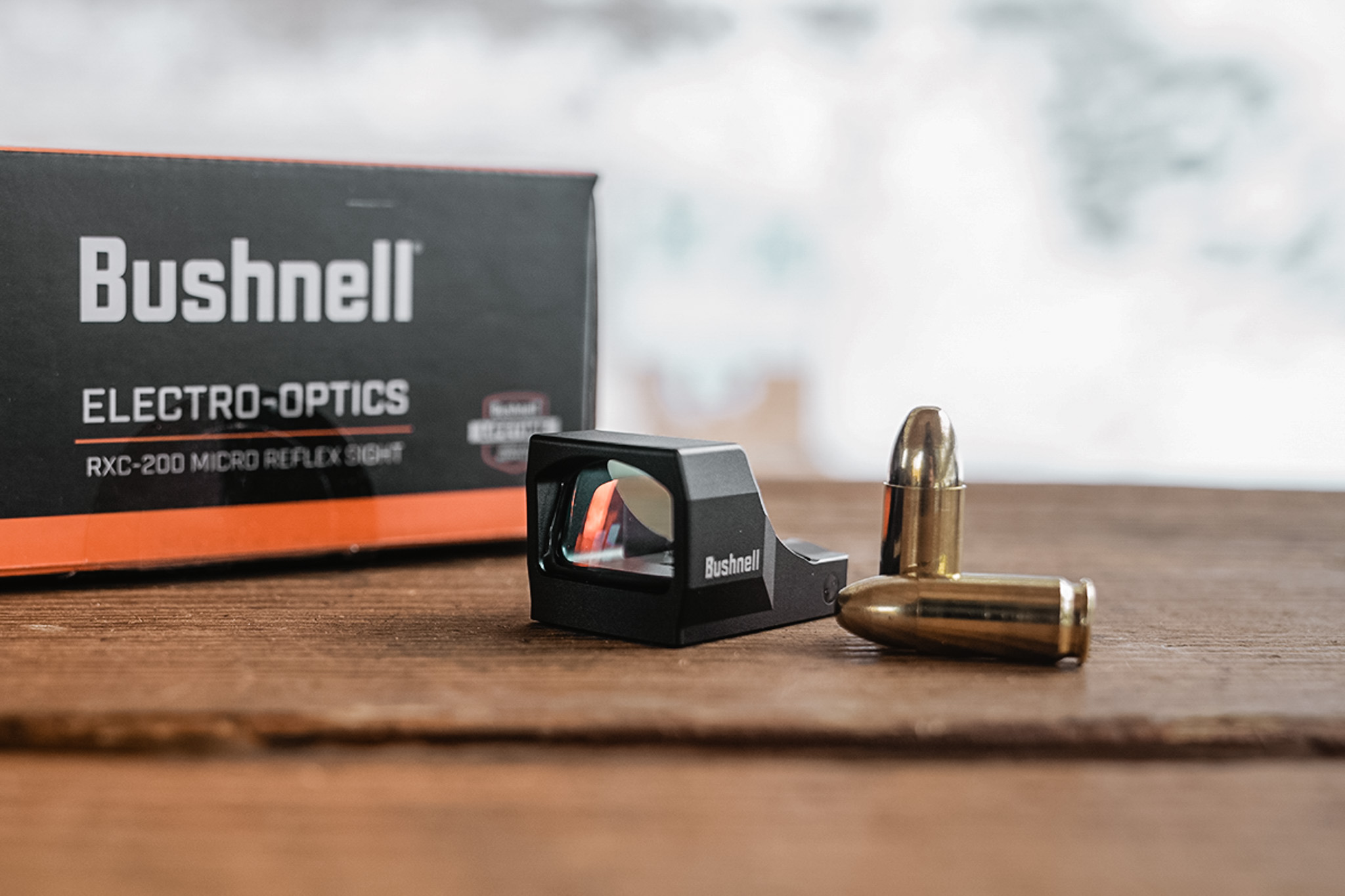 Torture testing was where both the RXC-200 and RXU-200 met their match. According to Bushnell, the optics meet MIL-STD-810 testing standards for impacts and IPX7 standards for water and debris ingress. While I didn't have any problems with water, fogging, or debris, both lenses cracked when I dropped the pistol on concrete from waist height.
The RXU-200 exhibited a small amount of zero-shift, but I was able to make an adjustment to my point of aim after the first three-shot group and get back on track. The RXC-200's dot, on the other hand, experienced so much movement that I had to resort to using iron sights for the next string of fire.
What does all this mean for the budget Bushnell RXC-200 and RXU-200? It's complicated. Some of you are already writing them off completely because they failed my drop test. I get that, and there are much tougher pistol red dots out there if you have more money to spend. But the fact remains, these are $200 red dots that work damn well on the gun.
Some of you are pointing out that refraining from dropping your pistol optic-first on cement is an easy way to stay out of trouble. After all, every optic that uses glass will shatter if you abuse it enough; that's why we use backup irons sights.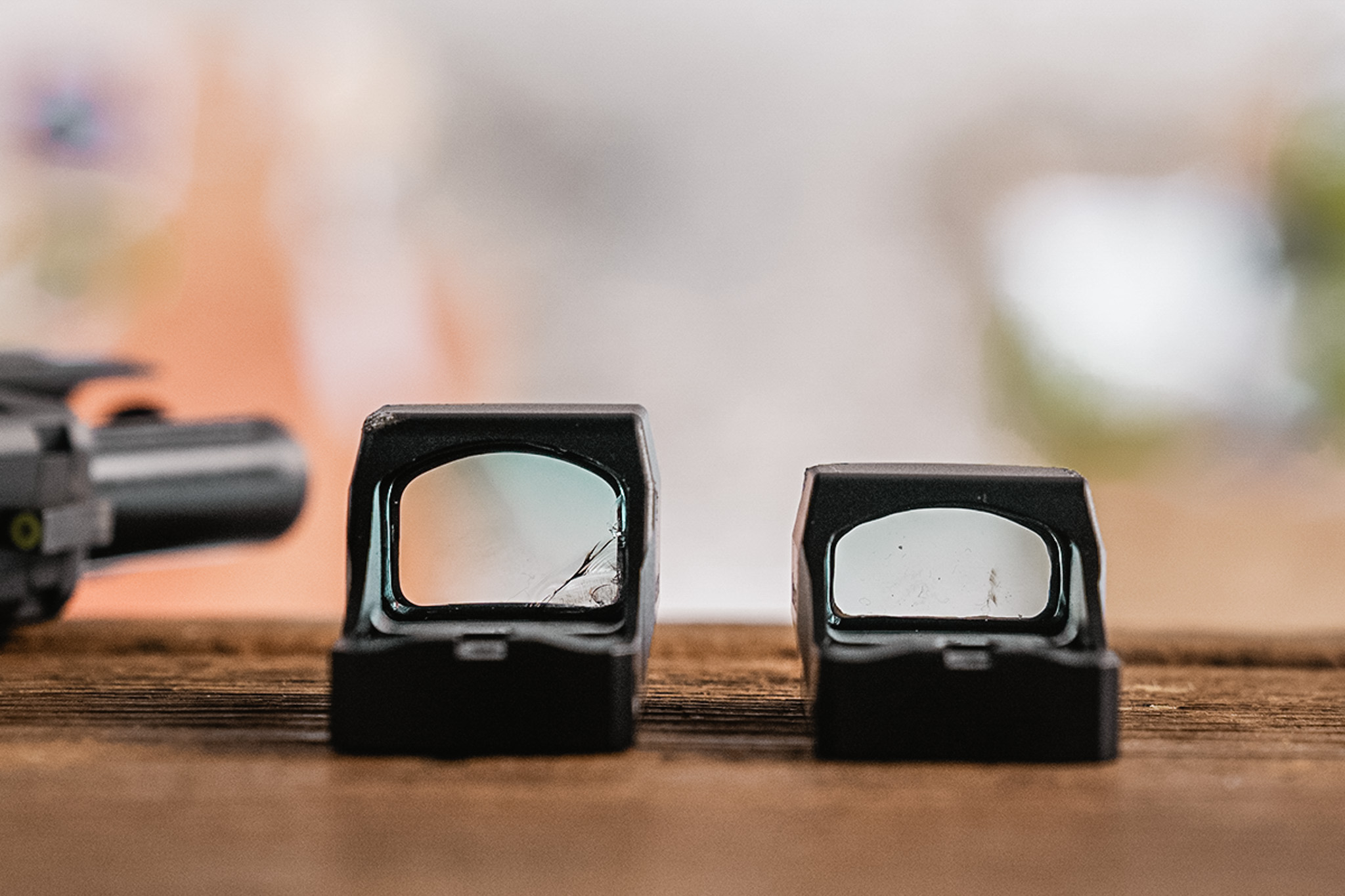 GOOD GEAR – Do It in the Kitchen With BRCC's Fellow Ode Gen 2 Grinder
---
Whether these optics will work for you depends on how you plan to use them. I wouldn't take one into combat, but either would work fine on a nightstand gun.
Check with a few holster manufacturers, but finding a compatible holster is more about the pistol than the specific optic. Usually, you'll have the option to check a box for holsters with or without an optic.
If you're on the fence (or a budget), a Bushnell RX micro red-dot sight might help you decide if you're a red-dot person or an iron-sight person. The size of these optics is genuinely commendable, the included hardware makes installing them a breeze, and they are very user-friendly if you take care of them.
Forget about fiddling around for brightness buttons through your shirt. Don't lose sleep wondering if your optic really will shake awake when you need it. Mount one of these and call it good — just watch out for those pesky sidewalks.
---
Bushnell RXC-200 Specs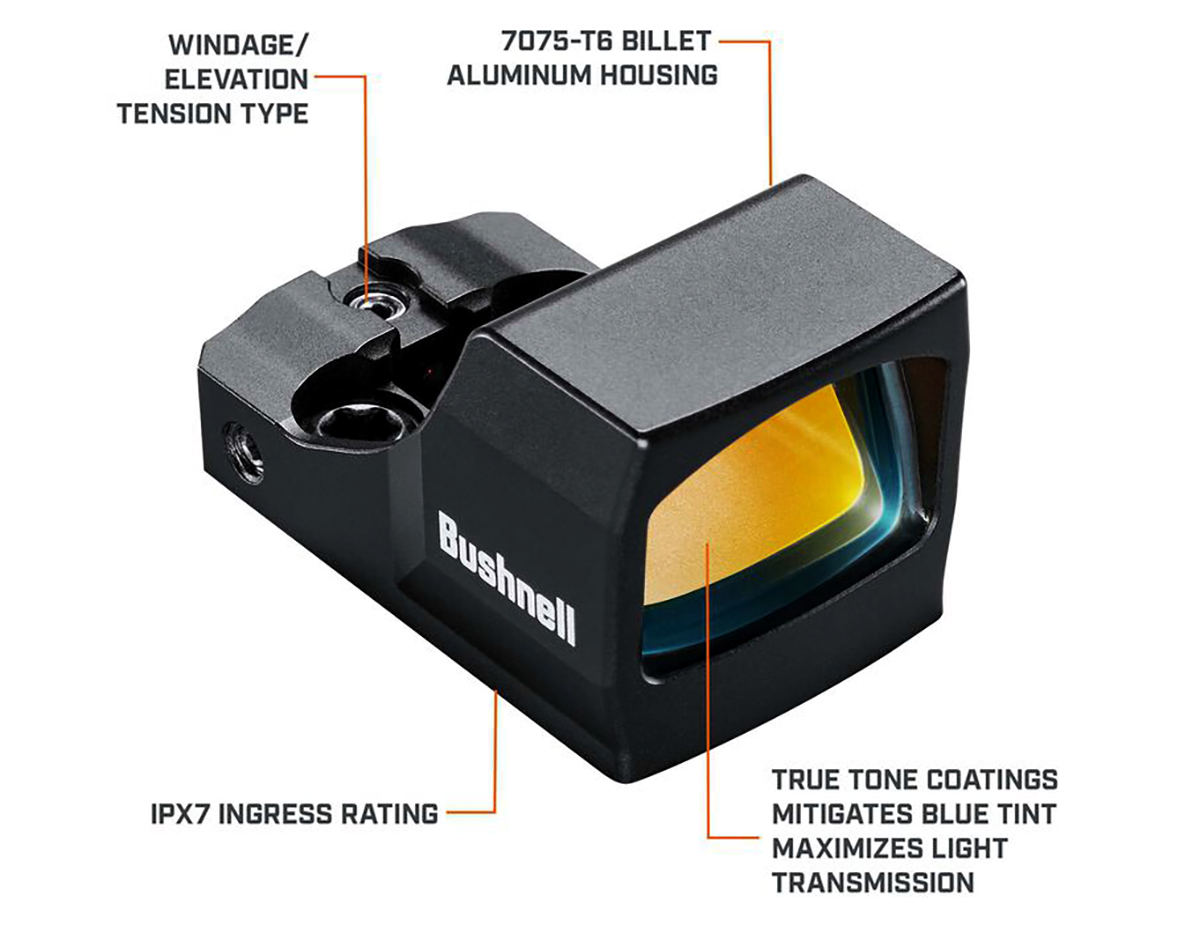 Footprint: RMS, RMSc
Battery: CR2032
Height: 15 millimeters
Dot size: 6 MOA
Minimum parallax distance: 25 yards
Price: $200
---
Bushnell RXU-200 Specs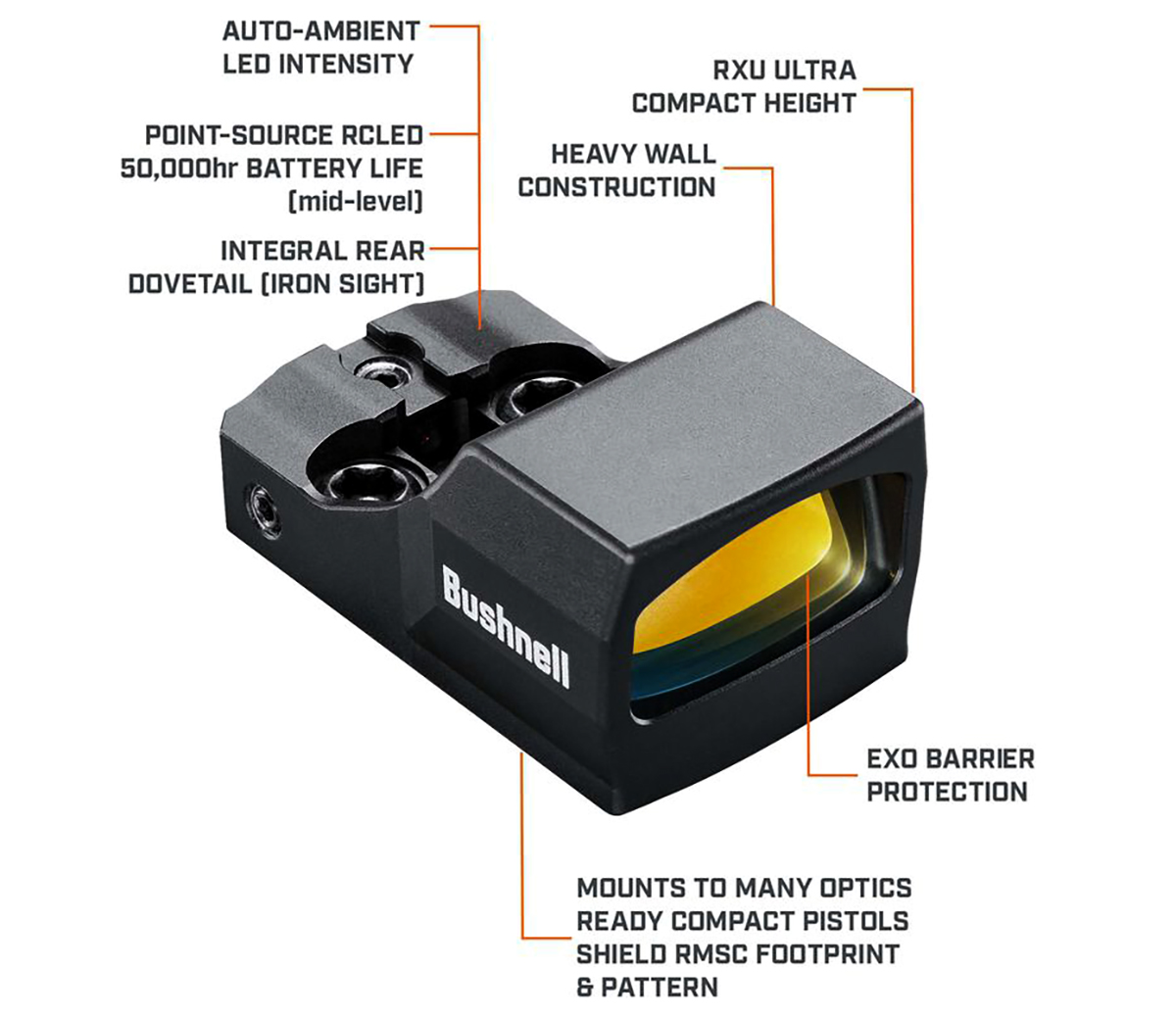 Footprint: RMS, RMSc
Battery: CR2032
Height: 11 millimeters
Dot size: 6 MOA
Minimum parallax distance: 25 yards
Price: $200
---
READ NEXT – Appellate Court Upholds Block on Illinois Assault Weapons Ban