If you want to kick ass off the beaten path, your rig needs to have the correct off-road tire pressure for optimal traction, handling, and wear. Determining the proper tire pressure depends on the terrain you're driving on and the weight of your rig.
You might ask, "Why does tire pressure matter?" It matters because it will ensure that you are successful in your adventure and that you complete it comfortably. Tire pressure will change depending on what terrain you are traveling on. Softer terrain will require a lower pressure; harder terrain a higher pressure.
You have probably heard the term airing down, which means to decrease the air in your tires. When traveling on soft or rough terrain, reducing the tire pressure can help dampen the obstacles you face on the trails, improve your ride quality, and, most importantly, increase traction. Deflating your tires allows more rubber to contact the terrain, which increases the tire's surface area. For example, traveling in sand or dunes means you'll run at your lowest pounds per square inch (psi) possible because of the soft and changing terrain. You want to be able to grab onto as much surface area as you can to gain traction.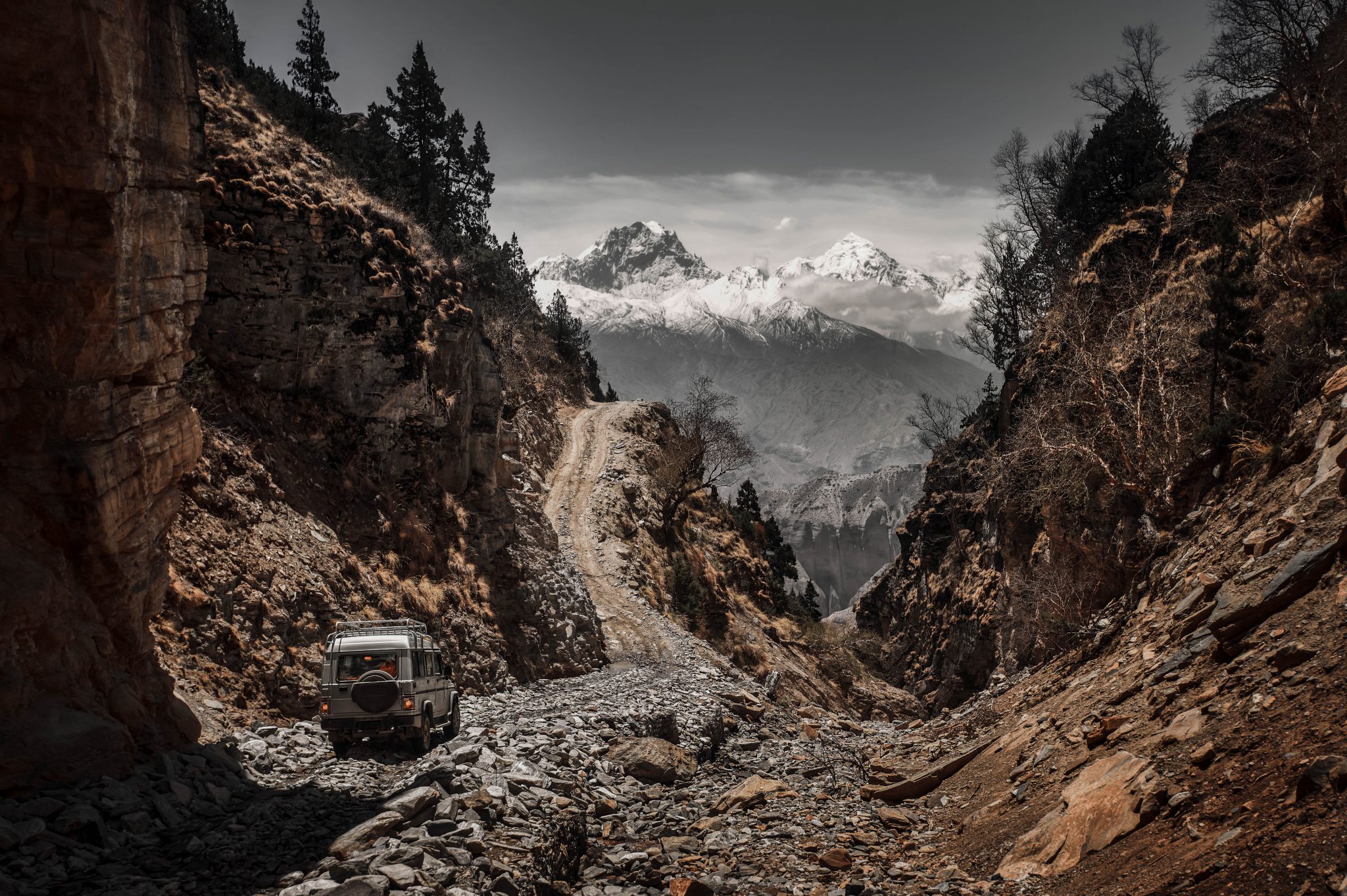 RELATED – Backcountry Flyers: 6 Classic Bush Planes That Get us Out There
There are some disadvantages to airing down your tires. If your tire pressure is too soft, a tire could potentially lose its bead, or you could even have a complete blowout. Your wheel size is going to help determine what pressure you can run. A general rule of thumb is the more rubber you have, the lower the pressure you're able to run. One of the goals of your Overlanding adventures is to complete your travel without damaging your rig. A ding here or there adds some character, but having a blowout 20 miles away from town is not fun for anyone.
When changing the tire pressure, you also must be mindful of your speed. For example, if you run highway speeds with a psi that's set up for climbing rocks, your tires will wear irregularly, which can cause irreparable damage. Always air back up after you're done on the trails and heading back to the pavement. When traveling slow on trails or climbing over rocks, you can run lower pressure than moderate speeds on trails. Another general rule is: The slower you go, the lower the pressure you can run.
Another consideration is the weight of your rig. That is the dry weight of your vehicle, plus the gear and supplies you have with you. You're going to need higher pressure to carry more weight. The weight is also going to determine your speed. A lightweight vehicle is going to be able to go faster at a lower pressure than a heavy vehicle. As stated before, it is important to make sure you're traveling safely. You should have a general idea of how much your vehicle weighs and how much your payload weighs. This will set you up for success when choosing the correct off-road tire pressure.
Tire Pressure Based on Weight and Terrain
| | | | | |
| --- | --- | --- | --- | --- |
| Terrain: | < 2,000 lbs. | 2,000 – 4,000 lbs. | 4,000 – 6,000 lbs. | 6,000 < lbs. |
| Temperate Forest | 13 psi | 26 psi | 29 psi | 35 psi |
| High Desert | 13 psi | 26 psi | 29 psi | 35 psi |
| Sand/Dunes | 5 psi | 15 psi | 18 psi | 24 psi |
| Rock | 7 psi | 18 psi | 25 psi | 30 psi |
| Pavement | 20 psi | 36 psi | 40 psi | 60 psi |
* These tire pressures are just suggestions; your psi may vary depending on your rig and the speed you're traveling. Please do your own additional research before hitting the trails.
---
Common Vehicle Weight Based on Factory Specs
| | | | |
| --- | --- | --- | --- |
| < 2,000 lbs. | 2,000 – 4,000 lbs. | 4,000 – 6,000 lbs. | 6,000 < lbs. |
| Polaris RZR | Ford Ranger | Ford F150 | Dodge Ram 2500 |
| Sand Rail | Jeep Wrangler | Chevrolet Colorado | Ford F250 |
| Polaris Ranger | Subaru Outback | Toyota Tacoma | Mercedes Sprinter Van |
| | Mini Cooper | Toyota 4Runner | Unimog/Military Vehicles |
| | 1984 Porsche 911 | Toyota Tundra | School Buses |
---
RELATED – Going Solo: Preparing to Face the Backcountry Alone
If you follow these rough guidelines, you'll have a victorious trip and be able to return to the trails for your next adventure. Be sure that you know what terrain you'll be traveling on so you know the amount of traction that is needed. Be mindful of your speed when deflating the tires and calculate the total weight of your rig with cargo, so you don't damage your tires.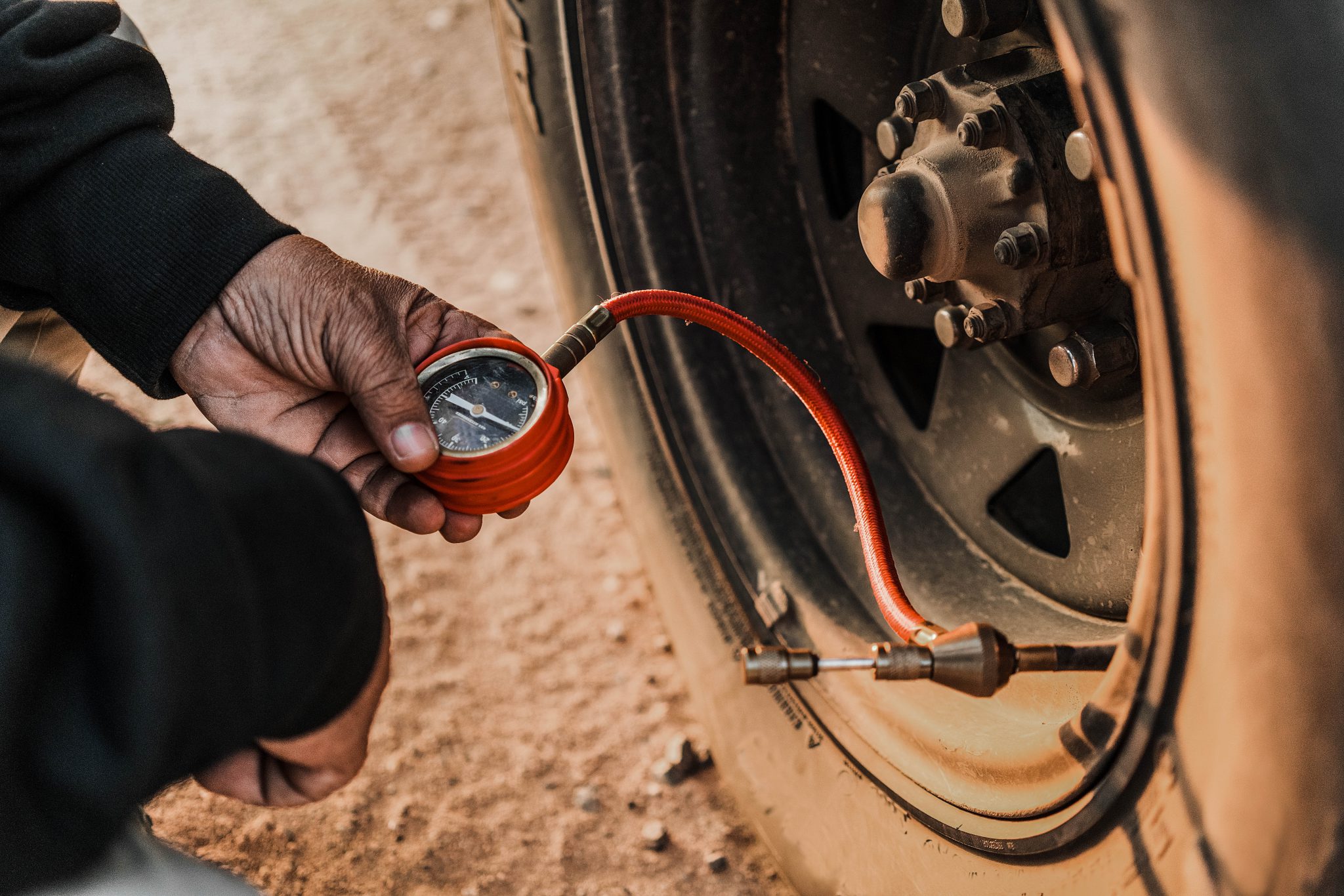 The great thing about changing the pressure for different terrains is that you can do it on the fly if you have the right components.
There are simple tools that can be used to air up or air down your rig. A tire deflator is used to decrease the pressure of the tire. Our recommended deflators are from Staun USA Inc. These deflators are easy to use, thread right onto most valve stems, and offer a pressure stop, which allows you to set a minimum pressure so you can regulate how much air you let out.
Airing up requires more hardware than just some brass fittings. You're going to need some sort of air compressor to accomplish this task. They are available in all price ranges. You can get some for under $100, but they're going to take an extended time to inflate the tires. We recommend getting the best you can afford. Figure out what best suits your usage.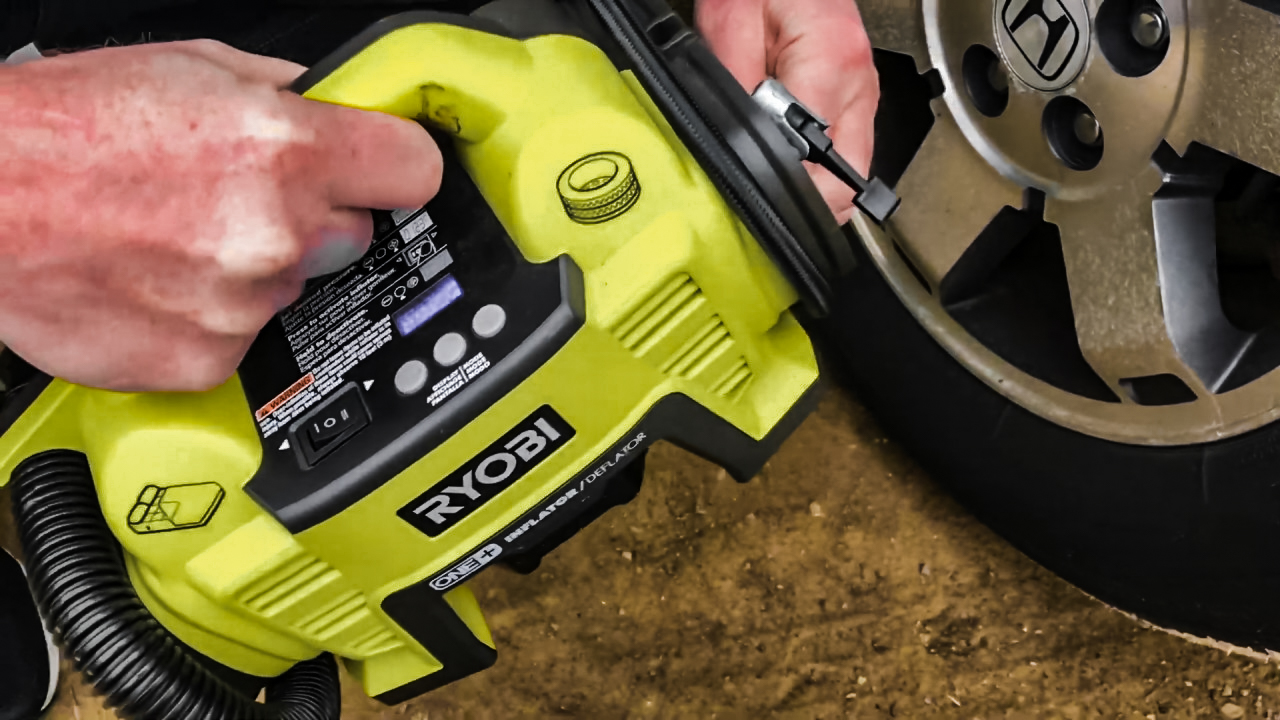 Some other tools that would be good to have related to adjusting air pressure are an air pressure gauge, a tow strap (in case you need to reseal a tire that has come off bead), and patch kits for punctures.
Most important, choose the correct air pressure for your rig. Everyone is going to be experiencing different terrain with different weight rigs. There will be a sweet spot for everyone and their vehicles that work best for their goals. There is a lot of information out there, so it's important to do your research before hitting the trails. The information in this article is our opinion to help guide you in the right direction. We hope this was inspiring for you to experiment next time you're on the trail.
This content was originally posted by Fieldcraft Survival in May 2020.
---
READ NEXT – Tactical Canyoneering: Repelling Down Waterfalls on the Hana Highway