Seth Gebo wasn't planning to pull off one of the hardest things in turkey hunting. He connected with an Osceola in Florida on a buddy hunt a few days into the season. Then the lightbulb went off. With some last-minute plane tickets and a few hundred bucks in rental cars, he could pull off a DIY public-land season for the ages. Two weeks later, he had stacked seven days of sleeping in a rental car, six days of hunting, over five states, with temperature swings from 15 to 91 degrees, in three time zones, to put down a single-season Grand Slam — bagging all four US wild turkey subspecies. Here's how he did it, in his own words.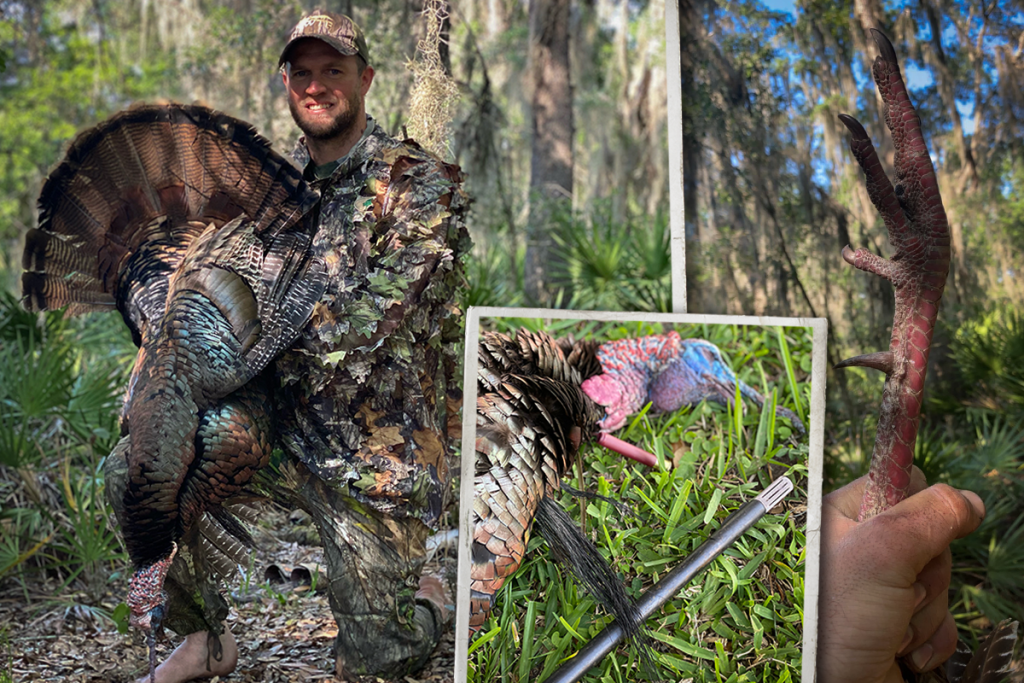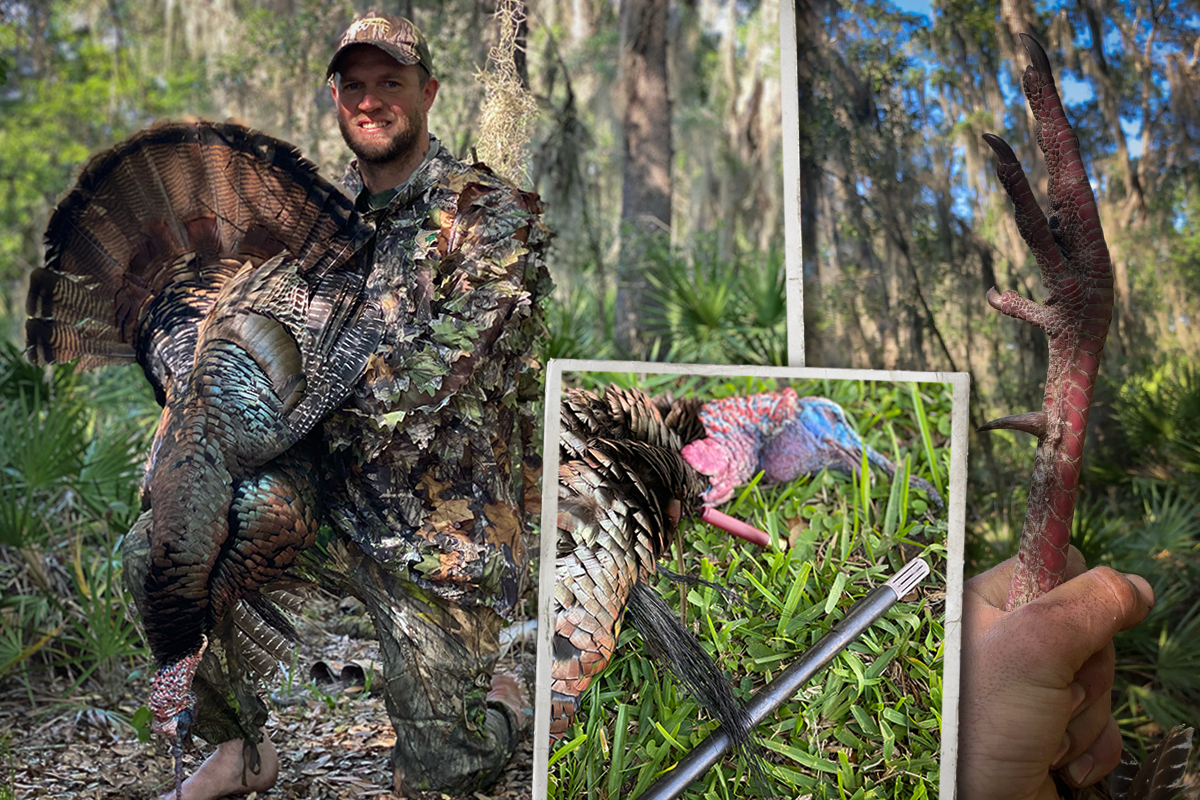 "Honestly, I always wanted to kill an Osceola and potentially do the Grand Slam. This season I just flew by the seat of my pants, looking for something different. Florida, honestly, I know a guy down there who guides. I talked about paying him a trespass fee to hunt his private [land], but we became friends, and he wouldn't take it. I stayed at his camp, and he pointed me to some good public, and still, I can't thank him enough.
"I got on a bird that first morning and missed. I checked my gun and the red dot was 18 inches low and 8 inches left. Thanks, TSA. Four shells of TSS later, I was dialed but was pretty sure I blew my chance.
"The next morning, things were real quiet. I heard some gobbling but on neighboring property, and they were all henned up. Midday, it was 91 in the shade, and walking in, I spotted a bird prowling. I snuck in and worked him real quiet and shot him at 3:30.
He was near a water hole, kind of in the shade, hanging out with a hen. As I got close, I saw him move into the shadows. I tried not to call him much. He tried to stay in the shadows, almost like he was scared to go into the sun. She was in the mid-40s [yards] from me, and I remember stressing he would come in out of range. All of a sudden, he comes bolt across the opening, and I cluck, and he stops and double gobbles. I shot him on that second gobble.
"Florida is nothing like anywhere else. Birds are fairly quiet, and everything is trying to kill them. Panthers, gators, snakes, hogs. I'm lucky my buddy pointed me in the right direction."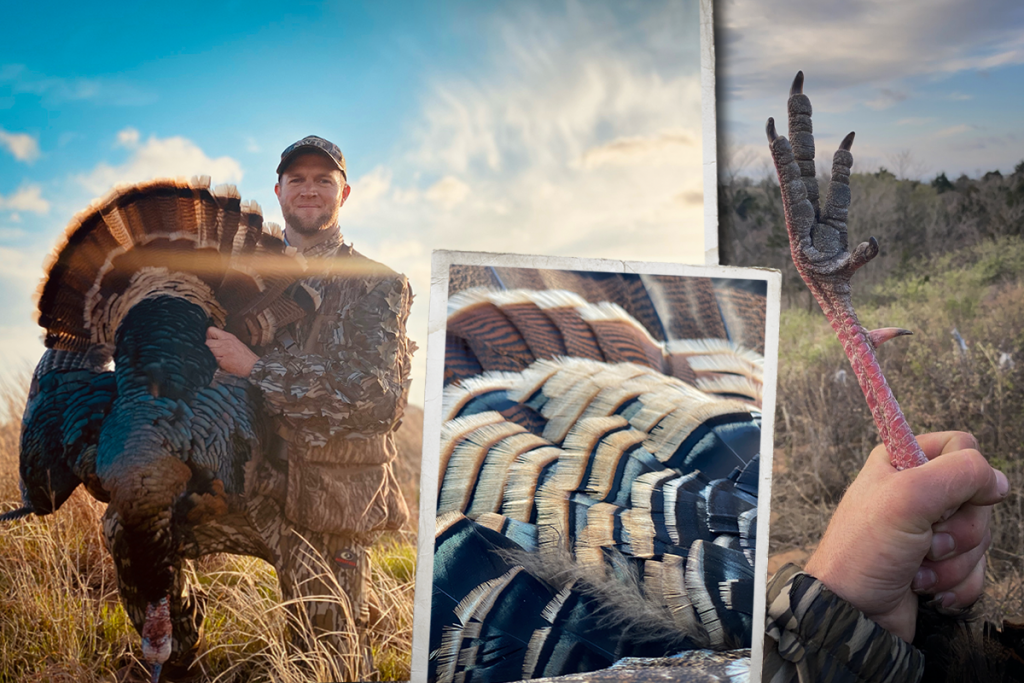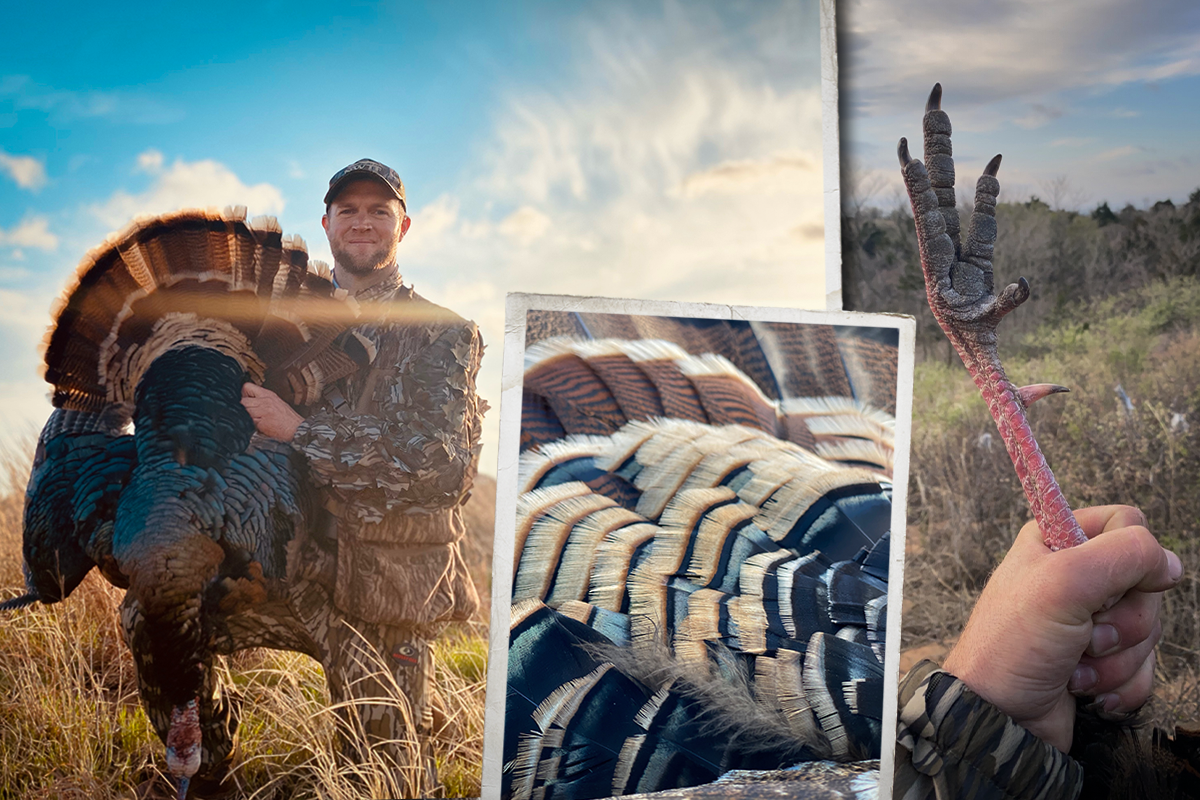 "I flew home to Vermont for two days, then to Oklahoma City, got a rental car, drove across the state, started looking up popular walk-in and public land. I looked online for places that had a lot of hype and avoided them. I called a bunch of game wardens in a lot of decent regions. I settled on some public with some decent walk-in within an hour's drive. The on-the-public pressure was unreal. I saw five or six guys walking down the road with headlamps.
"That night, I slept in the car behind this little town dump. I went to some public and picked out the best and worst spot. Five trucks drove by me in the dark. I picked what looked like the worst spot out there because I thought other hunters would flood the nice country. I was 250 yards off the cattle guard on the main road, and in a million years, you wouldn't think to hunt it. At sunrise, I heard this bird on a knoll. I was in the money spot. I bumped a shitload of deer, and they ran right under him, and I thought, 'Great. This is over.'" Then, it's getting lighter, and these birds start hammering. I mean, hammering!
This is sandy, cactus, rough, shitty terrain, and I have burrs stuck all over me. That's what was cool about this. Every bird was so much different than anything I'd ever done before. So, the deer blow right under them, and the gobblers are hammering. They fly down into this crease in the country, like a gas-line cut, and I'm thinking I'll just ambush them. I hear this one bird spitting and drumming for 10 minutes. He's close, but I can't see him. I called, and I saw him strut up, but he turned away from me and started walking away. I soft-called again, and [he] spun around again and came in on a string."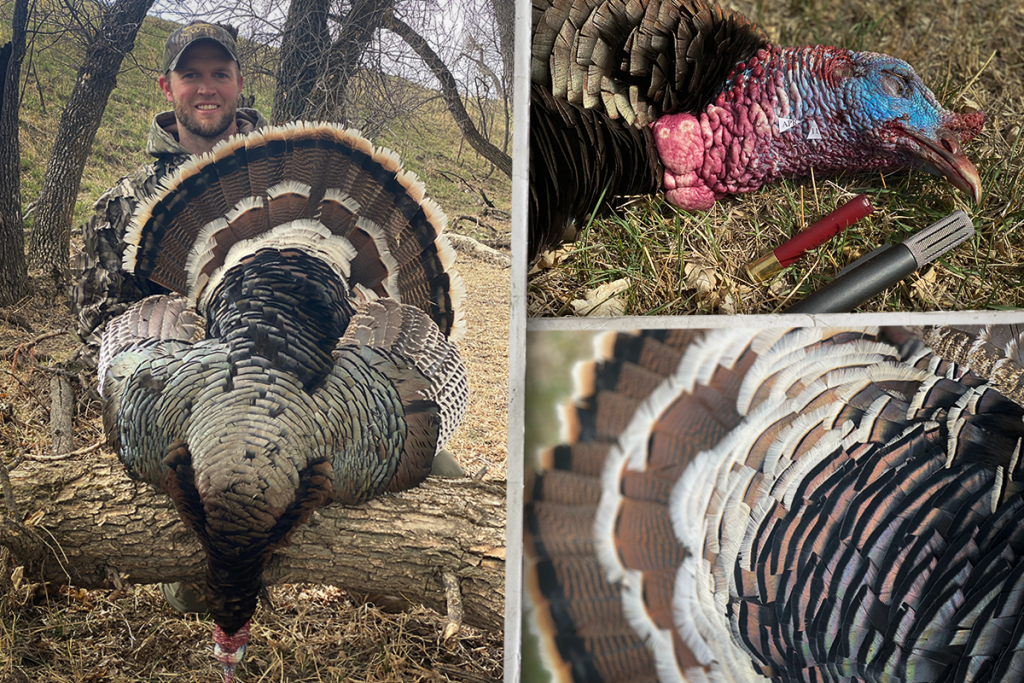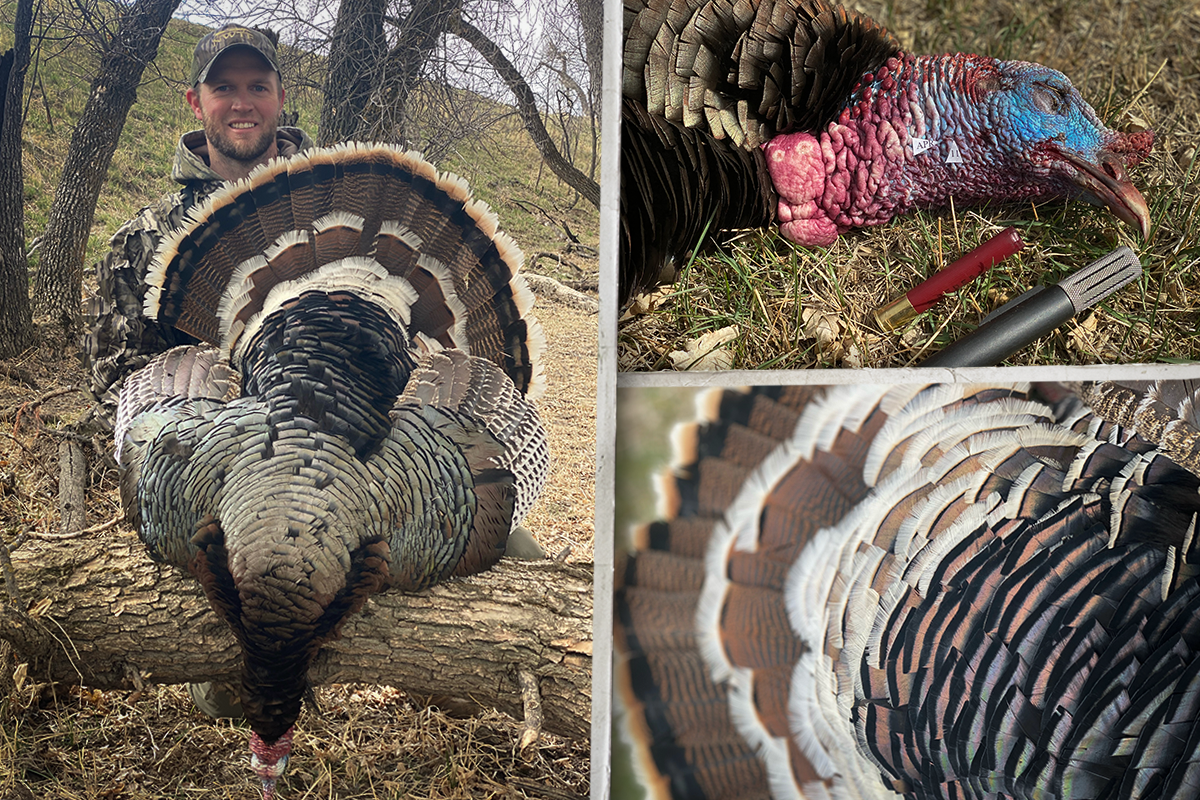 Merriam's: Block Management, South Dakota & Montana
"I drove to Missouri and crashed with a buddy for a night. It was nice to sleep in a bed. That little Hyundai rental was fuel-efficient, but I'm 6-foot-3, and all those nights in a row were adding up. The next day I drove to a spot he's had success, in the Black Hills of South Dakota. So, urban sprawl in the Black Hills is a real thing. It's way too populated for my liking. I went scouting, and everywhere I ran into hikers, bikers, dog walkers, other hunters. The pressure on the animals is unreal. Four-wheelers, side-by-sides, e-bikes. It was the first 60-degree day of the year, so I think everyone was out, but after a day, I said F-this and drove west into Montana.
"Montana has a great Block Management program where they offer incentives to private landowners who open their gates to public hunters. A buddy told me of some ground he was able to get on up there loaded with birds, so I drove there, and in two hours of hunting, I killed a bird.
"It was super windy and 31 degrees, 40 mph winds, and all these birds were up against this riverbank. I thought I saw a longbeard, glassed a longbeard, grabbed my strutter decoy, and went through this little gully. I kicked a pile of deer out of this pasture into the riverbank, and ran into the group of turkeys and actually got them on their feet moving.
"These birds started working toward me, then another, then another. The ground is frozen, and I couldn't stake the decoy, so I'm on my knees hiding behind the fan, and after a minute that felt like 10, I have a jake at 15 or 20 feet. I make a fighting purr and watched one bird after another walk in. Hen, hen, hen, jake, hen, hen, then I see him at 40 yards doing the mean walk in half strut. At 35 yards, he hits the brakes. I bump the decoy toward him, trying to clear the flock, but I'm getting blown all around in this crazy wind. They spread out just enough to give me a hole, and I rolled him. That's not the ideal hunt for some people, but hunting a winter flock in that weather, that's what I had. It was 15 degrees that night, and there was snow on the ground."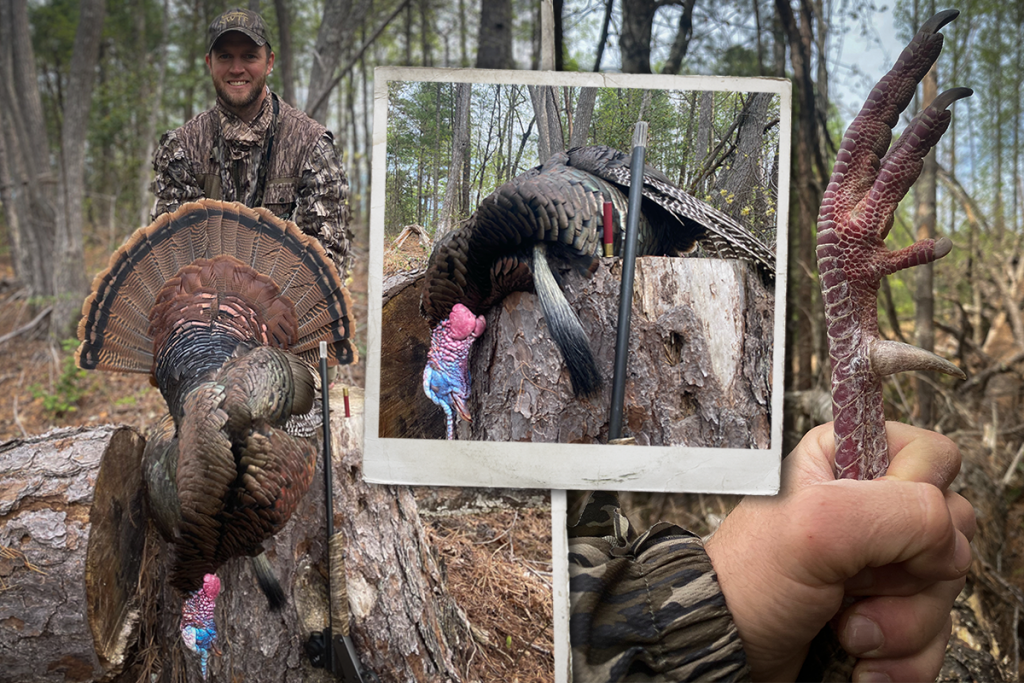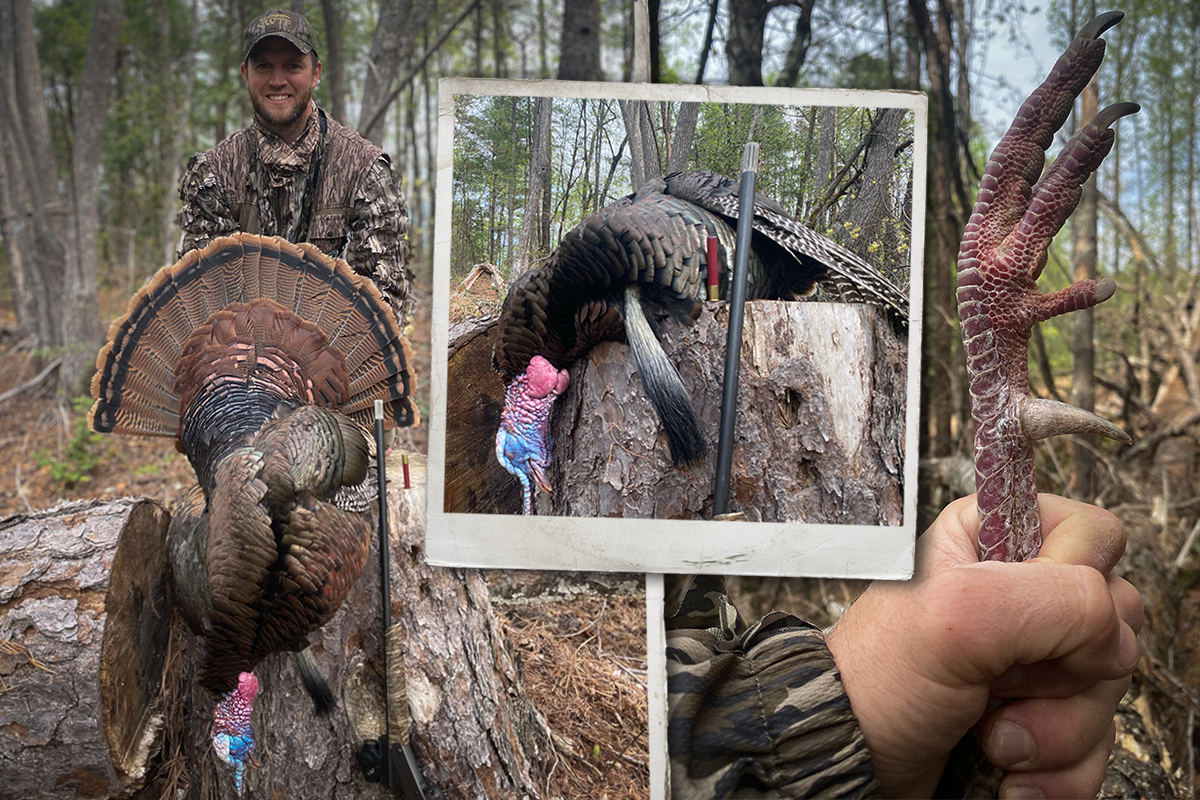 "I left the rental car in Rapid City and flew to Charlotte. I had done some e-scouting and put some pins on public [land]. I struggled with North Carolina's license system, had called wardens for good areas, and was given the wrong info on what license I needed. I can't imagine how many people have hunted North Carolina as a nonresident with the wrong license.
"I hunt out West every year, but the Blue Ridge Mountains feel absolutely huge: 512,000 acres. It's giant. I've never seen anything like it. This was the middle of the first week of the NC season, and I saw signs of hunters everywhere. I bet I hiked 20 miles in two days. So, it kind of dawned on me: turkeys like burns. I saw that in Florida. A buddy had just recently killed a bird over a burn.
"So, I called five or six forest rangers, and the sixth one answered and gave me a rough area of the most recent wildfire burn — 6,000 acres or so. So, the next morning, my buddy is driving, and I tell him to drop me off on the side of the road. It's a pretty gnarly four-lane highway with steep drops off both sides with no pull-offs or parking. Not an obvious place to drop off into the forest. So, I hiked back to the burn, and it looked like old pastures burnt off way up in the mountains. The weather [forecast] said 1 mph wind, and it's blowing 20, so I'm already feeling defeated.
"The wind lets up a little, and I hear coyotes sounding off. I owl hoot the whole way in and finally heard a gobble in the distance. I beat feet toward the gobble — probably 300 yards in from the private line. Soon as I got there, he flew onto a ridge well in the public.
I called a few times below him, and he hammered. I knew I had to get to the same level, so I'm getting ready to move, and he flies up into a tree looking for his hen. I'm motionless against this big oak, and I can see him gobbling up the ridge. I scratch leaves, and he gobbles. Then he flies down and way the hell out. I thought, 'I'm out of it.' There's a river below me, and I can't hear anything. I snuck down the hill to this burnt-out field and sat for 10 or 15 minutes. I call to her, and here comes the longbeard like 120 yards behind her. He got to like 60 yards from me, but he's on the other side of this river that kind of runs between the field and the hill. I sat and sat, and they walked off into the woods, so I took off my boots and socks and waded the river. It's cold, man, and the water is up to my dick. I set up in that wood line soaking wet and waited.
"I called some, and then I see just his neck through the trees coming. He kept coming, and at 22 yards, I stopped him and shot. I grabbed him, waded back across the river, found my boots and socks, and just gathered my thoughts. Then I noticed the daggers on him. His beard was big around as a Red Bull can, and he had 1.75-inch hooks big around at the base as my pinkie. The photos don't do him justice. I talked to a biologist after, and he told me The Hunting Public struck out where I was, so that felt pretty cool, but that's beside the point.
"I love turkey killing. I'd say nothing beats it. People compare turkey hunting to elk hunting and what I like about both is I like having animals hunt me. The whole calling aspect is more appealing."
Read Next: Starter Kit: Gear Up for Turkey Season