Republican U.S. Sen. Steve Daines of Montana landed in Twitter jail Monday evening after posting a photo on the social media platform. Twitter claimed he violated its "rules against graphic violence." The offending image was of Daines and his wife, Cindy, with an impressive Montana pronghorn she bagged in the fall.
Daines served a little time in the virtual stockade, locked out of his official @SteveDaines Twitter account. Users could still see the profile, but months of tweets were unavailable. Instead, a message indicated the account was "temporarily unavailable because it violates the Twitter Media Policy." Daines' profile and background pictures were also unavailable.
"Last night, the senator was notified his Twitter account was locked because his profile picture violated their rules against 'graphic violence,'" Daines' office said in a statement. "The picture is of him and his wife Cindy with a Montana antelope."
According to Twitter's sensitive media policy, images that depict "excessively graphic or gruesome content related to death," including "animal torture or killing," are subject to removal. However, the platform's guidelines include exceptions for "religious sacrifice, food preparation or processing, and hunting."
RELATED — Mike Glover Instagram Ban Drama Is a Warning for All Hunters
---
Hunters Serving Time
While Daines' run-in with the internet law has since been resolved, this certainly isn't the first time hunters have been targeted on social media for posting field photos of the animals they've killed.
In Sept. 2022, former Green Beret and CEO of Fieldcraft Survival Mike Glover did hard time in the Instagram slammer after posting a bloodless photo of a massive 6×6 bull elk he shot in Utah. His account was suspended for almost a week, and Glover credited "inside help" with restoring it.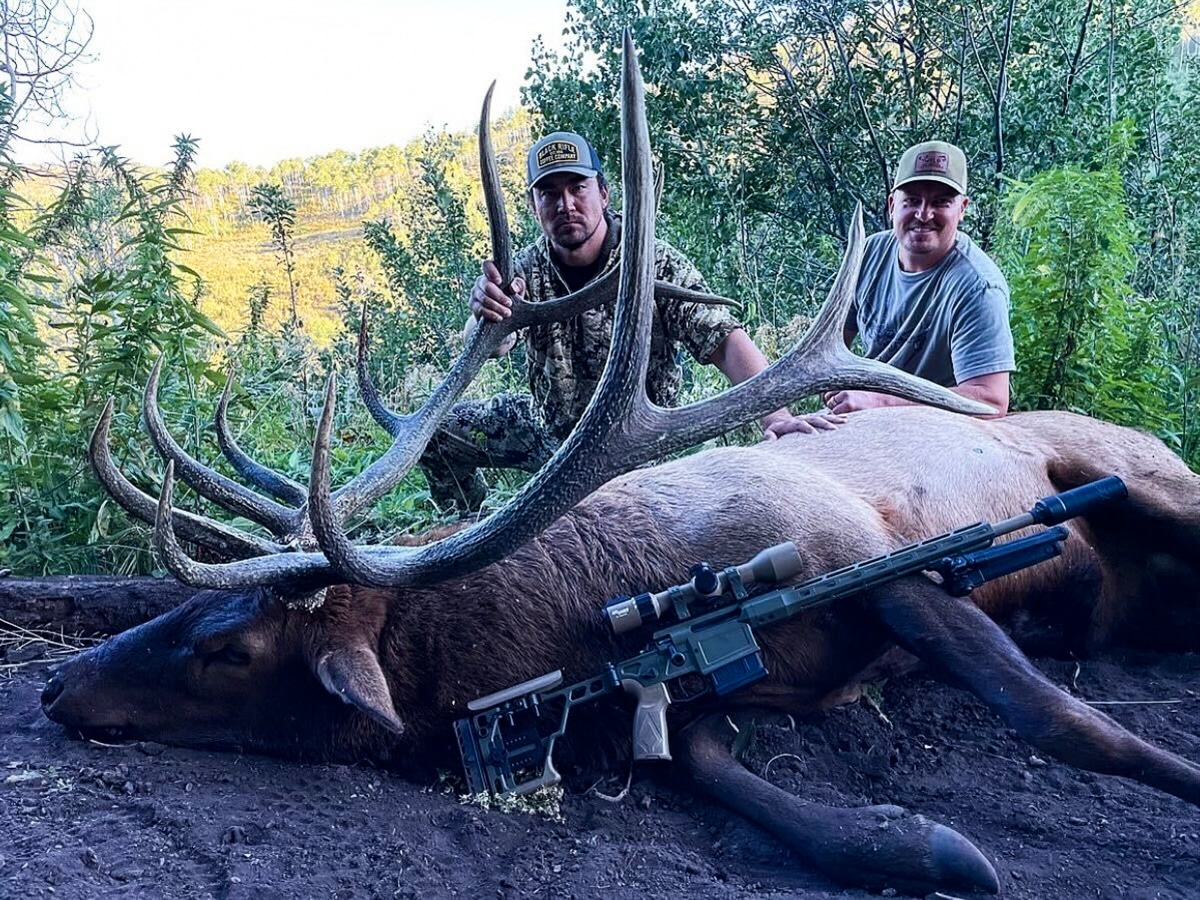 Cable Smith, the host of the Lone Star Outdoors Show, had his Instagram account completely deleted without warning, presumably because of a trail camera image of a big buck. In the caption under Smith's photo, he said he might let his son kill the buck. The Instagram powers-that-be claimed the post was "promoting crime and coordinating harm."
While many hunters use Twitter, Instagram, and Facebook as virtual campfires to share stories of their hunts and show off the animals they kill, social media platforms have a history of flagging innocuous hunting photos as inappropriate, graphic, or violent.
Sometimes those photos are reported by pearl-clutching family and friends who can't seem just to keep scrolling. Other times, they result from coordinated attacks by anti-hunting animal rights activists. The situation is even more frustrating because many social media platforms outsource their content moderation to other countries, where people may not understand American hunting culture.
However, social media is one of the best ways to unite and mobilize hunters for change. As Blood Origins founder Robbie Kröger said, "social media is the most important battleground for hunting in the world today."
Thankfully, at least on Twitter, the tides are turning for hunters wanting to share photos of their successful hunts.
GOOD GEAR – Embody the Ethos of the Quiet Professional With BRCC Silencer Smooth
---
Free Steve Daines From Twitter Jail
Once word got around about Daines' suspension, GOP politicians popped out of the Twitter woodwork to support him.
U.S. Rep. Ryan Zinke, also of Montana, jumped to Daines' defense and congratulated his wife on a killer shot.
"This is the family photo that got @SteveDaines put in Twitter jail. Stop censoring our Montana way of life! Great shot, Cindy!" Zinke tweeted Tuesday morning.
---
"Hey, @elonmusk — Why is Twitter putting @SteveDaines in Twitter jail? For his wife being a good shot?" Sen. Mike Rounds (R-SD) asked in a tweet.
In a display of solidarity, Rounds also swapped his profile picture to display a photo of him and his grandkids with some mighty fine but very dead pheasants. "I guess since I've updated my profile picture, I better turn myself in."
Sen. Ted Cruz (R-TX) also took to Twitter, pushing a trending #FreeSteveDaines hashtag and posting a photoshopped mug shot of Daines clutching the supposedly criminal photo.
---
"Ridiculous. My friend @SteveDaines is in @Twitter jail for posting this pic w/ his wife Cindy. If you don't like hunting, fine, don't go. But don't censor others who disagree. And I'm pretty sure this is a formal job responsibility for a senator from Montana!" Cruz said in a tweet.
"@SteveDaines told me he was aiming for the balloon but hit an antelope instead," Cruz said in another tweet.
RELATED — Pronghorn Hunting: The 5 Best States for Speed Goats
---
Free at Last
The Twitter gods reversed the suspension and reinstated Daines' Twitter account at around 7:50 a.m. Tuesday, which means Daines served only a few hours in the social media clinker.
In a Tuesday afternoon tweet, Twitter CEO Elon Musk assured the public that the company was revising its media policy.
"This is being fixed. Policy against showing blood in profile pic is being amended to 'clearly showing blood without clicking on the profile pic.' The intent is to avoid people being forced to see gruesome profile pics," Musk said.
---
After serving his cage time, Daines publicly thanked Musk for resolving the issue and supporting free speech and expression on his platform.
"I am grateful Elon Musk reached out to me to resolve this issue and am glad that he recognizes that free speech is a bedrock of our country and acted quickly to reinstate my Twitter account after being made aware of its suspension," Daines said in a statement.
"The initial ban over the profile photo of my wife and me after a successful Montana antelope hunt was disappointing, given the fact that it is no different than photos Montanans share on social media every day. It's our Montana way of life, and we are proud of it. I am glad Elon Musk recognizes this. The rest of the country benefits from the acceptance of diverse thoughts and values, including Montana values."
---
READ NEXT — Opinion: Unfollowing Hunting Social Media Will Make Hunting Better