Model: SIG Sauer P226 XFIVE
Two grip material options
5-inch bull barrel
X-Series optic-ready slide
Fully adjustable trigger
Includes three 20-round steel magazines with alloy base pads
MSRP: $2,199.99
2022 has been a great year for SIG Sauer aficionados, with the company releasing a number of new firearms, including everything from the gunmaker's next-gen AR MCX Spear LT line to its P365 XMACRO polymer EDC pistol. SIG's newest release is a revival of the P226 XFIVE, a once incredibly popular target pistol that hasn't been made for 10 years.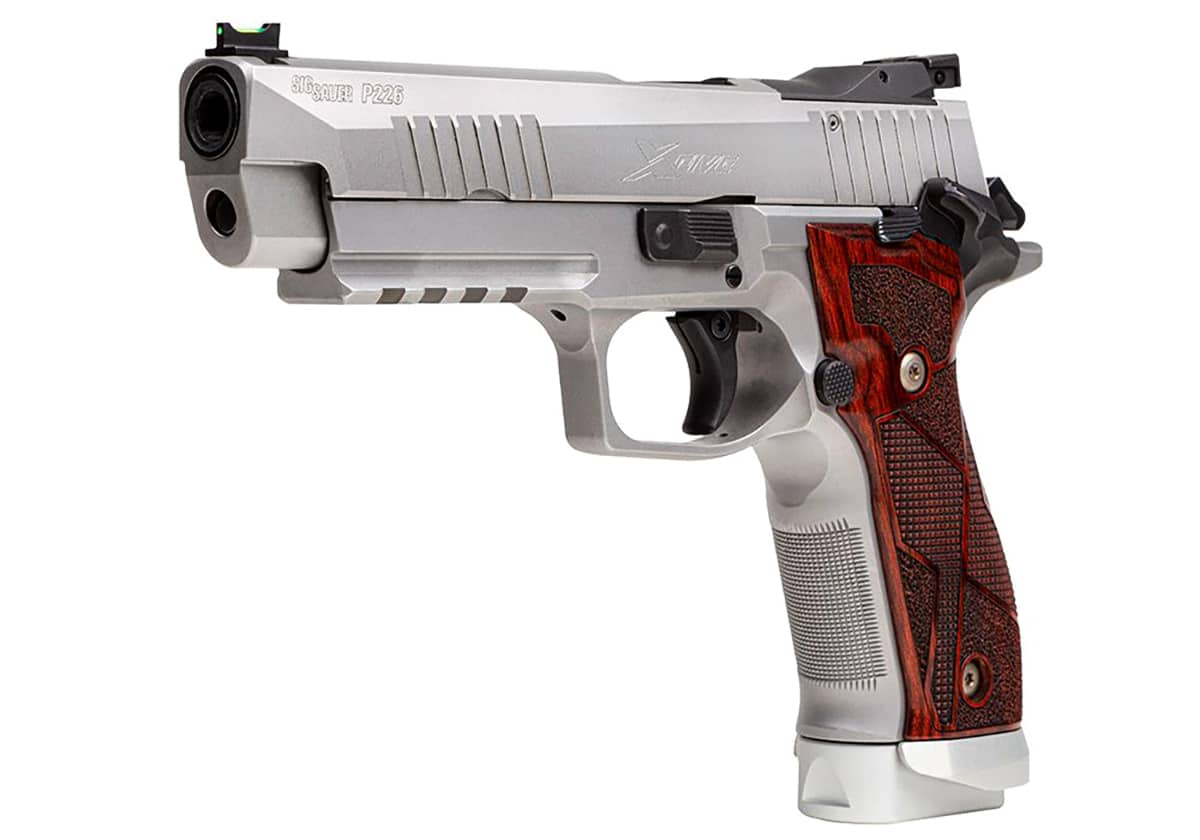 The original P226-XFIVE was a product of SIG's German Master Shop and was all but unattainable in the US. It was basically a bigger, beefier, single-action-only, longslide version of the popular P226. The XFIVE was optimized for target shooting and was widely considered the penultimate pistol in its class.
While other P226 models have been popular among American law enforcement and civilian shooters since corduroy bell bottoms were considered chic, getting your hands on the XFIVE was nearly impossible on this side of the pond back in the day. The gun was only manufactured until 2012, and not in huge numbers. That has all changed.
Now, SIG Custom Works is bringing the same legendary precision back with an all-new version of the P226 XFIVE that's made in the US.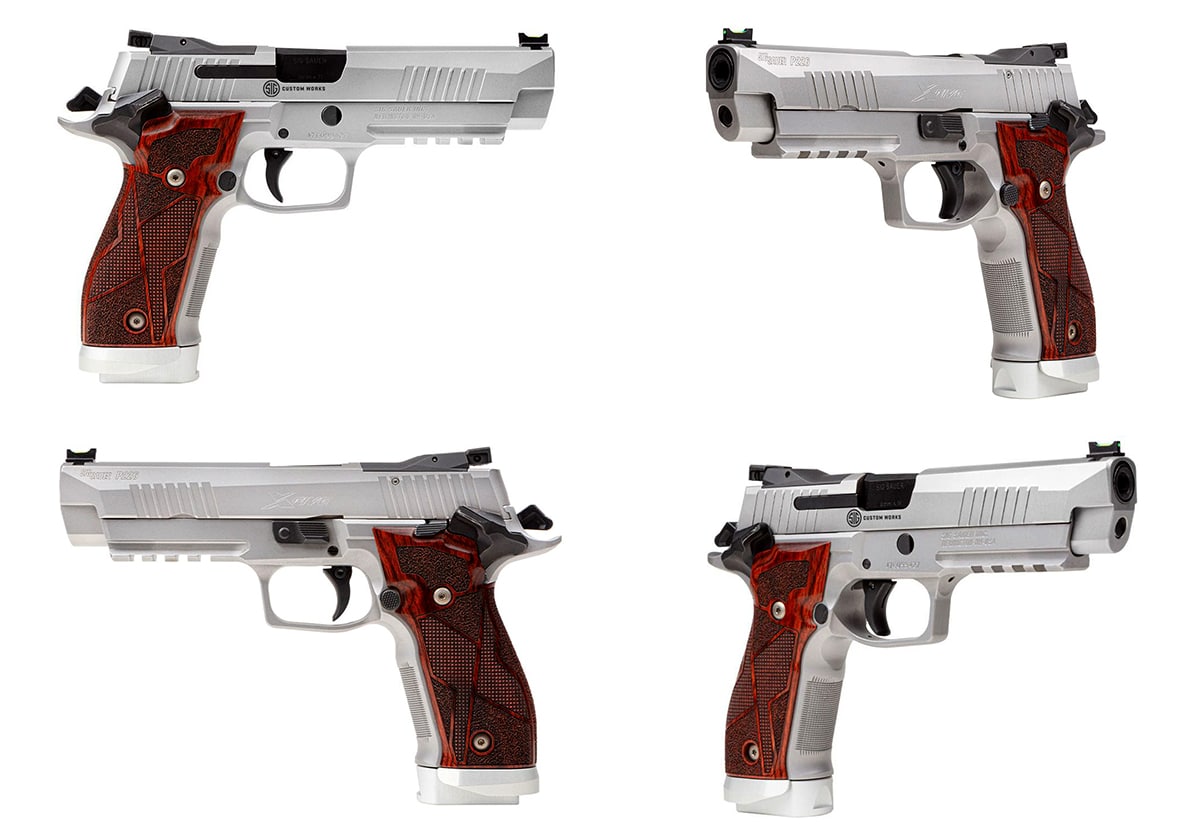 Like its German-made predecessor, the American-made, match-quality P226 XFIVE runs a 5-inch bull barrel with a stainless-steel frame and slide. It also comes with a fully adjustable, three-position AX3 trigger. Shooters can completely customize pull weight, over travel, and length of pull to match their hand size and shooting style for the fastest shooting possible.
New to the US version is the adjustable Dawson-style rear sight plate, which can be easily removed and replaced with any micro red-dot optic with a standard Delta Point Pro/RMR footprint.
Competitive shooters will also appreciate the addition of the sport takedown lever, which acts just like a thumb-rest gas pedal, to improve control and reduce muzzle flip with properly applied pressure. This has been a popular addition on SIG's P320 pistol practically since it was introduced.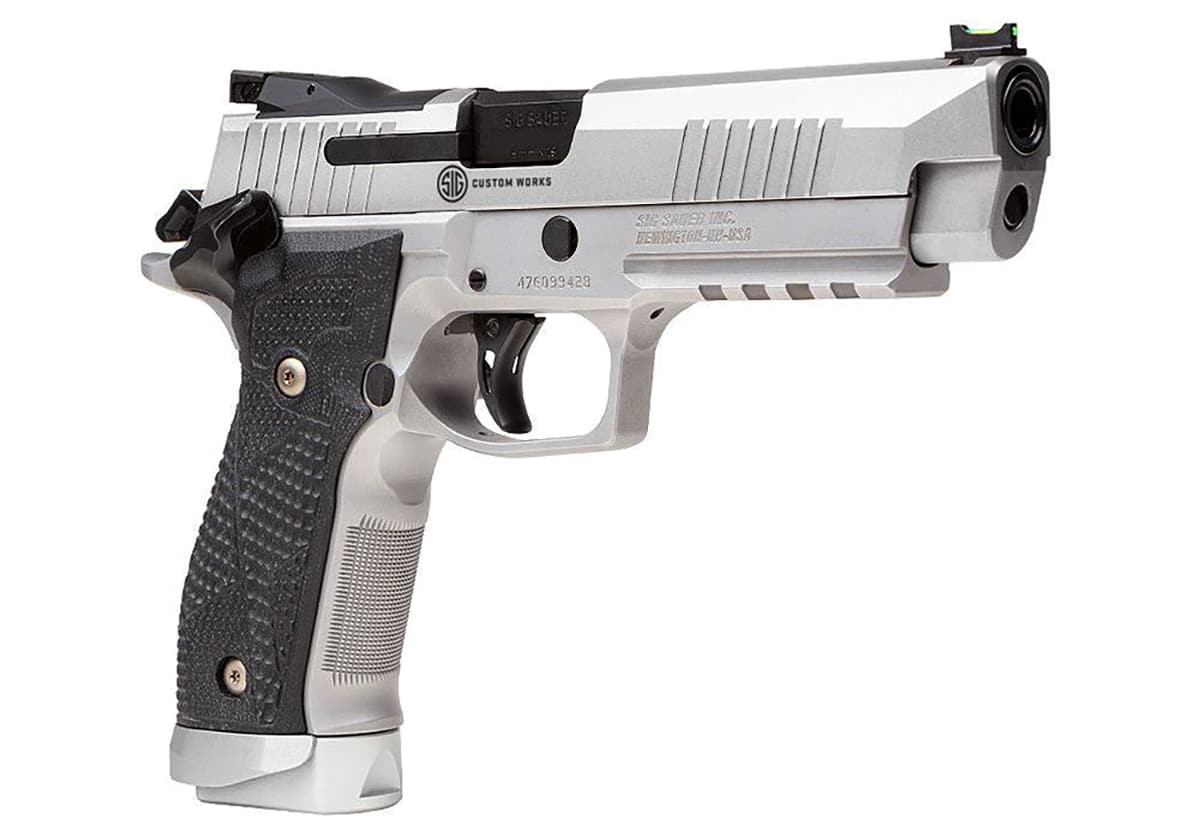 The OG P226 XFIVE was a hefty bastard, and the new version is no different, tipping the scales at a robust 45.6 ounces — exactly what you want in a 9mm target gun.
The new P226 XFIVE also comes standard with an accessory rail, a high-visibility, green, fiber-optic front sight, and an alloy mag well. The pistol is available with two grip panel options from Hogue: H10 Piranha or seriously handsome Cocobolo.
The gun ships with a trio of 20-round magazines with alloy base pads, ready for competition. There's also a 10-round mag option for those unlucky shooters in restricted states.
---
SIG Sauer P226 XFIVE Specs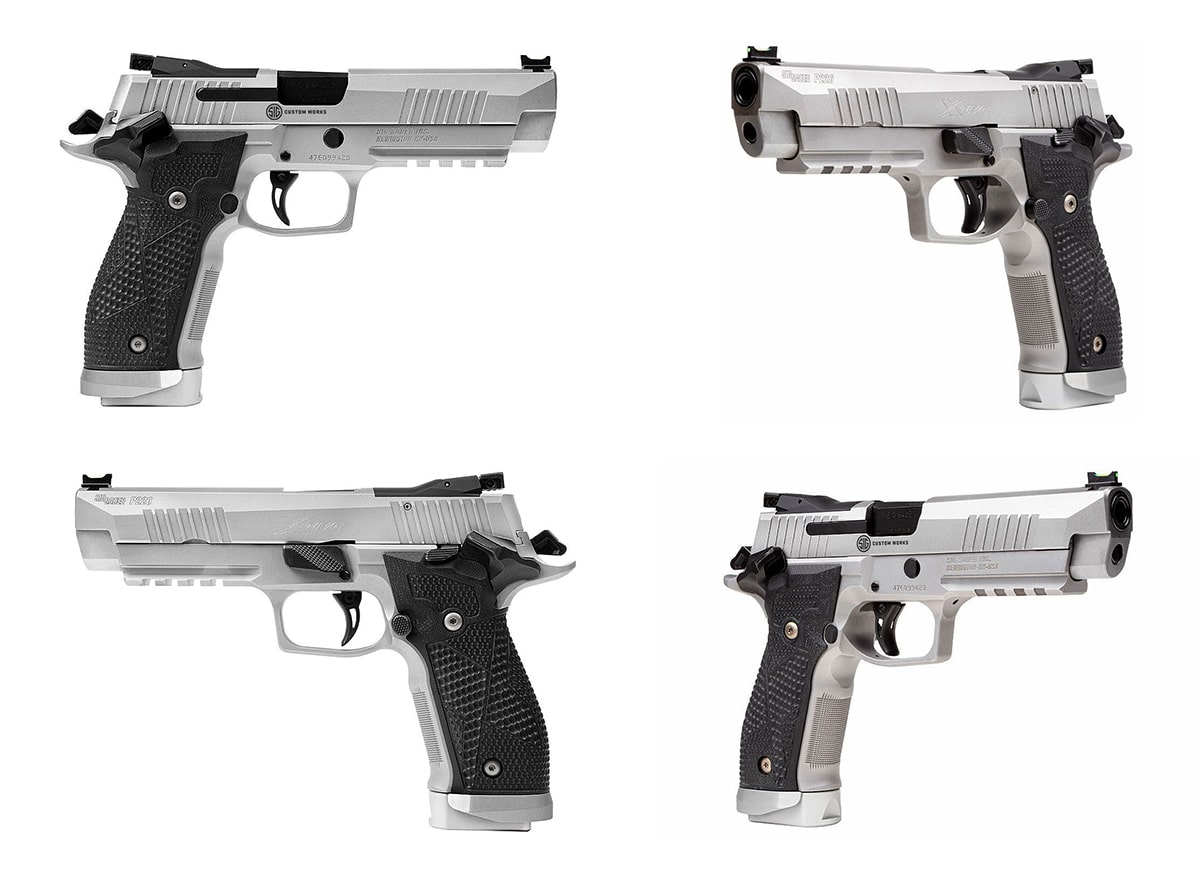 Caliber: 9mm
Action: Single action only (SAO)
Capacity: 20+1 (3 mags included)
Weight: 45.6 ounces
Overall Length: 8.6 inches
Height: 5.9 inches
Width: 1.7 inches
Barrel Length: 5 inches
Barrel: Carbon steel
Frame: Stainless steel
Slide: Stainless steel
Trigger: Fully adjustable, three-position AX3 trigger
Safety: Ambidextrous frame-mounted
Sight radius: 6.8 inches
Accessory rail: Picatinny
Grips: Hogue Cocobolo or Hogue H10 Piranha
Sights: Fiber optic front with adjustable Dawson-style rear
MSRP: $2,199.99
---
READ NEXT – Leaked Glock AR Carbine Photos Are Real — No, Really!