Silencer Central Banish Backcountry Suppressor
Caliber range: up to 300 RUM
Sound reduction: 30db
Weight: 7.8 ounces
Silencer Central just announced the release of its new Banish Backcountry Suppressor, a centerfire rifle suppressor designed specifically for hunters.I was fortunate enough to get my hands on one back in early October.
I decided to take it to one of the roughest hunting environments in North America: Kodiak Island, Alaska, and put it to the test chasing caribou and blacktails with a .270 Winchester bolt gun. It was an absolute game-changer and proved to be a huge factor in my success.
If you've never hunted with a suppressed rifle and harbor any doubts or reservations about doing so, hopefully, this can change your mind a bit and open you to the possibility — the advantages are truly remarkable, with drawbacks that are utterly negligible.
---
The Proving Grounds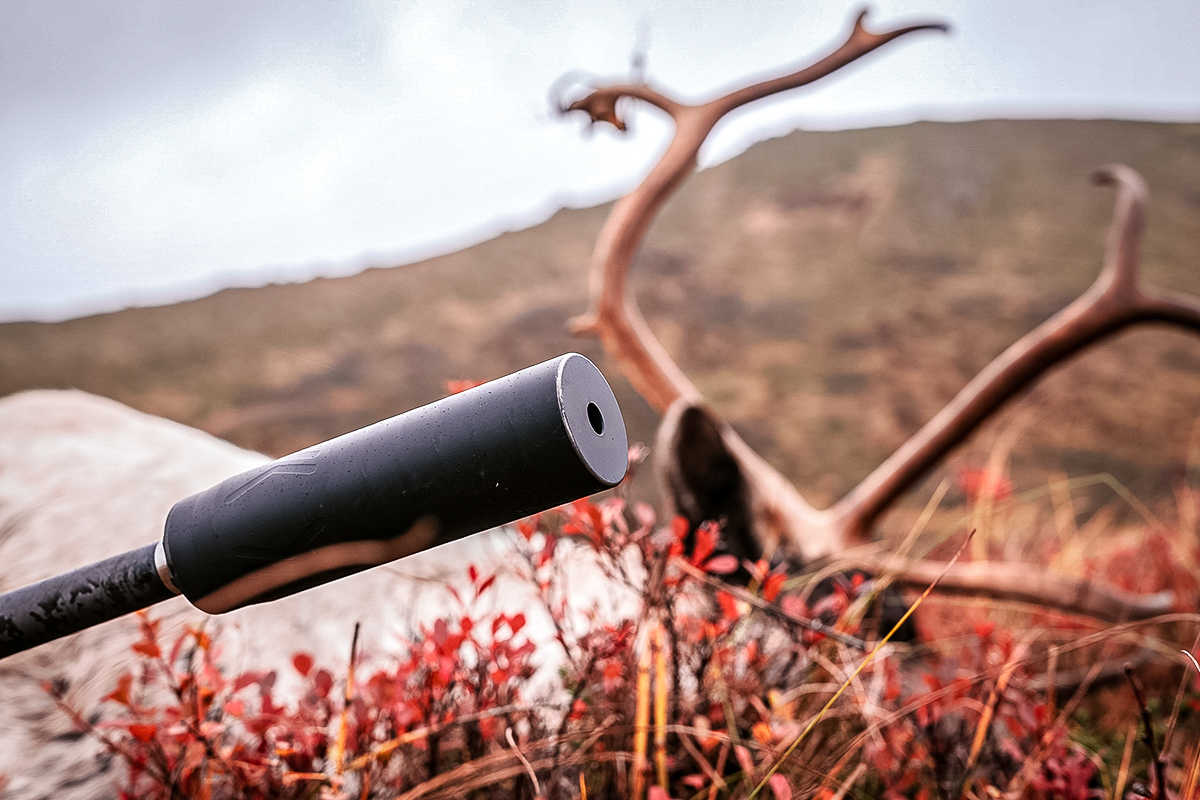 What better place to test a rifle suppressor designed for hunting than the rugged mountains of Kodiak Island? Kodiak is a large island that lies off the south coast of Alaska, with mountainous and heavily forested terrain in the north.
On the island's south end, where I hunted, the forest gives way to alder and muskeg, each of which provides unique challenges. If the terrain weren't enough, high winds and rain were the norm for my trip; the sun rarely showed its face through the thick clouds while we were there.
It's a rugged place to hunt, and it's rough on gear. If part of your kit has a weak point, you're likely to find it on Kodiak.
GOOD GEAR – Embody the Ethos of the Quiet Professional With BRCC's Silencer Smooth Roast
---
Banish Backcountry: Pack In Ounces, Pack Out Pounds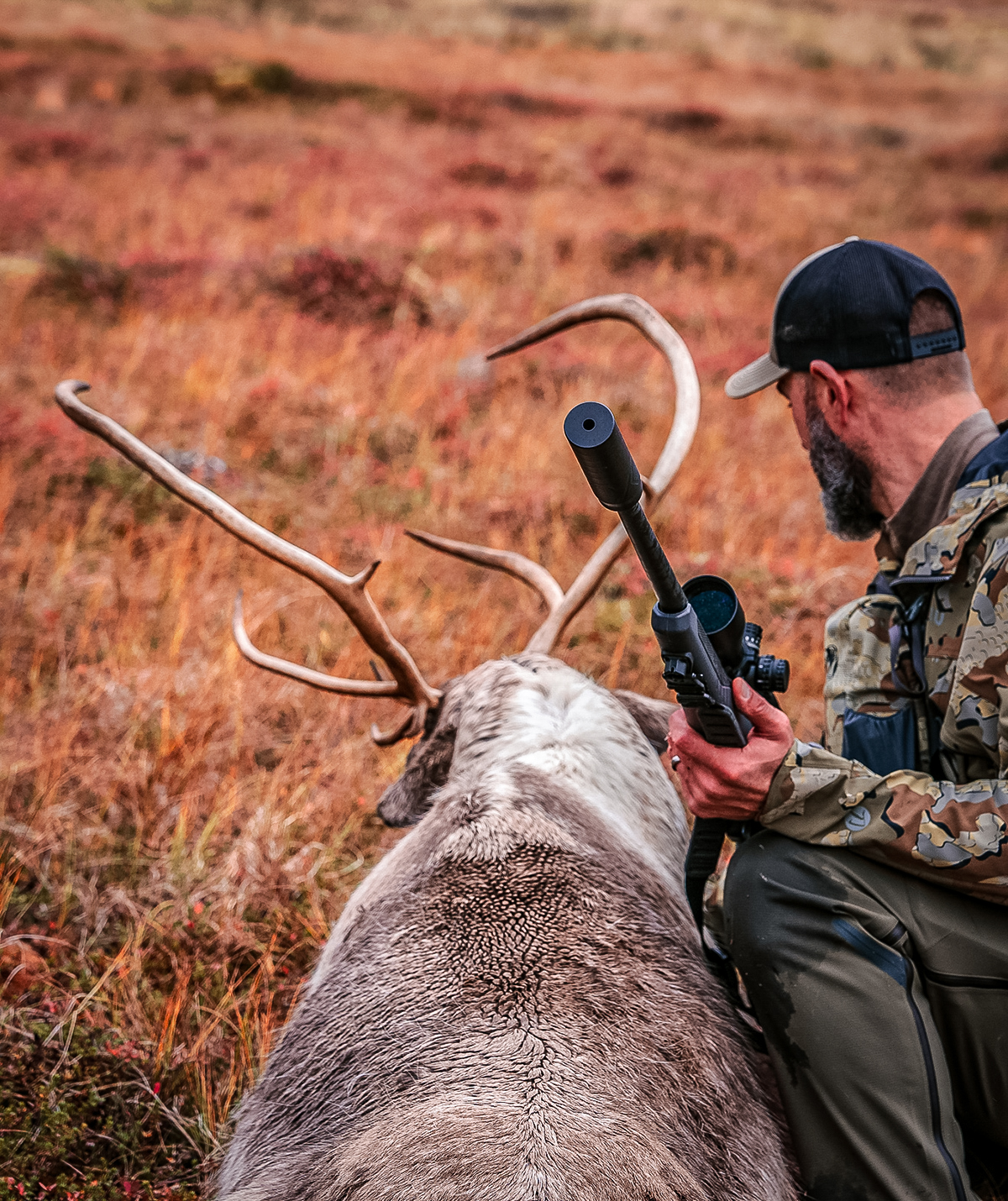 Hunting suppressed has some undeniable advantages. The biggest is protecting your hearing without having to wear ear pro. Using a can also allows a little extra room for error. The biggest disadvantage is the added weight and length to your rifle, especially when you're trekking deep into the wilderness. The Banish Backcountry is the solution for hunters.
Weighing in at 7.8 ounces with a length of just 5.5 inches containing six baffles, the Banish Backcountry adds minimal length and weight to your barrel while providing sufficient hearing protection.
"We took the iconic Banish line a step further with the Banish Backcountry," said Brandon Maddox, CEO, and founder of Silencer Central. "We're in the business of creating the most successful suppressors in the industry. It's no secret that Banish suppressors provide unmatched noise and recoil reduction, and the Backcountry encompasses all that and more."
I drug this can through the mud and brush on Kodiak, and it performed every time. Its short length was clutch while I climbed mountains, breaking through 6-plus-foot-tall alder thickets. I mounted the Banish Backcountry on a Savage 110 Ultralite chambered in .270 Win. The pairing of the light rifle with the ultralight, ultrashort can was critical to my success on Kodiak.
---
A Suppressor is Sound Camo That Totally Kills Felt Recoil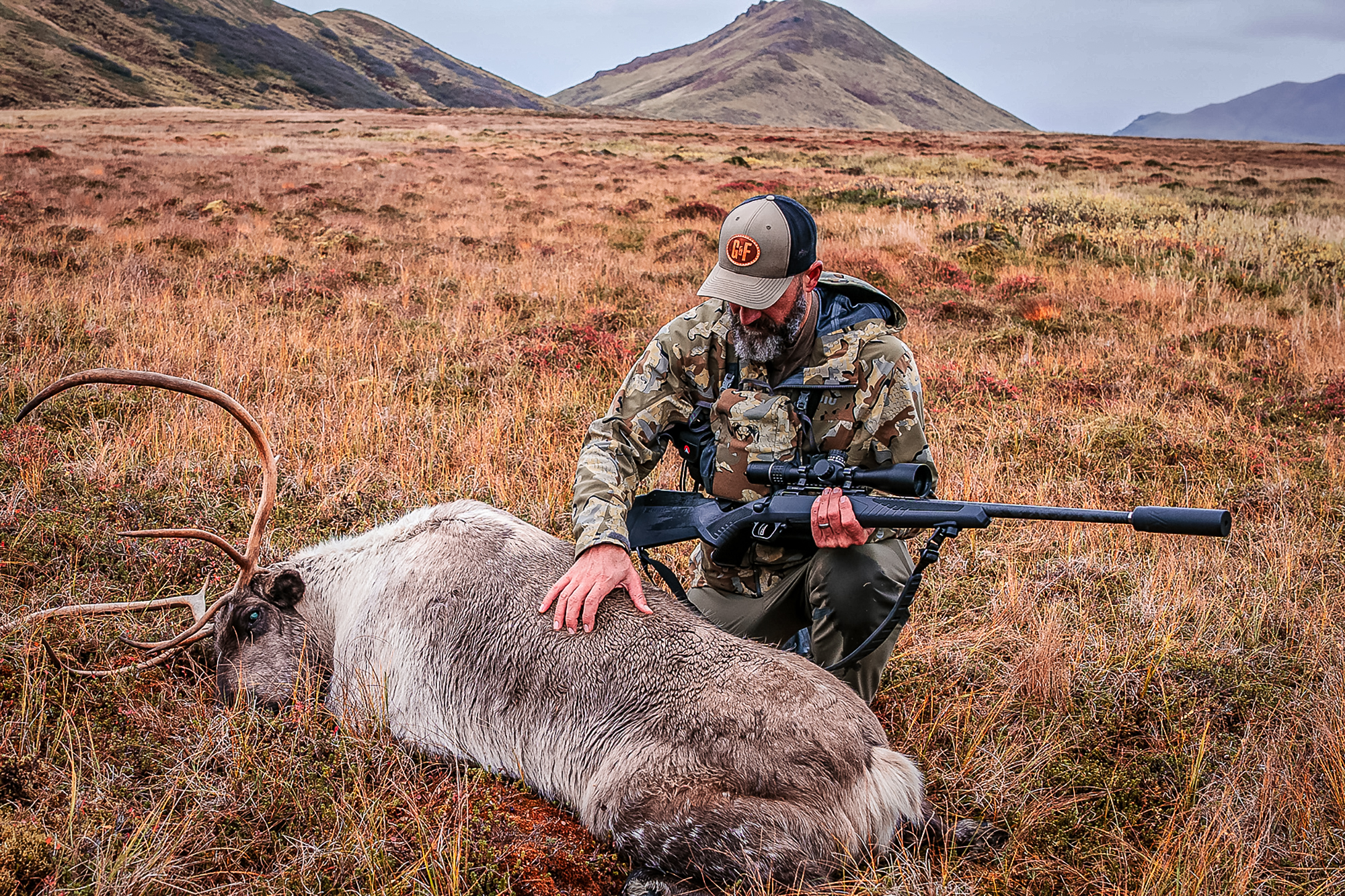 On our first full day of hunting on Kodiak, Adam Heggenstaller, editorial director of Game & Fish magazine, and I doubled up on caribou from the same herd; we stalked to within 150 yards of them. I shot first, killing a large cow. The suppressed shot had the animals confused. They knew something had happened but not what or where. The herd ran about 100 to 240 yards and stood, still confused. I shifted from shooting to ranging for Adam, and once another large cow cleared the herd, he made a perfect shot.
The next day, we set out for blacktail, but high winds and the fact that I was using a prototype optic I wasn't super familiar with made longer shots difficult. I shot at and completely missed a blacktail buck at 300 yards. If the bad shot had been unsuppressed, that deer would have been running over a mountain and out of my life forever. Instead, he stood in his bed, slowly fed across the mountainside, and moved 20 yards closer to me. My follow-up shot was good, and he dropped in his tracks.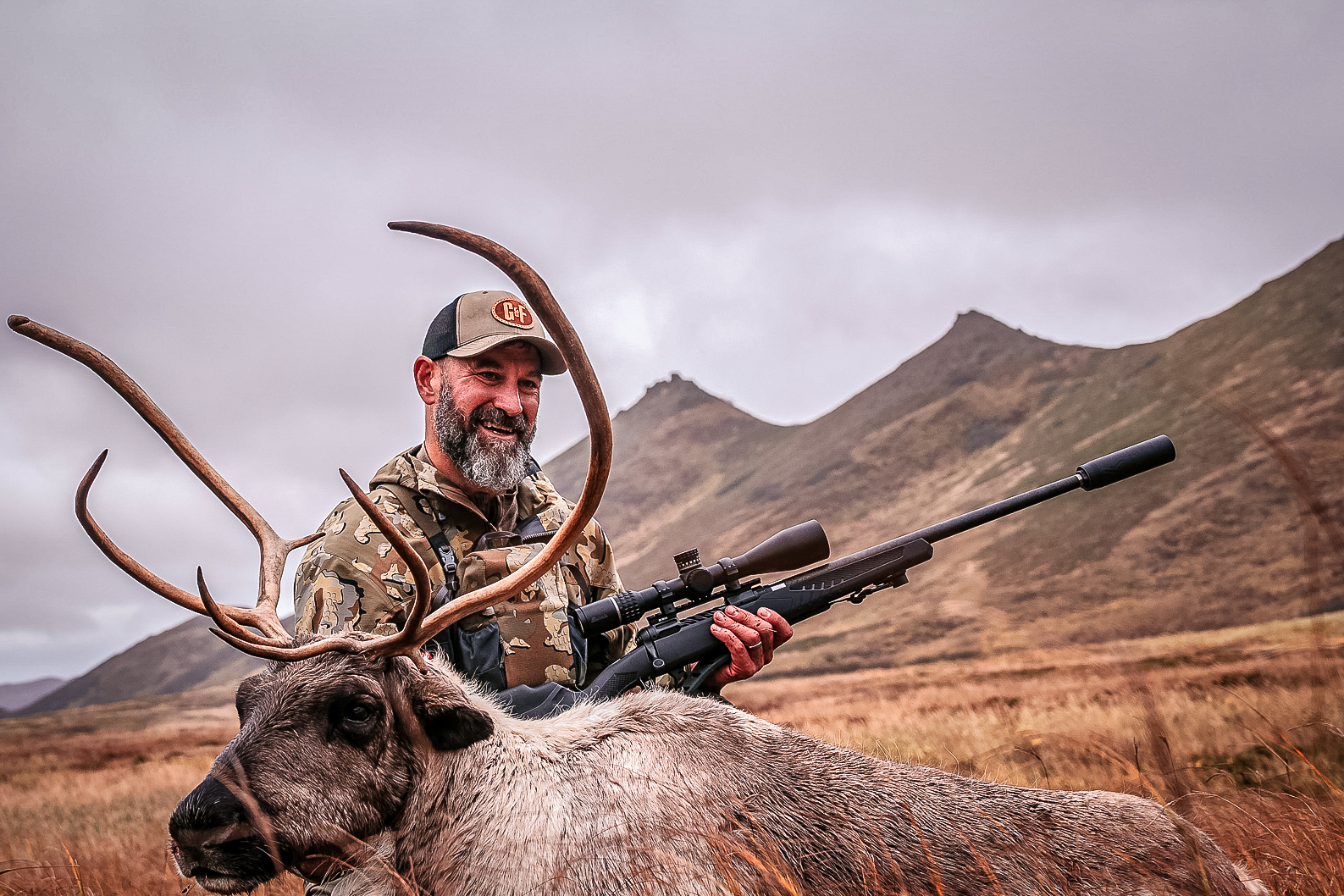 The Banish Backcountry, in spite of its short size, not only tames the crack of a gunshot, but it also reduces recoil extremely well. This was also critical. Wet fogged-up optics were the norm. Getting on the glass was more challenging than usual and made finding my target animal difficult.
Once I was on target and broke a shot, recoil reduction was critical to staying on the animal to watch where it ran or fell, thus preparing me to take a follow-up shot if needed. Ultralight rifles are notorious for producing a lot of felt recoil. The Banish Backcountry reduced the kick of the light .270 Win. Savage to nearly nothing.
Each day I hiked into the field light and came out heavy. Three days of hunting yielded one caribou and two great blacktail bucks, all of which had to be packed out of the mountains on my back. The Banish Backcountry directly contributed to my sore muscles and a full freezer. This suppressor is the ticket if you're a serious rifle hunter looking to gain an additional edge in the field.
GOOD GEAR – Stay Warm With the BRCC Freedom Flag 2.0 Blanket
---
Silencer Central Banish Backcountry Suppressor Specs

Material: 100% titanium, including mounts
Caliber: .30
Caliber Range: Up to .300 RUM
Sound reduction: 30db
Weight: 7.8 ounces(w/o Mount) 9 ounces with direct-thread mount
Number of Baffles: 6
Length: 5.7"
Diameter: 1.6"
Caliber range: up to 300 RUM
Mount Style: Direct thread and muzzle brake
Thread Pitch: 1.375-24 HUB – universal mount
MSRP: $1,099
Optional direct-thread mount sizes
Fully welded
---
READ NEXT – Silencer Central: Spreading the Suppressor Gospel