The mind-blowing, gravity-defying, superhuman athleticism of sport climbing will make its debut at the 2020 Olympic Games in Tokyo this summer, and four of America's own are qualified to compete: Brooke Raboutou, Kyra Condie, Nathaniel Coleman, and 17-year-old Colin Duffy.
Not to be left in the shadows, karate, skateboarding, and surfing are three other new additions to the 2020 Games, while baseball and softball are returning.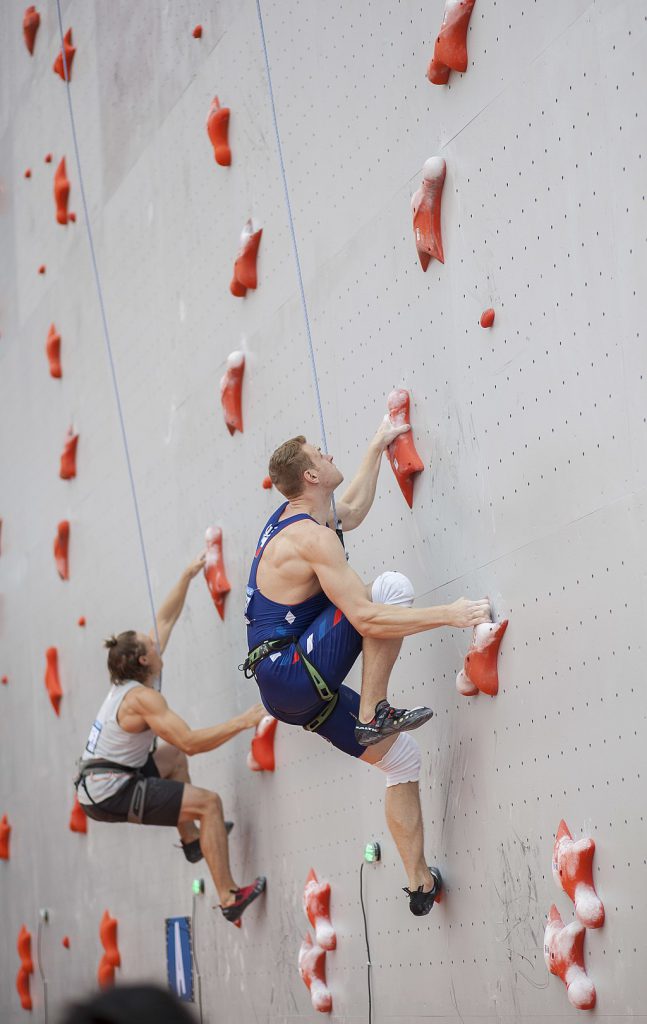 Look at any line graph representing the growth of sport climbing over the last eight years, and you'll see it shares the same description as its participants: headed up steep shit really fast.
Dating back to 1492 in France, with a laundry list of important benchmarks achieved over the centuries, climbing's draw in the States has risen from its El Capitan dirtbag, adventure-driven, counterculture roots to roughly 7.7 million participants in the US as of 2014 and nearly 540 dedicated climbing gyms nationwide in 2020. The International Federation of Sport Climbing estimated that there were 44.5 million climbers worldwide in 2018.
When the International Olympic Committee announced in 2016 that sport climbing would join the games, there was a lot of enthusiasm from the climbing community. Despite this new recognition of sport climbing, however, climbers took issue with the competition format.
In the Olympic sport-climbing competition, all climbers must navigate a wall that has a series of features, including objects of various shapes and sizes to be used as handholds and footholds. Climbers will compete in three events that showcase three disciplines: speed climbing, bouldering, and lead climbing.
Speed climbing is essentially a 15-meter side-by-side race to the top, with the winners advancing until the chalk dust settles and one champion emerges.
Bouldering is a highly technical, individual "boulder problem" event with a shorter wall and more difficult features. Climbers must master unknown sequences, or paths, up the wall to reach the final hold. Time and control are important.
Lead climbing has the competitors in harnesses and climbing ropes, individually ascending a new, taller wall with new features. The goal is to reach the top, but climbers are scored by how far they progress and how many handholds they use.
Scores are based on the climber's place in each discipline. If someone scored first in speed climbing, fourth in bouldering, and second in lead climbing, they'd score a combined 8 (1 x 4 x 2). The lowest score gets gold.
What has caused some controversy in the climbing community is that all three disciplines, especially the speed climb, are combined into one total score. Many veteran climbers say it's an unrealistic gauge of the specialization and training that each discipline requires.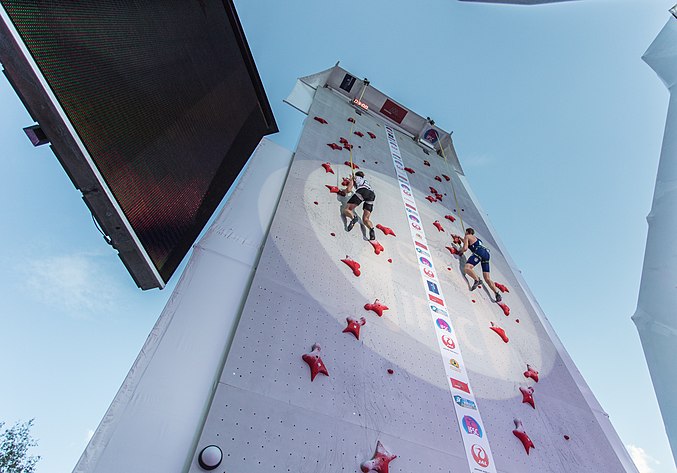 Shauna Coxsey, the double world champion boulderer from Britain, put it like this in a 2017 interview: "It's a bit like asking Usain Bolt to run a marathon and then do the hurdles. No one has really transitioned before. No boulderer has transitioned to speed and lead, and no speed climber has done it to bouldering and lead."
Regardless of that monkey wrench, there can still be only one "best" in each discipline, and you can bet that if the only thing between Usain Bolt and the gold were 400 meters of hurdles, he'd crush that shit.
Opening ceremonies for the 2020 Games are scheduled for July 23, with closing ceremonies on Aug. 8. Sport climbing's qualifying rounds for men start Aug. 3, and for women on Aug. 4. Men's finals will be on Aug. 5 and women's on Aug. 6. You can check the full schedule for times.
Read Next: Off Script: Free Range Q&A With Mark Pattison, NFL Receiver and Seven Summits Climber