Every once in a while, a bunch of rich dudes get what they think is a helluva damn good idea over a few country club bourbons. One hundred percent of the time it's an idea better left on the bar with the tip.
But when one of the guys gets a bit over-zealous and has a little too much follow-through, things can escalate quickly. You can wind up, for instance, flying a Russian-chartered plane into prohibited airspace and parking a custom modified F-150 carrying a cache of hunting weapons at the bottom of a frozen bay in the Arctic — or some such stupid shit.
Yea, the 16 dudes who make up the Transglobal Car Expedition are currently dealing with a really bad hangover.
The expedition included guys from Iceland, Russia, Ukraine, Germany, and Canada. This trip was supposed to be a month-long warm-up run for their larger goal of vertically circumnavigating the globe in a year and a half.
They planned to drive from the southern tip of South America up to the North Pole, then down through Greenland, Europe, Asia, and Africa. Then, they'd trek across Antarctica and return to their starting point in South America.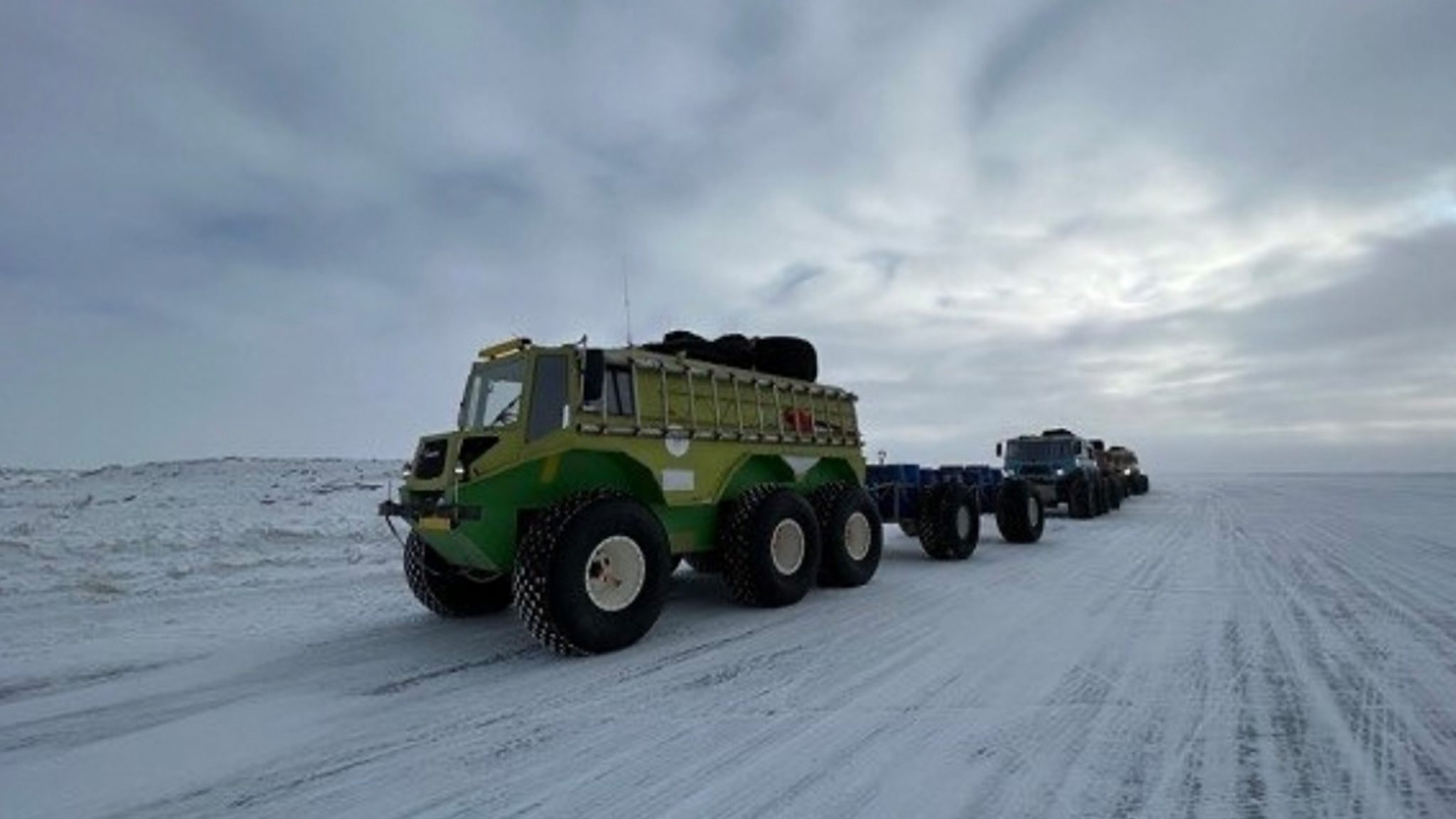 Their line-up of vehicles included three of the beefed-up Ford F-150s with 44-inch flotation tires, and four amphibious vehicles called Yemelyas, which are like Argos on methamphetamines.
Back in the warm-up phase, though, the stupid shit was already unfolding.
After successfully traveling overland (and over ice) from Yellowknife, N.W.T. to Resolute Bay, Nunavut, part of the team was heading back to Cambridge Bay when the ill-fated Ford found thin ice northwest of Taloyoak. The driver and his passengers managed to escape before submerging.
Five of the team's seven vehicles had remained in Resolute Bay, along with the team's only ice thickness scanner.
Most of their clothes and gear, and all of their polar bear-deterring firearms, went down with the ship.
According to Icelandic team member Torfi Johansson, the ice had been 50 centimeters thick among the islands on their trip north. When the truck sank in the same area five days later, it was only 15 centimeters thick.
"We were [there] just five days ago," said Johansson. "No way for us to expect for it to change that much, in that amount of time."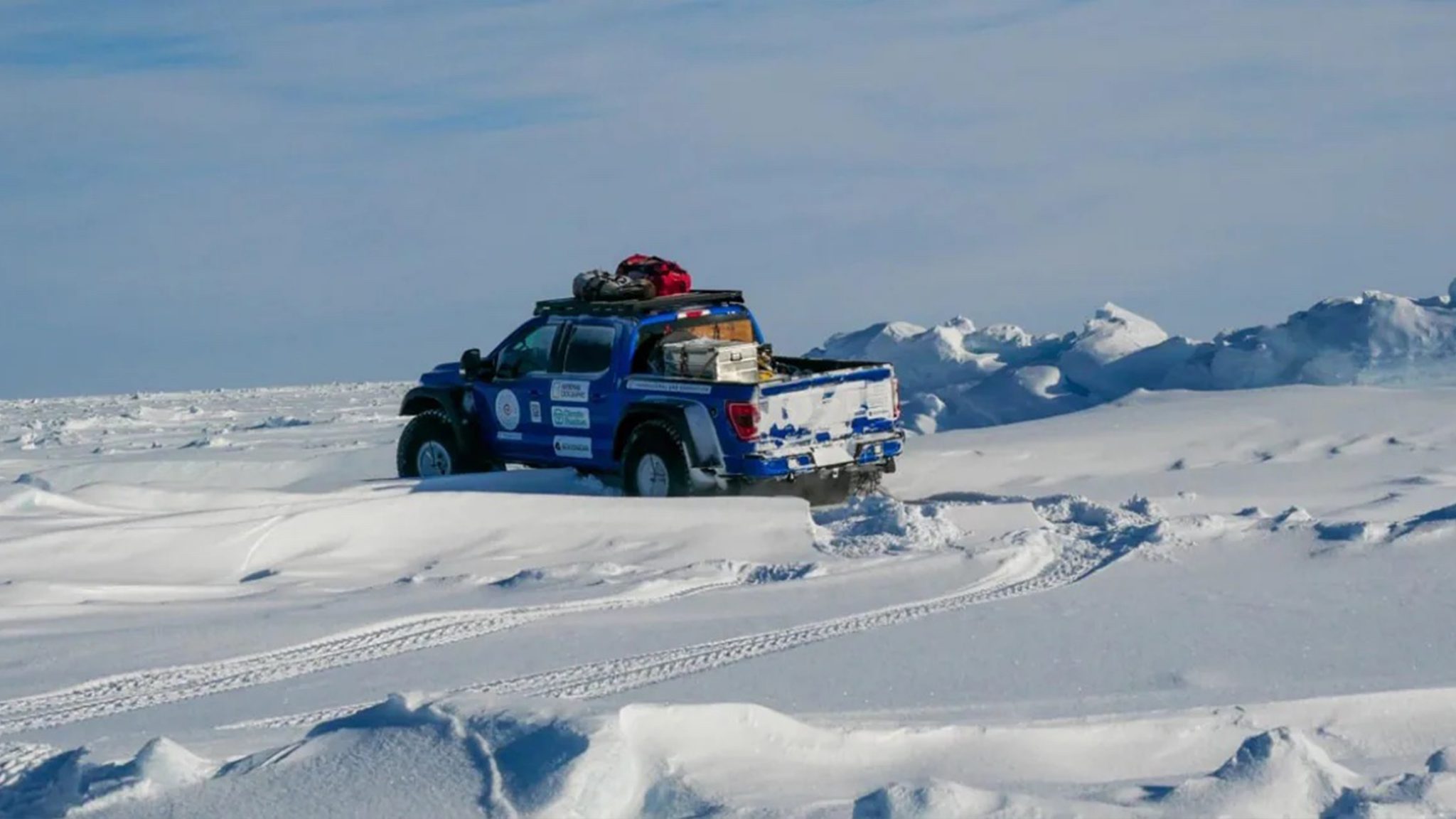 Of course, without seeking the aid of any local knowledge, Jimmy Oleekatalik and Joe Ashevak, chairperson of the Spence Bay Hunters and Trappers Association, stated the obvious after learning about the incident.
"We could have at least advised them of areas where there's fast water and open polynyas or places where it's dangerous to travel," said Ashevak. "You could at least tell them that some areas of [the] ocean is unsafe for heavy vehicles to travel on."
Both Oleekatalik and Ashevak said the area where the truck went through the ice is a known migratory route for beluga whales, narwhals, seals, walruses, and Arctic char — hunting grounds and wildlife that local communities rely on heavily.
"We live off the land," Oleekatalik said. "We're not farmers. We're hunters and gatherers, and we need our game to be clean. We want it cleaned out as quickly as possible."
"It's going to harm the wildlife, one way or the other," Ashevak added.
While one could write this off as an isolated instance of exceedingly poor judgment, this expedition had already shown its ass even before sinking the truck.
RELATED – New Documentary Chronicles Insane Mountain Climbing Record Quest
---
Born Under a Bad Sign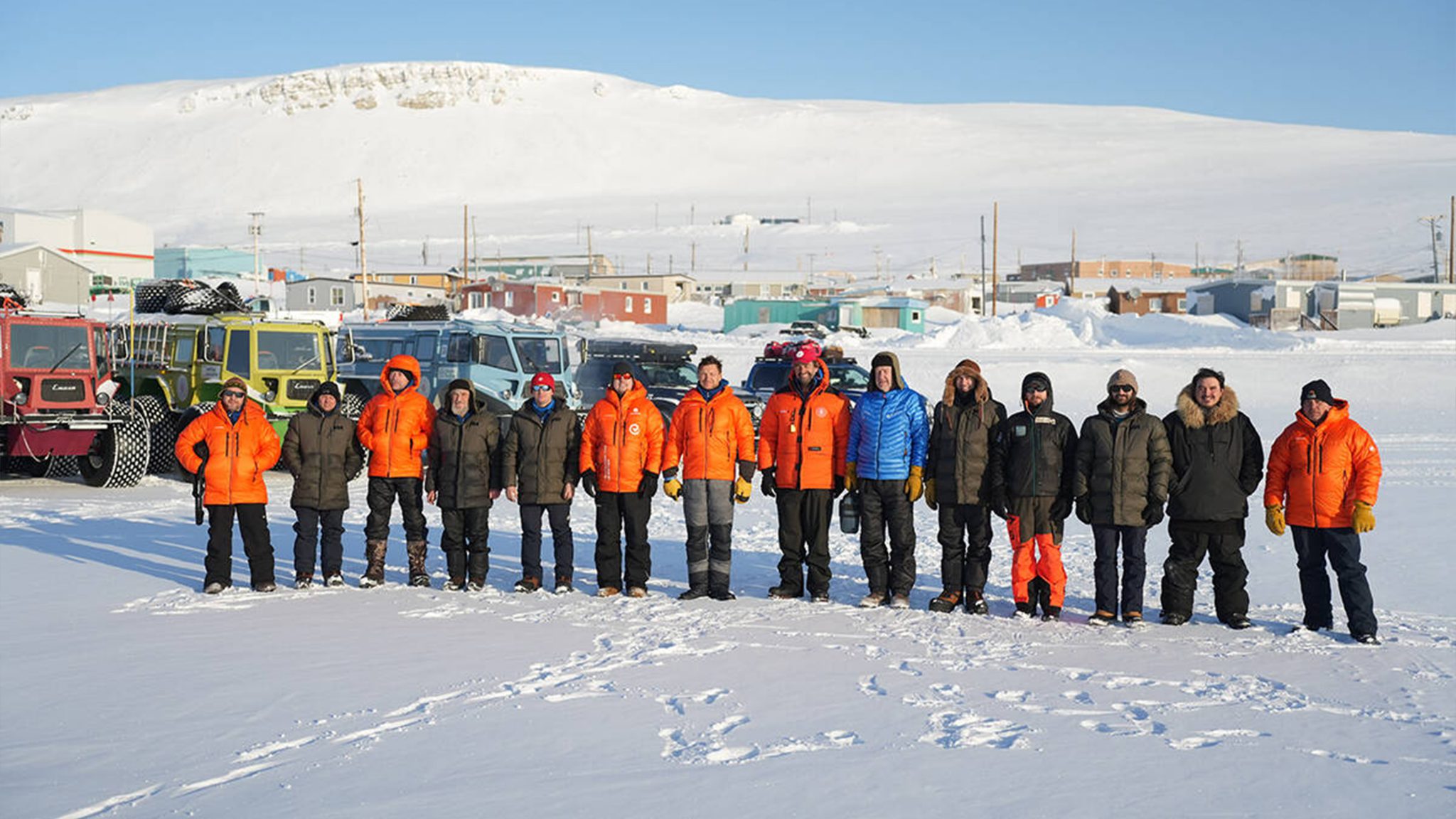 On March 1, the expedition team, including two Russian nationals — Vasily Shakhnovsky, a billionaire former oil and gas executive, and Vasily Elagin, a mountaineer and explorer — landed their charter plane in Yellowknife.
The flight, chartered by one of the Russians (not identified), was grounded immediately for violating the Feb. 27 Notice to Airmen (NOTAM) prohibiting owned, chartered, or certified Russian aircraft from operating in Canadian airspace.
Transport Canada levied $3,000 in fines against the Russian passenger and two pilots. The aircraft operator, Dunard Engineering Ltd., was fined $15,000.
Andrew Comrie-Picard, a Canadian member of the expedition and race car driver, X Games athlete, stuntman, and TV personality said the whole thing came as a surprise to the "apolitical" group.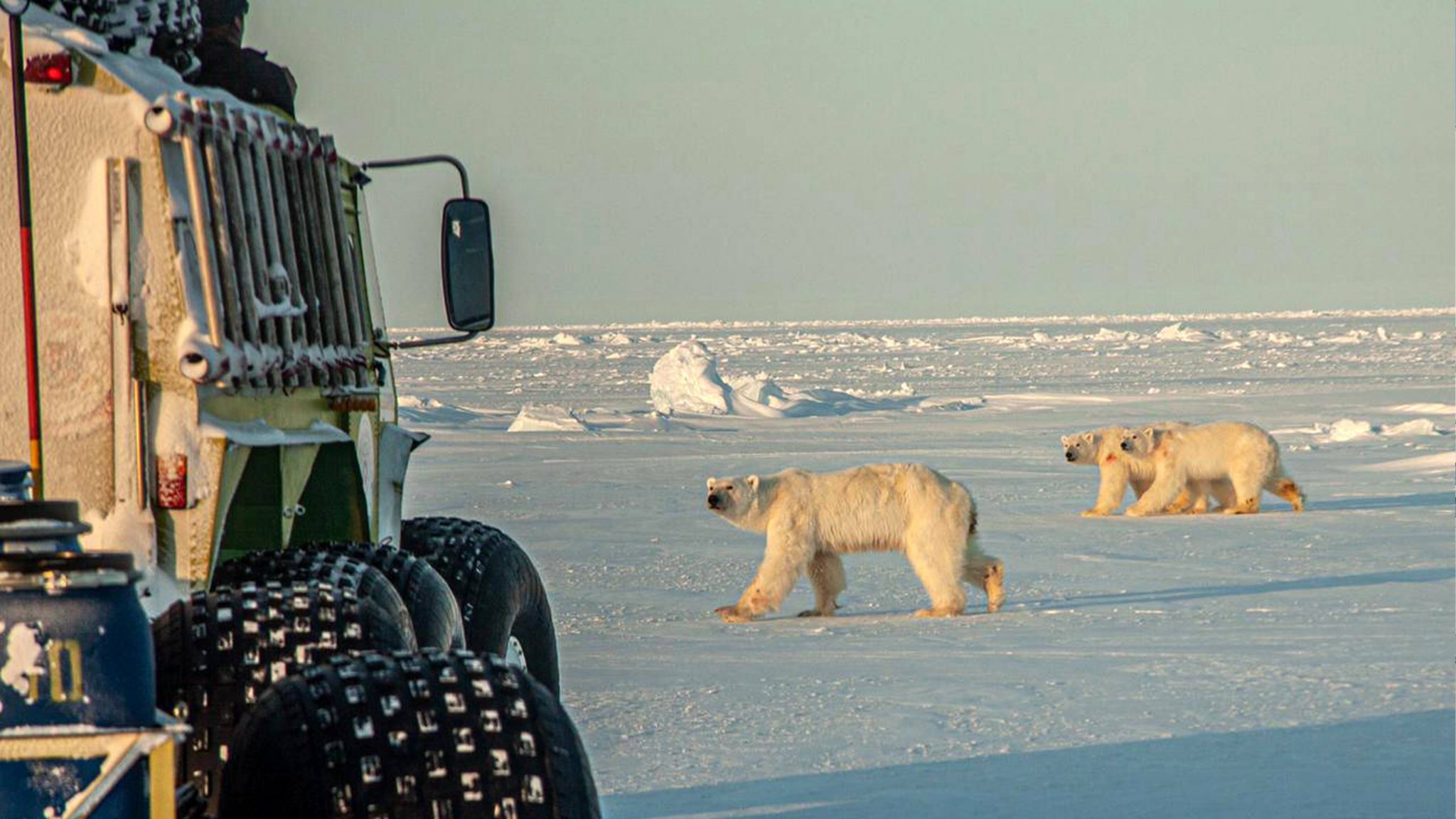 "We've got Icelandics and Russians and Ukrainians and Germans, and I'm Canadian, so we're kind of nationality-blind, to be honest," Comrie-Picard said.
Regardless of the "hey, we're all just really good guys doing stupid shit" shtick, some communication with the proper authorities during trip planning, rather than focusing on promoting themselves on Facebook, might've helped.
N.W.T.'s infrastructure minister Diane Archie told the Legislative Assembly she was "disappointed" with the lack of communication from the people planning to go on the expedition.
"I'm hopeful that they at least reached out to the [Yellowknives Dene] First Nation or the Tłı̨chǫ when accessing their traditional territory," she said.
RELATED – Antarctic Ice Marathon: A Trial By Fire
---
'We Could Have Done Better…'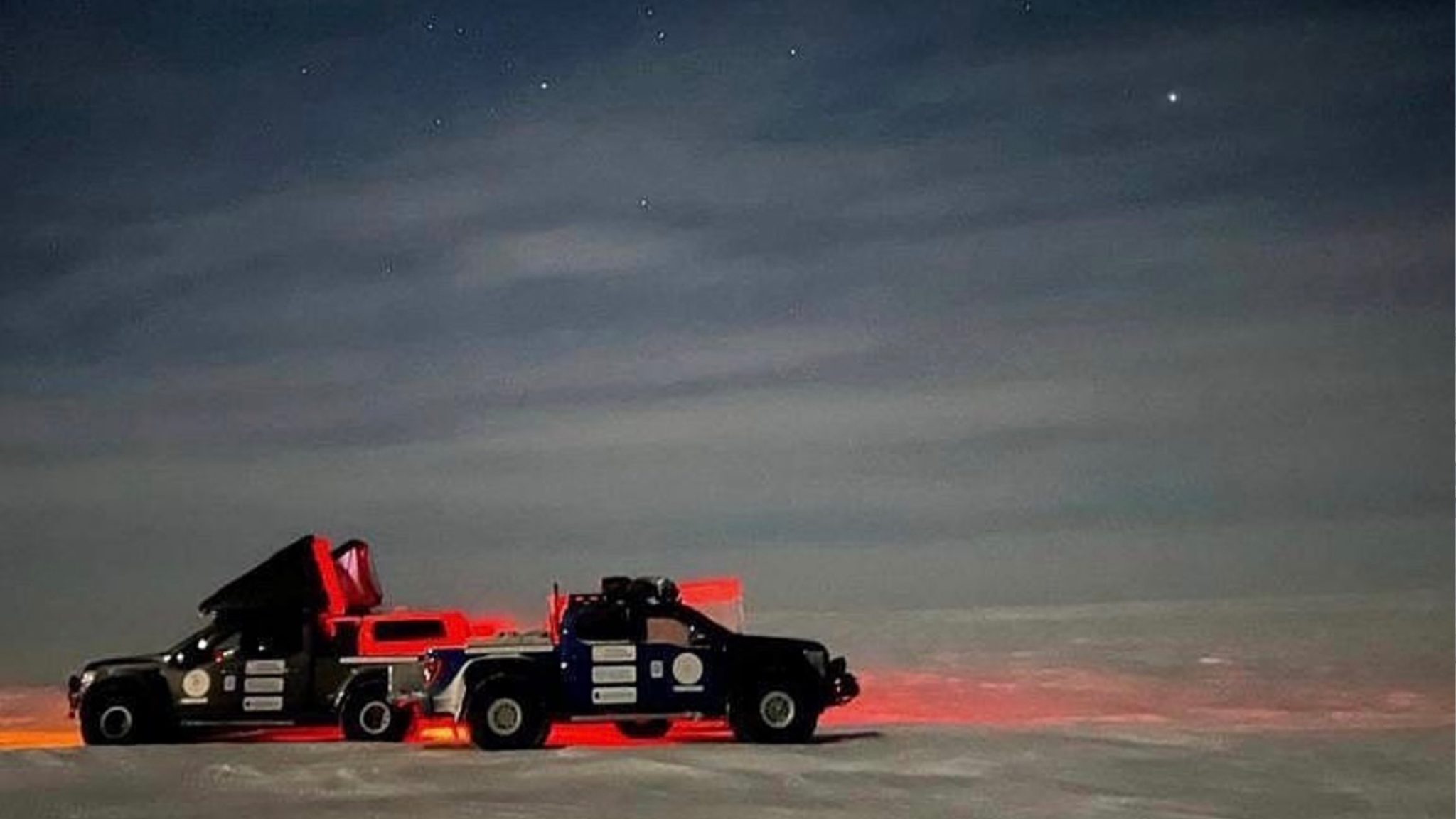 Organizing a globe-roving, multi-continent, year-and-a-half-long expedition, as it turns out, takes more than a pile of money and a strong sense of manifest destiny.
It's not like showing up at a new lake with a fully-loaded bass rig and asking the local tackle shop what they're biting on. It's more like, well, circumnavigating the fucking globe.
There is hope for the Transglobal Car Expedition, though. Admitting you have a problem is the first step.
Emil Grimsson, an Icelandic member of the team, said there were plans for better consultation and research while in Yellowknife, but the group had been distracted by the unexpected challenges.
"We could have done better," he said. "The thing we need to do is learn. We need to know who to talk to."
---
READ NEXT – Shackleton's Sunken Ship 'Endurance' Found After 107 Years