Summer is grilling season. That means it's time to spark up the charcoal, grab some beers, and enjoy the sunshine with the gang. It's also a great time to work through the wild game in your freezer and make room for hunting season. No matter what protein or garden-fresh veggies you've got cooking, you're going to need sauces and side dishes to round out the festivities. We put together a small list of awesome summer sides and sauces perfect for every cookout and meal combination.
From steaks to tacos, burgers to brats, fowl to fish, and everything in between, these sides and sauces can do it all. The next time you light up the grill and assemble the homies, give a few of these a try.
Chimichurri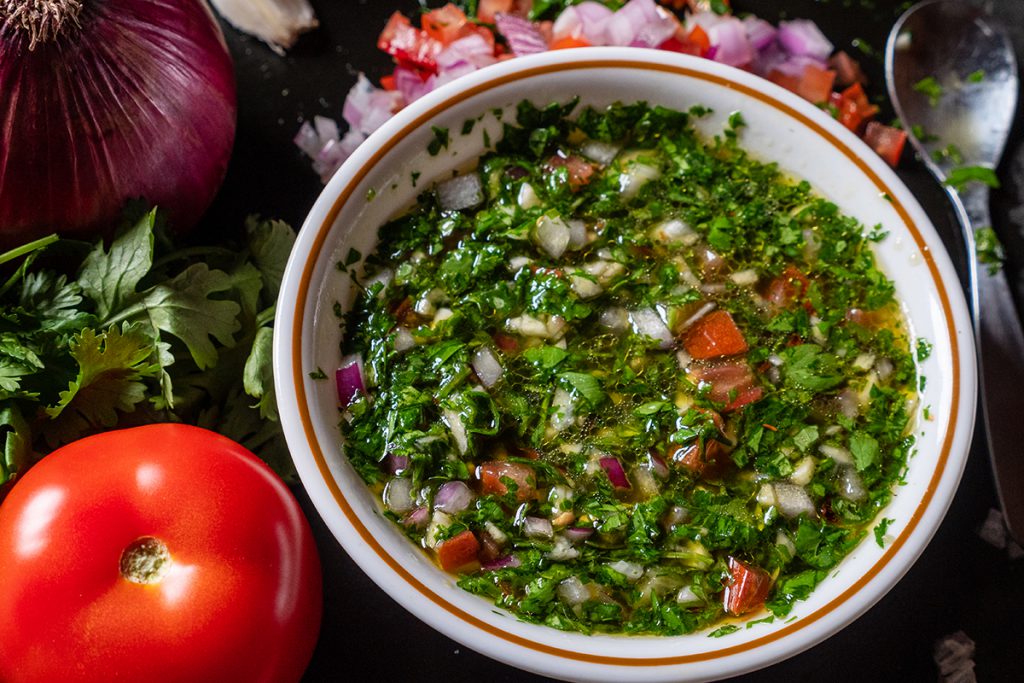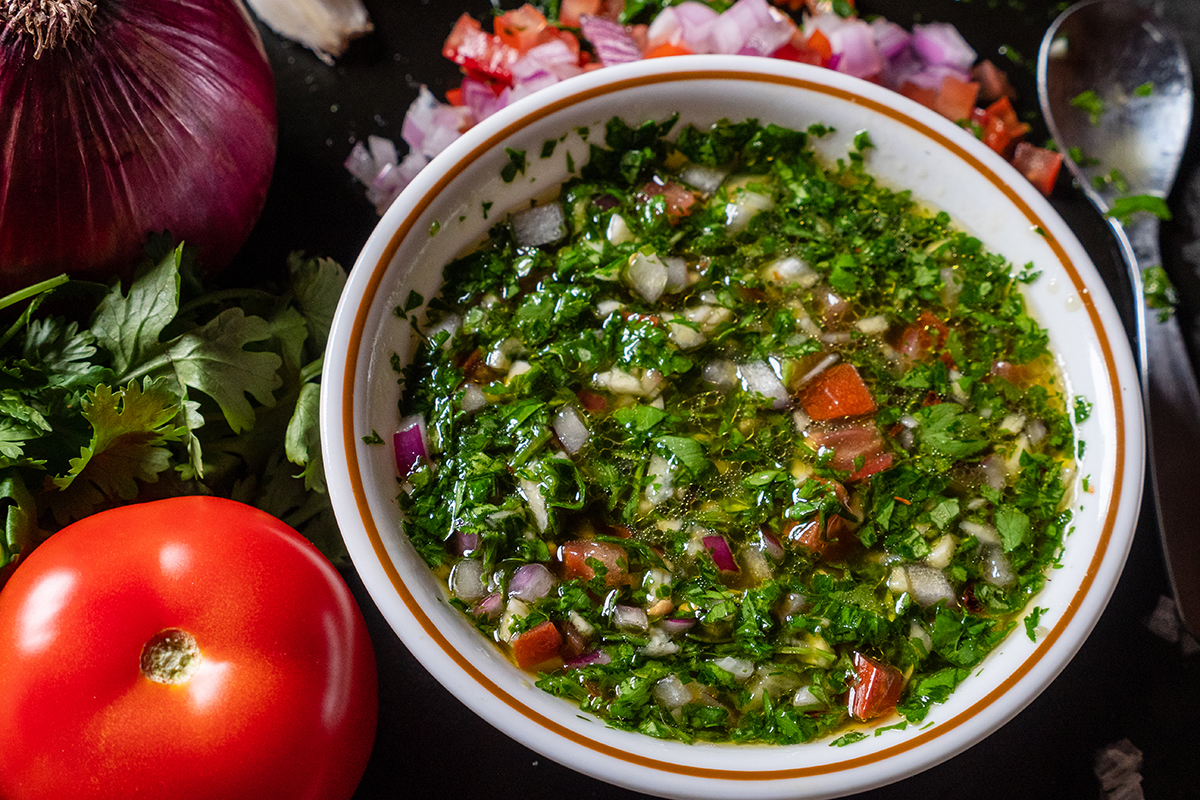 Chimichurri is a Latin American condiment that goes with just about everything. It can be used as a topping, sauce, marinade, or even as a salad dressing. Chimichurri consists primarily of chopped garlic and fresh herbs in vinegar, but diced onion, tomato, and pepper are often included. Also, citrus juice is often used in place of vinegar.
We went with a relatively traditional approach for this recipe, but many variations are possible. Chimichurri is especially great on grilled backstrap and fish.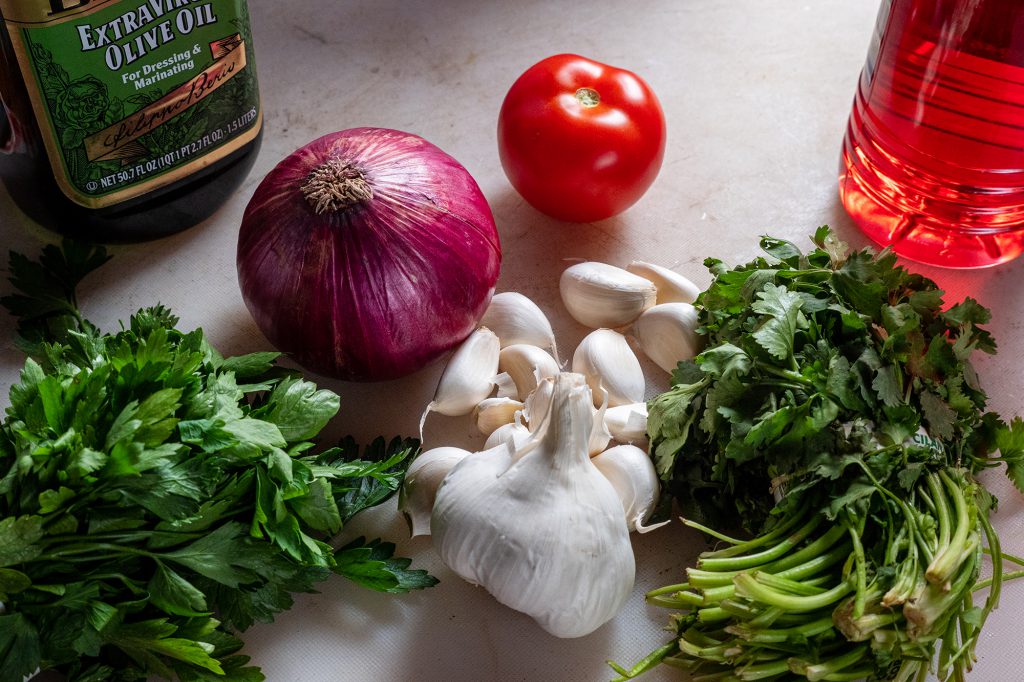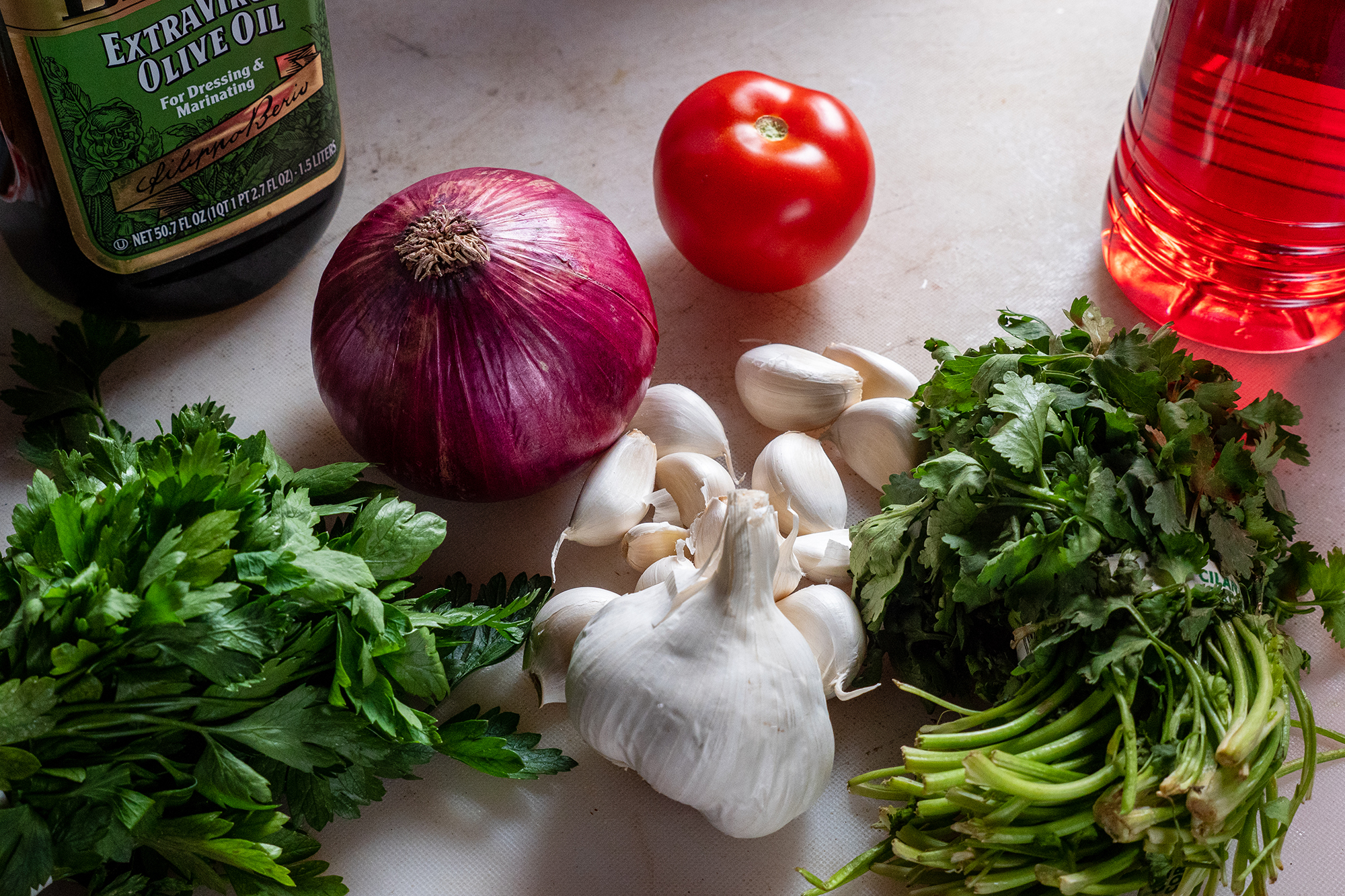 Ingredients
1/2 red onion
1/2 tomato
4 garlic cloves
1/2 cup cilantro
1/2 cup parsley
1/4 cup oregano
1/2 cup red wine vinegar
1 teaspoon kosher salt
1 tablespoon olive oil
1/4 teaspoon red pepper flakes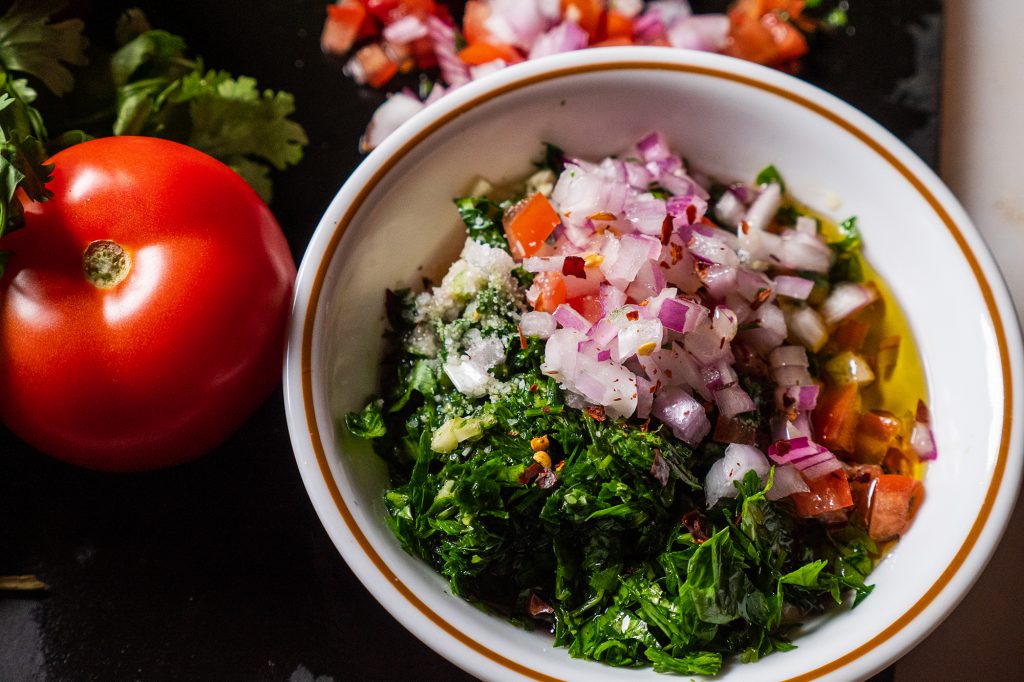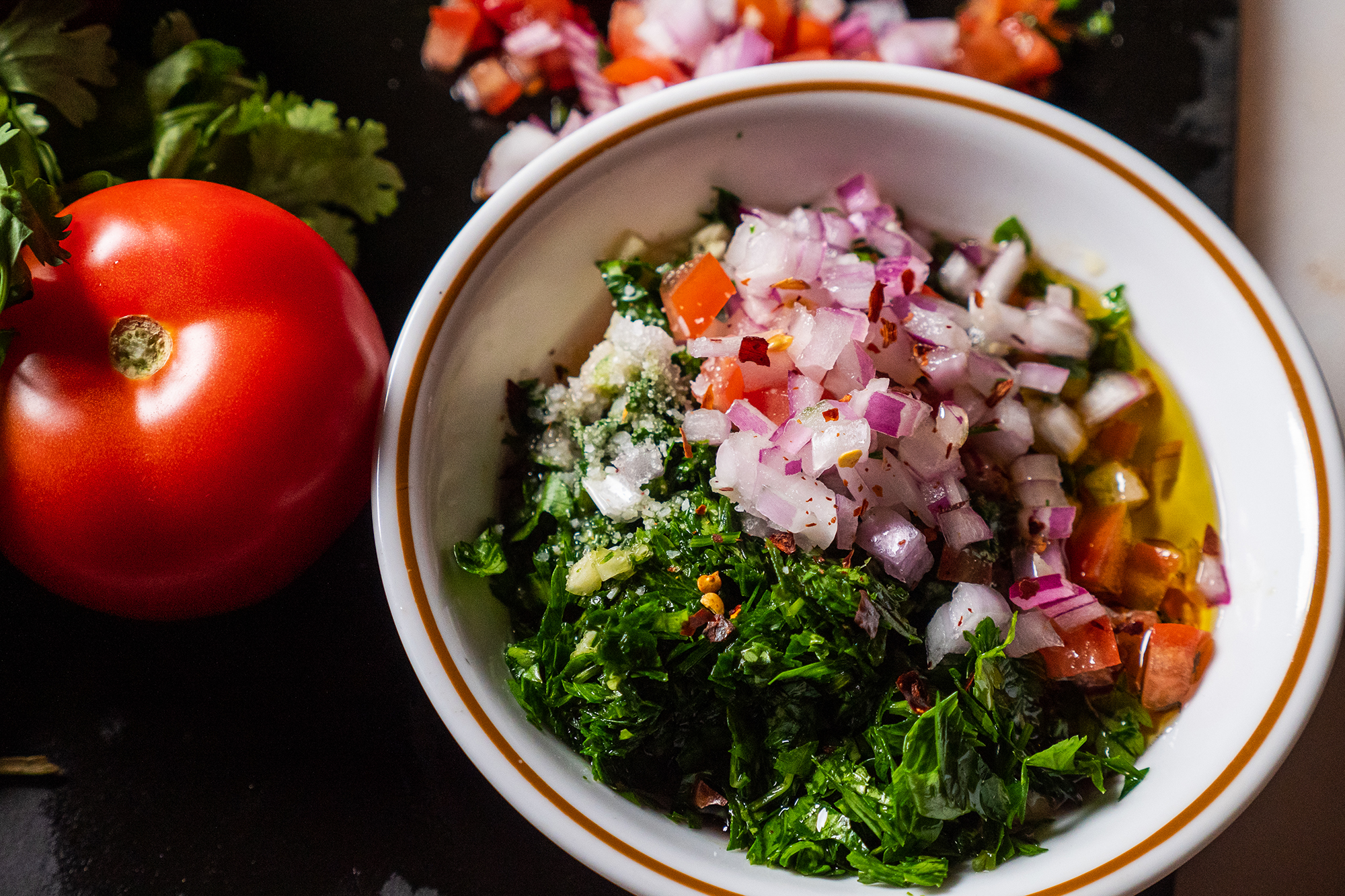 Directions
Dice the red onion and tomato and mince the garlic.
Finely chop the cilantro, parsley, and oregano.
In a small mixing bowl, combine the cut up onion, tomato, garlic, and herbs.
Add the vinegar, oil, salt, pepper, and pepper flakes to the bowl and mix everything together. Chill and serve.
Corn Salsa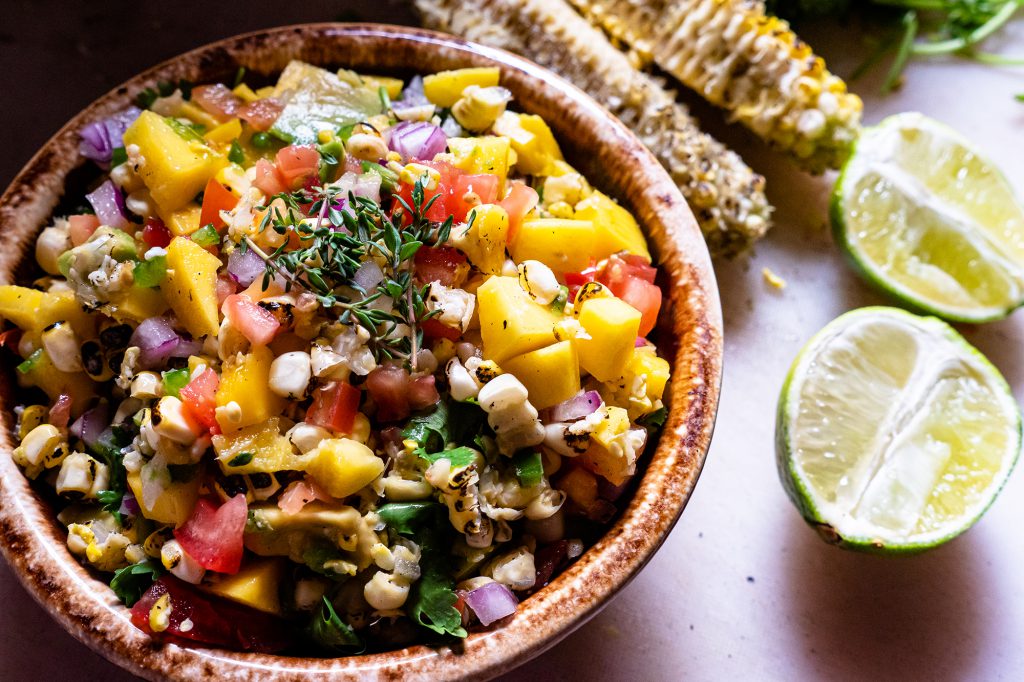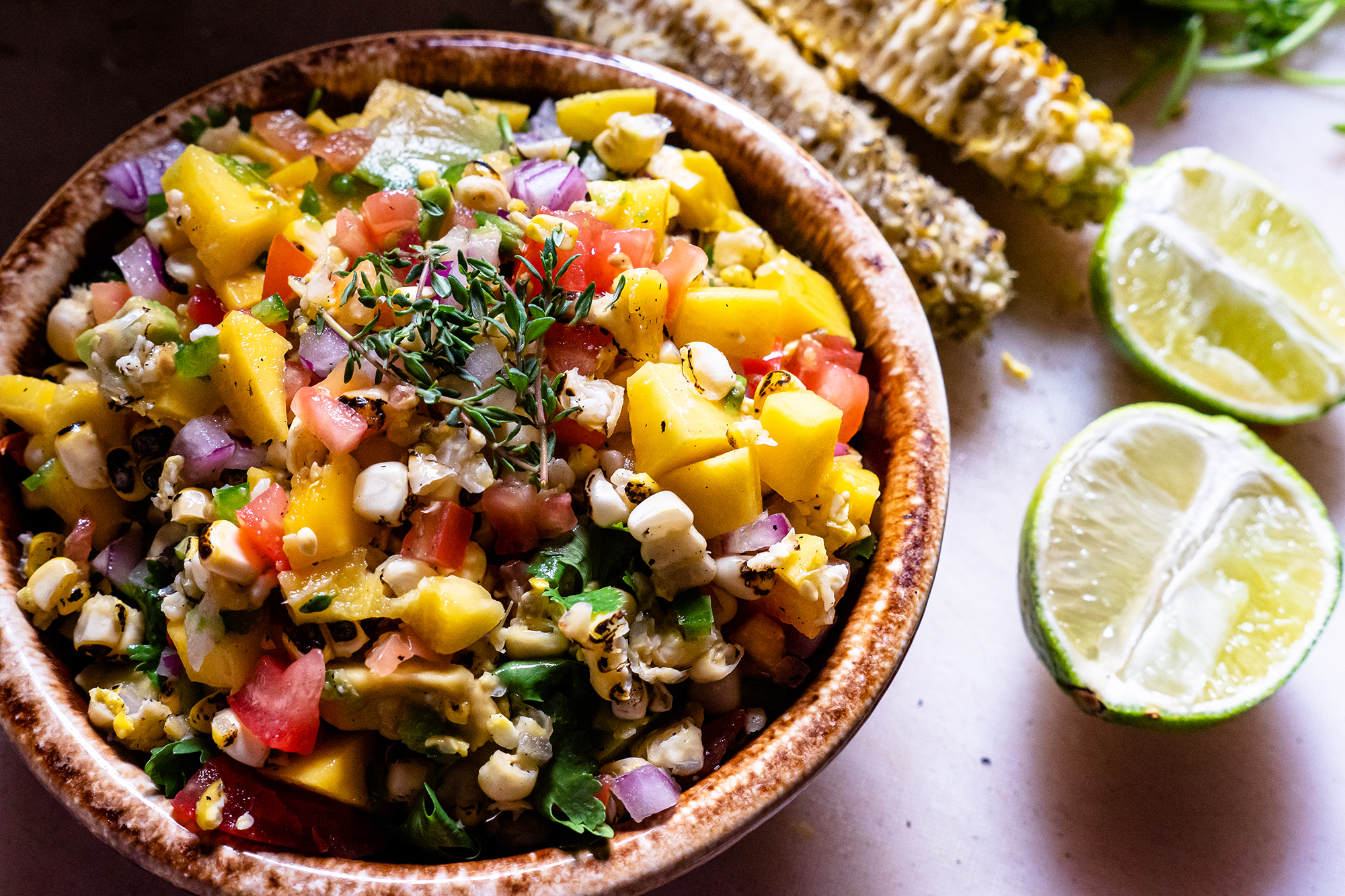 Sweet corn is one of the best things about the summer months, and there is no shortage of awesome ways to enjoy it. One of my personal favorites is corn salsa. Sweet, tangy, and refreshing, corn salsa goes great on tacos, with fish, or even as a stand-alone salad.
I make mine with charred corn and mango for a little extra character. While the char isn't necessary, I find it adds smokiness and cuts the acidity of the citrus. The mango adds another layer of sweetness, as well as a unique texture for contrast. If you're getting burnt out on the classic boiled sweet corn, give this delicious corn salsa a try.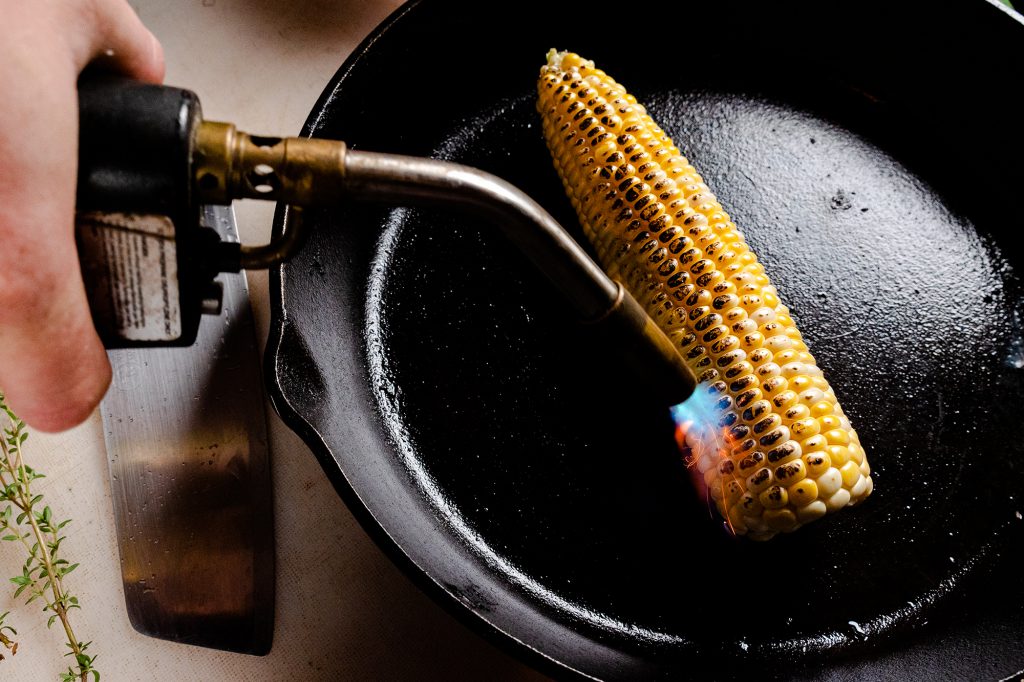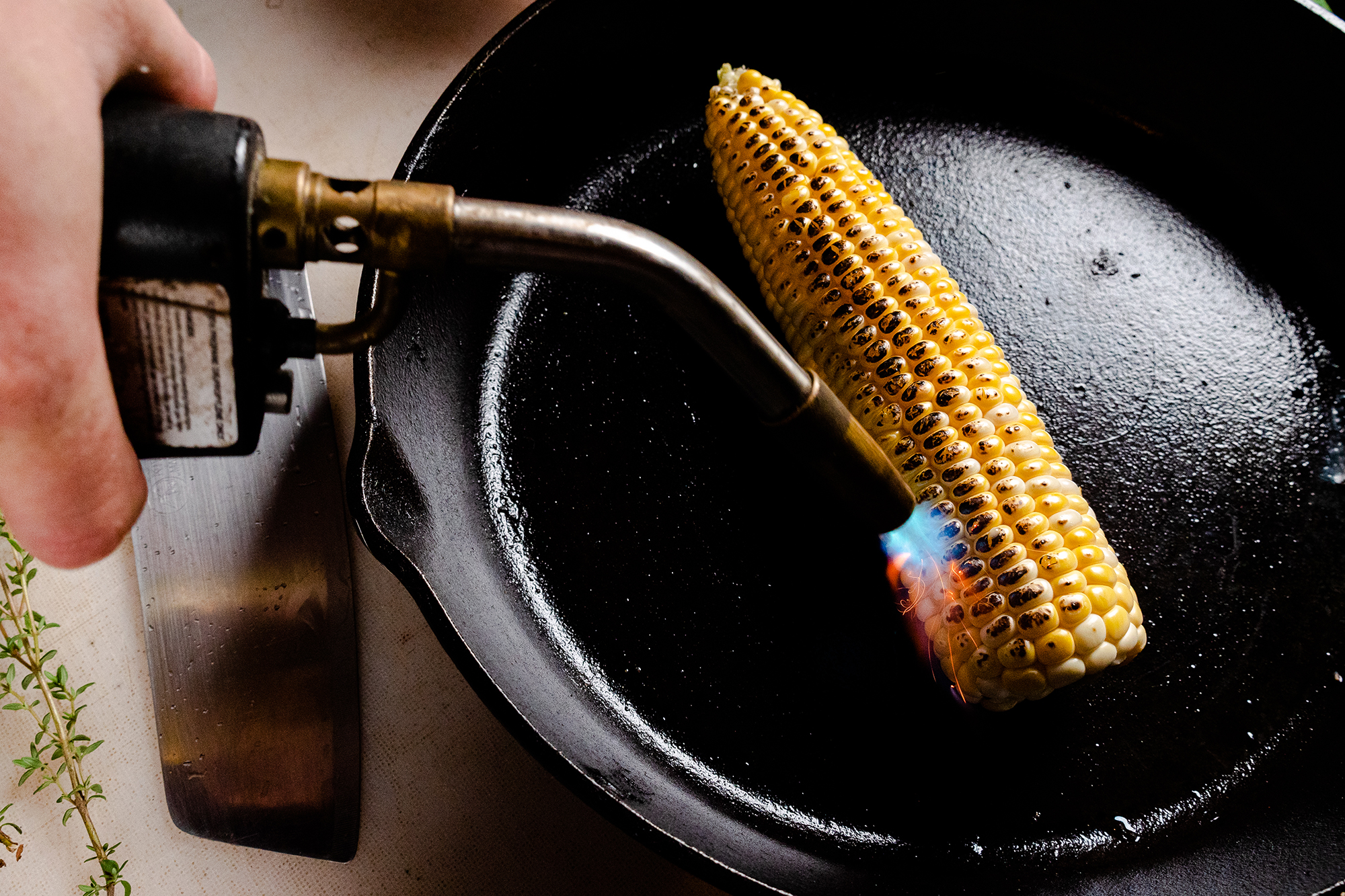 Ingredients
2 ears sweet corn
1 mango
1 jalapeno
1 tomato
1/2 red onion
1/2 cup fresh cilantro, picked
1 avocado
1/3 cup fresh lime juice
1 tablespoon lime zest
1 teaspoon salt
1/2 teaspoon black pepper
1/8 teaspoon chili powder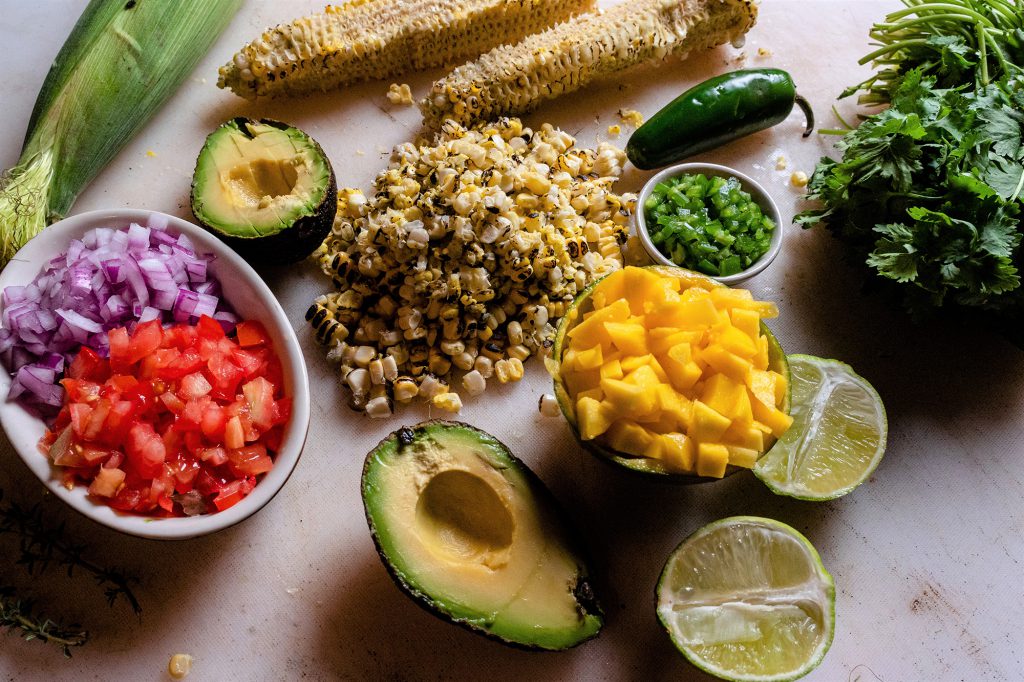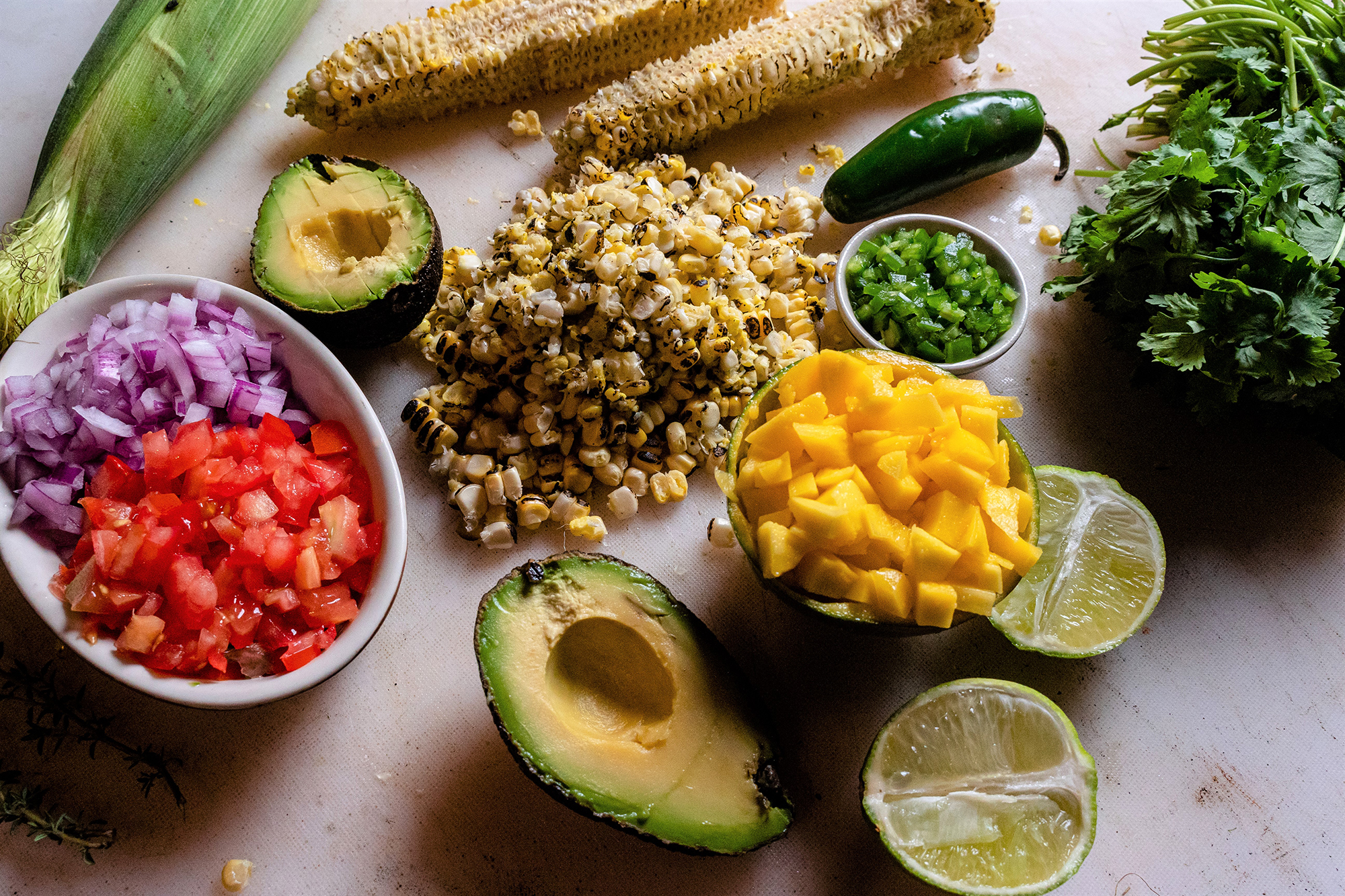 Directions
Remove the corn husk and whiskers and lightly char the corn on the grill or using a blowtorch.
Remove the kernels from the cob using a knife. 
Skin and pit the mango and avocado, then cut the meat into small cubes. 
Dice the jalapeno, tomato, and onion, then pick about 1/2 cup worth of cilantro leaves. 
Remove one tablespoon worth of zest, then juice 1/3 cup of lime juice (one to two limes).
In a mixing bowl, add the lime juice and zest to the corn, mango, jalapeno, tomato, onion, avocado, and herbs.
Season with salt, black pepper, and a pinch of chili powder. Mix well and serve. 
Potato Salad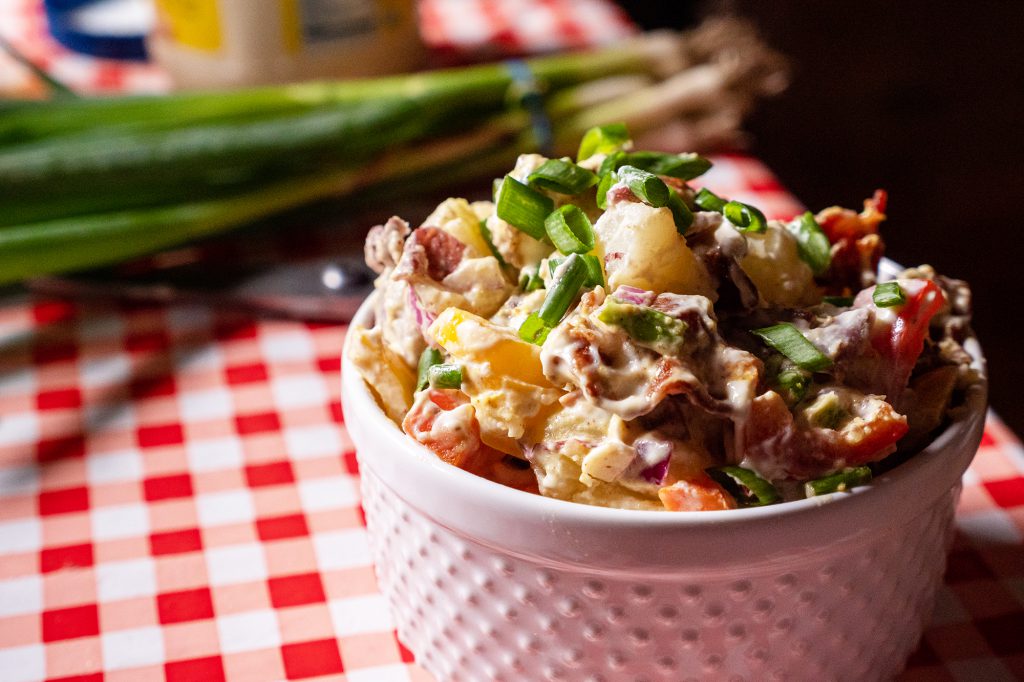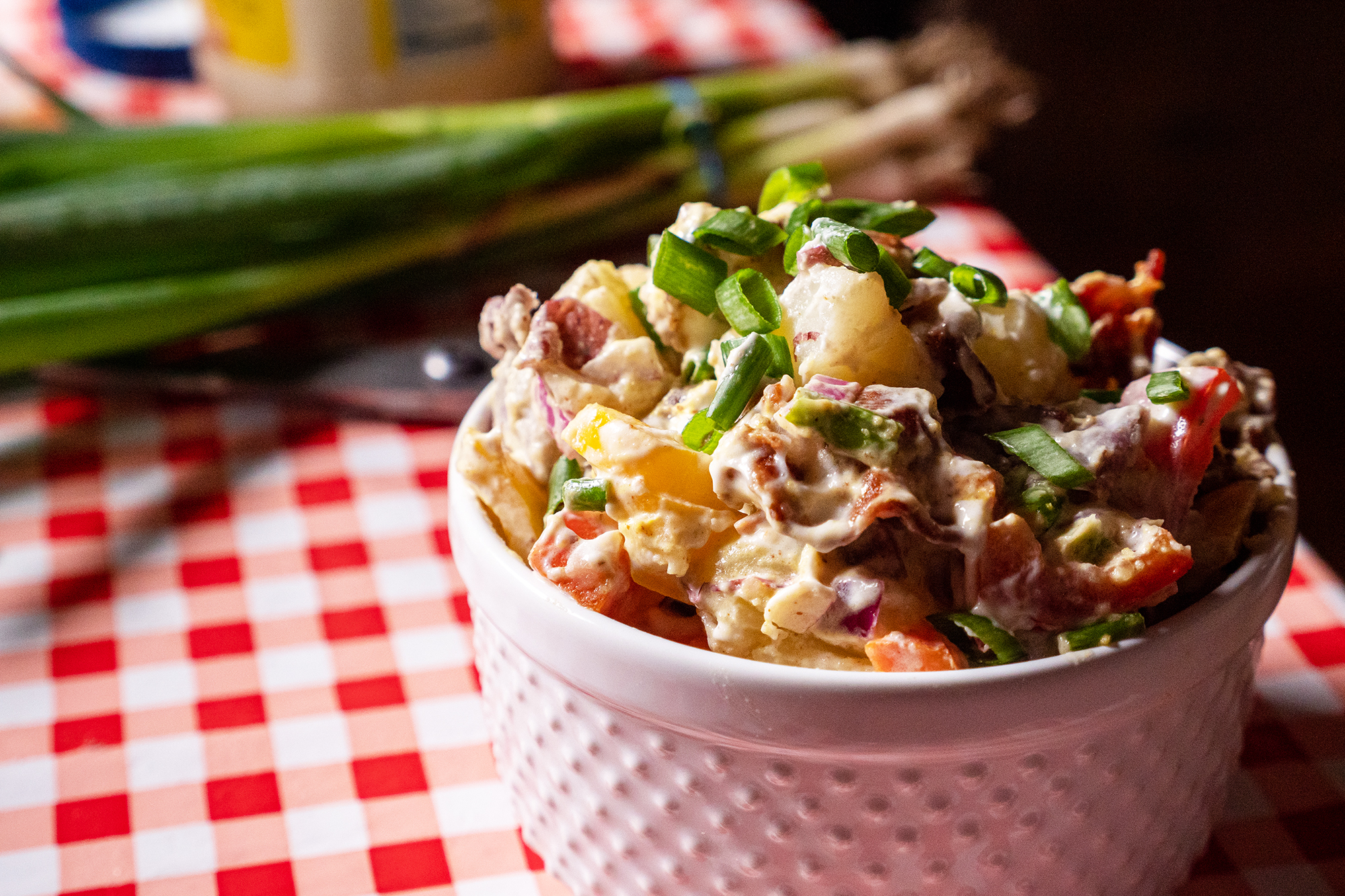 A good potato salad is a meal in and of itself, and no summer cookout is complete without it. This particular recipe was born at a fishing lodge where I spent a few summers working. I had a side hustle catering for anglers who wanted something a little nicer than the local fare, and this potato salad became so popular that people would ask about it long after I stopped working there.
Generous additions of crispy bacon, scallions, and sweet bell peppers take this potato salad to the next level. Going light on the mayo keeps the salad from becoming too heavy, and adding a bit of spicy mustard and cider vinegar helps cut through the fat and starch. I consider this a necessary dish at every backyard barbeque and potluck.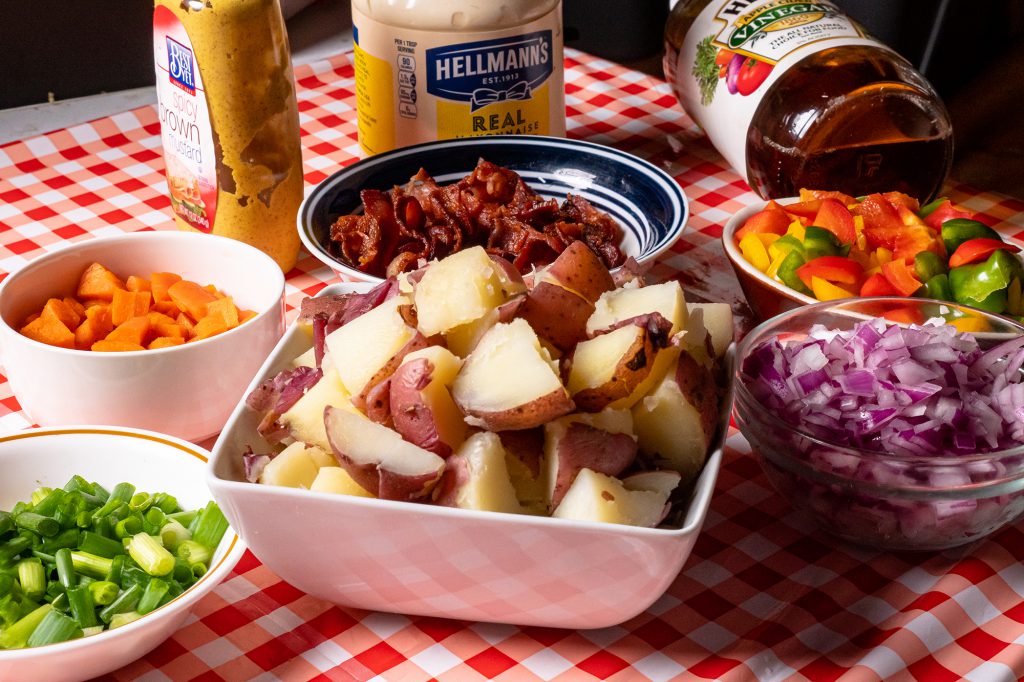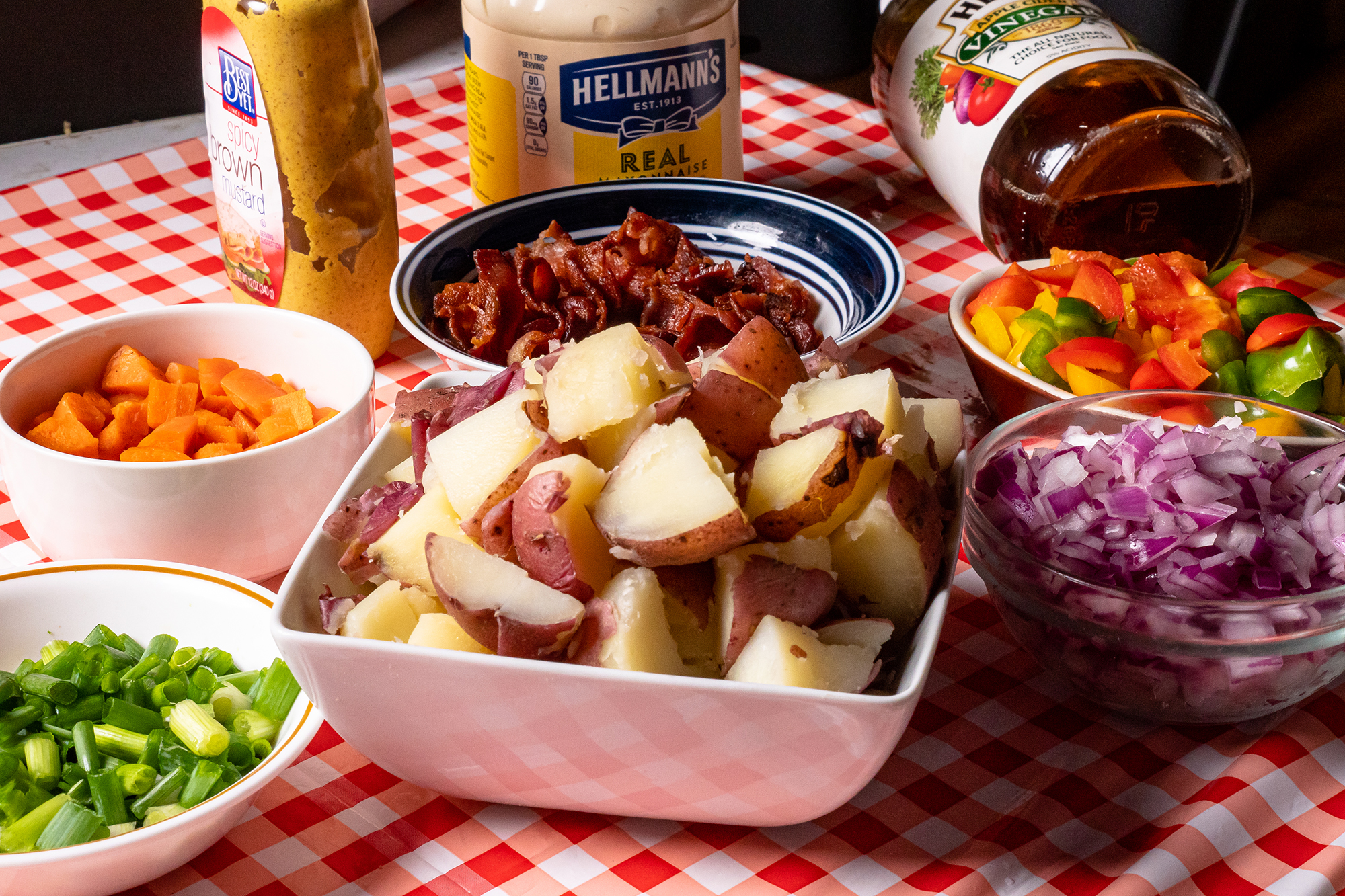 Ingredients
8 to 10 red potatoes
1 pound bacon
1 bell pepper
1 red onion
1 carrot
1 1/2 cups scallions, rough cut
1/2 cup mayonnaise
1 tablespoon spicy brown or whole grain mustard
1 tablespoon apple cider vinegar
1 teaspoon salt
1 teaspoon black pepper
1 teaspoon garlic powder
1 teaspoon onion powder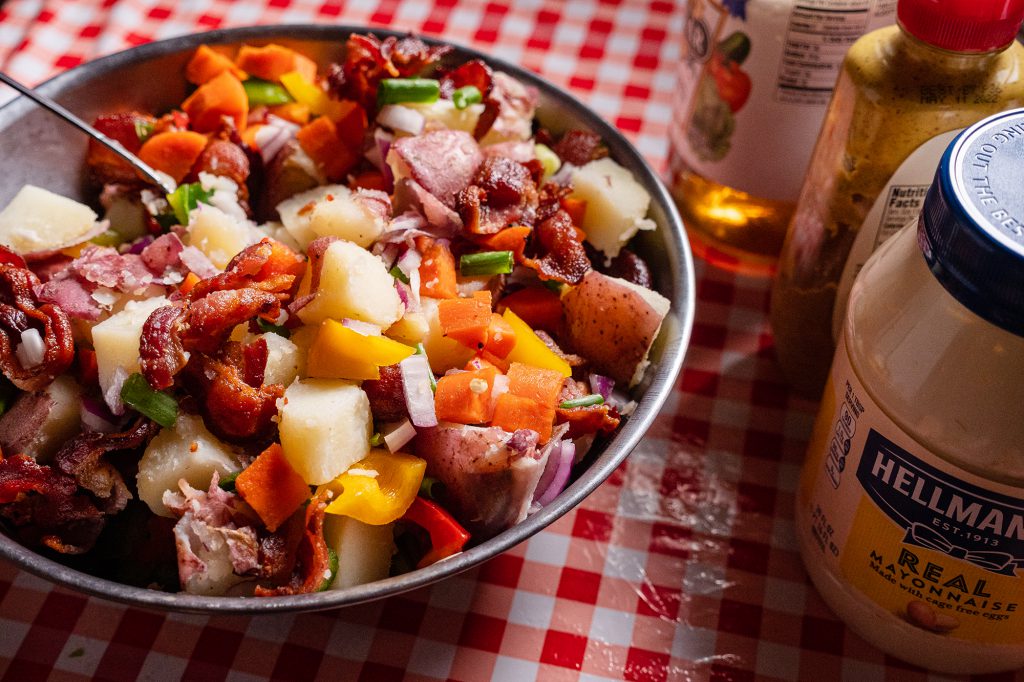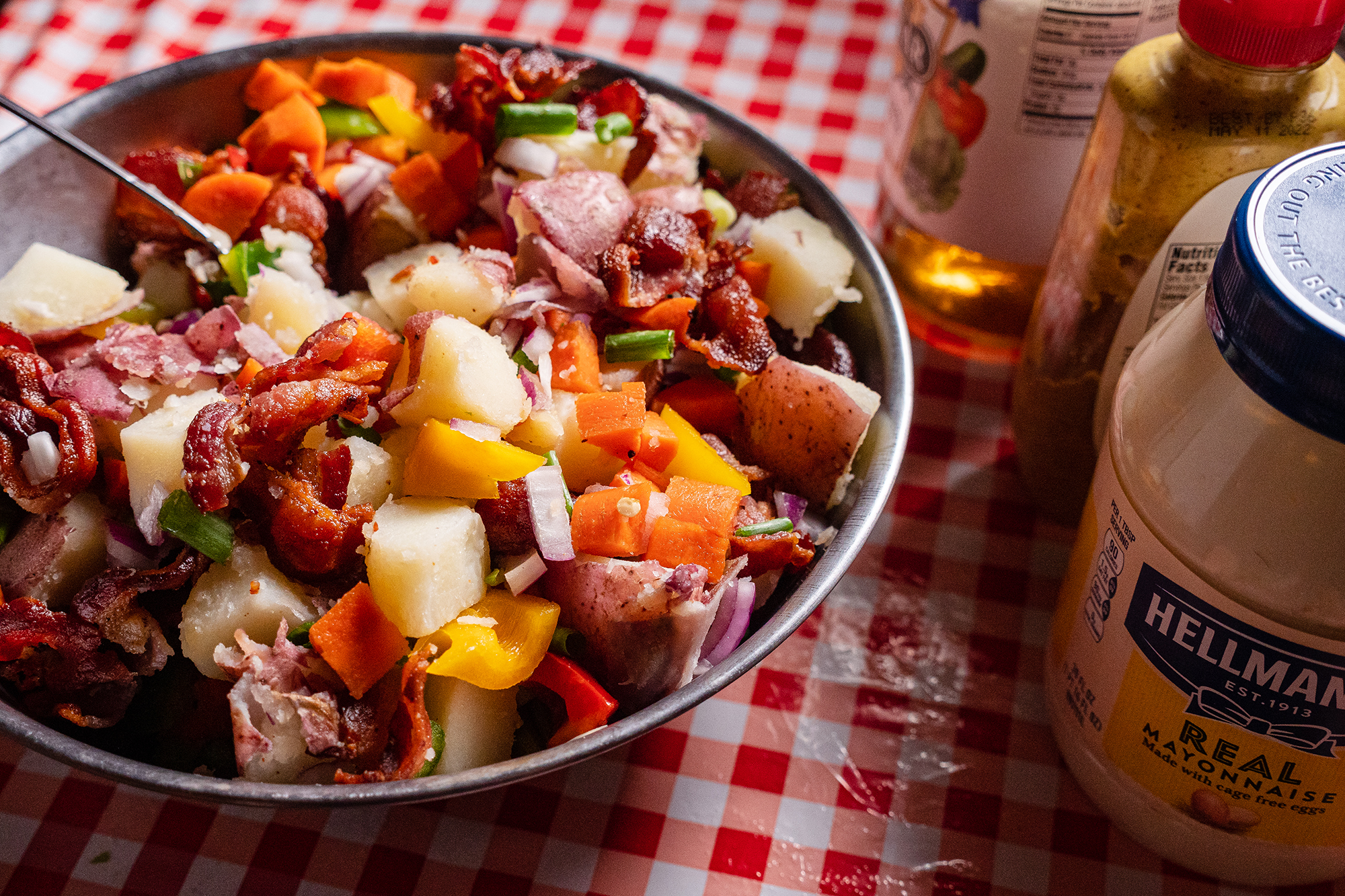 Directions
Clean, then transfer your red potatoes to a large stock pot. Cover the potatoes with water, and bring the water to a rolling boil.
Boil the potatoes until a fork can pierce into the middle without the potatoes falling apart (about 20 minutes).
Drain the potatoes and set them aside to cool.
Cook the bacon in a saute pan until the fat has rendered and the bacon is brown and crispy. Remove the bacon from the pan and place it on a paper towel to cool.
Rough cut the potatoes, bell pepper, red onion, carrot, scallions, and cooked bacon. Transfer everything to a mixing bowl.
Add about 1/2 cup of mayonnaise, a tablespoon of spicy brown mustard, a tablespoon of apple cider vinegar, and about a teaspoon each of salt, pepper, garlic powder, and onion powder.
Mix everything together, chill, and enjoy.
Pickled Veggies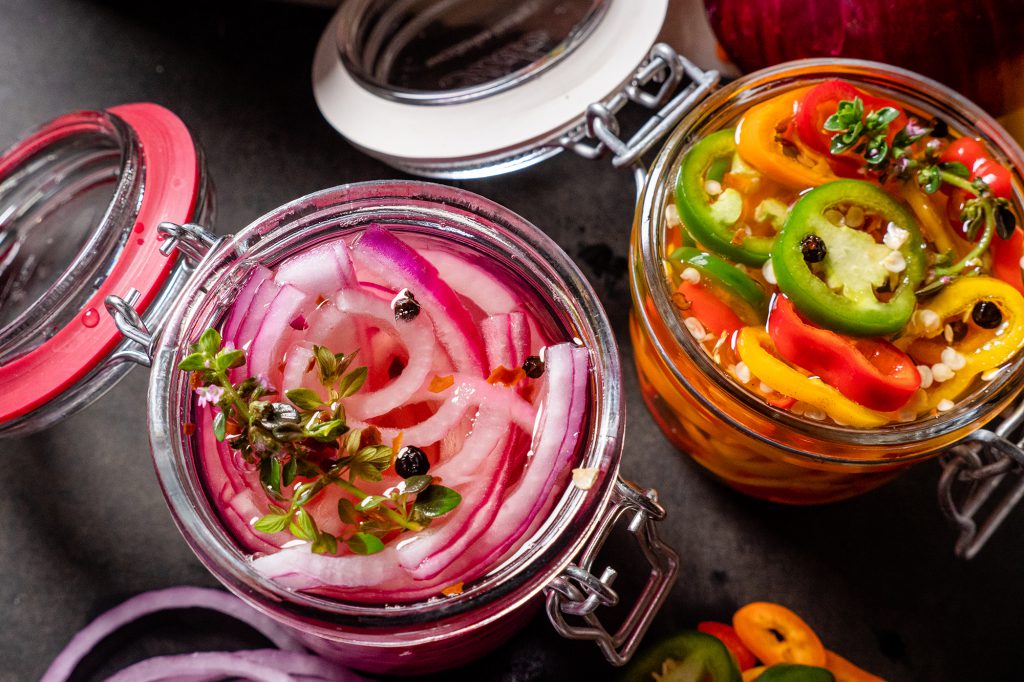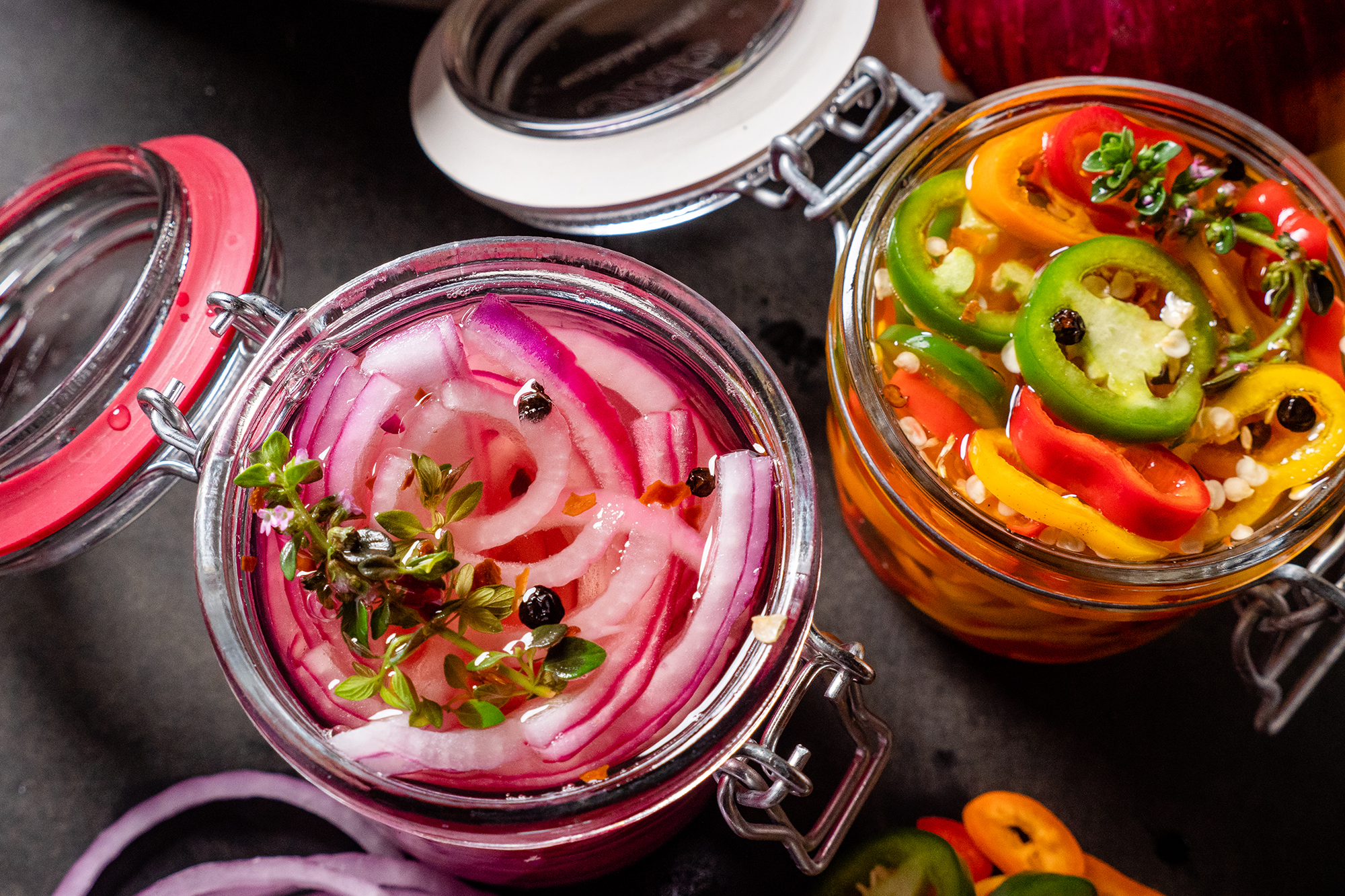 Quick pickles are just the best thing ever. They are easy and cheap to make and add tanginess and crunch to just about any meal. Summer gardens overflowing with fresh vegetables give you plenty of options, and everything finds its way into the brine, from cucumbers to zucchini.
Once you learn how to make a simple, quick pickle brine, you can tweak it to your liking and to the vegetable you're pickling. Without pressure canning, quick pickles will last anywhere from one to three weeks on average. Some of my favorite quick pickles are pickled red onions and pickled peppers.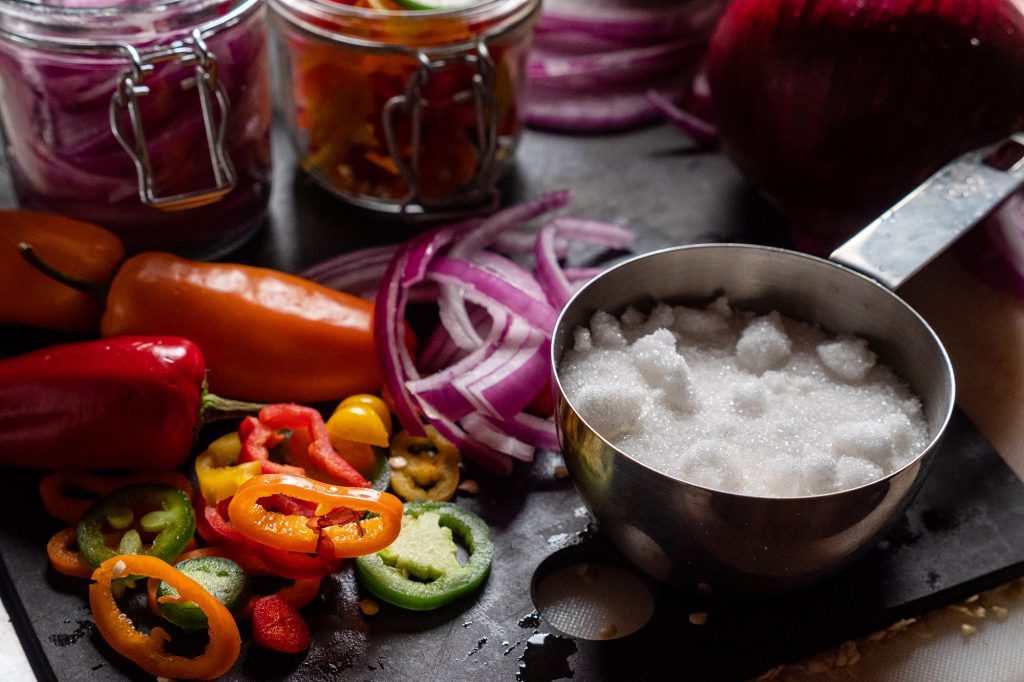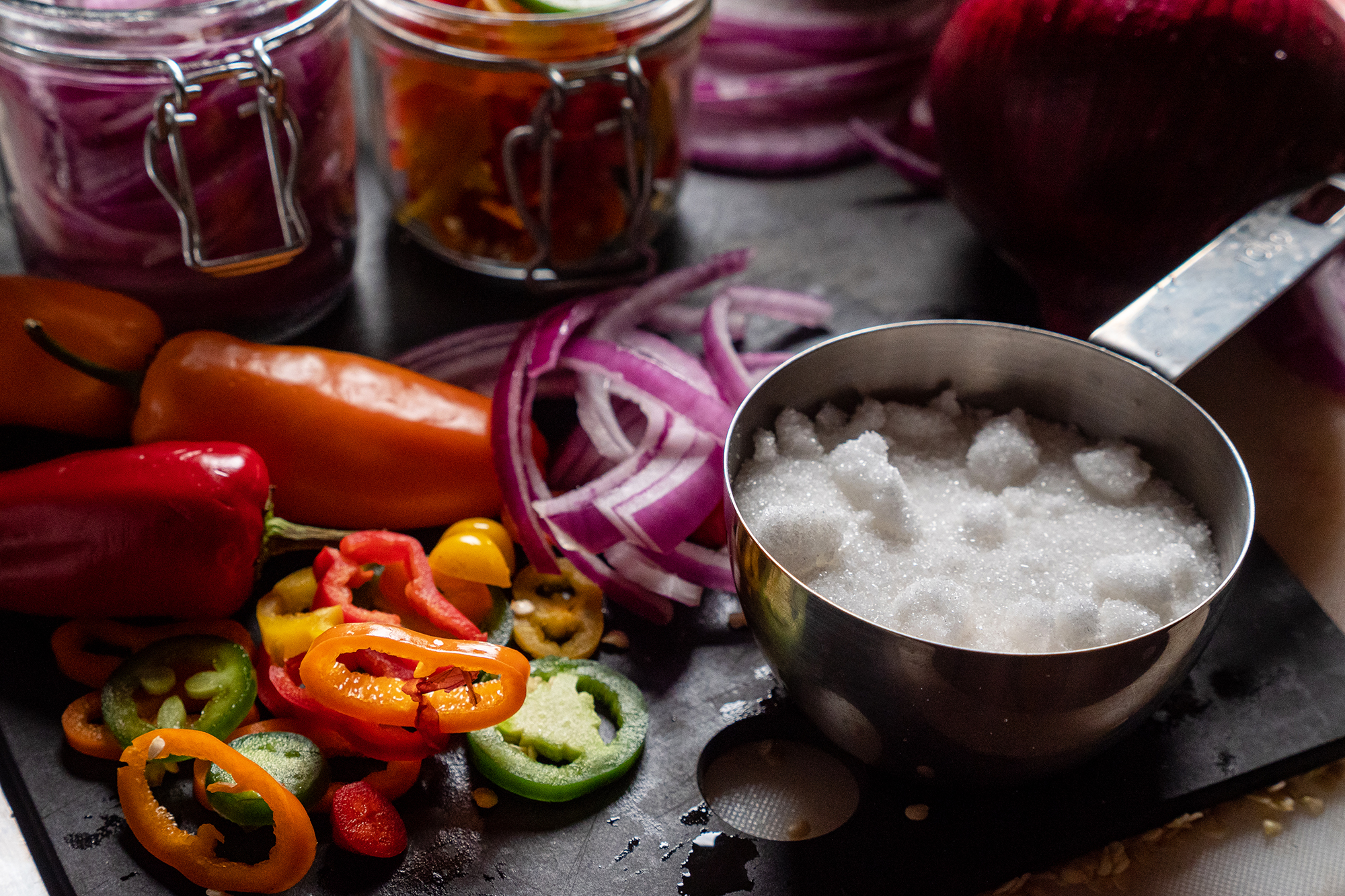 Ingredients
1 cups white vinegar
1/2 cup apple cider vinegar
1/2 cup water
1/2 cup sugar
2 tablespoons salt
1 teaspoon red pepper flakes
1 teaspoon whole black peppercorns
1 cinnamon stick
1 red onion or 1/2 pound peppers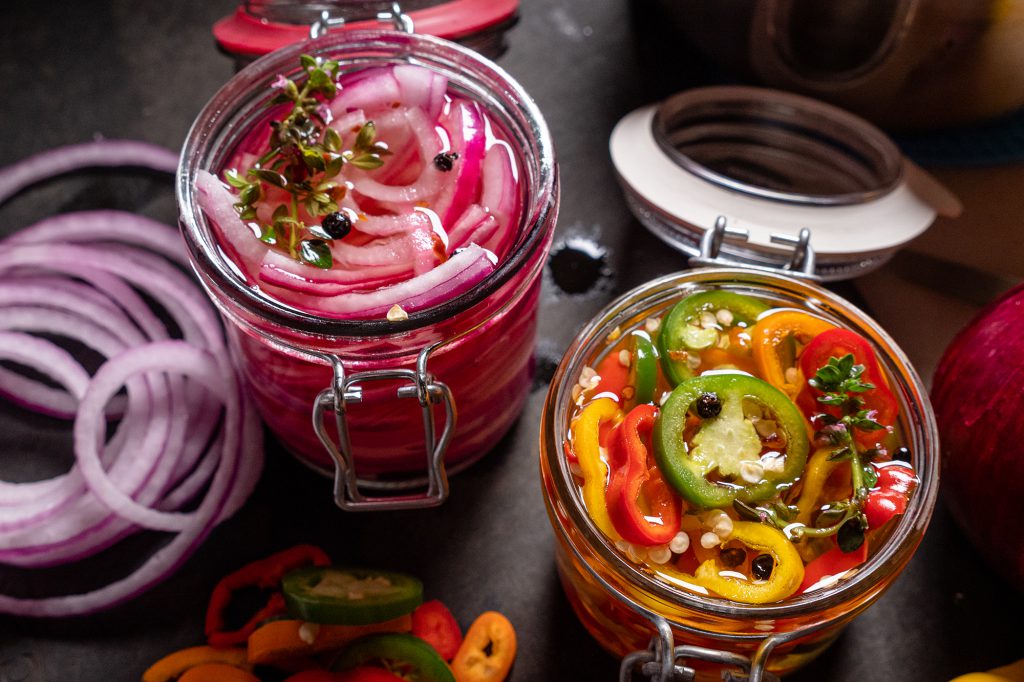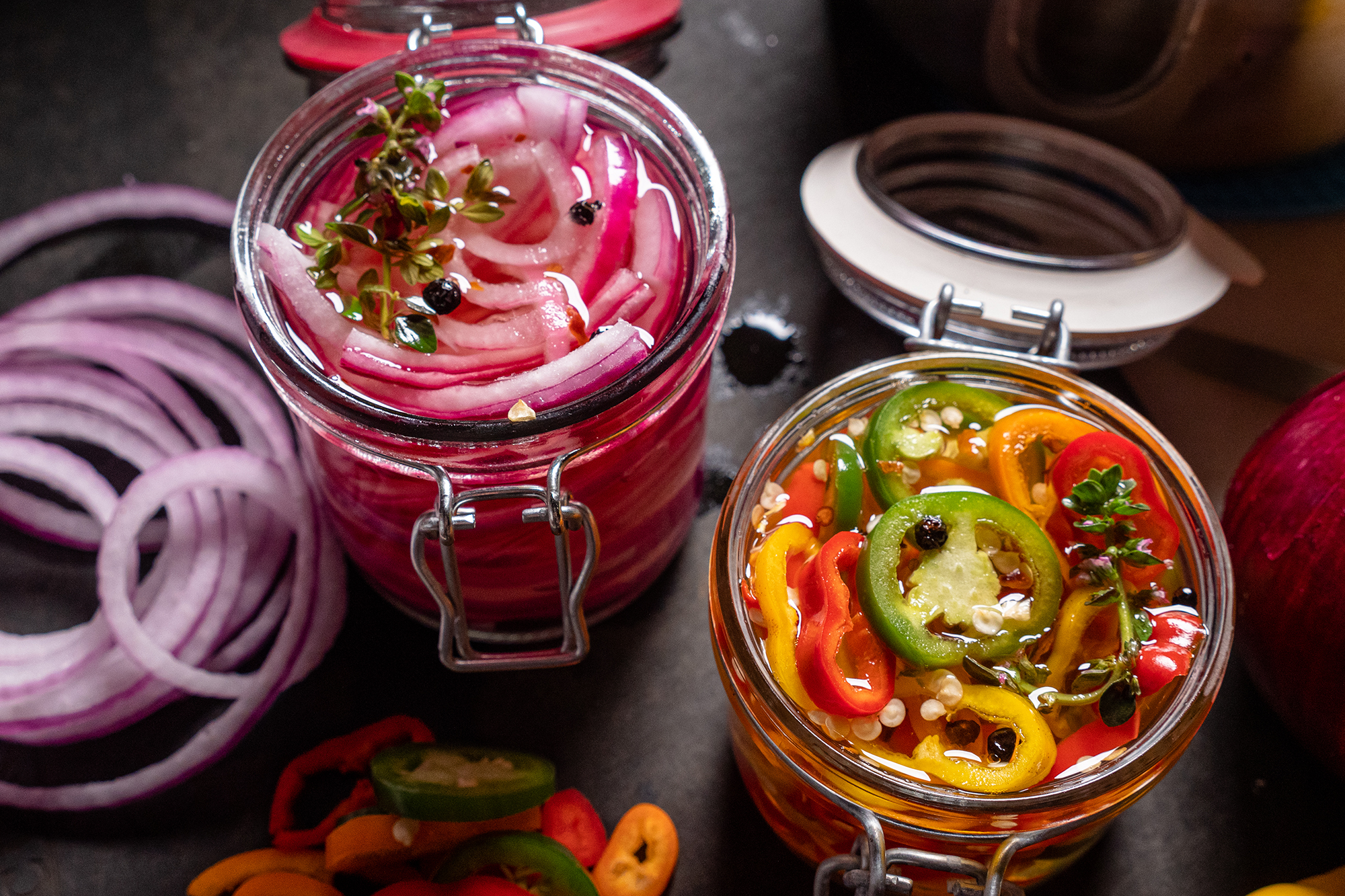 Directions
In a small sauce pot, add the white and apple cider vinegar and water.
Add the sugar, salt, peppercorns and flakes, and the cinnamon stick. 
On low heat, bring the brine to a simmer. Stir until the salt and sugar have dissolved into the liquid. 
Turn the heat to high and bring to a rolling boil. As soon as it's boiling, turn the heat off. 
Slice the onions or peppers into rings that are 1/4 to 1/8 inch thick and place them in a glass jar.
Pour the hot brine over top and let cool. Place a lid on the jar and refrigerate. 
---
Summer Sides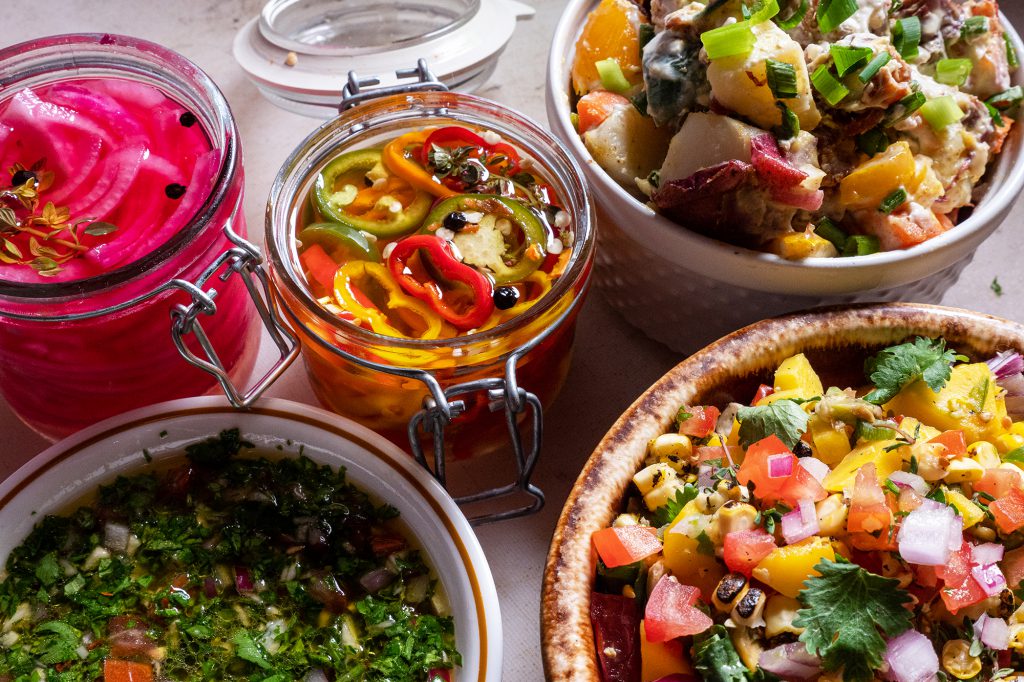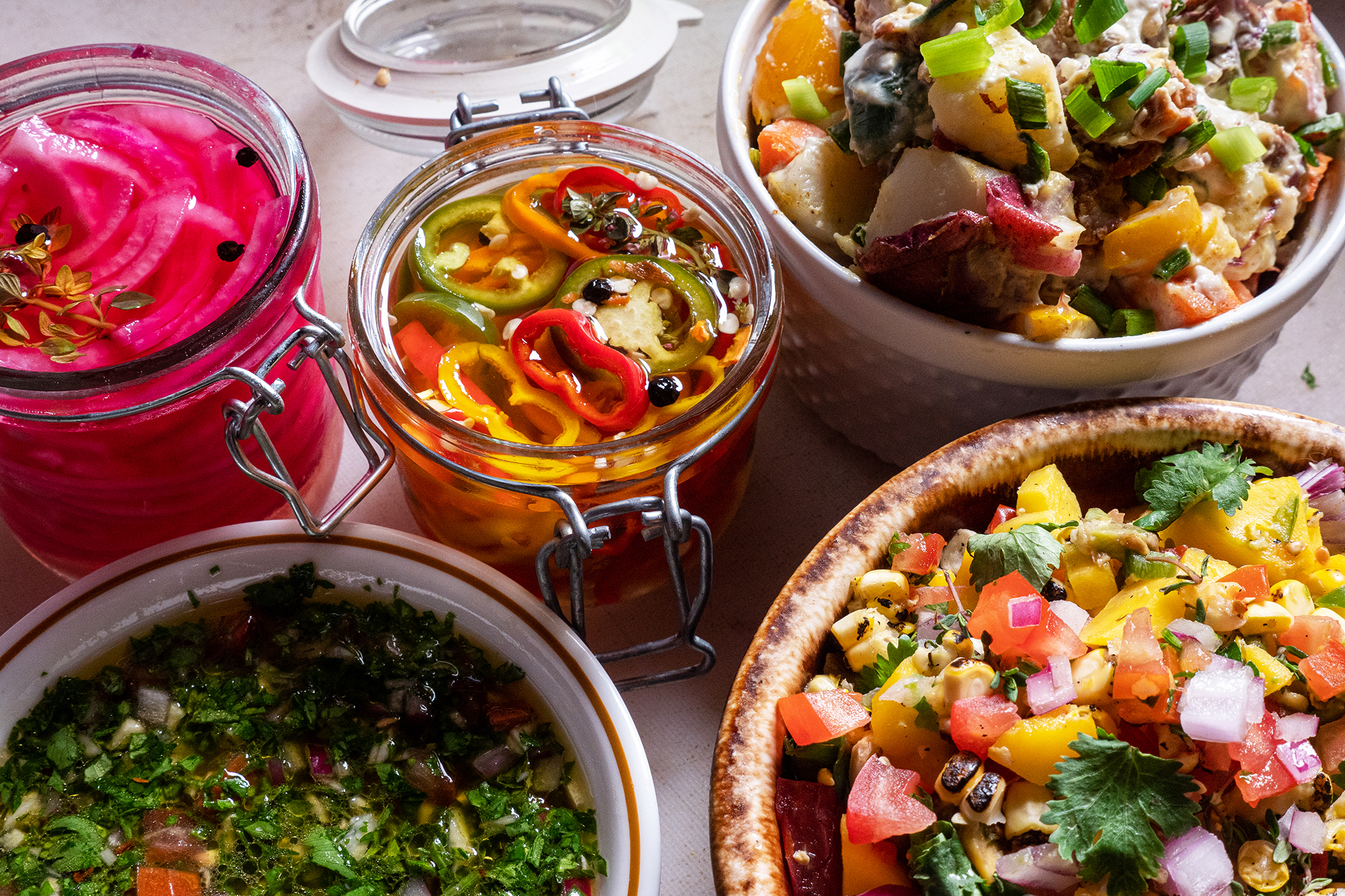 With hunting seasons and a long winter on the horizon, we've got to enjoy every bit of summer we can before it's gone. Now is the time to gather with friends and get after it while we still can. Fire up the grill, raid the garden, grab some sweet corn from the farm stand, and make room in the freezer for more meat. The next time you have a cookout, give one or all of these awesome summer sides and sauces a try.
Read Next: Star-Spangled Burgers: 3 Wild Game Masterpieces To Celebrate America This Fourth of July