When you hear the terms infrared scope or thermal optic, if you're of a certain age, you probably think of Predator, which is the first time most people saw an approximation of what "heat vision" could look like: green, yellow, orange, red, and fuchsia heat signatures in the shape of human silhouettes, their gear and weapons looking black and cold.
The fictional alien's heat vision seemed like super high-tech shit back in the 1980s, but optics in the 21st century have finally caught up to the sci-fi of yesterday — and even surpassed it.
Every facet of optics technology has come a long, long way in the past three decades. After getting some first-hand experience with Armasight's new Contractor 320 thermal optic's capabilities, it's hard to believe the tech can be pushed much further.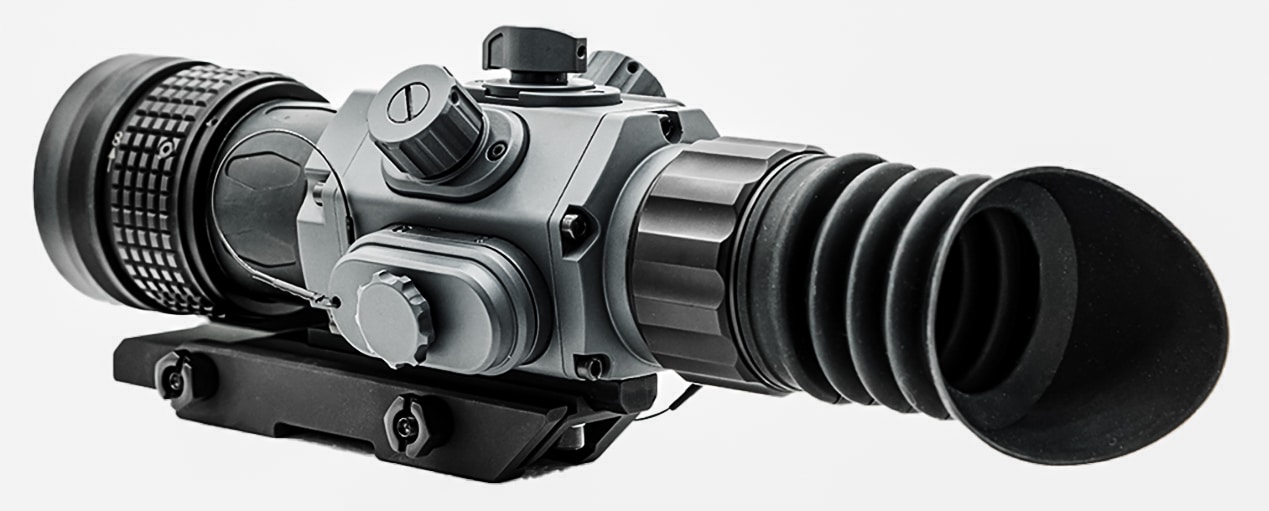 One of the premier manufacturers of night vision and thermal optics for military, law enforcement, and consumer applications, Armasight recently unveiled the Contractor 320 thermal sight in 3-12×25 low-profile tactical (MSRP: $4,299) and 6-24×50 hunting (MSRP: $4,799) configurations for nighttime hog, varmint, or predator hunting, as well as other tactical operations.
I had the opportunity to pit the Contractor 320 against some feral hogs in the pitch-black Texas night, and it was an eye-opening experience.
---
The Beginnings of Thermal Imaging
Infrared light is everywhere around us all the time — our eyes just aren't built to see it, but many animals' eyes are.
While thermal imaging has its roots in the 1800s, the first infrared (IR) detector was patented in 1914. In 1929, Hungarian physicist Kalman Tihanyi invented a camera with infrared sensitivity for the British air defense. The race to master thermal optic technology was on.
By the mid/late 1900s, Texas Instruments, Hughes Aircraft, and Honeywell were leading the charge on thermal optic innovation in the US. In the 1950s, American scientists captured the first thermal image on film for the military.
Troops were issued the first designed-for-combat night sight in the 1960s during the Vietnam War: the Starlight Scope. Today, night optical devices, or night observation devices (NODs), and thermal sights have become a ubiquitous part of the combat soldier's kit — providing a durable, mobile, and increasingly technologically advanced edge in the field.
Today, this technology has made its way into the hunting world. It provides hunters with the same edge over nocturnal game, like wild hogs or coyotes, for example, that are typically hunted after dark.
If you've ever hunted for pigs in the all-consuming dark of night, even with a flood light, you understand the value and importance of having any sort of upper hand on the skittish bastards.
---
Contractor 320: First Impressions and Zeroing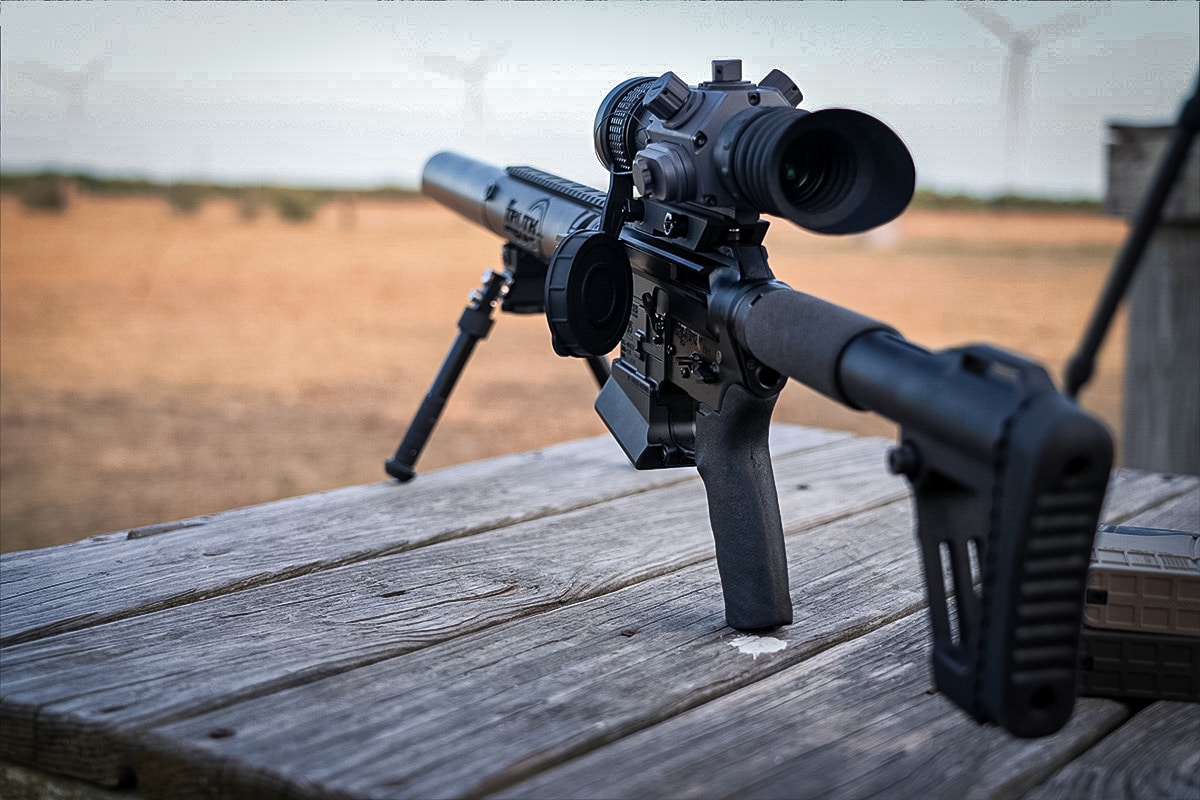 The Contractor is the first thermal optic powered by the new ArmaCORE Thermal Core technology, which provides 12-micron pixels, crisp imaging, and an impressive list of features to the unit.
On my recent hog hunt in south Texas (like, as south as you can get), a bunch of hogs fell to rounds guided by Contractor 320 thermal sights, including a couple of big uglies.
Before we ventured out for our first nighttime op, though, we needed to zero the rifles. After mounting the units to each gun, we headed to the range.
Full disclosure: I'm still fairly new to long-range optics and have never shot with a thermal before. I grew up hunting whitetails in western New York. If I wasn't bowhunting, I was carrying an old bolt-action 12-gauge with iron sights. Even during my time in the Army, I was never issued any sort of optic for my M-16.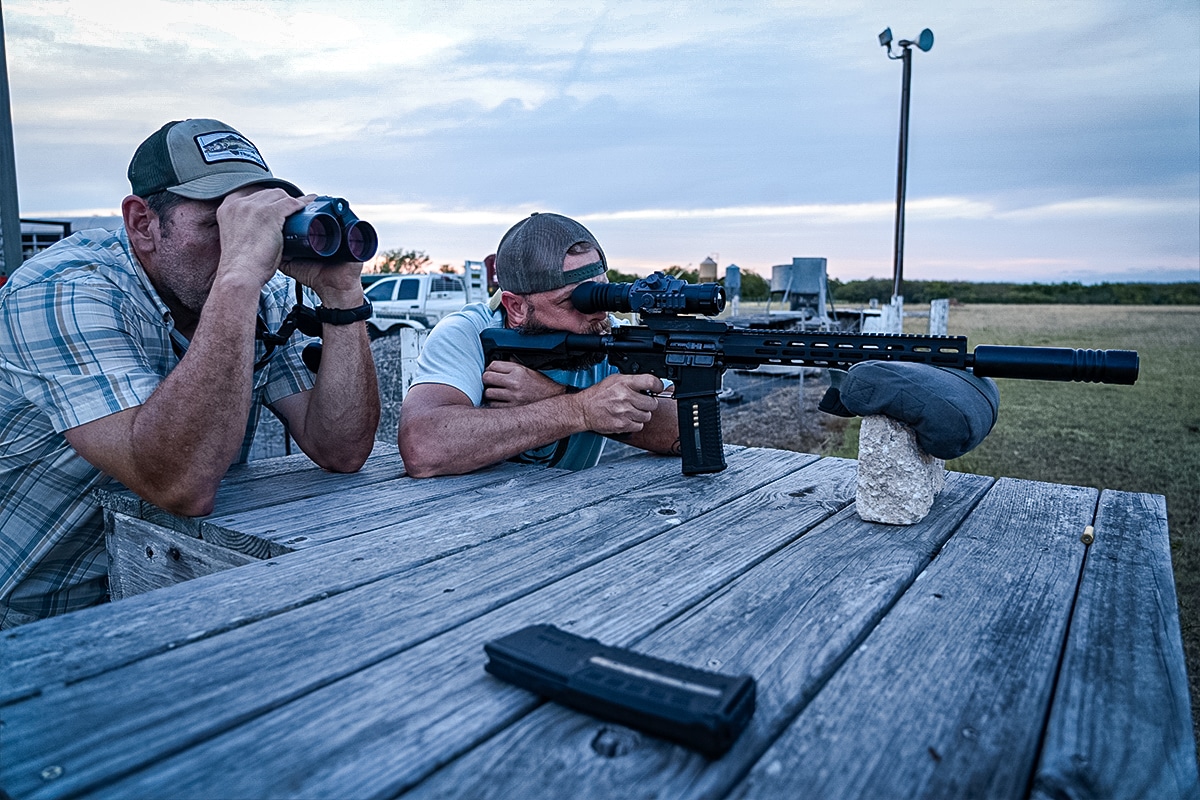 So, I was going in with a "clean slate" perspective on this high-speed tactical technology — and I was a little concerned about the learning curve, but I shouldn't have been.
The unit itself is compact and comes in a matte dark gray and black exterior. I was going to use the 3-12×25 low-profile tactical optic paired with a 5.56mm AR-style rifle.
The optic mounted easily on the rifle's top rail with the included hardware. There is also a side rail attachment on the unit for an external infrared laser rangefinder or IR flashlight.
This model weighs 1.71 pounds, compared to the 6-24×50 hunting optic (2.02 pounds). Despite the weight, it felt comfortable on the rifle while shooting from sticks or a bench, but this wouldn't be a rifle/optic combo you'd want to carry around for very long or over rough terrain.
---
Easy To Operate, Even In the Dark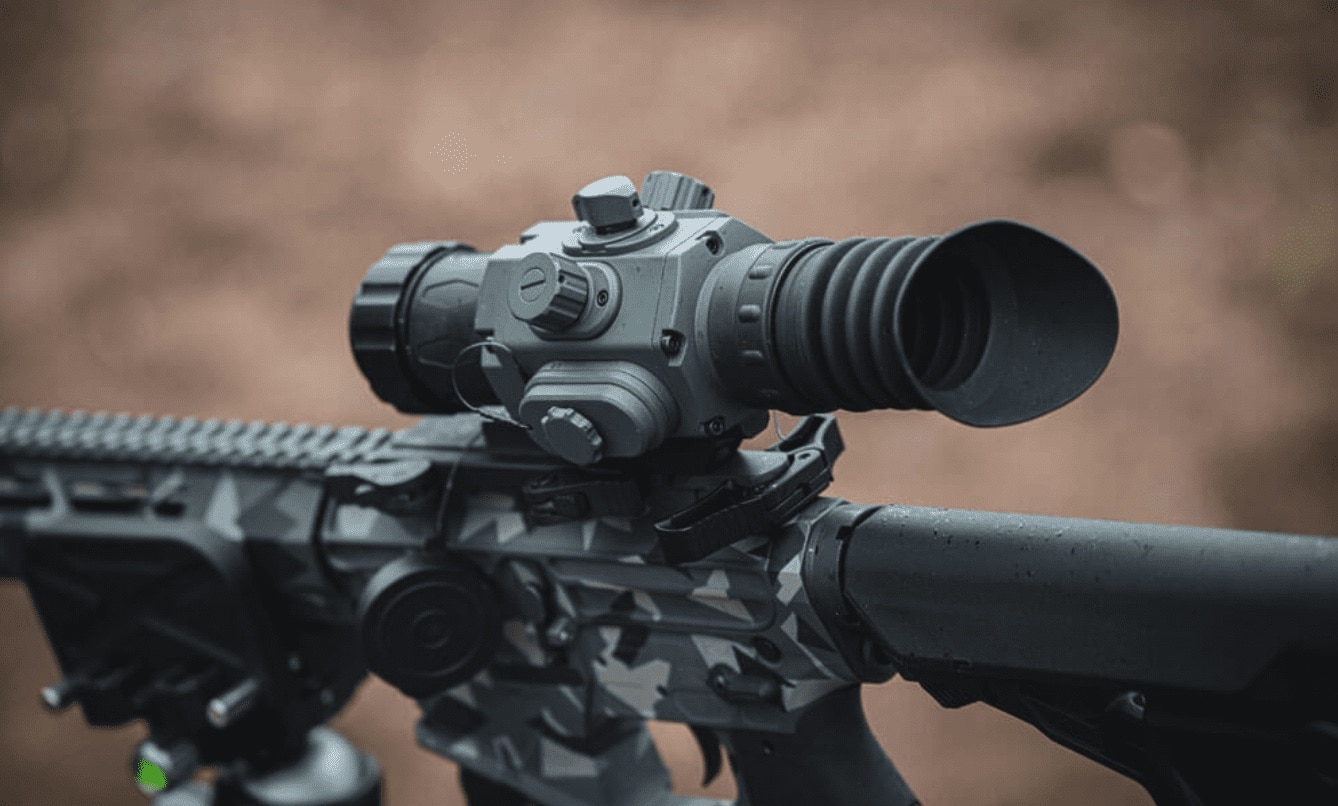 After some basic guidance from the instructor, navigating the interface within the unit was extremely intuitive — even for a rookie.
With controls built into the two turrets, scrolling through menus, selecting reticle styles and color palettes, and adjusting windage and elevation were simple. The unit also has a digital compass, inclinometer, and stadiametric reticles for calculating distance, direction, and angles.
The menu was an unobtrusive overlay on the field of view, allowing adjustments to be made without losing sight of the target. This was also a huge benefit when I had to make adjustments in pitch-black darkness while keeping tabs on an animal.
There is no overly complicated set of buttons on the housing to find and operate. As a matter of fact, the only button is for starting and stopping video recording and taking still images of what's displayed in the scope's viewfinder.
Speaking of video — the internal memory can hold up to four hours of footage.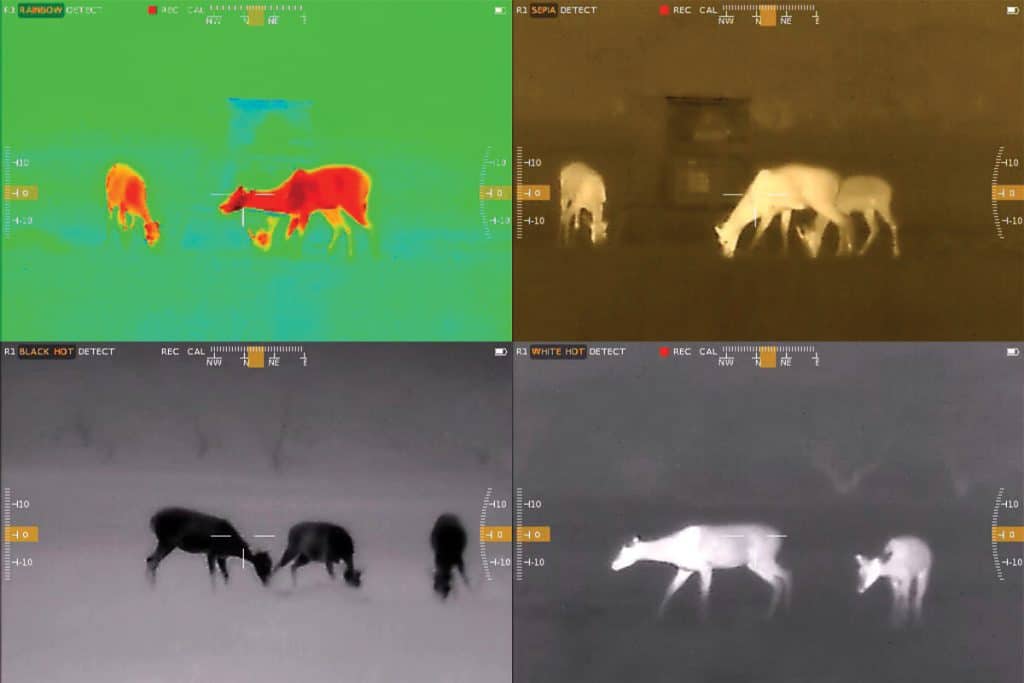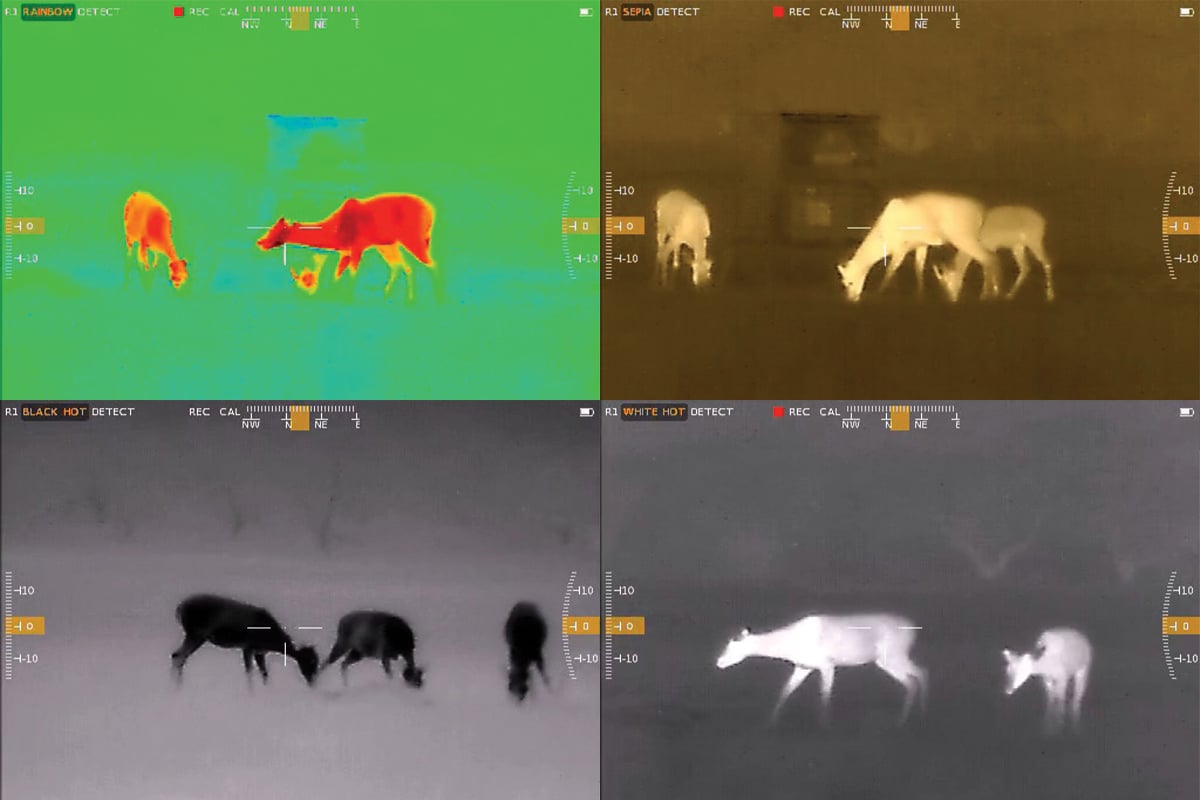 The unit's hardware was also designed to accept stability and functionality improvements through firmware updates, so you won't be stuck with obsolete equipment when new innovations come down the pike.
Armasight just released an update for even sharper image clarity and faster refresh rate, as well as improved clarity with the zoom function.
Additionally, there's an app available that allows for remote control of the unit, photo and video capture, live streaming, GPS location, and updates to the unit.
After adjusting for windage and elevation, my shots printed in a tight 1/2 MOA group.
The sight automatically recentered the reticle and saved my 100-yard 5.56mm zero, a great feature that allows the optic to be used with different rifles chambered in different calibers without re-zeroing from scratch.
I was also able to select from eight reticles and six color palettes with a target detection option. I settled on Black Hot with target detection.
A lock selection in the menu secured the turrets against accidental contact, so I was confident that my zero stayed true, even after ducking through mesquite during a stalk.
---
The Hunt – Deadly Performance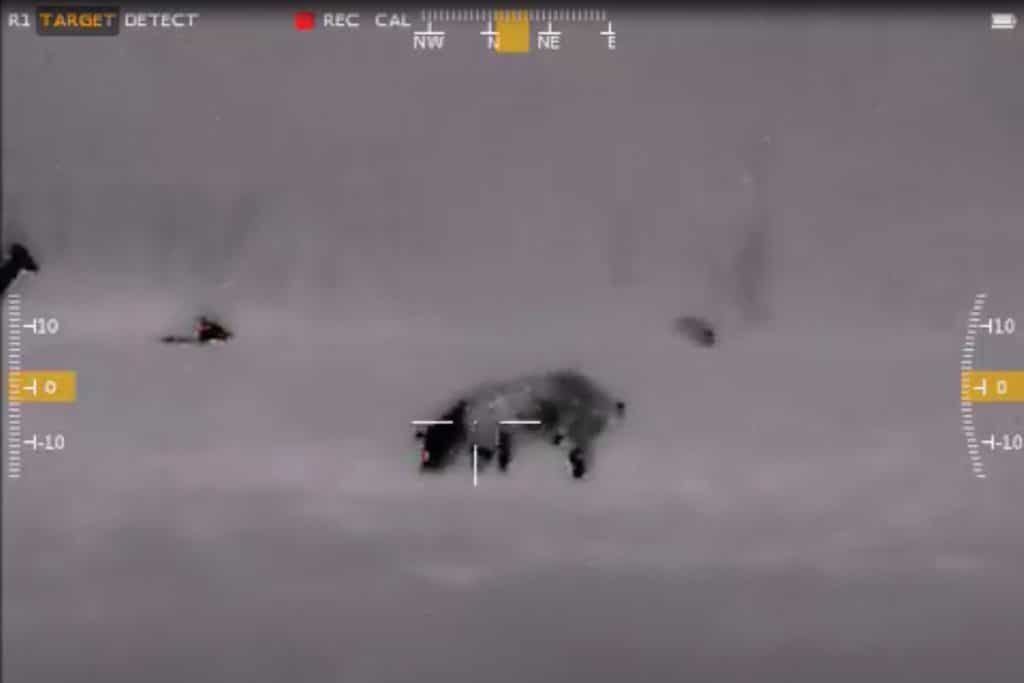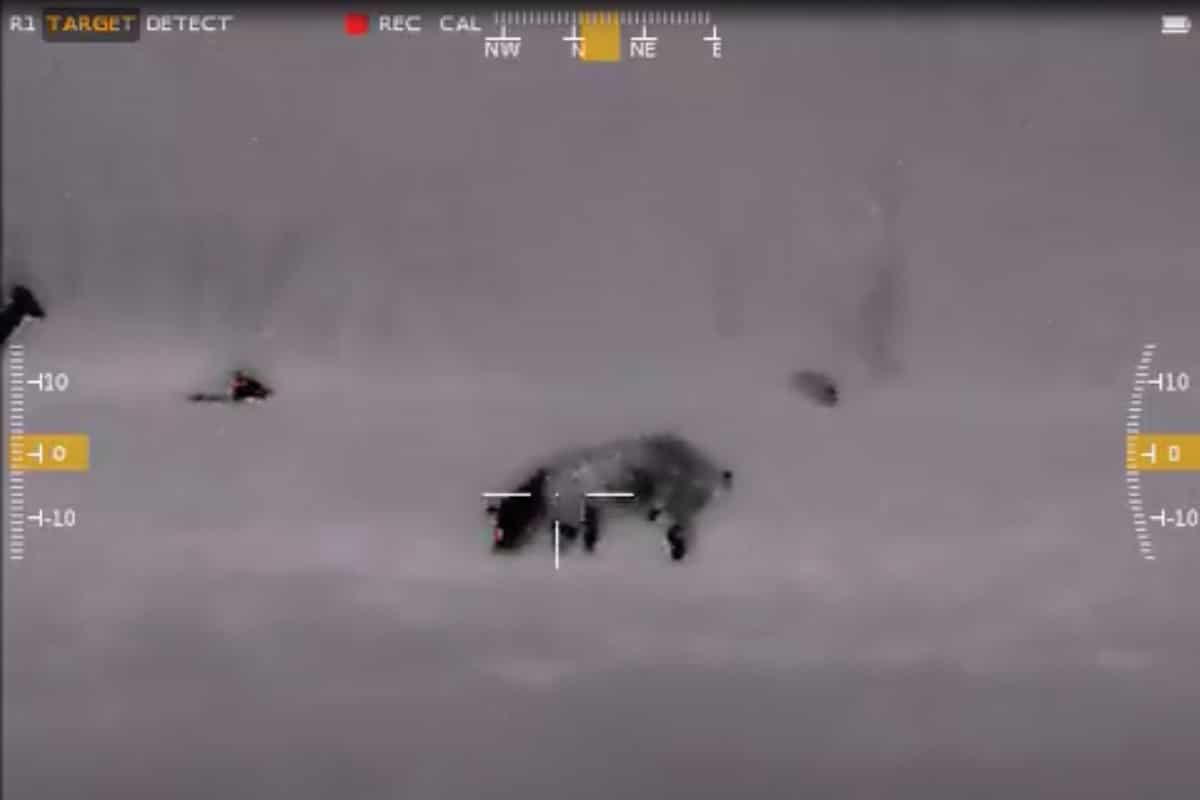 Just before midnight, a big hog showed up on one of the ranch owner's game cameras, and three of us scrambled to get kitted up.
We all put on helmets mounted with Armasight's Gen 3 BNVD night vision binoculars, secured our rifles, and climbed into seats in the bed of a pickup. The owner of the ranch drove blackout, but we were able to see where we were heading as plain as day.
To make sure we didn't spook the hogs, we slowed to a stop about 1,000 yards from where a pig was located in the field on the other side of a huge swath of mesquite and walked the rest of the way.
After picking our way quietly through the brush and settling into our shooting positions, we switched from the NODs to the Contractors and located the hog among five or six whitetail deer.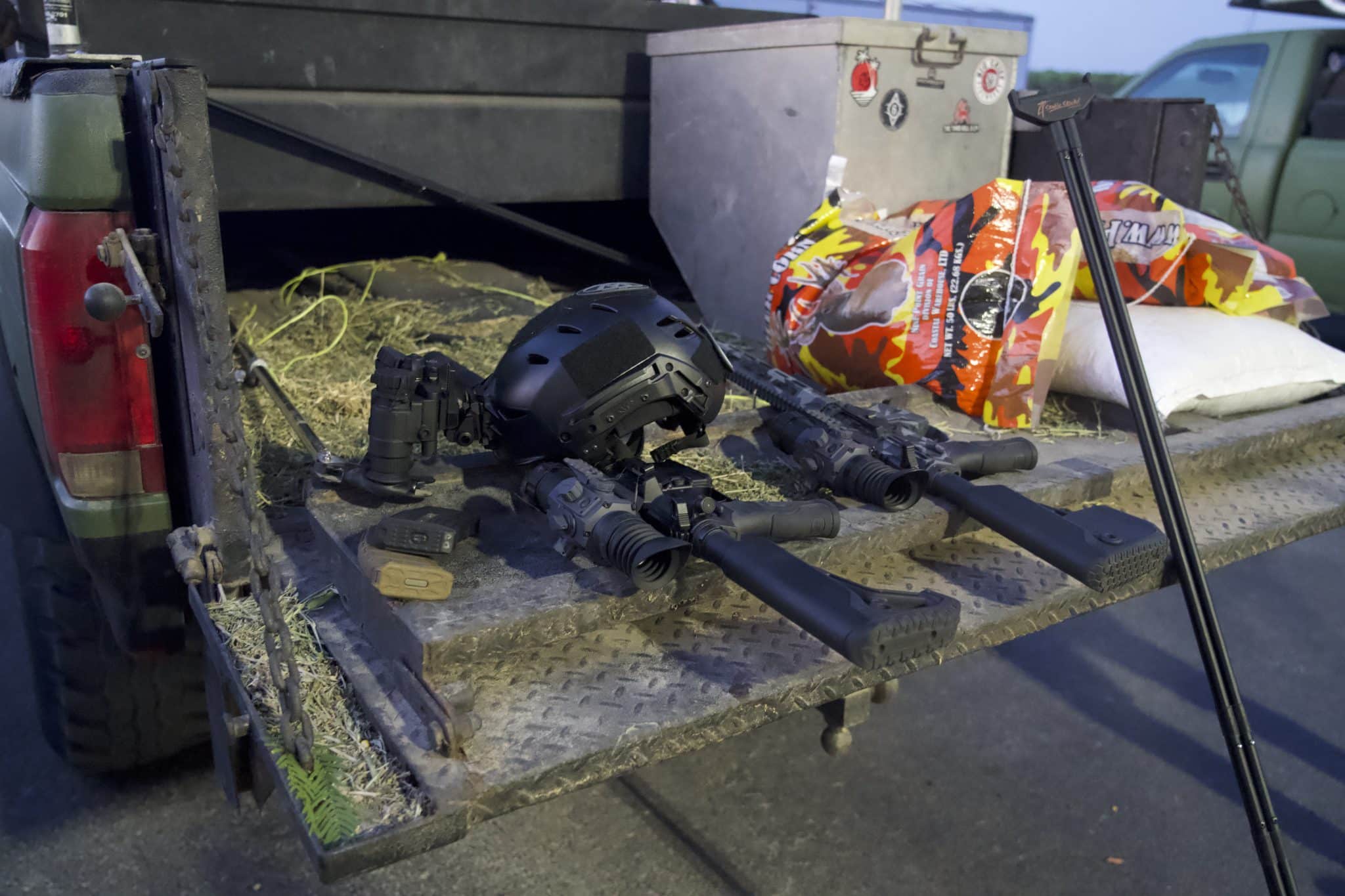 Since I was using the Black Hot color palette and target detection options, animals appeared black with red on the areas emitting the most heat. Even at 80 yards, the hog made the deer look skinny.
My field of view was fantastic. It felt strange to have the power of such vision in the dark. But with the thermal illumination, any movement I made felt magnified, no matter how slight.
I'm not sure if that's a result of the technology, an optical trick that my mind was defaulting to, my lack of experience, or all three, but getting steady on the hog took some time.
When we were set, we each sent a round on the count of three.
We watched him kick up a small bit of commotion through our optics after firing, but he didn't drop far from where we hit him.
---
Dollars and Sense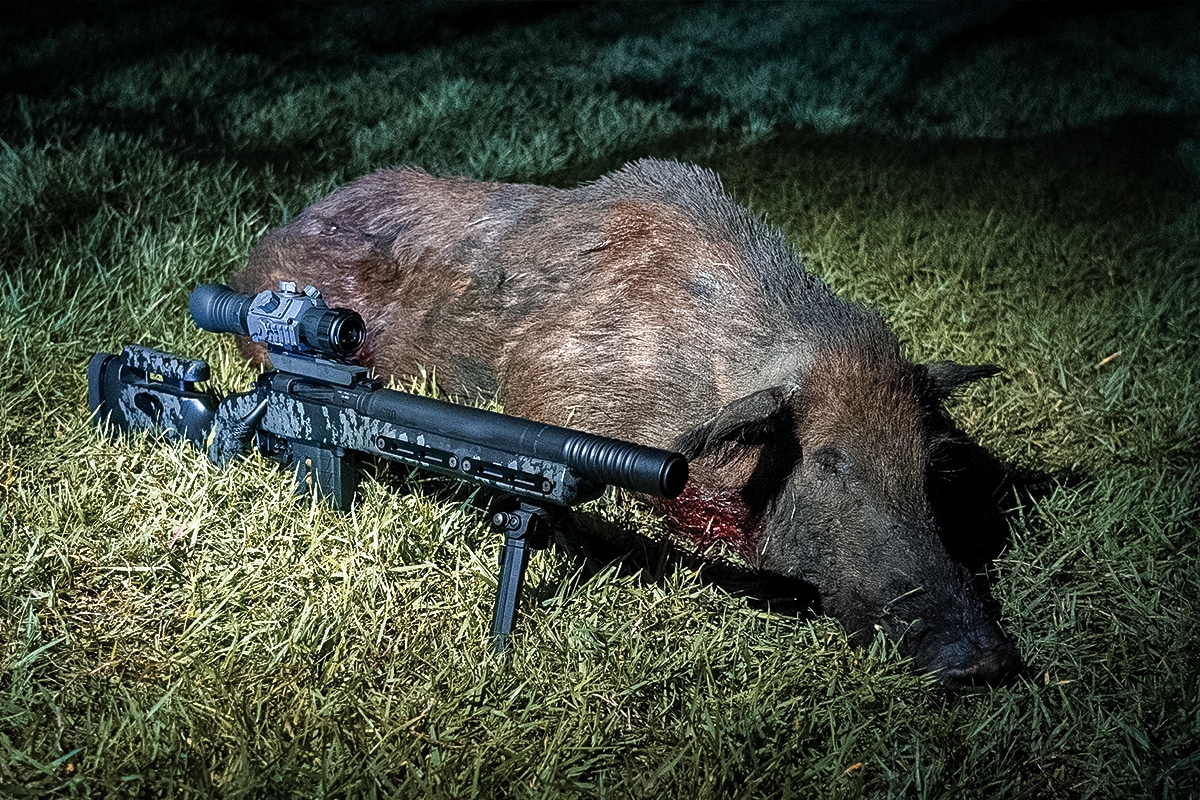 With a price of up to $4,800, the Contractor sits in the middle of the spectrum of thermal optics currently on the market, but it punches above its weight.
At a glance, the tech and specs are very much on par with other better-known and more expensive thermal scopes that are out there, like the Pulsar 2-16x Thermion 2 XP50 (MSRP: $5,499) or the Trijicon Electro Optics REAP-IR Type 3 (MSRP: $7,999).
There are less expensive options out there that will likely do the trick for the occasional night-op hog or predator hunter like me, but the Contractor isn't made for that kind of hunter.
If you're going to be out grinding four nights a week in the field and brush for hogs or coyotes, you want your gear to be practically bomb-proof. Just like high-quality hunting scopes and binoculars, you're going to pay more for better glass, durable components, and the latest technology.
And while the current technology, in this case, may wind up being found in less expensive scopes in the future as more advances are made, the Contractor can be updated at no additional cost, which means you're not left with an obsolete scope after just a couple of seasons.
---
Contractor 320 Thermal Optics Specs
Eye Relief: 45mm
FOV [HxV]: 8.8° (H) x 6.6° (V)
Optical Magnification: 3.2x
Digital Zoom: 1x – 4x
Lens System: F/1.00; 25mm
Diopter Adjustment: -5 to +5 DPT
Detector Type: ArmaCORE 320×240 12um Thermal Core

Display: XGA (1024 x 768) AMOLED
Graphics: Active On-Screen Graphics
Refresh Rate: 60 Hz
Image Processing: Digital Enhancement
Dimensions: 7.7 x 3.4 × 3.7 inches
Weight: 1.71 lbs
Memory: 4 Hours of Video
Wireless: Bluetooth 5.0, Wi-Fi
Battery Type: 2xCR123A (3V)
Battery Life: Up to 4 hours at 68 degrees
Operating Temperature: -40 degrees to 122 degrees
Recoil Rating: Up to .50 cal
Waterproof: IP67
Contractor 320 Features
Multiple color palettes
Intuitive menus with turret controls
8+ Reticle Types
4 hours runtime at 68 degrees
Image Detail Enhancement
1/2 MOA Boresight
Standard Picatinny Mount Included
Video Recording & Image Capture
USB Video Stream
Wi-Fi Video Stream
Bluetooth 5.0 Capabilities
App available on iOS / Android devices
USB-C Interface for External Devices
Integrated Stadiametric Rangefinder
Inclinometer
Levelometer
Graphic Compass
Angle Cosine Indicator
Reticle On/Off Selection
Battery Status Indicator
Alloy Metal Body and Ergonomic Design

Package Includes: Thermal Imaging Riflescope, 2 x CR123A Battery, Cloth, Case
---
READ NEXT – Hawaiian Cast' n' Blast, Part 2: Hunting Hogs and Spearing Giant Trevally