Model: Vudoo Gun Works Möbius 1911
Vudoo's first handgun
Aerospace-grade machining
Novak iron sights
VZ Vudoo Grips
MSRP: $2,995 ($2,895 for a limited time)
---
Vudoo Gun Works, best known for its precision rimfire bolt-action rifles, is branching out into the handgun market for the first time with the release of its new high-end, custom-quality 1911, the Möbius.
Although it might seem like a full-size 1911 handgun line in 9mm and .45 ACP is an out-of-left-field play for the revered masters of precision rimfire rifles, Vudoo Gun Works CEO Paul Parrott said it just makes sense.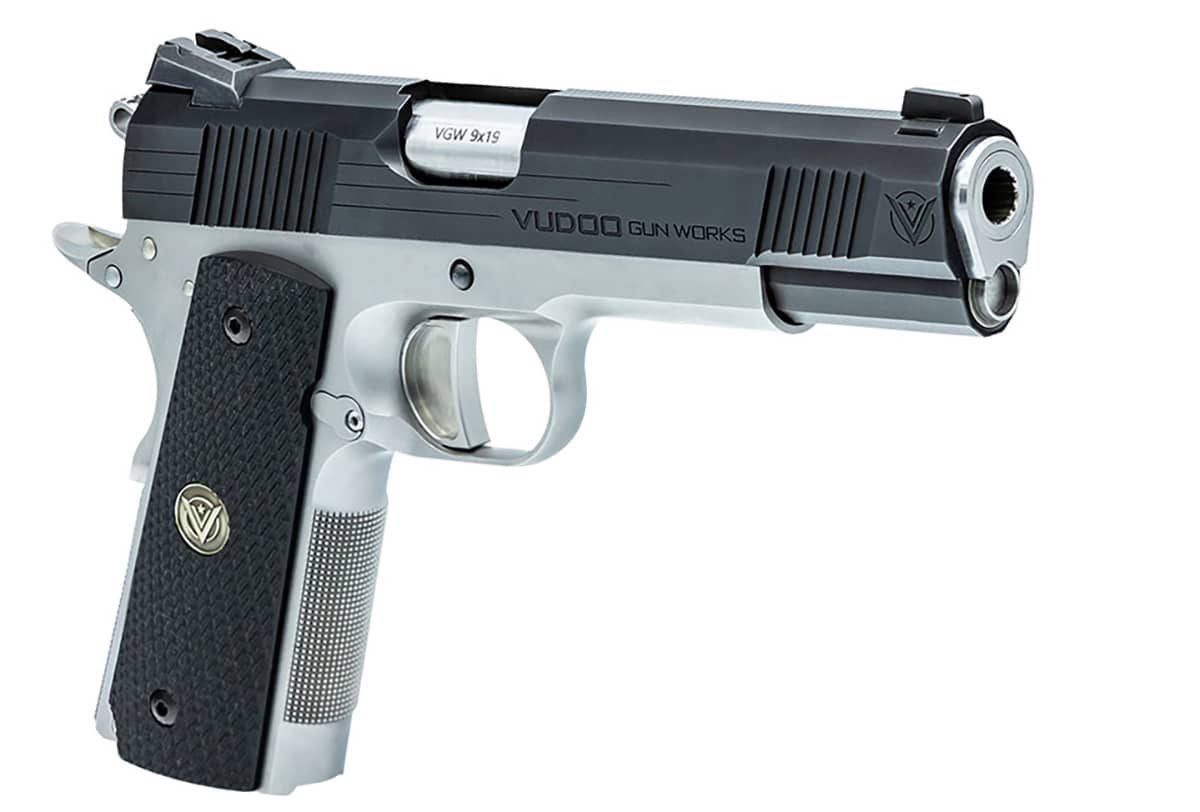 "The .22 Long Rifle is the oldest living metallic cartridge. The 1911 is arguably one of the oldest relevant semi-automatic handgun platforms out there. John Browning did a phenomenal job with it back when he did it. He turned the firearms industry kind of on its head," Parrott said in the company's Facebook video announcement. "What Vudoo Gun Works intends to do is turn the manufacturing of [the 1911] inside out. Hence the Möbius name."
The Möbius strip is a continuous surface with only one side; it's a continuum with a twist, just like Vudoo's new 1911 — get it?
The Möbius is the result of a collaboration between Vudoo Gun Works and Three Sigma Manufacturing, a precision-machined product supplier based in Kent, Washington.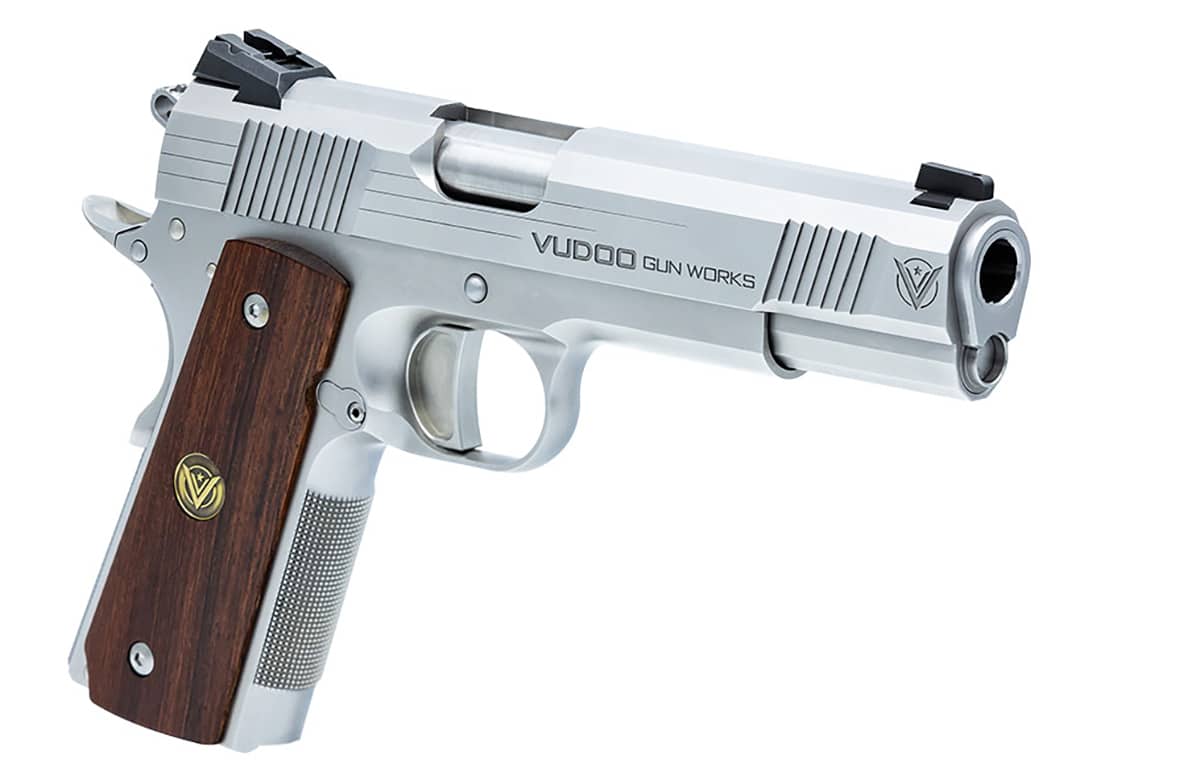 GOOD RANGE GEAR – BRCC Flag Patch Trucker Cap is Perfect for Rang Days
"Three Sigma does the majority of the heart-and-soul work on our V22. Ken Frankel and Sean Johnson are the masterminds behind what we have in this 1911," Parrott said.
"When Frankel and Johnson started building 1911 slides, they were appalled at how nothing fit. There were no universal tolerances, specs, or standards," he added. "Coming from the aerospace industry, where everything they do is to a phenomenal standard, we collaborated and decided we needed to change the approach."
The result of the collaboration is the Möbius: a factory 1911 pistol machined so precisely that it doesn't need the level of hand fitting that custom-built 1911s require. Vudoo builds all the critical parts using a unique, patent-protected process and aerospace-grade machining. The Möbius is the closest thing to a custom 1911 you can get in a production pistol.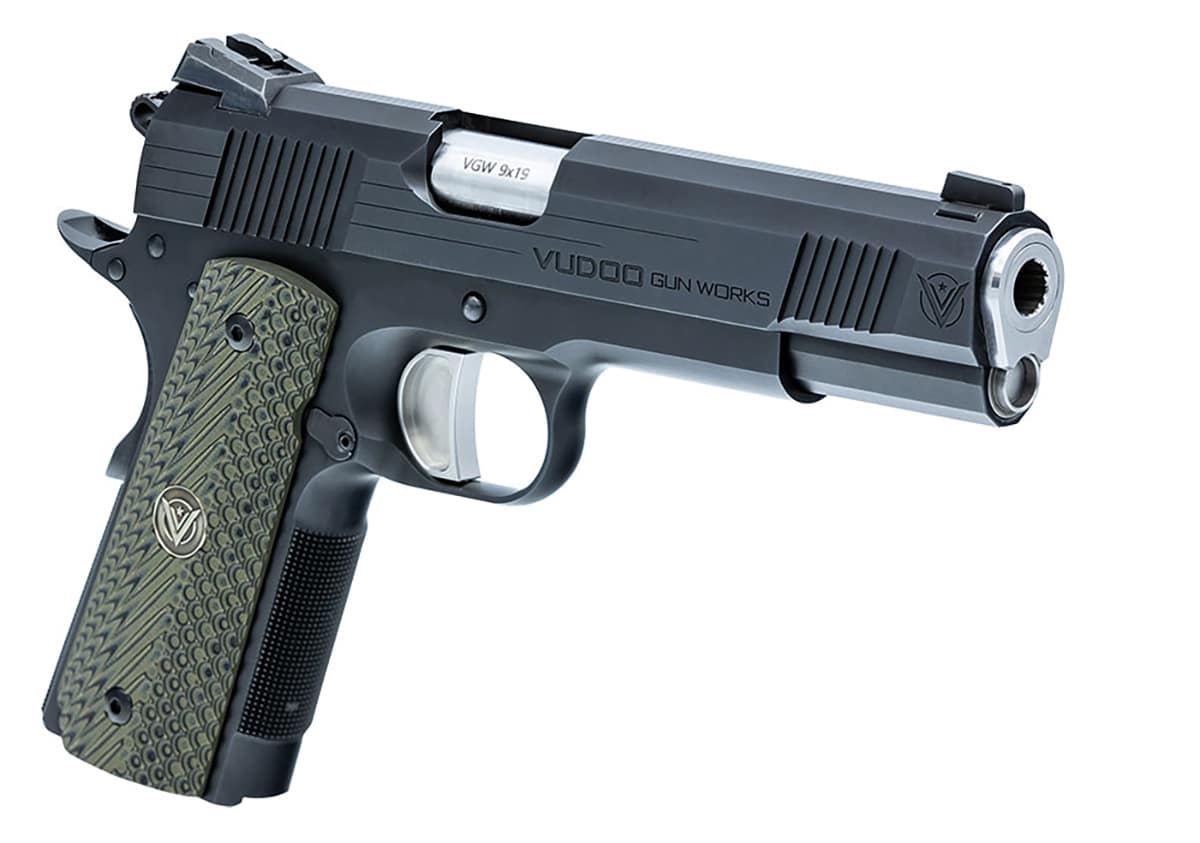 "We came up with a super quality, super accurate handgun with significant benefits to our customers," Parrott said.
Unlike custom guns, the Möbius has a lead time of days instead of months. Cost is another major Möbius perk, though Parrott admits the new Vudoo Gun Works pistols aren't cheap.
"Our methodology allows us to bring it to the customer for nearly $1,000 less than other companies that build at the same quality level. It's still a really expensive handgun, but it is much less than its equivalent competition," Parrott said.
The new Möbius 1911 comes range ready with two magazines and a hard carrying case. It's available in an all-stainless finish with rosewood grips, classic black with a black nitride finish and olive green G10 grips, and a two-tone model with a black nitride slide and a stainless frame with black carbon fiber grips.
RELATED – Leaked Glock AR Carbine Photos Are Real — No, Really!
Every model is available in 9mm or .45 ACP and comes with a Novak LoMount adjustable rear sight paired with a green fiber optic front sight, all stainless construction, and two stainless single-stack magazines.
Another addition is coming soon to the new 1911 line that is more in keeping with Vudoo's roots: a Mobius target pistol in .22 LR. It comes with proprietary adjustable sights and a full-length optics Picatinny rail on the slide, and a bull barrel.
Vudoo Gun Works says it will also make the .22 LR slide assembly and magazines available for purchase as a conversion kit for 9mm and .45 ACP Möbius models.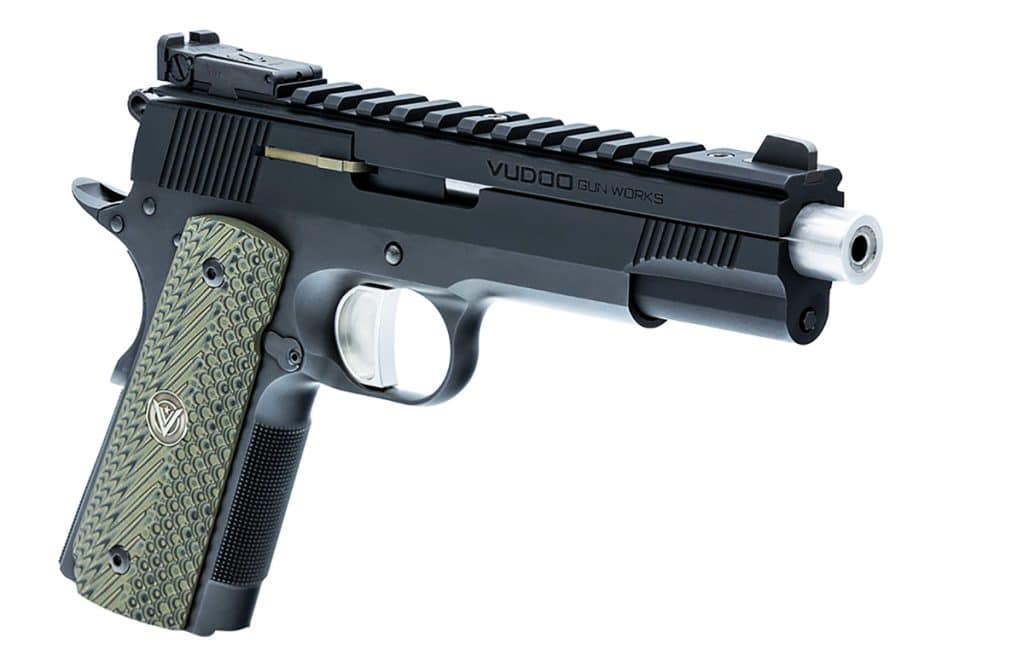 ---
Vudoo Gun Works Möbius 1911 Specs
Caliber: 9mm, .45 ACP, .22 LR (coming soon)
Magazines: 2 single-stack magazines
Frame: Stainless steel with accessory rail
Slide: Stainless steel
Trigger: Stainless steel
Finish: Stainless, Black Nitride, or two-tone
Grips: Rosewood, G10, or carbon fiber
Safety: Grip safety and left-side (right-handed) thumb safety
Sights: Novak iron sights
MSRP: $2,995
Limited Time Introductory Price: $2,895
---
READ NEXT – SIG Sauer Revives the P226 XFIVE Pistol, Now Made in the US