For the fall season of 2022, 5.11 Tactical offers updated versions of three low-visibility packs that allow concealed carriers and people who live the EDC lifestyle to stay ready and under the radar in public. The LV6 Waist Pack 2.0, LV10 Sling Pack 2.0, and LV18 Backpack 2.0 in the 5.11 Low-Vis line each received new features to make them more practical and effective for everyday carry and tactical environments alike.
Like the previous generation, these updated packs use 840D nylon and discreet, tuckable logos. The all-new LV6 Waist Pack 2.0 is a compact grab-and-go pack for the kind of gear that makes up your EDC loadout. Think of it as a way to carry your phone, wallet, keys, knife, flashlight, and a small first aid kit without stuffing your pockets so full you can't sit comfortably. This pack makes it easy to stay organized.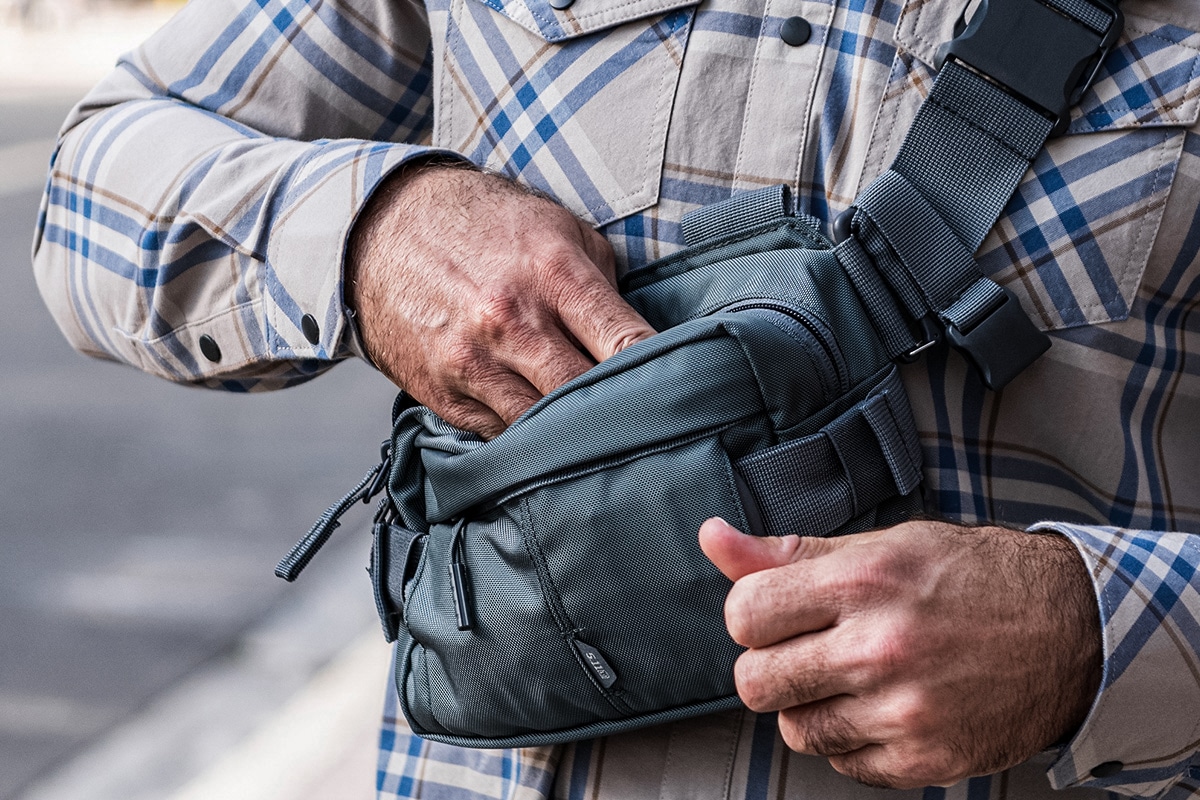 A hidden slip compartment offers easy access to small valuables you want to keep out of sight, but there's no retention mechanism for a CCW firearm. This pack can be worn as a crossbody bag, around the waist, or it can be attached to the LV18 Backpack 2.0 to create a modular setup.
The LV6 Waist Pack 2.0 features a quick-release waist strap and Duraflex buckles that are easier to operate while wearing gloves.
The 13-liter LV10 Sling Pack 2.0 seems like a solid option for times when you need more than your usual everyday items but don't want the bulk of a full backpack. Storage compartments for a tablet and water bottle make it a good option for work, commuting, short hikes, or a light and fast get-home bag.
Updates include the same quick-release strap and improved buckles used on the LV6 Waist Pack 2.0, a removable retention strap that can be stowed in the CCW compartment, and a retention strap for the tablet sleeve. The front compartment features a laser-cut loop panel so additional pouches and accessories can be attached.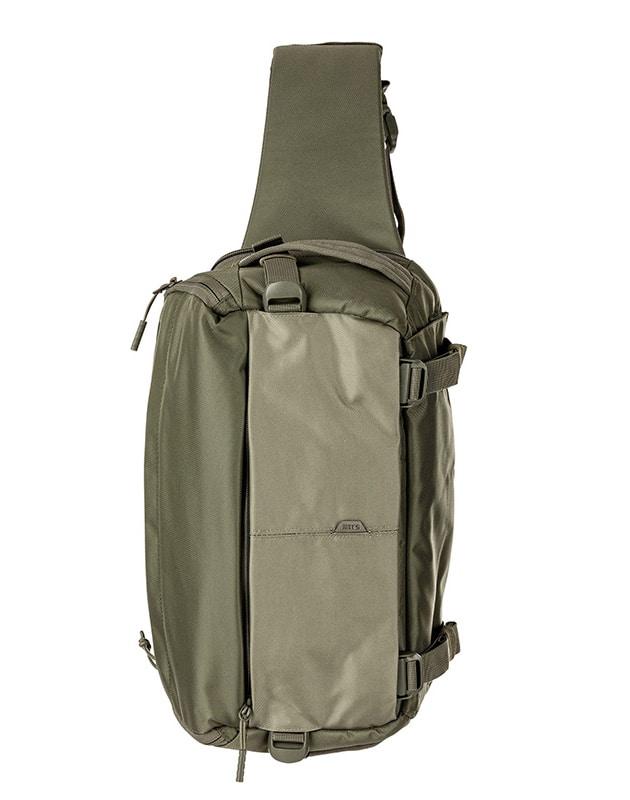 The LV18 Backpack 2.0 is a 30-liter pack that can boost your preparedness without drawing unwanted attention around town. Features like water bottle side pouches, a large main compartment supplemented by a smaller front pouch, and a padded laptop sleeve are standard fare for daypacks, and this pack has them all. The ambidextrous, side-entry CCW compartment and flex cuff channel can be your little secret. Modular setups are a great way to customize your gear and create versatile loadouts, and the shape of this pack's front pouch leaves room for the LV6 Waist Pack 2.0 when you need extra space.
In an upgrade from the previous model, the CCW compartment in the LV18 Backpack 2.0 now has a removable holster retention strap and a larger loop area. The laptop sleeve is taller and now has a security strap. Elsewhere, the internal organization is improved, and all buckles are now made by Duraflex. Plus, the top fleece-lined pocket keeps your eye protection secure.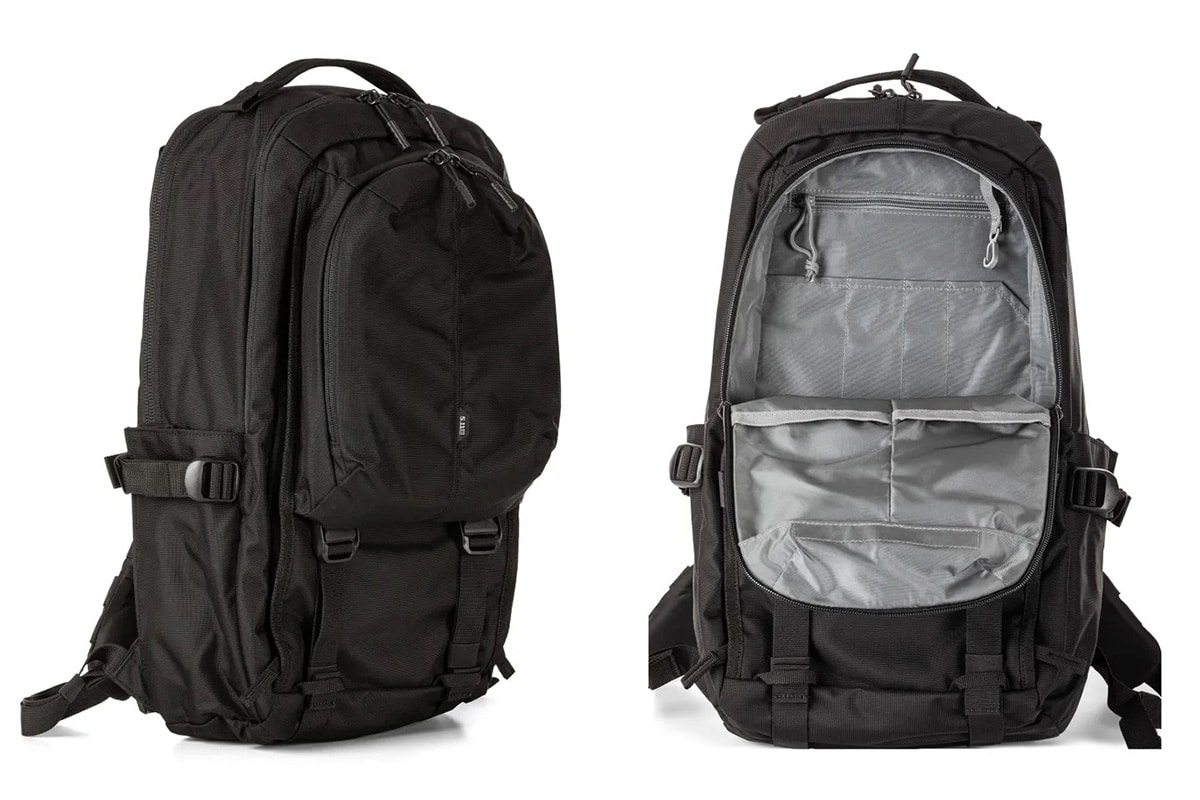 Color options include Turbulence (a gray/green color), Python (tan), and black. The LV6 2.0 and LV18 2.0 are now available in all three; the LV10 2.0 is currently only available in Python. These understated colors blend like traditional greens, browns, and grays without giving off an overtly tactical appearance. That makes them much better suited to everyday life than, say, the 5.11 Rush or AMP products.
This blend of tactical and practical is a natural step for the brand. According to Matt Page, 5.11 Tactical's vice president of global products, the company is committed to readiness throughout the product design and development process.
"A key aspect of that readiness mentality is having the right gear on hand to be prepared for anything," Page said. "Whether it's a pack loaded and ready to use as a go bag, or gloves nearby to protect hands in the case of an emergency, we want our end users to feel confident in the gear they're carrying."
The LV6 Waist Pack 2.0, LV10 Sling Pack 2.0, and LV18 Backpack 2.0 are all available now from 5.11 and retailers.
GOOD GEAR – Enjoy a Sip of American Exceptionalism With the BRCC Gun Club Mug
---
5.11 Low-Vis LV6 Waist Pack 2.0 Specs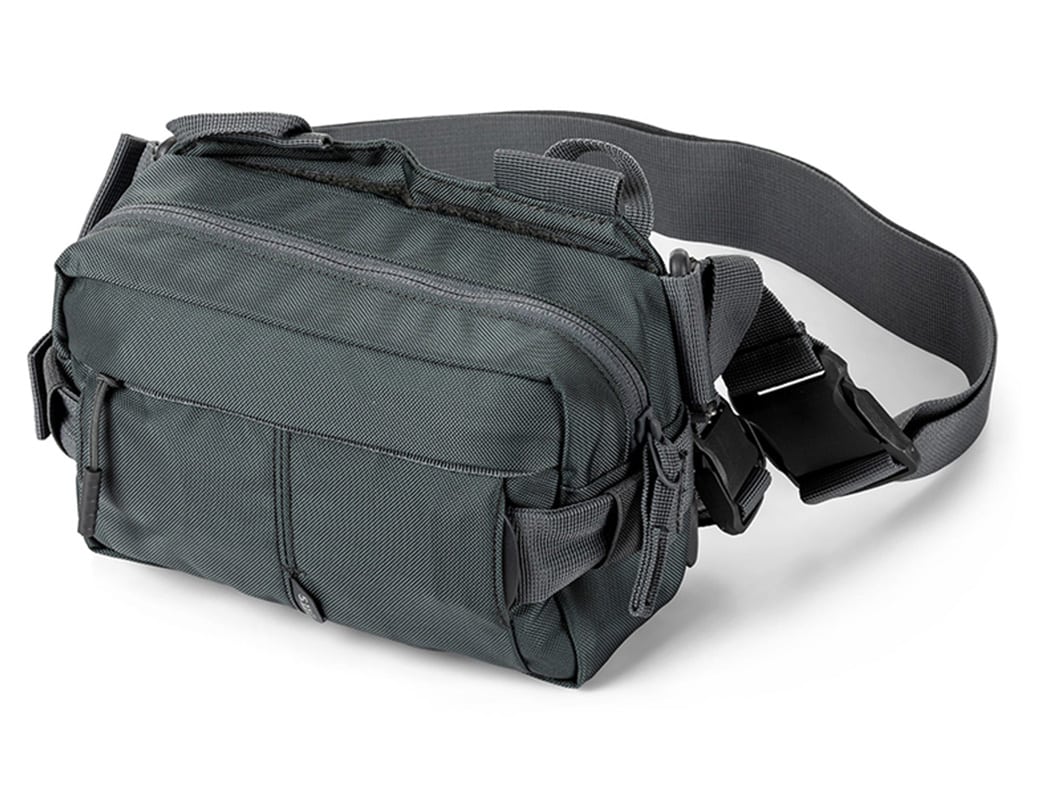 Price: $42
Volume: 3 liters / 183 cubic inches
Dimensions: 5.5 inches high, 8.5 inches long, 3 inches deep
Weight: 11 ounces
Features:
Zippered front pocket
Concealed slip compartment
Mounts to the LV18 backpack
Cross-body or waist carry
Quick release strap
Compression straps
RELATED – The Best Tourniquets: Experts Discuss the Trauma Kit Essential
---
5.11 Low-Vis LV10 Sling Pack 2.0 Specs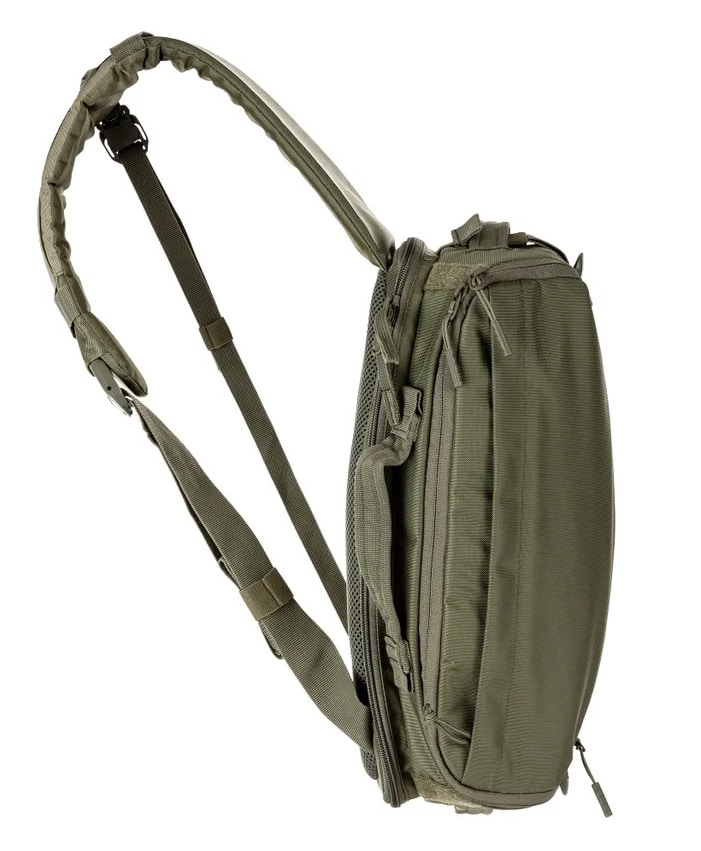 Price: $115
Volume: 13 liters / 794 cubic inches
Dimensions: 10.5 inches high, 16.25 inches wide, 5.75 inches deep
Weight: 2.1 pounds
Features:
Laser-cut MOLLE, padded tablet sleeve, and organizational pouches in the main compartment
CCW compartment
Padded back panel
Quick-release single shoulder strap
Can be worn as a backpack or a crossbody bag
Side compression straps
Water bottle pocket
GOOD GEAR – Grind Coffee Beans on the Go With the BRCC BODUM BISTRO Blade Coffee Grinder
---
LV18 Backpack 2.0 Specs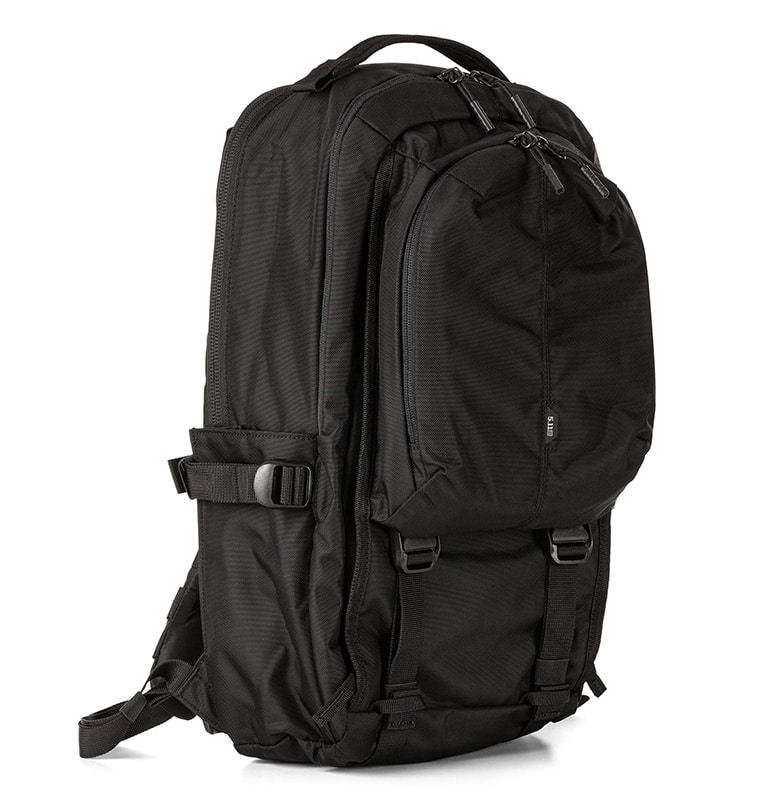 Price: $145
Volume: 30 liters / 1,831 cubic inches
Dimensions: 19.75 inches high, 11 inches wide, 5.5 inches deep
Weight: 2.8 pounds
Features:
Front pocket with internal organization
Ambidextrous side-entry CCW compartment
Padded laptop sleeve
Secondary compartment with internal organization
Side compressions straps
Two water bottle pockets
Add the LV6 Waist Pack 2.0 for extra storage
Padded back panel
Quick-release shoulder straps with a removable sternum strap
---
READ NEXT – New EAA MC P35 Ops Optic Pistol: A Hi-power With a Red Dot