Model: EAA MC P35 OPS Optic
9mm Full-Size Pistol
Fiber Optic Front Sight
All-Steel Construction
Extended Beavertail
Beveled Magwell
Straight Clean Break Trigger
We don't know how many people out there have been clamoring for a classic all-steel 9mm semi-auto that can also host a modern micro red-dot optic, but for those of you who have been, European American Armory has a new gun for you: the MC P35 OPS Optic. The new P35 variant is the Florida-based importer's take on an optics-ready Hi-Power pistol. 
The new model in EAA's MC P35 pistol line adds red-dot capability and other modern features to John Browning's old-school Hi-Power reboot. The company has been importing its MC P35 pistols from Girsan in Turkey, and, at its core, the gun is a clone of the Mk III Browning Hi-Power. 
Earlier in 2022, EAA released the MC P35 OPS series, which added a rail to the frame and a flat-faced trigger; the P35 doesn't have a magazine disconnect. This component gave the originals their infamous mushy triggers.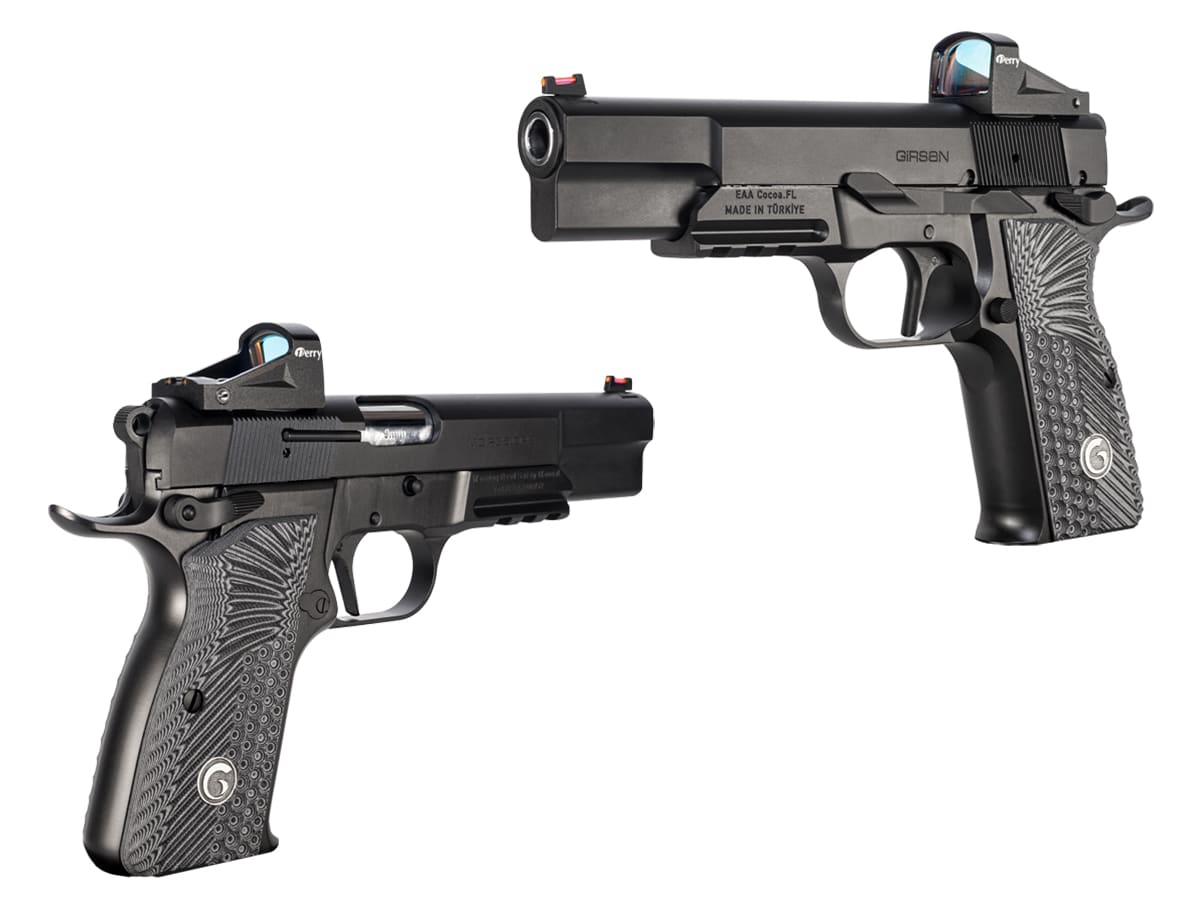 This newest upgrade includes a slide cut at the factory for the RMS footprint — and it even comes with a red dot — an EAA FAR-DOT 4-MOA red dot with a fiber optic rear sight, for what it's worth. The red dot is lightweight at just 0.61 ounces, uses one CR2032 battery, and has a 2,000-hour battery life when using the automatic brightness setting. That doesn't sound bad for the specs, but there are lots of red dots that will fit an RMS footprint. 
"When we were looking at how to make the MC P35 OPS more useful and offer the customer something that they really wanted directly from the factory, a light and bright red dot that uses a mounting pattern that's almost universally accepted without any sort of adapter plate was the overwhelming choice," said Chase Duffey, EAA's national sales and import manager. "Now, if the customer wants to keep it as is from the factory or if they want to accessorize it with lots of commercially available products at their local shop, they have every option right out of the box."
The short-recoil-operated MC P35 OPS Optic pistol includes an extended beavertail grip, a red fiber-optic front sight, G10 grips, a beveled magwell, a fully adjustable rear sight, no magazine disconnect, and an integrated accessory rail.
RELATED – The History of the Recce Rifle and How To Build One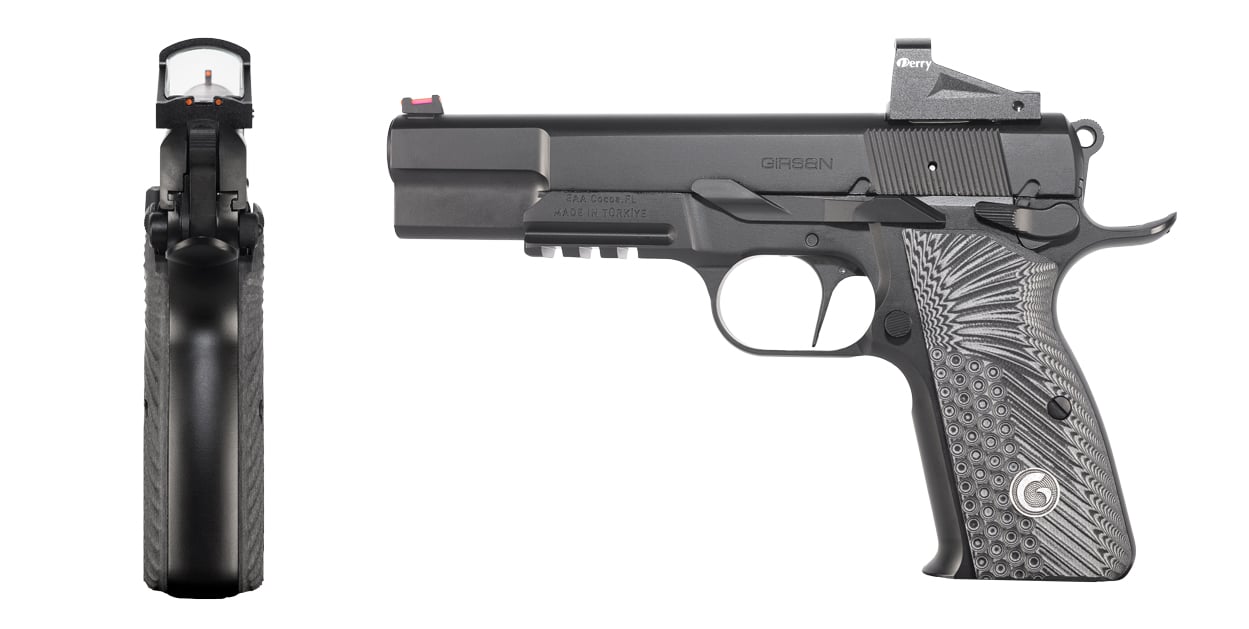 EAA says the slide footprint "includes unique modifications for Holosun optics, making it one of the most universal patterns for compact pistol design." 
Putting a red dot on any variant of a Hi-Power may seem like blasphemy to some, but for those who want that old-school weight of a steel 9mm and the dependable functionality of the HP design and also want to get in on modern sighting systems, this is really your only factory option at the moment. 
Earlier this year, we told you about a spate of new takes on the Hi-Power, providing lovers of the original high-capacity 9mm with a bevy of options, including the Springfield Armory SA-35, the modernized FN High Power, and the standard EAA Girsan MC P35, which is now joined by the OPS and OPS Optic models. 
---
EAA MC P35 OPS Optic Full Specs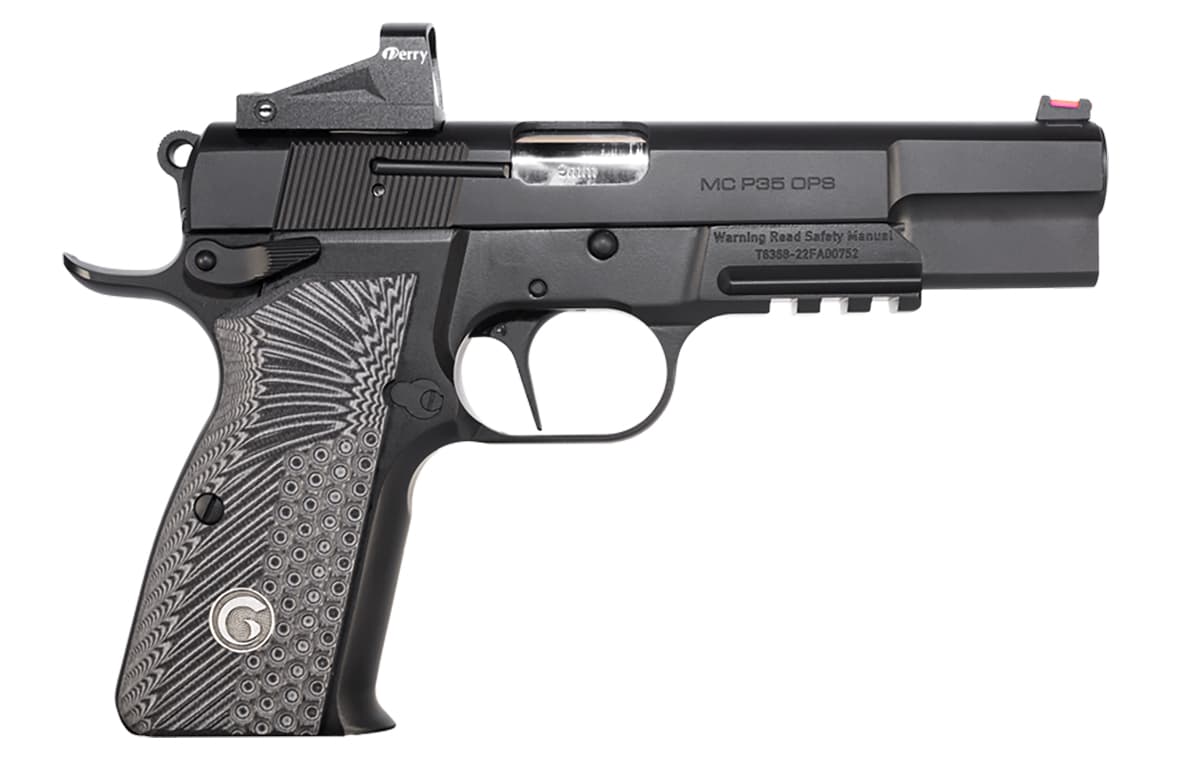 Caliber: 9mm
Capacity: 15+1
Barrel Length: 4.87 inches
Overall Length: 7.75 inches
Weight: 1.8 pounds
Frame: Steel
Sights: Fully adjustable rear, fiber-optic front
Optic: EAA FAR-DOT 4-MOA red dot included
MSRP: $850
---
READ NEXT – New Springfield Hellcat OSP Comes With Shield SMSC Red Dot