When Trevor Schneider and his sister, Tana Grenda, headed into the Alaskan backcountry with the hopes of killing a big bear, they didn't count on doing it at 5 yards with five shots from a revolver.
Schneider flew up from Idaho with a bear tag to fill. Since he was hunting with Grenda, an Alaskan resident and a blood relative, they didn't need a guide. Plus, Grenda was more than capable of guiding the brother-sister hunt. She is an accomplished big game hunter with four Boone & Crockett caribou and a recently arrowed Booner moose to her name who knows the country like the back of her hand.
After five days in the field, the two were about 11 hours from camp when they finally spotted a big bear bedded up in the snow at the top of a mountain. It would be a six-mile hike as the crow flies, but they had to make their way through a canyon, skirting waterfalls, crossing creeks, and then scramble up a 2,600-foot near-vertical final approach to actually get there. They started out at 6 a.m. It was 4:30 p.m. by the time they settled in 470 yards from the bear, who was still dozing.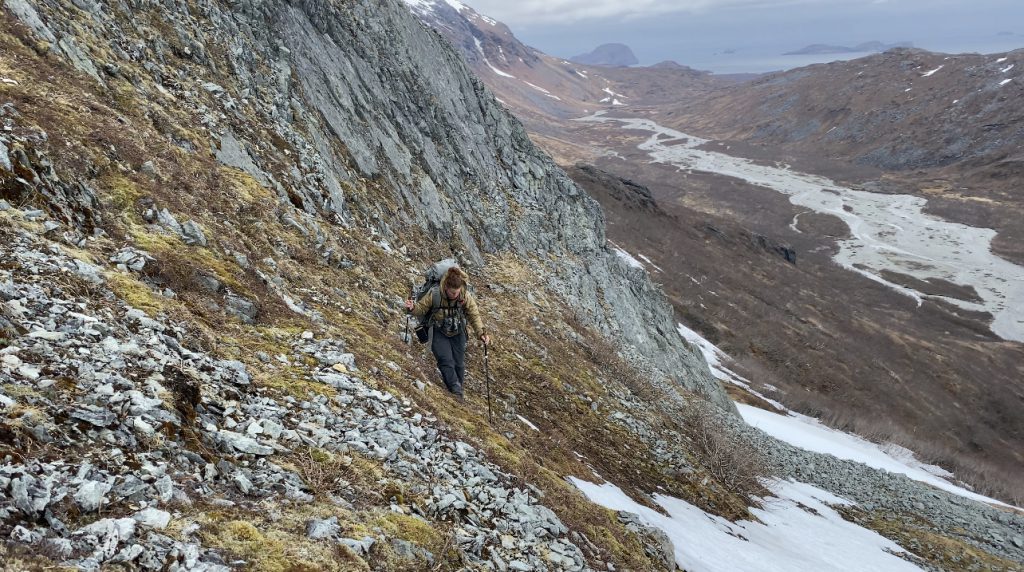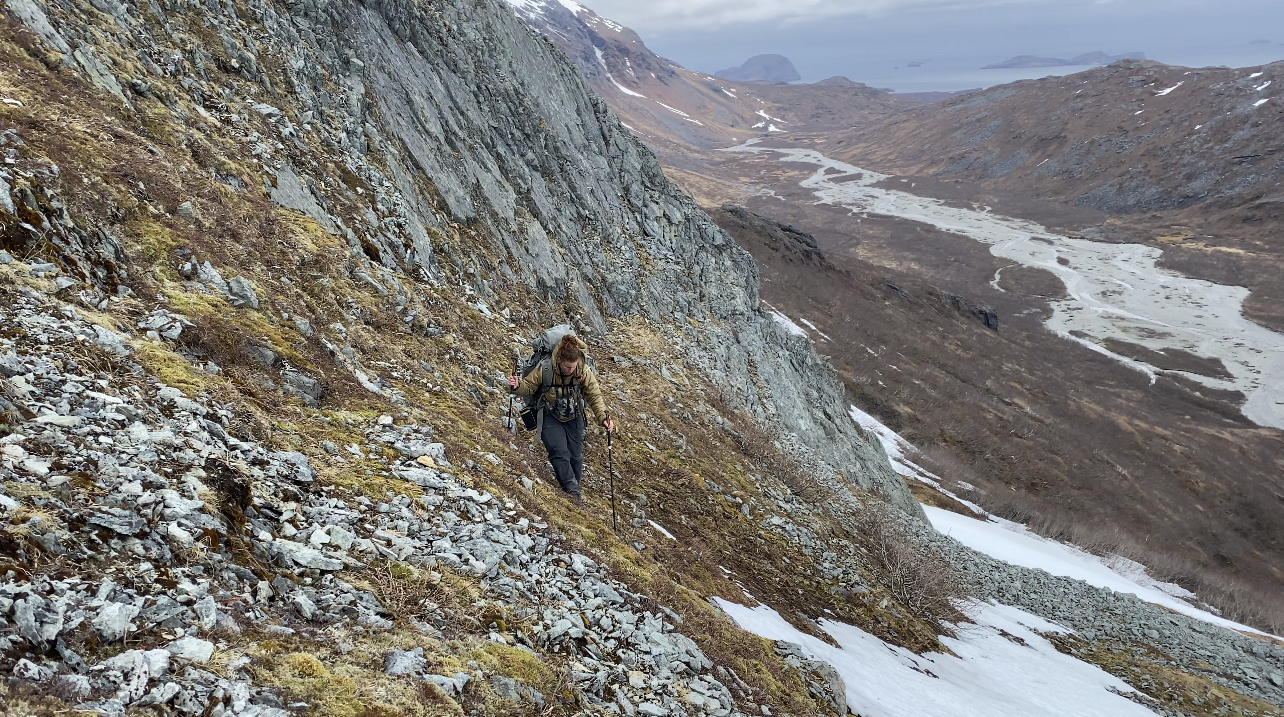 Choosing Rifle Over Bow
"We do a lot of long-range hunting," said Grenda. "So, we're comfortable [shooting] out to, like, 800 yards — 400 to 500 is pretty close. We like archery hunting too, but at this point, we know that we don't have any cover here in the wide-open snow. When you shoot a bear with a bow, you have to get down and make sure they can't see you. Otherwise, they'll come after you as they're dying."
So the siblings decided that the Rem .338 Ultra-Mag bolt-action rifle they were carrying was a better choice than the compound bow.
Schneider set up and fired three solid, well-placed shots in the bedded bear. The animal got up and fell a couple of times but was still very much alive. Schneider tried to chamber another round — and the rifle jammed.
"These bears are really, really tough," said Grenda. "They'll often take many bullets before they go down. My brother goes to put in another round, and he can't get the bolt closed to shoot it again. So now we have a bear that should be dead, but he's not, a rifle that's jammed, and all we have left is a bow and a pistol."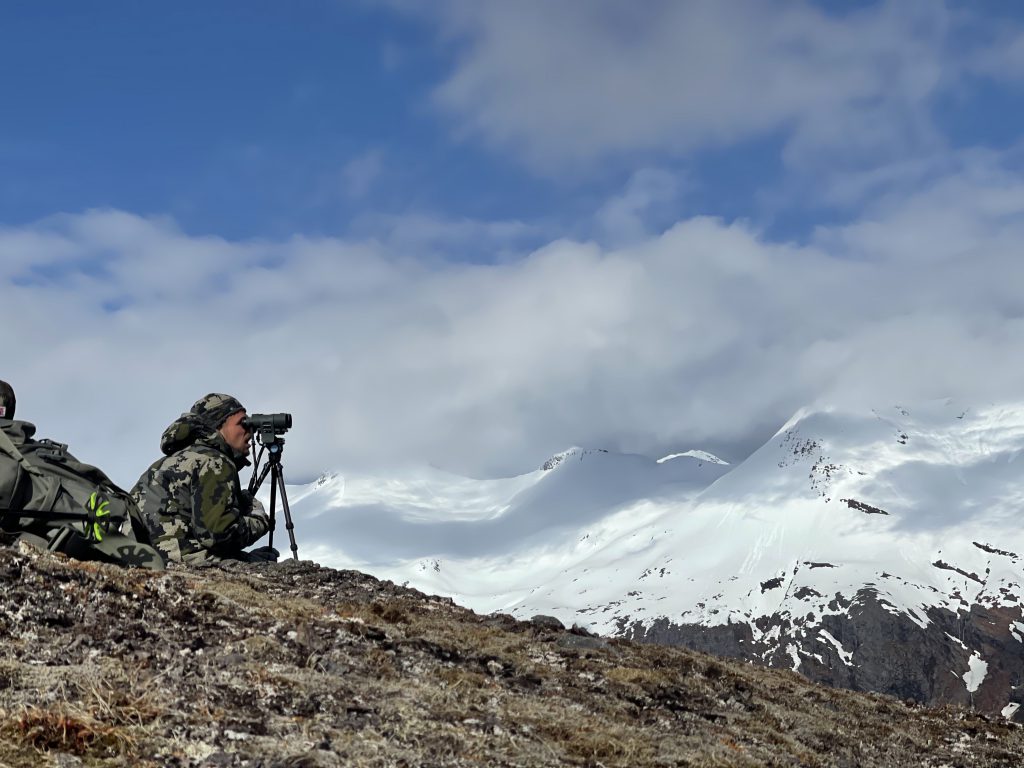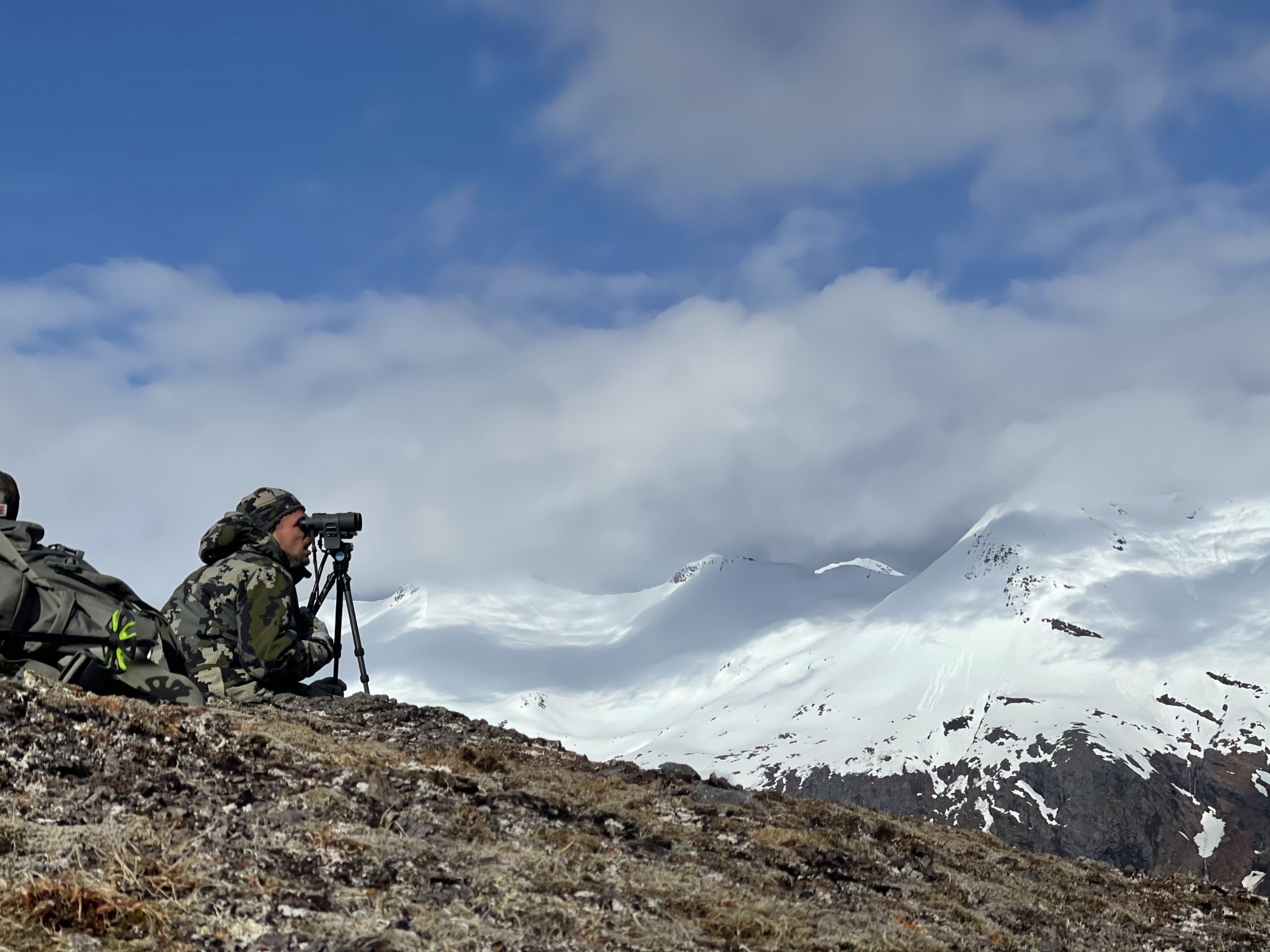 Strategic Retreat to Cover
At this point, the bear had spotted the two hunters and began a sliding, slow run down the mountain toward them.
"There were a couple of rocks over the hill behind us that we thought we could run and hide behind and get some distance. He was spewing out blood on both sides, and he just wasn't dying. We just needed more time and distance," she said.
They grabbed the .454 Casull revolver and the bow, abandoned their packs, and started the 150-yard downhill scramble to the rocks — the only cover in the entire alpine basin. In the rush of their retreat, the pistol fell out of Schneider's holster, and they had to turn around to hunt it down. Luckily, they found it in their tracks.
From behind the rocks, they could see where they dropped their gear at the top of the rise and waited for the bear to appear. A few seconds felt like an eternity, and they thought he might've finally gone down. The bear didn't get the memo.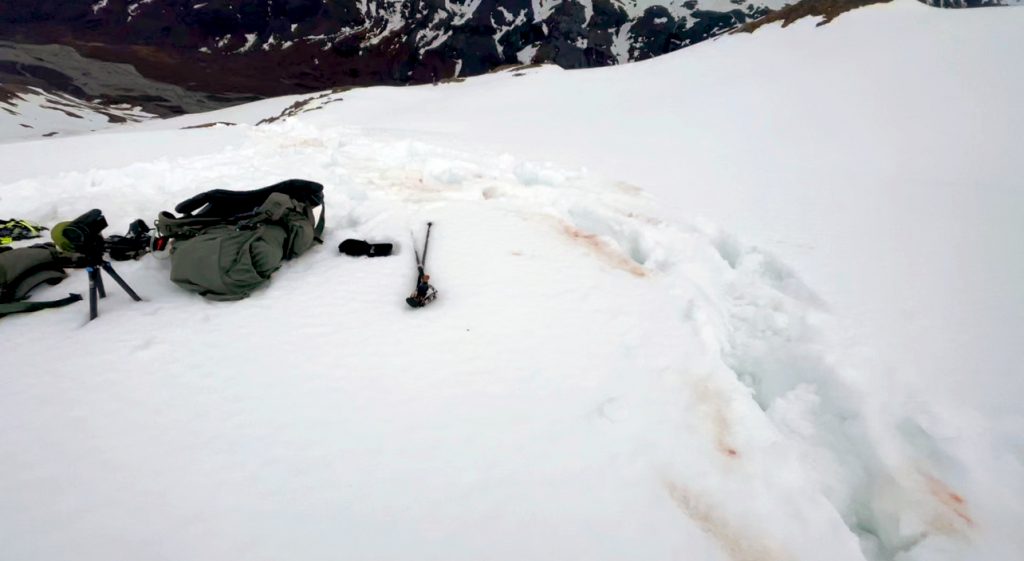 Making a Final Stand
"He came over the hill, and our heads were just over the rocks, and he just pinpointed us, and something hit him. My brother described it like a shot of drugs, pure adrenaline. Something just kicked in, and he was like, I'm gonna kill these people. He came full bore like he wasn't even wounded."
The charging giant covered the 150 yards between them in barely10 seconds.
"I told Trevor, 'You've got the pistol, this is it.' I pretty much thought I was dead. He started shooting at 30 yards. [There are] five rounds in the revolver. Boom, boom, boom. He just kept coming, like it didn't even faze him."
The 10-foot-tall mass of adrenaline-fueled fury closed the distance to 5 yards — one lunging swipe away from Grenda — when her brother fired a fourth shot with the big-bore revolver that finally turned the animal.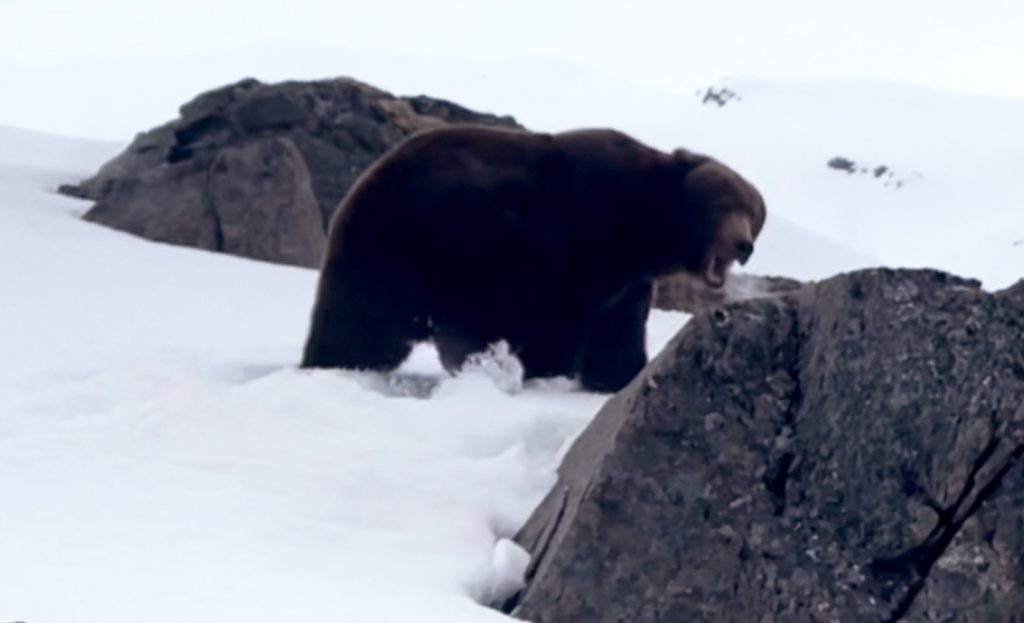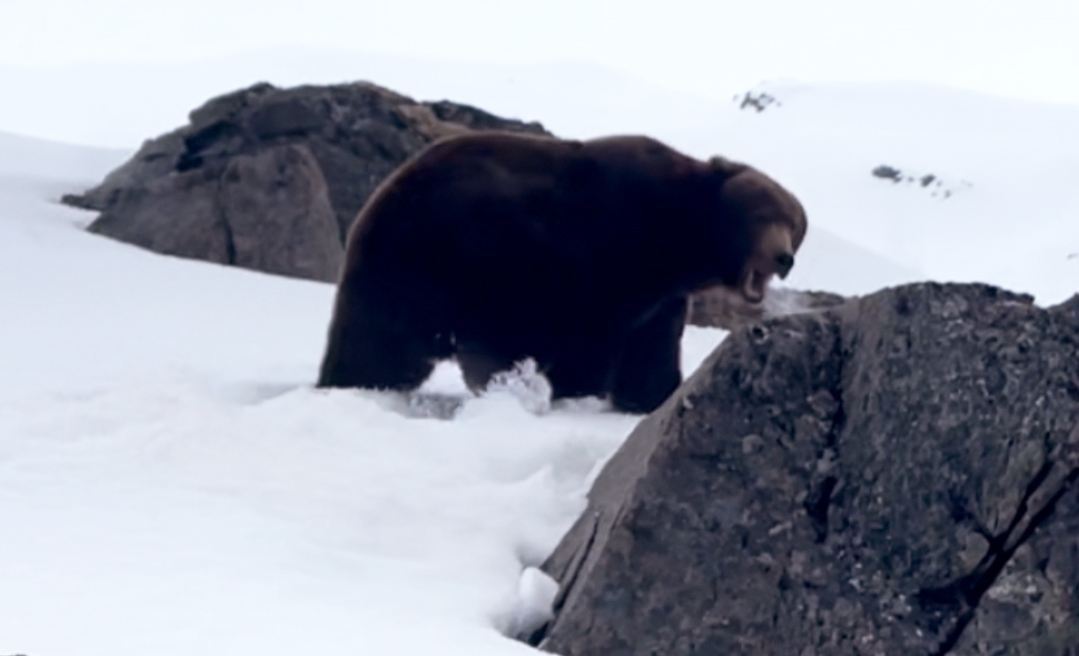 "Trevor put one last round into him, and he fell over the hill, and I heard the snow shhhhh like an avalanche. We ran up the hill to this next little patch of rocks and waited. We knew if he was wounded, it would be harder for him to lunge uphill."
With 40-50 mph winds ramping up, the two made their way back to their gear. The bear's tracks and blood trailed down the hill and right past where her brother fired his first three rounds.
With a still-jammed rifle, only five pistol rounds, and a compound bow that wouldn't be worth a shit against another charge, the two chose to sit tight and let time finally put the bear down for good. It didn't take long. Schneider put his binoculars on a small dot far down the slope and found the bear piled up.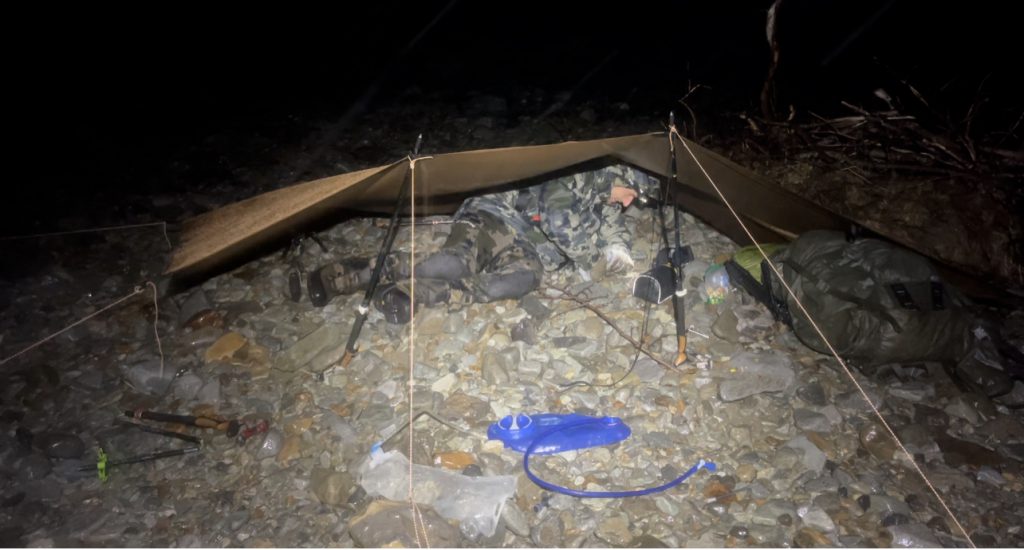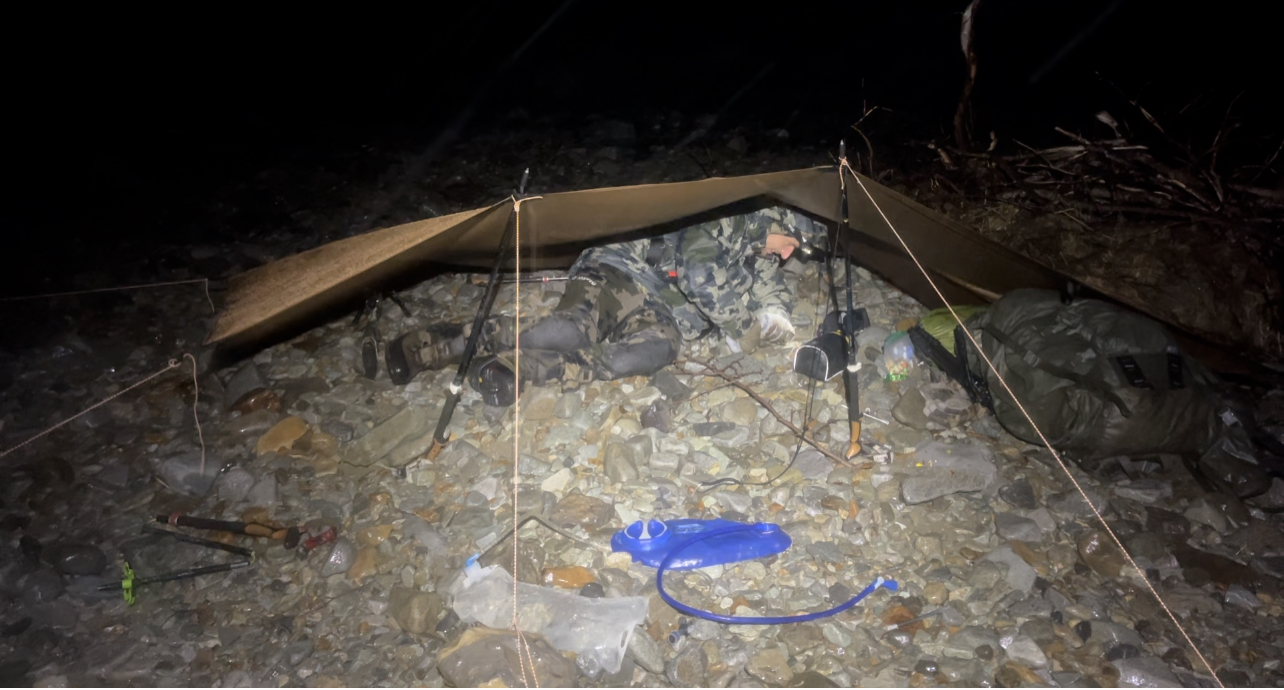 Exhausted from a tremendous near-death ordeal, running on fumes, and 11 miles from camp in gale-force winds with temps dropping below zero, the two skinned out and packed up the giant bruin. Their only chance of getting some coverage from the elements was to make a 2,500-foot descent to a riverbed at the bottom of the valley.
"By that time, it was like 1 a.m., and we were just exhausted. So we set up a small tarp on the riverbed and survived the hurricanes in the night. It took us a whole other day to get back to the tent," Grenda said.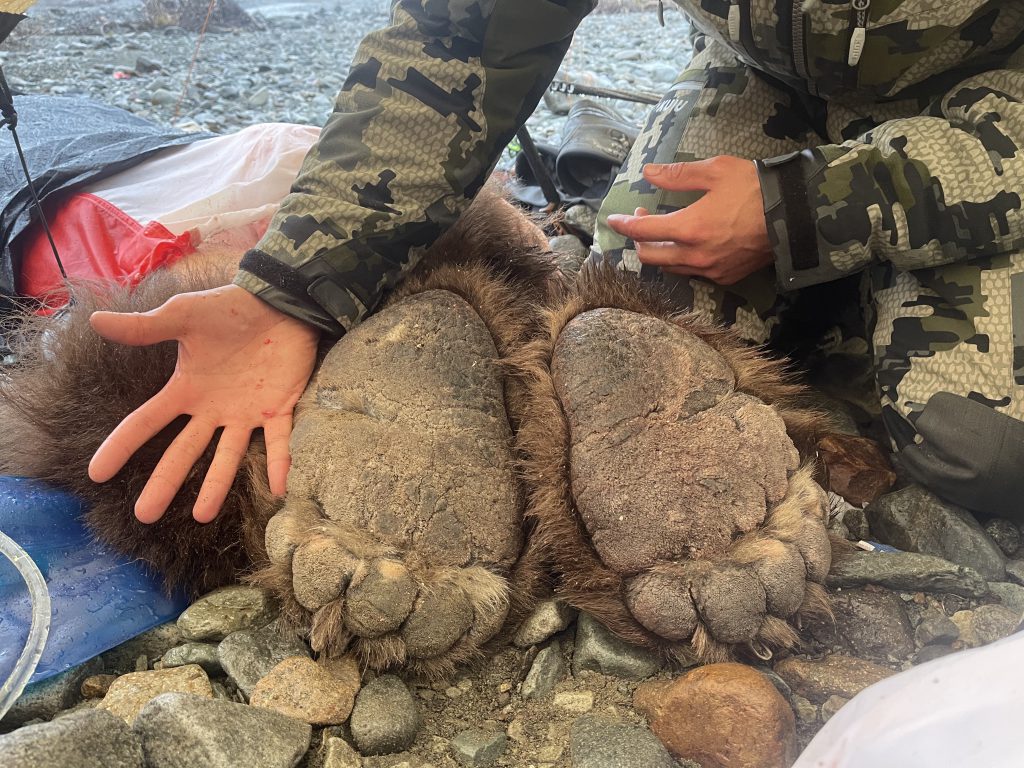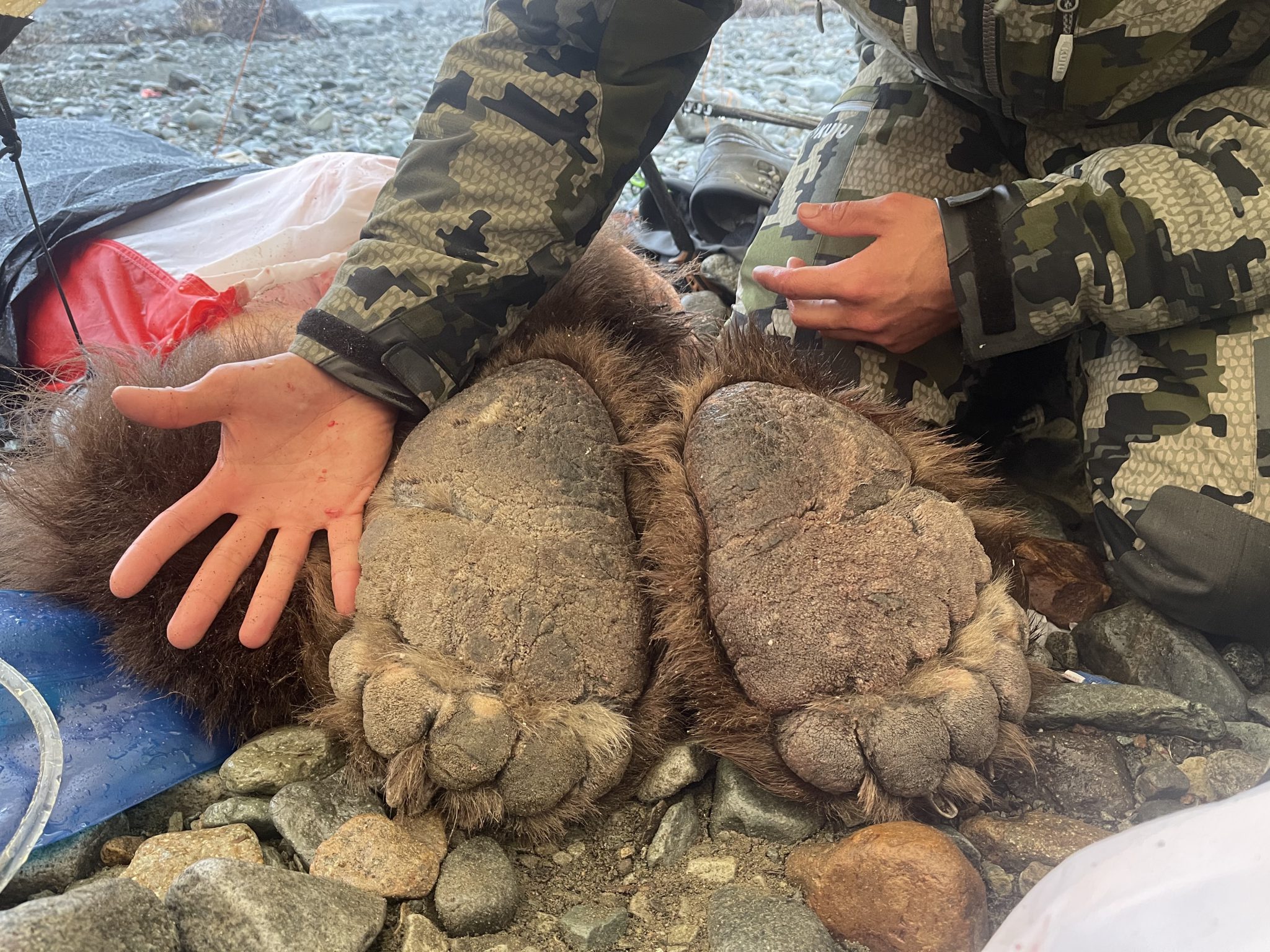 When the siblings got home, they figured out why the rifle had failed: a spent primer from the third round of handloaded ammo Schneider fired at the bear had fallen into the action at the perfect angle to keep the bolt from closing. A one-in-a-million, fluke situation, as Grenda put it. Hopefully, it's a once-in-a-lifetime fluke for these sibling hunters.
Facing one's own mortality is a sobering experience. For most people, mortality doesn't charge straight at them in the form of a 10-foot Alaskan brown bear that comes only one giant-clawed arm's length away. And if it did, they would likely consider a new indoor hobby. Grenda is not most people.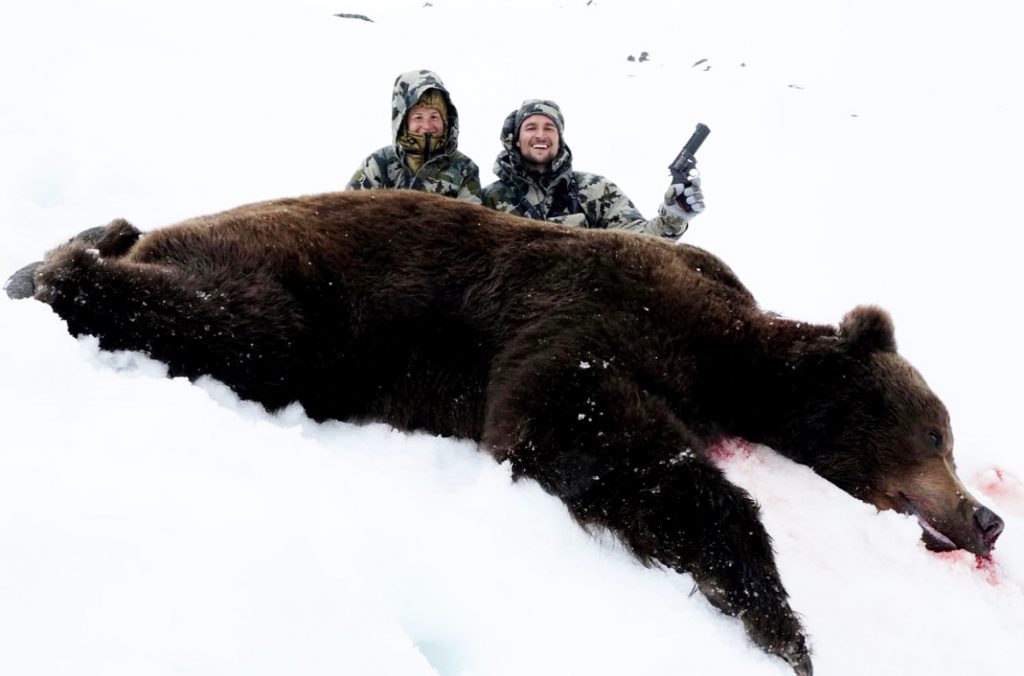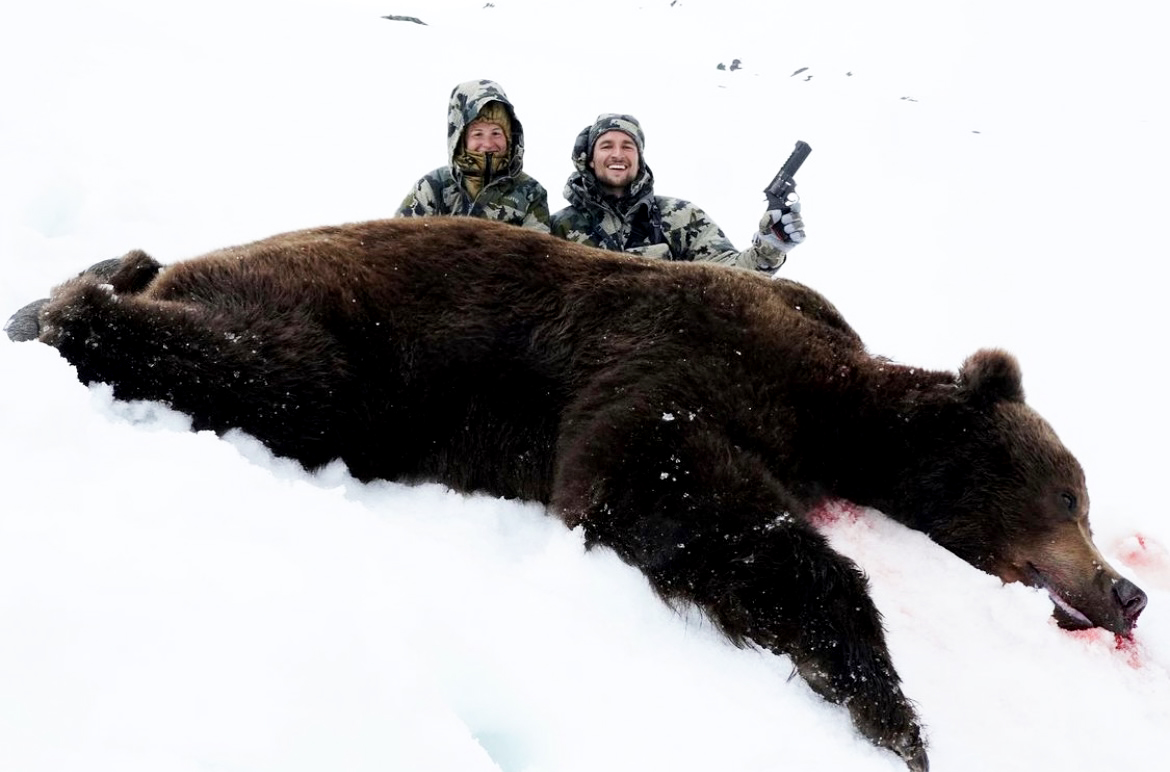 Only four months after surviving the Alaskan bear attack with her brother, Grenda's husband, Adam, a backcountry pilot who's also a veteran hunter, dropped her off in a remote location for a solo caribou hunt — a hunt that ended with her killing potentially the largest Barren Ground Caribou in the world.
"My husband said, 'You can do it!' I've never been scared before, but I [was] a little scared. He was like, 'You'll be fine,'" Grenda said after killing the trophy caribou. "It was the first time that I'd been back out, and I did it solo. It was actually my first solo hunt in Alaska, period."
Talk about getting back on the horse.
Read Next: For more rad Hunting & Fishing stories, check out the Free Range American archives.