If you spend any time on social media, you've probably salivated over at least one video of Birria-style tacos. Birria tacos are like the Mexican equivalent of a French Dip Sandwich, and it turns out, it's an outstanding way to make venison tacos.
Birria is a Mexican meat stew from the state of Jalisco, traditionally made with goat but often with beef, lamb, or sheep. The meat is braised in chilis and aromatic spices until tender, and the broth is reserved as a dipping sauce.
Tortillas for the tacos are dipped in the layer of fat that floats to the top of the stew, then toasted and assembled. While Birria has been around for hundreds of years, it recently became popular in taquerias and food trucks in Los Angeles and other west coast cities. The trend spread on Instagram and TikTok feeds, and now Birria tacos are on the East Coast, too, and all over the world.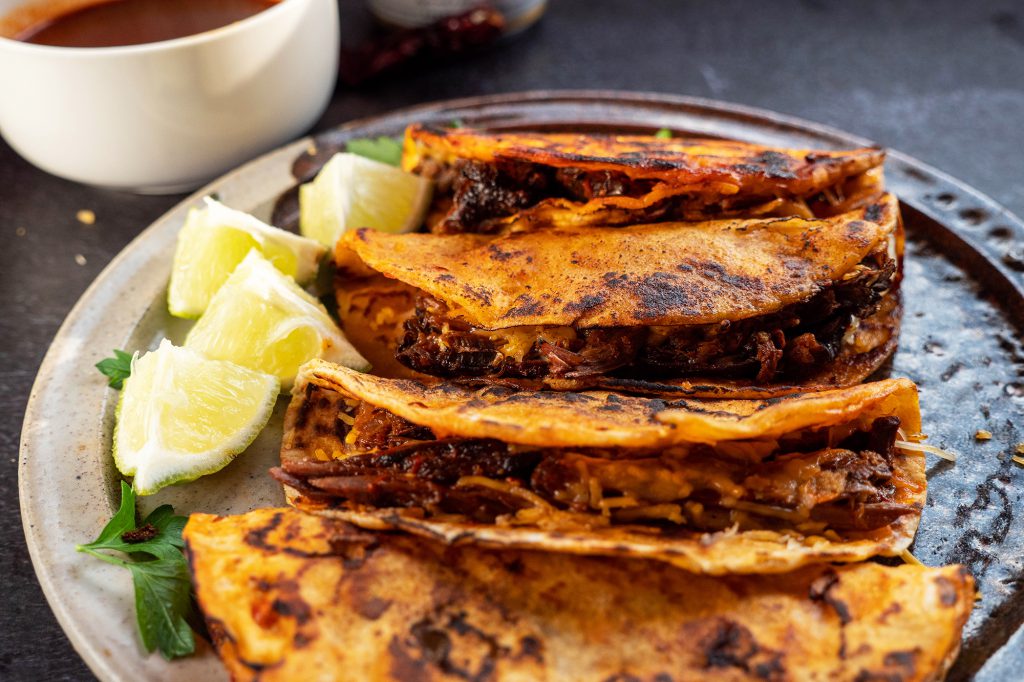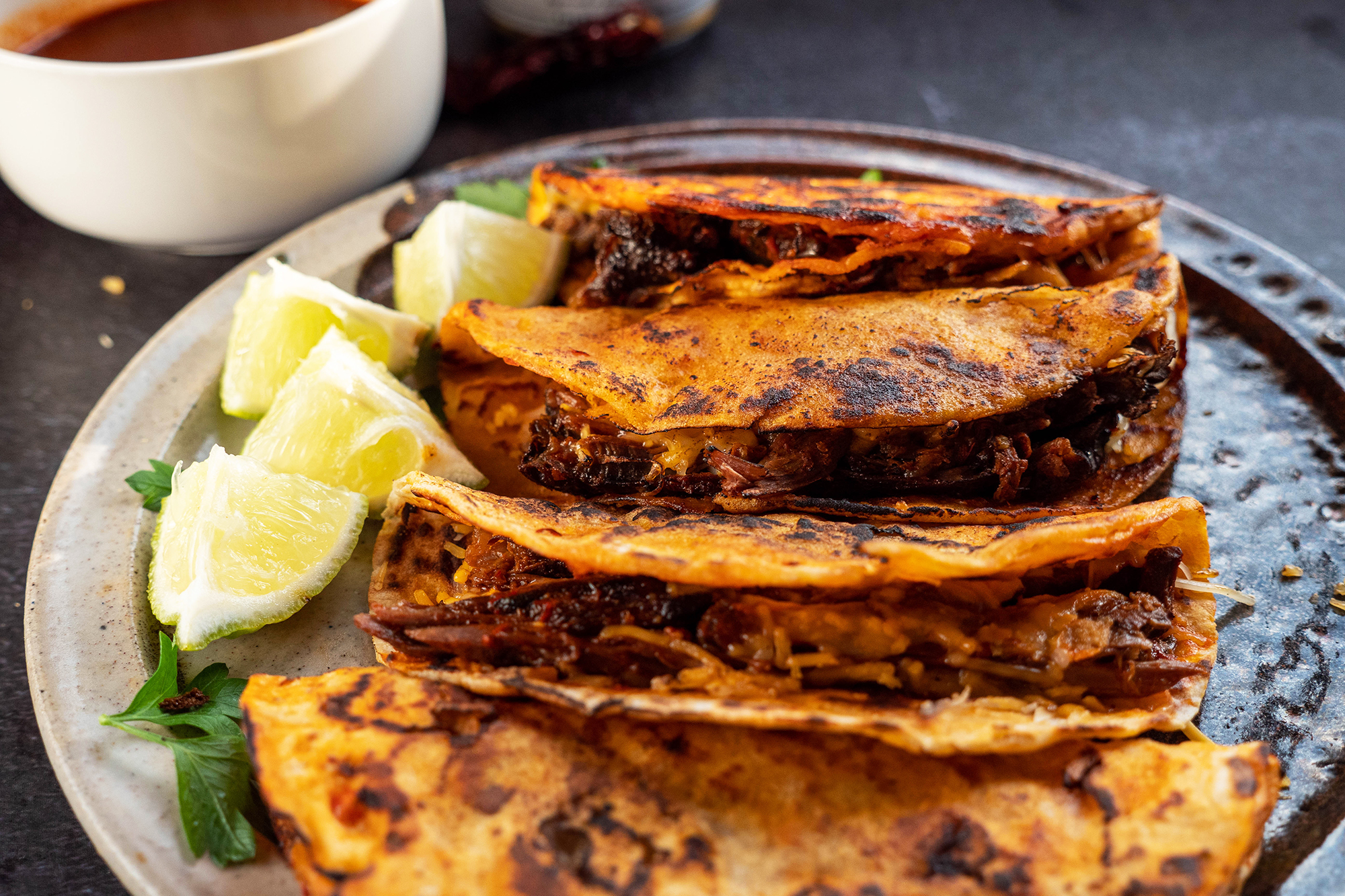 Birria-style tacos are easy to make, and they're an excellent way to prepare wild game meat, especially the tougher cuts. Neck roasts are perfect for the spicy stew, and once cooked through and tender, the flavor and texture are hard to beat. Because wild game meat is so lean, I've added a little bacon fat to this recipe for flavor and to help the dipping and toasting process.
With the succulent meat, the smokey chilis, the gooey cheese, and the crispy tortilla, a wild-game Birria-style taco is the perfect way to enjoy neck roasts and other tough cuts. 
Related: Jamaican Buck Patties – The Best Venison Recipe You Haven't Tried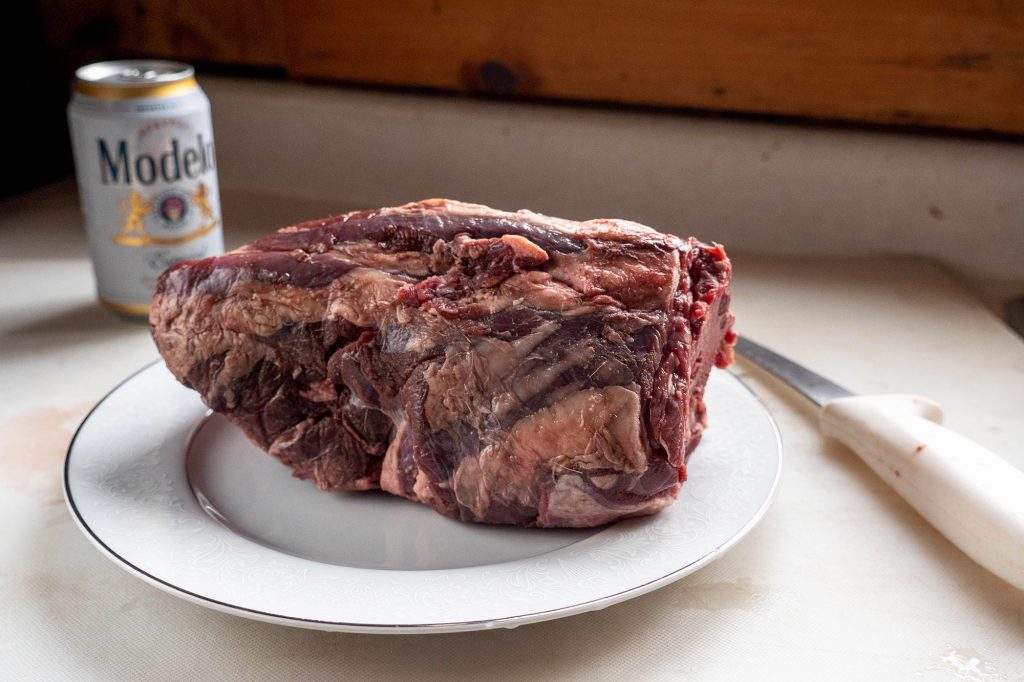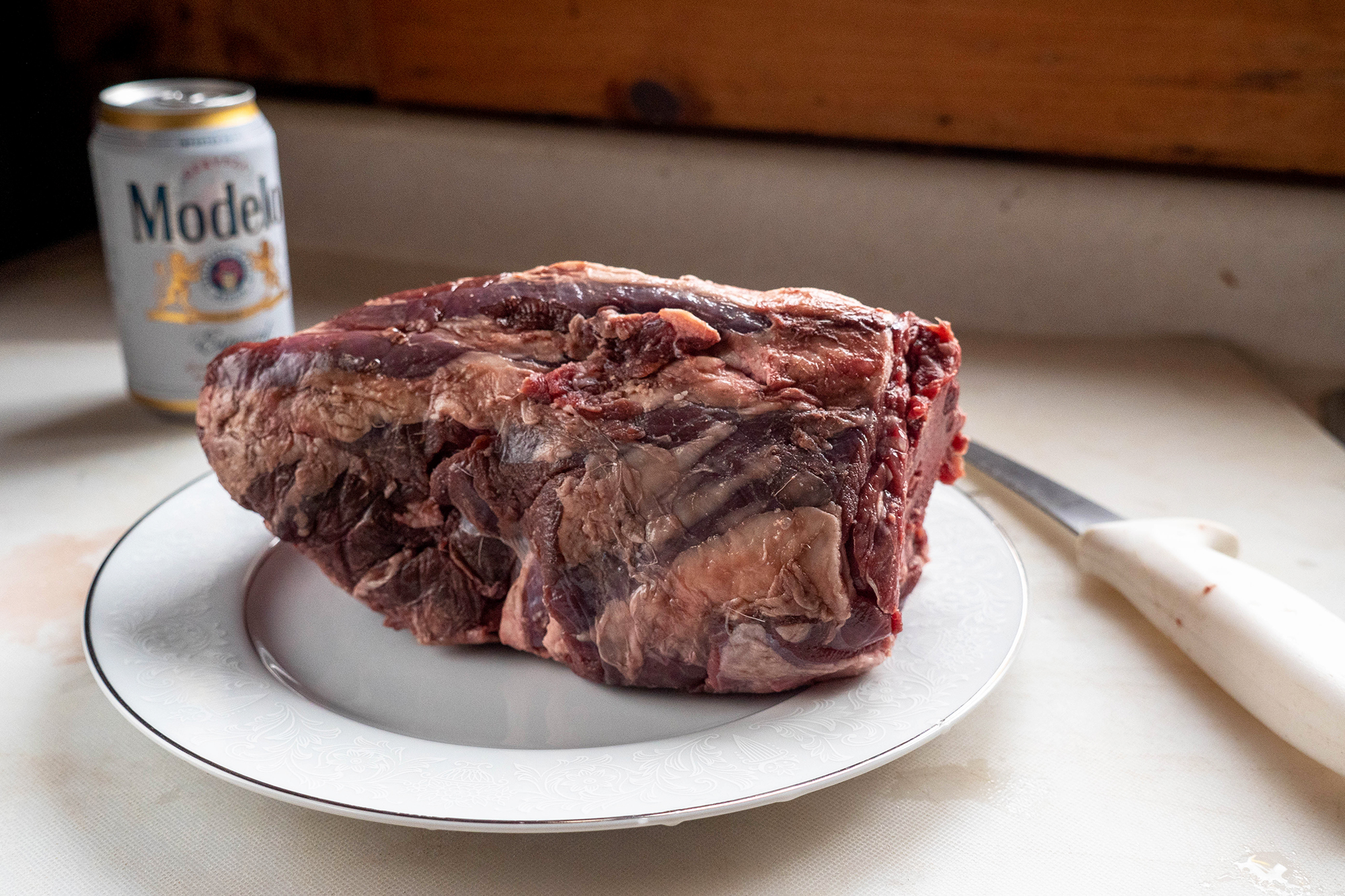 Ingredients for Birria Venison Tacos 
1 whole deer neck or equivalent 
1 cup water
1 can of beer (lager is best) 
3 dried guajillo peppers
1 can chipotle peppers in adobo
1 cup crushed tomatoes
1 quart game stock or chicken stock 
3 cloves minced garlic
1 tablespoon bacon fat
1 teaspoon smoked paprika
1 teaspoon cumin
1 medium onion chopped
1/2 teaspoon cinnamon
2 bay leaves
4-inch corn or flour tortillas
1 cup Oaxacan or Mexican cheese blend, grated
Lime wedges for serving
Related: How to Make A Slow-Cooked Pulled Venison Roast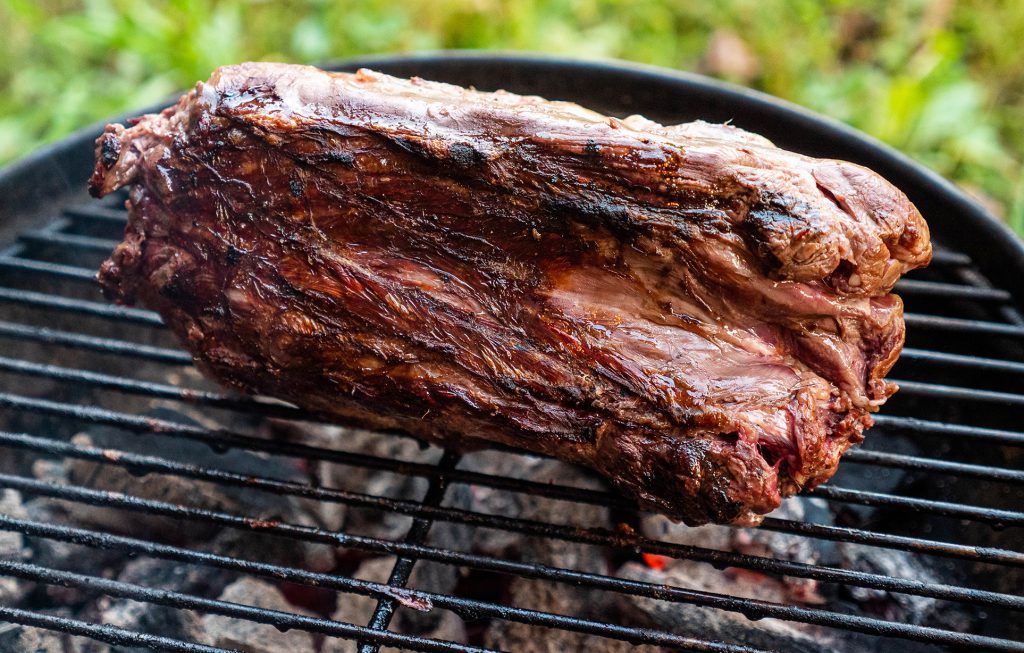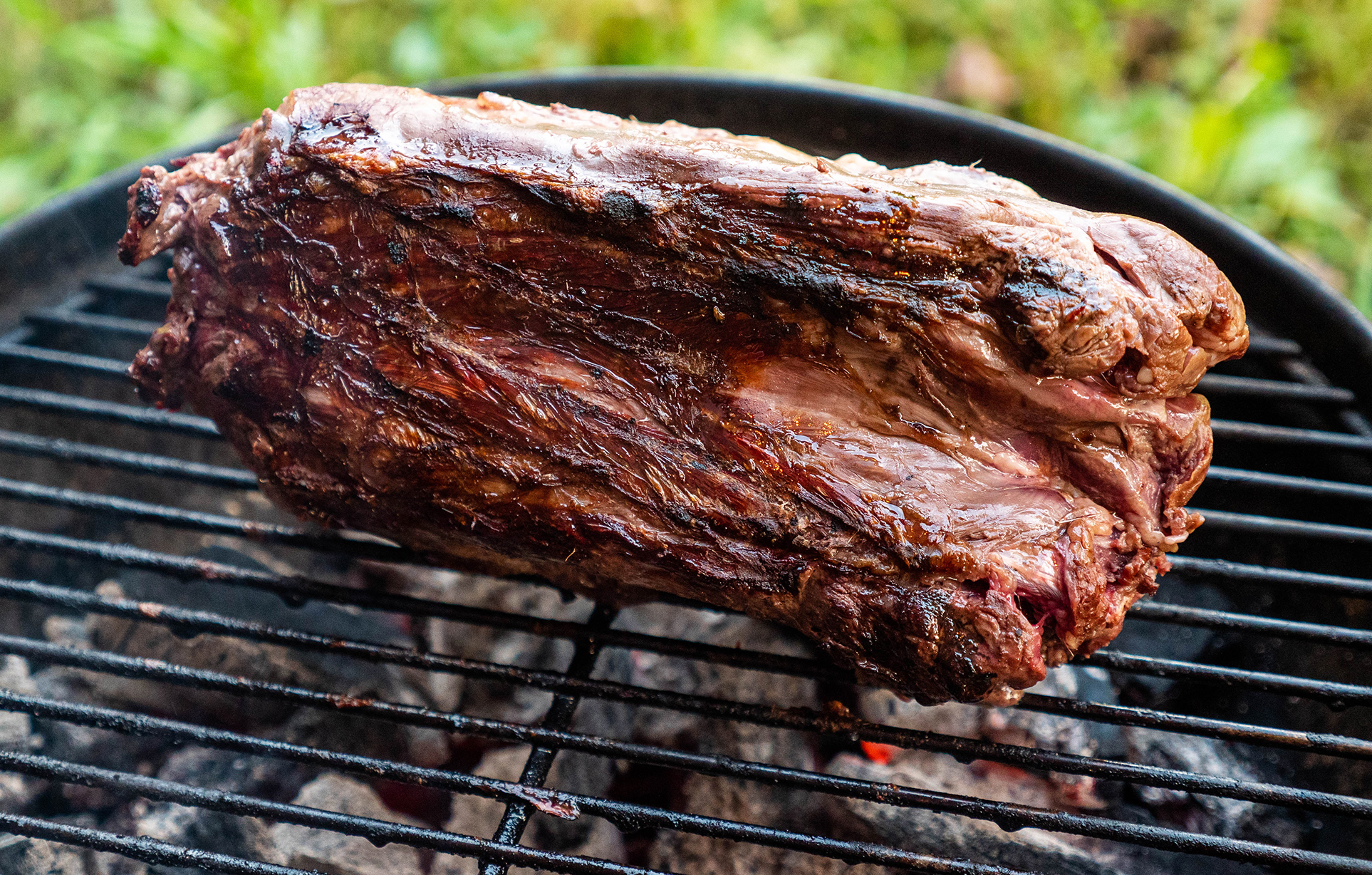 Directions
Prepare a charcoal grill and form a bed of hot coals. 
Evenly sprinkle a pinch of salt on the neck roast, place it on the grill and cover.
Grill for roughly 15 minutes on each side, then move the neck to the outside edge of the grill grate and let the indirect heat continue to cook it for another 30 minutes to an hour.
Transfer the neck roast from the grill to a slow cooker with a can of beer and one cup of water. Cook on high for 2 to 4 hours. 
Submerge the dried guajillo peppers in a cup of warm water and let them hydrate for at least an hour, preferably longer. 
In a blender, add the guajillo peppers and one can of chipotle peppers in adobo. Blend until smooth.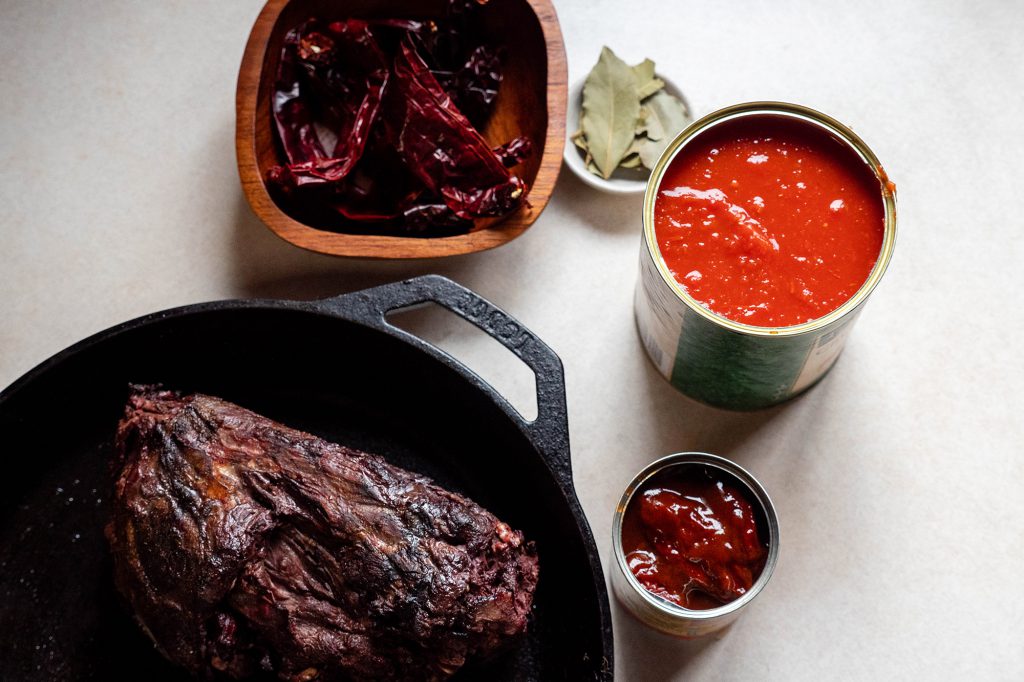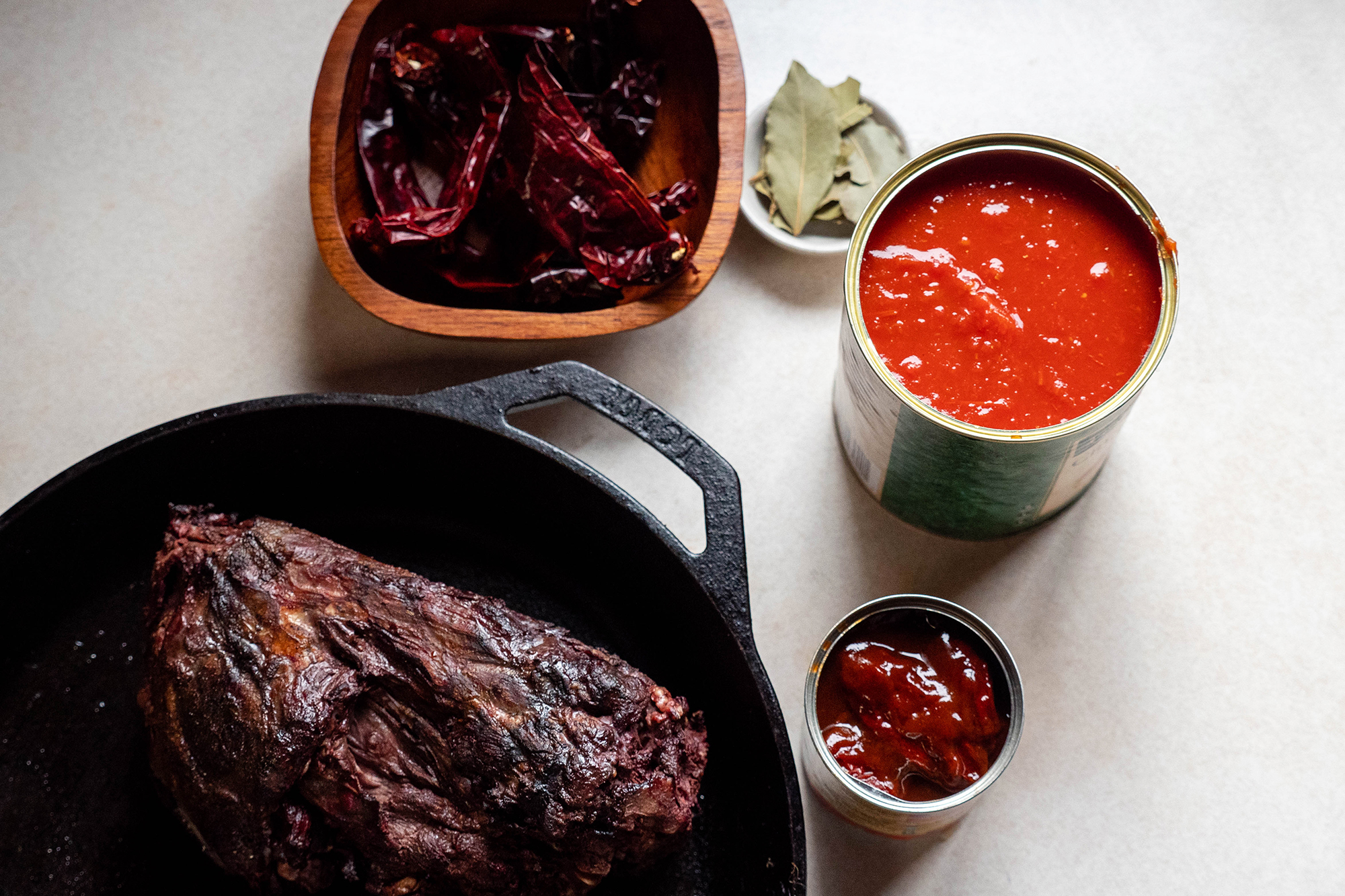 Transfer the neck and cooking liquids to a dutch oven, along with the blended pepper mix. Add crushed tomatoes, stock, bacon fat, onions and garlic as well as all spices and seasonings. 
Place the dutch oven on the stove on low heat. Simmer for about an hour until the meat pulls off the bone easily. Shred the neck meat into the sauce and discard the bones. 
Heat a nonstick saute pan, flat top griddle, or skillet on medium-high heat. Using a pastry brush, lightly coat both sides of a tortilla with the Birria sauce, especially any fat that has pooled at the top. Brushing works much better than dipping, in my experience. 
Place the tortilla in the pan or griddle and toast one side. Flip the tortilla and toast the other side. 
Add a generous spoonful of the neck meat and cheese to the tortilla and fold it over on itself. Continue to lightly toast each side of the assembled taco until the cheese melts. 
Serve with lime wedges and a small bowl of Birria sauce for dipping.
Related: Wild Game Recipes – 5 Ways To Make Freezer Space for Hunting Season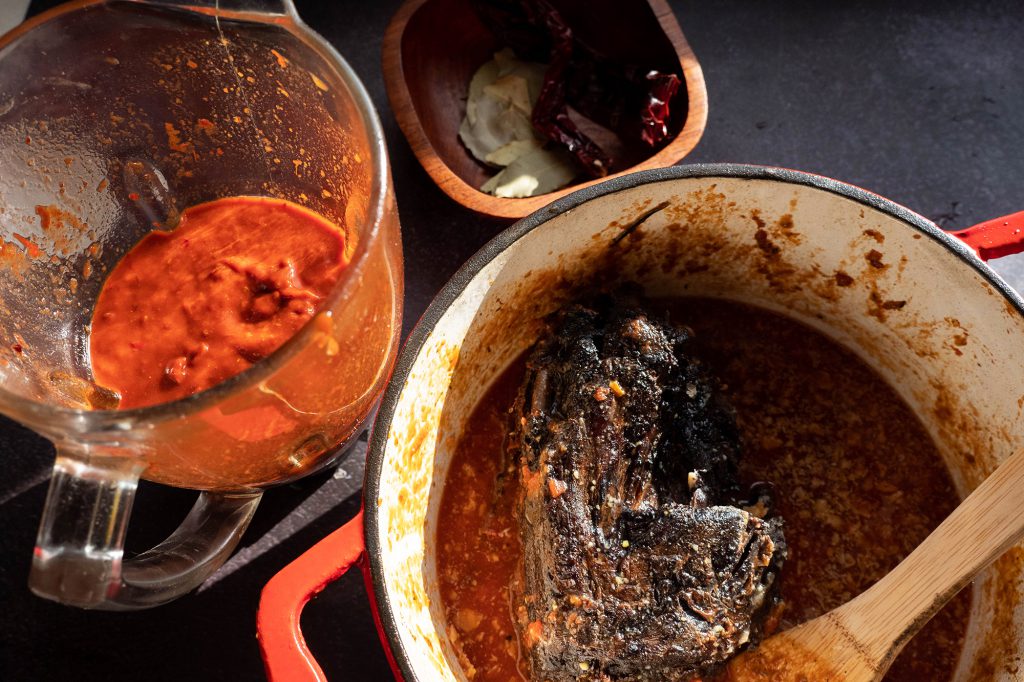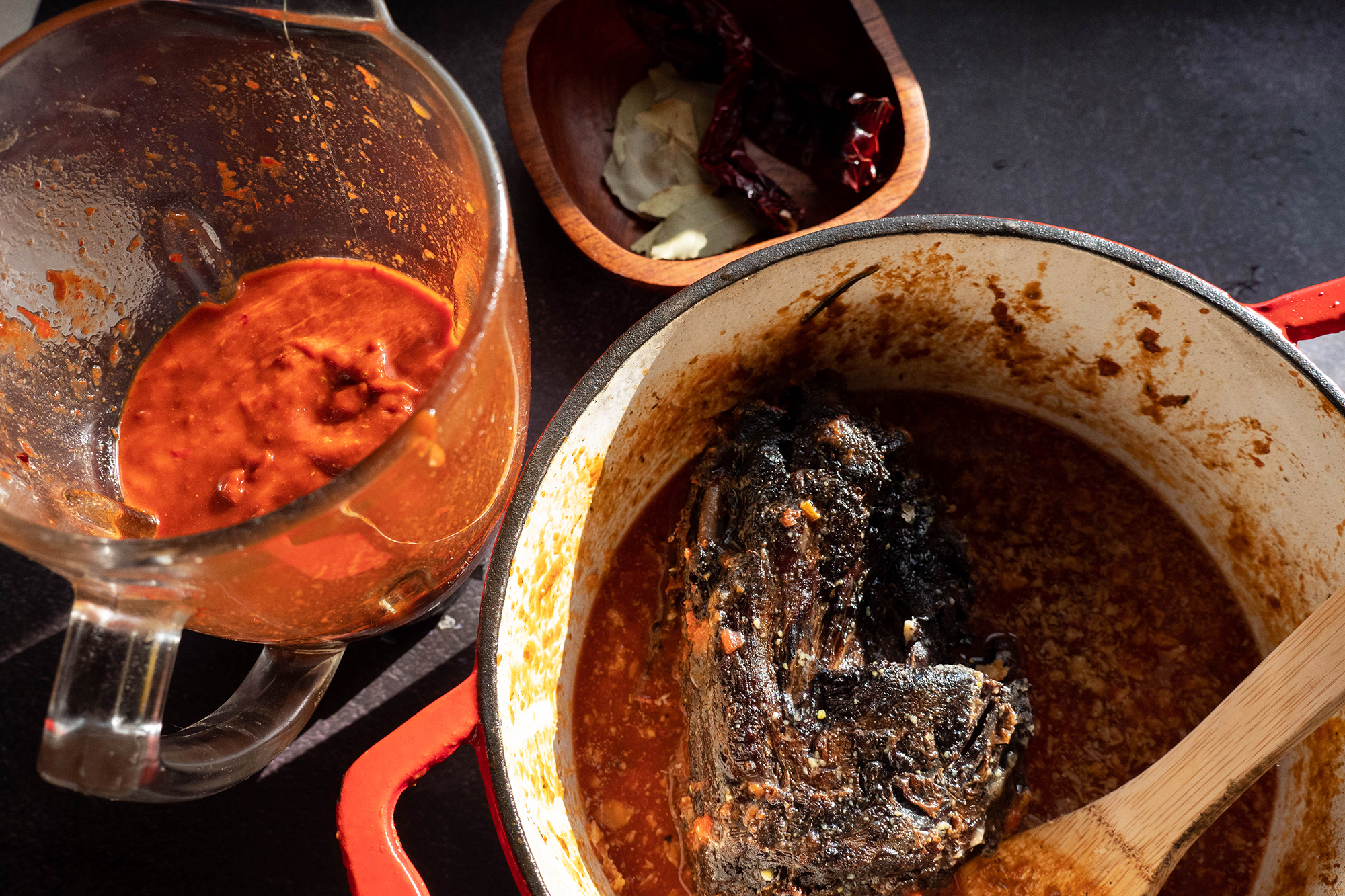 Birria-style tacos aren't just an internet sensation; they are a traditional Mexican recipe that you can make at home. These tacos are absolutely delicious, easy to make, and are a great way to prepare tough cuts of wild game like neck roasts, shanks, and shoulders. It could even become one of your favorite venison recipes of all time. 
Birria's signature tortilla dip adds a ton of flavor and helps to fry the outside of the taco shell into a crispy vessel for meat and cheese. With a squeeze of lime juice on top, it's just about perfect.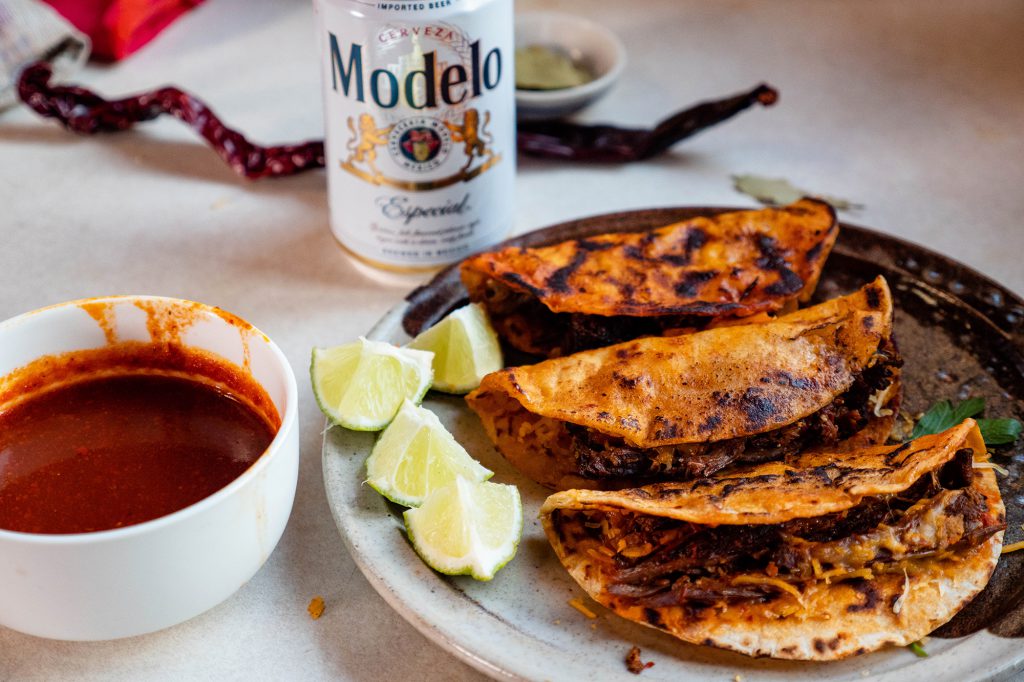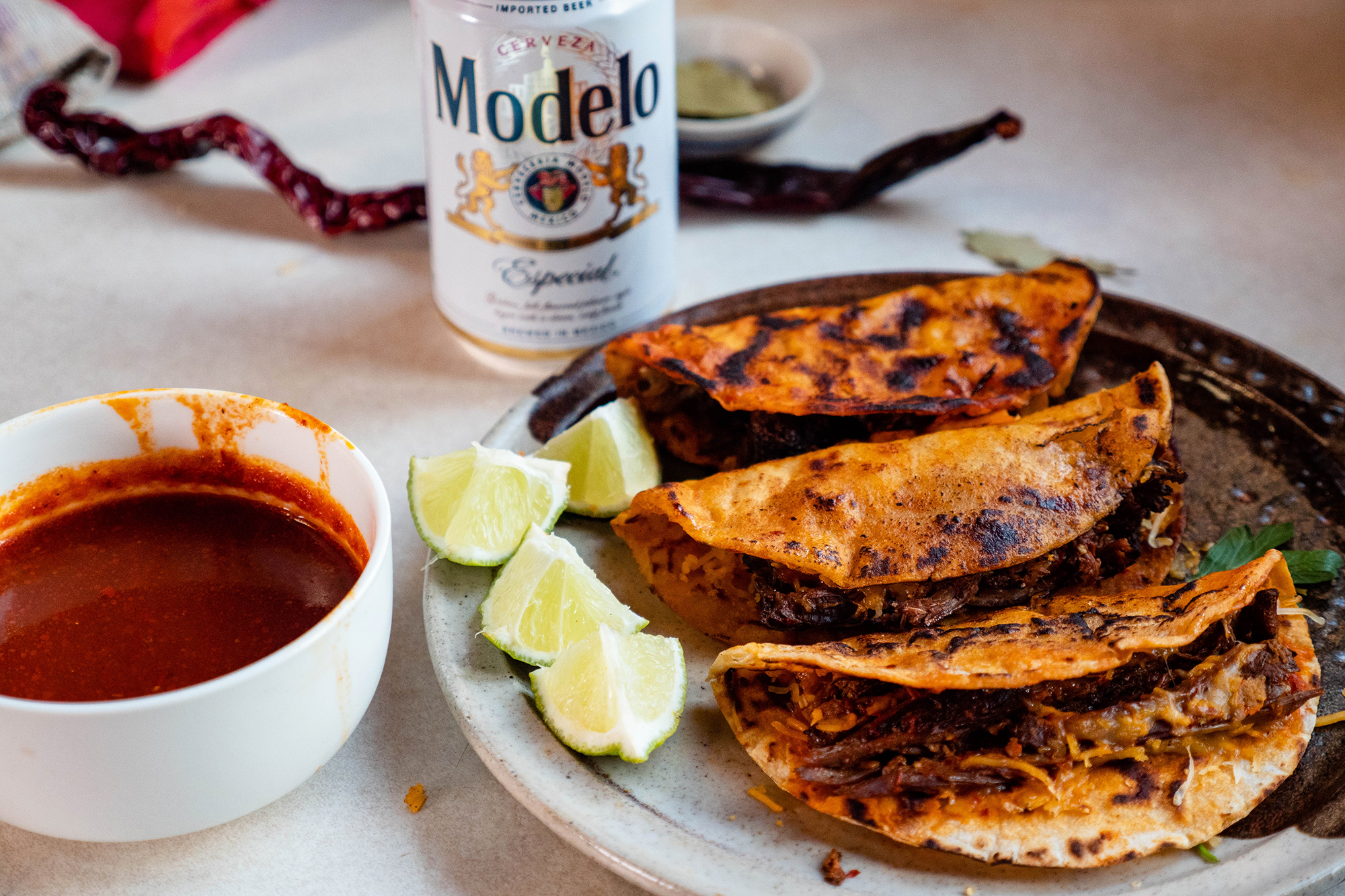 If you want to be a monster, you could also serve it with some sour cream. 
If you want to taste one of the best stews you've ever had and add a whole new dimension to your taco game, you've gotta try Birria-style tacos using a venison neck roast or another tough cut of wild game meat.
Read Next: Underdog Game Recipe – How to Make Amazing Sea Duck Mole Tacos