The Jamaican beef patty — spicy, heavily seasoned ground beef stuffed inside a hot, flaky crust — ranks right up there with electricity and the wheel as far as fundamental and essential human innovations. They're the perfect food to go along with a pile of beers or to wolf down the morning after a pile of beers. The only thing better is a ground venison Jamaican meat patty.
For a proper patty, you need to master the two main components, the filling, and the dough. The filling is simple: cook down ground venison with onions, carrots,  peppers, and a ton of spices. Scotch bonnets are traditionally used for beef patties, but you can substitute habaneros and other similarly hot peppers.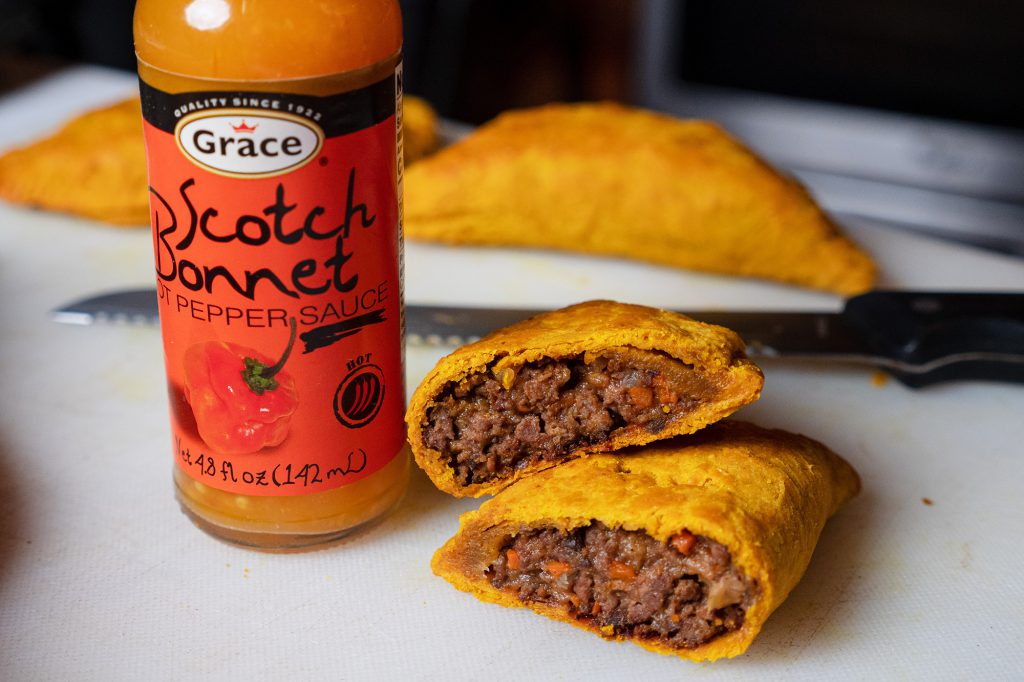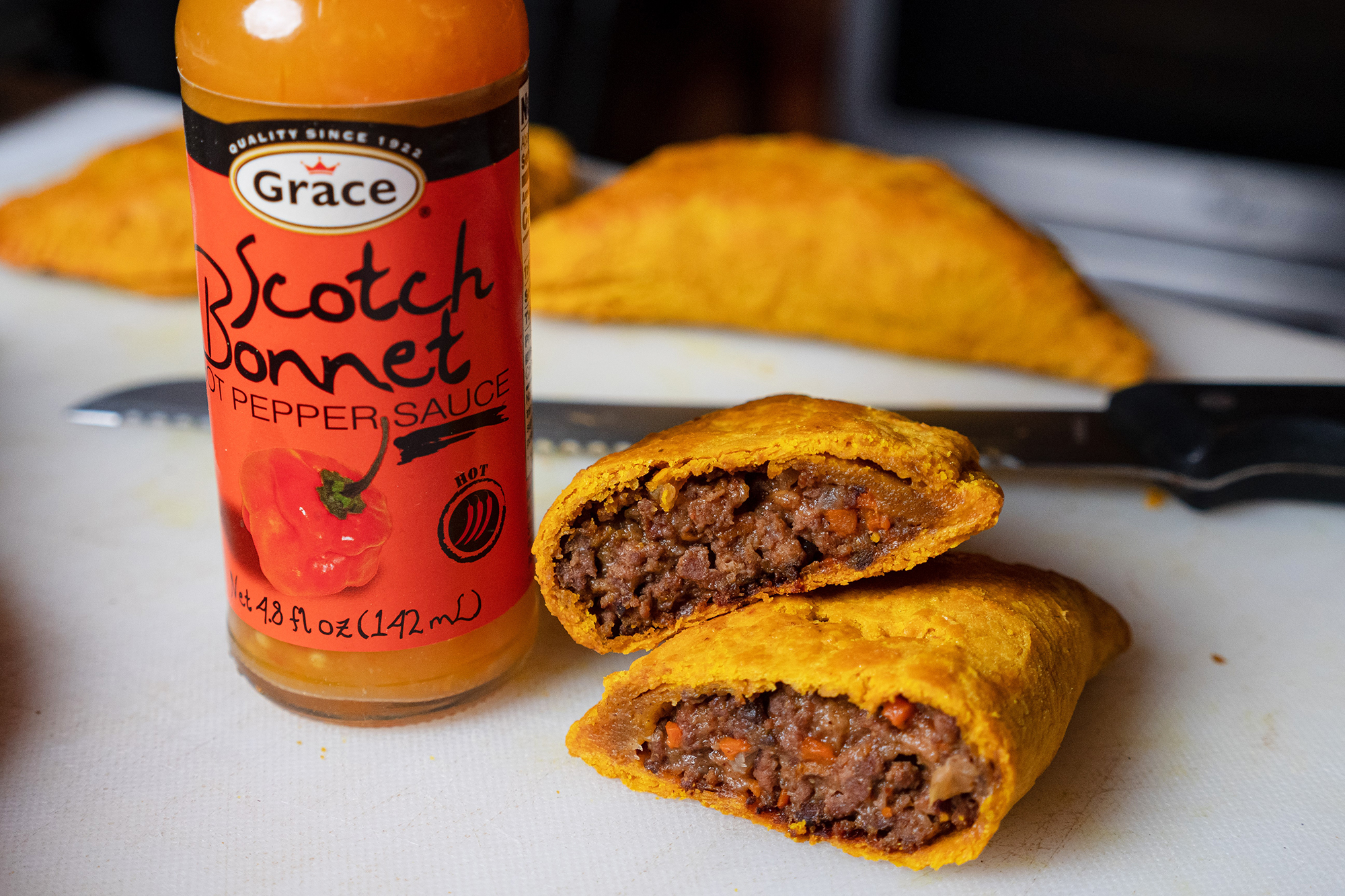 The dough is a little trickier. Colored bright yellow by ground turmeric, patty dough is very similar to pie dough. Traditionally, the dough is made with beef fat, but I usually use butter. It takes some trial and error to get it right, but that just means you get to eat the rejects while you perfect your patty skills. 
Venison patties also freeze very well, so you can make a ton in advance and bust them out at a later date. In addition to being excellent pre- and post-beer bash fare, they just might be the world's most perfect treestand food.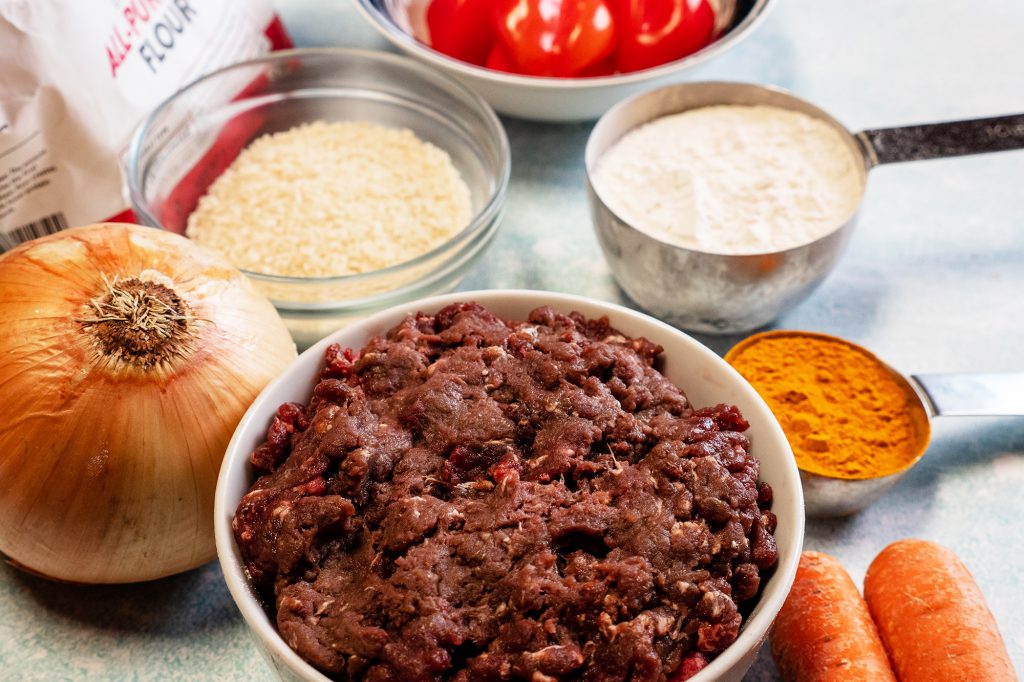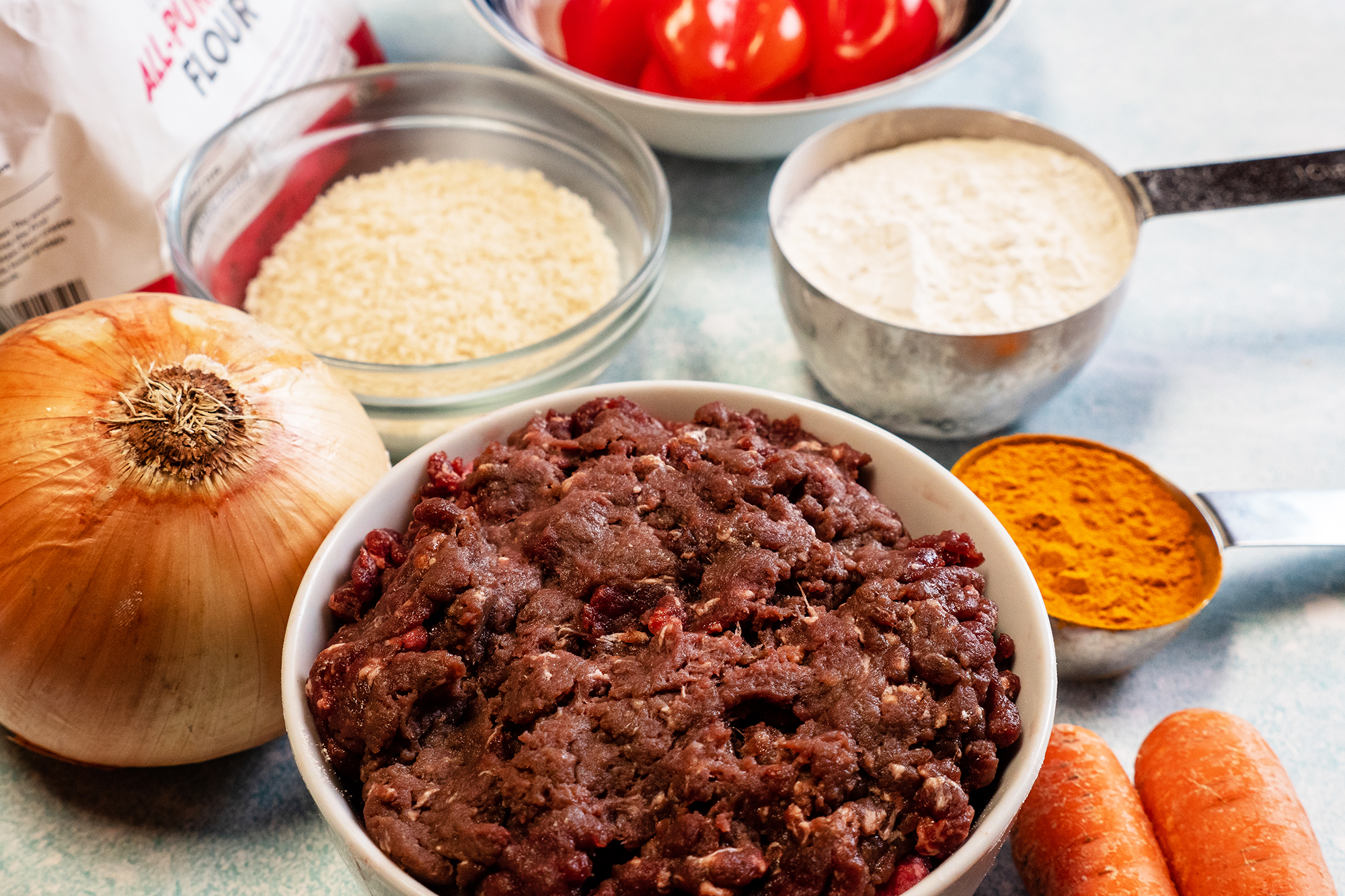 Ingredients
Filling
1 pound ground venison
1 carrot, diced
1 spanish onion, diced
1 to 2 scotch bonnet or habanero peppers, finely chopped
1 tablespoon soy or worcestershire sauce
2 teaspoons salt
2 teaspoon curry powder
1 teaspoon cayenne pepper
1 teaspoon cumin
1 teaspoon onion powder
1 teaspoon garlic powder
1 teaspoon paprika
1 teaspoon black pepper
1/2 cup water or chicken stock
1/4 cup panko bread crumbs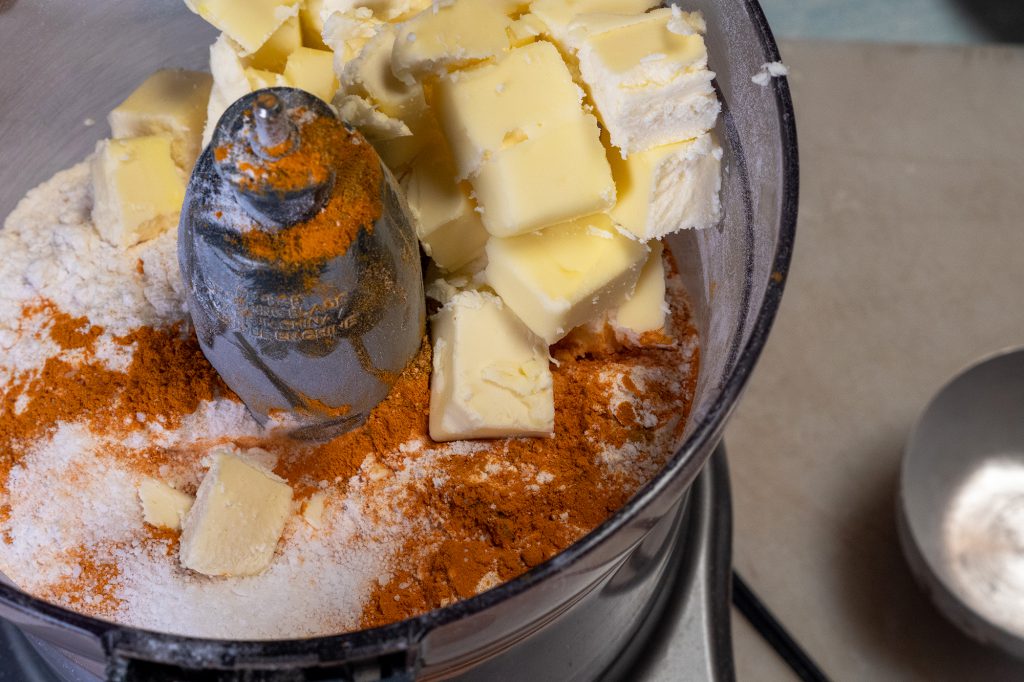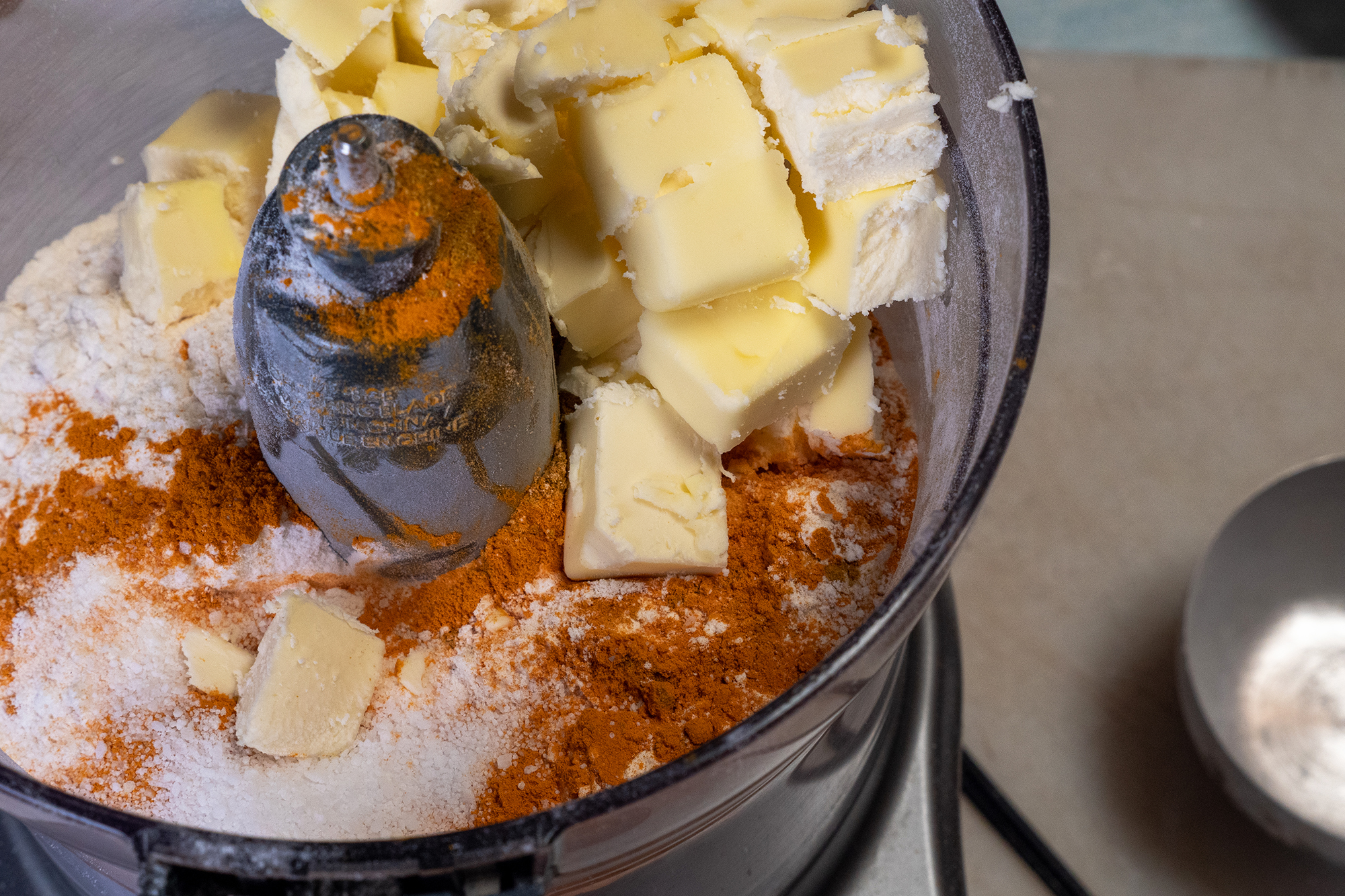 Dough
2 cups all purpose flour, plus some for dusting
1 teaspoon salt
8 ounces (2 sticks) butter, cut into chunks and frozen
2 tablespoons turmeric powder
1 teaspoon kosher salt
3/4 cup ice water
1 egg, beaten for brushing
Directions
The Meat
Place a saute pan on medium heat with a splash of olive oil, then add the ground meat.
Brown the meat, stirring occasionally. As the meat cooks, add the diced onion, carrot, and pepper. 
Once the meat has mostly browned, add two teaspoons of salt, the soy or worcestershire sauce, and all of the seasonings (curry powder, cayenne, cumin, onion and garlic powder, paprika, and black pepper).
Add 1/2 cup water or chicken stock to the pan, then about 1/4 cup panko bread crumbs. 
Cook the filling down until everything is cooked through and most of the liquid has evaporated.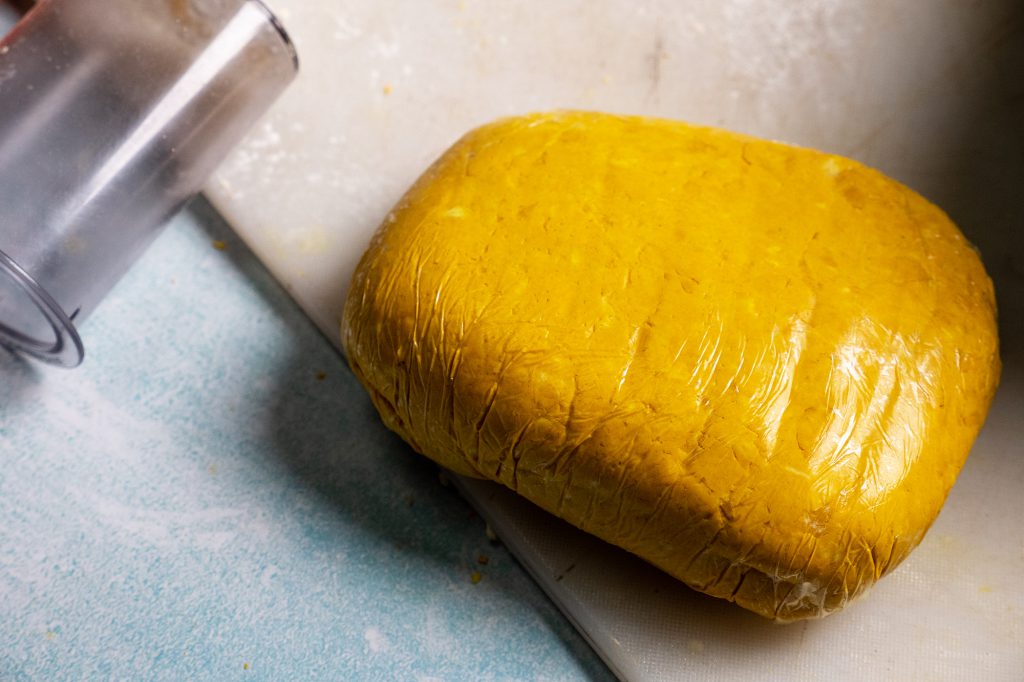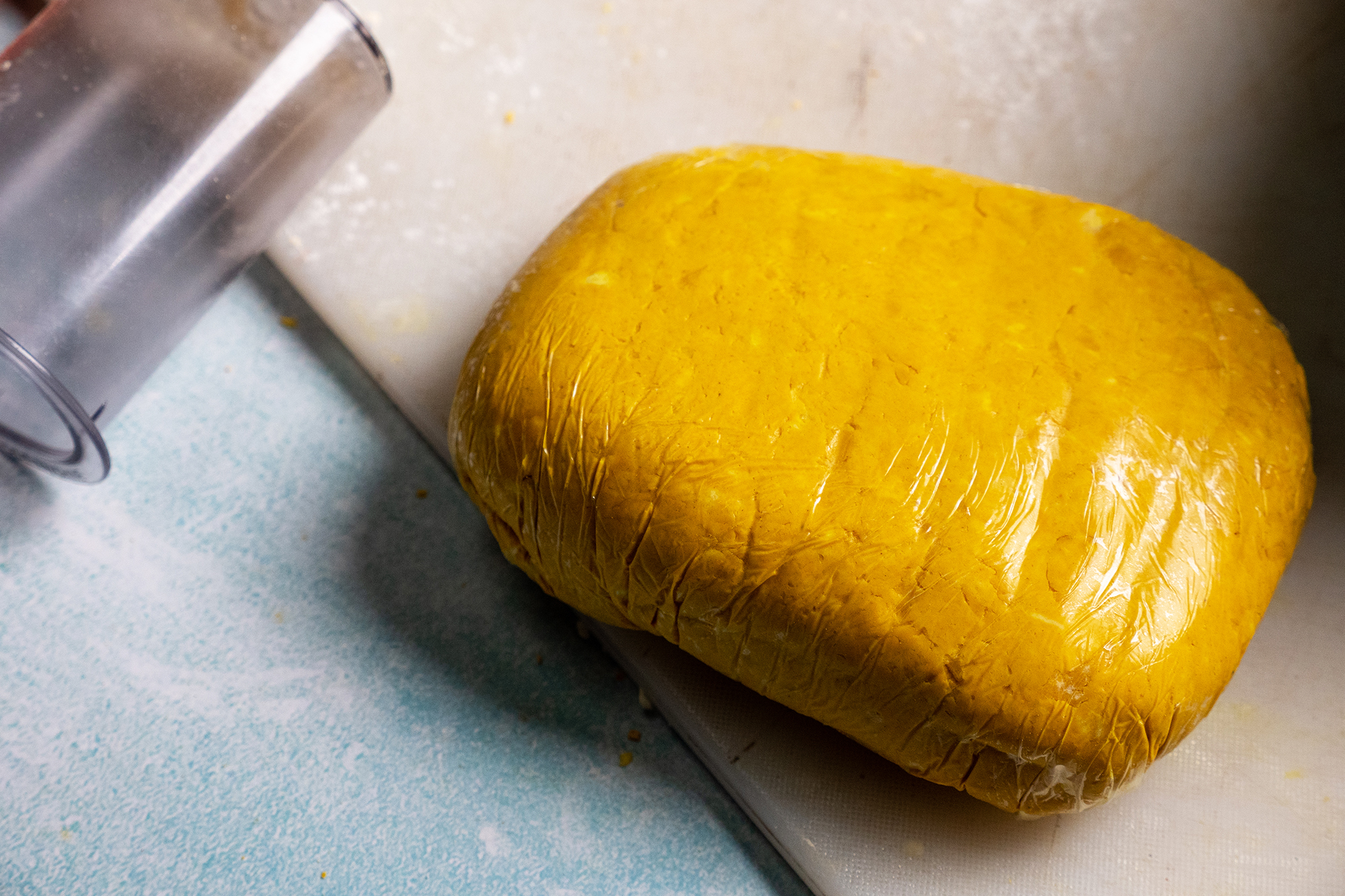 The Dough
Place the flour and frozen butter chunks in a food processor, along with turmeric powder and salt. Pulse the mix until the butter is in small, pea sized pieces and the turmeric has incorporated into the flour. Add the ice water and pulse a few more times until it is evenly distributed into the dough. 
Transfer the dough to a floured cutting board (pro tip: wrap the board in plastic wrap to avoid the turmeric dyeing everything a neon yellow color. 
Flour the outside of the dough, form it into a ball, and wrap it in plastic wrap. Refrigerate for 30 minutes to an hour.
Place the dough ball back on the floured cutting board and roll into a 1/2-thick inch sheet. Fold the end over on itself and lightly dust with flour. Continue folding and flouring until the sheet is all rolled up. You should have a layered dough roll roughly 4 x 12 inches. 
Fold the dough lengthwise over on itself and gently roll it into a 1/4-thick sheet. Using a bowl or a ring mold, cut the dough into 6-inch circles.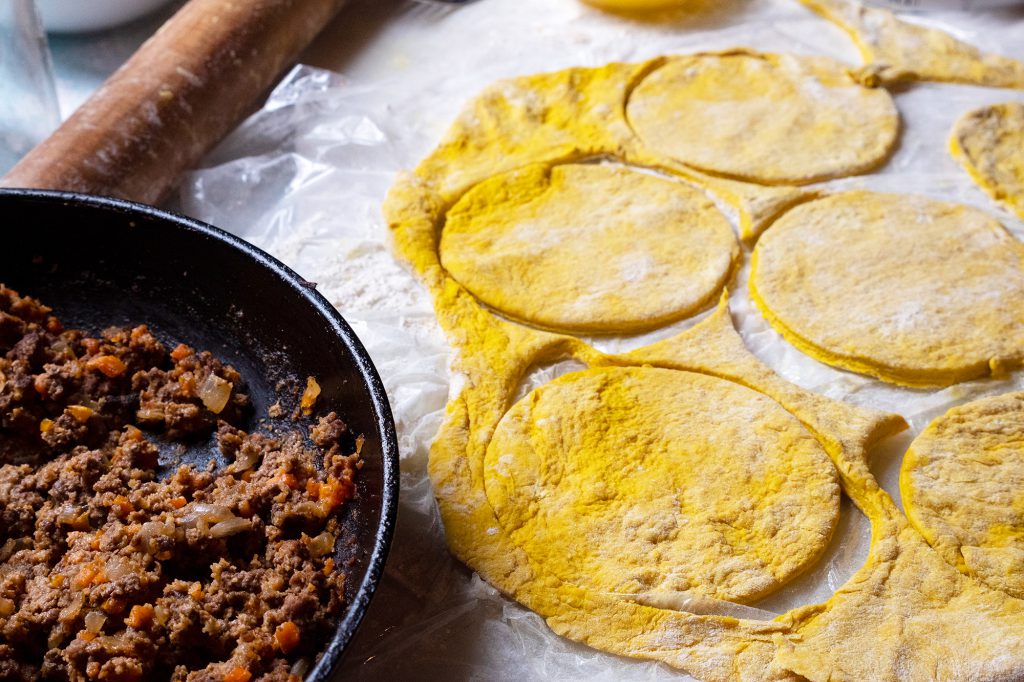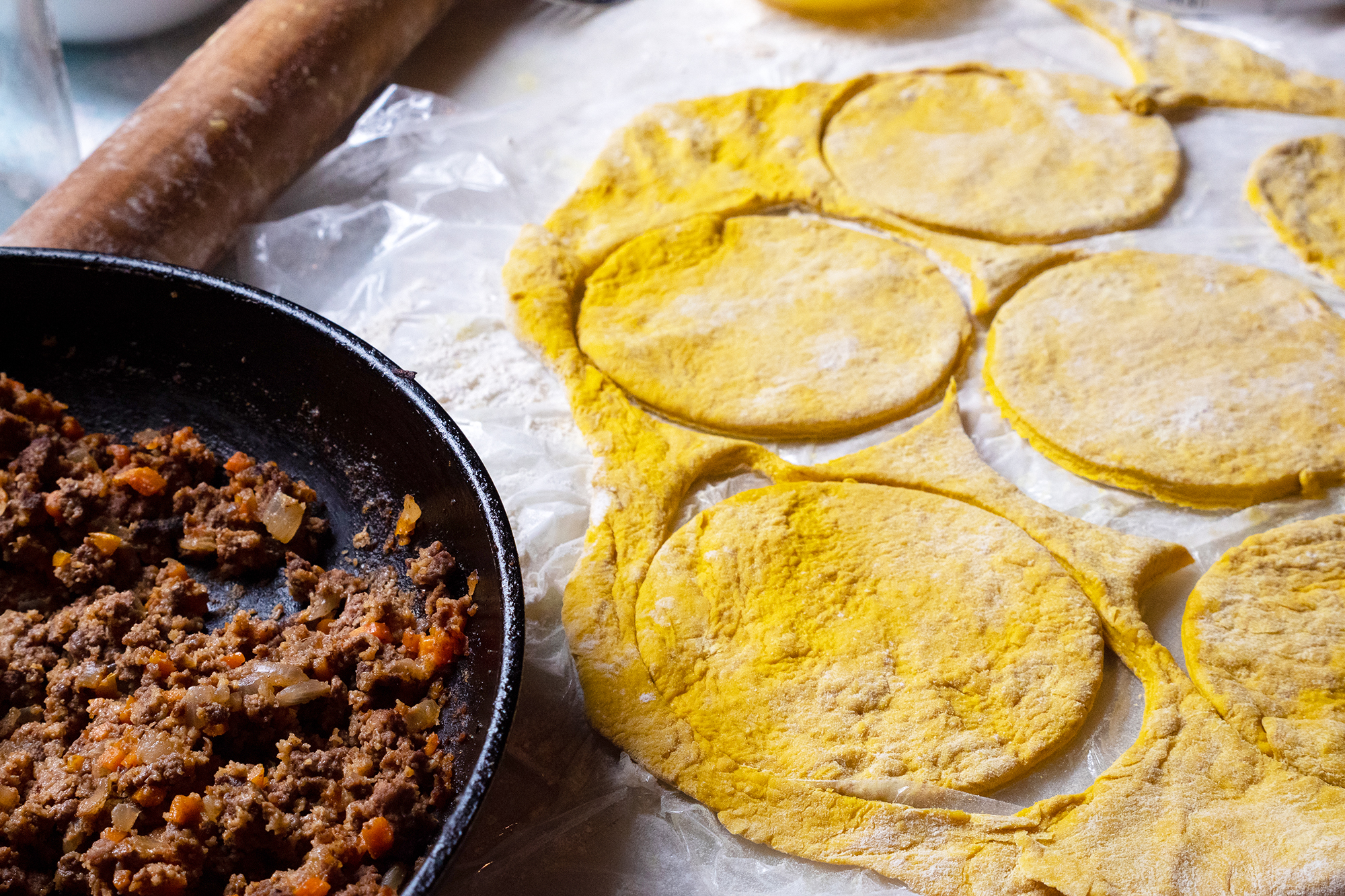 Altogether Now…
Place a generous scoop or roughly 3 tablespoons of filling into the center, fold the dough over on itself, and pinch the edges together. Press down on the seam with the tines of a fork to seal the patty shut. 
Place the patties on a baking sheet that has been oiled or covered with wax paper, then brush each patty with the egg wash. Poke a few air holes into the patty with a fork.
Bake at 375 degrees for about 20 to 25 minutes until the crust is cooked through and golden brown. Remove from the oven to cool and serve with your favorite hot sauce.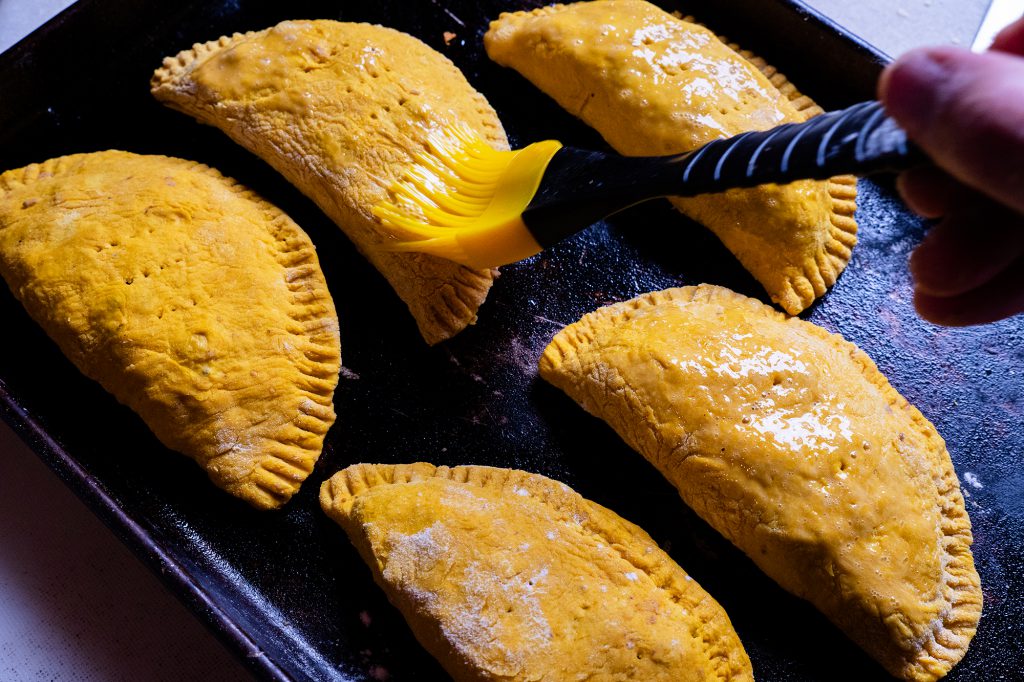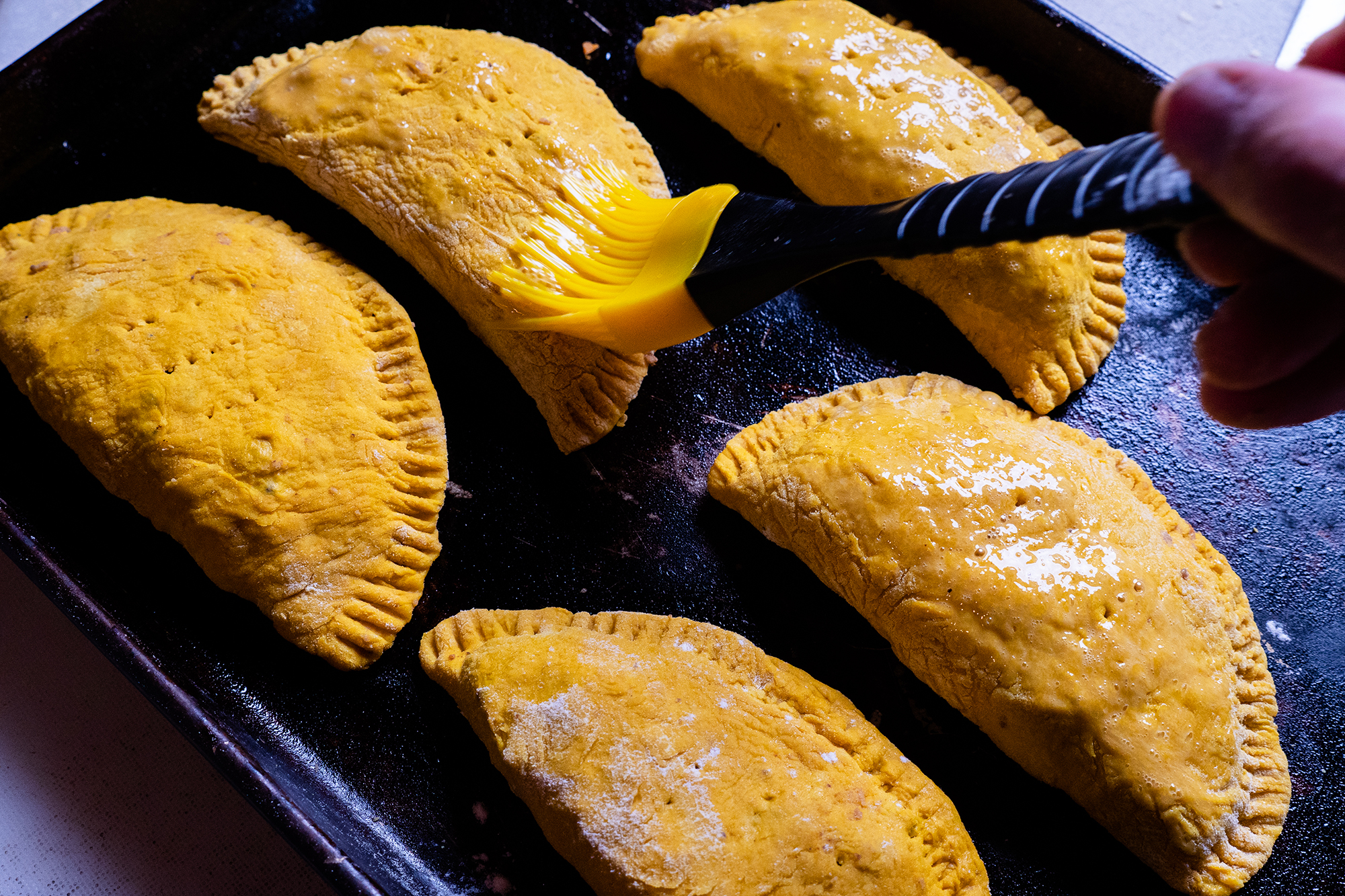 Venison Jamaican beef patties might just be the perfect food, and in my opinion, better than the beef version. This recipe for buck patties might not be traditional, but damn, are they good. And don't be afraid to try other wild game meat, too.
If you've got a pile of ground venison or elk in your freezer, do yourself a favor and make it into a pile of these awesome hand pies.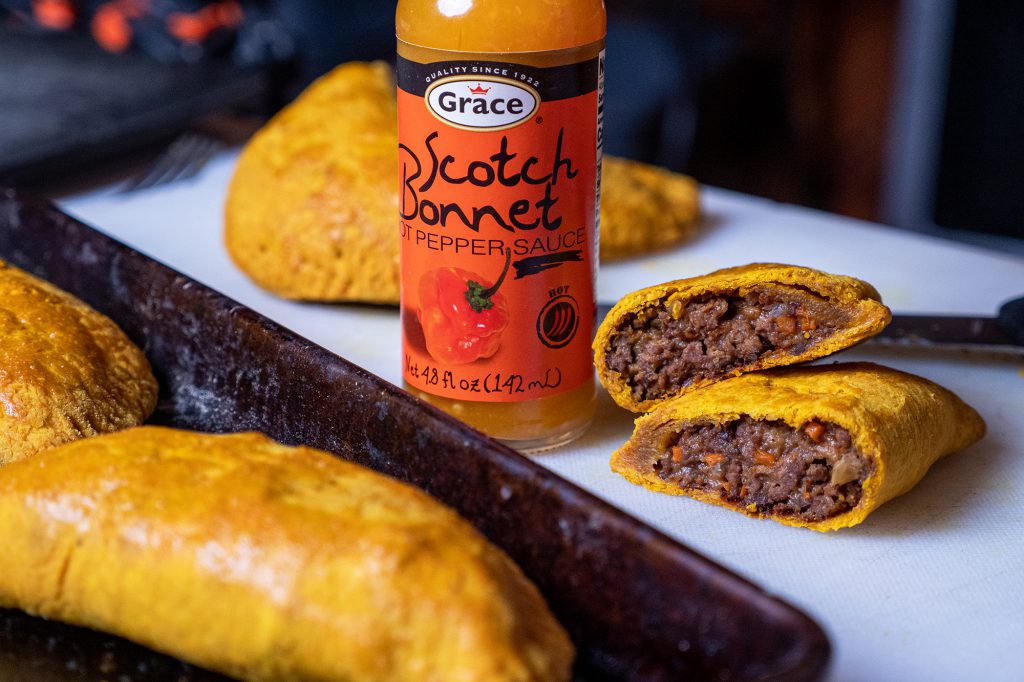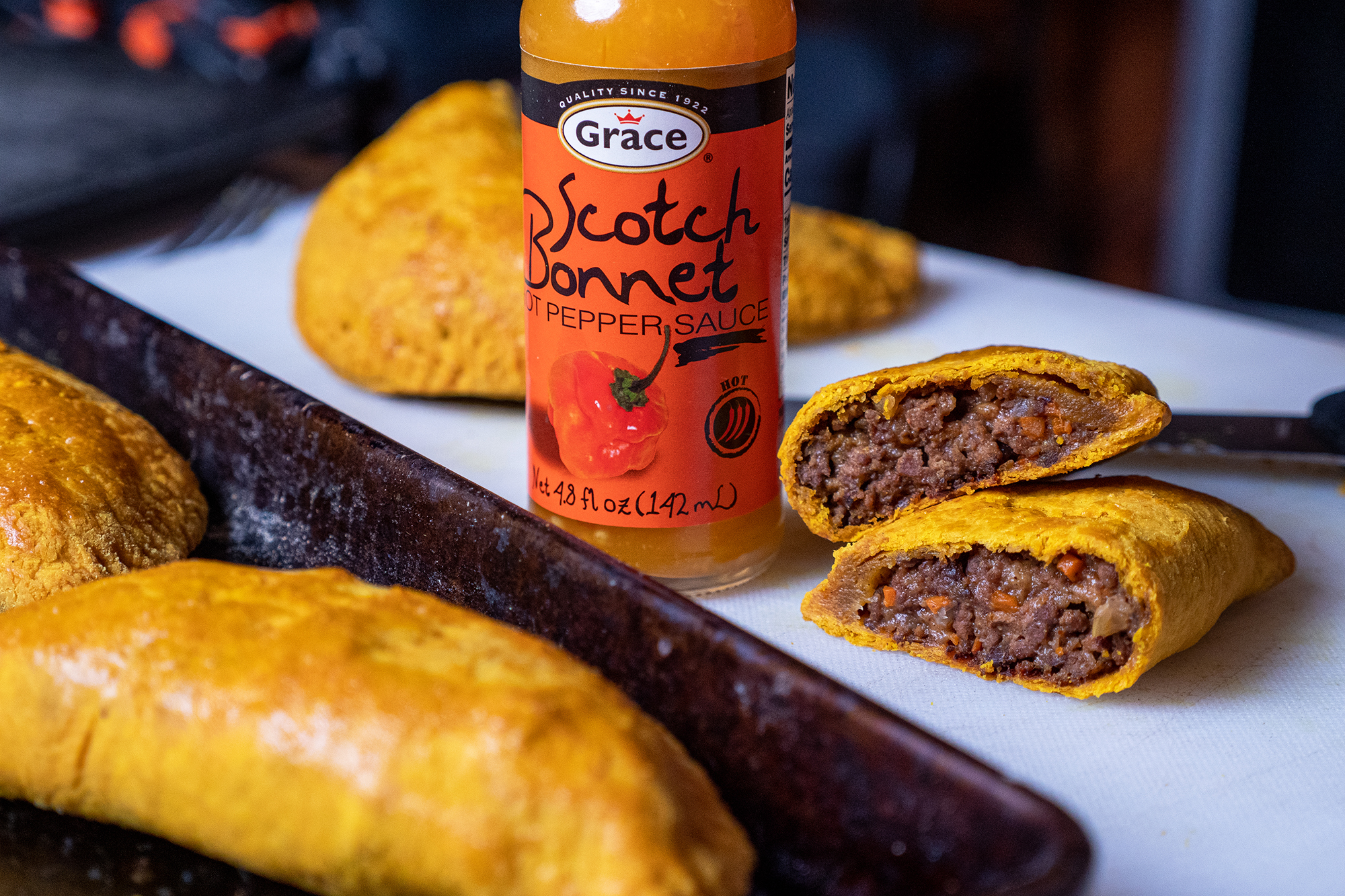 Read Next: Wild Game Recipes – 5 Ways To Make Freezer Space for Hunting Season