Biscuits and wild turkey gravy opened my eyes to the possibilities of wild-game cooking. I shot a bird that morning, and I decided to cook it up for a staff meal at the restaurant where I worked. My not-so-outdoorsy co-workers hammered it, then begged me for wild meat they could try and cook themselves. I gladly obliged.
You can't go wrong with flaky, buttery biscuits slathered in rich, meaty gravy. While you can use the breast of the bird here if you'd like, I prefer to use the legs and thighs for my turkey gravy. Not only is it a great way to make use of the tough and stringy parts of the bird, but the bones and cartilage infuse the cooking liquids with added flavor and depth and create next-level flavors.
Whatever you do, don't disrespect your turkey with biscuits from a tube. Biscuits are easy to make, and once you get the hang of it, you'll be able to bust them out anytime you want. The two most important things with biscuits are to keep your ingredients, especially the butter, as cold as possible at all times, and don't overwork, overfold, or over roll the dough. Biscuit dough should be layered, and it should be so light and fluffy that you can hear air escape when you cut into it.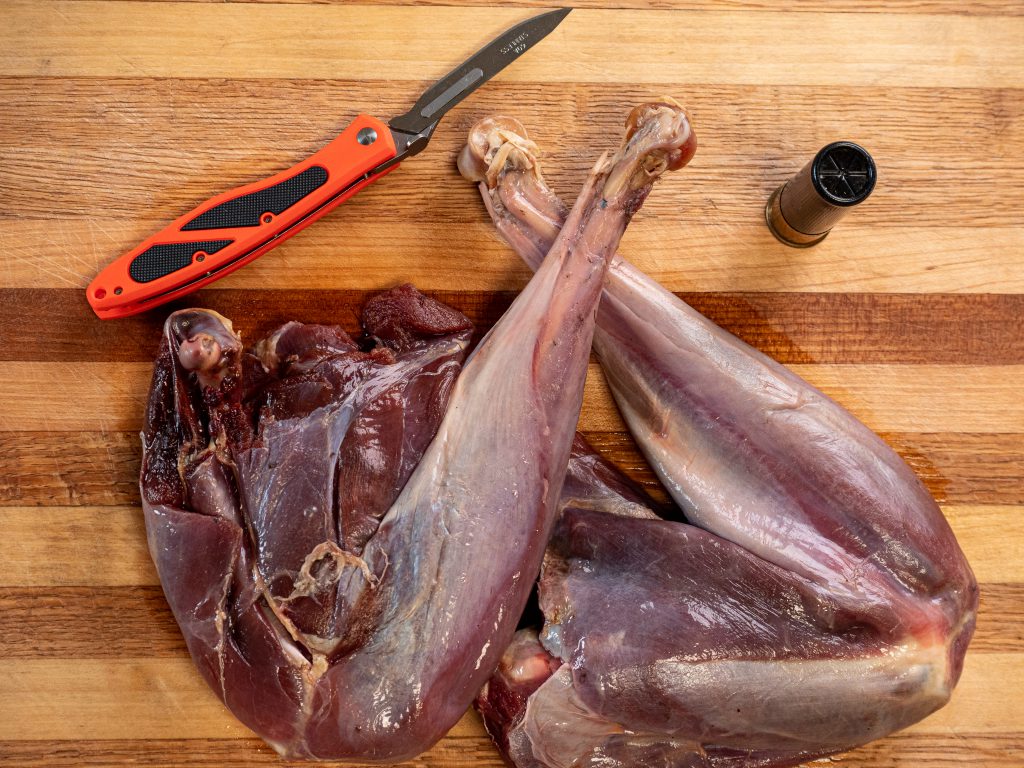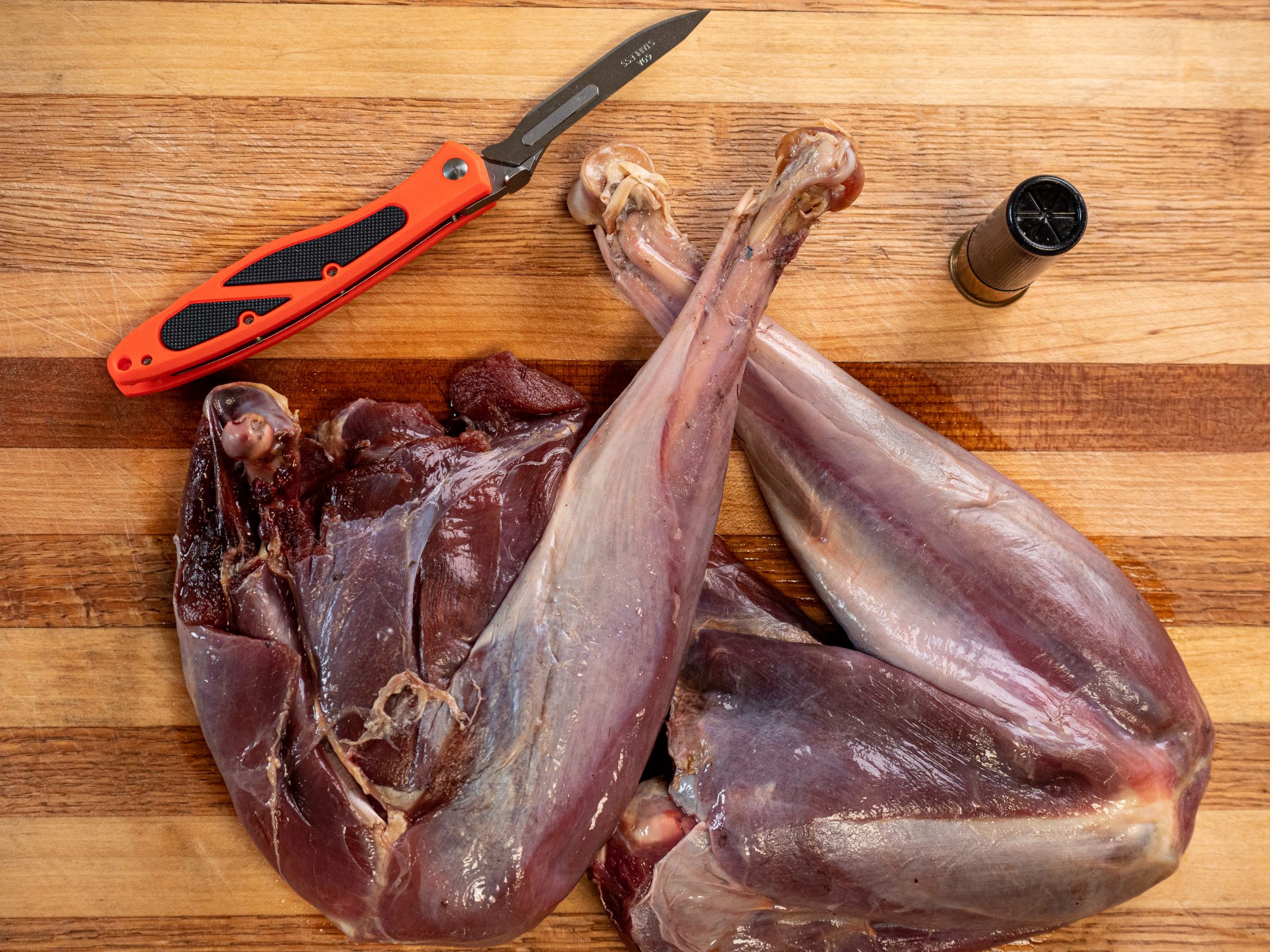 Ingredients
Yields 8 to 12 biscuits and 2 to 3 quarts of turkey gravy.
Gravy
2 wild turkey legs and thighs
2 cups water
½ stick butter
½ cup flour
1 to 2 quarts turkey or chicken stock
1 tablespoon salt
1 teaspoon black pepper
1 teaspoon garlic powder
1 teaspoon onion powder
1-plus cup heavy cream
Biscuits
1 ½ stick unsalted butter
2-plus cups all-purpose flour, plus more for dusting
1 tablespoon baking powder
½ teaspoon baking soda
½ teaspoon salt
1 cup buttermilk (or whole milk)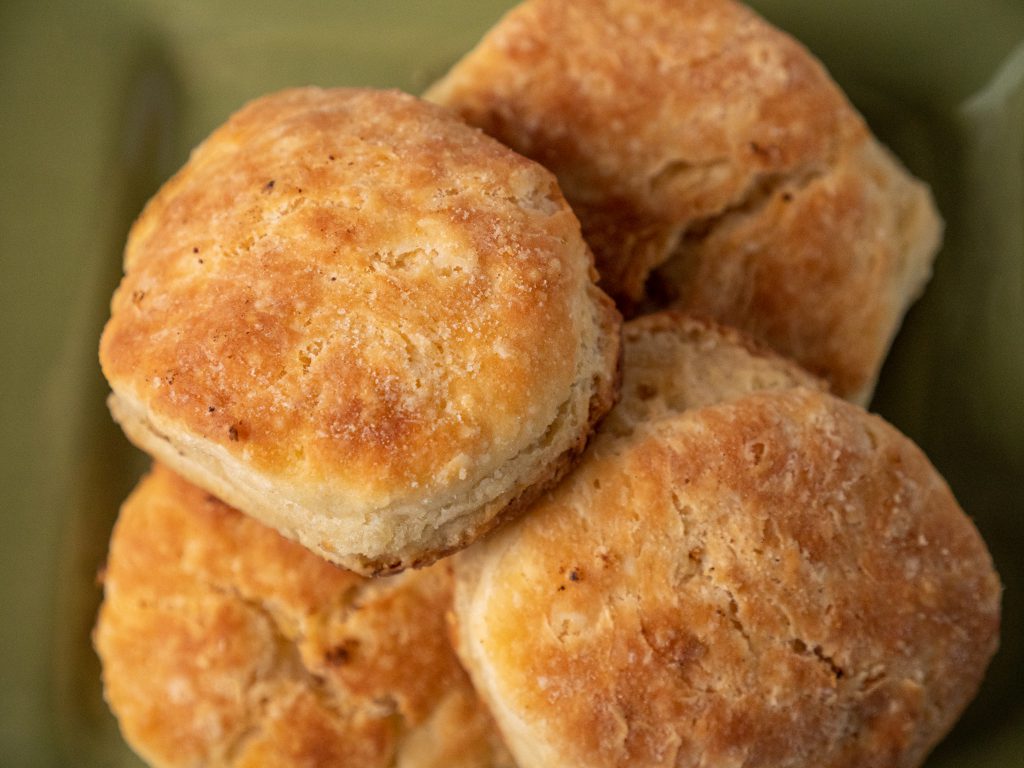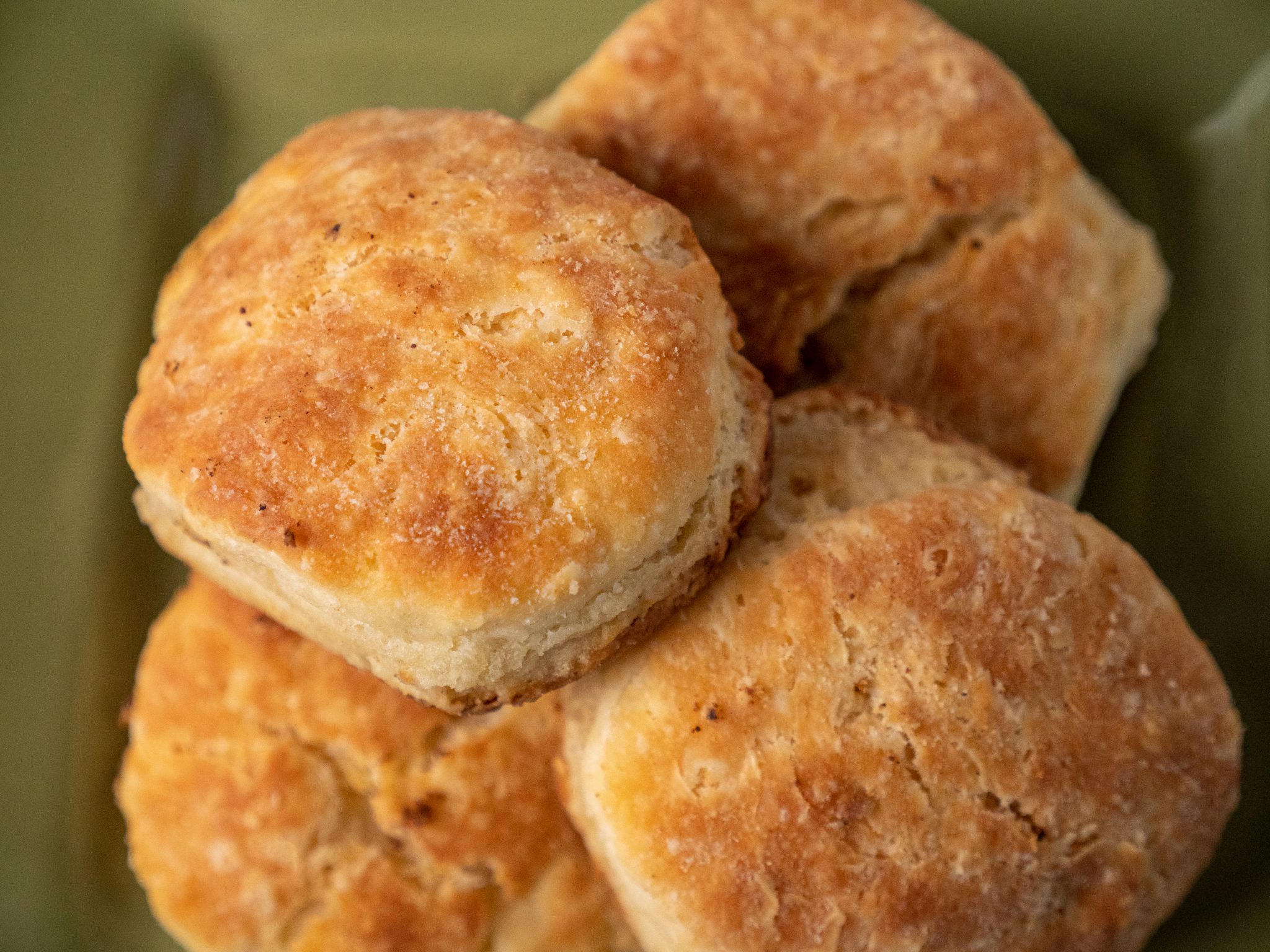 Directions
Gravy
Place the wild turkey legs and thighs in a slow cooker with 2 cups of water and a pinch of salt. Cook on high until the meat falls off the bone — approximately 4 hours.
Pull the leg meat off the bones and reserve the cooking liquids.
Melt ½ stick of butter in a large pot, then whisk in ½ cup of flour.
Slowly whisk in the cooking liquids and stock.
Add the leg meat and seasonings.
Simmer for about 10 minutes, whisking periodically.
Add the cream and simmer and stir for another 10 to 20 minutes. Reduce until the gravy thickens and adjust seasoning to taste.
Biscuits
Cut 1 stick of the butter into small cubes, then freeze.
Combine the flour and other dry ingredients in a mixing bowl.
Rub and incorporate the butter into the dry mix with your fingers. Freeze the mix.
Add the buttermilk and fold the mix together gently until a sticky dough forms.
Transfer the dough to a surface heavy with flour.
Coat the bottom of the dough in flour and gently hand roll and fold it over on top of itself several times until you have a fluffy outside and a sticky inside.
Roll the dough into a 1-inch-thick sheet, and portion out the biscuits with a ring mold or upside-down glass.
Pack the biscuits loosely on a baking sheet or in a cast-iron pan. Melt the remaining butter and baste with it liberally on top of and in between each biscuit.
Place in an oven preheated to 425 degrees Fahrenheit. Rotate the pan after 10 minutes, then bake another 10 to 15 minutes or until the biscuits are browned and the melted butter has completely evaporated.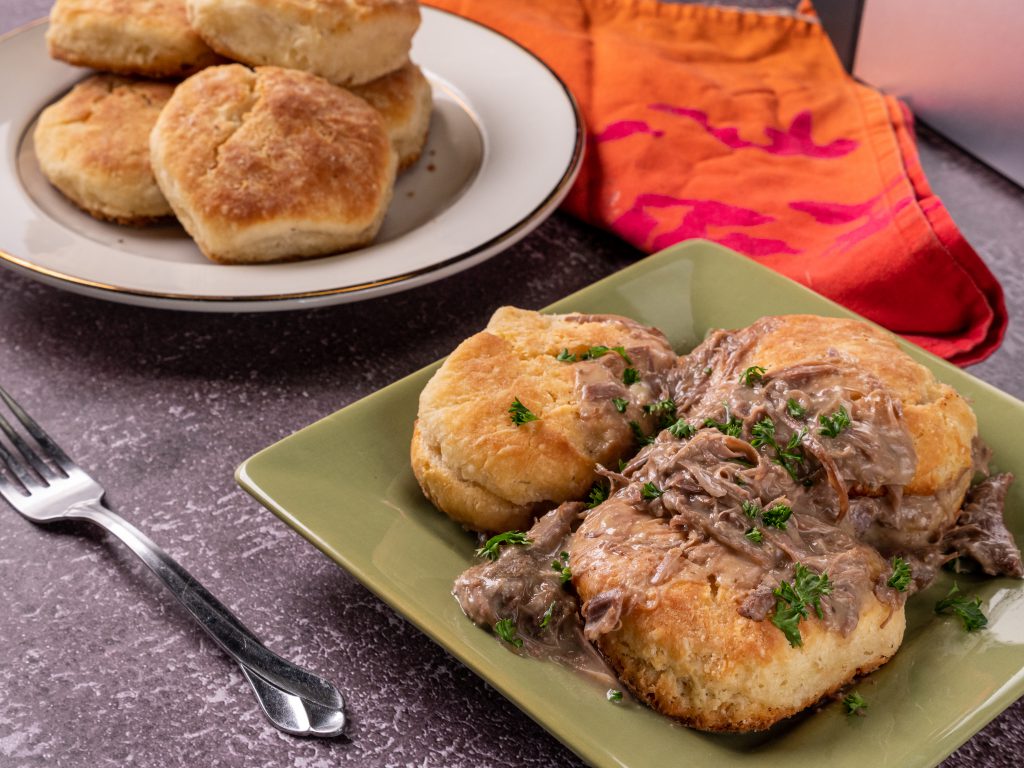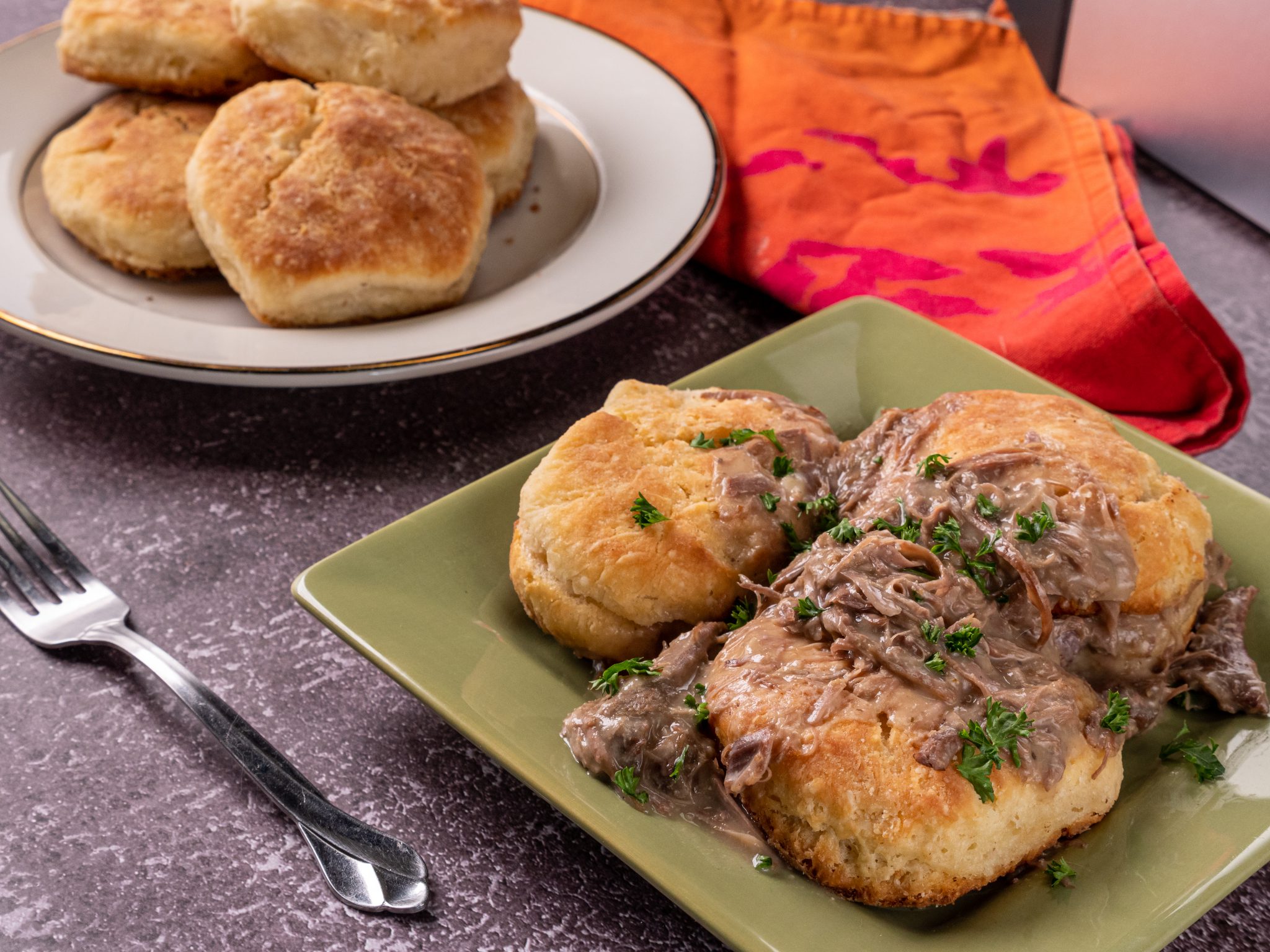 Finding delicious ways to use every part of the animals we hunt is not only the right thing to do but also a hell of a lot of fun. Though wild turkey legs and thighs can be tougher than shoe leather if cooked improperly, they're absolutely mouthwatering when prepared low and slow. Incorporating them into a gravy takes things to the next level. Paired with homemade buttermilk biscuits, mashed potatoes, and other turkey dinner staples, this stick-to-your-ribs recipe is sure to convince anyone of the delicious potential of wild-game cooking. Hell, a couple of my hipster restaurant friends soon after asked me to take them hunting.
Read Next: Discover the Life-Altering, Mind-Melting Power of a Wild Turkey Cheesesteak