Model: Citadel LEVTAC Shotgun
Picatinny rail for easy optics installation
Black synthetic stock
Large loop lever
Modular metal M-LOK forend
Swivel studs for easy sling attachment
Why should people who dig rifles and carbines get all the fun of tricking out the most tradition-shirking space cowboy lever guns ever while shotgunners are left behind? Welcome to the party — everyone who has been holding their breath for a lever-action .410 covered in M-LOK slots, Pic rails, and polymer, however many of you there are. Check out the brand new, recently unveiled Citadel LEVTAC .410 lever-action shotgun.
While lever-action carbines and rifles have been dragged kicking and screaming into the 21st century — after enduring very few modernizations in the 20th — the pairing of lever-action and shotgun never really took off and has somewhat been left behind. Henry Repeating Arms makes a few .410 models built on their largest lever-action rifle frames, but nothing larger. You can find some solid replicas of Winchester 1887s out there in 12-gauge, even some with polymer furniture, but their goal is to emulate a 133-year-old cowboy gun — hardly modern.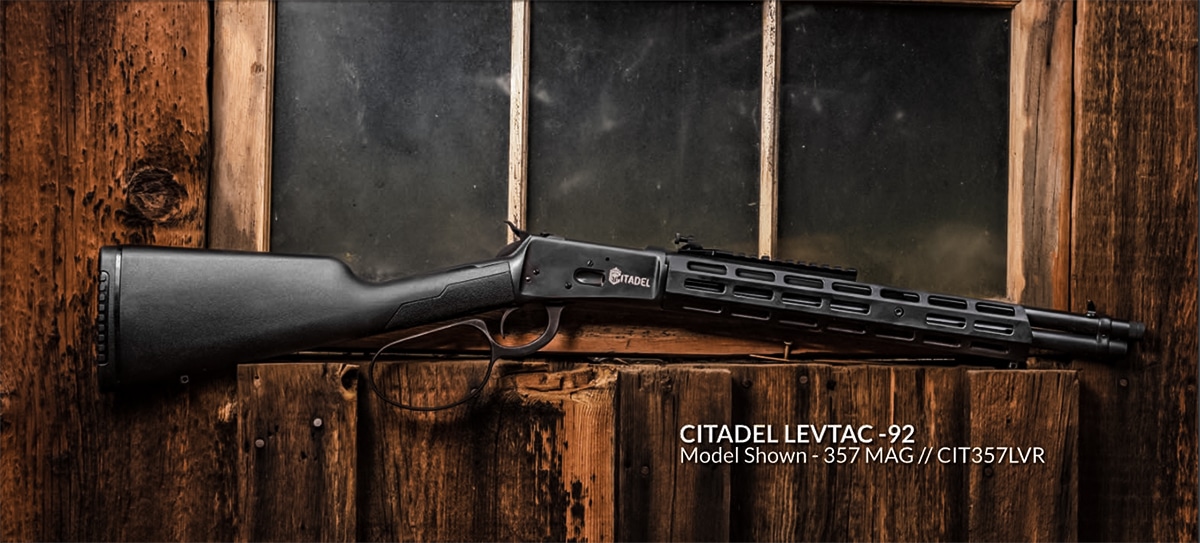 This new Citadel LEVTAC .410 has plenty of real estate for attaching lights, optics, laser sights, and other tactical trimmings, which means you can easily trick it out pretty much like you would an AR.
The gun is a top-ejector, so it's good to go for righties or lefties, and it has a traditional sidegate for loading the 5-round magazine tube.
The LEVTAC .410's handguard is topped with a standard Picatinny rail and ready for your favorite red dot, a fitting optic for a tight-patterning, tiny .410 bore. A scout-style scope would likely work, too — if you wanted to mount one on a .410 for some reason. This shotgun also features a rear peep and a front blade sight, so you always have backup irons ready to go.
With a larger-than-average loop lever, this shotgun should be super-easy to grip and cycle, even when your hands are covered in bulky gloves. The large loop is also pretty damn handsome — if you're in this for aesthetics.
Citadel is by no means a newcomer to the lever-gun scene. The brand, owned by the Nevada-based Legacy Sports International, released its Citadel LEVTAC-92 in 2020 with models chambered for .357 Magnum, .44 Magnum, and the hard-hitting .454 Casull.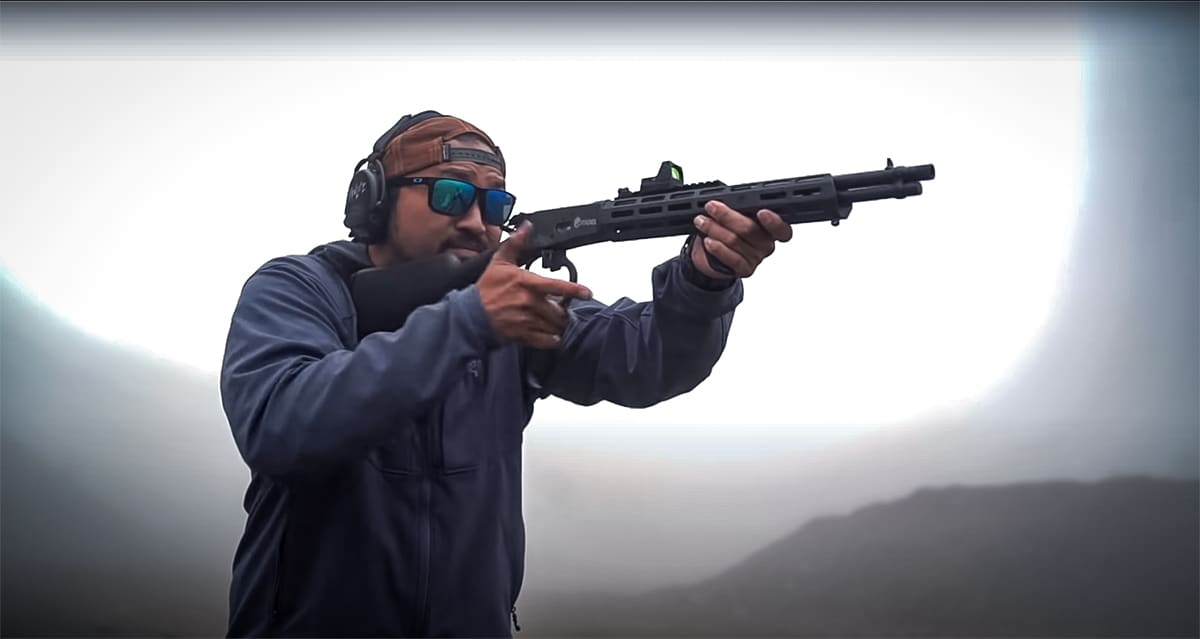 Looks aside, what is the practical application for this, you may ask? There are a number of people who rely on the diminutive .410 regularly for self-defense for a number of reasons, and there are some relatively powerful .410-bore self-defense loads out there that nobody would want to be shot with, no matter how they feel about the gauge's capabilities as a defensive round. So, it could be a light, easy-to-use-and-shoot, home-defense setup with a good light and any other accessories desired.
A smooth-bore lever gun is also fun to shoot and makes for a practical squirrel, pest, or truck gun. Close-range snakes, coyotes, trash pandas, and other pesky varmints don't stand a chance.
While the .410 is growing in popularity among turkey hunters thanks to newer TSS loads, the lack of an interchangeable choke system on this gun (it comes with a fixed modified choke) limits it for hunting applications, which is kind of a shame. Also, like Henry's .410s, it appears to be built on the company's LEVTAC-92 frame, which means the action is too short to accommodate a 3-inch chamber, and it's limited to 2 1/2-inch loads, further hampering its versatility.
Still, sometimes we get so bogged down with the utility of our firearms that we forget shooting is just plain, unadulterated fun, and there are few things more entertaining than plinking cans, plastic bottles, and other random recyclables off backyard fence posts with a lever-action scattergun — and a .410 with six rounds on board is absolutely perfect for that.
Citadel is currently taking orders.
---
Citadel LEVTAC .410 Shotgun Full Specs
Caliber: .410 bore
Chamber: 2 1/2 inches
Capacity: 5+1
Magazine type: Tubular
Barrel length: 20 inches
Choke: Modified
Front Sight: Blade
Stock: Synthetic
Forend: Modular Metal M-LOK
Rail System: Picatinny
MSRP: $699
---
READ NEXT – Meet the New SIG Sauer MCX Spear LT Firearm Family