It was the second Saturday of the Minnesota archery deer season, September 2019, and I was settled into my hunting saddle long before first light on a piece of public land. This property receives plenty of archery and duck hunting pressure, and for good reason. It has suitable habitat for both whitetails and waterfowl, with a handful of ponds surrounded by deciduous forested hills, native grasses, and thick bedding cover.
That morning was the Minnesota waterfowl opener. In an attempt to avoid other humans, I set up as far away from the ponds as I could get along the bottom of an oak ridge that runs from north to south. There were better trail systems up higher on the ridge, but on a couple of previous morning sits, I had watched deer move through this low ground on their way back to bed.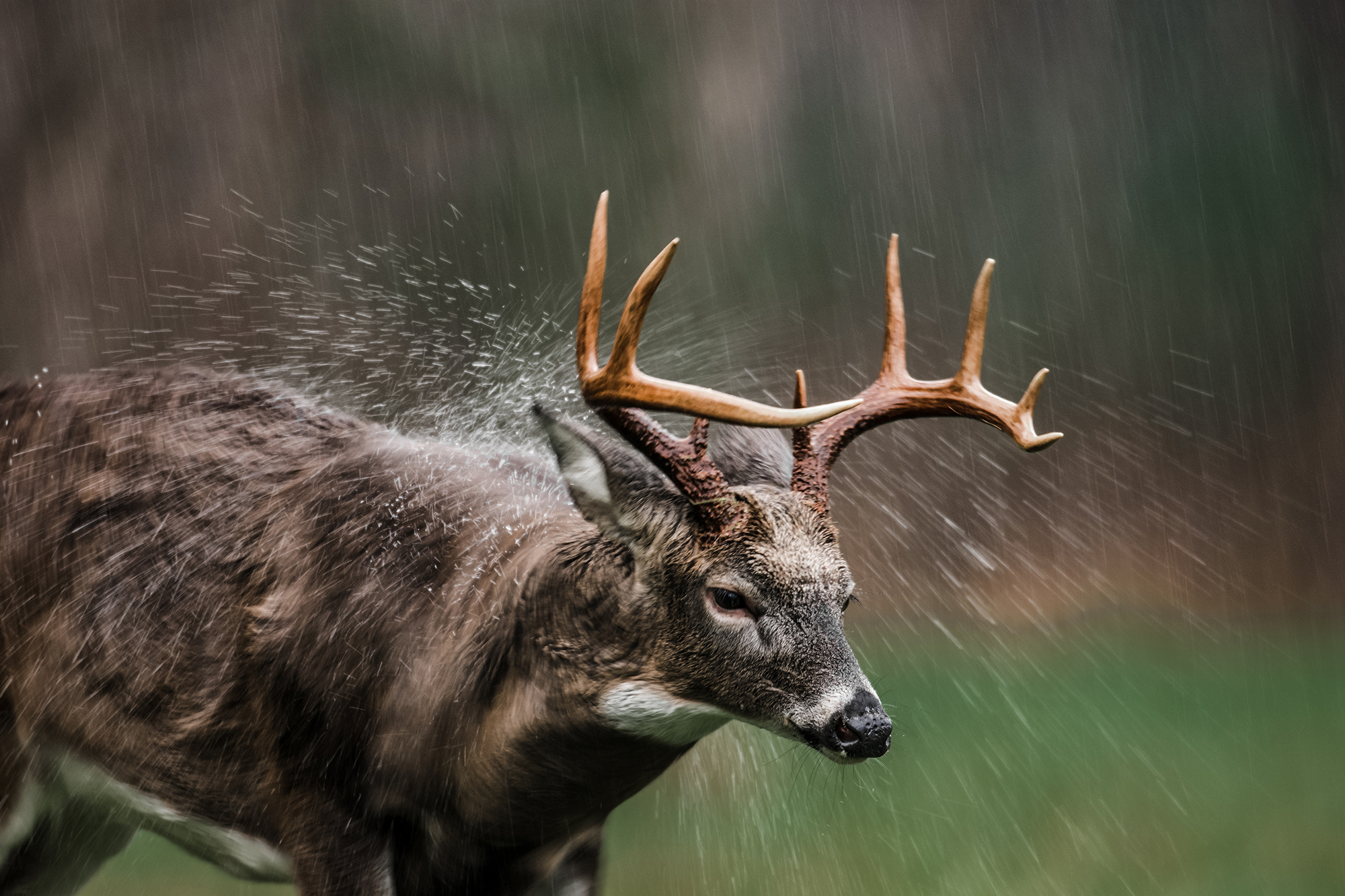 An hour after first light, it was clear that rain was coming. The darkening sky opened up with a downpour that would last almost 45 minutes.
Water dripped off the brim of my cap as I scanned the ridgeline. Seemingly out of nowhere, a buck appeared directly below me, walking at a steady pace.
He had come from my back, right side, and he fit the description in both rack and body size for a mature deer I would be happy to take. I reached to grab my bow off the Heroclip, but it was too late. I never did get a clear shot, and he moved through my limited shooting lanes unscathed.
"You can't hear them," longtime bowhunter John Eberhart of Michigan said. "You've got to be attentive all the time. I've always been a very attentive hunter, and I hate to miss anything. If the ground is wet, you're much more apt to miss something because you can't hear it coming."
RELATED – Be Ready to Strike During the Whitetail Deer Rut
---
Hunting Deer in the Rain the Eberhart Way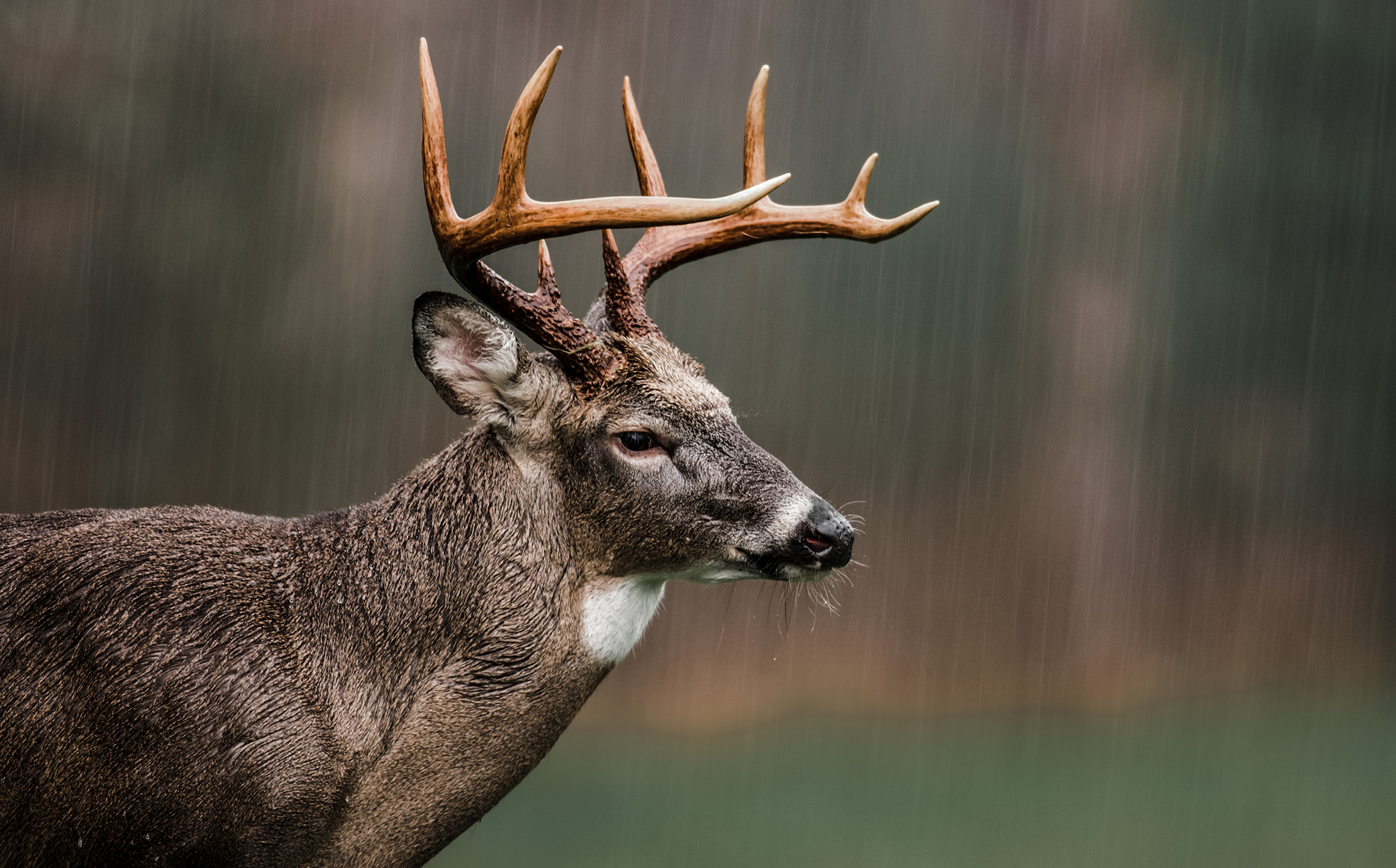 Eberhart hunts predominantly on public land or free private permissions he got by calling or knocking on doors. He is the host of the Eberhart Outdoors YouTube Channel and has co-authored three books on hunting pressured deer together with his son, Chris, including Precision Bowhunting, Bowhunting Pressured Whitetails, and Bowhunting Whitetails the Eberhart Way.
Eberhart may know as much about hunting deer in the rain and snow as anyone out there simply because he does not let it keep him out of the woods. At 71, he has decades of experience watching how deer move before, during, and after precipitation.
"Unless it's a torrential downpour, I don't mind hunting in the rain at all," Eberhart said. "I actually think mature bucks in a pressured area are much more apt to move in daylight hours in a nice drizzle or light rain as long as it's not super windy."
Eberhart compares mature buck movement during those times of snow and rain to that of mid-day movement — another time when most hunters are not in the woods.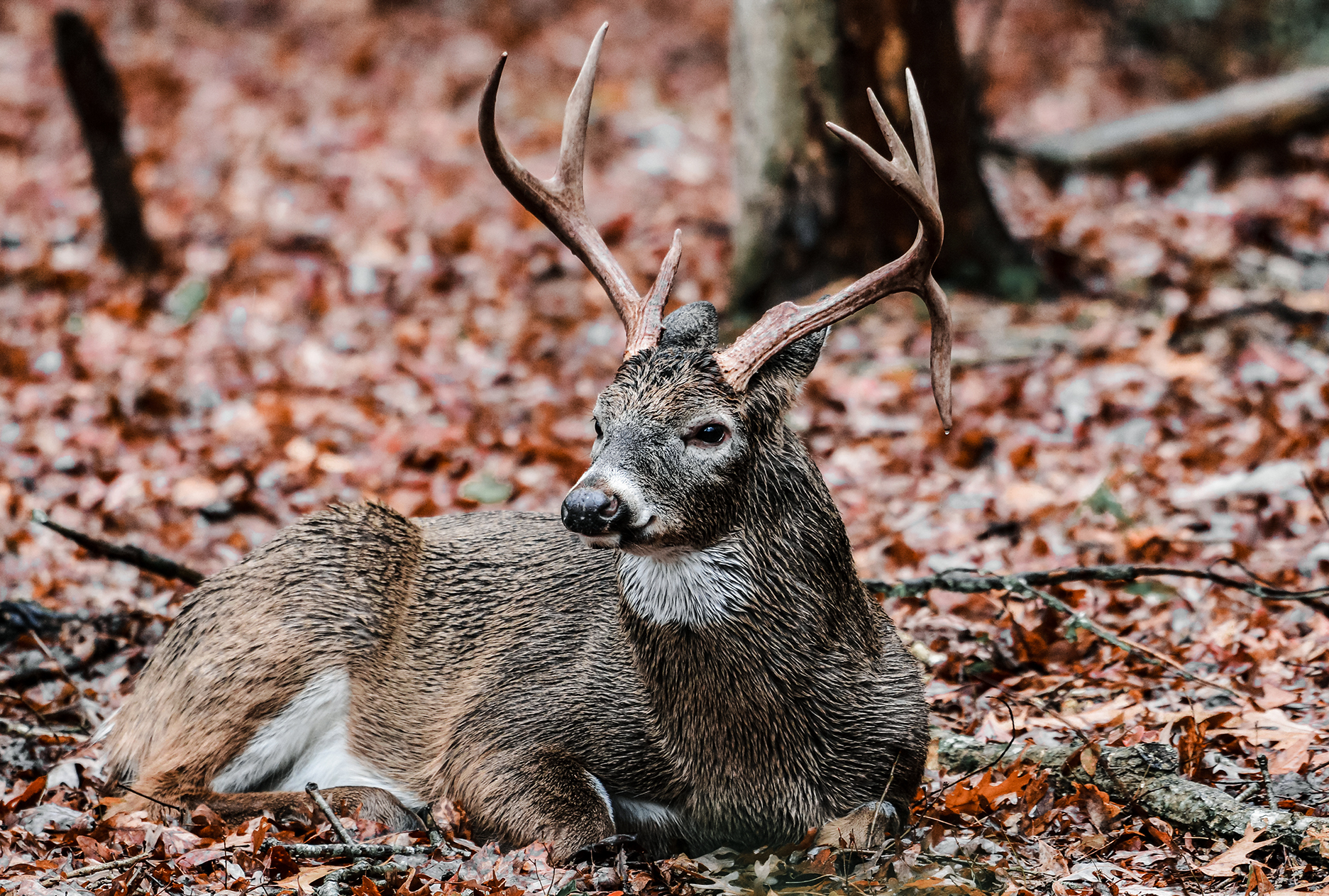 Whether or not one needs to hunt in the rain likely depends on a hunter's goals. General deer movement often slows down during precipitation, Eberhart says. Young bucks and does can be seen during morning and evening sits in much more comfortable weather.
Eberhart's observations and written hunting logs over 50-plus years show that mature bucks seem to be more at ease moving in these conditions. That is especially the case in areas of high hunting pressure, where bucks ages 3.5 and older learn fast what they can and cannot get away with.
"In Michigan, I've got 33 book bucks. Twenty of them were shot between Nov. 1 and Nov. 14 because our gun season opens Nov. 15 every year," Eberhart said. "Of those 20 shot in that 14-day time frame, seven of them were shot between 11 a.m. and 3 p.m.," he said.
"So, 35% of those bucks were taken in the middle of the day, while less than 8% of my time spent on the stand was during the middle of the day. There were many days I just hunted mornings and evenings. Rain is a very similar stat to that," he added. "My success rate on mature bucks in Michigan is much higher when it's drizzling rain or light rain than when it's much drier."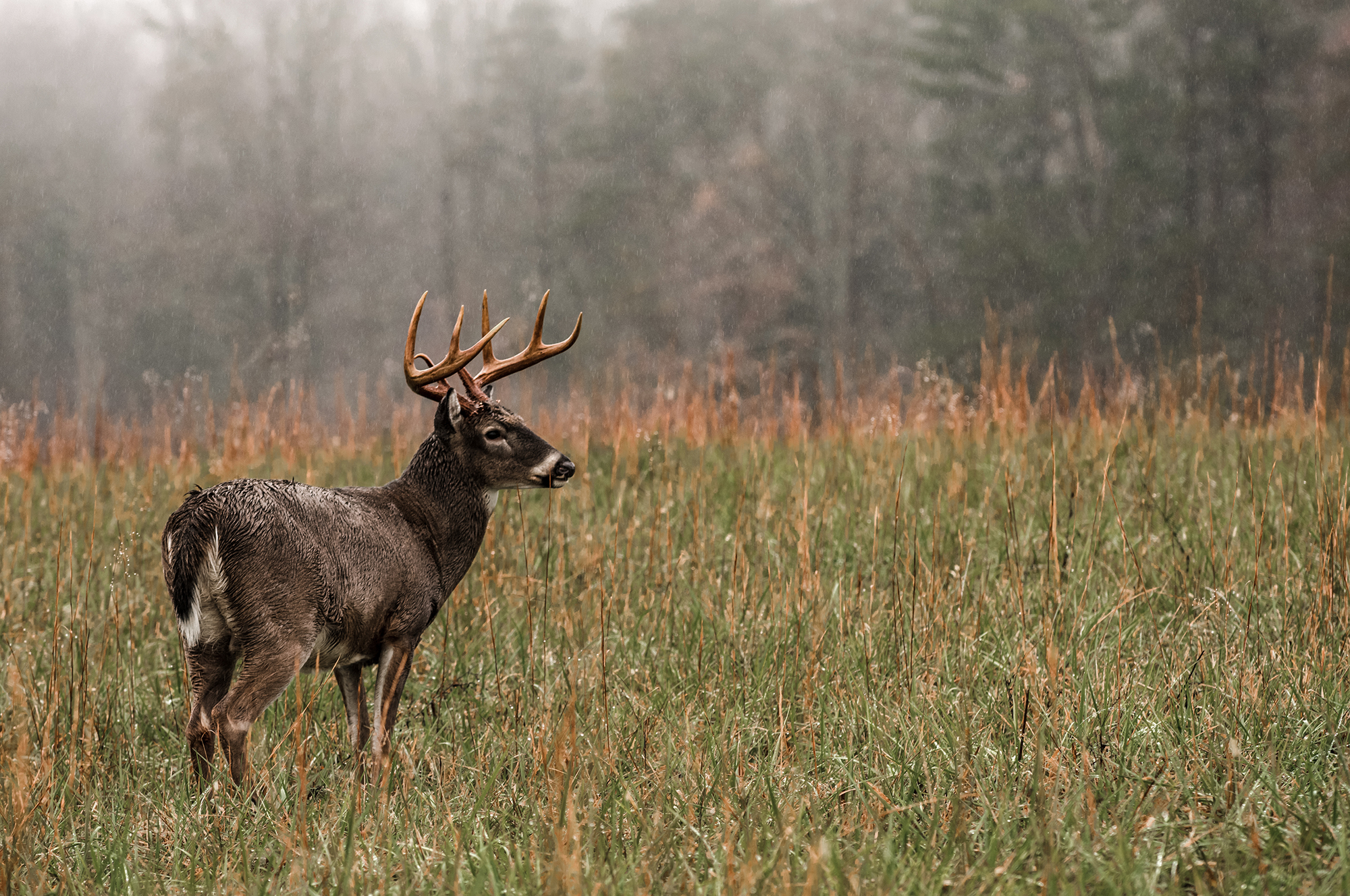 RELATED – Roadkill Rules: 30 States That Let You Keep Dead Deer
---
Hunt the Rain, Kill Bucks
Eberhart believes there are a number of factors that impact deer movement during precipitation.
"In the rain, they can move around without making noise," Eberhart said. "Also, odor carries a lot better in moisture. I think deer can smell a lot better when there's moisture in the air, too."
The United Blood Trackers, an organization that helps connect hunters with trained tracking dogs to recover big-game animals, dispels the idea that rain washes away scent, labeling it a misconception about tracking dogs. Light rain actually helps hold the scent.
Eberhart has observed that in areas of high hunting pressure, mature bucks are more apt to move during light precipitation. Perhaps a combination of multiple safety factors comes together to make them feel more at ease on their feet.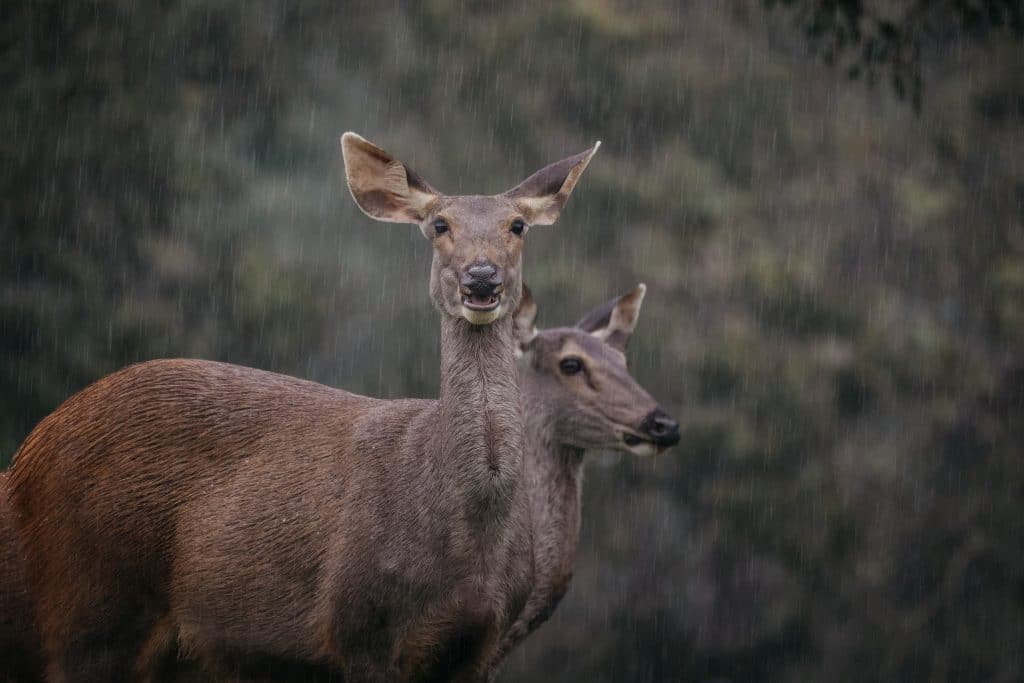 "They're 3- or 4-year-old deer. I'm sure in their history, when they have moved in the rain, they haven't had any issues with hunters because very few hunters hunt in rain," Eberhart said. "I would certainly assume that deer pattern people, just like people try to pattern deer."
Not all precipitation is created equal. Eberhart prefers a drizzle or light rain. Those were the conditions on the morning of Oct. 19, 2021, when he rattled in an 8-pointer that he shot out of a public swamp in Michigan.
Deer may bed down during a downpour, but the best time to take advantage of movement is often right after the rain lightens to a drizzle or stops completely. Hunters who try to wait out the rain at home and then hit the woods often run the risk of bumping deer on their way in.
"There are so many hunters that don't go hunting in the rain, and they kick themselves because it will be raining at 3 in the afternoon, and then an hour before dark, the rain stops and the sun comes out," Eberhart said. "Deer move like crazy when that happens. I think as soon as the rain stops, they start moving immediately."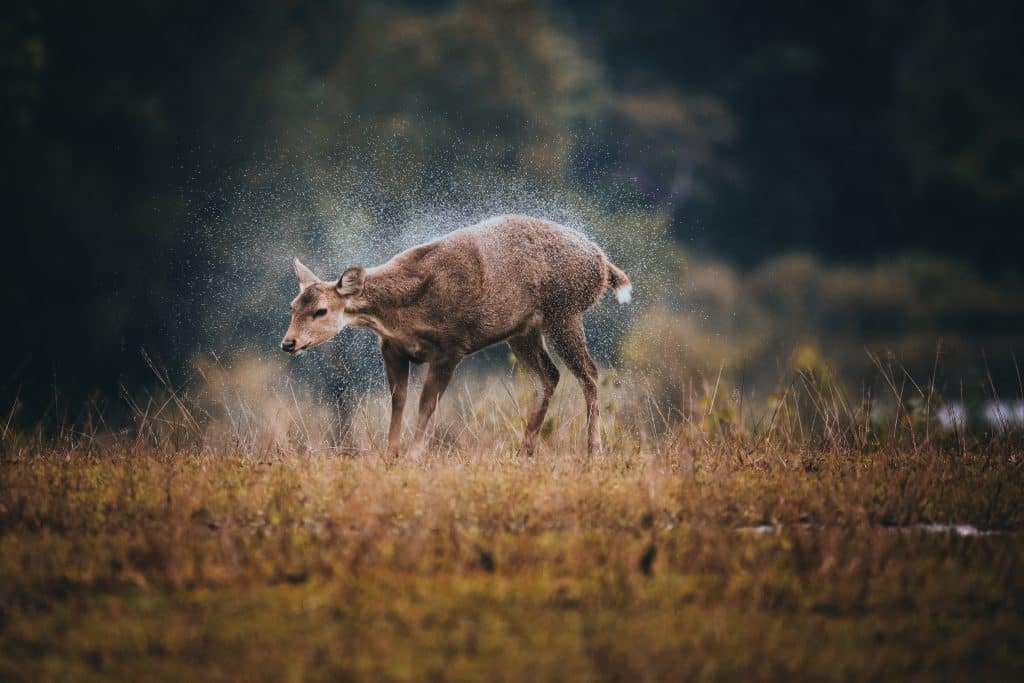 How Eberhart hunts the rain is often dependent on the time of year.
Early season is centered around food. Michigan's season opener falls on Oct. 1. At some point after Sept. 20, Eberhart does what he calls speed tours – quickly scouting the properties he hunts to see which trees are producing hard or soft mast and to look for buck sign around those feeding areas.
"Even if there's buck activity there, in the back of my mind, if I'm hunting those locations in the first couple days of the season, and it's dry out, I'm thinking these bucks are nocturnal," Eberhart said. "There are always other people hunting where I'm hunting, so that influx of human activity, those 3- and 4-year-old bucks know what that means. I feel my odds are much higher of getting an opportunity if I'm hunting those food locations when it's raining. They're more comfortable coming in there and feeding in daylight hours."
Eberhart will dive into his best spots during times of precipitation, which almost always means being within security cover or on the edge of it.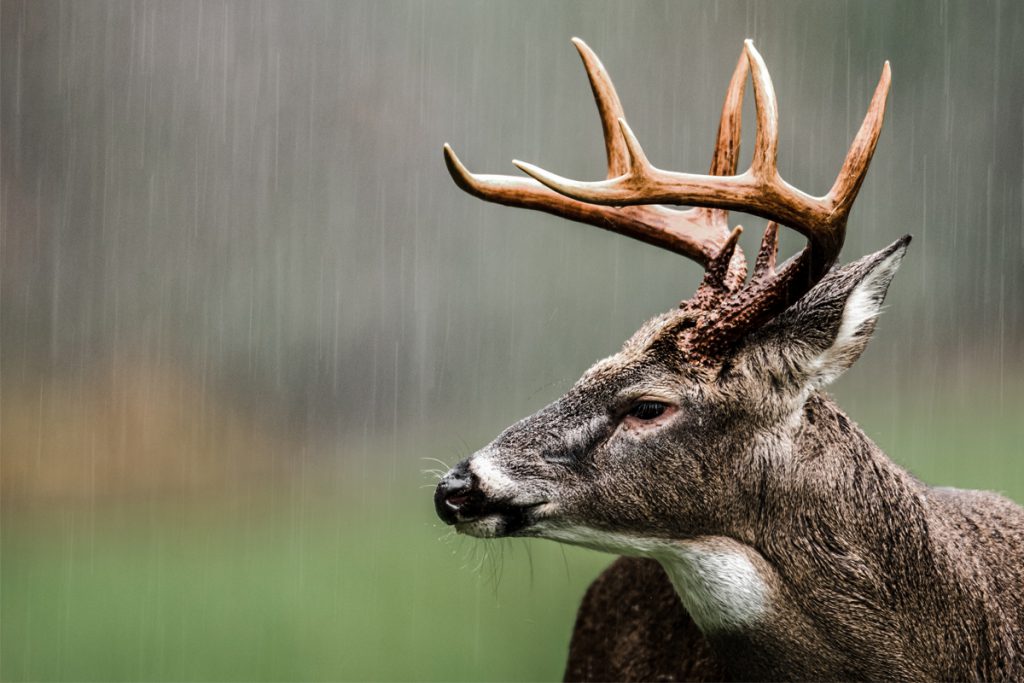 Wet conditions mean being able to get into bedding areas quietly that would otherwise be impossible to hunt on afternoon sits due to the noise of entering and bumping deer out. A hunter's ability to move quietly also opens the door for still-hunting opportunities – moving slowly into areas deer are suspected of being to get a shot. That can be especially effective during a firearm season.
During the rut phases, primary scrape areas near security cover can be great locations to target in rain and snow, with bucks wanting to freshen the scrapes. Eberhart killed an Ohio buck under those exact conditions during a December blizzard.
"There was a scrape line coming down the edge of these pine trees," he said. "He was coming down the pines freshening all of those scrapes as the snow was starting to slow down. There was probably 6–8 inches of snow on the ground from the time I got in my tree until I shot him. It wasn't rain, but it was precipitation, and he was very comfortable coming out in the daylight hours and freshening those scrapes."
There are risks that hunters need to keep in mind when hunting in rain. Heavy precipitation can impact arrow flight, and blood trails can wash away. Short, broadside, or slightly quartering-away shots become important in quickly recovering the deer.
---
READ NEXT – Check out Free Range American's awesome bowhunting and archery archives!