Over the years, I've found myself hunting almost year-round — turkeys in spring, bugling elk in September, whitetails and bears in fall, and predators in winter — but there's always been a lull during summer. Then, I found rattlesnake hunting.
Eight years ago, a friend of mine asked me to go hunt rattlers, and I reluctantly agreed. Since then, the rules have changed in my home state of Pennsylvania, making it easy to get a snake permit over the counter anywhere that fishing licenses are sold.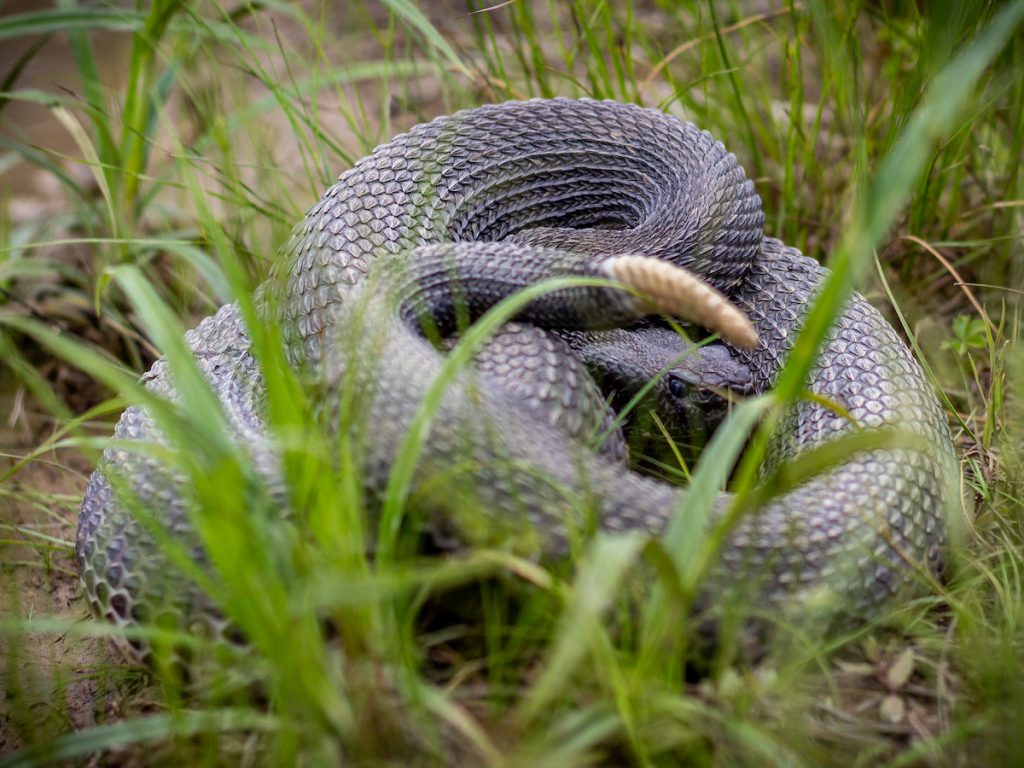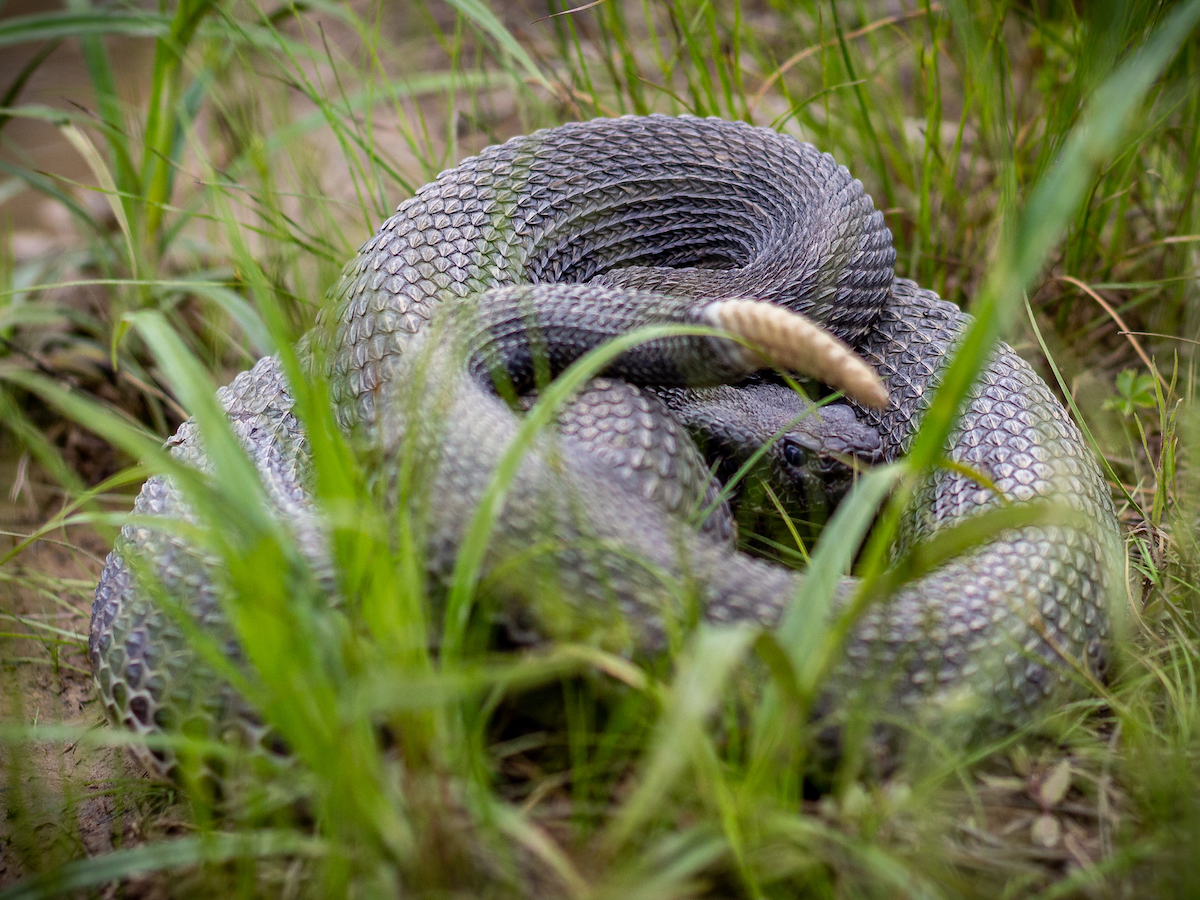 The idea of a venomous snake season may sound foreign to most of you, but rattlesnake hunting is a tradition in the Pennsylvania mountains, with popular, organized snake hunts throughout the region. There are also regulated snake hunts and roundups in states such as Texas, Oklahoma, Alabama, Arizona, and other parts of the South and Midwest. Rattlesnake hunting seasons and laws vary by state, so be sure to check your local laws prior to hunting snakes. Most of the organized rattlesnake hunts and seasons take place during the spring and summer months, depending on the state.
Hunting for rattlesnakes taught me a lot more about snakes than I anticipated and definitely helped me get over a mild fear of them. Here's how to do it: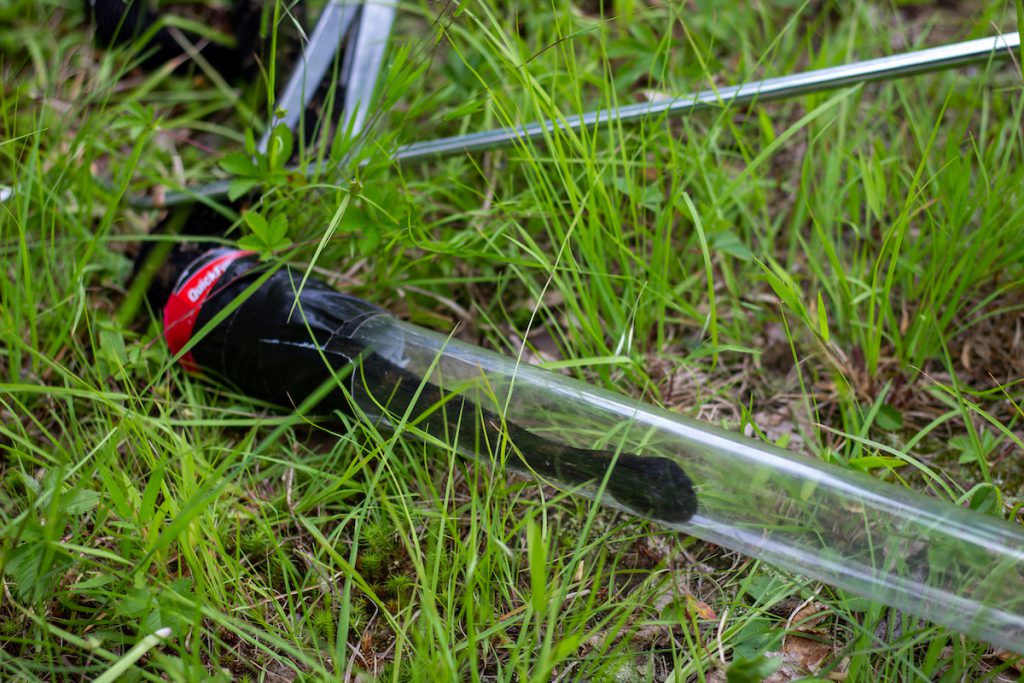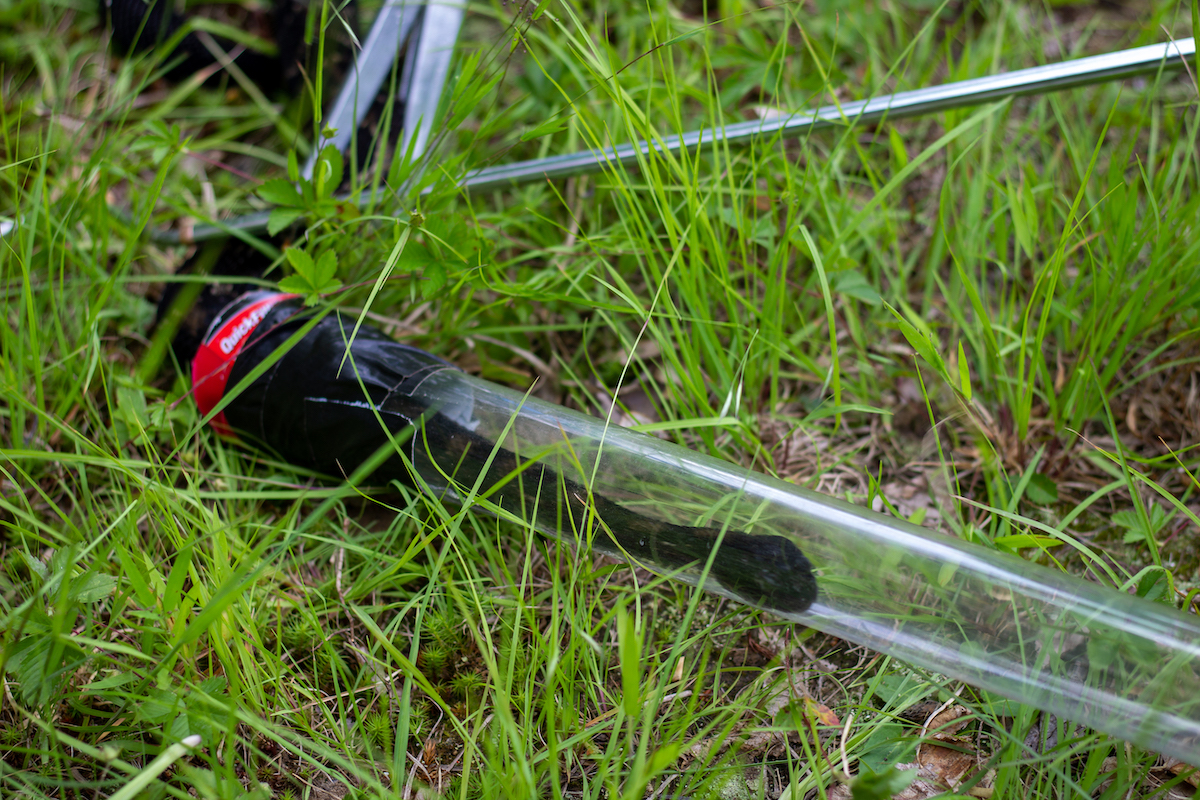 ---
Snake-Hunting Gear
It is important that you have the proper gear when hunting rattlesnakes to ensure your own safety as well as the snakes' well-being. The tools of the trade include:
Snakeproof boots or gaiters. I went the route of using gaiters with a solid pair of leather boots because of the comfort level of gaiters made from flexible turtle skin rather than the stiff, castlike feel of knee-high boots. But that's a personal preference.
Snake tongs and/or a snake hook. These are used to handle the snakes once you find them. The tongs are easier to grab the snake with when you're newer to snake hunting, but they can hurt the snakes if you aren't careful. I like to use tongs with a wider mouth, and I only allow limited pressure so that I don't permanently harm a snake that I may be letting go. The hook is used to scoop under the snake, allowing you to grab the tail with your other hand, and is preferred by experienced snake handlers.
Snake-restraining tubes. A snake-restraining tube is a long, clear tube — think of the tube a fluorescent light bulb comes in — in which you can place the snake's head and most of its body while you are measuring it and checking sex.
Miscellaneous gear. It's important not to forget a few often-overlooked items, including a tape measure, a bag or sack for storing the dead snakes, and a cooler with ice. The cooler is not only for storing the snakes until you can skin them and remove the meat but also for calming the snakes' nerves. If you've ever dealt with snakes, you know that they can still move after they die.
You can find my snake-hunting gear list here.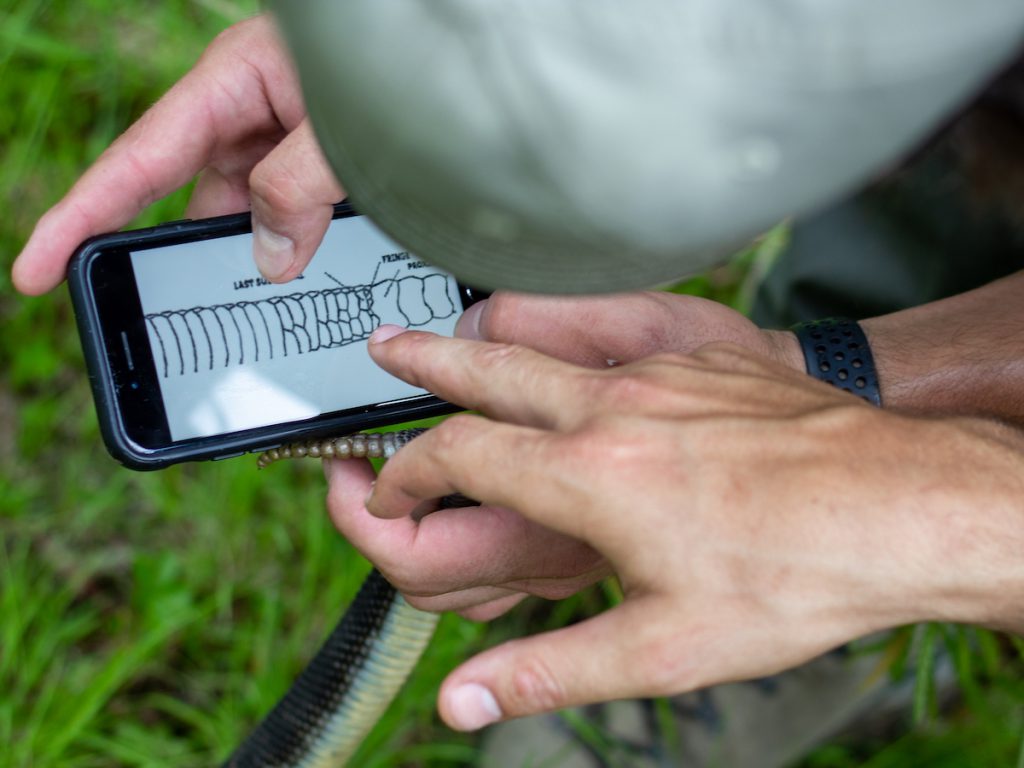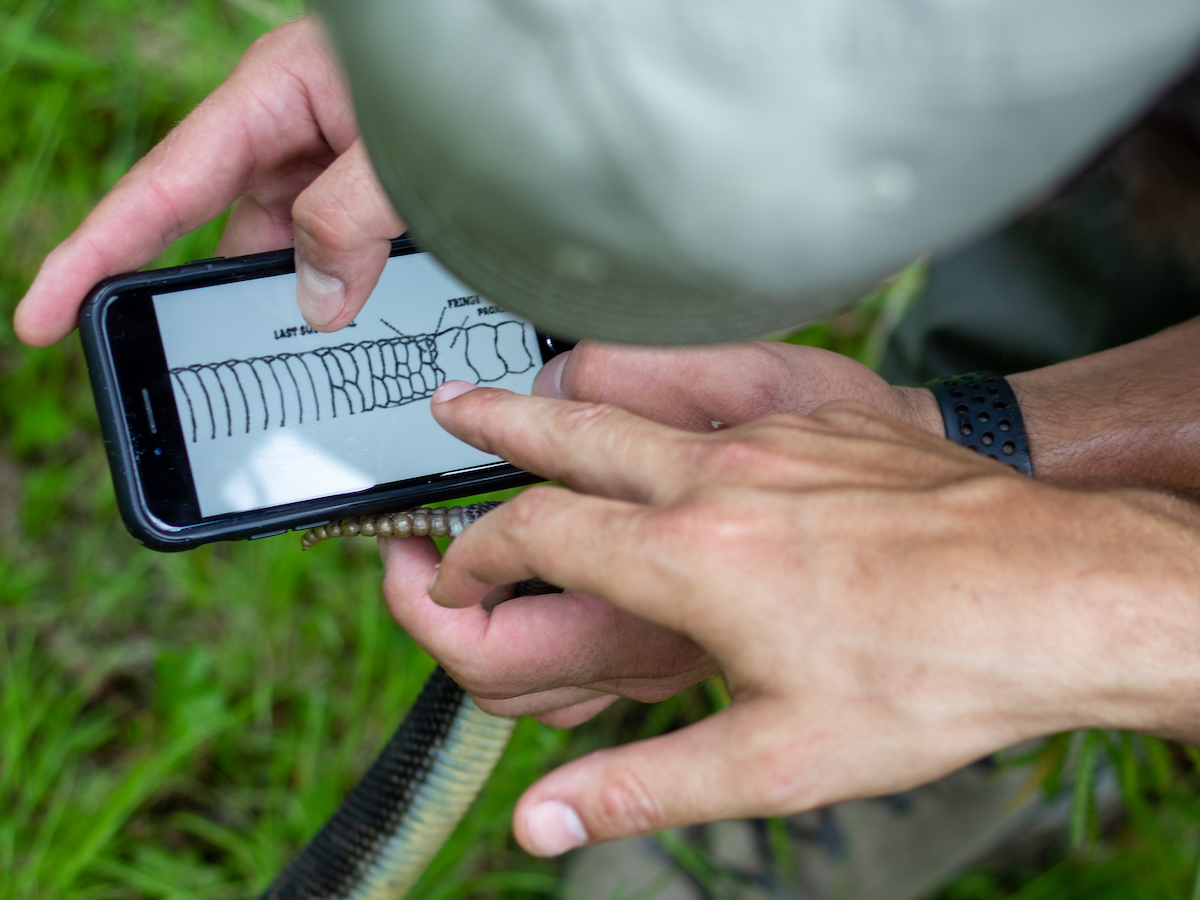 ---
How To Find Snakes
I've had the most luck finding snakes in the open during the late morning as the sun heats open, rocky areas, but not so late that the rocks are hot and snakes are hiding in the shade. Rattlesnakes love to spend time in and around log piles, on gas and power lines, and near old structures that warm in the sun.
They typically have dens on south-facing slopes in broken, rocky outcroppings. In spring and early summer, they will be in or close to those den sites, but they will roam farther from those areas during the mating season throughout the summer months.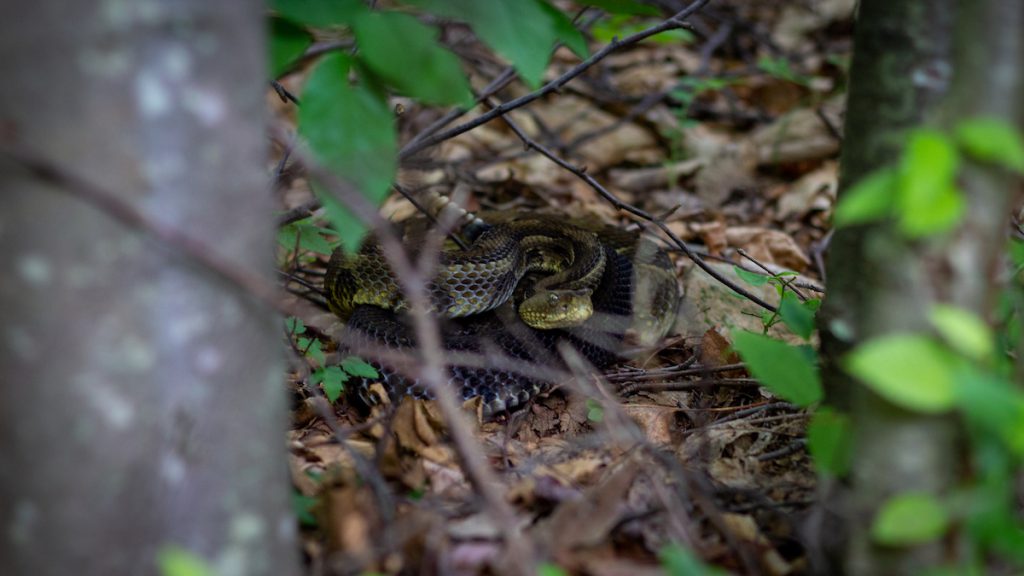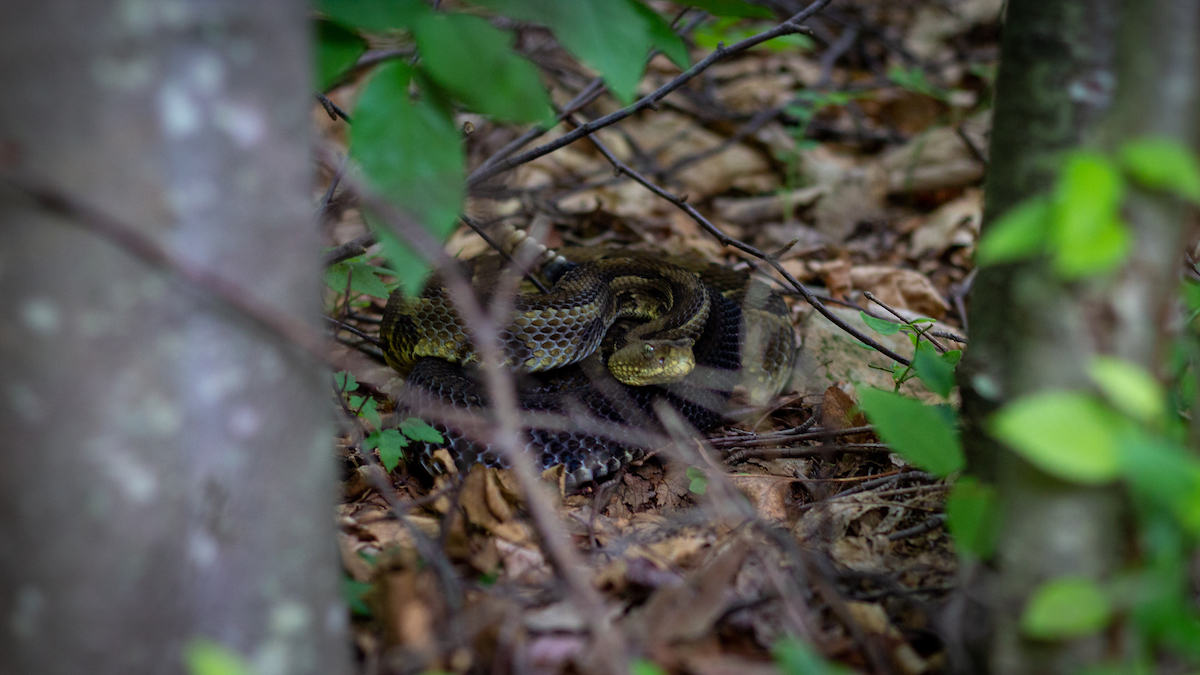 ---
How To Catch and Kill a Snake
To catch a snake, you must use your snake hook or tongs, then contain it with the fluorescent-light-bulb tube. In Pennsylvania, you must check the snake's sex and length to take it legally. Male rattlesnakes must have 21 or more subcaudal scales, which run from the anus to their rattles. In addition, they must be 42 inches or longer to be killed and tagged. In other areas of the country, regulations are different, with some states not having any size or sex restrictions.
The easiest way to kill a snake is to hit it behind the head with a heavy stick. It won't take a lot of force, and it will put the snake in a position where it won't be willfully striking at you. The first question I typically get asked is "Why don't you just shoot them?"
Using a firearm isn't a legal way of killing a snake in some states. After the snake has died, remove the head with a small hatchet or shovel and bury it underground. Even when dead, snakes can strike, and I really don't want to take the chance. Once you have removed the head, put the snake in a bag and on ice in your cooler.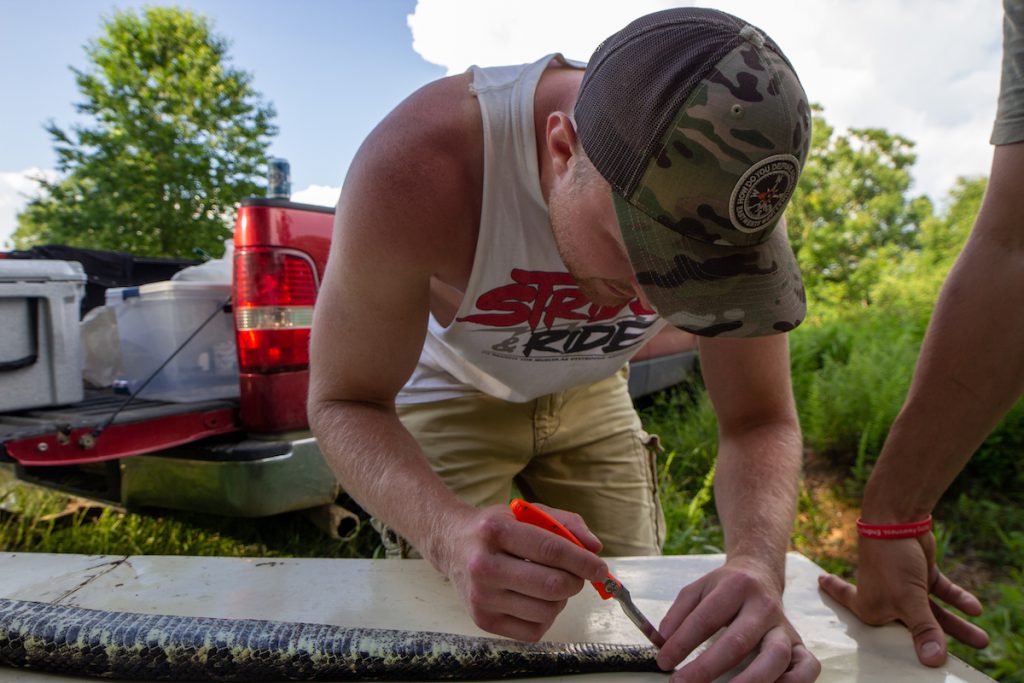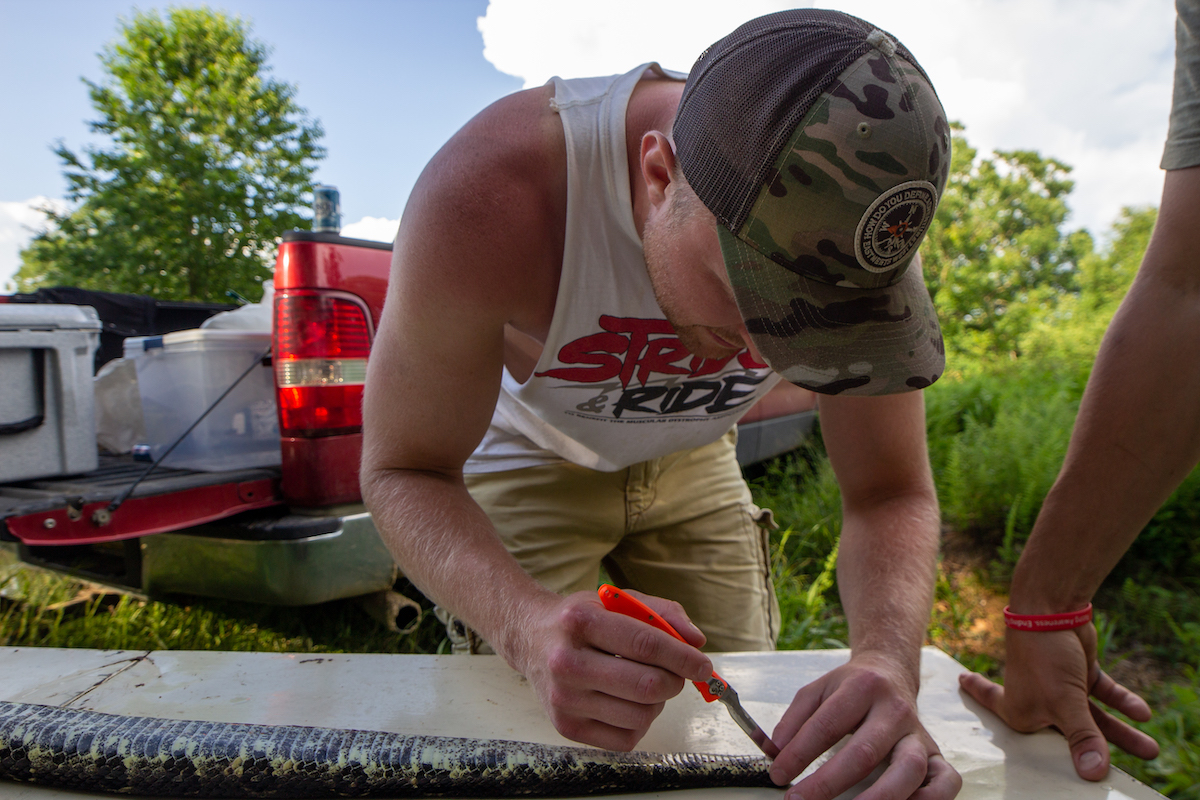 ---
How To Cook Rattlesnake
The first time that I cooked a rattlesnake, I was concerned about how it would taste. I mean … it's a snake. I was pleasantly surprised that, as with most meat, if you cook it right, it will taste good. The first step is to remove the skin, using a sharp knife as you would to take the hide off of a deer or any other animal, but take much more care with the snake's thin skin.
You can "pop" off the rattles at the base to put back on later. I like to preserve the skin, so I just slice down the center of the underbelly from the neck to just before the rattles, and then I skin the snake. Next, you must pull out the internal organs before throwing the entire snake on the grill.
To prepare the snake for cooking, I give the meat a light coat of olive oil and sprinkle my favorite dry-rub seasoning on it. There are plenty of different methods for cooking rattlesnakes, but this is the simplest.
---
Read Next: It's Too F*cking Hot: Why You Should Give Fish a Break During This Stupid-Hot Heat Wave