Seafood and grits is a southern classic. Whether we're talking shrimp or a fried or blackened fish filet, a bowl of cheesy, buttery grits is the perfect companion. Being an inland Yankee, freshwater fish such as panfish, bass, and trout are usually what I have to work with. I typically pair my grits with a fried catfish filet and a buttery sauce to go with it.
Catfish are abundant, easy to catch, and their mild white meat works well with an endless variety of dishes. The key to perfect fish and grits is simple preparation executed correctly: perfectly creamy grits, perfectly fried fish, and a simple sauce to tie them together. This is a quick and simple dish to make, that packs in big flavor and complementary textures.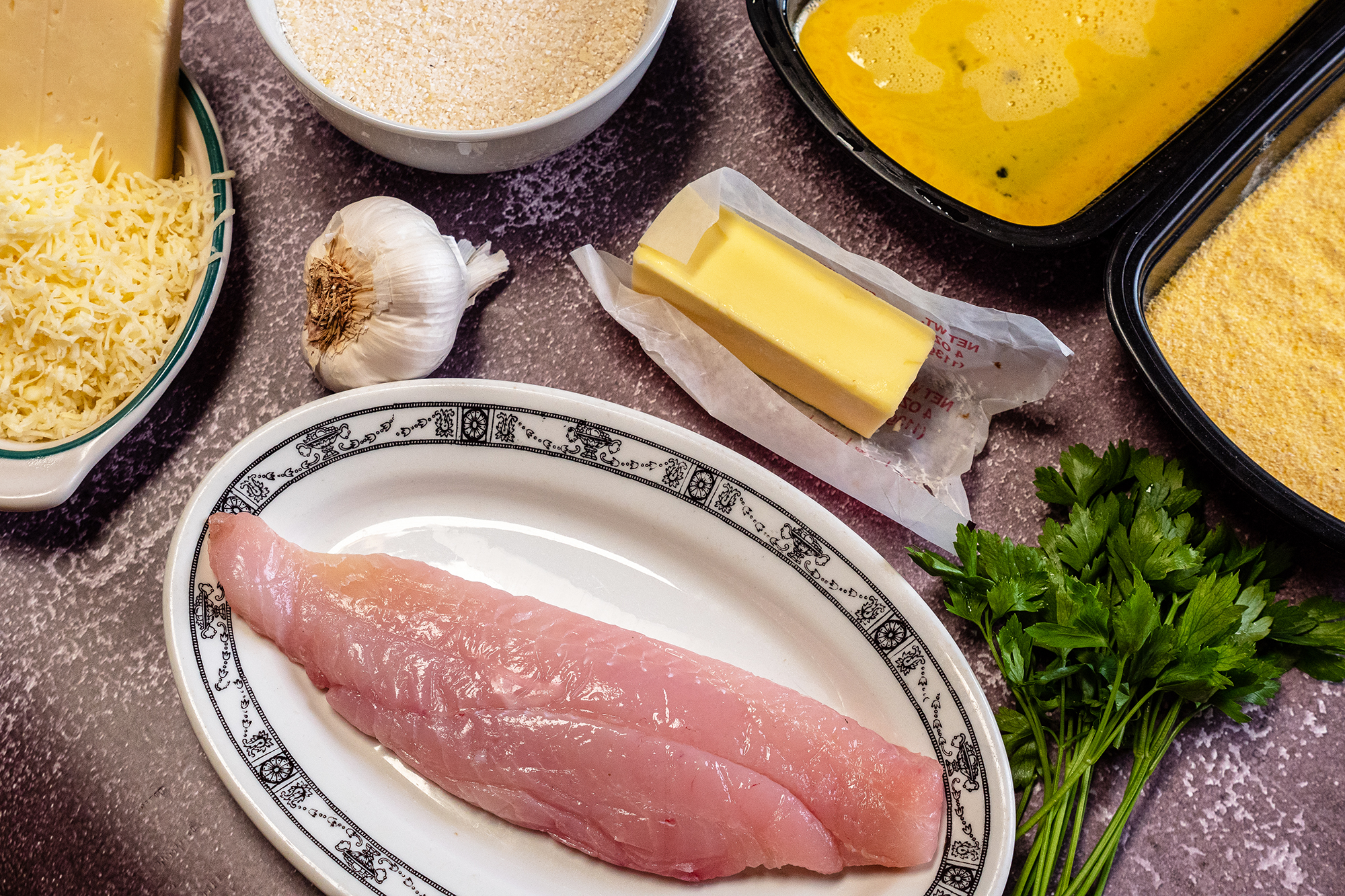 RELATED: Mississippi BBQ – Slow and Low in the Delta
Don't be intimidated by grits if you've never made them before; they're really quite easy. While I've met a few folks over the years who don't like grits, when they're done right, they're undeniably damn good. If you're a fan of the shrimp and grits or fish and grits you get in a restaurant, try making your own with this easy and delicious recipe.
Fish and Grits Ingredients
2 cups water
1 cup old-fashioned corn grits
1 cup cream
4 ounces butter, divided
1/2 cup sharp cheddar cheese, grated
1 tablespoon salt, divided
1 teaspoon black pepper, divided
1 catfish filet
1 cup all purpose flour
3 eggs, beaten
1 cup yellow corn meal
1/2 teaspoon chili powder
1/2 teaspoon paprika
2 cloves garlic, minced
1/4 cup parsley, chopped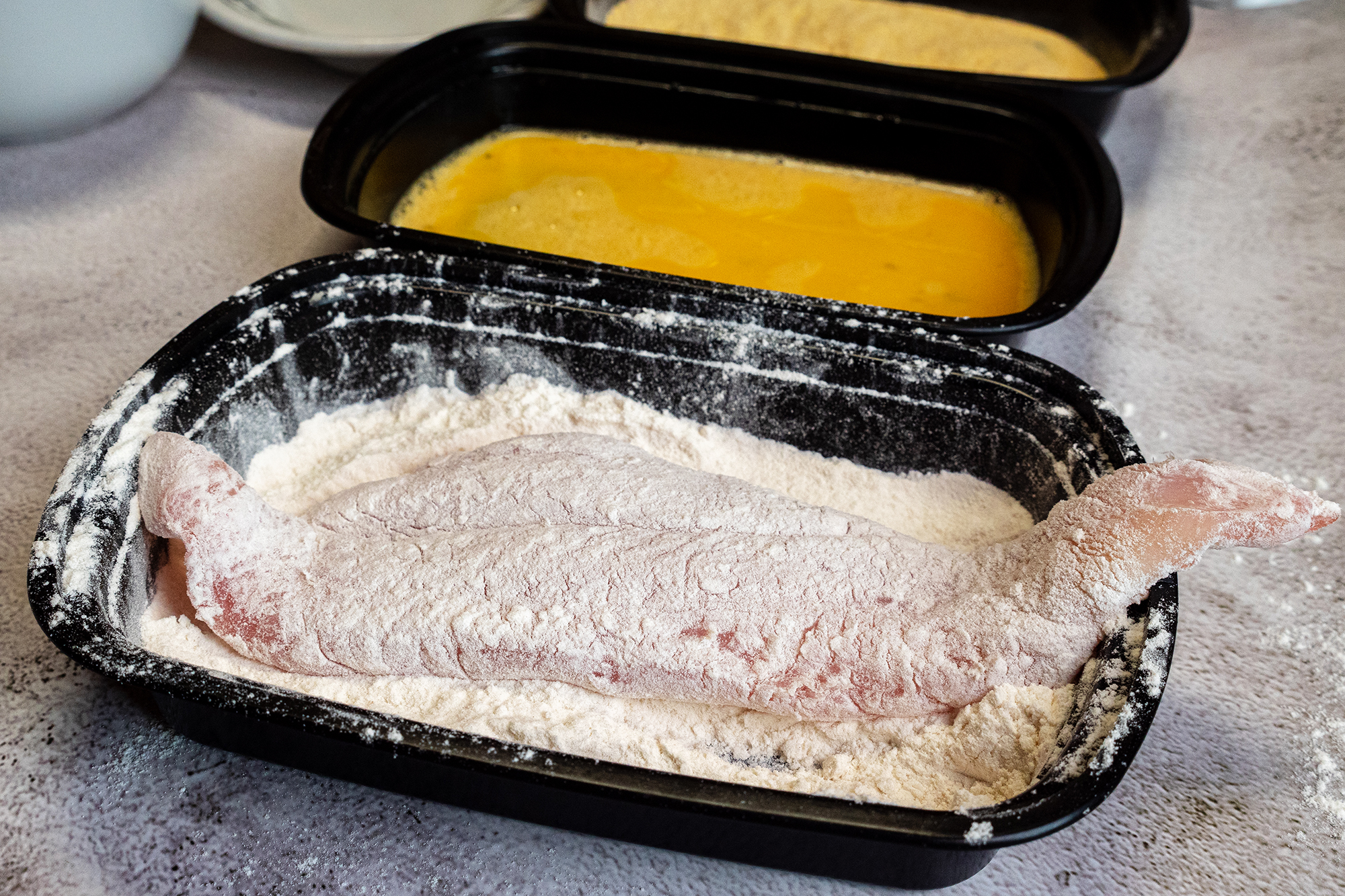 Directions
Add water to a pot on high heat and bring to a rolling boil. Lower the heat to medium and slowly add the grits, whisking constantly.
As the grits start to thicken, add the cream, and a half a teaspoon each of salt and pepper. Lower the heat to low and continue to whisk. Cook for roughly three to five minutes, whisking frequently and adding water if necessary to keep the grits from sticking to the pan.
When the grits are thick, taste them to ensure they are cooked through and no longer grainy. Kill the heat, add two ounces of butter and 1/2 cup of cheddar cheese, then fold them into the grits.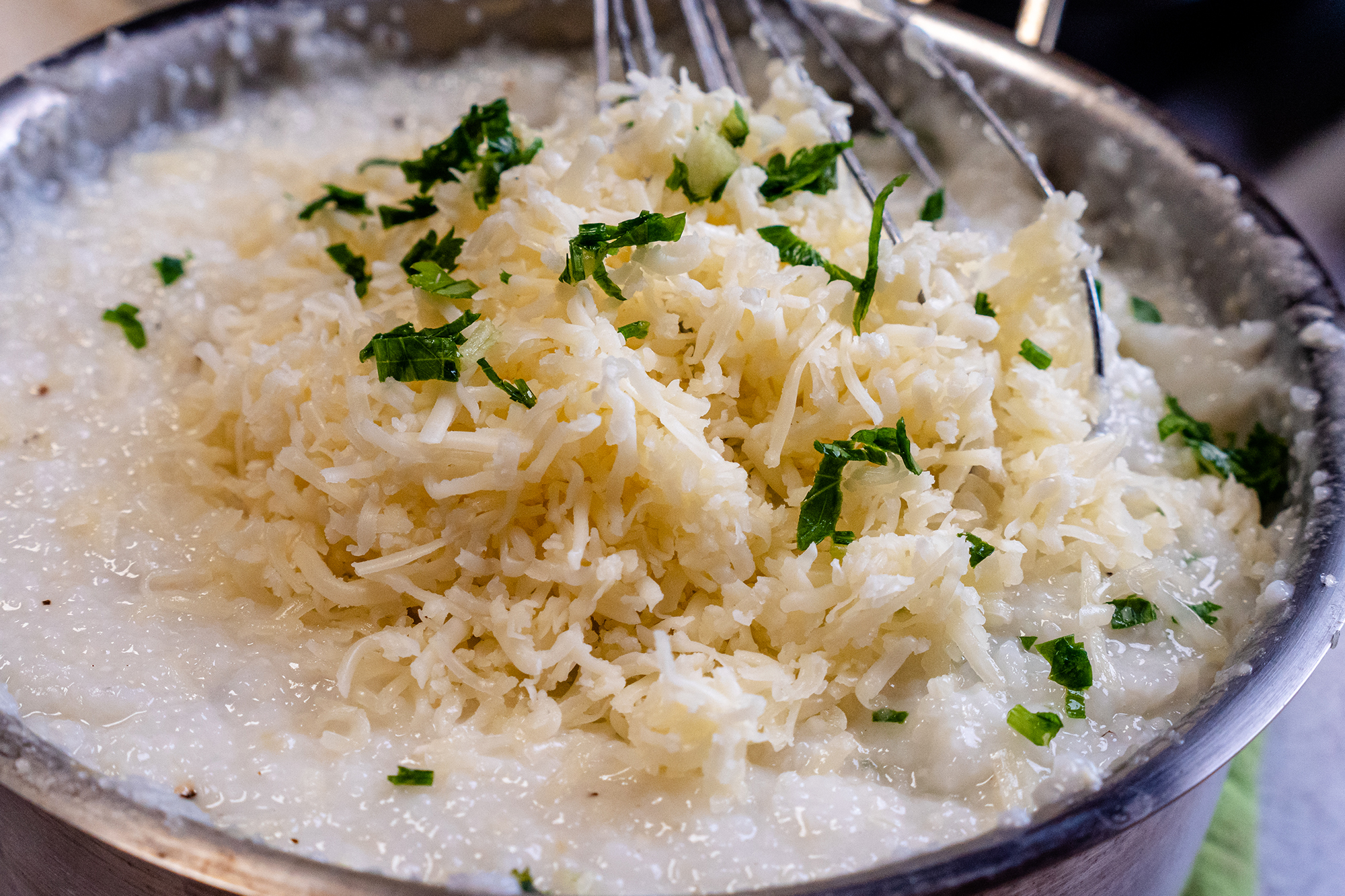 RELATED: How To Cook the Perfect Fried Squirrel
For the fish: Set up a dredging station with flour, an egg wash, and cornmeal. Season the flour with 1/2 tablespoon of salt, 1/2 teaspoon of black pepper, and 1/2 teaspoon each of chili powder and paprika.
Clean and dry the catfish filet, then coat it in the flour, dip it in the egg wash, and roll it in the cornmeal.
Add a thin layer of oil to a saute pan and heat on low for about two minutes. To test if the oil is ready, very slightly wet your fingers with water and flick a few tiny droplets into the oil. If it sizzles and spits, it's ready.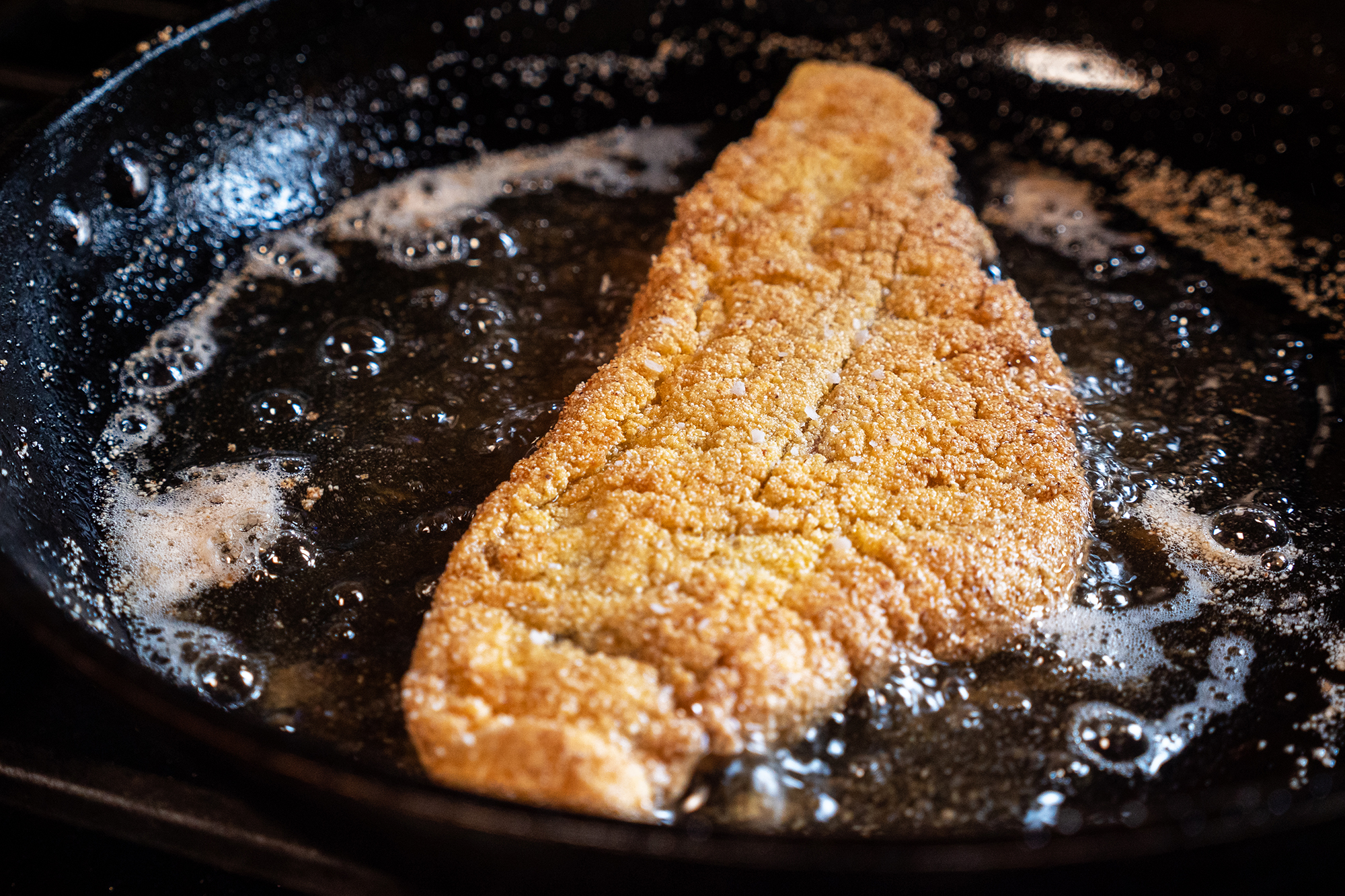 Brown the fish filet on one side, then flip the filet over and cook the other side. Once the whole filet is golden brown and cooked through (about two minutes), remove it from the pan and rest it on a paper towel.
For the butter sauce, melt two ounces of butter in a pan, add the minced garlic and chopped parsley, and a pinch of salt and pepper. Cook until the garlic is translucent.
Serve the grits in a bowl topped with the fried catfish filet and drizzled with the butter garlic herb sauce.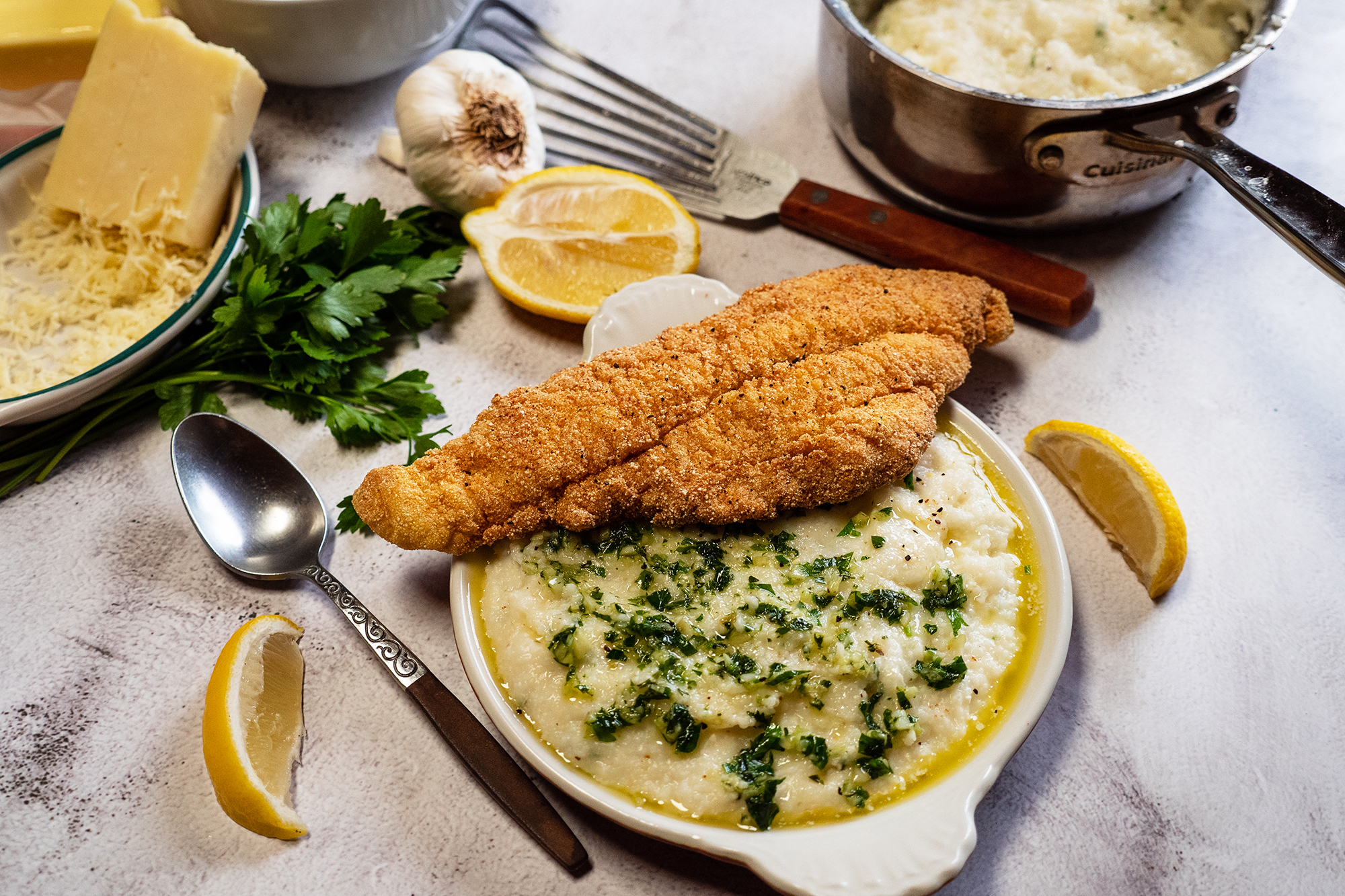 Fish and grits is one of those dishes you can eat any time of day. It works for breakfast, brunch, lunch, or dinner. Nobody likes dry, flavorless grits or oily fish, so step your game up with this easy recipe that anyone can master.
Just remember that the key to this one is focusing on the execution of the fine details and that you can't go wrong cooking up this southern staple with whatever fish you bring to the boat.
Read Next: The People's History of Barbecue