Don't sleep on Mississippi BBQ, y'all. The Magnolia State is home to 18 competition-winning pitmasters — more than any other in the country.
Community barbecues have a long tradition in Mississippi and may be more central to the history of the state's barbecue than commercial places.
Summer picnics and reunions have featured barbecue for generations. The Turner family's Labor Day picnic is known as the oldest public barbecue event in the state, for example. It's held in Gravel Springs, which is also home to musicians like Mississippi Fred McDowell, Napoleon Strickland, and the Hemphill family.
The Magnolias, an excellent example of late antebellum classic Greek revival architecture, was known for its barbecue gatherings back in the 1930s. Unfortunately, it's now a wedding venue and couldn't be further from its barbecue days of yore.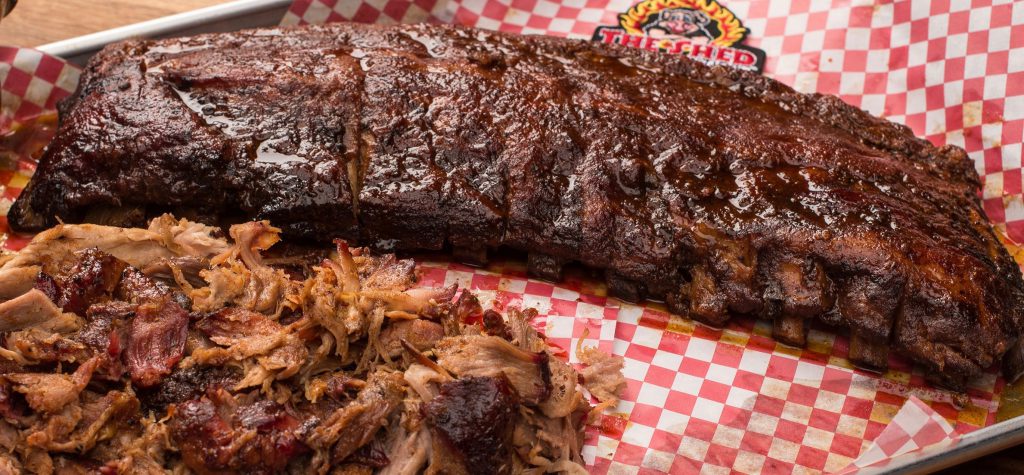 When roads and automobiles made the scene in the 1920s, commercial joints started popping up. Leroy "Spooney" Kenter started his neighborhood business by towing his trailer rig from his backyard to his front yard.
Keep in mind, you're still more likely to find killer barbecue at a gas station or a homegrown, roadside smokehouse or pit than a traditional restaurant.
The Mississippi BBQ Trail, founded by Jackson, Mississippi, native Jim Hatten, lists 25 high-quality gas stations that dish out slow-cooked meats.
"Gas station barbecue is a phenomenon in the South and especially Mississippi," Hatten says. "It's servicing a population of the state that otherwise probably wouldn't have lunch because they have to get back to work. A family-run joint is the archetype in the state."
If you get to the Delta, get ready to slow down and enjoy some slow-cooked, fall-off-the-bone pit barbecue, with sweet sauce to match.
RELATED: Kansas City BBQ: 'The Sauce' Is King
Best Mississippi BBQ joints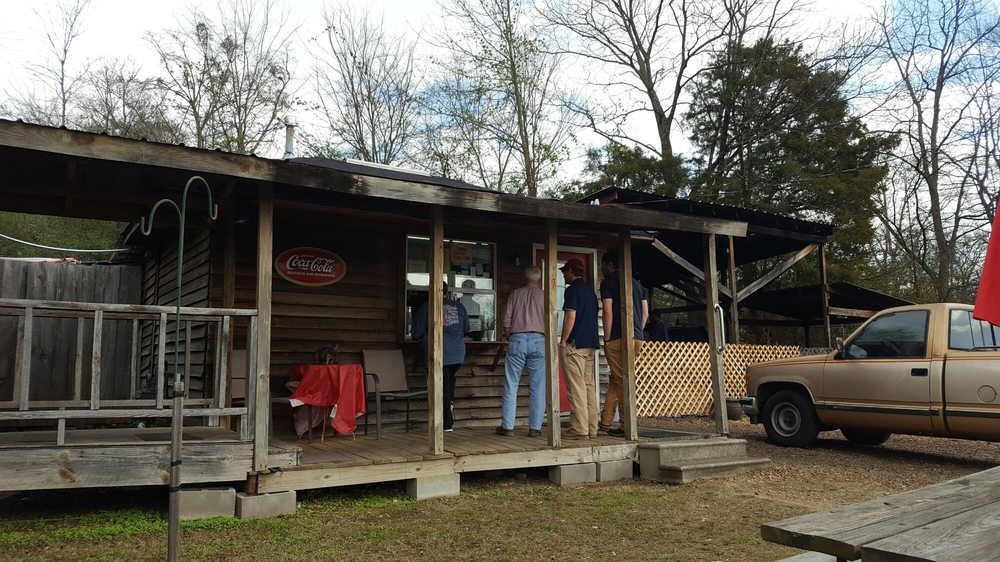 Sonny's Smokehouse
There's no website or accurate social media page for this joint. Yelp is inconclusive. So you'll need this: 8936 MS Highway 15, Ackerman, MS 39735 (you're welcome). And you don't want to confuse Sonny's Smokehouse with Sonny's BBQ in Florida because you'd miss out on pulled pork, smoked chicken, brisket and ribeye sandwiches, pork, chicken, brisket, and rib plates, and brisket potatoes that put this way-off-the-beaten-path joint in the running for the best barbecue in Mississippi every single year. The portions are generous, too.
The Shed
Brad Orrison used to dumpster dive when he was a student at Ole Miss. Years of collecting yielded warped and previously used two-by-fours, old tin roofing, bent nails, ugly windows, hardwood flooring, plastic buckets, and warped vinyl records. Out of that detritus came a barbecue treasure: The Shed. Orrison and his sister built the place, and his brother sound engineered it to be a killer blues joint. Get a Combo Plate, G-Maw's baked beans, and Daddy-O's slaw and get comfortable.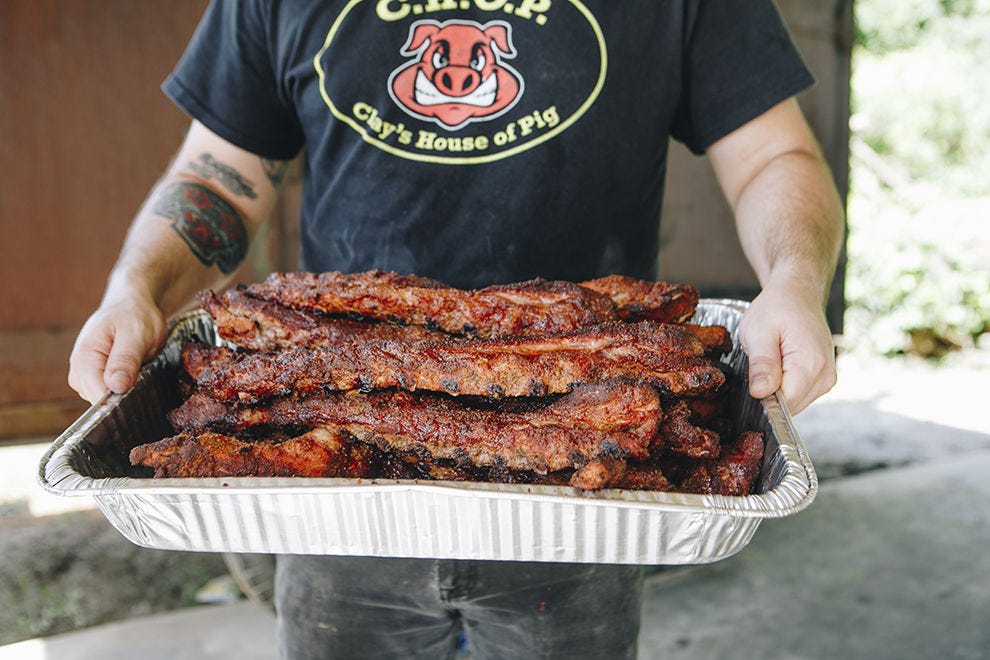 RELATED: Texas BBQ: Big, Like Everything Else in the Lone Star State
Clay's House of Pig
After a decade of declining sales and nut punches from big-box retailers and online sales, Clay's Bait and Tackle underwent a bit of a gut check. Fortunately, Clay Coleman turned that gut check into a stomach pleaser, adding a barbecue joint to the back of his shop. Locally known as C.H.O.P., Coleman's slow-smoked barbecue skyrocketed to the top of Mississippi Magazine's 2019 readers' poll as the best in the state, and he hasn't come back down since.
Memphis Barbecue Co. (yes, they're Mississippi BBQ)
Welcome to the home pits of Melissa Cookston, 10-time World Championship pitmaster. She may be a heavy hitter on the competition circuit, but Cookston believes in taking her time to make fresh, hardwood-smoked barbecue every single day. The menu features ribs, pulled pork, and brisket that would "make a Texan blush," as she puts it. They cook from scratch and also serve fresh, never frozen chicken and sides made fresh daily,
Vine's Smokehouse
Don Vine resurrected a third-generation family business and built Vine's Smokehouse in 1977. But this is more than a smokehouse. Vine's is a filling station and a meat market. They also process deer and serve barbecue. Don makes a smoked premium pork sausage that's blended with the pitmaster's secret recipe of herbs and spices. People drive hundreds of miles to get their hands on Vine's smoked sausage. Bonus: They can gas up right there before heading home.
RELATED: Barbecue, Politics, and Alabama White Sauce
The Sauce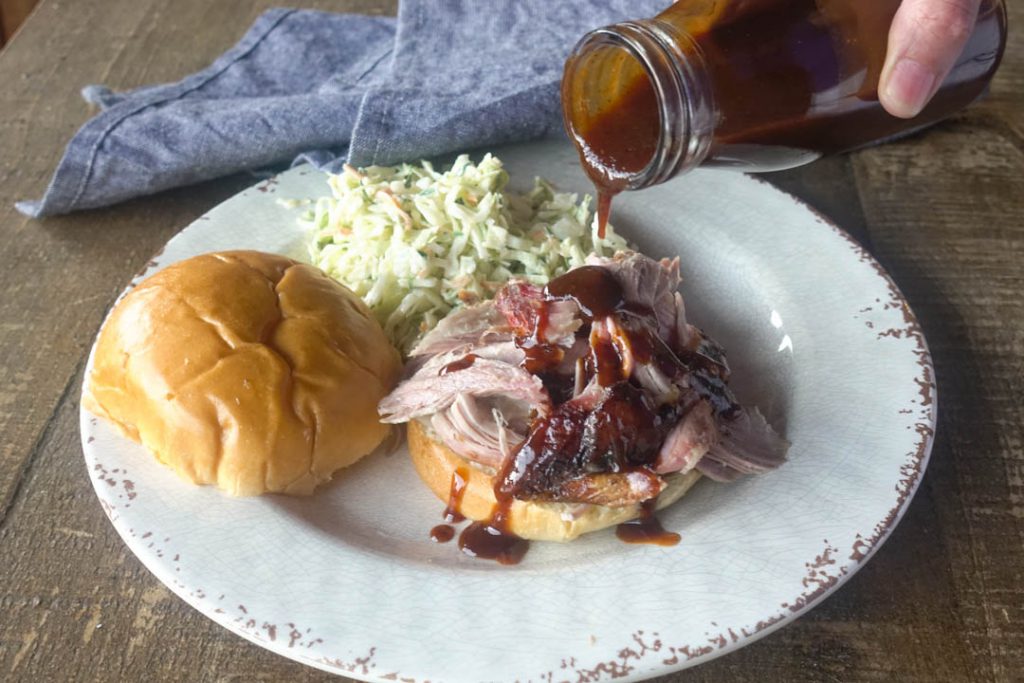 There are a ton of Mississippi BBQ Sauce recipes available online. Here's a solid one you can try your hand at mixing up at home or simply purchase one of the best.
Mississippi barbecue is a mix of many barbecue influences. Start with these basic ingredients and explore flavor profiles from there.
Ingredients
Apple cider vinegar
Ketchup
Molasses
Hot sauce
Lemon juice
Salt
Red and black pepper
Directions
Brown sugar is a good substitute for molasses on the sweet side of things. Try garlic and onion powder for some additional flavor. Mustard will give it some richness as well. Mix and heat the ingredients together. The sauce will be thin when ready, so you can mop whatever meat you're cooking to build layers. Simmer longer if you want it thicker.
Read Next: St. Louis BBQ Ribs: From Surplus to Luxury Cut