On Halloween night, a Texas bowhunter survived one of the most terrifying things that can happen to a hunter — he fell almost 20 feet from a treestand and wound up hanging upside down by his boot. It was a hunting accident that could easily have been fatal.
On Monday at 4:25 p.m., the Tyler County Sherriff's Office received a 911 call from an unidentified hunter requesting help. He had fallen from his climbing stand and was stuck with his ass in the air, dangling 18 feet above the ground.
"He was trying to reach his hunting partner but couldn't," Deputy Cory LeBlanc told KFDM/Fox. "He was able to call 911, and we made contact with him. His friend helped us reach the exact location. We had the Spurger Volunteer Fire Department, DPS, Texas Parks and Wildlife on the way, all trying to help."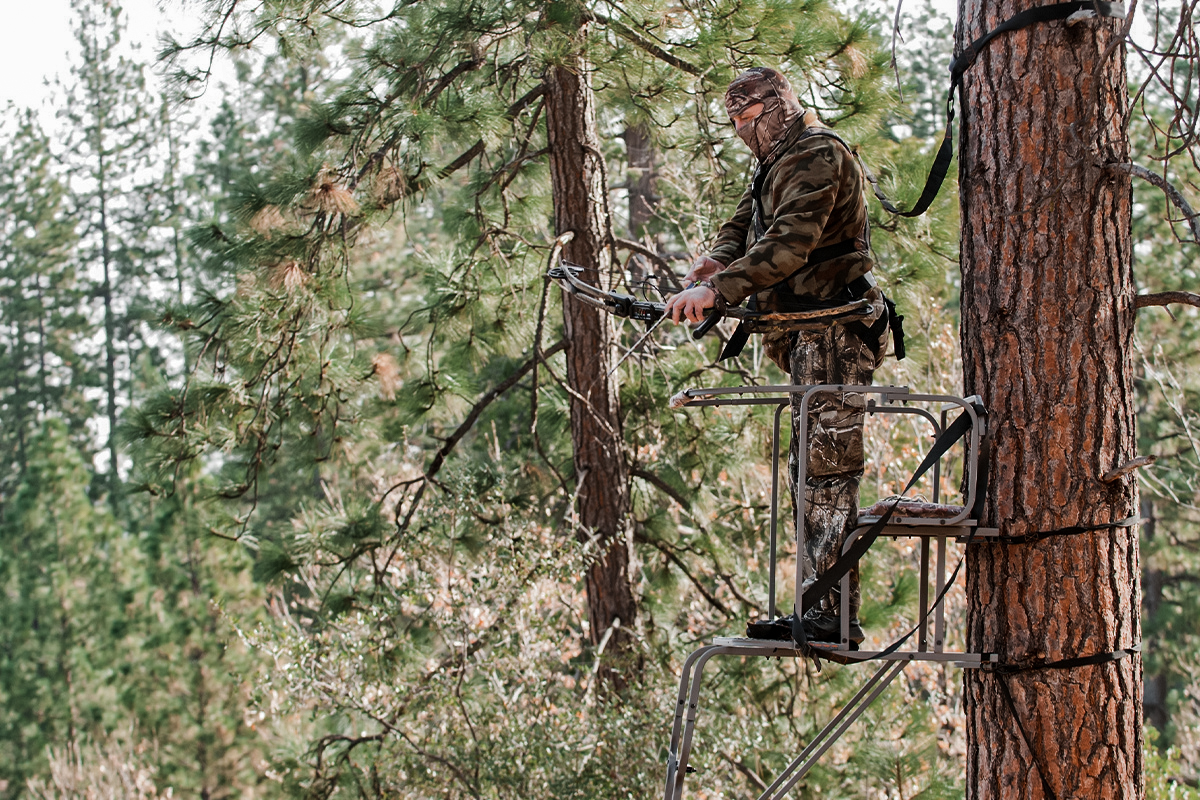 When the rescuers arrived, they found the hunter (who asked that his name be withheld to prevent relentless, lifelong ribbing from his hunting buddies) in quite the predicament.
"He was high off the ground, with his right foot wedged in the framework of his climbing stand," LeBlanc said. "He'd been hanging long enough that his fluids and blood were rushing to his head. He's lucky his phone didn't hit the ground."
"I was 18 feet up, and my ankle was the only thing that was holding me up," the hunter said in an interview. "I held my phone in my mouth. I knew if I dropped this, I'll die."
"We maneuvered the Spurger VFD brush truck beneath him. The fire department and DPS Trooper Hunter Holloway got in the back of the truck to support his weight. He had another climbing stand attached. I climbed that one and freed his foot. They supported him and lowered him to the brush truck," Leblanc said of the rescue.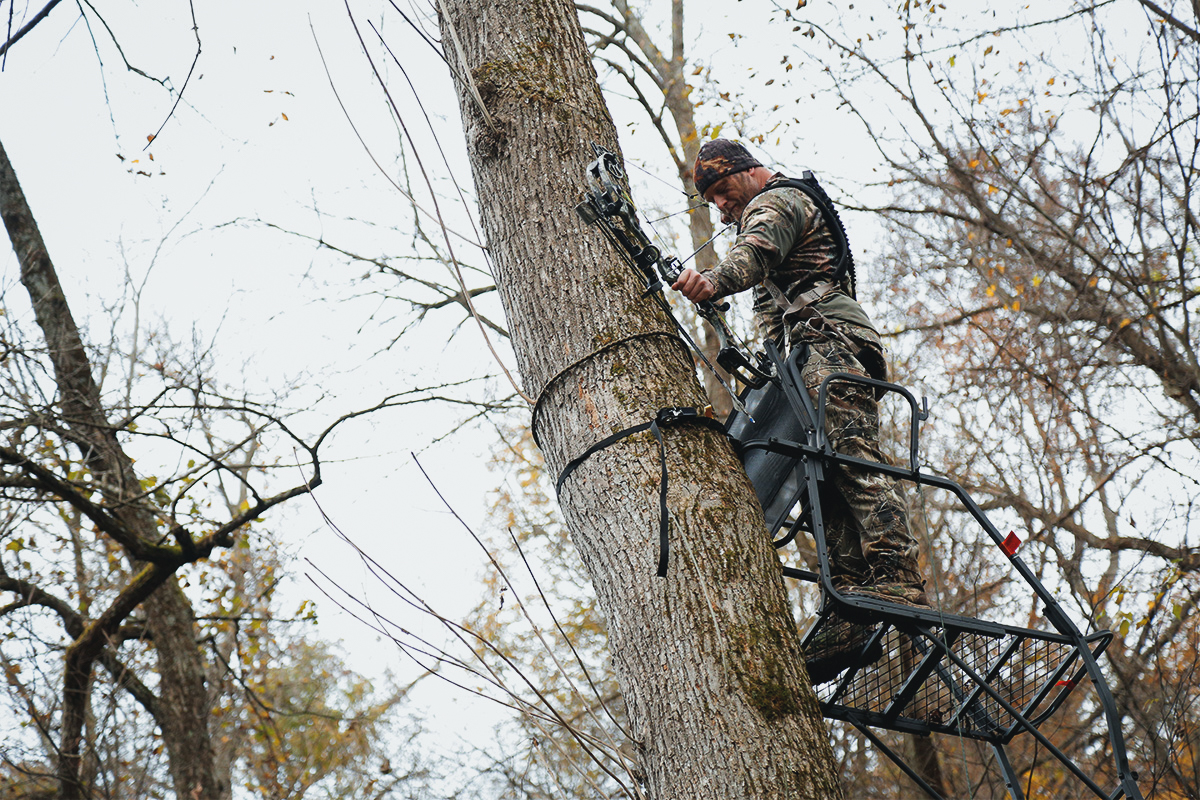 "We met the ambulance at a county road, but he didn't need treatment," he added. "It's a good thing his foot was wedged in between the framework of the climbing stand. He'd been hanging an hour and a half. We got him down around 5:30 p.m."
Aside from minor injuries to his pride, the hunter was no worse for wear. However, he openly grieved the loss of his hunting boot, which first responders had to cut off to free his foot from the treestand.
"I told him he could get another pair at Walmart," LeBlanc said.
There is an important takeaway here.
"Use a harness," the hunter said. "It was in my truck. I've done this all my life: fishing and hunting. I just got complacent."
But this unidentified, embarrassed hunter isn't the first to find himself in a tight spot already this season. Here's a breakdown of major hunting accidents so far in the U.S. and some tips on how to avoid the bad spots these hunters found themselves in.
GOOD GEAR – Support the Veteran Community With the BRCC Medal of Honor Roast
---
Hunting Accident Roundup and Deer Season Safety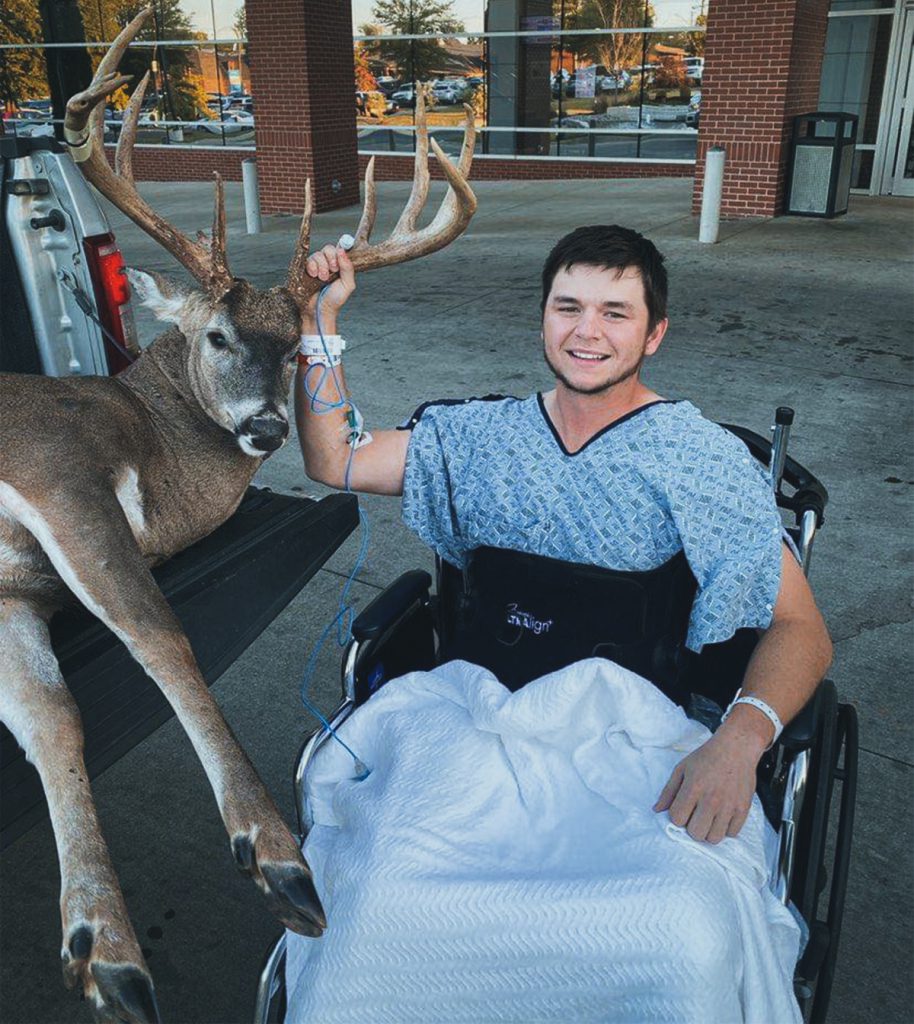 As deer seasons across the U.S. are shifting into gear, serious hunting mishaps involving treestands have peppered the news.
In Arkansas, hunter Chase Watson's ladder slipped out from under him as he scrambled from his stand for a follow-up shot on a Booner buck. He suffered a fractured leg and possibly a broken back, but thankfully it looks like it won't be his last hunting trip. Plus, his buddy Clay tracked the wall hanger and brought it by the hospital so Chase could get a gander at him from his wheelchair.
Unfortunately, not everyone who falls from a treestand is as lucky as Watson and the anonymous Lonestar bowhunter.
On Oct. 30, the body of 46-year-old Glen Coker of Stockbridge, Georgia, was discovered on his parent's property in Putnam County.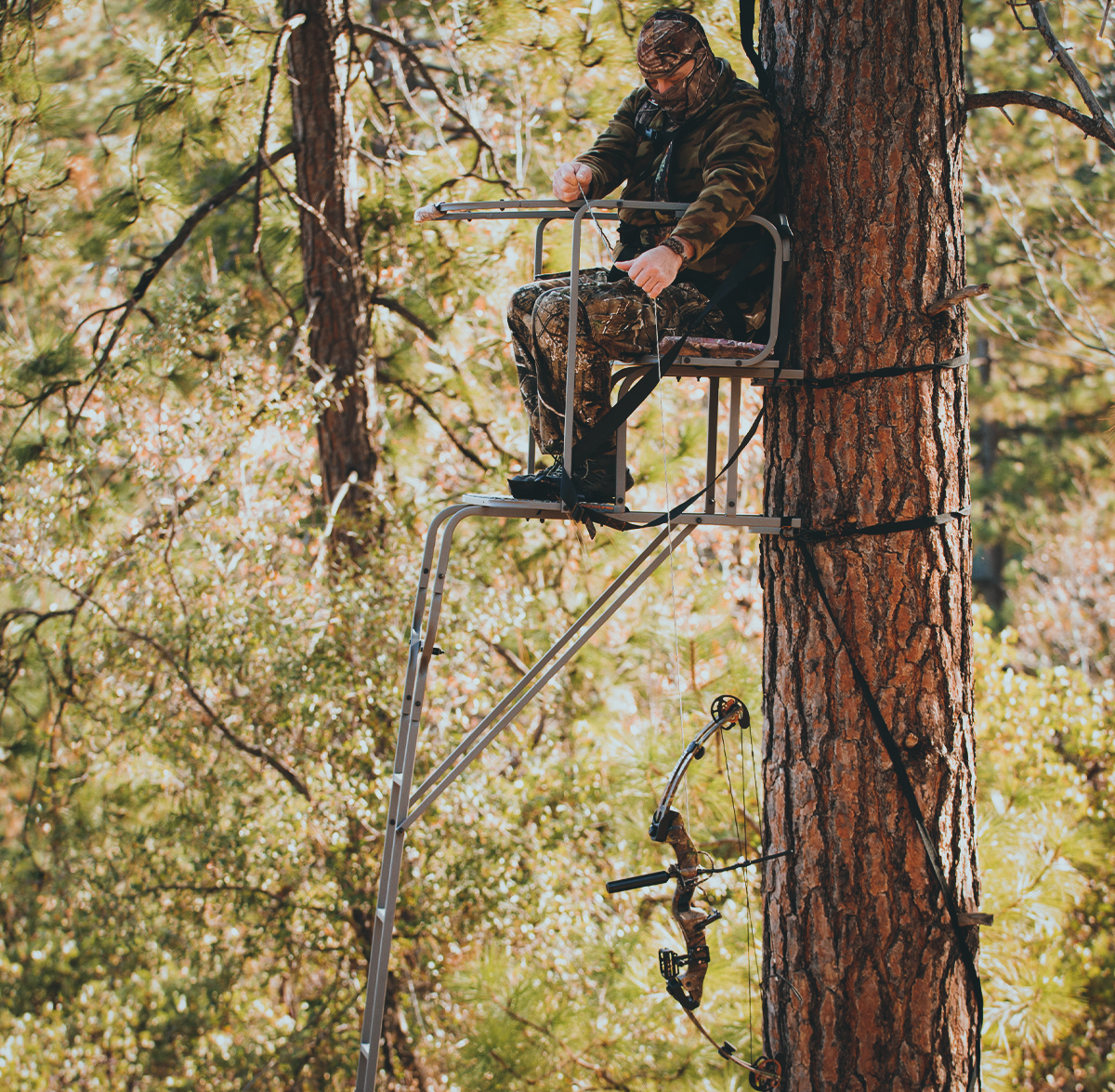 "He was in a climbing deer stand, and the wire on part of the climbing stand broke, and he fell out of the tree," Putnam County Deputy Coroner Pat Welch said. "I'm assuming he was climbing the tree at the time because part of the stand was still in the tree and the other part was on the ground."
The body of Ronald Lopez, 63, was found by a Vernon Parish Sheriff's Office bloodhound on Oct. 29. Lopez had been hunting from a treestand in Louisiana's Kisatchie National Forest. Lopez's family contacted authorities when he failed to return to camp before dark. Evidence at the scene suggested a chain on the stand malfunctioned, causing the hunter to fall to his death.
Iowa hunter Russell Ory, 66, was reported missing in Jo Daviess County on Oct. 30. He was discovered unresponsive at the base of his treestand. Emergency responders administered medical care, but Ory was eventually pronounced dead at the scene from injuries sustained during a fall.
RELATED – The Free Range American 2022 Holiday Gear Guide
---
Hunting Accident Avoidance
Treestands aren't the only deer season safety risk.
On Nov.1, a Nevada hunter accidentally shot his hunting buddy in the chest when his gun discharged as he was loading it in a gun case attached to his ATV.
Jeremy Her, 12, of St. Paul, Minnesota, was accidentally shot while squirrel hunting with his uncle.
While hunting accidents involving firearms often end in tragedy, accidental shootings have been steadily decreasing for decades, a trend directly attributed to hunter education. For example, in Pennsylvania, hunting-related shooting incidents have declined by nearly 80 percent since 1959, which saw the birth of hunter-safety courses in the state.
According to emergency medicine specialist Alan Lazzara, M.D., hunters are two to three times more likely to be injured in a treestand accident while hunting than they are from a firearm.
GOOD GEAR – Wear Your Favorite Patches With the BRCC Reticle Patch Hat
---
Always Use a Treestand Safety Harness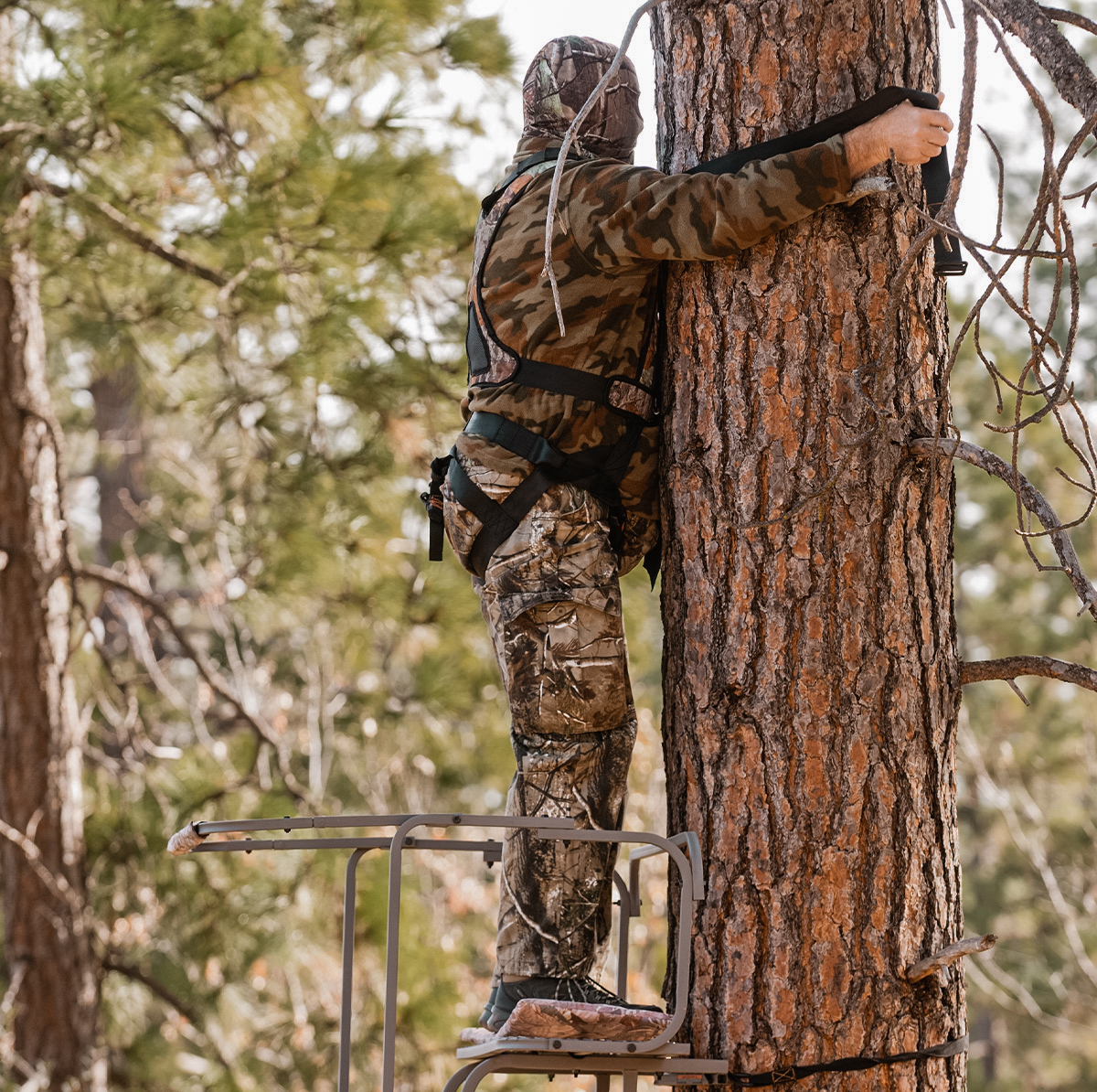 Treestands are practically synonymous with whitetail hunting in most parts of North America. Climbing trees is not without risks, so it isn't surprising that treestand accidents are the leading cause of hunting-related injuries. Recent studies indicate that a hunter's lifetime probability of falling from a treestand is at least 30%, with the risk of experiencing a "potentially debilitating treestand fall injury" sitting at roughly 3%.
As with the Texas bowhunter's upside-down treestand swan dive, proper safety equipment could prevent most accidents.
When hunting from a tree, you should always use a treestand safety harness (also called a "fall arrest system"). A sturdy, full-body safety vest or harness worn and tethered correctly will keep your ass from bouncing off hard earth if you fall.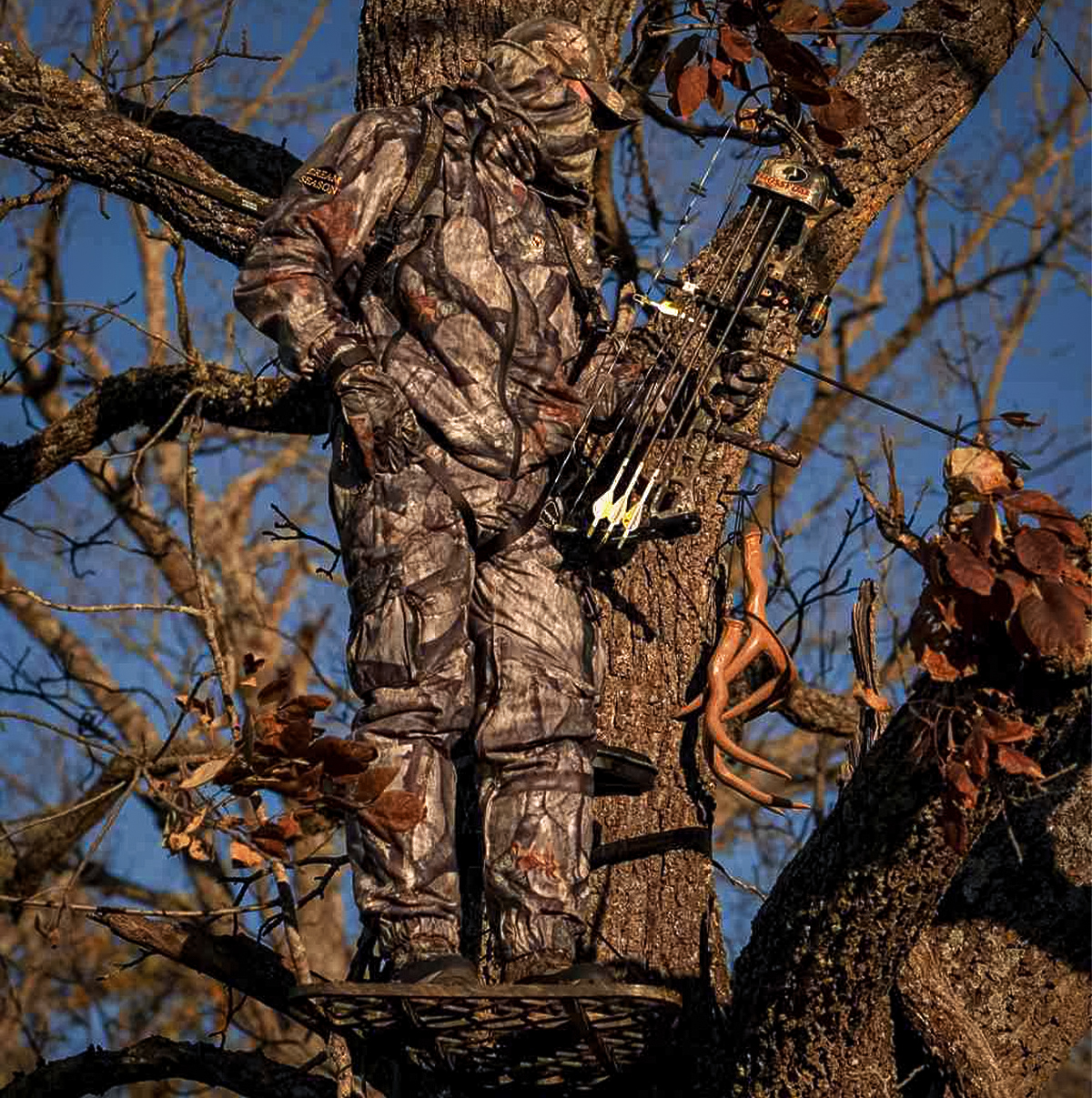 Full-body harness straps around the chest and thighs to distribute pressure during suspension and prevent circulation issues if you end up dangling from a tree. The harness attaches to a tether at the back of the harness just below the neck.
The tether usually attaches with a carabiner to a safety strap secured around a tree or lifeline.
A lifeline is simply a rope connecting above your treestand with another length of cordage tied in a Prusik loop, a type of friction knot that slides along a static line. Hence, the hunter stays attached to the tree from the moment his boots leave the ground until they touch down again after the hunt — the knot jams when suddenly pulled, like when a hunter belly flops from his hang-on stand.
When appropriately used, the tether/harness system prevents a treestand hunter from falling more than 18 inches, which is a far cry easier to survive than a 30-foot plummet.
RELATED – Inside Black Rifle Coffee's Veteran Adaptive Athlete Archery Shoot
---
Treestand Safety Before You Hunt
Treestand safety begins long before the opening day of the hunting season. The U.S. Fish and Wildlife Service recommends reviewing all the manufacturer's instructions and warnings before strapping on a safety harness or stepping a single toe on the treestand.
The Service also suggests practicing at ground level with your treestand and harness to ensure you understand how everything works before you climb 20 feet up a tree.
If you are using last year's treestand, check the stand, straps, and chains before the season to ensure everything is secure. Look for cracks or other signs of wear, and make sure all nuts and bolts are firmly in place. You should also inspect your stand before every sit.
---
Selecting the Right Tree for Your Treestand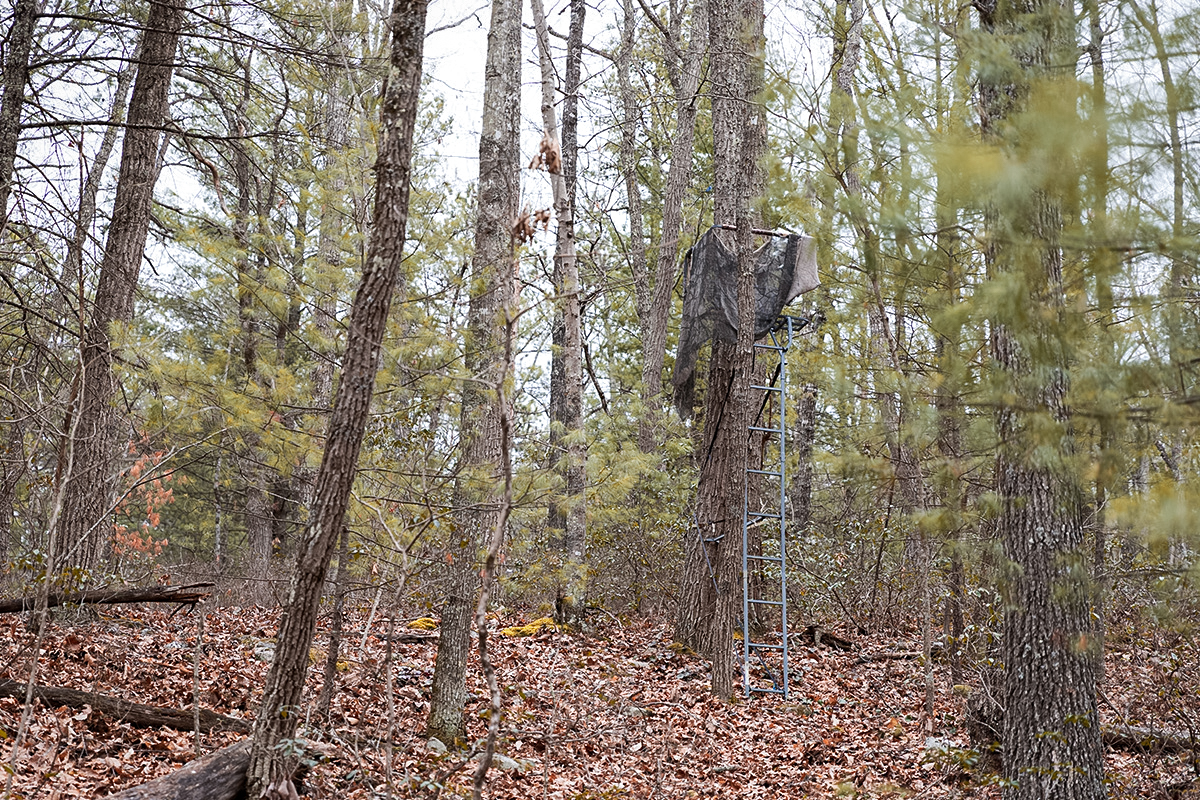 Choosing a spot for a treestand requires more than understanding whitetail travel patterns. You also need to find a healthy, straight tree that is the right size for your stand. When using a climbing stand, look for a tree with rough bark. Climbing stands can slip on smooth-bark trees, like aspen, beech, and birch, especially when they are covered in frost.
Before setting up your treestand, remove brush and debris from the base of the tree to minimize injury risk if you do fall.
GOOD GEAR – Honor Our Friends in the Mainstream Media With the BRCC Trust Us T-Shirt
---
The Three Rs of Treestand Safety
If you fall from your stand, it's essential to remain calm and remember the three Rs of treestand safety: recover, relief, rescue.
The first step is to attempt to recover by getting back into your stand. Even though a safety harness will keep you from slamming into the ground Wile E. Coyote–style, dangling by a rope is seriously uncomfortable and can lead to circulation issues if you're stuck that way for long. If you can't recover your position, your next priority is finding some relief from your harness pressure.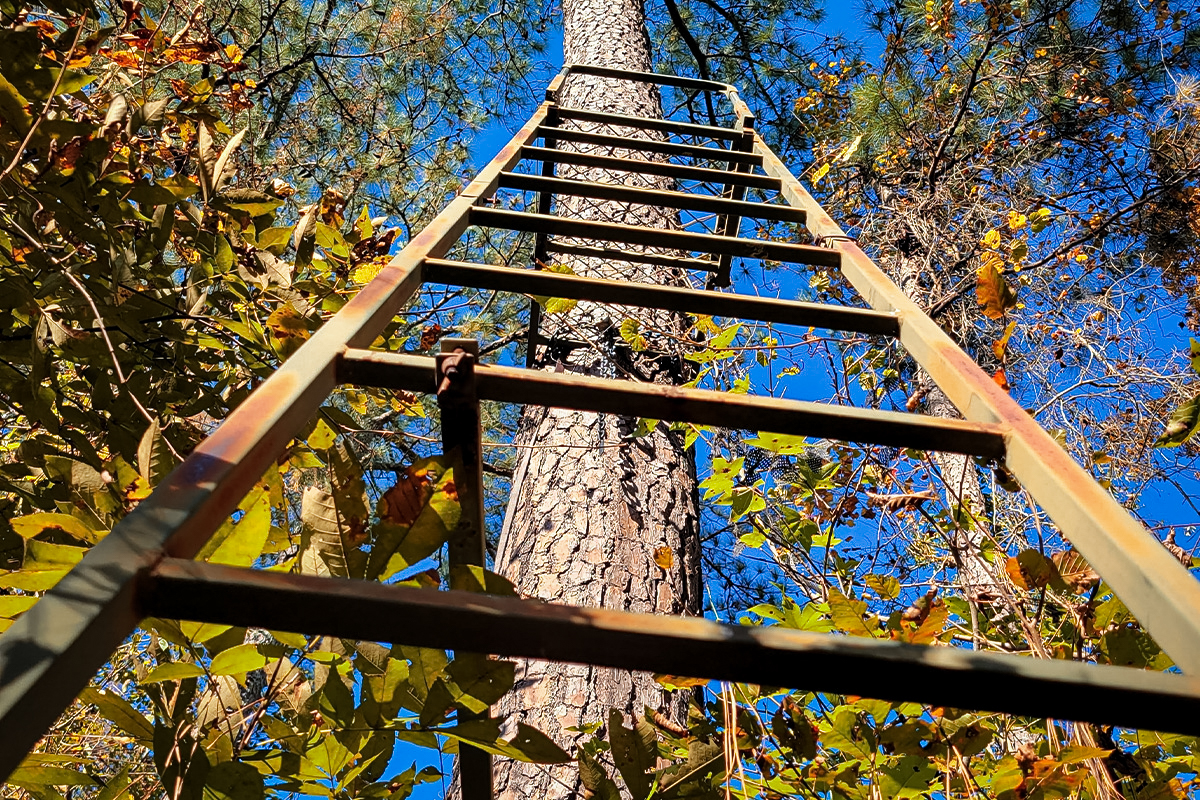 Always carry a couple of screw-in steps in your pocket. If you can't pull yourself back onto the stand platform, the extra steps could help you regain your position.
Most modern safety harnesses feature a suspension relief strap. The strap allows a dangling hunter to slip a boot into a stirrup and push up to ease the pressure on your legs and groin caused by the safety straps in case you can't climb back into the treestand. If your harness doesn't have a suspension relief device, you can push your feet against the tree to relieve pressure and keep the blood flowing until help arrives.
You'll need to signal for rescue if you can't get out of your precarious situation. Always carry an emergency whistle, signal, flare, or your cellphone on your person, just in case.
GOOD GEAR – Make a Name for Yourself With the BRCC Caffeinate Mars Mug
---
Other Important Treestand Safety Tips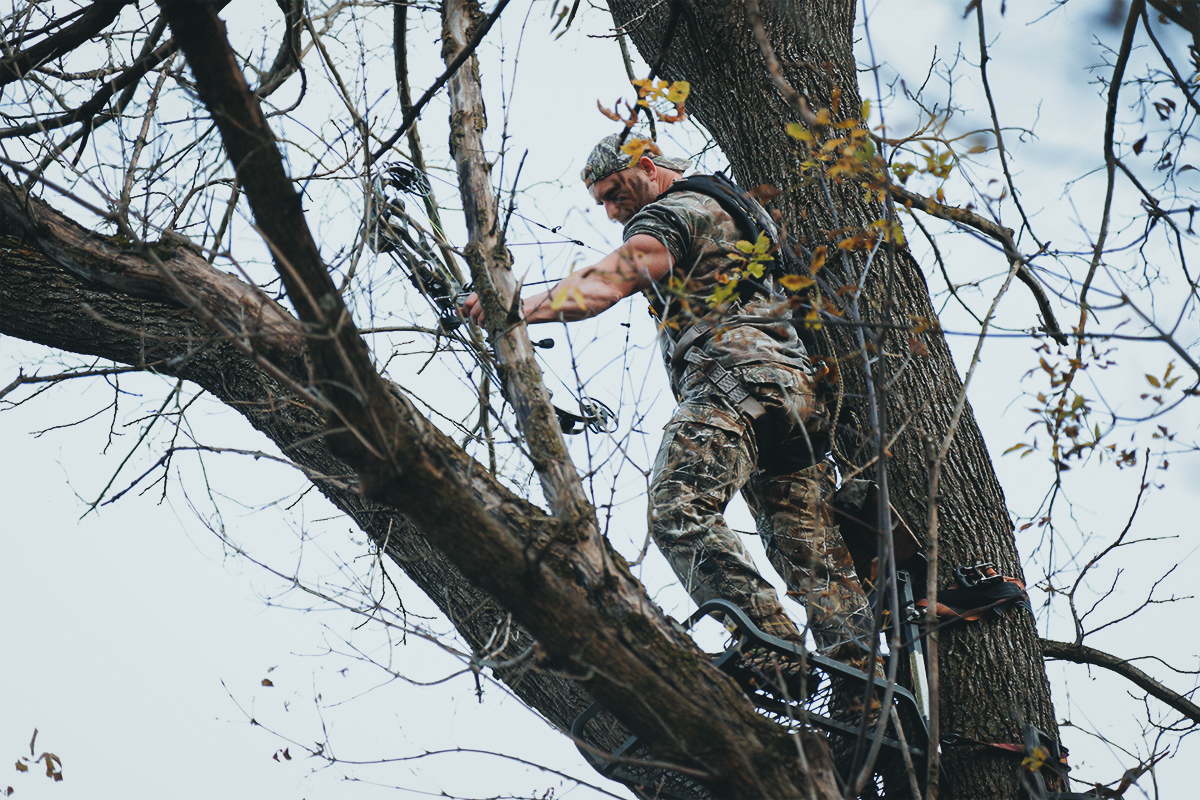 Use a haul line. Never carry anything in your hands when climbing or descending. Use a rope to raise and lower your bow, firearm, or other gear. Ensure your gun is unloaded and your broadheads are covered before attaching your haul line.
Share your hunt plan. Always let a reliable buddy know where you plan to hunt and when you'll return. Maps are handy if your friend is unfamiliar with your hunting area.
Keep three points of contact. When climbing a ladder stand, always keep at least three appendages on the ladder to support your body weight properly. Use either two hands and a foot or two feet and a hand.
Use boots with non-slip soles.
---
READ NEXT – Archery Talk: The Good, the Bad, and the Ugly