Below, you will find our staff picks from some of the hot new BRCC gear that just dropped for the holiday season. Below those you'll find outdoor gear selections from our motley crew of staff members and contributors — all hunters, anglers, backcountry athletes, survivalists, and coffee lovers — that also make great gift ideas! HAPPY HOLIDAYS! — FRA Editors
---
GEAR GUIDE – ROUND 3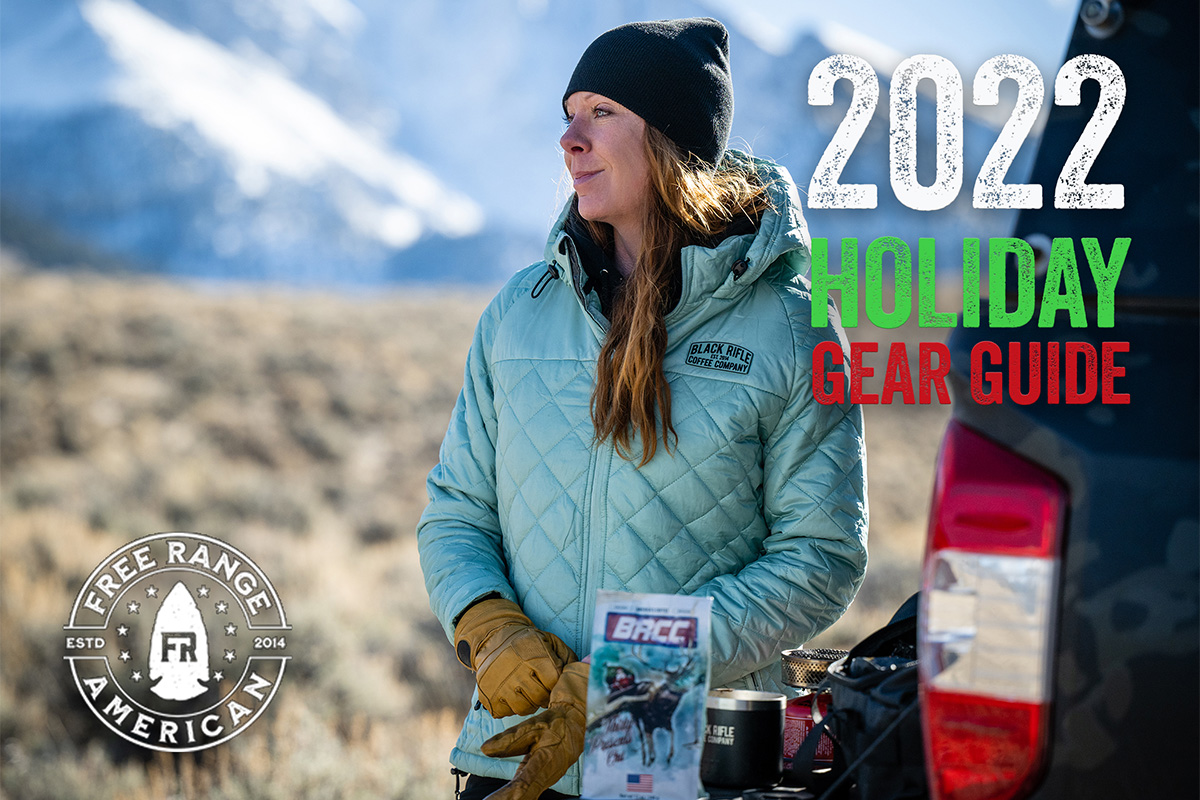 ---
BRCC Camo Logo T-Shirt
Price: $27.99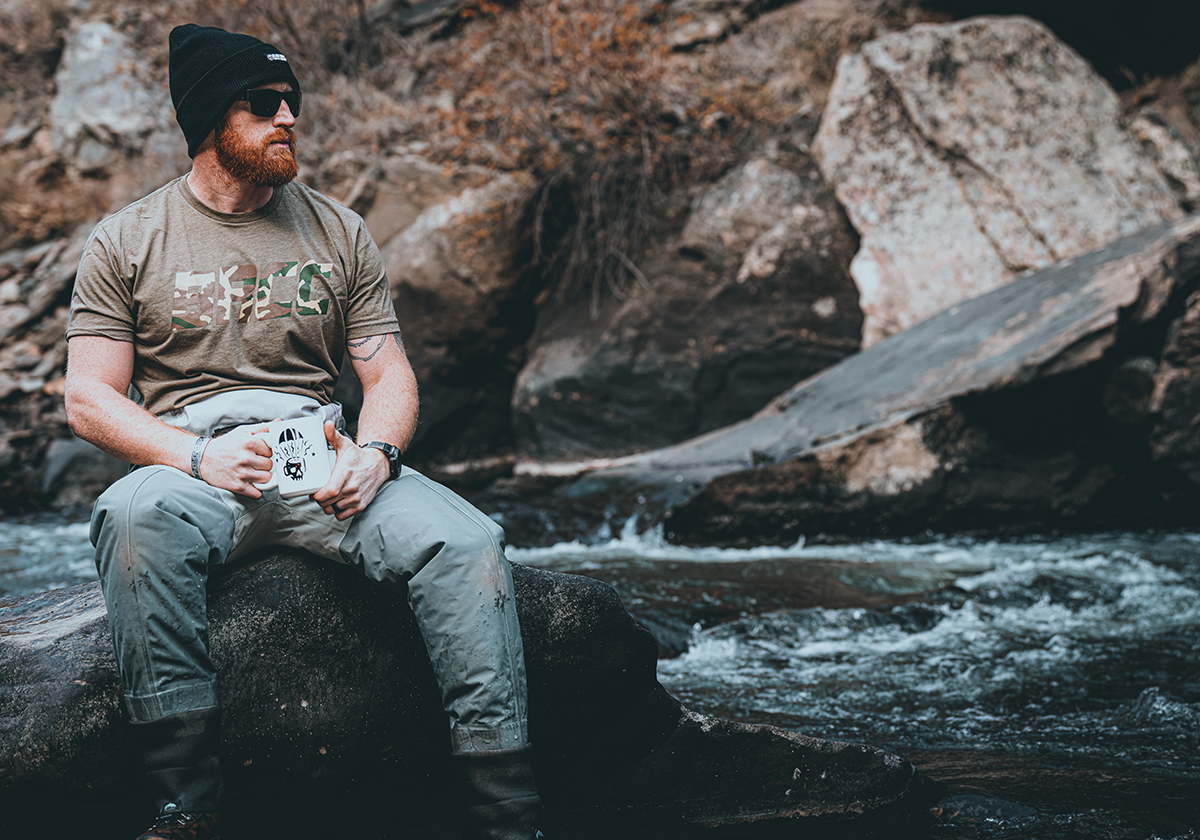 It's all about blending in while also standing out. That sounds profound, right? Right? Whatever, this badass, simple, to-the-point T-shirt with the classic BRCC logo in camo on a black or military-green shirt will fit in at hunting camp, or anywhere else you want to rock it.
It's cut with a standard fit and made of a 60%/40% cotton-poly blend, so it's light and breathable and will last many a trip through the mud, dunks in a creek, the washer and dryer, and more mud.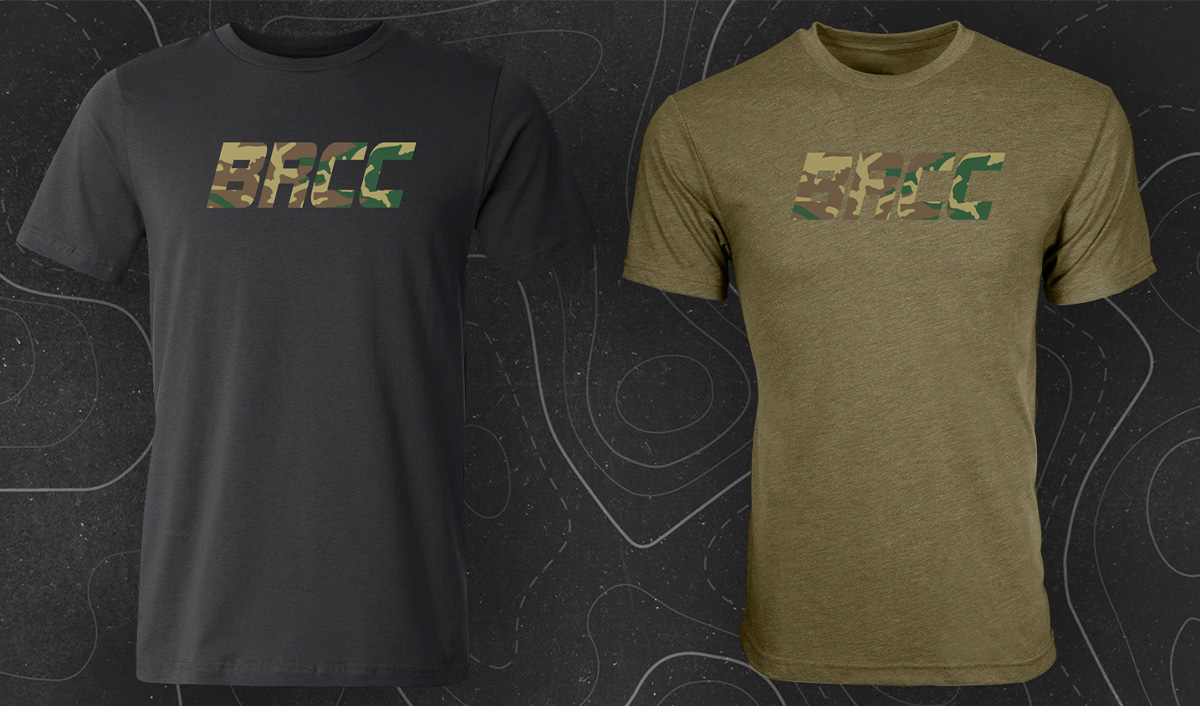 This badass design is also available as a pullover hoodie with the same camo BRCC logo on a black midweight shirt!
The hard part will be figuring out who on your list gets one of these under their tree. But never fear, BRCC has lots of awesome new shirts available.
GOOD GEAR – Wrap Yourself in the Warm Embrace of Freedom With the BRCC Freedom Flag 2.0 Blanket
---
BRCC CAF Skull T-Shirt and Hoodie
Price: Men's T-shirt and Long Sleeve – $34.99, Women's T-shirt – $26.99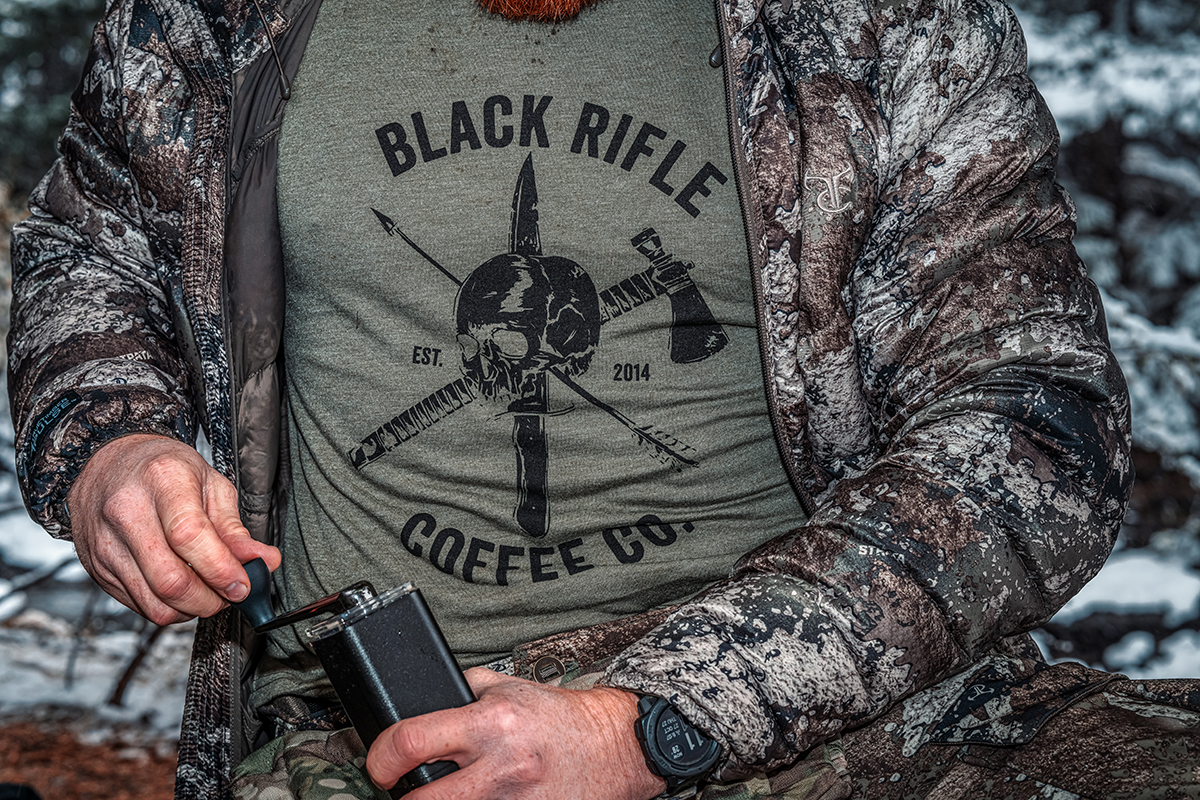 This undeniably badass shirt was inspired by Black Rifle Coffee's highly caffeinated blend — Caffeinated. As. Fuck. or, CAF. Now, somebody looking at the logo who doesn't love America's Coffee as much as you isn't going to know that, but that doesn't matter.
There's a skull, a bowie knife, a tomahawk, an arrow, and the name of the best damn coffee company in the world — what's not to love?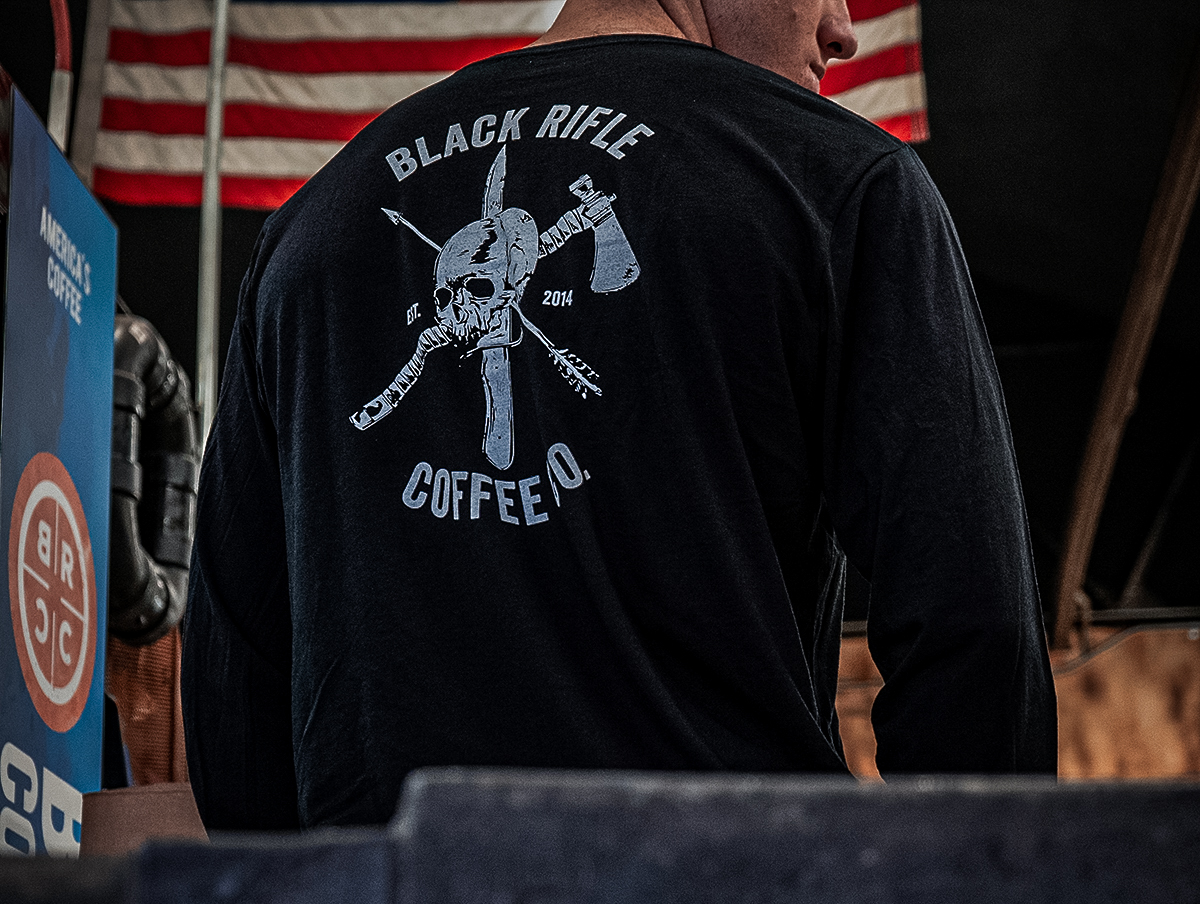 It speaks to those of us who like to spend as much of the fall and spring as possible sleeping under the stars and leaning on tools like the arrow and the knife to bring home meat and great stories, and on a hatchet to build our temporary backcountry home. And skulls are just fuckin' cool.
This new design is available as a T-shirt in black on military green or white on black. It has also been released as a long-sleeve shirt with a white logo on black and as a women's T-shirt.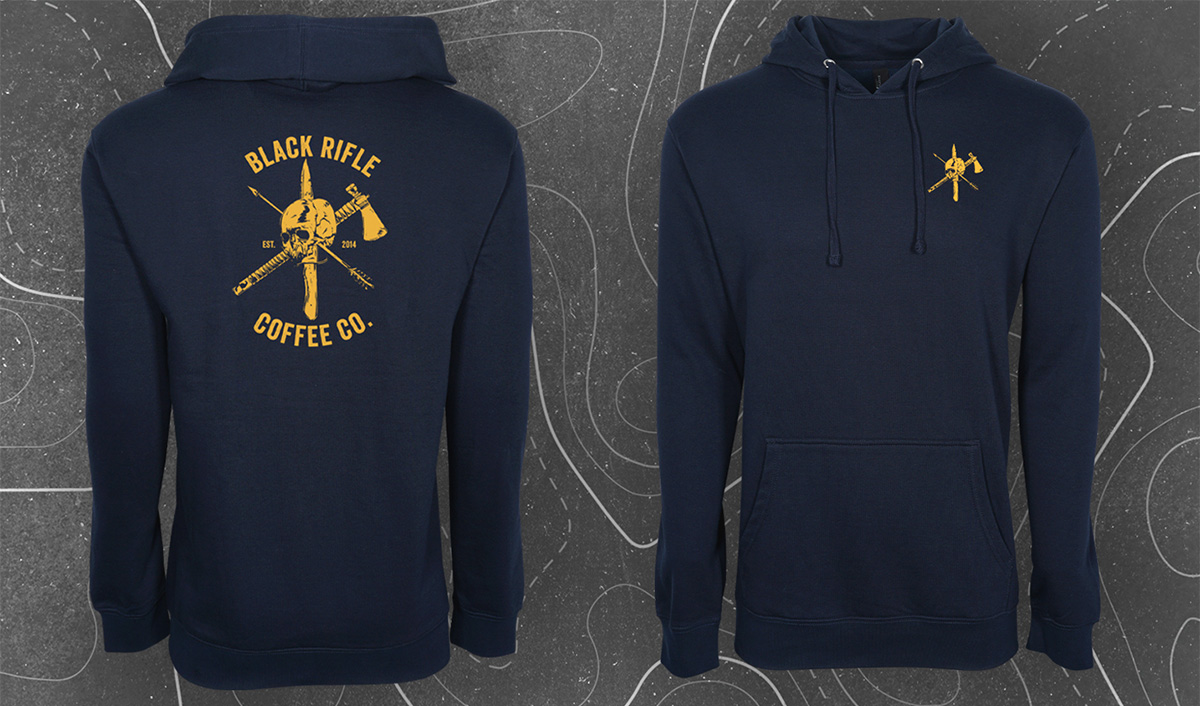 But that's not all. You can also get the CAF Skull design as a pullover hoodie with a yellow logo on a navy shirt — which is an awesome color combo that will have you covered for the gym, nights by the fire, or anywhere else a badass hoodie is the absolute perfect piece of clothing.
---
BRCC Company Logo Cuffed Beanie
Price: $25.00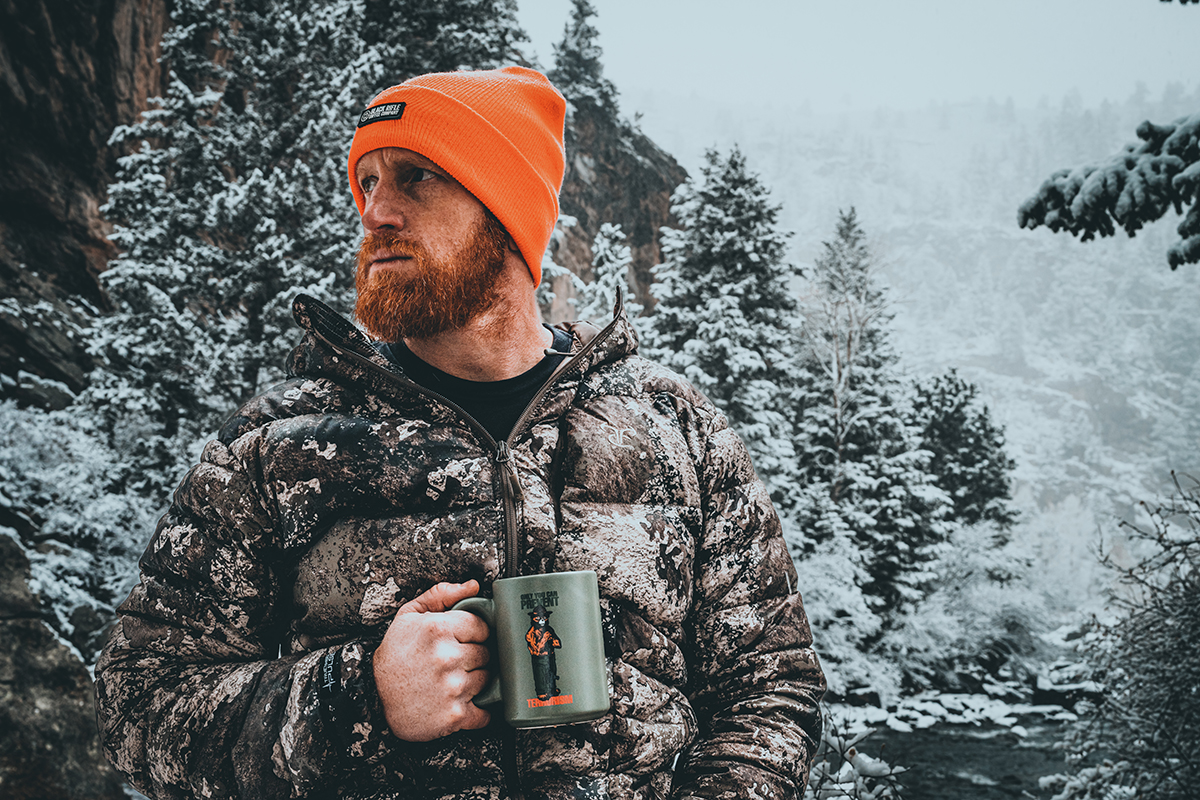 Fashion doesn't always meet function, but when it does, it looks an awful lot like a cuffed beanie, especially when there's a minimalist BRCC logo on it, front and center. These are new iterations of the classic winter headgear that some call a beanie and others call a watch cap, which is still the best way to keep your skull and your ears warm when the weather turns cold.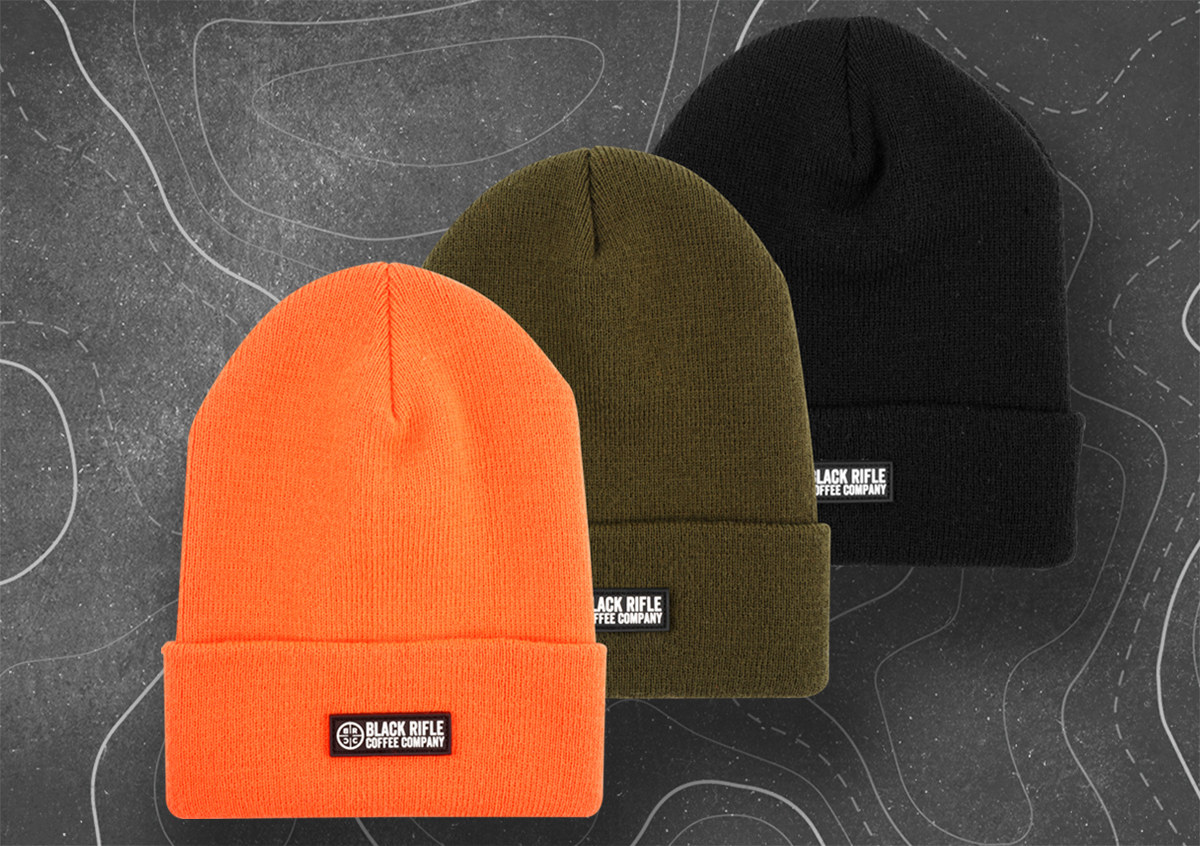 There's a black version of this stretch cap for when you're feeling tactical, an olive green version that will feel right at home in a duck blind, and a blaze orange cap for when you don't want to get shot hiking into your blind during rifle season.
If you can't decide on a color, just get all three!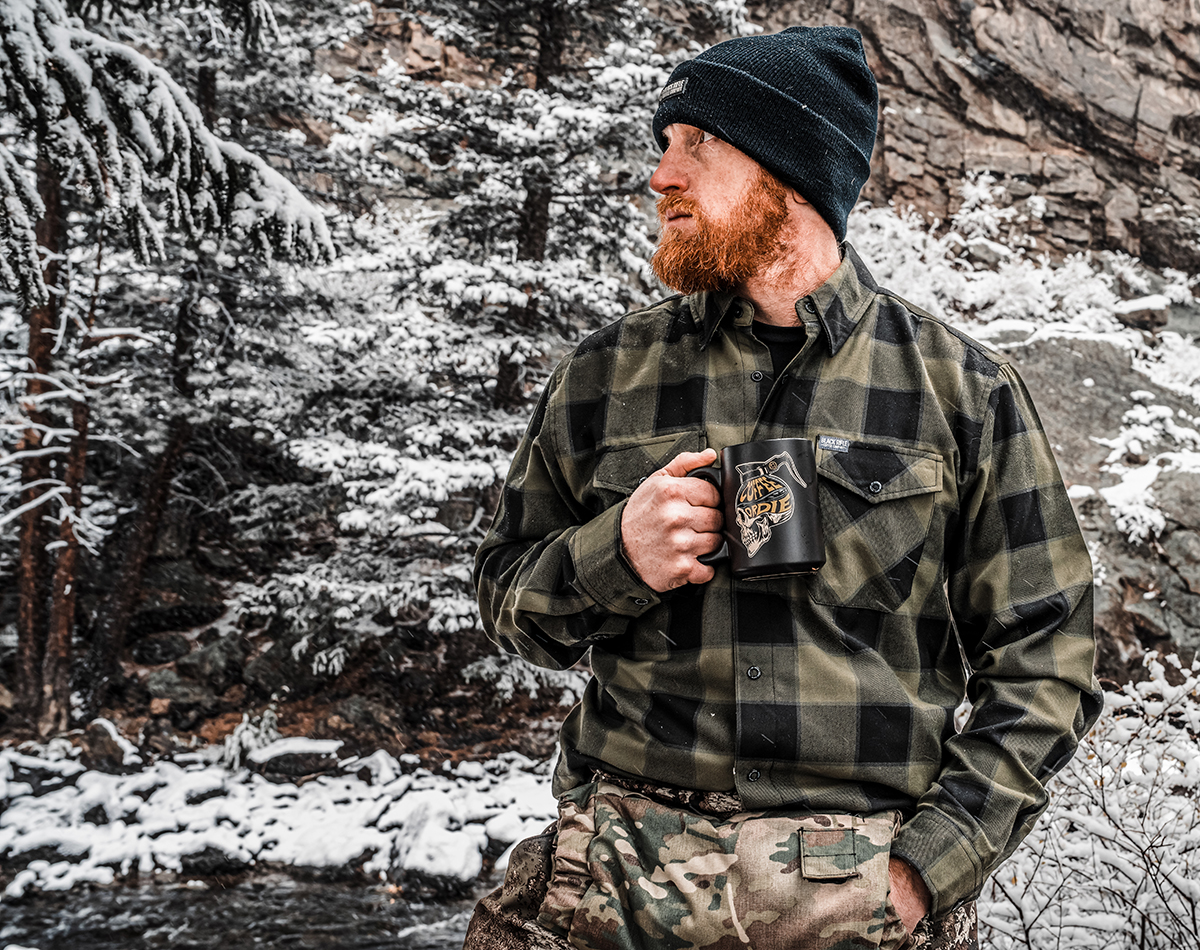 Nobody on your list will be disappointed with these. And keep one for yourself — why shouldn't you be perfectly accessorized and keep your skull toasty at the range, your favorite waterfowl honey hole, or a box stand on the back 40? Plus, all versions look great with the new Dixon BRCC flannels (seen above).
GOOD GEAR – Bring Your Coffee Where You Need It Most With the BRCC Coffee Saves Tumbler
---
BRCC Lightweight Puff Jackets – Men's and Women's
Price: $69.99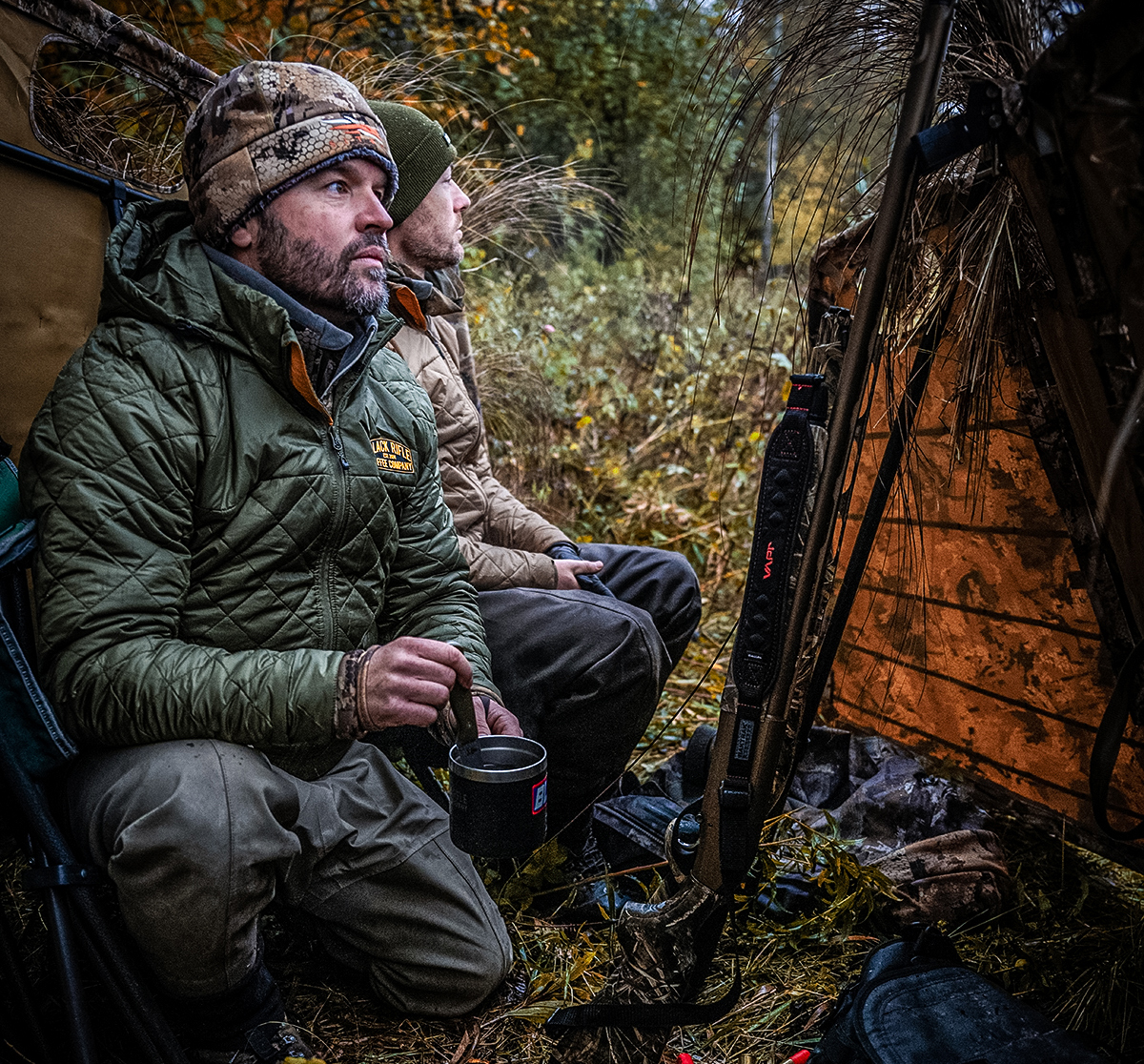 Whether conquering frigid urban landscapes, climbing snowy mountaintops, or navigating a grid of streets named after trees, this lightweight puff jacket will keep you toasty warm while earning you major style points.
Choose from rugged coyote beige, faded olive (better known as good ole Army green), and classic black for the manly men on your gift list. All of them feature a PVC BRCC logo patch that pops the hotness level up a notch. This insulated, hooded jacket is dripping with alpha energy.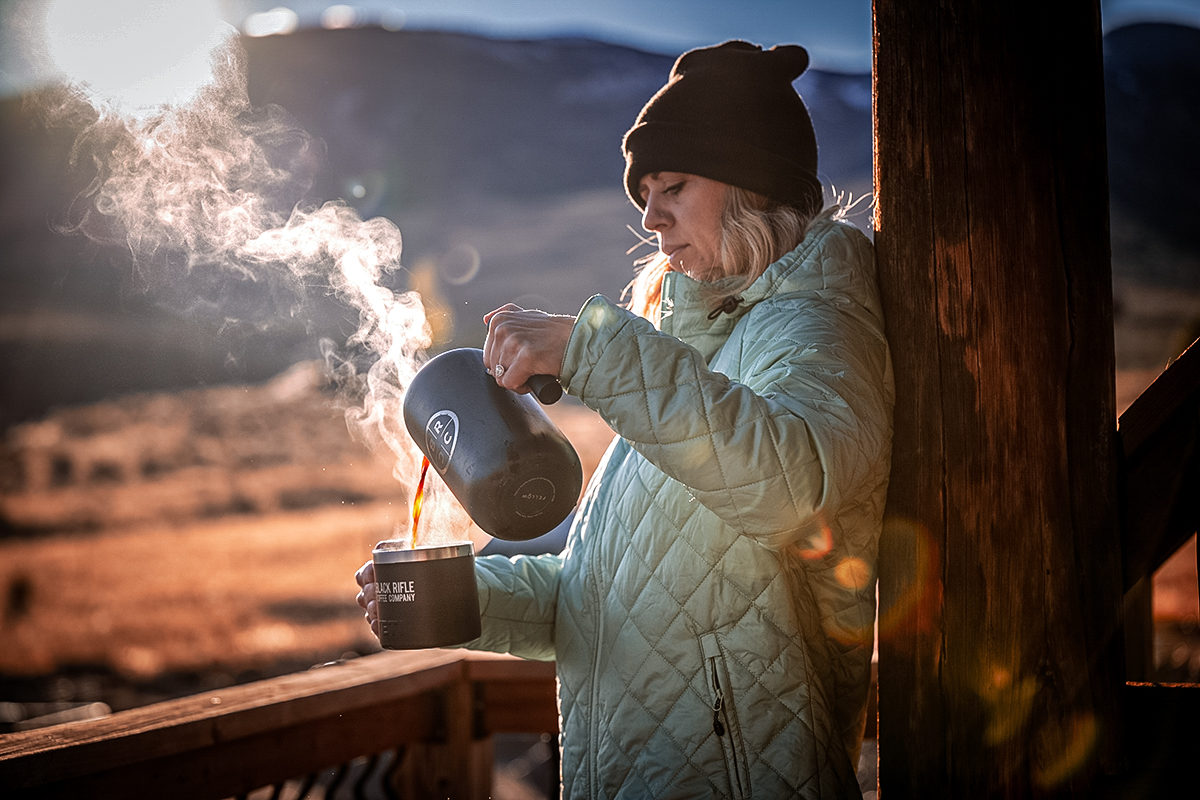 And for the women in your life, the iconic puffer comes in a stylish, slim-fit design in your choice of basic black or sage green. They all pack up small and perform big when you need them and make a great mid-layer for those cold sits. And at this price, you better snap them up while they're around! — FRA Editors
---
BRCC Ripstop Fleece Jacket – Men's and Women's
Price: $79.99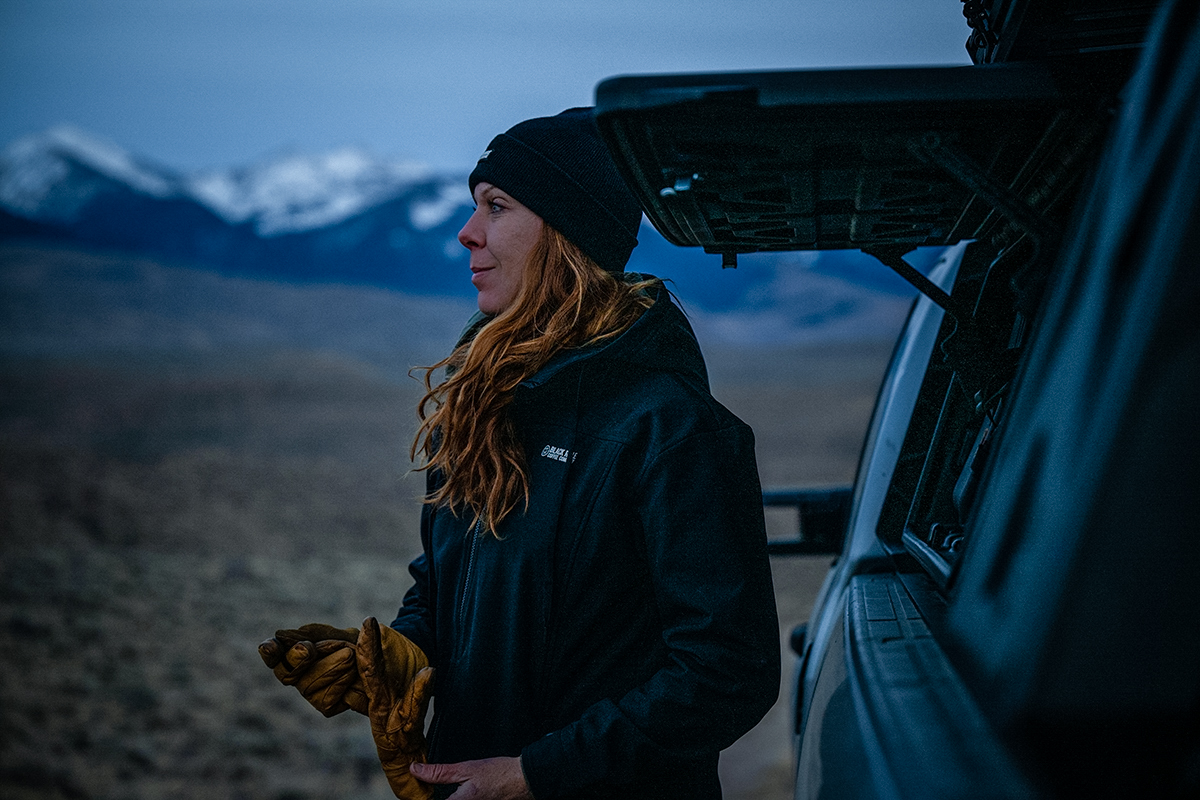 These durable Ripstop fleece jackets provide the perfect insulation on those days when the mercury starts to slip and you need some armor against Mother Nature's fury. These jackets help regulate core temperature and pair perfectly with a larger outer coat when you need an extra layer of warmth.
Of course, you can also rock this fleece as a standalone jacket because it looks cool as hell. All versions have a high collar and a hood to help break that hellish winter wind.
Available in classic black or coffee brown, this fleece will coordinate with all your duds and add some rugged good looks to any outfit, especially when you top it off with a Company Logo Cuffed Beanie. — FRA Editors
RELATED – How Cowboy Guns Were Really Carried in the Old West
---
BRCC Fellow Clara French Press
Price: $99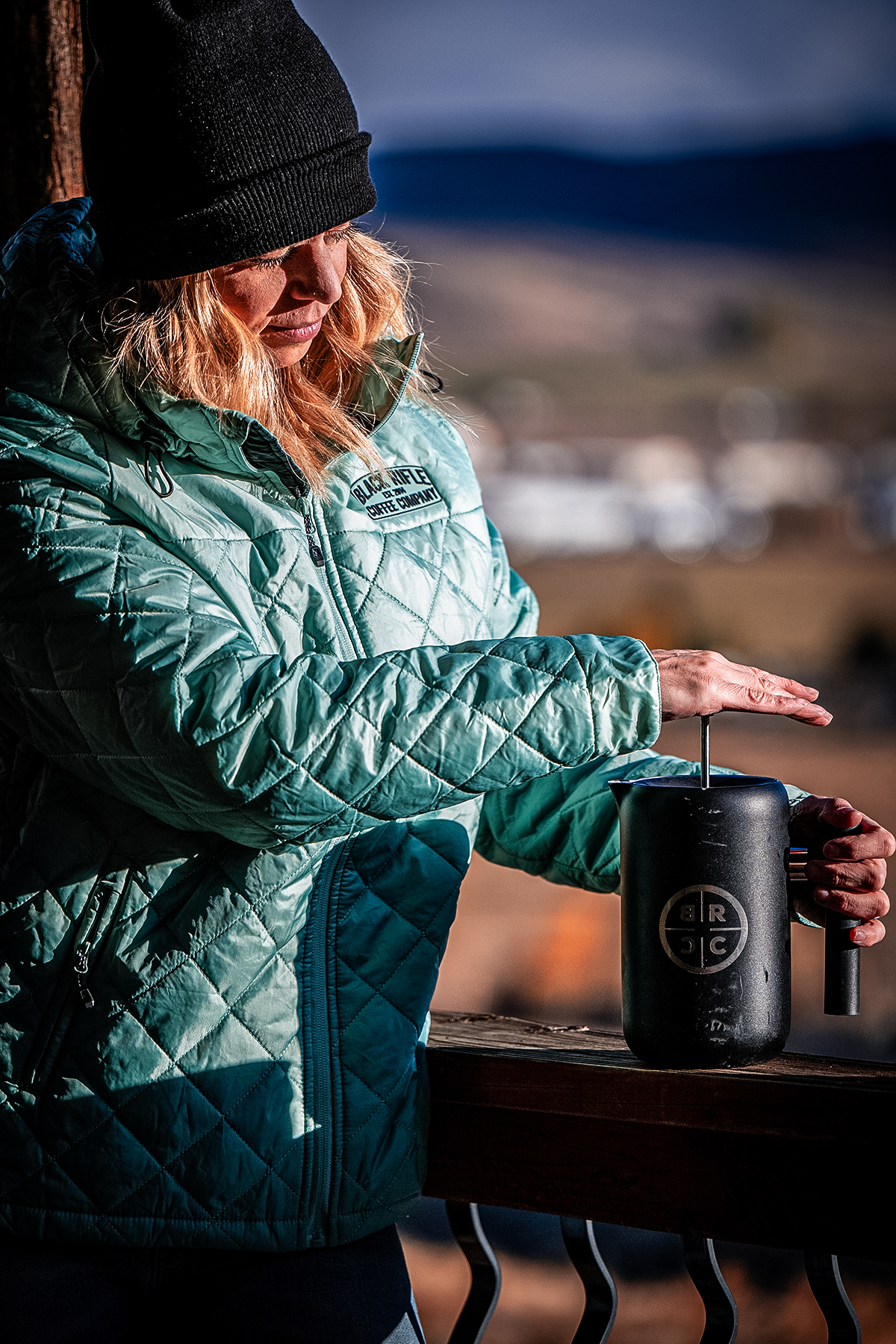 Ideal for the coffee snobs on your gift list, or people you want to turn into coffee snobs, this BRCC Fellow Clara French Press produces the perfect pour every time. Designed to preserve the complex flavor of the best-roasted coffee, this French press's enhanced mesh filtration and top-notch insulation let every tasting note sing.
Whether you're sipping bean juice in your kitchen, on a tailgate, or in your tent, the aesthetic matte black design and classic reticle logo will add a touch of badass style to your morning setup.
It holds 24 ounces of morning brain fuel and features a BPA-free plastic lid, a non-stick interior, and best-in-class temperature maintenance thanks to its unique vacuum-insulated walls that maintain the ideal brewing temperature and keep your brew fresh well past noon.
It's also easy to use. You just fill to the ratio lines, stir, and plunge. It's also shatterproof and easy to clean, which makes it perfect for any camp kitchen and a great gift for that friend who is always the de facto camp cook.
---
Women's Mountain Crop Hoodie
Price: $45.00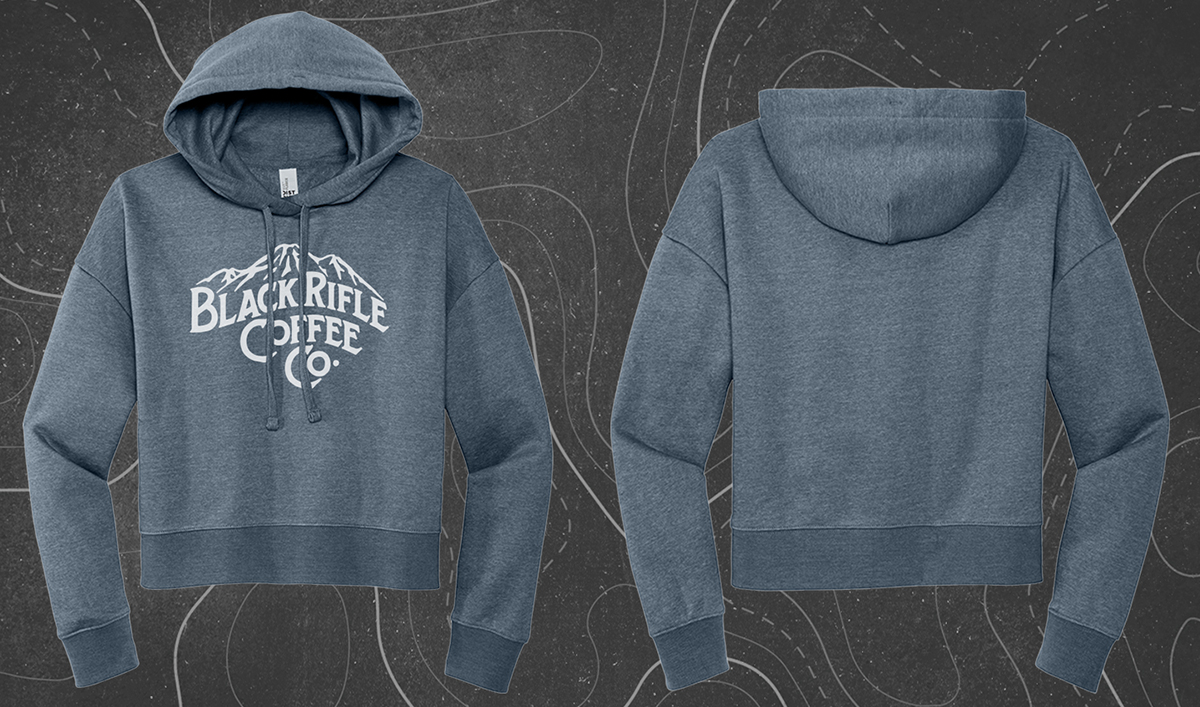 The all-new Women's Mountain Crop Hoodie (above), is a comfy midweight pullover that's snug and durable as hell with a vintage BRCC mountain logo on the front that fans of the company's apparel will find familiar — they just had to bring it back for this awesome hoodie. It's just one of many products that will be part of BRCC's expanding line of women's apparel. — FRA Editors
GOOD GEAR – Embody the Ethos of the Quiet Professional With the BRCC Silencer Smooth Roast
---
BRCC Camo ParaMug Sweatpants
Price: $45.99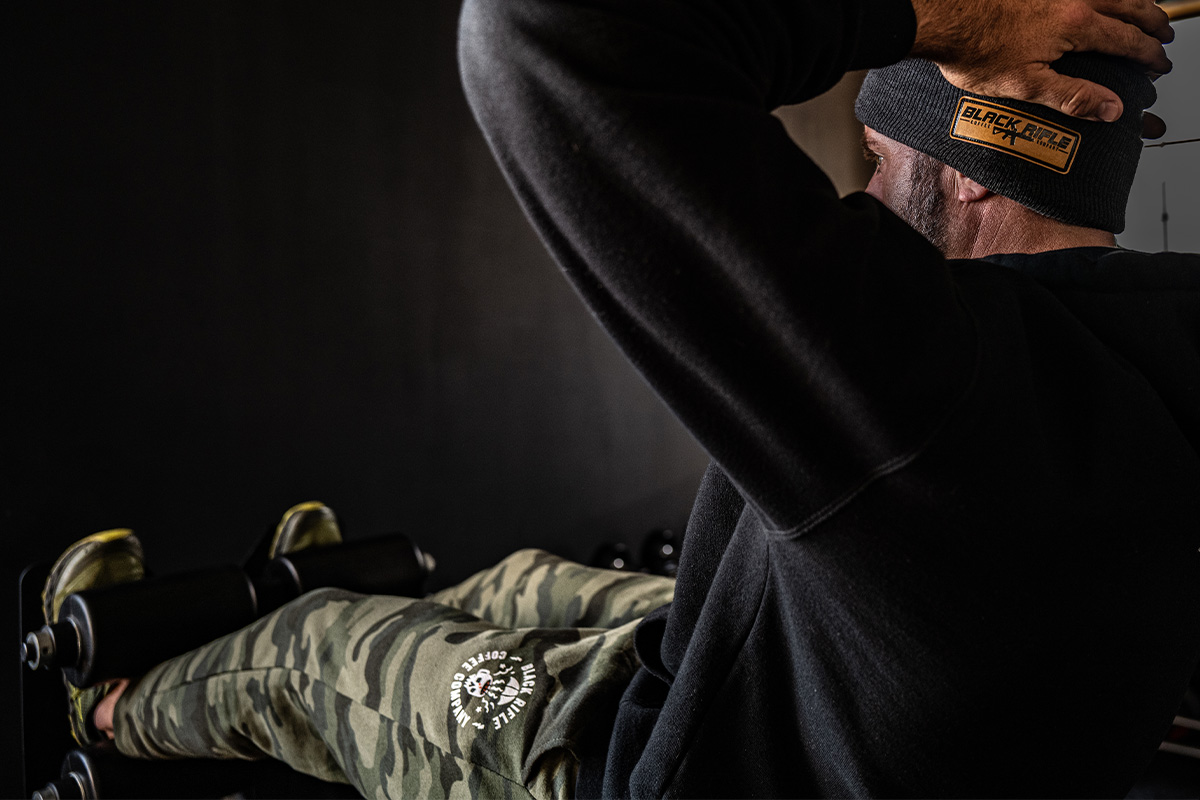 Everybody appreciates a new pair of joggers that also double as awesome cozy pants for downtime, and BRCC has just want you're looking to stuff in a gift bag for them. The BRCC clothing scientists have come up with the absolute perfect camo joggers that feature the BRCC ParaMug Logo on the left leg, which was devised for Americans who dive into an Olympic-swimming-pool-sized cup of coffee to wake up every morning.
And if camo isn't your thing when you're not in the woods, these premium relaxed-fit joggers also come in black. Both have a back-right ass pocket and jersey-lined hand pockets, so you have spots to stash your ID and keys and, let's be honest, a pocket knife.
RELATED – Range Bags: The 7 Best for Any Kind of Shooting
---
BRCC New Era Reticle Hat Camo
Price: $35.99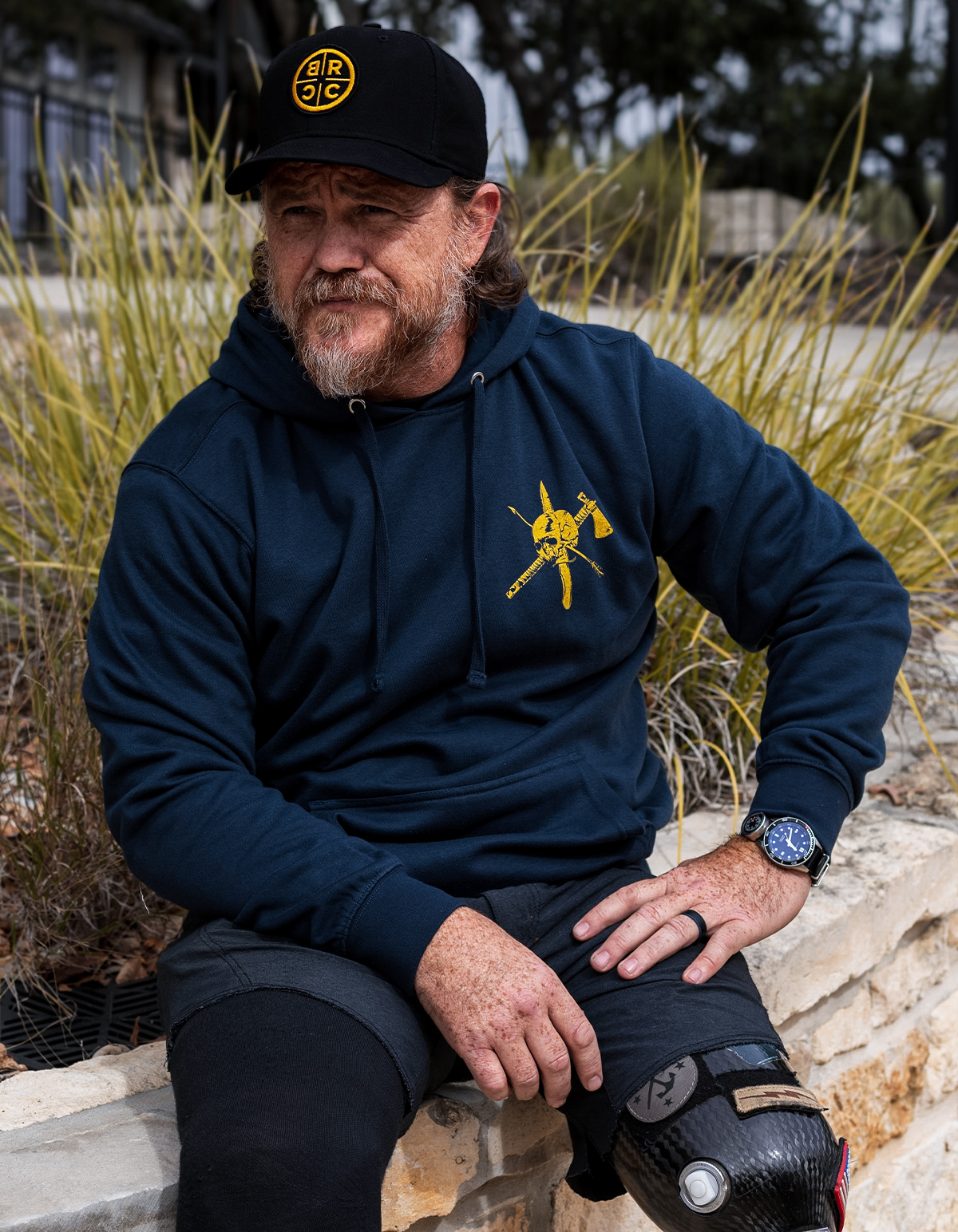 It's a new era for Black Rifle Coffee, and that means it's time for the classic Reticle Logo cap to get an update! These two new New Era 9Fifty caps are sleek as fuck and feature the classic BRCC Reticle Logo in a bold, dark gold color on a black hat, or a black and gray logo on a woodland camo hat. These hot new structured caps are all cotton with flat bills and adjustable snapback closures. The look is clean and simple, and one variant or the other is guaranteed to fit with the everyday look of someone who needs to unwrap a gift from you this year who wants to sport the logo of America's Coffee.
GOOD GEAR – Keep Your Coffee Hot or Cold With the BRCC YETI Reticle Rambler Mug
---
A.T.A. Bear Mug and BRCC Espro French Press
Price: $19.99, $129.99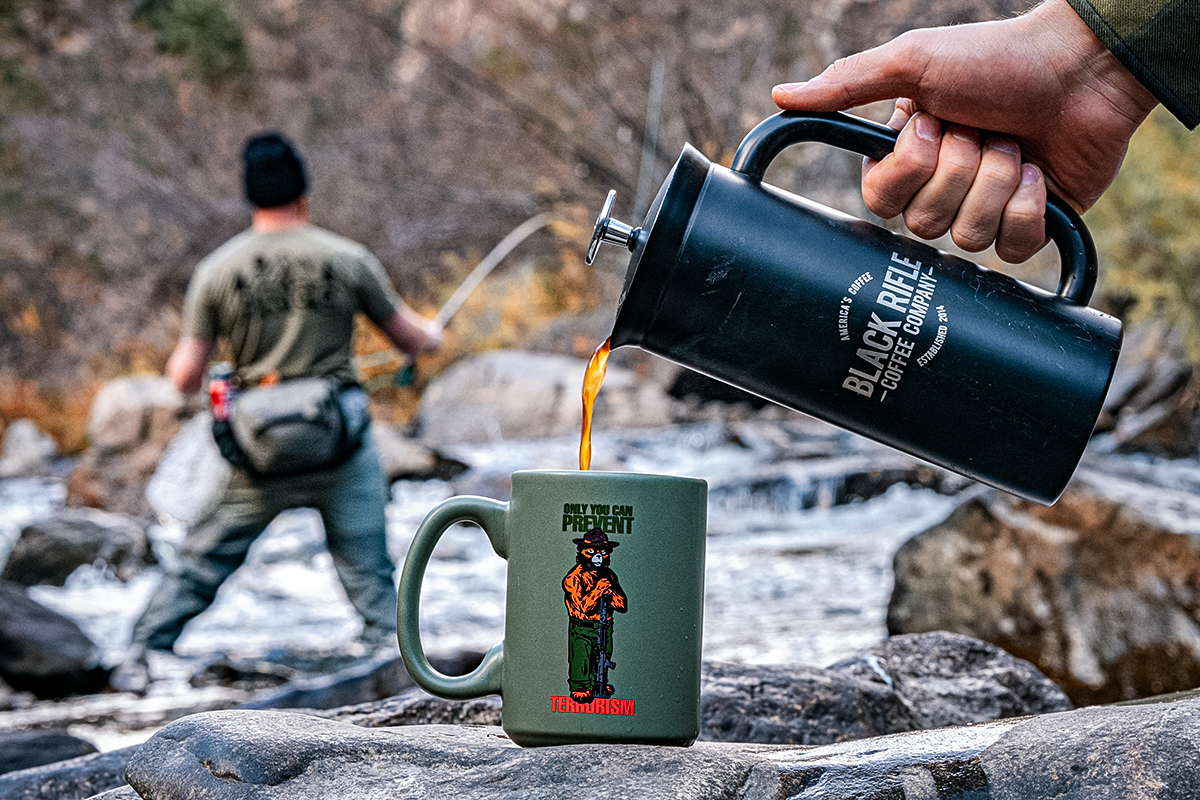 Only you can prevent terrorism and this A.T.A. Bear Coffee Mug helps you do that one delicious sip at a time, all while paying tribute to a program that has helped battle terrorism all over the world and right here at home.
The Anti-Terrorism Assistance (A.T.A.) program was designed to provide antiterrorism training and equipment to aid U.S. allies in dealing with security challenges — within nations and across borders — to maintain regional stability.
Pair this super-spiffy mug with the BRCC Espro French Press, and you've got a match made in heaven. The rugged Espro P7 holds 32 ounces of go juice and features a double-walled stainless-steel construction that will keep it hot for hours and also makes it field-friendly, unlike glass French presses.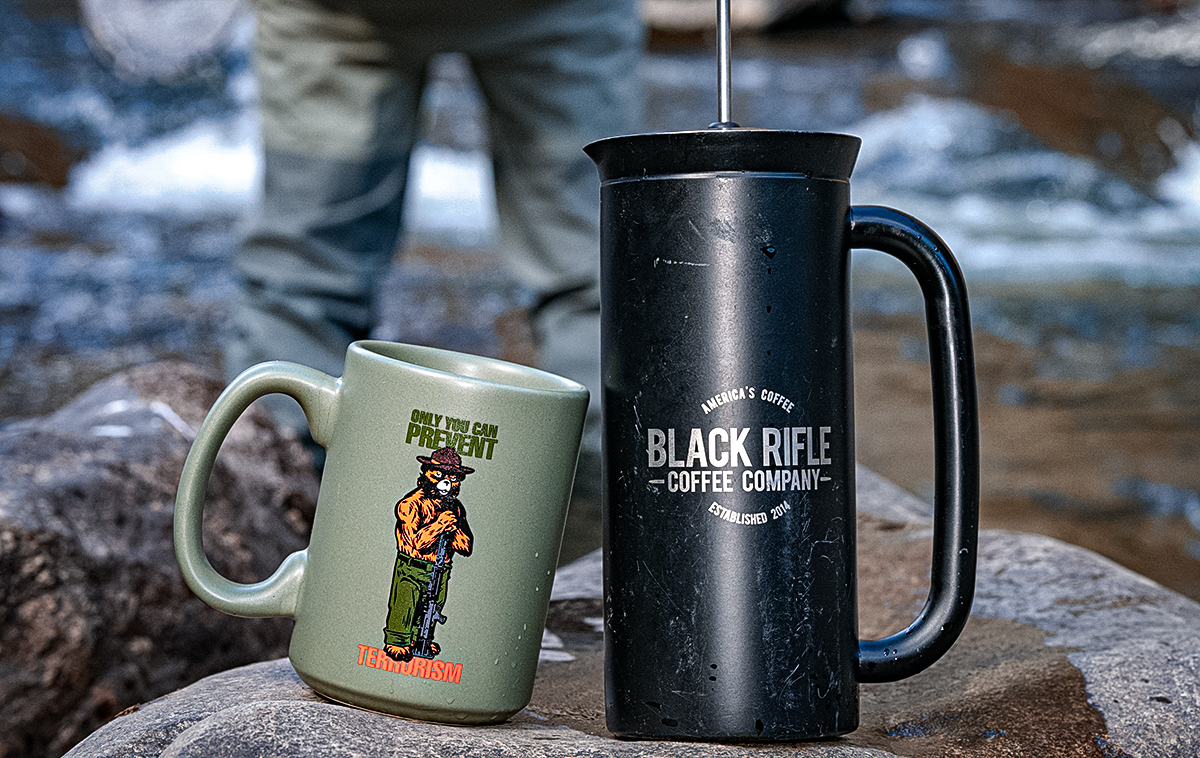 There's no reason to settle for instant at fishing or hunting camp if you don't want to (but Black Rifle's instant coffee and steep bags are pretty damn good too). Made with a patented double micro-filter, this top-notch French press keeps grit and grinds out of your new favorite mug. The filter also stops the extraction process, so the press acts as a carafe without the coffee inside turning bitter from over-steeping.
Cleanup is a breeze, especially compared to most other French presses, which will also help keep you from turning bitter.
And that's not all; there's a whole lot more in the New Products category over at Black Rifle Coffee. Check out all the new coffee, apparel, and gear, and a subscription to the BRCC Coffee Club always makes a great gift. And check back often, because after the special Black Rifle Friday sale, there will be more amazing deals and sales from now through the holiday shopping season!
RELATED – FN 5.7x28mm: The Little Cartridge That Could
---
Gear Guide – ROUND 2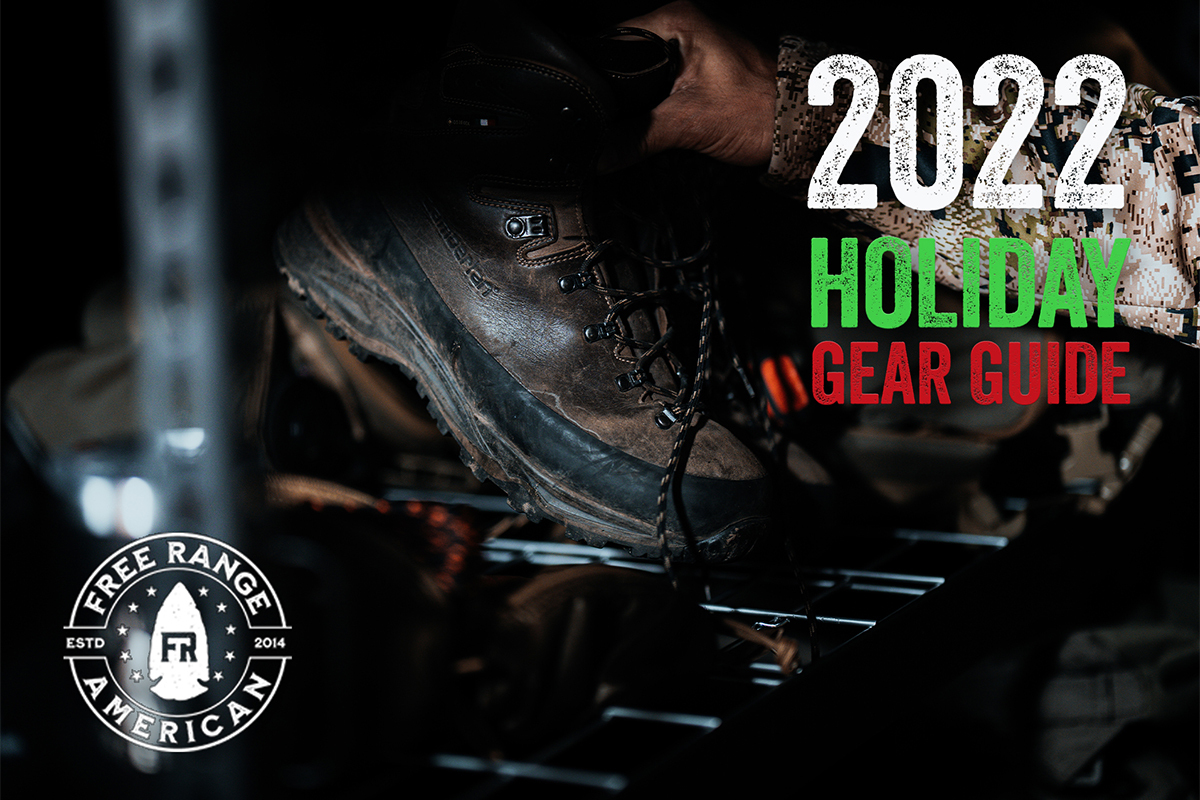 ---
BRCC Instant Coffee Sticks
Price: $24.99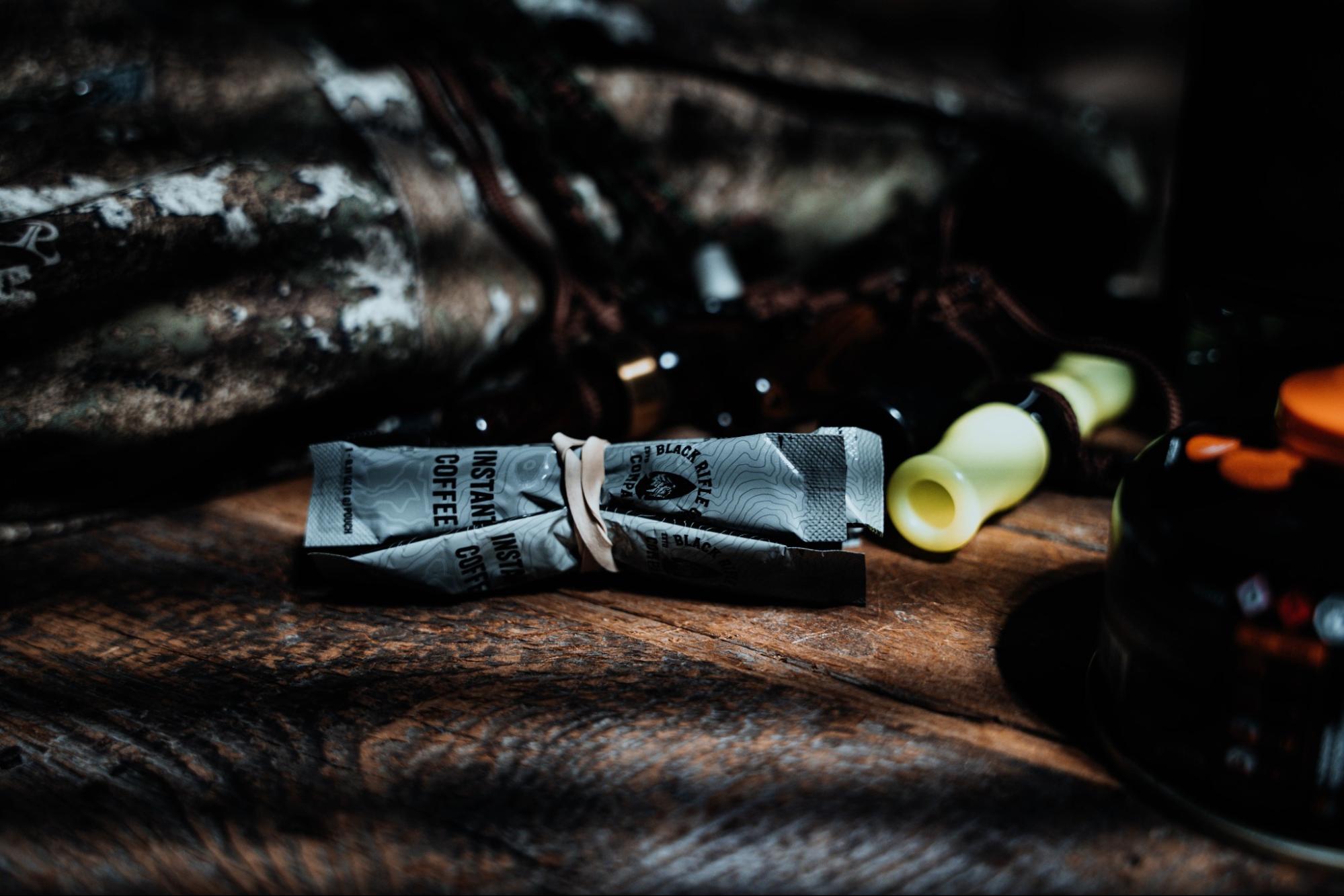 Hunting and coffee is a better combo than peanut butter and jelly. It's a fact. And these little packets of Jet Fuel are delicious.
I've carried the BRCC Instant Coffee Sticks on my hunts for the past two years. From huddling in Midwest duck blinds to chasing monster elk at 10,000 feet, Coffee Sticks have been fueling my adventures across the country.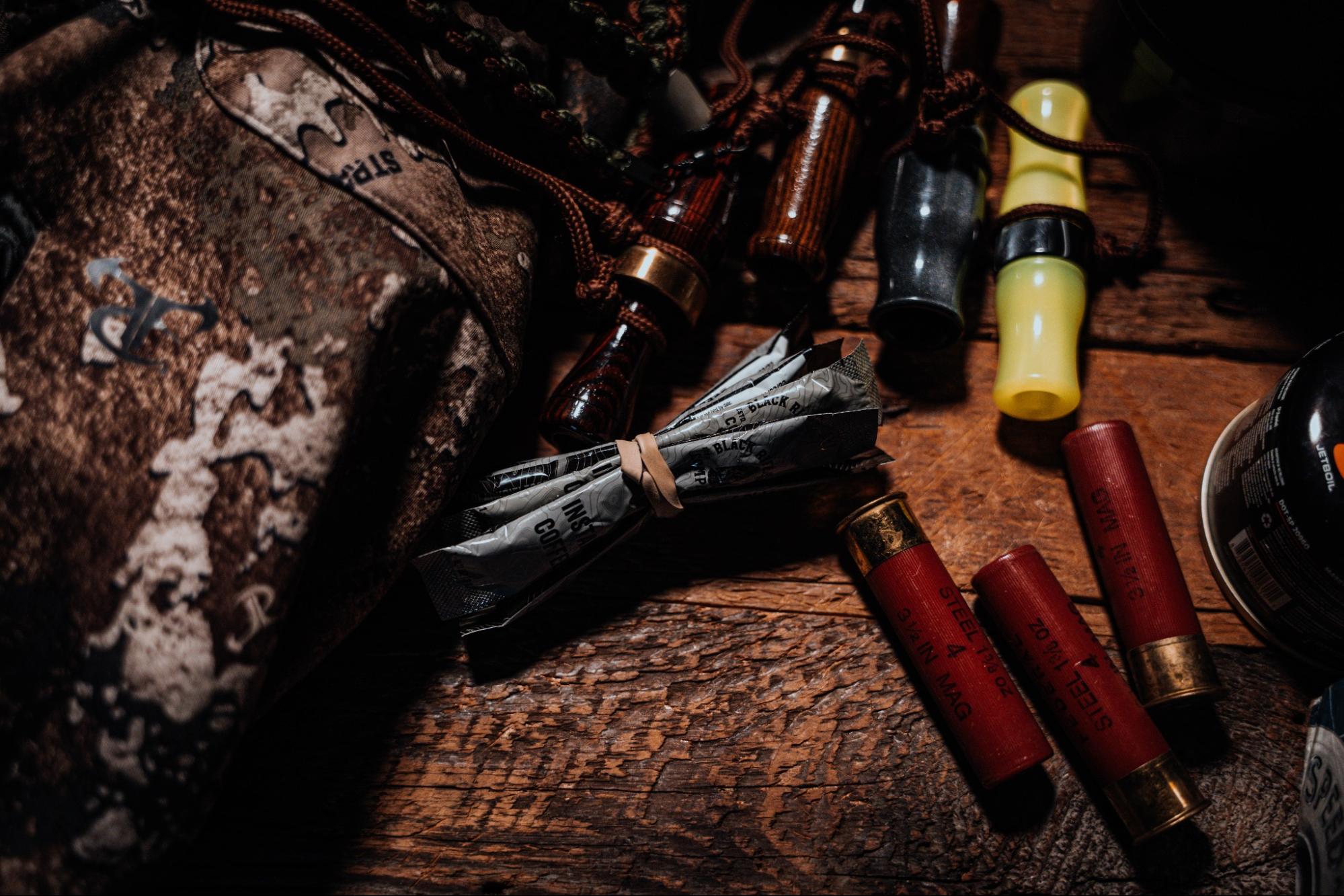 This is a no-brainer for those of us who love to have that fresh kick of Jet Fuel first thing in the morning, or whatever time of day you like, no matter where you are. As long as you can heat water, you can have coffee.
Once someone on your gift list throws a few of these into their hunting pack for a trip, they'll be expecting them annually, guaranteed. — Kurtis Frasier
---
Breeo Y Series Portable Smokeless Fire Pit
Price: $499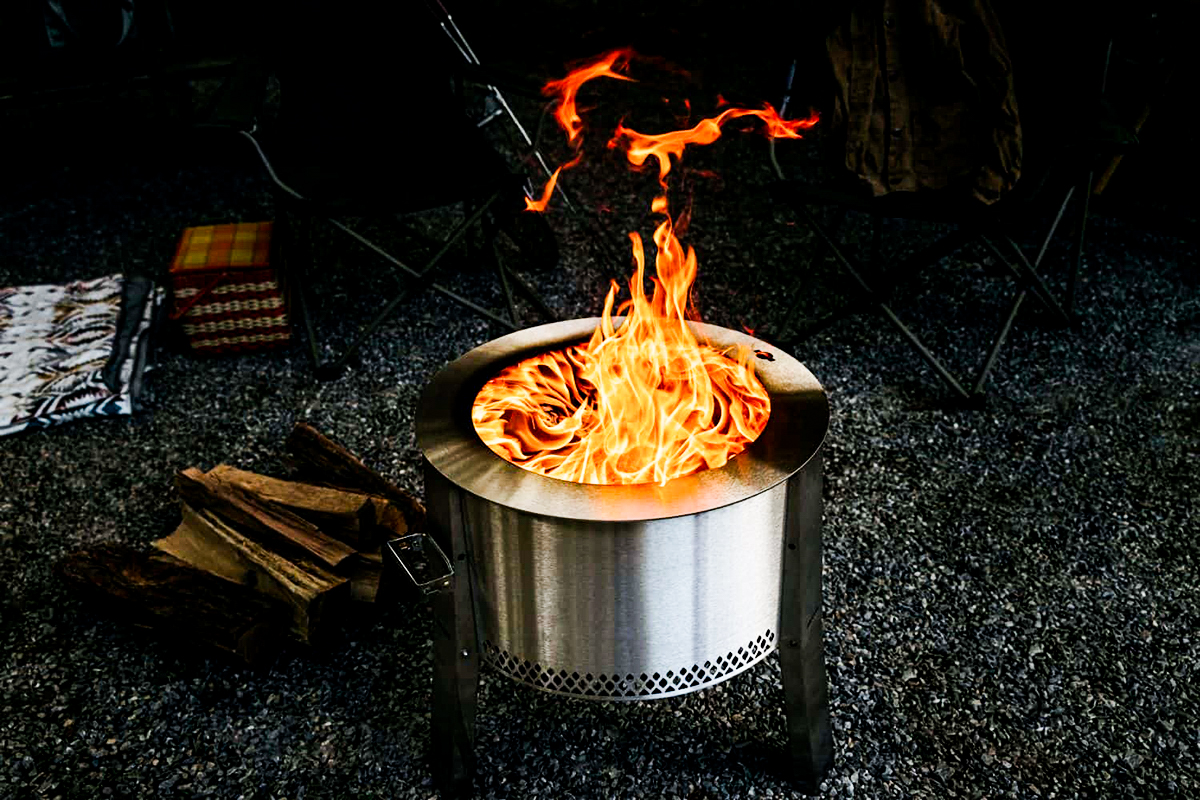 For a fire pit that can easily go from basecamp to the tailgate to the backyard barbecue, you won't find a better buy than the Y Series from Breeo. At just 31 pounds, the portable Y Series features collapsible legs for grilling or cooking anywhere at a safe, comfortable height and an easy-carry handle (that doubles as a bottle opener) for convenient transportation.
A built-in heat shield allows for safe use on any surface, and the durable stainless-steel construction is designed to burn wood, lump charcoal, or pellets.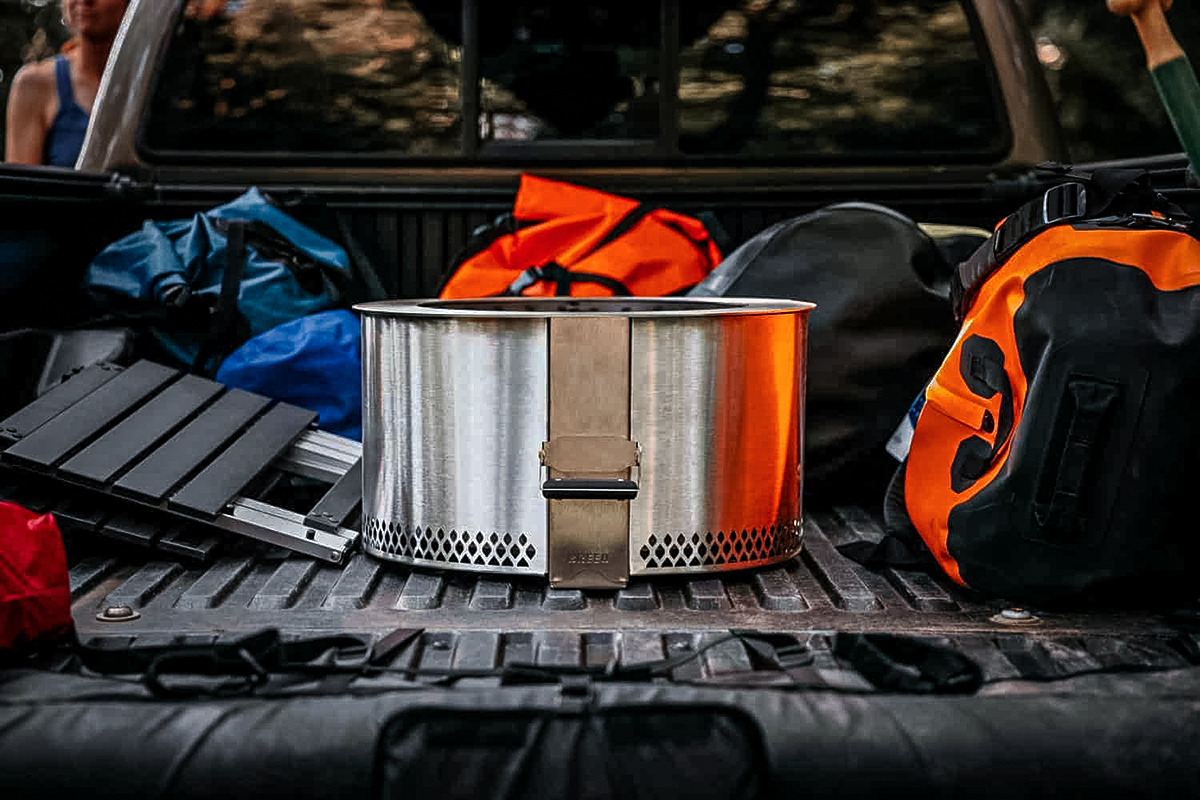 But what sets the Y Series apart from other portable pits is Breeo's smokeless technology. The Y Airflow design lets oxygen feed the fire, even when ashes build up in the bottom. At the same time, cool air enters the double-wall system and rises through the wall cavity, resulting in super-heated air. This hot air then exits via holes around the inside rim of the fire pit to create a secondary burn that reduces smoke.
So, whether someone on your list likes to be the best camp cook or they're the person who constantly has to move their seat around the fire pit because the smoke chases them, they'll definitely dig the smoke-reducing Breeo.
The Breeo Y Series is made in the U.S. and comes with a lifetime warranty. — Emily Kantner
GOOD GEAR – Launch Your Mornings Into Orbit With the BRCC Space Bear Roast
---
First Lite Women's Wick Quarter Zip
Price: $100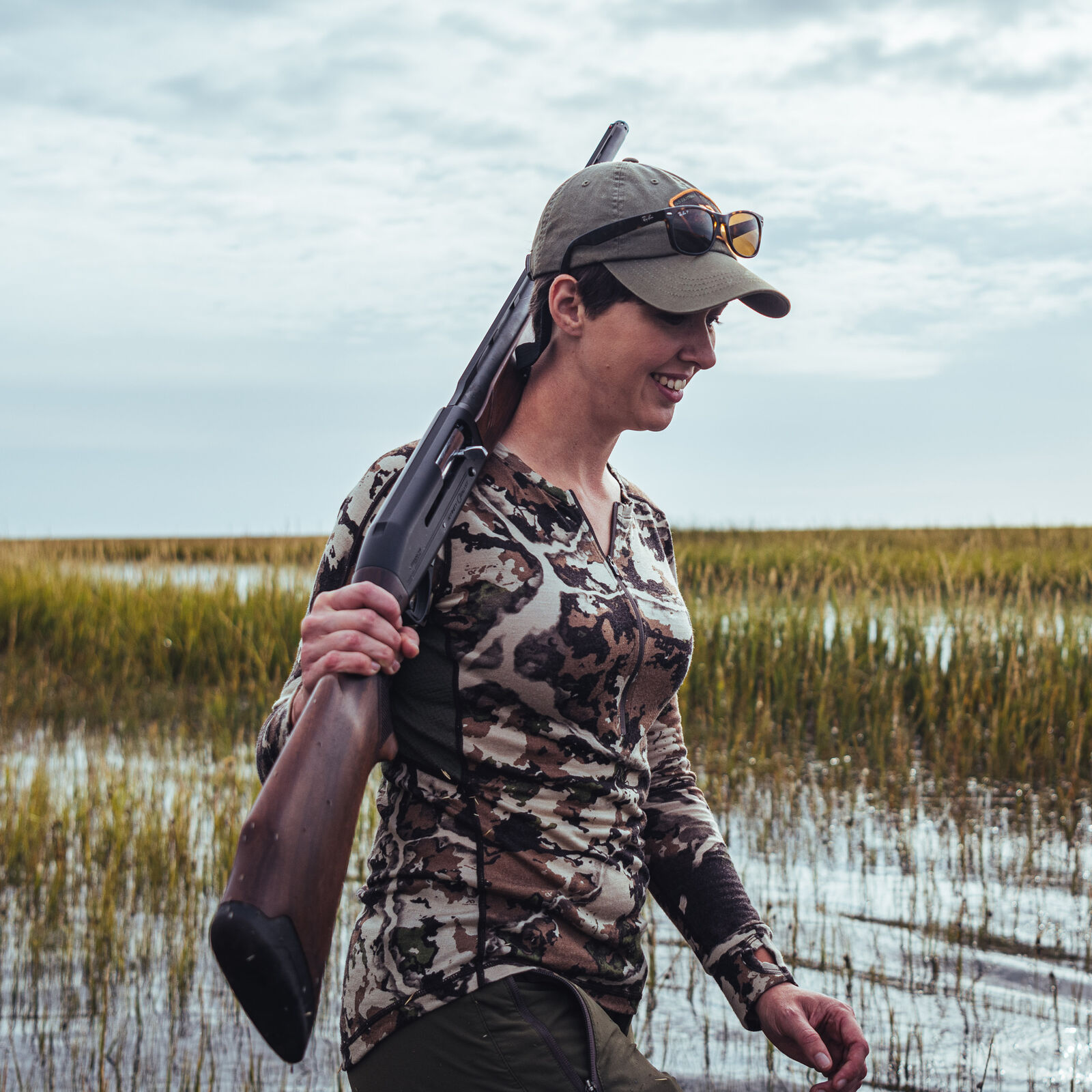 Finding a next-to-the-skin baselayer that functions well during deer season in the Southeast can be tricky. By the rifle season opener, temperatures swing more dramatically than the cast of Real Housewives. It could be 32 degrees on the hike to your treestand and 55 by the time the sun makes it to the treetops. When you dig in your daypack for lunch, the temperature can close in on 70.
The concept for First Lite's Wick Quarter Zip must have been born in a Southern river bottom because it works just as well in cool, damp weather as it does in the midday heat. Featuring 37.5 Active Particle Technology, this base layer top adjusts its insulating properties to maintain core body temperature like magic while also trapping human odors to help keep those pesky does from literally blowing your cover.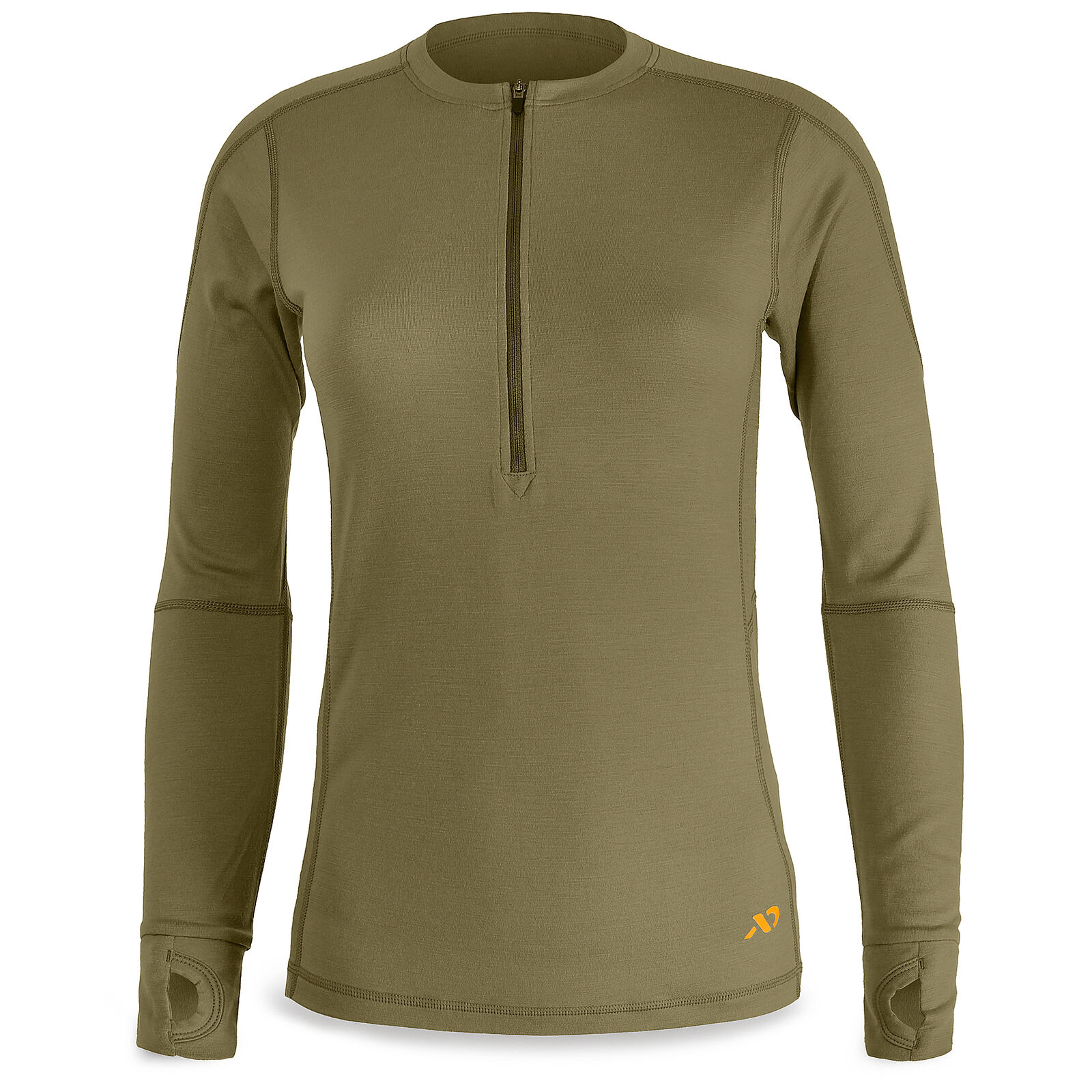 It has a quarter-length front zipper, so you can quickly cool down in hot weather. It also has Aerowool mesh panels that provide plenty of ventilation when you're hoofing it to your stand before daybreak. However, it does a fine job keeping you cozy once you're sitting still in those chilly pre-dawn minutes. It will make a perfect stocking stuffer for any hunter on your list and it will soon become one of their favorite pieces of gear, no doubt. — Alice Jones Webb
RELATED – Vudoo Gun Works Introduces Its First Pistol: A High-End 1911
---
Garmin inReach Mini 2
Price: $399.99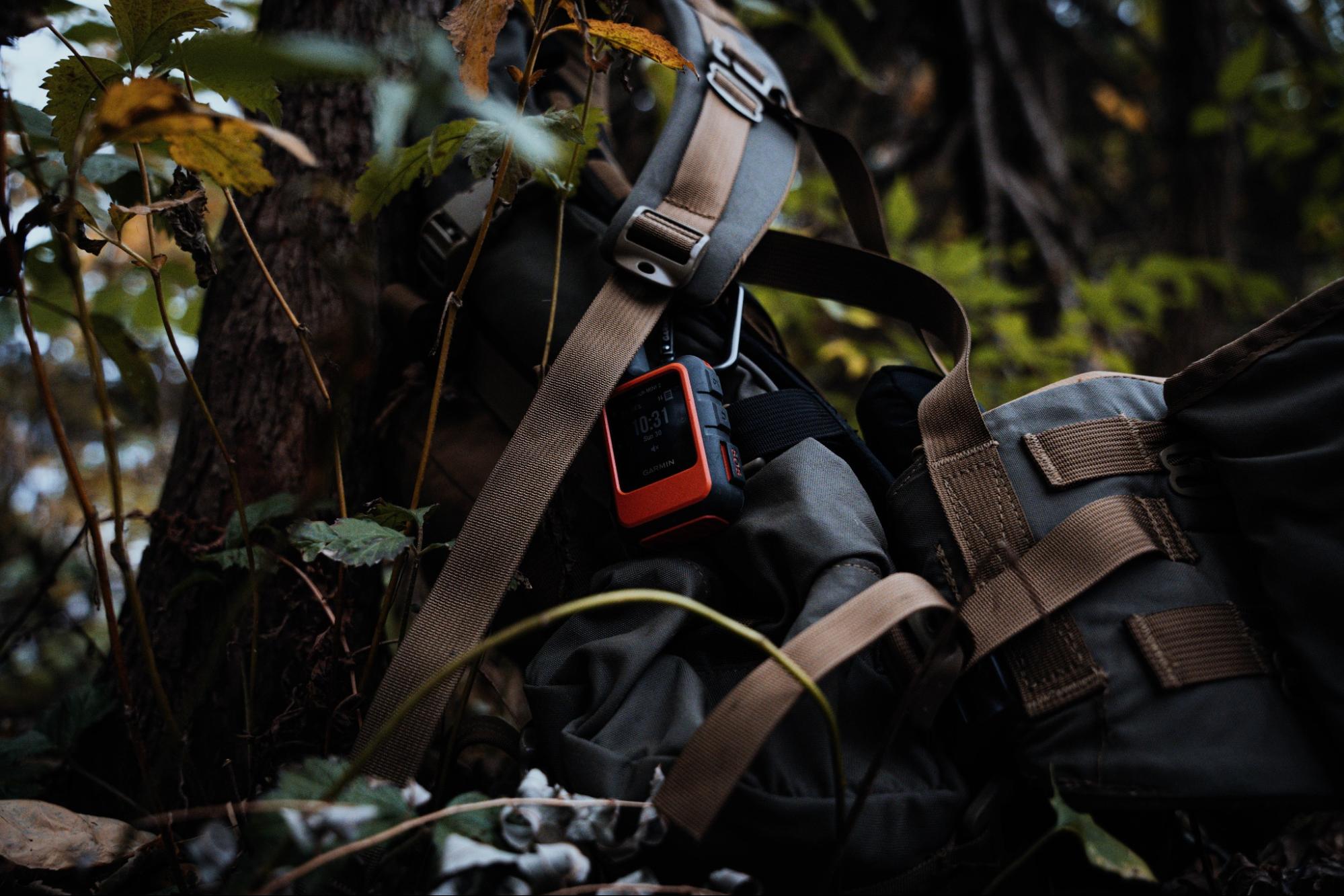 It's hard to put a price on peace of mind. Garmin's inReach devices have been doing that for me for years. Whether I'm on a day trip into the field or on a month-long expedition in the mountains, it's nice to have a way for loved ones to contact you and for you to call for help should an emergency arise.
The inReach Mini 2 allows users to send text messages via satellite where there is no cell signal. It also features an SOS button that will notify search-and-rescue assets of your location should you find yourself in trouble.
The device connects via Bluetooth directly to your cell phone, and you can send text messages via the Garmin Explore app when the phone is paired with the device. It also serves as a GPS and features a digital compass. Users can also receive basic weather forecasts while in the field. You have a satellite communicator, SOS beacon, GPS, and compass in a tiny package.
Garmin has made several improvements over previous editions with this model, making it a worthy gift for the adventurer in your life, for the holidays, or just because.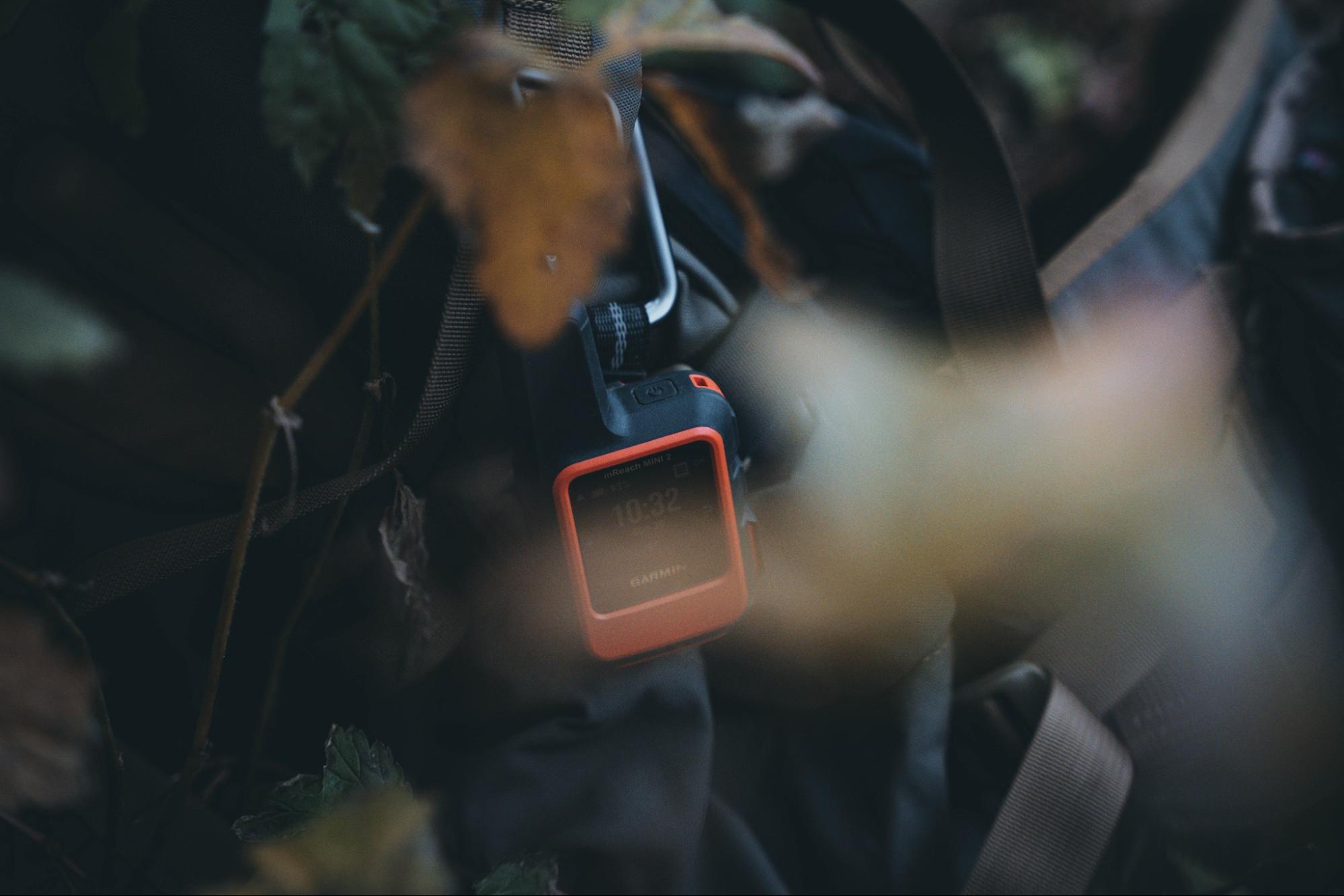 The inReach Mini 2 comes in a compact, easy-to-carry 3.5 ounces with a battery life of up to 14 days when set to send tracking info every 10 minutes within full view of the sky. That battery life is a significant improvement over the original inReach Mini.
Another notable improvement is the ability to use the device in conjunction with the Garmin Explore app on your phone. The app turns the inReach Mini 2 on and off and enables the user to almost entirely operate the device from their cell phone. Texting is virtually the same using the Garmin app as your standard messaging app on your phone, and it uses the inReachMini 2 for a signal.
If you want to give an adventurer in your life this extra piece of potentially life-saving insurance, keep in mind that users must purchase an inReach subscription plan to use the messaging and SOS feature on inReach devices. Garmin provides several coverage options, from annual contract plans to various freedom plans. The annual plans are for people who are in the field all year long; the freedom plans have several options best suited for seasonal use and single adventures, so consider including the appropriate subscription along with the inReach Mini 2 for Christmas. — Michael Herne
GOOD GEAR – Enjoy the Perfect Blend Between Salty and Sweet With the BRCC RTD Espresso Salted Caramel
---
Garmin Instinct Crossover Smartwatch
Price: $499.99+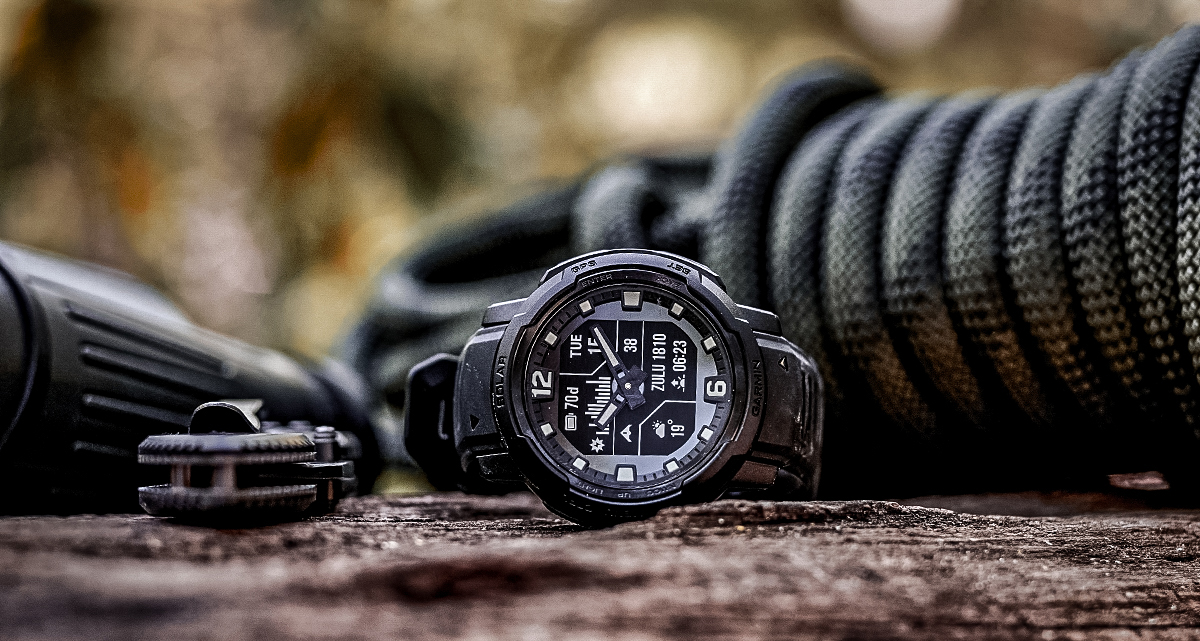 Analog watch lovers can get all the cutting-edge tech and old-school charm they want in one watch: the new Garmin Instinct Crossover. Combining analog timekeeping with a digital face isn't just for show; it allows the Instinct Crossover to push battery life beyond what should be possible for a GPS adventure watch.
As we've seen before with the Instinct and tactix series, there's a hierarchy within the new Crossover line. The base model starts at $499.99 and offers most of the features consumers are looking for. The Solar edition boosts battery life so efficiently that it is possible to use smartwatch features for up to 70 days.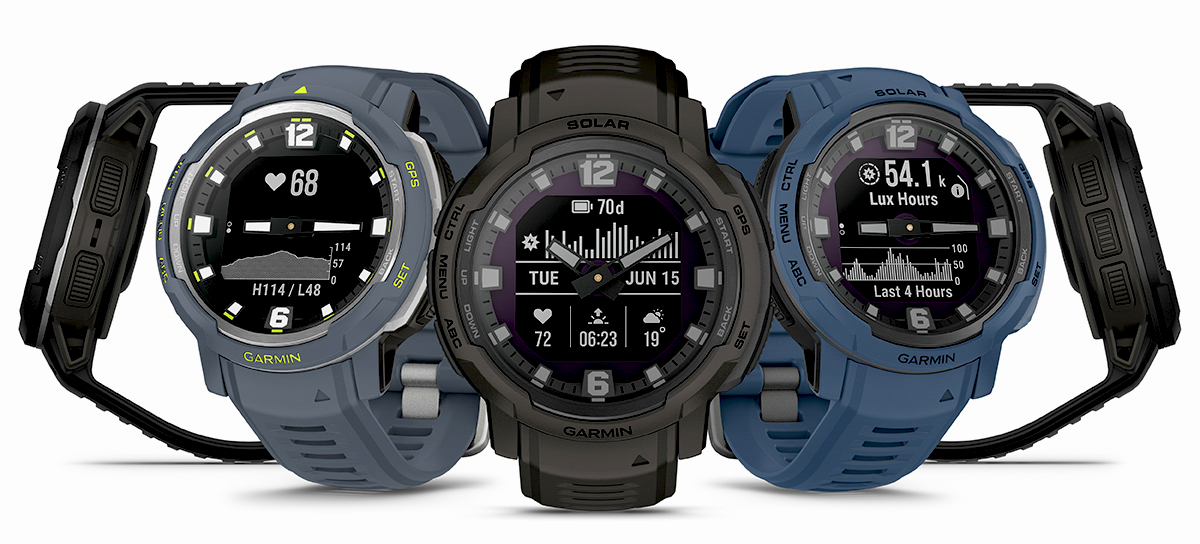 You can reduce power demand with battery-saver mode, and you could very well use the Instinct Crossover Solar as an analog watch indefinitely with three hours of intense sunlight per day. At the top of the food chain is the Tactical Edition of the Instinct Crossover Solar, which adds night-vision compatibility, dual-form GPS, stealth mode, and a kill switch for military use.
For those of us who spend as much time outdoors as possible, this is the watch to have. Between the incredible battery life and suite of military tech, it's a serious asset off-grid.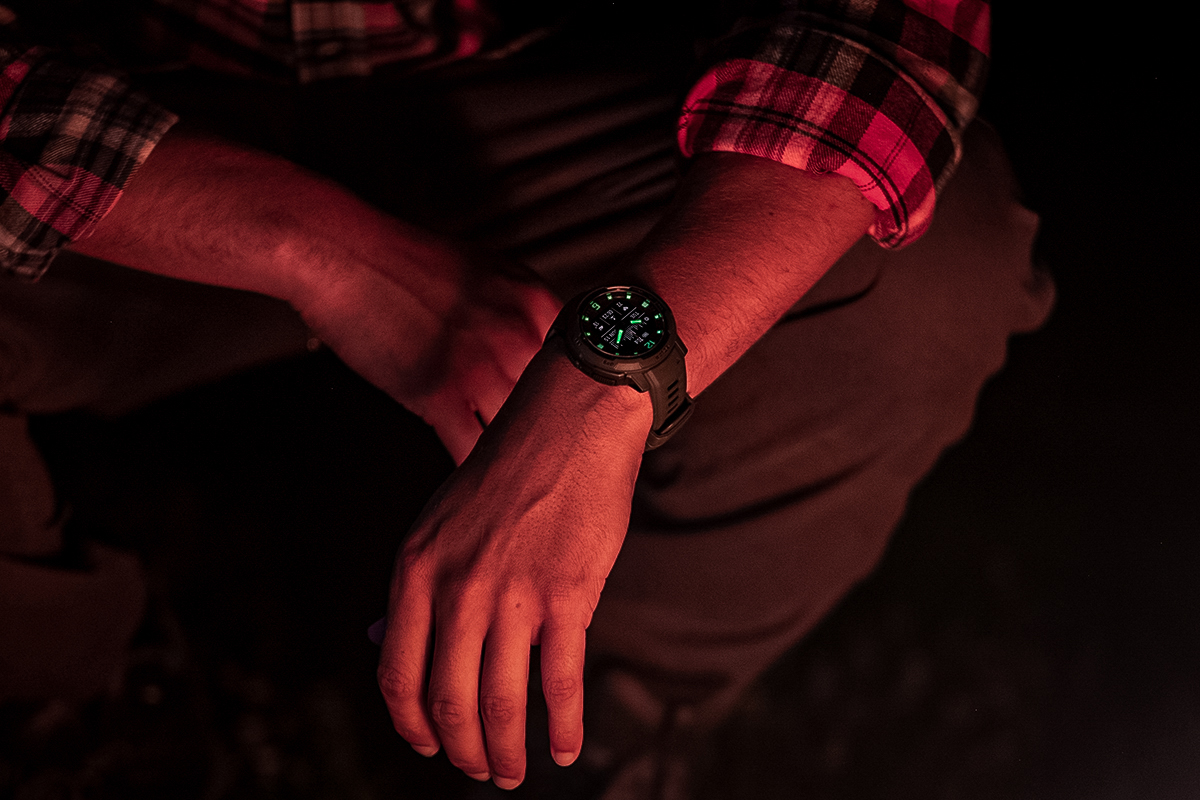 This is a higher-end gift, but it could be just the thing to show someone you care with a truly unique and useful smartwatch — and if this new model is anything like the previous models in the Instinct line, it will take a severe beating and last them through countless hunting and fishing trips and sojourns into the backcountry. — Scott Murdock
RELATED – The History of the Recce Rifle and How To Build Your Own
---
Grey Man Tactical Vehicle Bow Rack
Price: $269.99
When you're bouncing down a logging road in the pre-dawn hours and heading in for an early sit, you can't have your bow bouncing around on the back seat. That means you have to pop on the headlight to uncase it when you get to your spot. If you're out West on a hunt where you spend just as much time covering rough miles in a truck as you do on foot, casing and uncasing your bow can be a pain in the ass. Having a Tactical Vehicle Bow Rack hooked up to your passenger seat fixes all that.
The rack comes with two large QuickFist Go-Between Clamps that can be configured to keep a secure hold on your bow during transport right on the back of your seat. The rack itself is 15.25 x 25 inches and could not be easier to install; it uses simple nylon straps that cinch tight around the seat or D-rings that attach to the headrest posts. The package deal also comes with a large utility pound and a double pistol-magazine pouch, both of which are great for small gear items and tools. The 3-inch-thick rack is made of injection-molded glass-filled nylon and aluminum, so it's rugged and lightweight.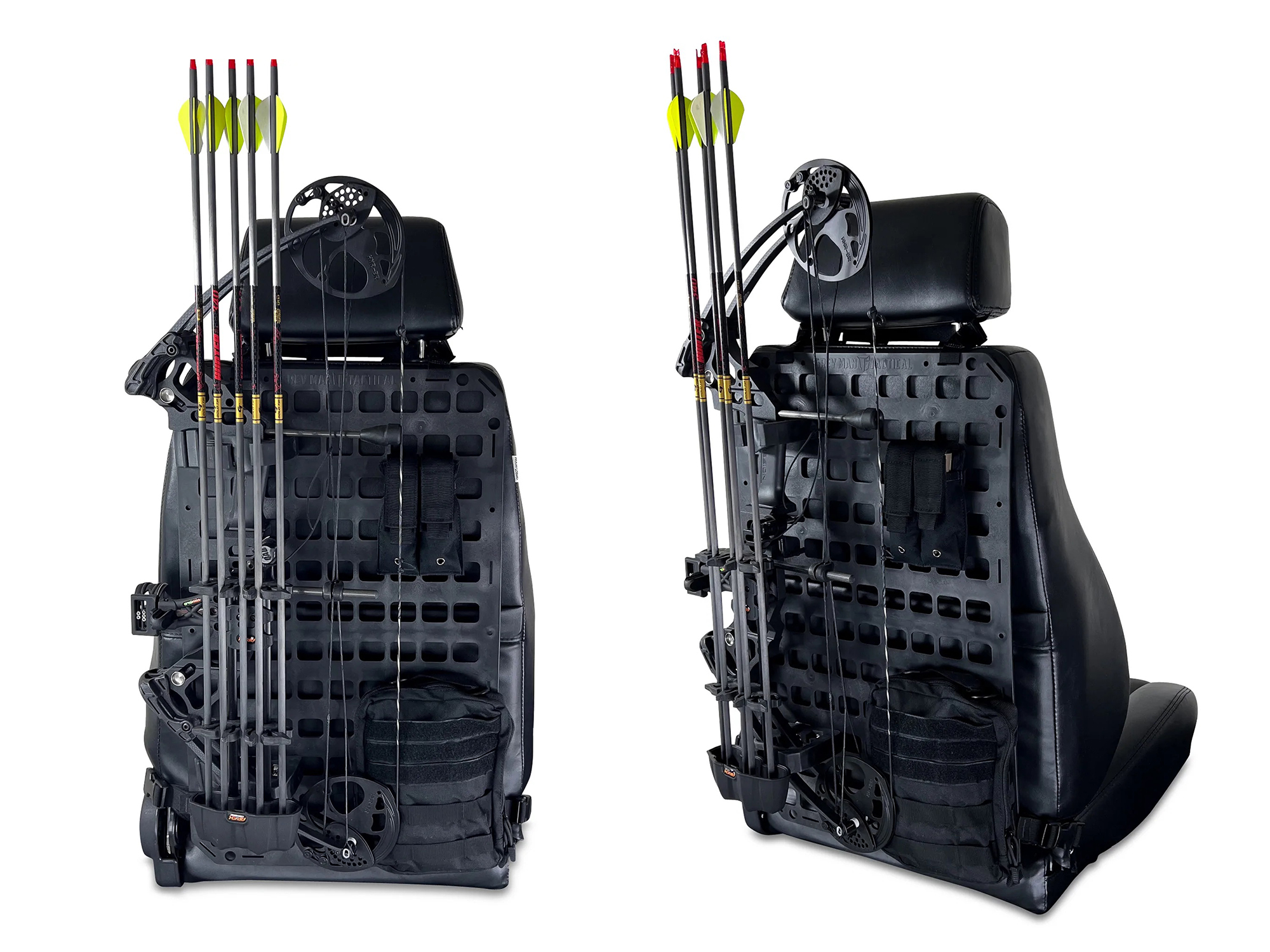 I installed Vehicle Bow Rack to the passenger seat of my Tacoma in about 5 minutes, and it holds my PSE with the quiver attached perfectly secure as I cruise around the dirt roads of my hunting buddy's property, running the humble bow course we've set up. It's proven to be not an essential piece of gear during the early bow season, but a damn convenient one.
Any bowhunter on your Christmas list who spends a lot of time in their vehicle will get a ton of use out of the Tactical Vehicle Bow Rack. Plus, you can change out the accessories for range days, and if you don't need it or want to use it in another vehicle, just unhook it. It's that easy. — David Maccar
GOOD GEAR – Keep Your Coffee Hot or Cold With the BRCC Coffee Saves Tumbler
---
Kifaru Ultralight Pullouts
Price: $14.95 – $81.65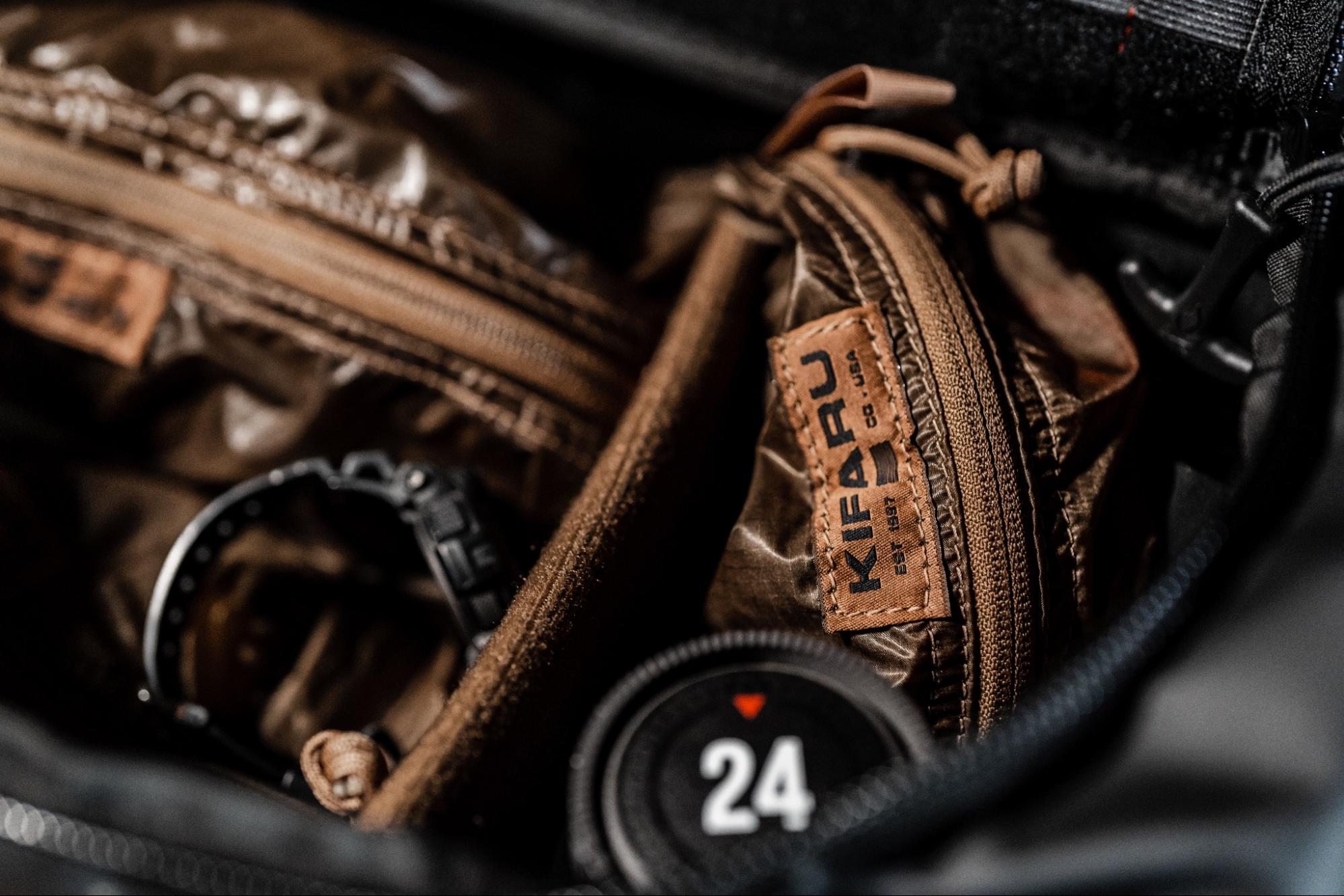 Kifaru's pullout game is strong. These ultra-lightweight bags are a must-have for anyone counting ounces when getting ready to ride the bootstrap express through the mountains that let you keep your gear separated and grouped the way you want it, no matter what pack you're using.
These thin but tough zippered bags are not only a must-have for any backcountry hunter, but they're great for general travel, and pretty much any other organization needs you might have.
I use these bags daily. Hell, I love them so much that I have three full sets, so I can have grab-and-go setups for camera gear, range accessories, field coffee kits, gym equipment, travel organization, and kill kits. I even keep two empty bags in my truck, just in case. Also, they're made in the U.S. and are built to last. Enough said. — Kurtis Frasier
RELATED – 7mm PRC: Savage Expands Rifle Lines for New Cartridge
---
KUIU Women's ULTRA Merino 145 Zip-Off Bottom
Price: $109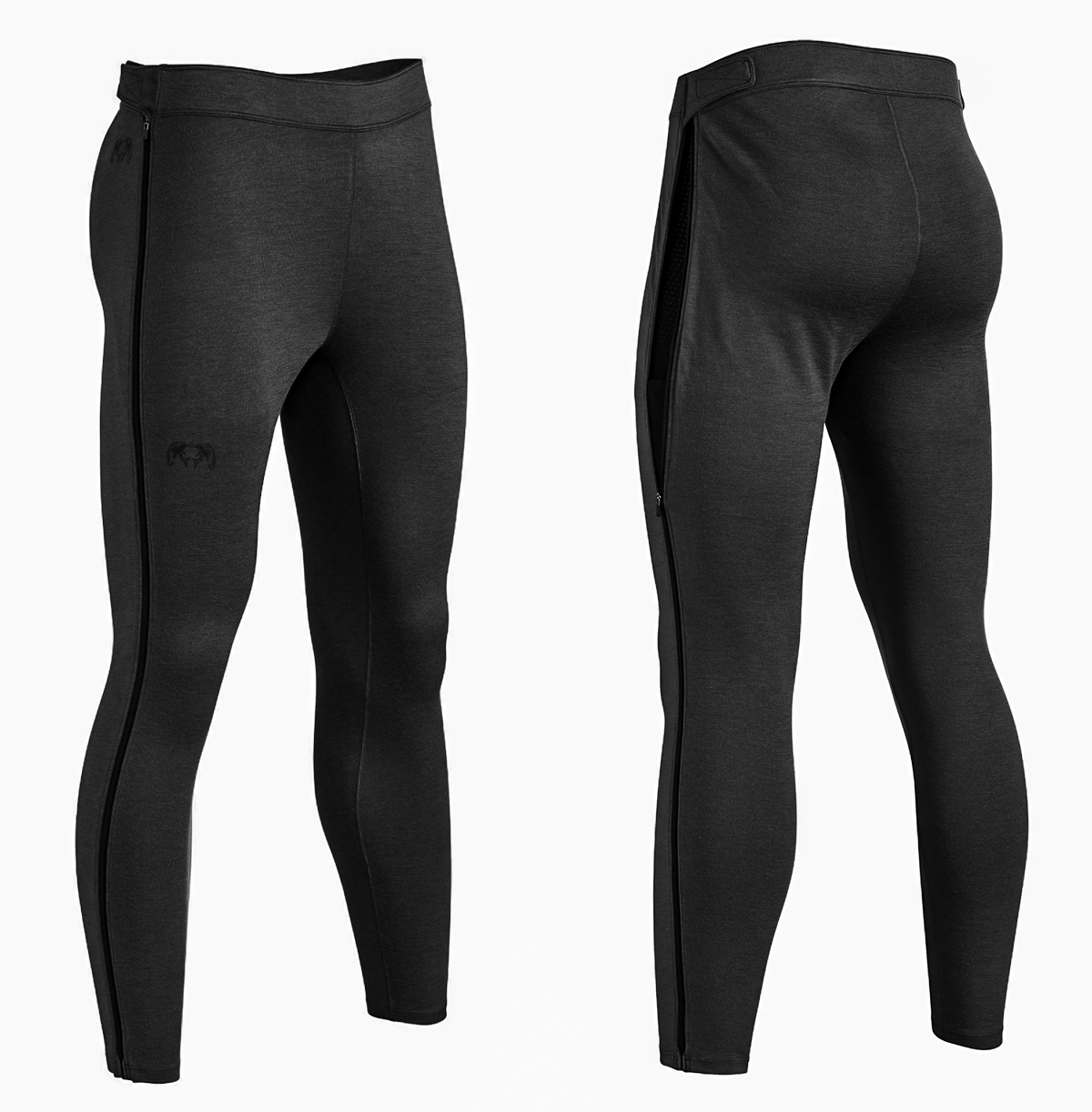 Base layers might not make the most exciting gear gift, but these merino bottoms from KUIU have easily become my favorite piece of hunting kit after just a few months and will keep giving all hunting season long.
They're engineered with Nuyarn technology, a unique spinning process that makes the wool even warmer, softer, more durable, and faster drying than traditional merino blends. It also gives these base layer bottoms, constructed of 90% merino and 10% nylon, just enough give for scaling a mountain or climbing into a treestand without stretching out and getting baggy in spots.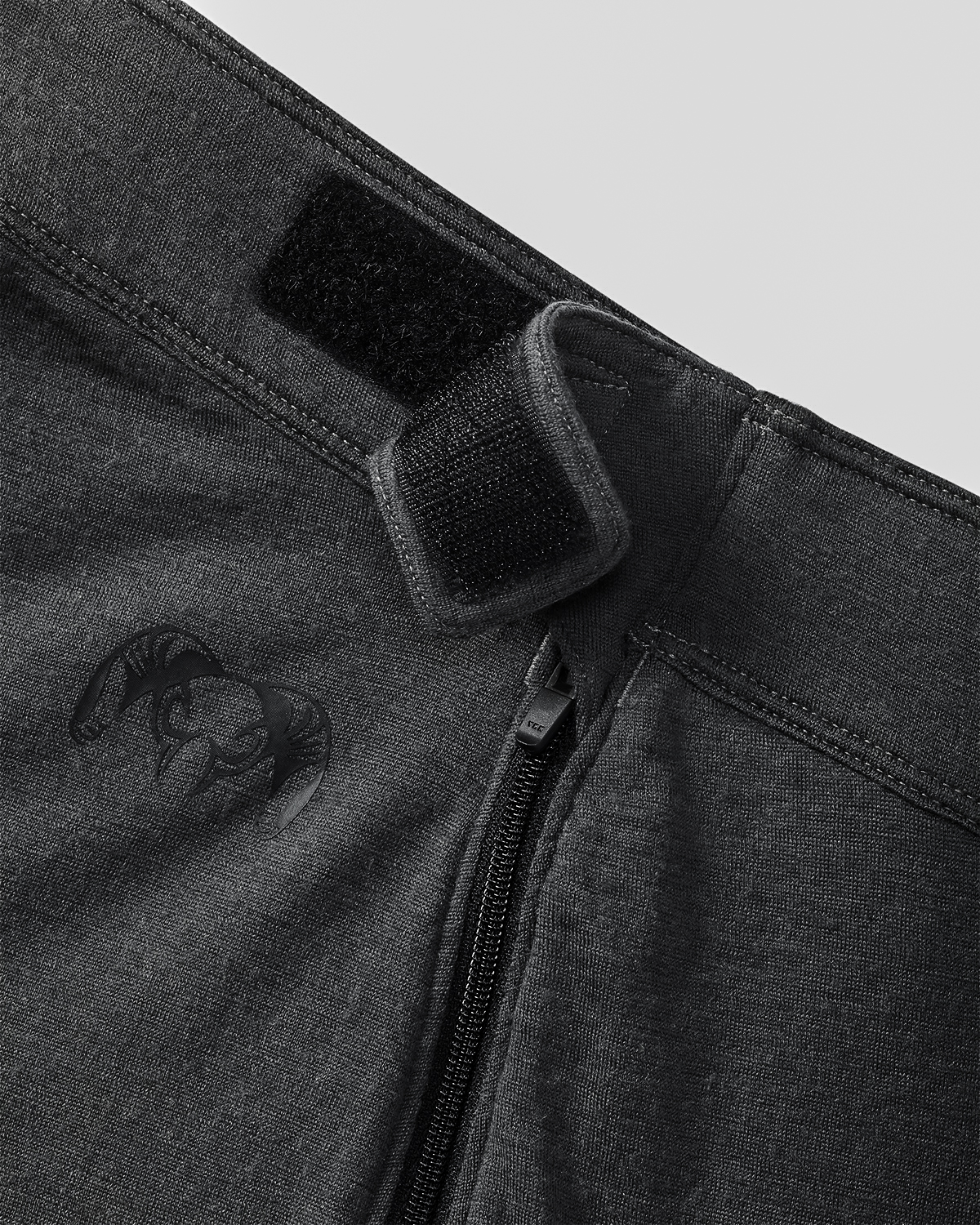 But the best features are the zippers that run the full length of the above-the-boot inseam and allow for adding or shedding the layer without taking off pants and boots — they're quiet and easy to operate when conditions change in the field. The low-profile waist offers hook-and-loop adjustments for a tailored fit, while flatlock seams prevent chafing during long hikes through the backcountry.
I've worn the ULTRA Merino 145 Zip-Off Bottoms in the rain, snow, and sweltering heat, and the lightweight, thermoregulating merino made the perfect base layer for all conditions. They're comfortable, breathable, and moisture-wicking. Plus, you can get by with only washing the naturally odor-resistant 17.5-micron merino after several sweaty wears for versatile, long-lasting performance. — Emily Kantner
GOOD GEAR – Wear the Perfect Veteran Hoodie With the Premium BRCC Pullover Hoodie
---
MTN Gear MTN Stick 4.0
Price: $320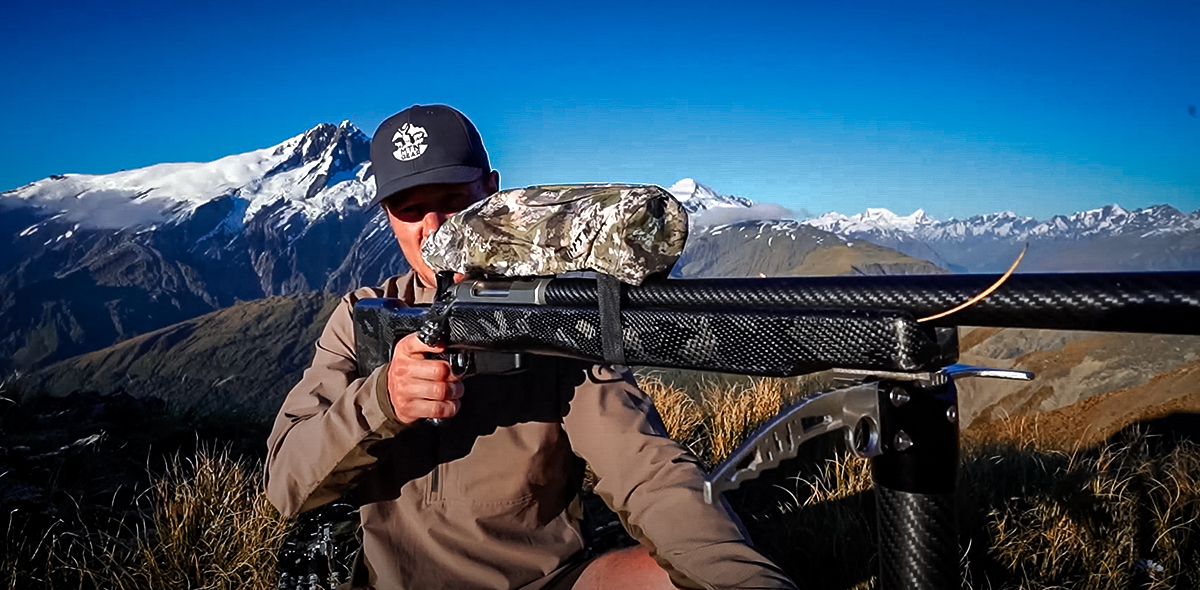 If you have someone in your life who spends a couple of weeks each year in the backcountry, they'll surely appreciate the MTN Stick 4.0. It's like a trekking pole, only better. It has a number of features that make it much more than a mere walking stick for the woods.
The head is built like a mini pickaxe/ice ax, making it useful for a lot of things. I've dug up rocks and leveled out an area with it before pitching my tent, and I've used it as an anchor for extra support when climbing steep terrain.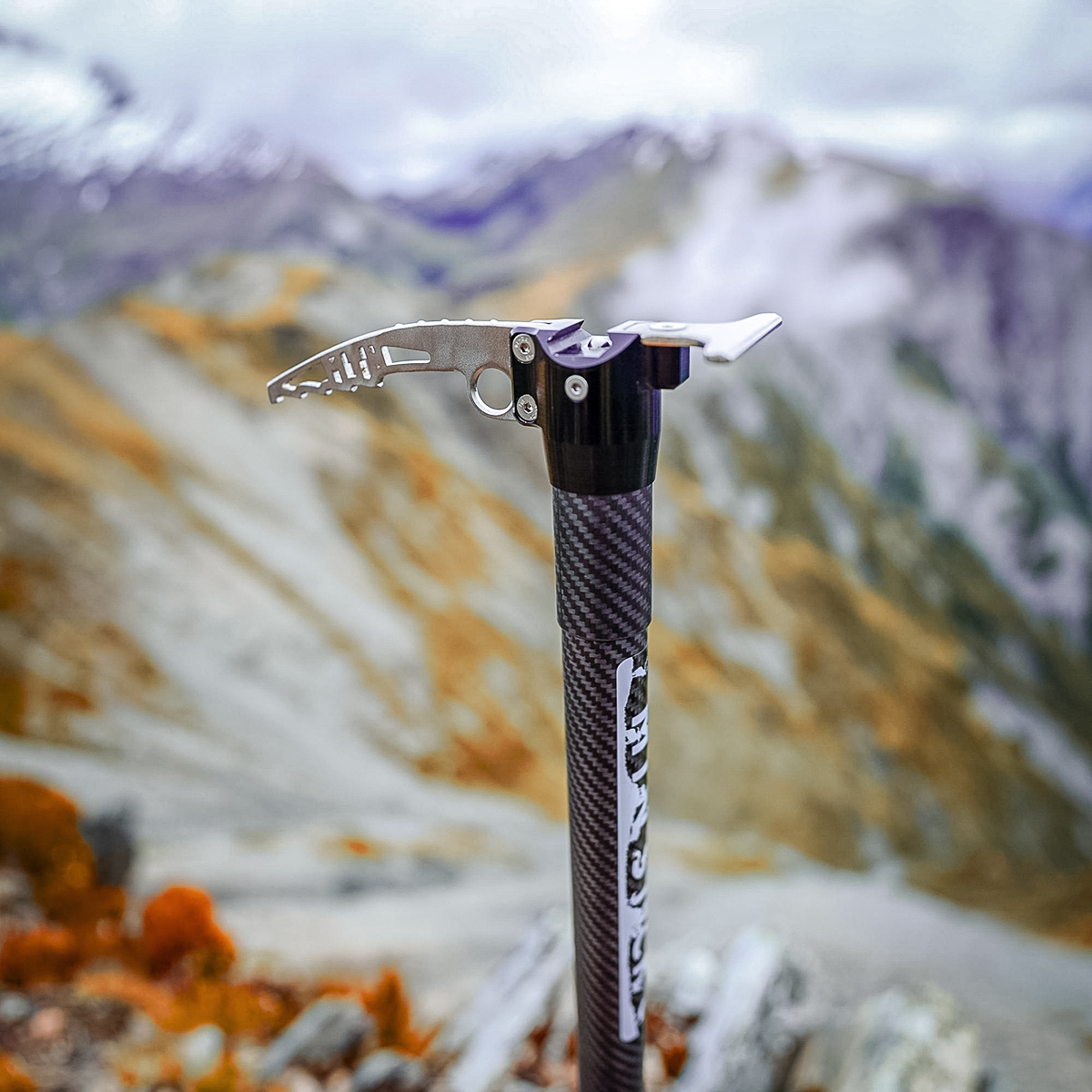 The head also features a quick-detach Picatinny-rail mount, so it can serve as a monopod for a rifle or provide stability when glassing with a spotting scope or binos. If you're already carrying a trekking pole or two into the field, why not ditch one or both and take something you can get multiple uses out of? The pole is also adjustable with a telescopic construction, so you can set the height to the right level. You might have to explain this one a little when someone unwraps it, but as you do, they'll like it more and more.
The MTN Stick 4.0 is offered in two different sizes, regular (22 to 38.5 inches, weighing 1.25 pounds) and long (26.5 to 46.5 inches, weighing 1.35 pounds). The pole is 100% carbon fiber with a 7075 T6 aluminum head to support the Scandinavian stainless-steel pickaxe attachments. — Michael Herne
RELATED – Hunting Alaska With the New Silencer Central Banish Backcountry
---
PSE Mach 34 Compound Bow
Price: $1,799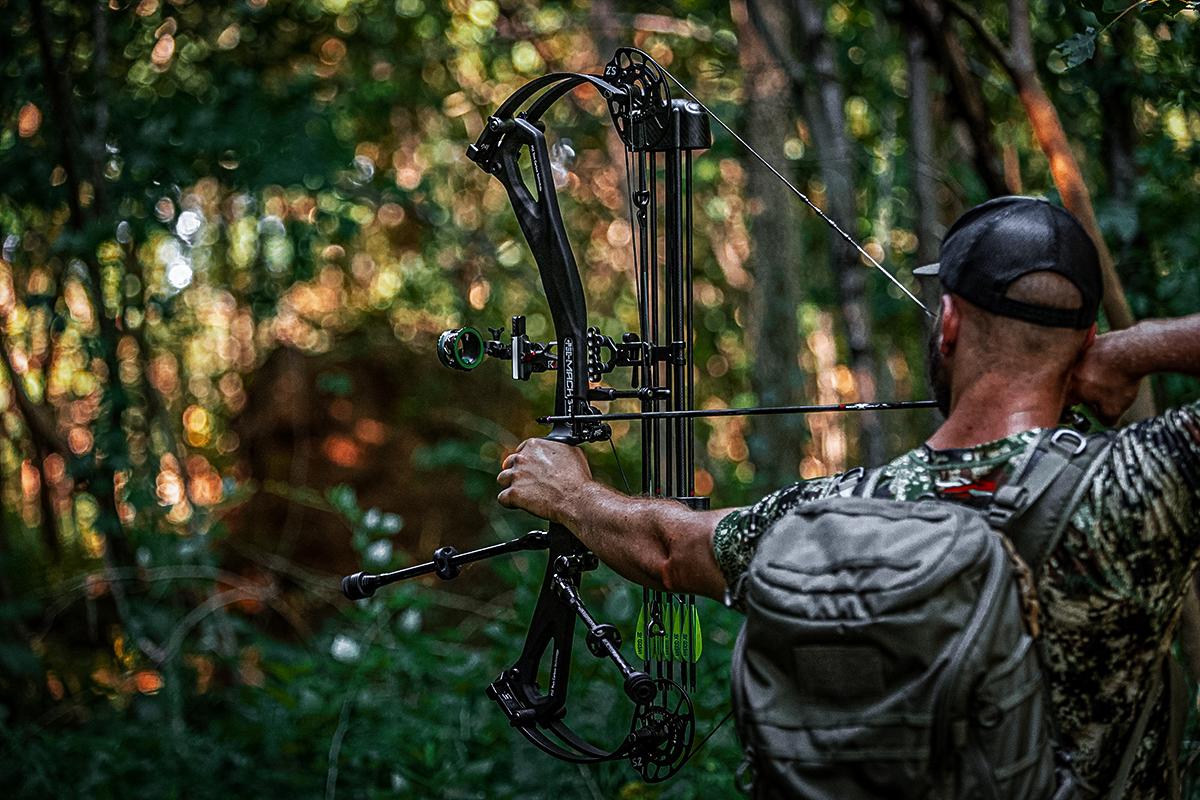 PSE recently released the newest addition to its Carbon Mach series of bows, the Mach 34, and it's sure to please the die-hard archer in your life; hell, they'll be trying to live up to this gift all year. The Mach 34 has some serious upgrades from previous models that should make it a top contender for bowhunters and target shooters for the 2023 season.
The Mach 34 weighs in at a stunning 3.65 pounds, making it ideal for the weight-conscious backpack and Western hunter. Like the 2022 PSE bows, the new model is offered with the E2 or S2 cam. The E2 cam has a draw range of 29 to 33 inches, speeds up to 335 fps, and a 7 1/8-inch brace height. The S2 cam model has a draw range of 26 1/2 to 30 1/2 inches, speeds up to 340 fps, and a 6 3/4-inch brace height. Both have draw weight options from 50 to 80 pounds.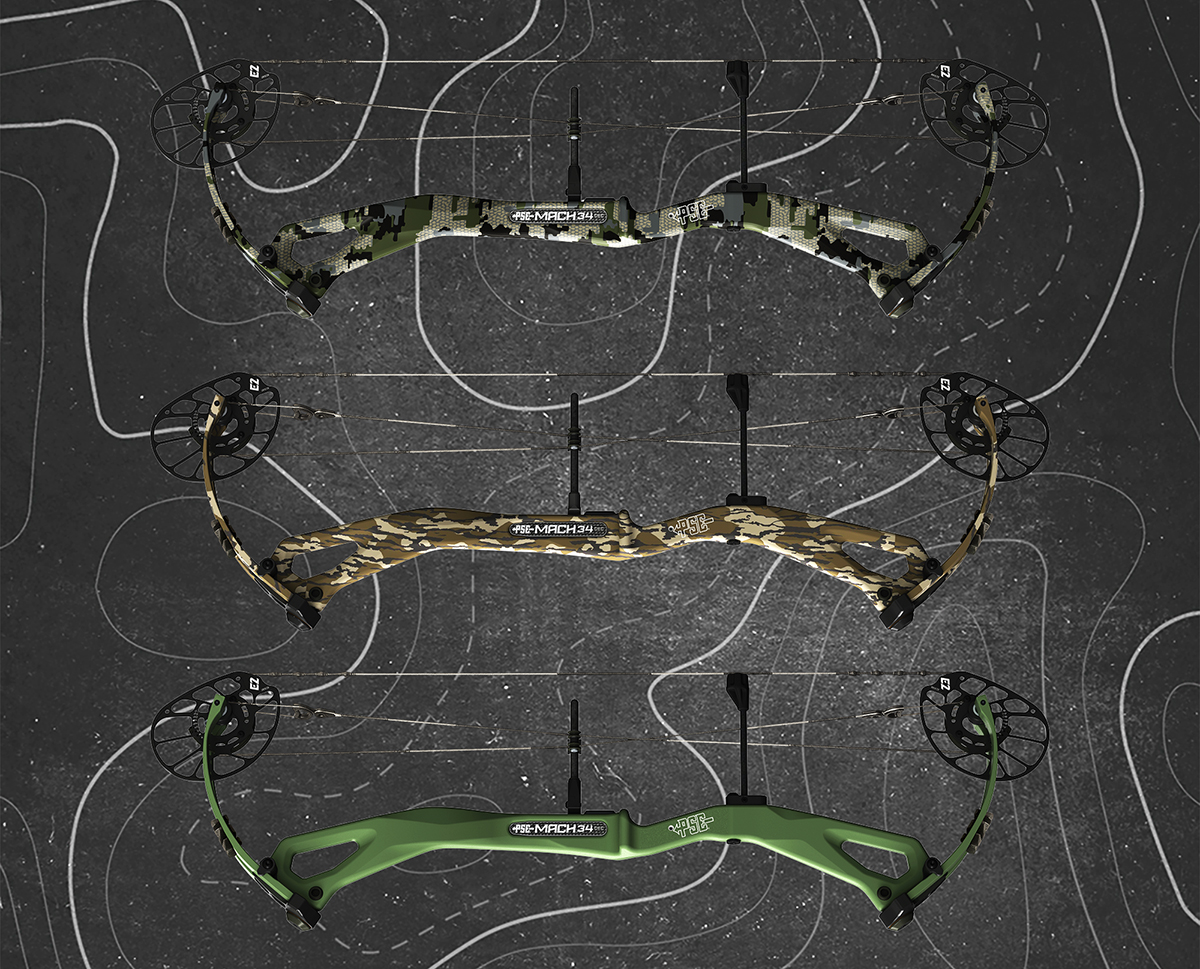 One of the most notable upgrades for this new bow is the introduction of the EZ.220 snap spacer system. Gone are the days of disassembling your bow to shim the cam. This new system is a welcome addition for archers, especially those who do their own tuning.
Press the bow and remove and add the spacers where needed to adjust the cam lean for tuning. The Mach 34 also has a Dovetail Plate for mounting the QAD Integrate arrow rest, and that dovetail plate can be removed to accommodate the Hamskea COR mounting system for their Epsilon rest.
With mounting options to accommodate two of the best rests on the market and new easy, no disassembly required, cam shimming the new Mach 34 is sure to make archers and current PSE Carbon shooters extremely happy. – Michael Herne
GOOD GEAR – Wear the Perfect Hat for Range Day With the BRCC Leather Patch Trucker Hat
---
Sitka Ambient Hoody
Price: $279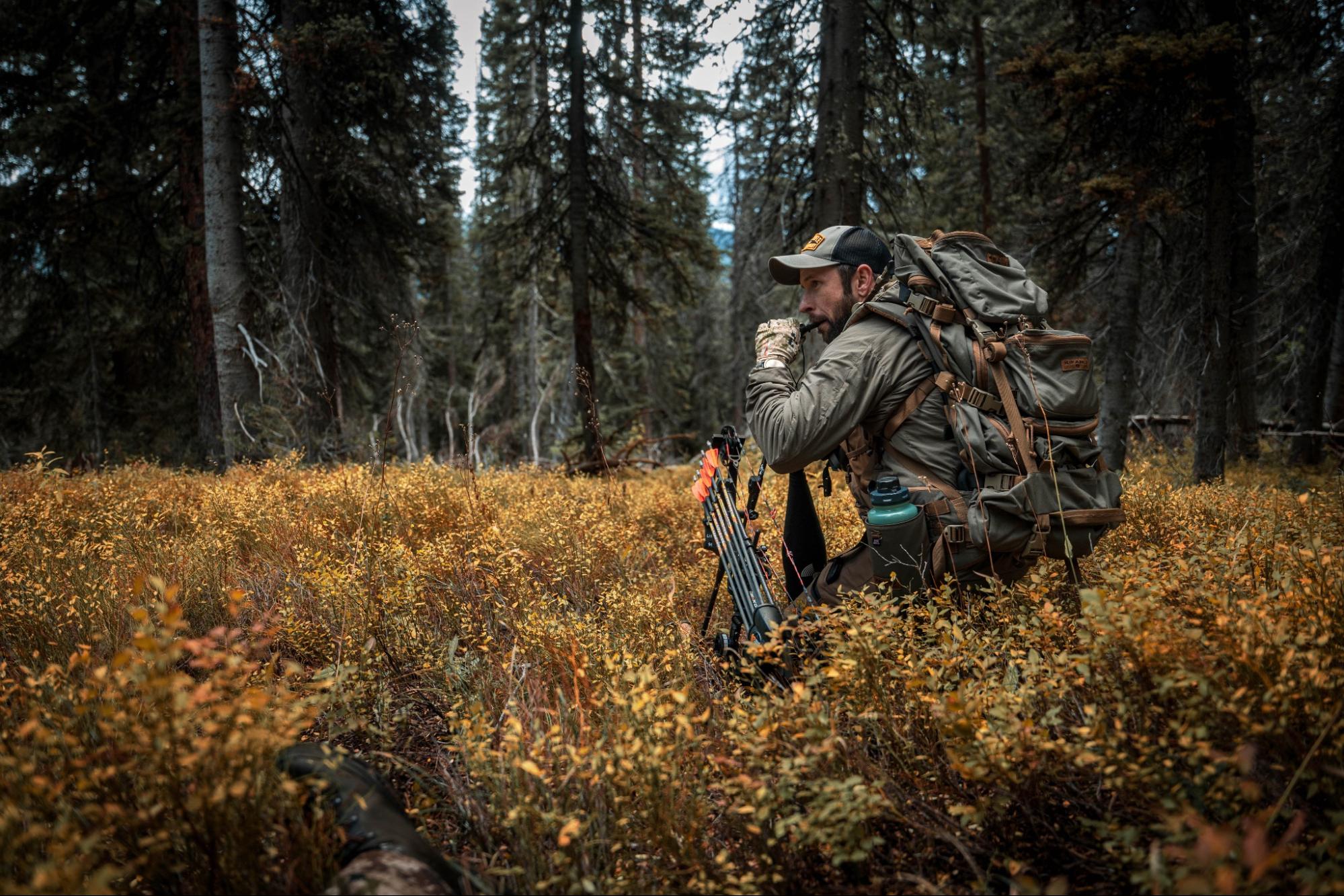 Sitka's Ambient Hoody is my single favorite piece of clothing released in the past couple of years. This hoody is designed to be an intermediate insulation piece and has become a staple in my layering system. I've worn it on summer backpacking trips, September elk hunts, and the rain-soaked mountains of Kodiak Island, Alaska, in October, and it continues to perform.
The selling point of this hoody is its low-bulk PrimaLoft Evolve active insulation. The Ambient Hoody provides unmatched insulation and still breathes well to manage one's body temperature while hiking. The hoody is made from 20D ripstop nylon to ensure that it can take a beating when wearing it as an outer layer. I have beaten the shit out of mine, and it's holding up fine.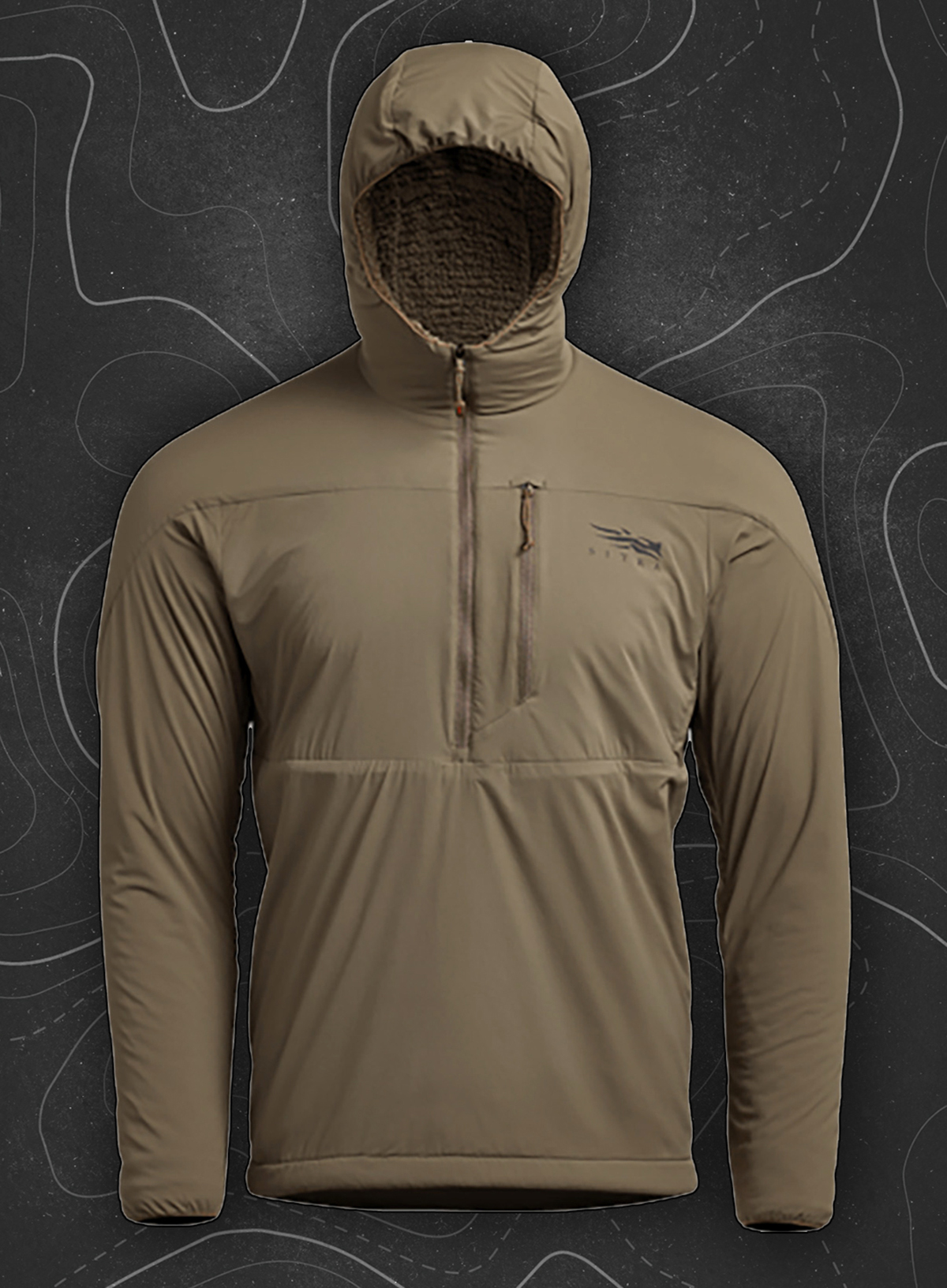 Weighing in at 13 ounces, it is in my kit for every pursuit, from sitting in tree stands during whitetail season to the backcountry. The outer shell sheds light rain and moisture remarkably well to help keep you from soaking through. This is one piece of clothing that the hunter on your list will not throw in a pile with the useless crap the in-laws bought them. — Michael Herne
RELATED – Sauer Graces SL5 Shotguns With Old School Fred Bear Camo
---
Sitka Women's Jetstream Jacket
Price: $379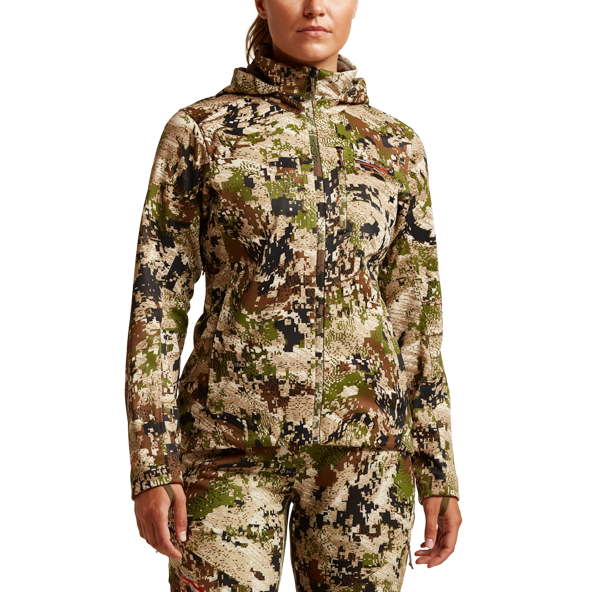 A lot of water-resistant, windproof gear is stiff and loud, but the Jetstream strikes the perfect balance of weatherproof performance and field-ready stealth. Featuring Gore Windstopper technology, this softshell jacket completely blocks out wind and sheds light rain and snow with a durable water-repellent finish. It's designed to retain warmth without sacrificing breathability, and pit zips allow for dumping excess heat during long hikes.
The updated Jetstream Jacket, constructed of 100% recycled polyester fabric with a comfortable micro-fleece grid interior, offers a more relaxed fit for enhanced mobility as well as skived and taped seams for more protection from the elements without added bulk. It allows for easy layering and an improved range of motion when climbing a treestand or drawing a bow.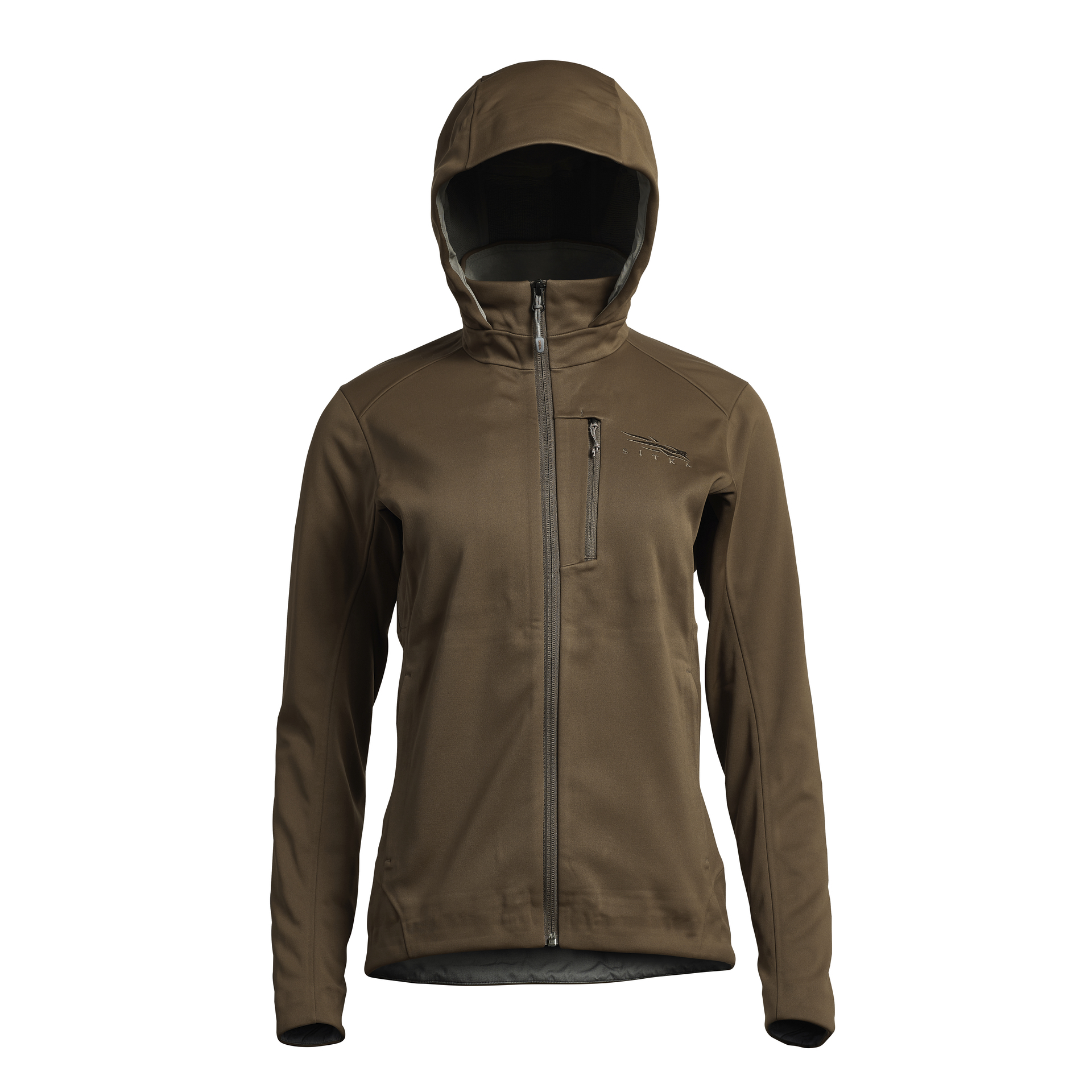 The overall design is engineered to be more comfortable yet more durable than any other backcountry workhorse. I wore this jacket through chilly, windy days of drizzle in the woods and on the water — it kept me dry and warm.
The jacket sports zippered hand and chest pockets for secure storage, plus a cinchable hood for a streamlined fit. In addition to Optifade camo patterns, the 22-ounce Women's Jetstream Jacket is available in several solid colors for everyday wear, so this makes a great gift for anyone, whether they hunt or not. — Emily Kantner
GOOD GEAR – Show That You Love BRCC Coffee With the BRCC Vintage Logo Ladies T-Shirt
---
SecureIt Agile Ultralight: Model 52 Pro
Price: $934.15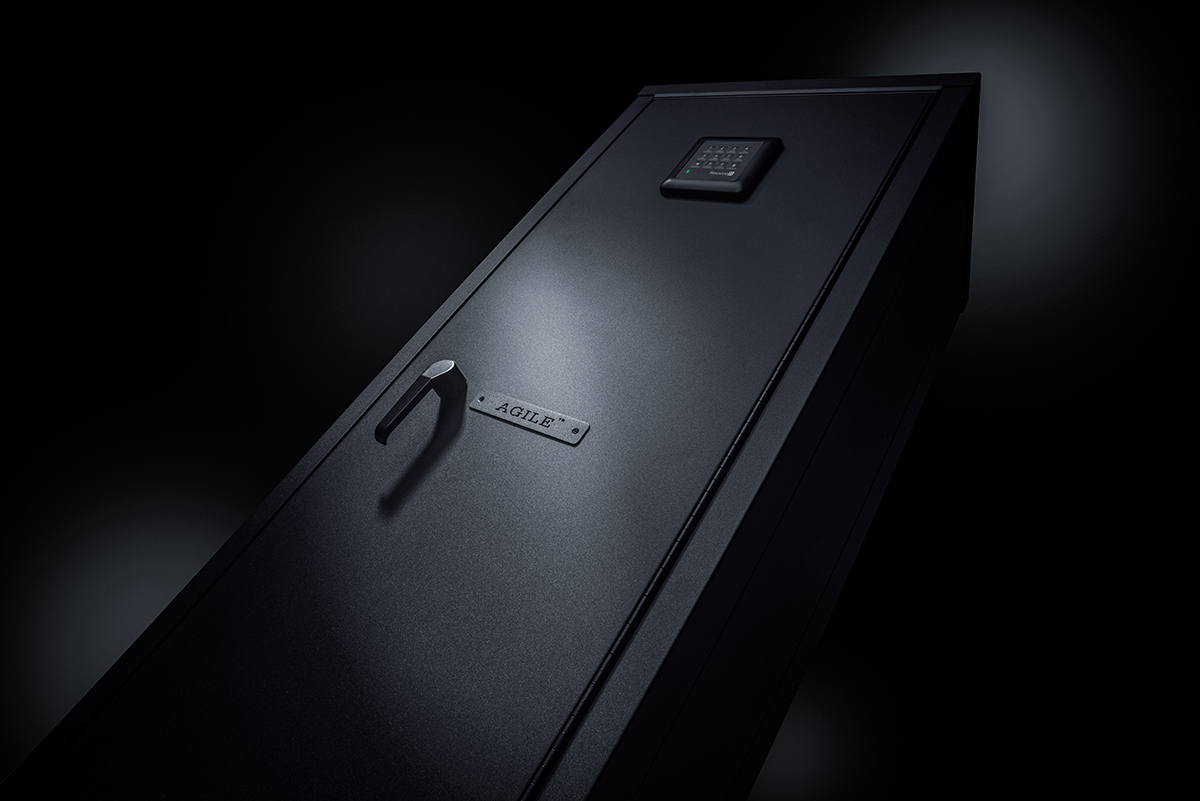 Do you have a friend or a gun owner in the family who wants to securely lock up their valuable firearms when not in use, but they don't have a floor that can support a gun safe that weighs a ton? Even if they did, would you eel like kind of a dick for giving them a gun safe requiring hefty delivery fees just to get it in their home? SecureIt Gun Storage has an answer for you with its Agile Ultralight: Model 52 Pro.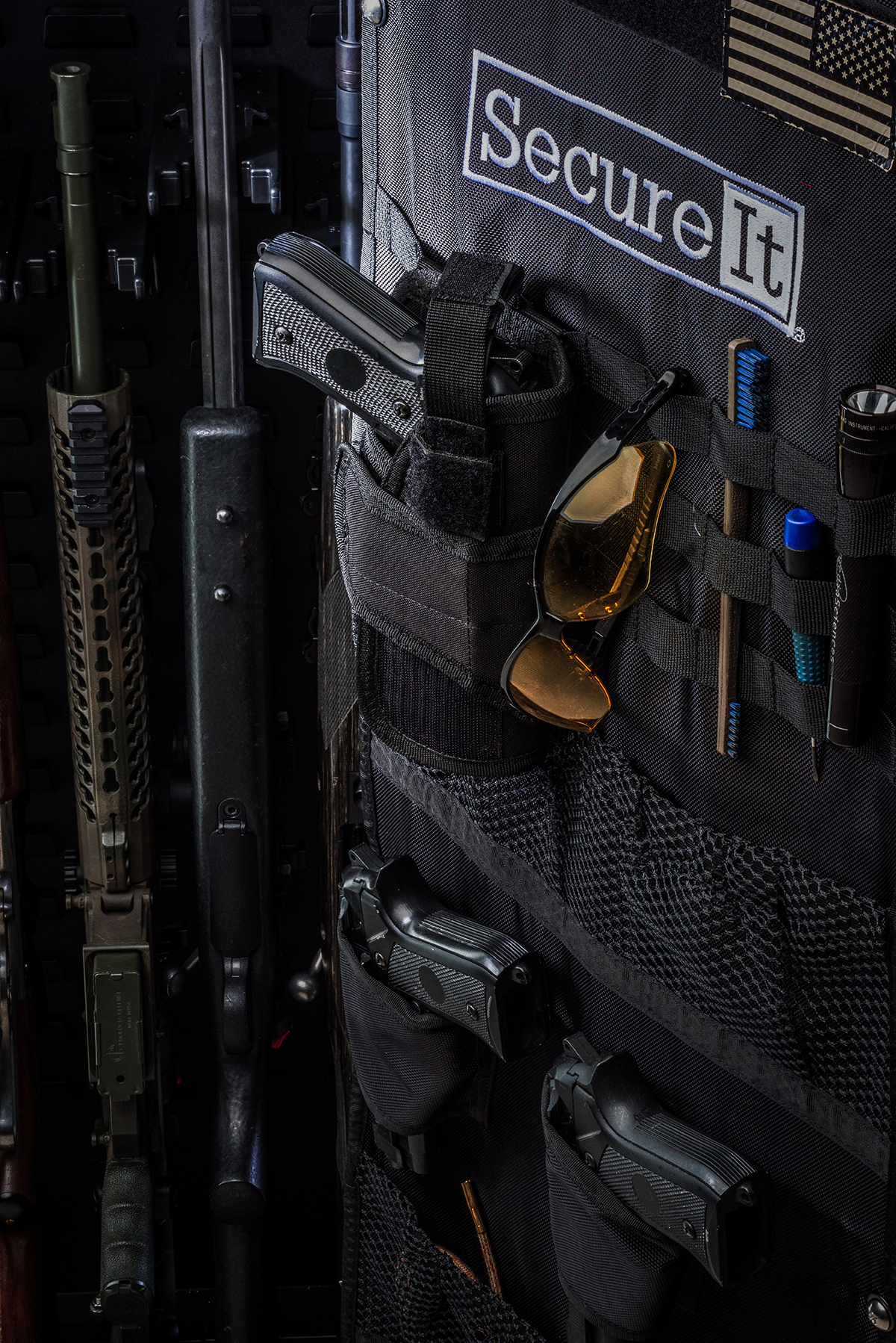 The Agile is a "decentralized storage system" and the company's best-selling ultralight gun safe. Even though it's light, it's still tough, organizationally flexible, and customizable with hardcore security.
It can hold six long guns max, but depending on how you set it up, this safe can hold multiple long guns and handguns. That's part of its appeal; the Agile can be customized to fit the user's gun collection, making it a versatile gift. Even if somebody has enough room in the safe for all their guns now, that inevitably changes.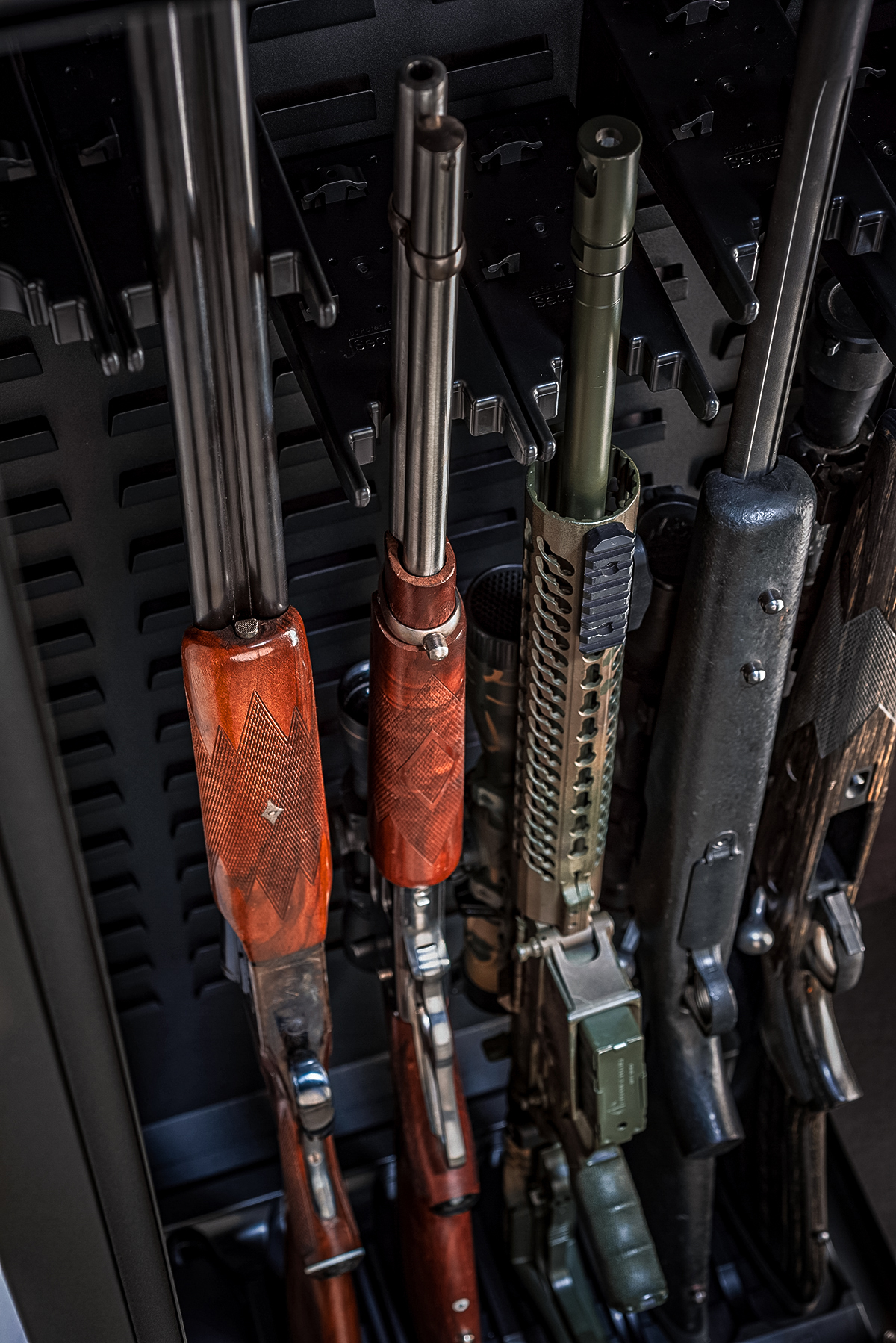 Plus, the Pro model comes swanked out with 13 accessories that the base model doesn't have, including a door organizer, a rifle and gear shelf, three small bins with removable dividers, three medium bins, a large bin with dividers, two metal storage trays, and two magnetic hooks. That's on top of the already included 6-digit electronic push-button keypad and swing bolt lock system with a key override (two keys included), six cradles with bungees, and three stock bases.
It's a big-time gift that any gun owner will be stunned to unwrap. But you'll probably need a lot of wrapping paper. Like, a lot. — David Maccar
RELATED – VSSL First Aid Stash and Stash Mini: Survival in a Can
---
Swiftwick Flite XT Trail Five
Price: $26.99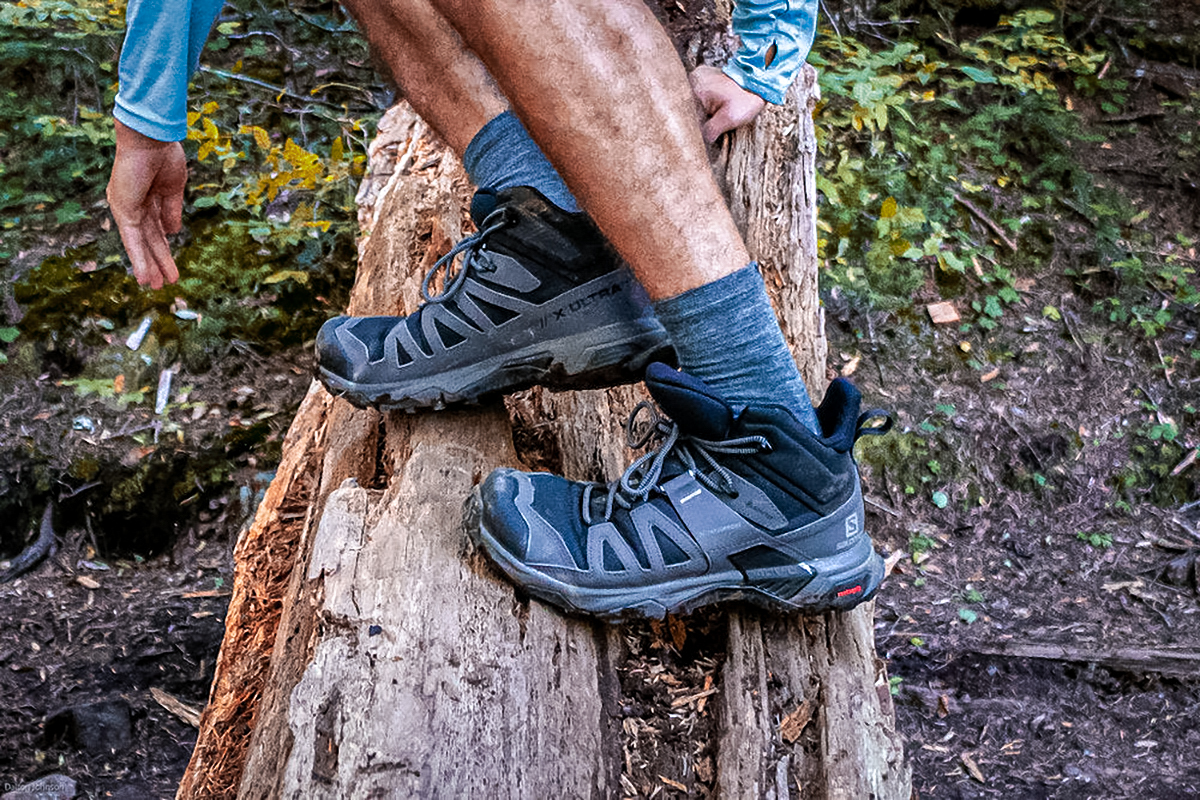 I'm a sucker for wool socks, and I'm not talking about the warm cozy slipper type that attractive protagonists wear in Hallmark holiday movies while they sip hot cocoa and stare into the eyes of their love interest.
I developed my love of woolies on rough hikes in harsh weather, not in front of a crackling fireplace. Although socks are an essential piece of gear, they are often overlooked while we focus on more glamorous, interesting, and expensive equipment. In truth, socks can make or break a hunt.
Swiftwick's Flite XT Trail socks are probably my all-time favorites. As some of the most technologically advanced hiking socks on the market, these definitely aren't your Granddaddy's woolies. Flite XT Trail socks are made from soft blended merino wool and take comfort up several notches. These gems feature AnkleLock Technology that works with your boots to fully support the ankle when hiking challenging terrain. They also feature GripDry Fiber in the heel and forefoot to keep your foot from slipping inside your hikers.
These socks aren't super thick, but they offer the perfect amount of warmth for the early bow season, and the merino wool and Olefin footbed help wick away sweat to keep your feet cozy both on the hike in and during the sit. Plus, it's kinda funny to stuff a stocking with awesome socks, right? — Alice Jones Webb
GOOD GEAR – In Honor of Our Mainstream Media Friends Wear the BRCC Trust Us T-Shirt
---
Taurus Raging Hunter
Price: $1,021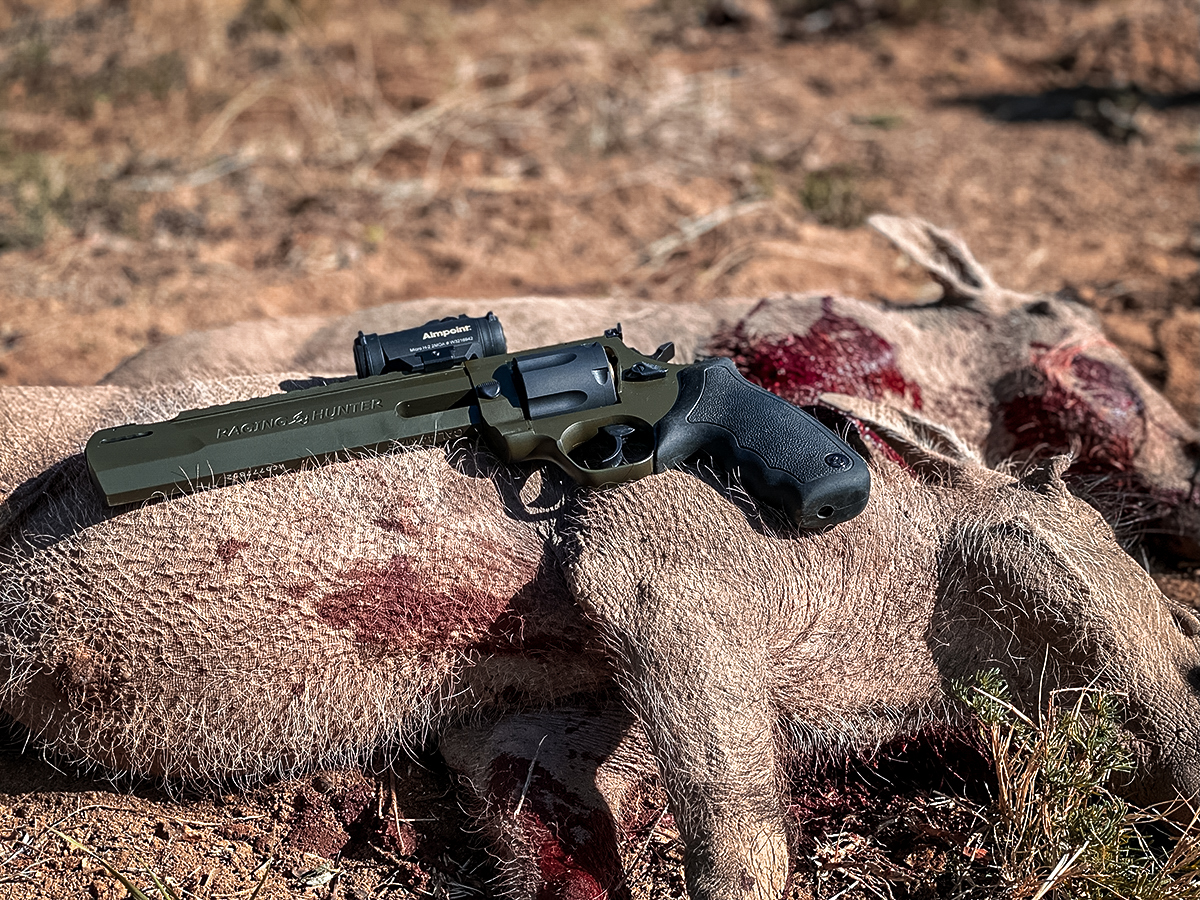 Sometimes, we hunt in places where we must share territory with grizzlies and other dangerous animals, and when things go totally sideways, sometimes the only solution is a sizeable sidearm. This hefty gift idea can be a last line of defense for any hunter or an ultra-capable hunting handgun.
There aren't many factory revolvers chambered in the beastly .454 Casull, but the Taurus Raging Hunter is one of them. It's also one of the most popular and certainly the most affordable. This next-generation revolver in .454 is available in all black or a two-tone finish with an angular barrel design that cuts down on overall weight.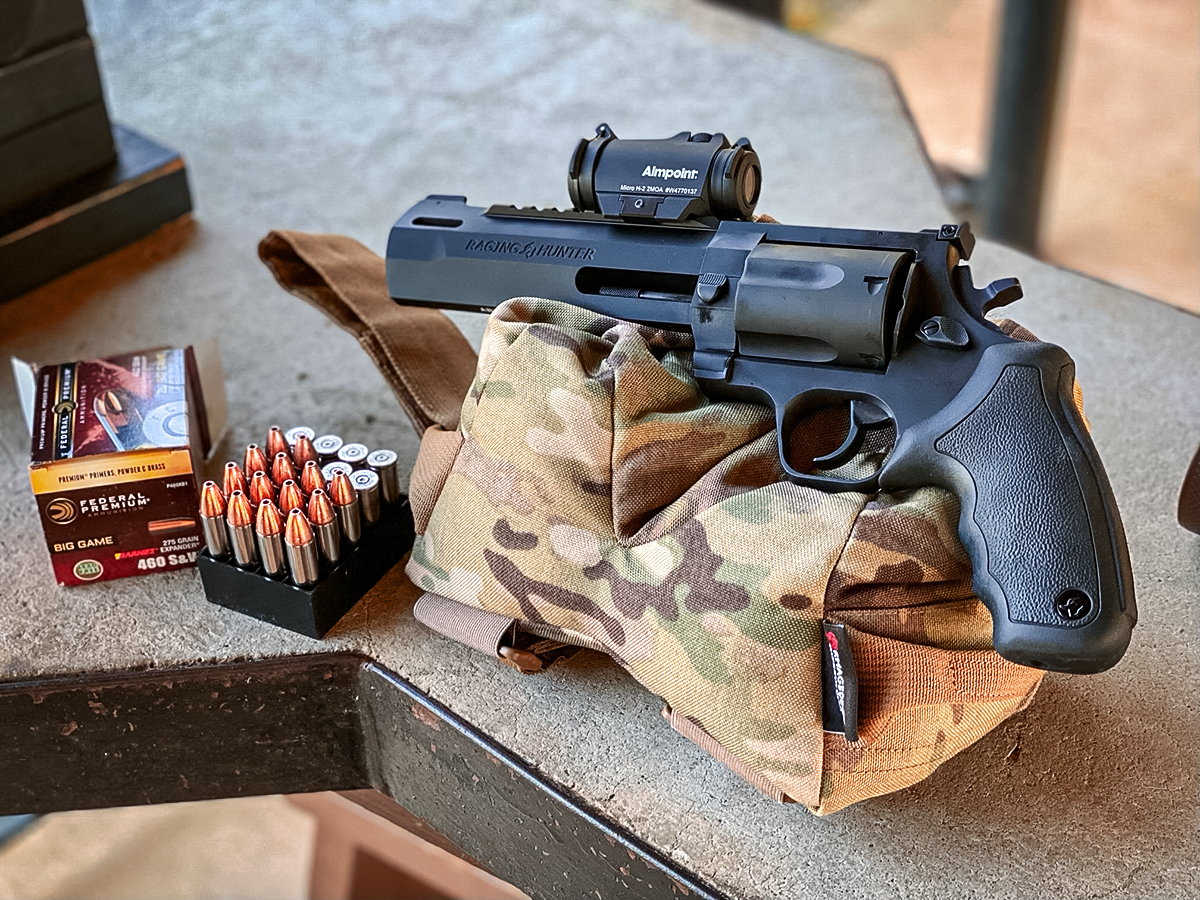 It features a factory-timed porting and gas expansion chamber that reduces muzzle rise for easier follow-up shots with the powerful cartridge that's been proven in the field many, many times over.
Earlier this year, Alaskan hunter Tana Grenda and her hunting partner drew down on a charging moose with their Taurus .454 Casull revolvers, and it took multiple shots to bring it down. The year before, Grenda successfully defended herself and her brother from a huge charging grizzly with her Taurus.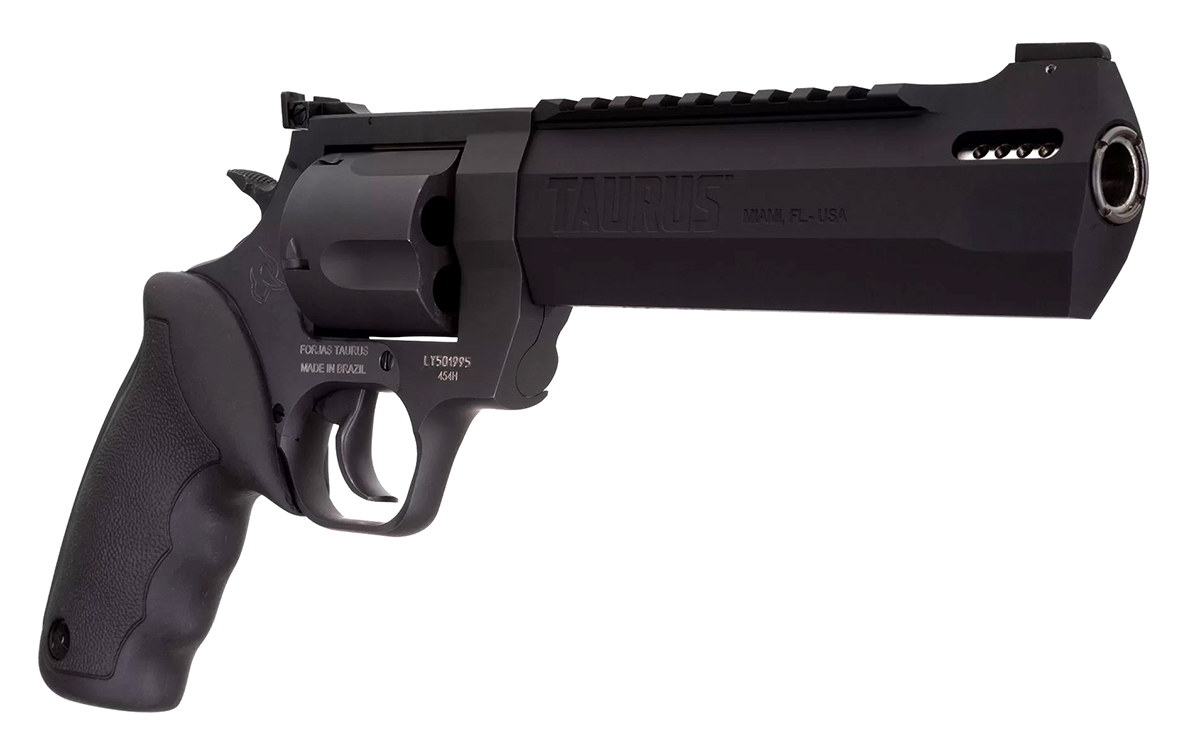 The .454 model is available in three barrel lengths — 5.12, 6.75, or 8.37 inches) — and the Raging Hunter is also available in the powerful .460 S&W Magnum as well as the tried and true.44 Magnum and .357 Magnum. All Raging Hunter models feature an optics rail on the barrel, and there's a model to suit any handgun hunter as well as anyone who wants a beefy, powerful defensive revolver for the field. — David Maccar
RELATED – New Matador Backpack, Beast28 Helium, Targets Ultralight Hikers
---
Work Sharp Guided Field Sharpener
Price: $34.95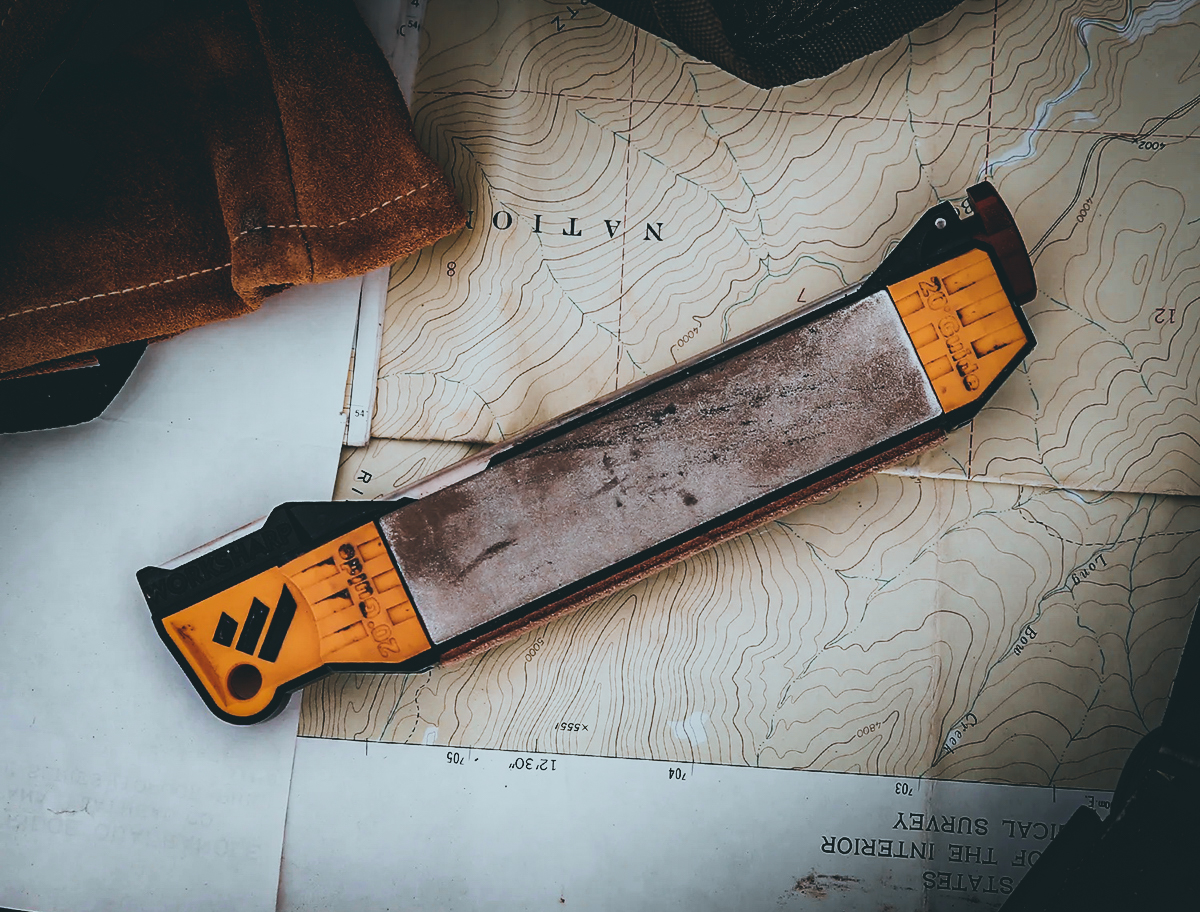 This is one of those pieces of kit that isn't impressive at first glance, and when someone rips off the wrapping paper, they might not start jumping up and down, but this is, without a doubt, the best pocket knife sharpener you can buy that can also take the same beating as the rest of your proven gear.
It has everything you need to put a fine edge on your hunting knife, fix up a mangled hatchet or ax head, polish up those broadheads, and even sharpen serrations and fishhooks.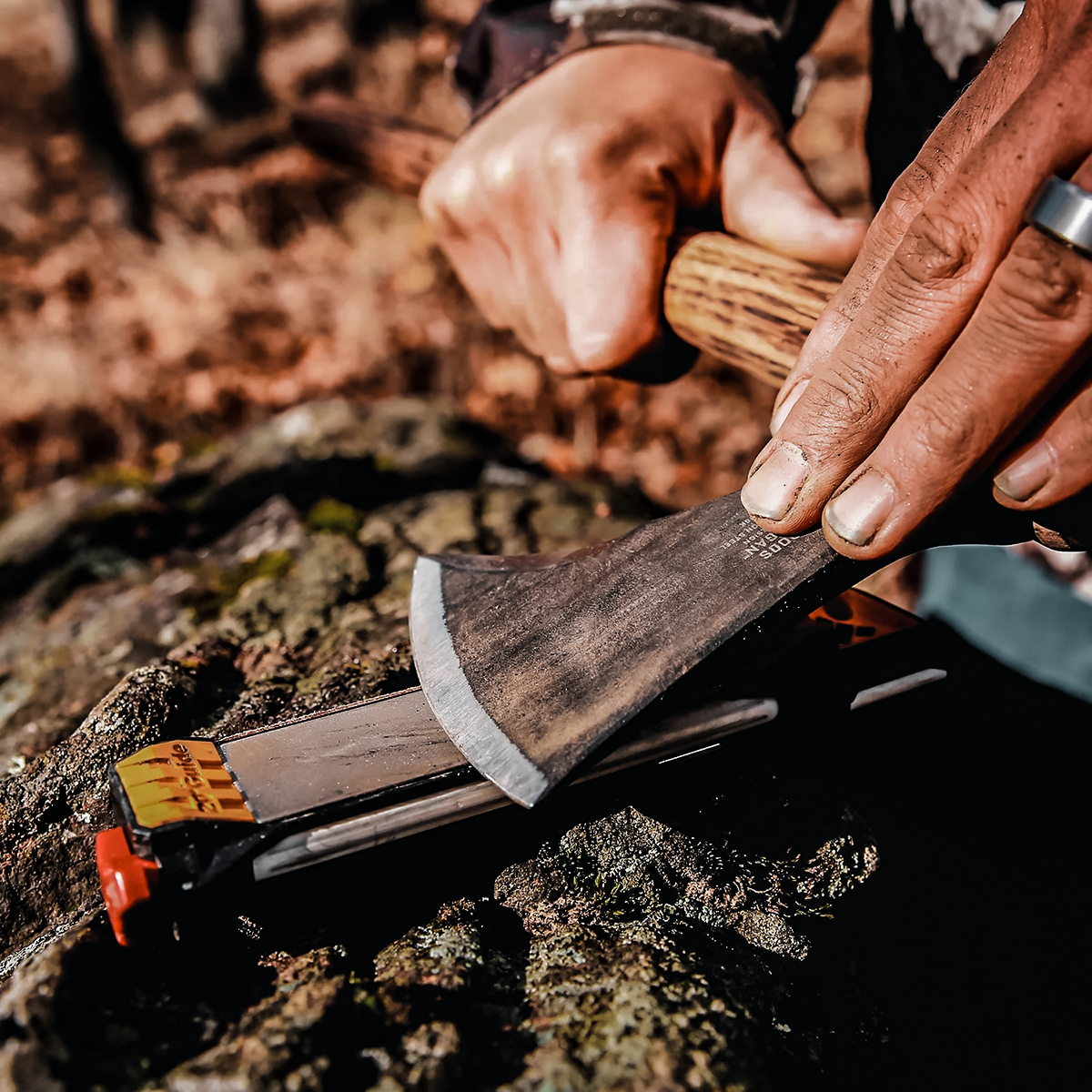 It's one piece with no accessories to lose or forget that incorporates five stages of sharpening and honing — 320- and 600-grit flat diamond stones, a fine ceramic rod, and a leather strop — and each one has built-in 20- and 25-degree angle guides that make sure your edge is consistent along the bevel of any blade.
Plus, the diamond plates pop off to reveal a small storage compartment and a wrench for three- and four-blade broadheads.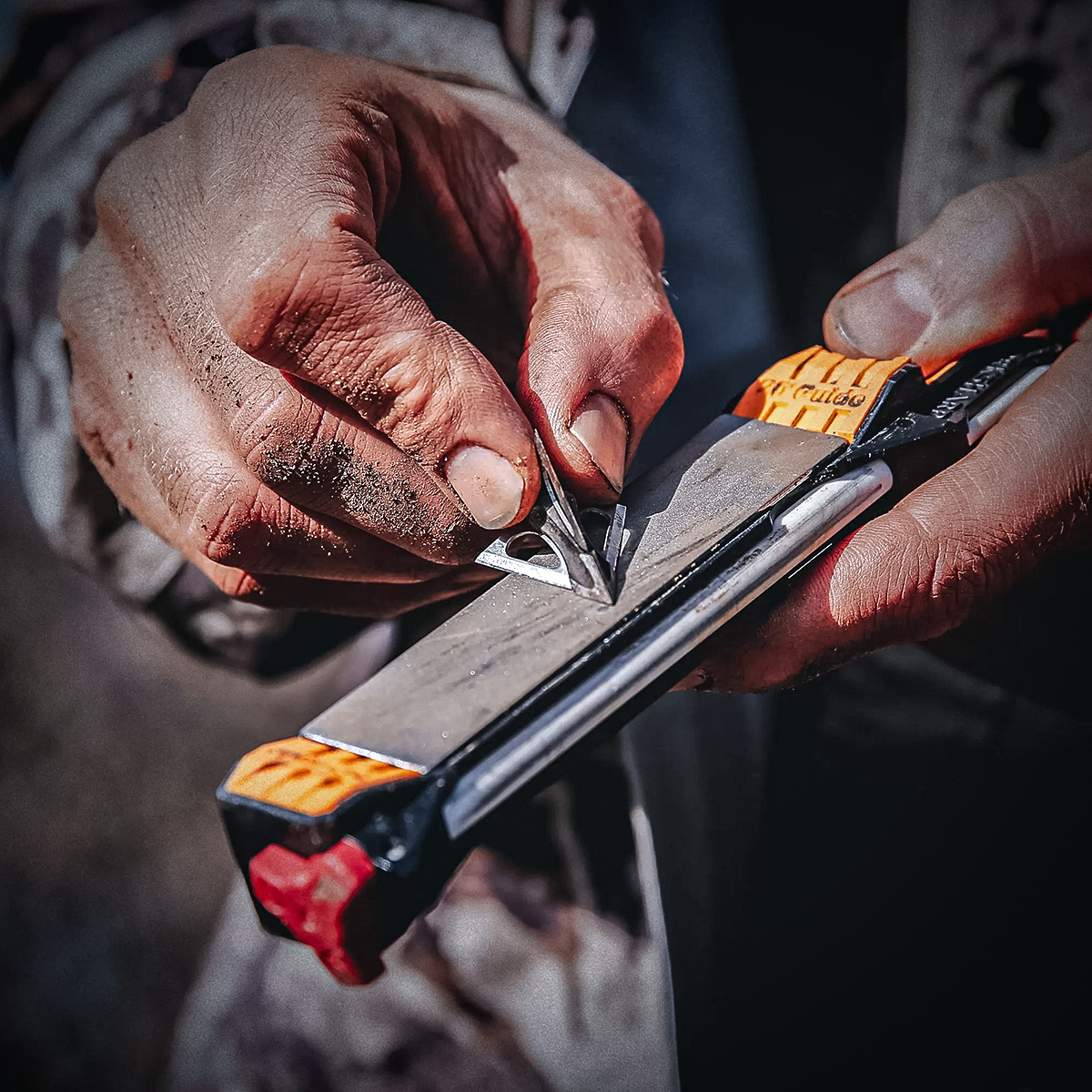 I've used this sharpener for years and tossed it in and out of more gear bags than I can remember. It's never failed, and while it's not the easiest to use on large knives, it can manage, and it's perfect for folders, hunting knives, and camp knives.
I use the ceramic rod more than anything to hone edges before they need sharpening, and the leather strop lets you get a shaving-sharp edge if that's what you want.
Get this for someone who carries a knife, and they will absolutely use it and hopefully think of you every time they cut themselves on their super-sharp knife. — David Maccar
GOOD GEAR – Power Your Adrenaline-Fueled Days With the BRCC CAF Roast
---
Zamberlan 971 Guide Lux GTX RR Boots
Price: $450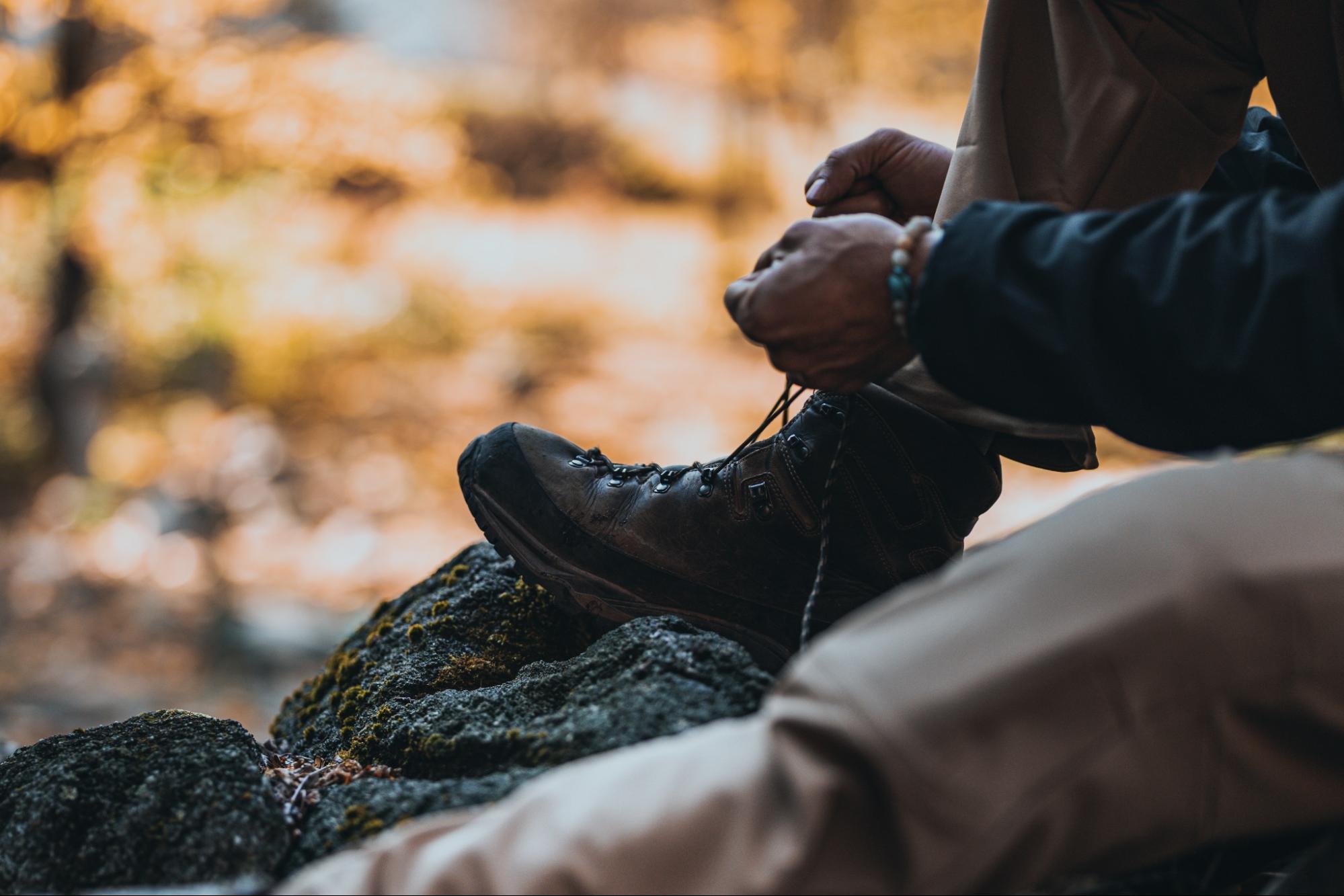 There's a golden rule when it comes to outdoor gear: Never buy cheap boots, and never buy a cheap pack. Zamberlan boots certainly aren't cheap, but they're worth every penny.
Zamberlans are known for their short break-in periods, and I can confirm firsthand how true that is. I got a pair of the Italian footwear company's 971 Guide Lux GTX RR boots four weeks before elk camp started up this year, and I admit that I was a little nervous stepping out that first morning to chase bugles. Tearing up your feet at the top of elk season can end it real fast.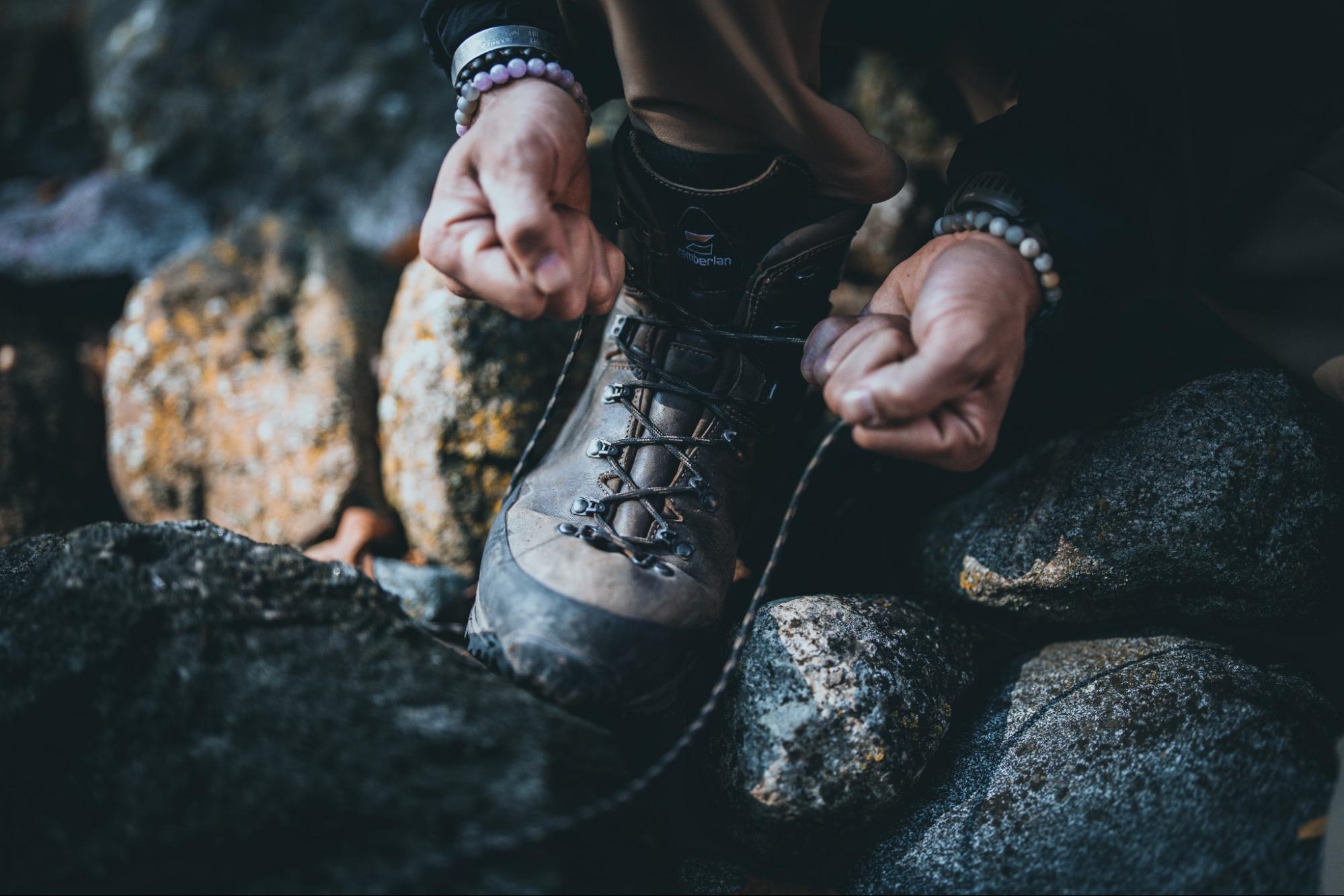 After 11 days of chasing elk in the backcountry and covering 99 miles in mixed terrain, the Zamberlans lived up to their reputation and made a believer out of me. Gifting a hunter on your list with a pair of these will win you some serious holiday points. — Kurtis Frasier
CHECK BACK FOR MORE AWESOME GEAR IN ROUND 3 OF 4 OF OUR HOLIDAY GEAR GUIDE ON NOV. 17!
---
GEAR GUIDE – ROUND 1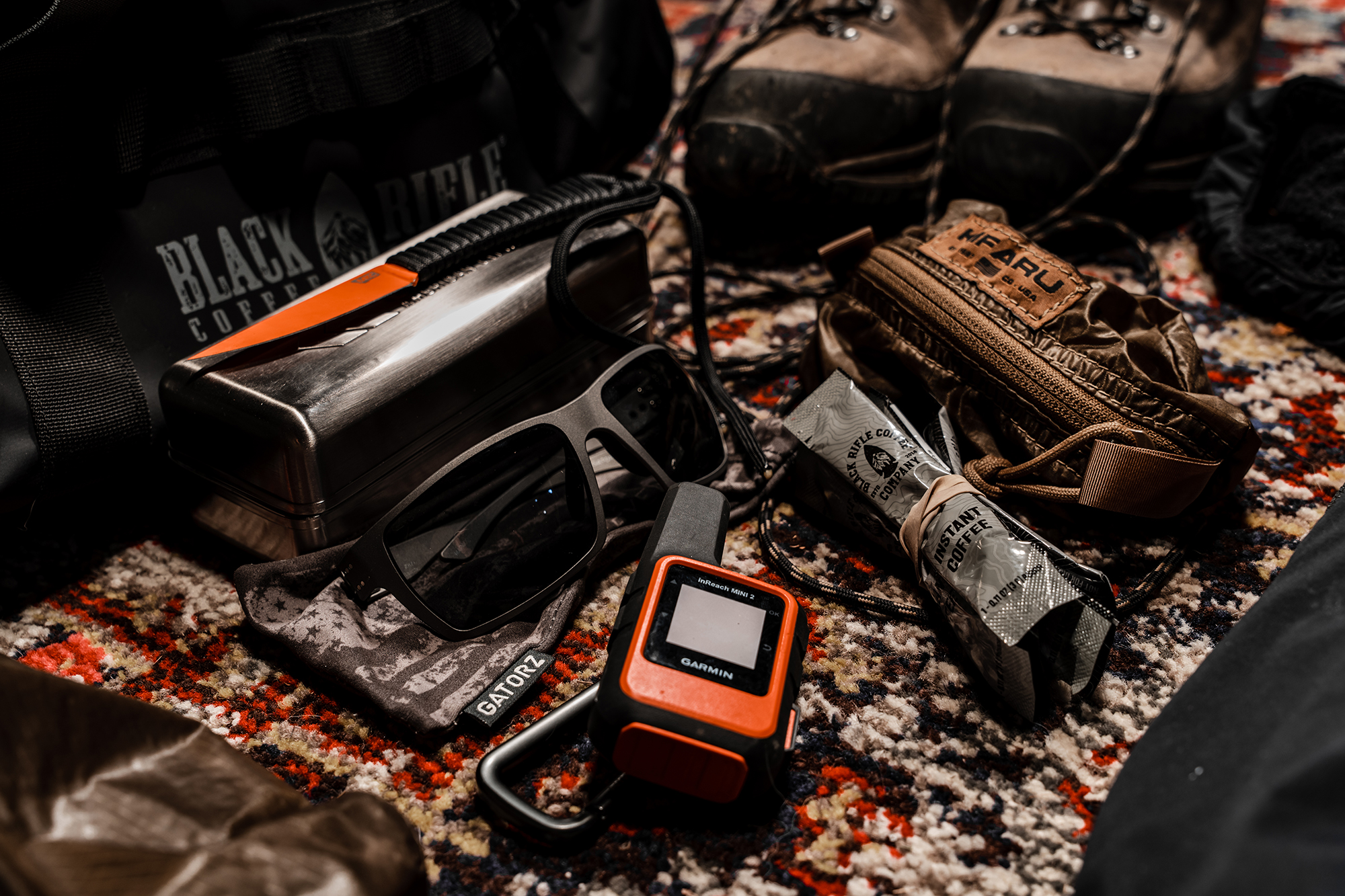 ---
5.11 Tactical Eldo RT (Roll-Top) Pack
Price: $125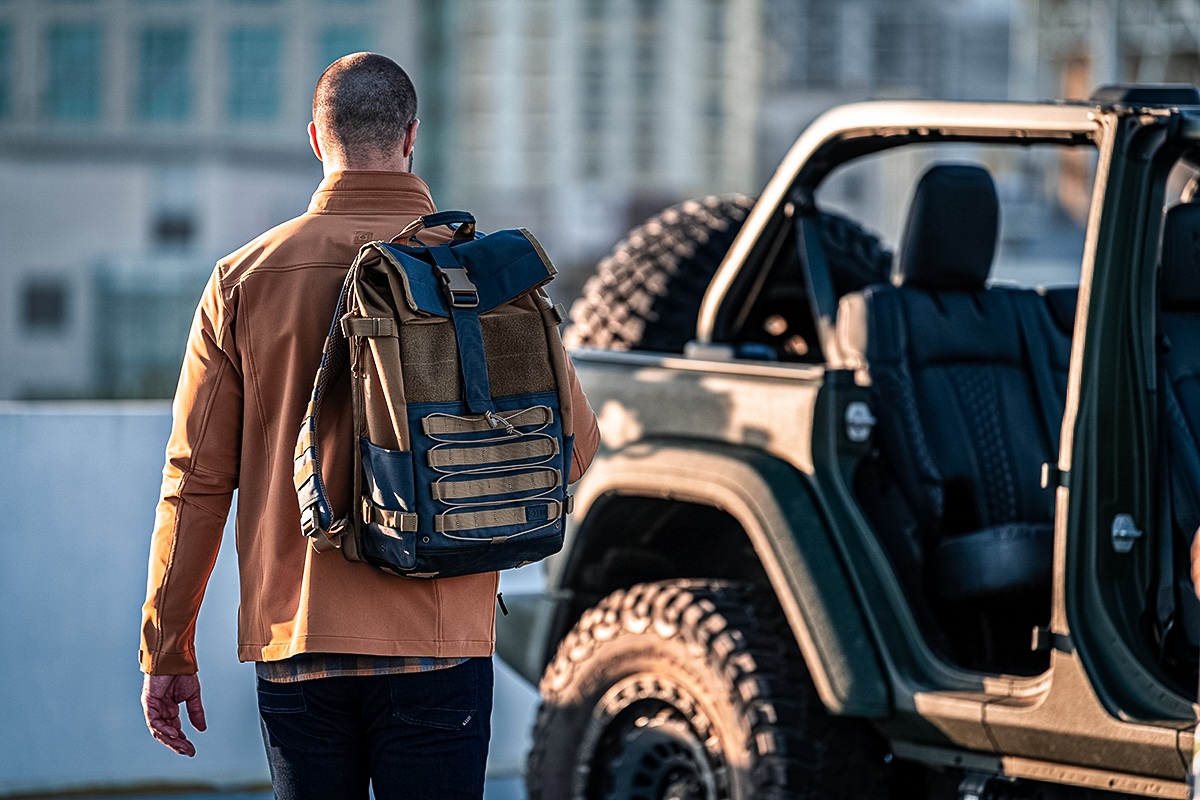 I like packs that give you options, especially a day pack that I will probably use for absolutely everything and anything. I also need it to stand up to getting dirty and thrown around and basically getting this shit kicked out of it. This new Eldo Roll-Top pack from 5.11 Tactical checks a lot of boxes for me.
Based on bag designs popular among bushcrafters, the Eldo RT gives you the packability and the water resistance of a roll-top pack when you need it, along with the accessibility and convenience of a full-zip pack.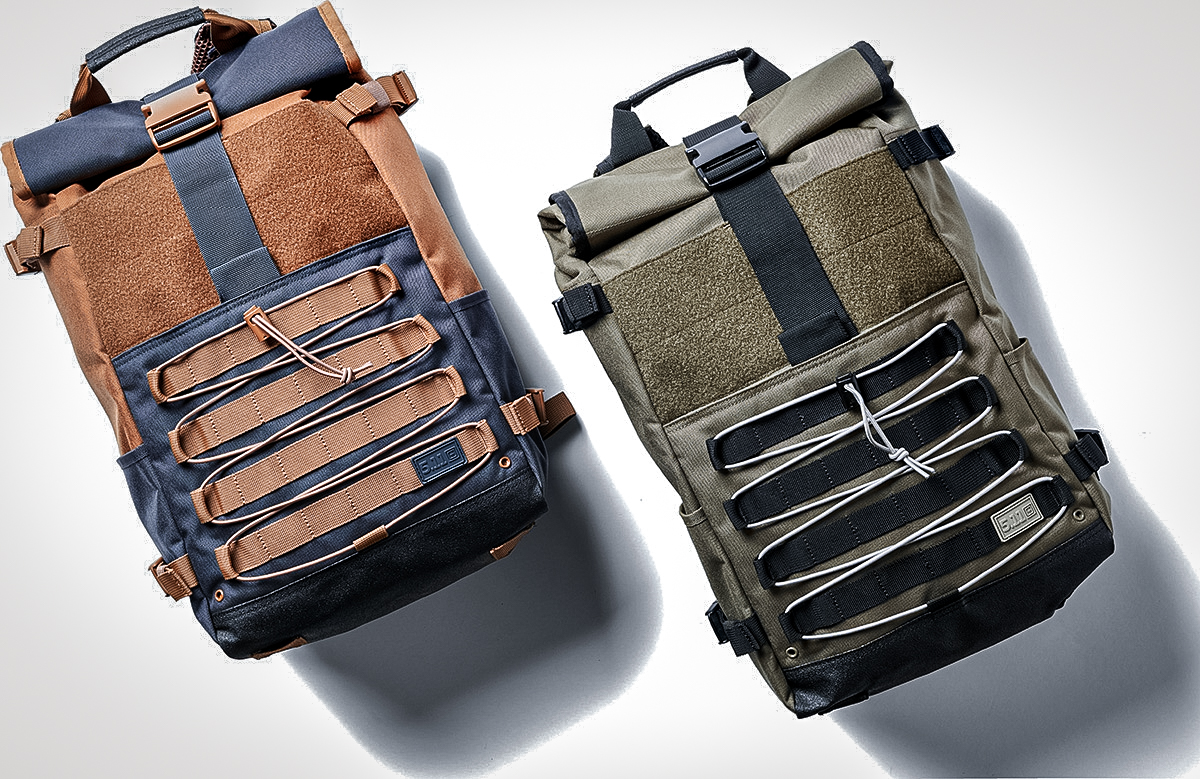 When you need it to be a roll-top so that you can open it when it's jammed between your legs on a plane or in a blind, or when you need to jam a puffy coat into the top of it and need the extra space, that's what it is. And you can open it from the top quietly with only one large QR buckle to deal with — no zippers, no Velcro.
When you're dumping and reorganizing your gear for the next day, the entire back panel zips down, giving you top-to-bottom access to the large main compartment and the internal laptop sleeve and pouches. Of course, the zipper can be opened on one side or the other to access items at the bottom of the pack at any time.
With a 30-liter capacity, this entire backpack is made from 1050D nylon and 600P polyester for an ultra-rugged construction and a TPU-coated bottom for extra durability where it's needed most.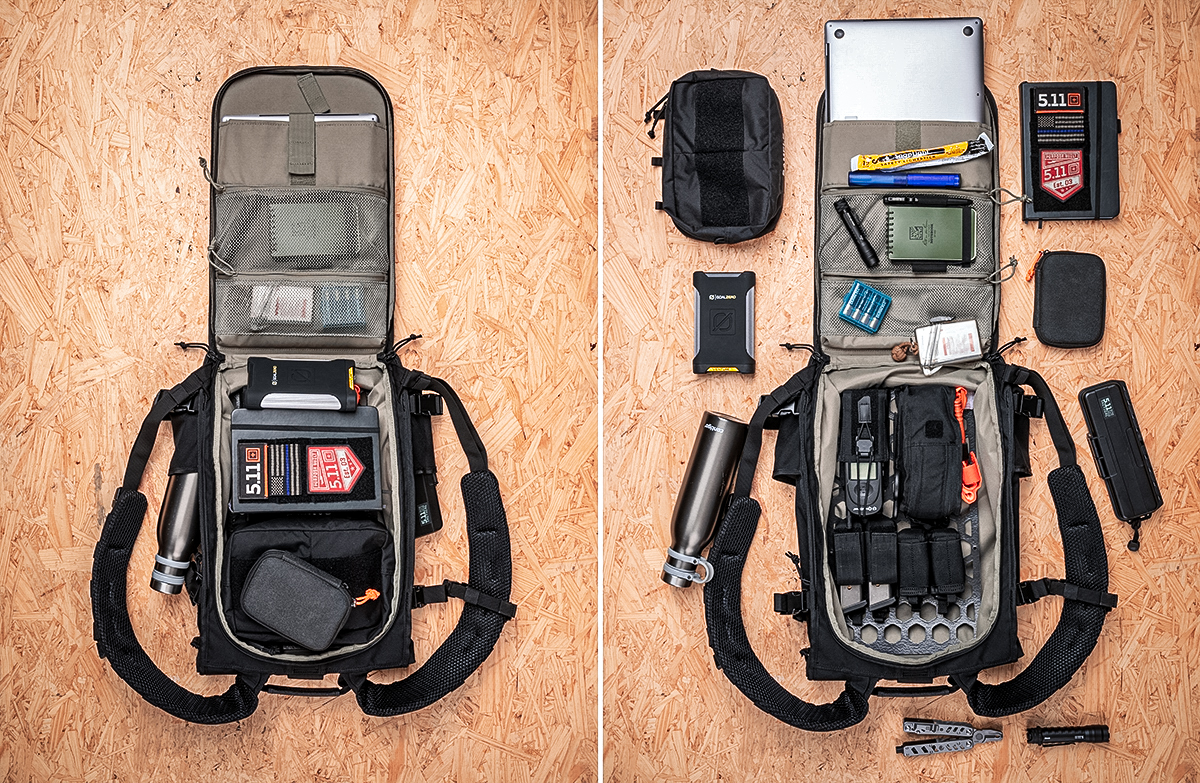 The exterior sports a small zippered pocket for little things that get lost easily on one side, and a Nalgene-bottle-sized open-top sleeve on the other. The front features a large, flat outer pocket with a large hook-and-loop area plus MOLLE webbing (which comes laced with a long bungie). On the bottom are lashing loops. All that means you can customize the hell out of this pack. It has become my new favorite EDC bag for practically everything, especially since it doesn't stand out as "tactical," but performs that way. I only hope 5.11 comes out with a larger version. Right now, 5.11 Tactical is offering up to 35% off select items from Nov. 22 to Nov. 29. — David Maccar
RELATED – Daniel Defense Suppressors Finally Introduced With 3 Rifle Models
---
Born Primitive Men's Frontier Pant
Price: $209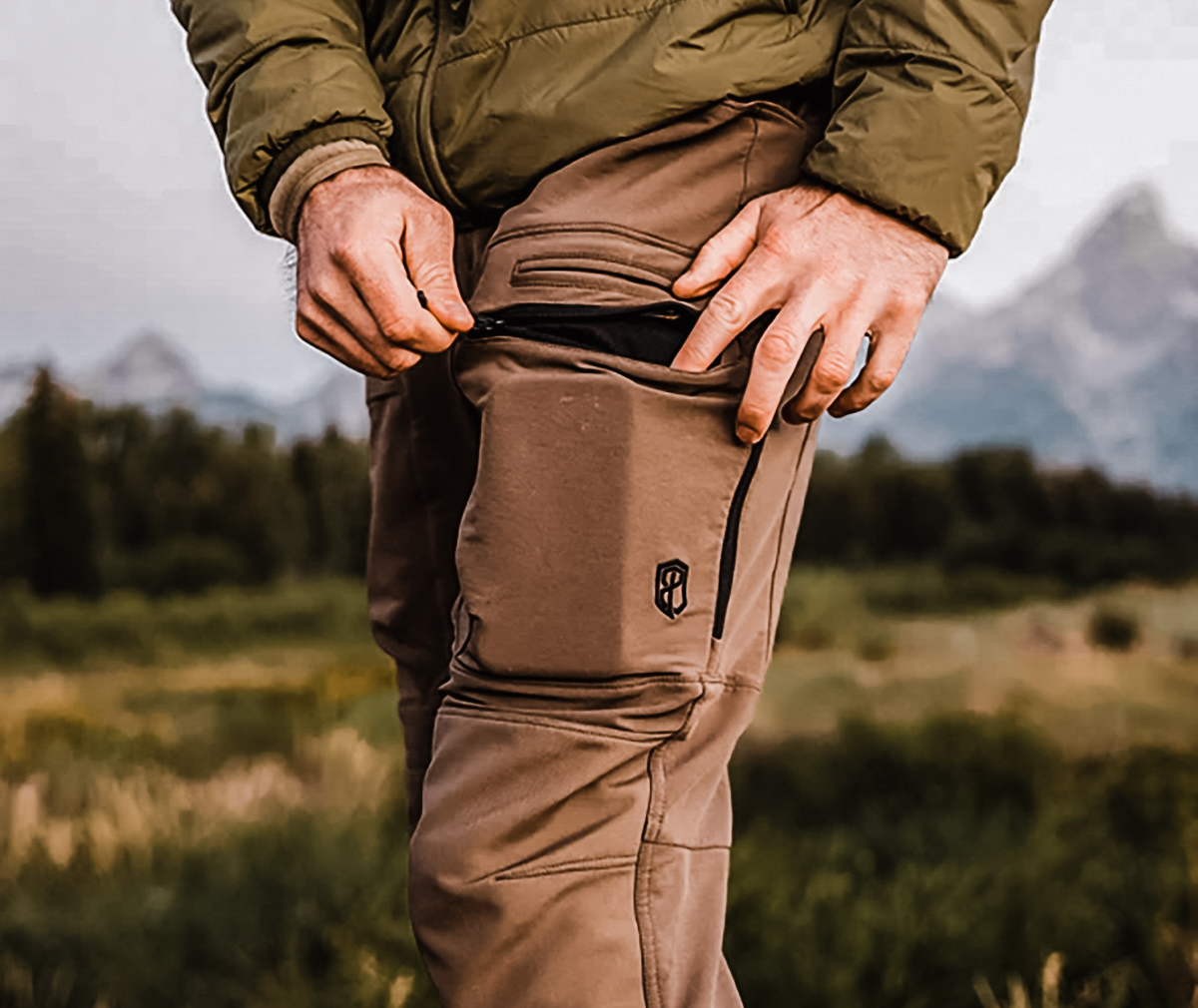 If you're looking for a gift that can be used for more than hunting, the Frontier Pant from Born Primitive is a solid option. These pants kick ass on the range, on the mountain, and anywhere in between. Designed by gear expert Aron Snyder and tested by some of the tactical and outdoor world's leading professionals, you'll have a hard time finding better outdoor pants.
The pants are offered in two solid color options, OD Green and Coyote Brown. Waist sizes range from 28 to 42 inches, and there are two inseam options: 33 and 36 inches. The pants are made from a blend of nylon, polyester, and spandex that allows for plenty of flexibility and boosts durability. They're best suited for cooler weather: 60 degrees and below. However, thanks to the side vents, I've worn them on the range in 80-degree weather and didn't cook my cojones.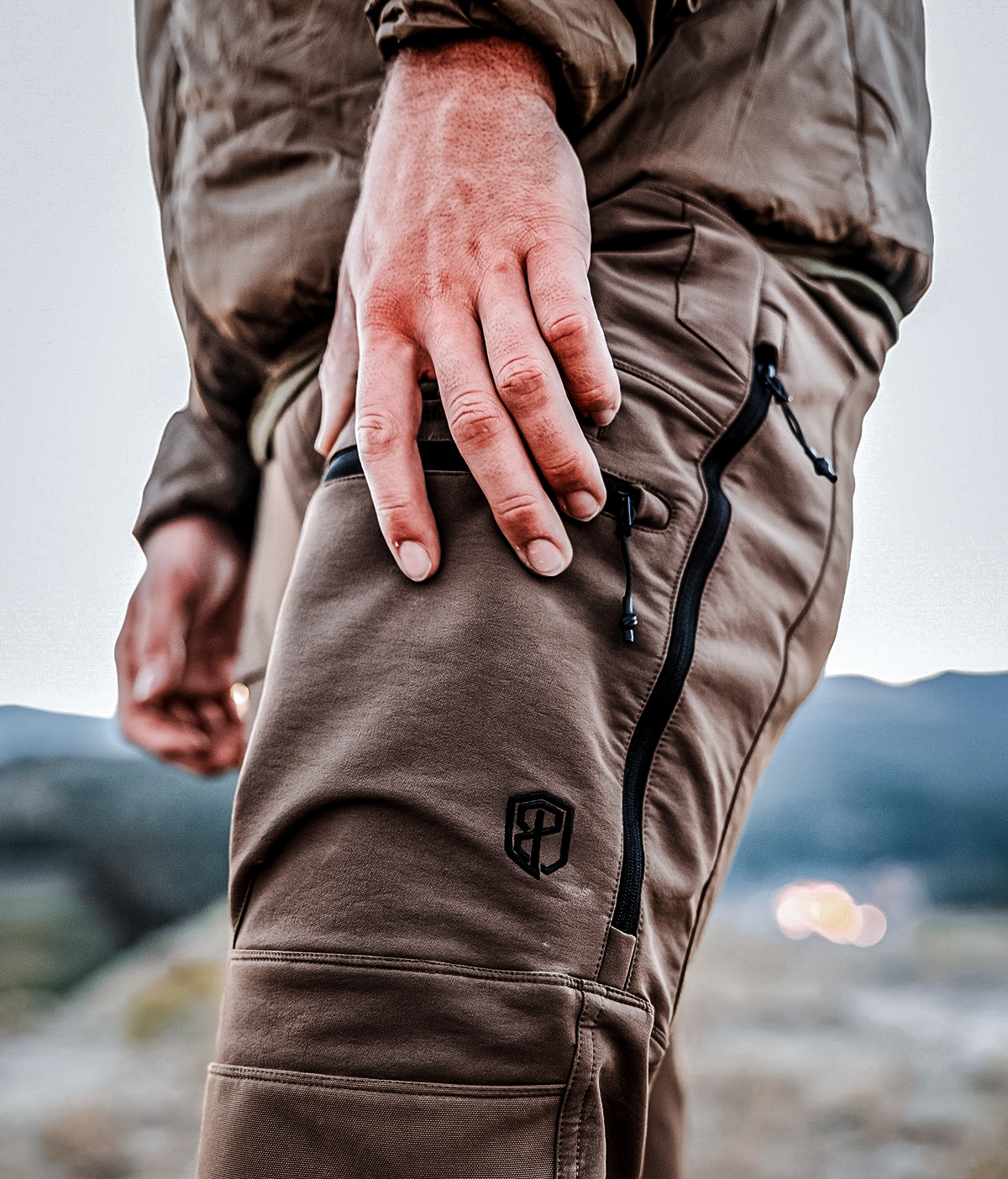 It's rare that a piece of hunting apparel nails it out of the gate. There are plenty of outdoor pants that I love the fit and function of but hate the pockets, and vice versa. The Frontier Pant fucking nailed it. The nine-pocket system is the best I've used.
The front upper pockets are cut in a way, so they're easy to access, but things aren't constantly falling out of them. The cargo pockets are placed slightly forward on the thigh and sewn on with just enough stretch that you can actually place items in them, but they're not so baggy that they're constantly getting hung up on things. Throw in the nylon-reinforced knees and seat area for a little extra protection and durability, and voilà, badass pants.
To sweeten the pot Born Primitive is donating 100% of all profits from all purchases made on Veterans Day and the two days after — Nov. 11 to 13. — Michael Herne
GOOD GEAR – Stand Out Looking Stylish With the BRCC Keystone Hat
---
ExtraCarry Concealed Carry Magazine Pouch
Price: $55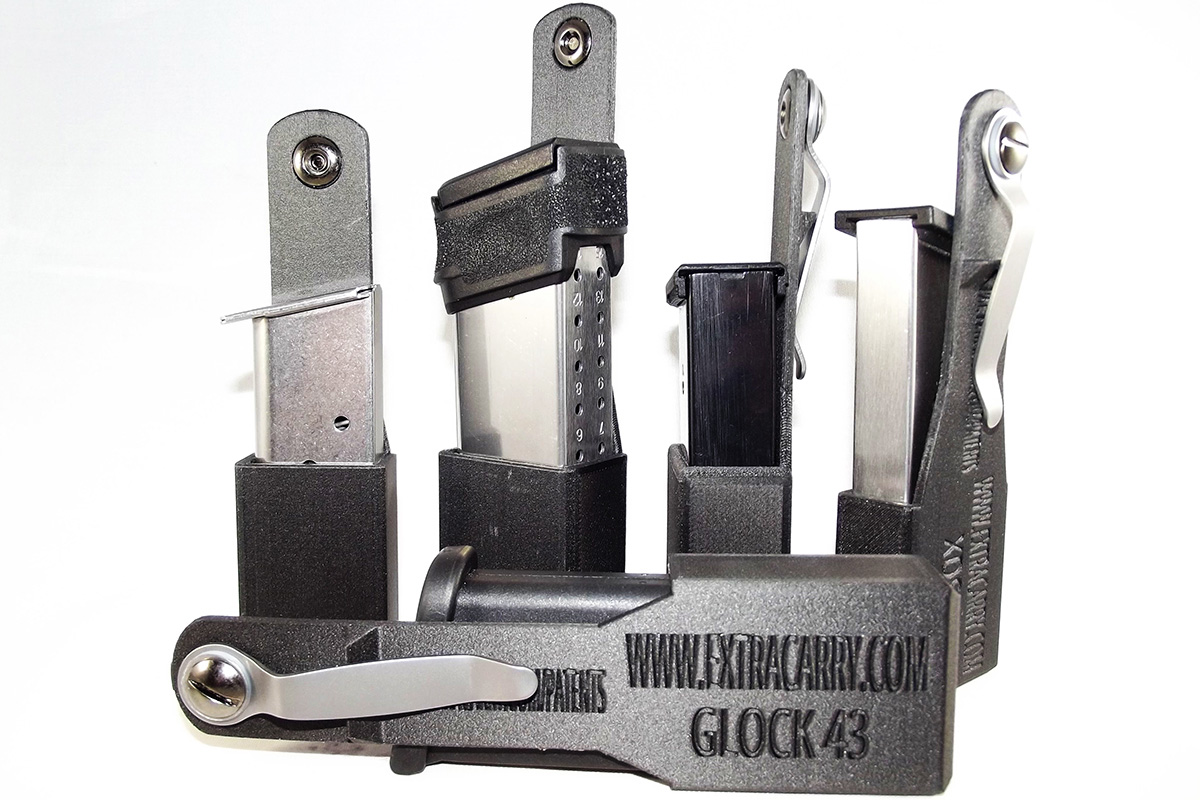 Finding a spot to tuck a spare pistol mag isn't always easy, especially in situations where you don't want to broadcast that you're carrying. Unfortunately, people start to talk when you show up to your cousin's baby shower in a full battle belt. ExtraCarry addresses EDC needs with its covert Concealed Carry Magazine Pouch.
Made from carbon fiber–reinforced nylon right here in the good ole U.S.A., the pouch slips inside your pants pocket and looks about as threatening as a simple penknife. The company makes models for all the most popular carry pistols, which ensures a glove-like fit for your mags. The clip holds it securely in place without ripping or fraying your jeans, allowing fast and consistent access to your reserve mag, although you'll want to drill those mag swaps.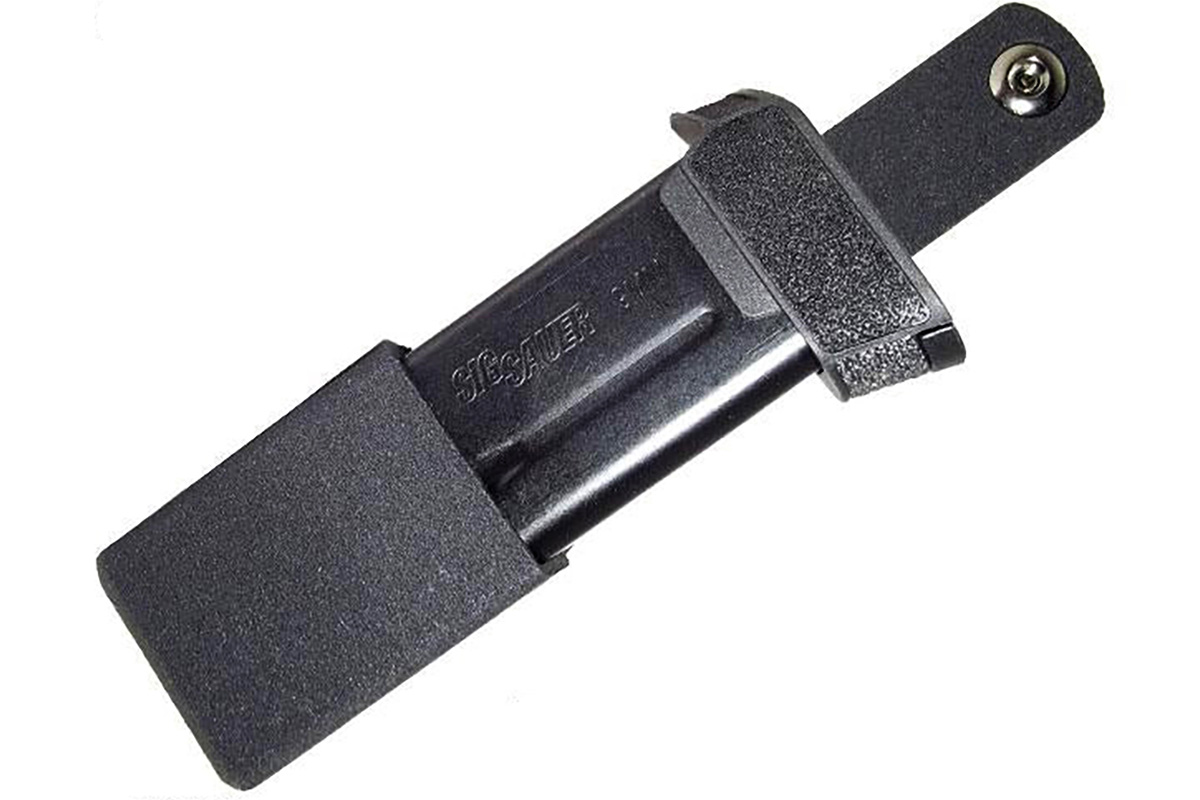 Unlike simply stuffing extra magazines in your pocket, the ExtraCarry pouch protects exposed rounds from pocket lint, spare change, or the half-eaten cookie you're saving for later (don't judge me). — Alice Jones Webb
RELATED – 5.11 Low-Vis EDC Packs Get Major Upgrades, Additions
---
Fieldcraft Survival x BRCC EDC Bag
Price: $119.99 (Coffee Clube Member Exclusive)
This bag is truly a jack of all trades when it comes to gear haulers. The compact size and weight make it perfect for your daily needs, whether it's a day at the range, a gym session, or a weekend getaway.
Designed by Fieldcraft Survival and constructed from heavy-duty 100D x 100D PVC tarpaulin, this collaboration between FCS and Black Rifle Coffee is made to take a beating, no matter what environment you take it to.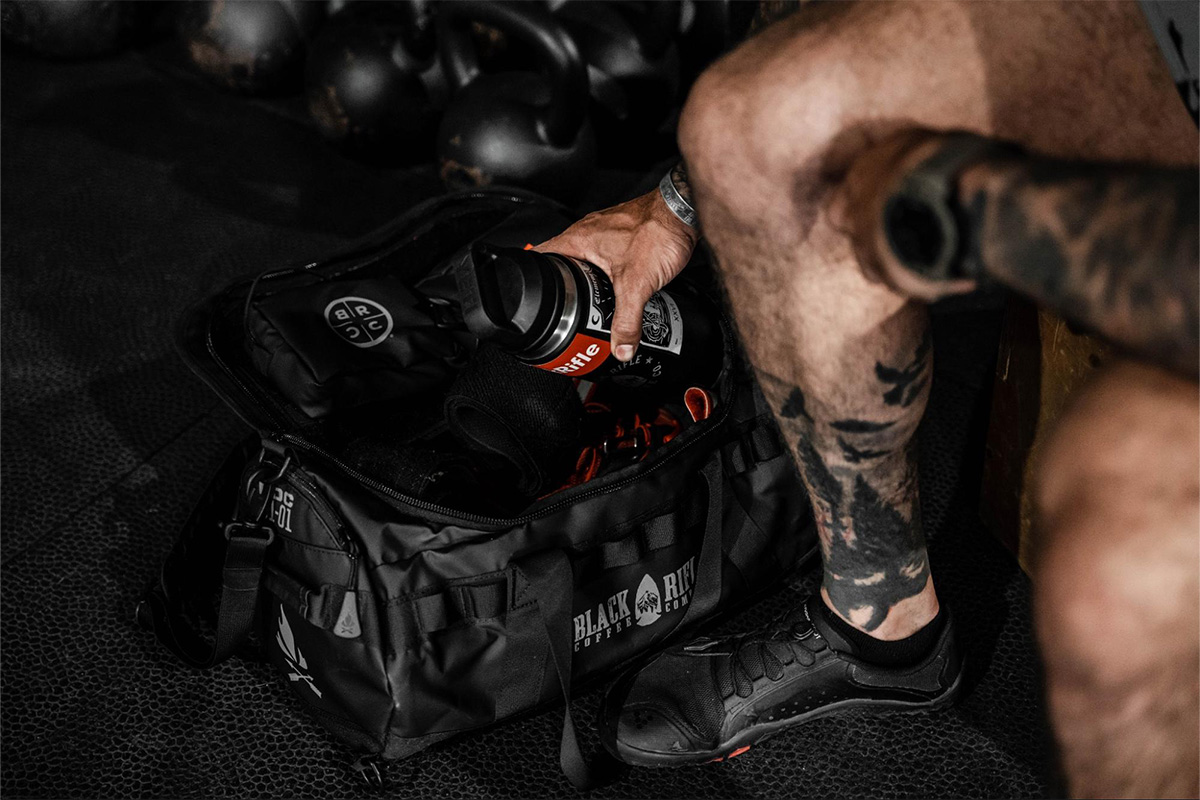 The pack comes with two velcro-backed pouches and includes plenty of MOLLE loops so you can attach whatever accessories your heart desires. This is one of those bags that's the perfect size with just the right number of options. There aren't too many little pouches and pockets, but it still allows for easy gear organization and plenty of storage capacity. Get this for someone, and they'll use it. — Kurtis Frasier
GOOD GEAR – Pay Homage to the Original Trench Knife With the BRCC Women's Trench Knife T-Shirt
---
Fisher Backpacker and .375 Cartridge Space Pens
Price: $36; $30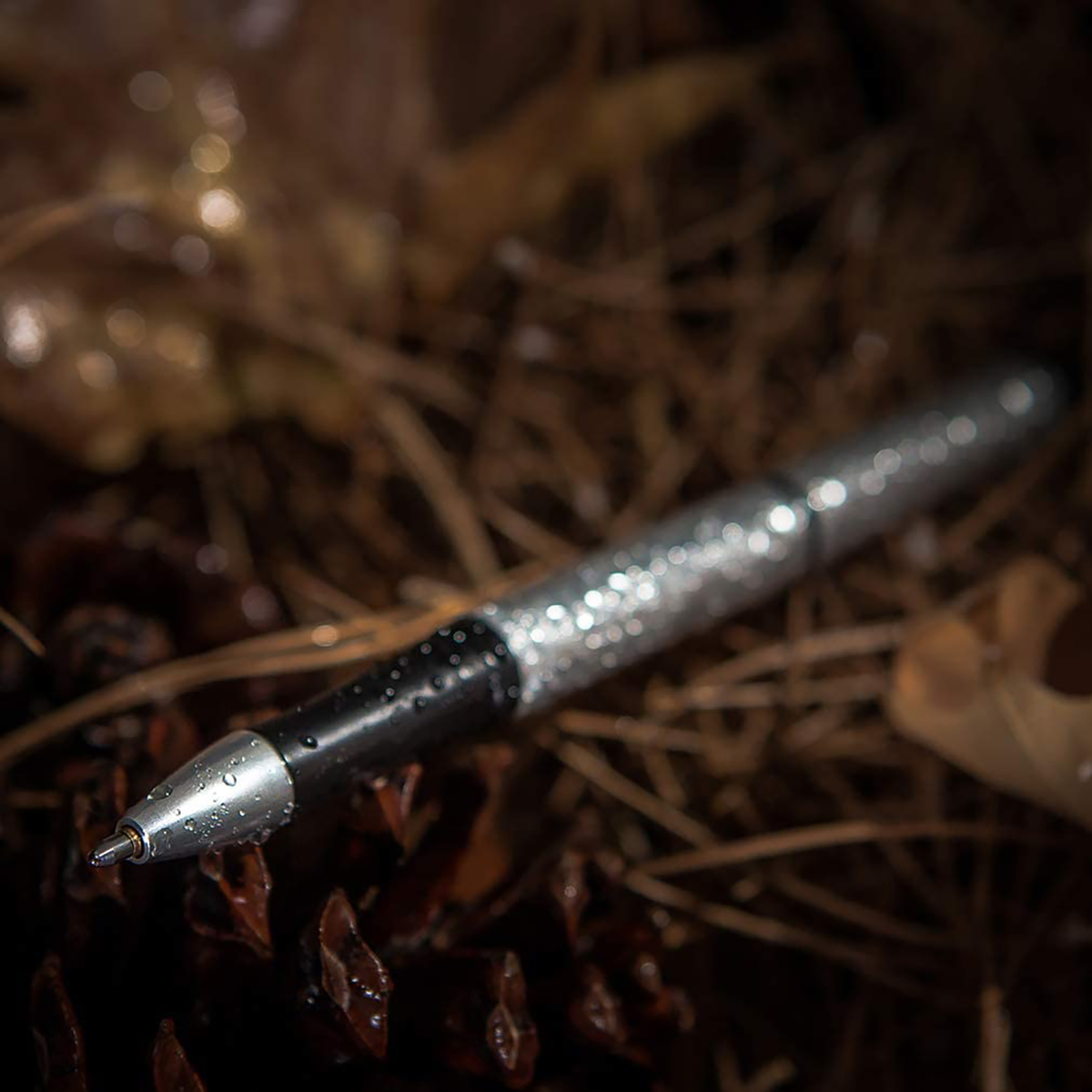 The Fisher Space Pen is legendary. The sealed and pressurized ink cartridge pen was designed by Paul C. Fisher for NASA's Apollo Program in 1967 and was first used on Apollo 7 in 1968, and it's been on every manned NASA space flight since. It's the pen that famously lets you write upside down.
These days, Fisher Space Pens come in an array of variants, including new Cerakoted models and models bearing military branch insignias. Fisher also makes a tough-as-hell version of its pen for the outdoors: the Backpacker.
Fisher calls it "the pen that truly goes anywhere, writes everywhere but attaches to everything." Because of the pressurized cartridge, it can hang upside down forever and be ready to use immediately. It isn't the sexiest piece of gear, but when you need a pen, it sucks to not have one, or to have a crusty old Bic that dried up long ago.
The Backpacker consists of two pieces, the pen body and the cap — each of which carries a pressurized ink refill cartridge. This thing will write at any angle, underwater, through grease, and it won't freeze up in the cold (it's rated to -30 degrees). It's the perfect pen for any hunting pack or field notes journal. After all, you need to fill out your tag with something.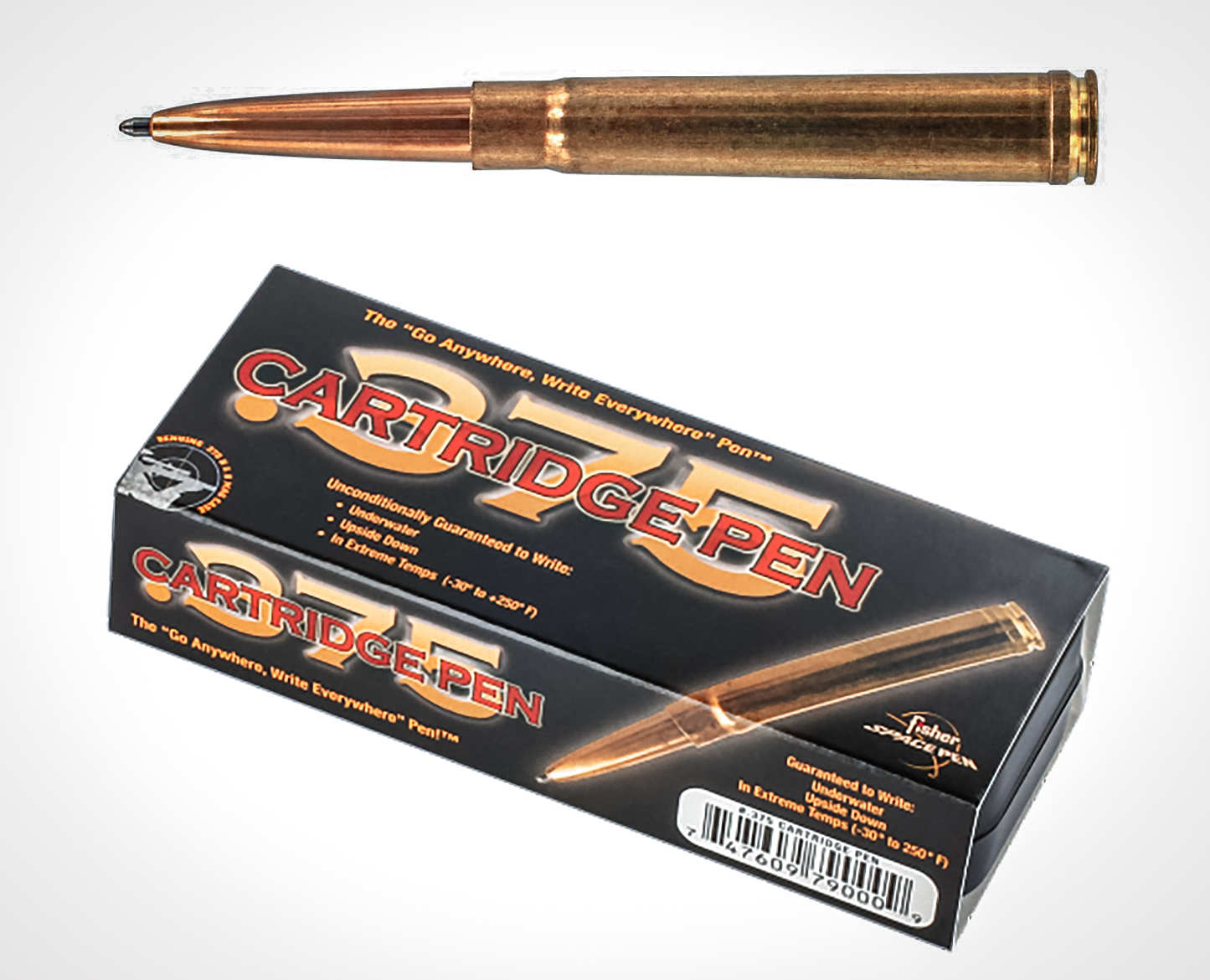 And, for the shooter in your life who loves to broadcast it, there's the Fisher .375 Cartridge Space Pen. It's made of raw brass, so it really looks and feels like a rifle casing, and the cap is made from an actual .375 H&H cartridge. It even comes in a gift box that looks like a box of ammo. The pen tip just pops out of the end of the "bullet." There's a version with an American flag on it, and another with a gold pocket clip. One thing: Don't go through airport security with this one. — David Maccar
RELATED – Silencer Central: Spreading the Suppressor Gospel
---
Gatorz Marauder and Skyhook Ballistic Shades
Price: $210 – $300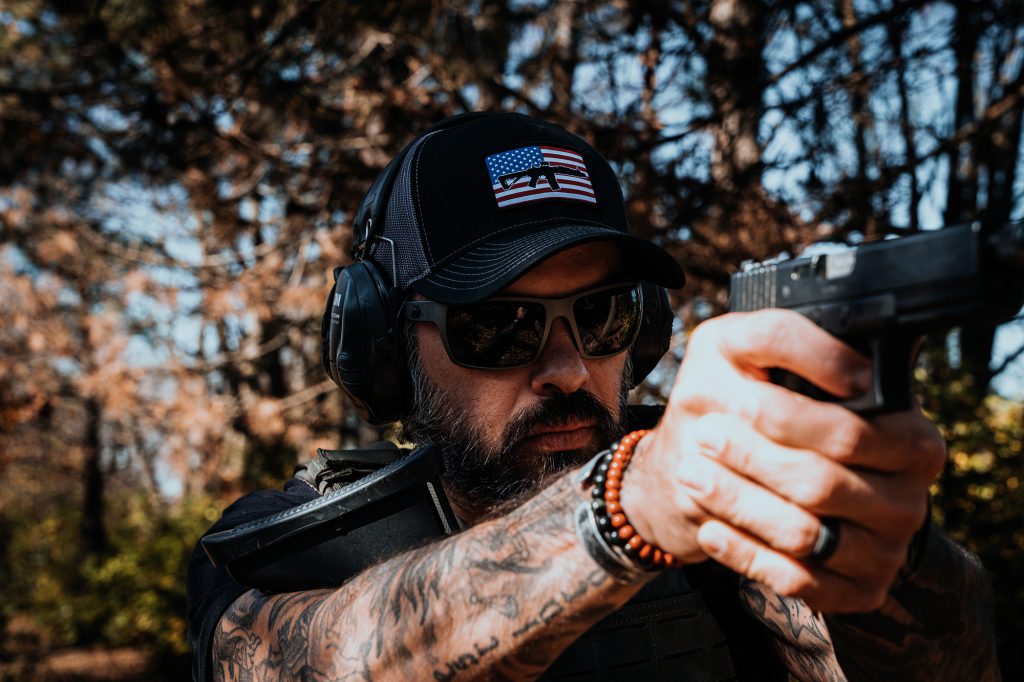 The new Marauder shades from Gatorz are just plain awesome. There are an array of lens color (including clear) and material options, including several ballistic lens options that will give you the protection you need for work, for the range, and for anything else you might get into.
The frames are Carakoted aluminum, so you can bend them to fit your head and face and step and sit on them without destroying them. Plus, they look completely badass without looking like stereotypical wrap-arounds.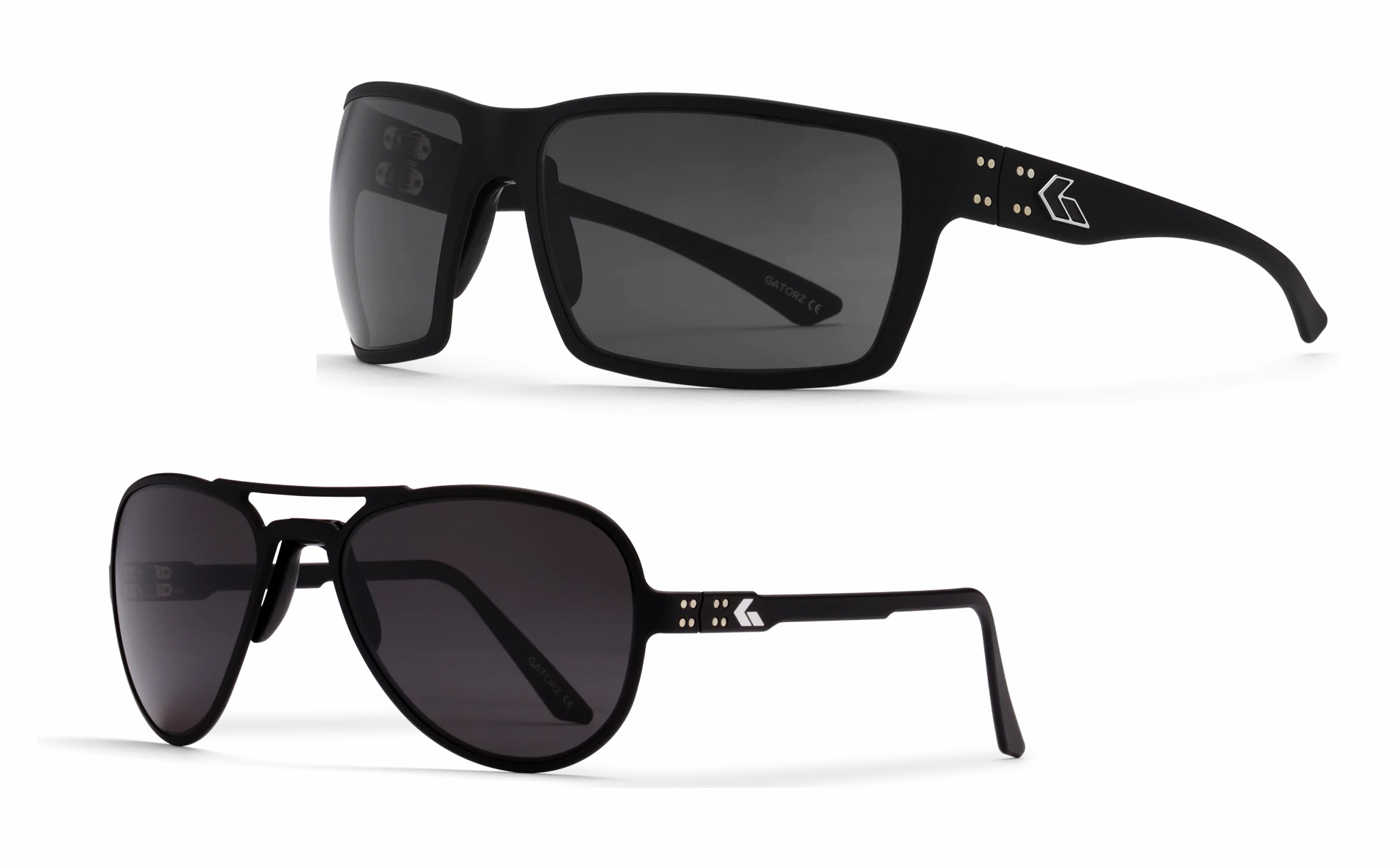 The temples on the Marauder are also thinner than other Gatorz models, meaning they'll play extremely well with hats, ear pro, and helmets of all kinds while offering superior protection. They can pull double-duty as everyday shades and eye pro for the range or pull full-time duty if you need eye pro on a daily basis.
For something a little more traditional, the sleek and lightweight design of the Skyhook is perfect for anyone you know who really loves that old-school classic aviator shape. But the Skyhook is fully updated with a modern look and materials.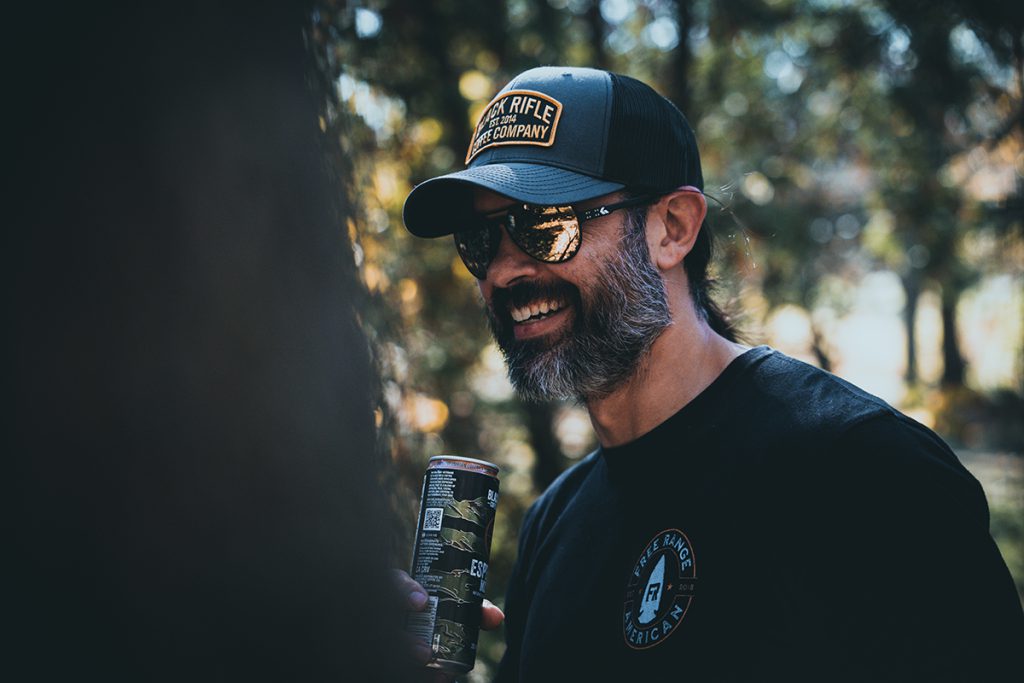 It has all the features of the Marauder, and you can get these shades with polarized lenses that allow you to actually look at and use a screen, which is a big advantage. The thin frame and the full coverage of the lenses will work great on multiple face shapes and sizes and, again, are made with Gatorz's rock-solid construction using aluminum and double hinges. Either model would make a great gift for pretty much anyone on your list, whether they need ultra-reliable eye pro or just a cool pair of shades. — David Maccar
GOOD GEAR – Wear A Hat to the Range With the BRCC Reticle Hat
---
Mystery Ranch Treehouse 38
Price: $299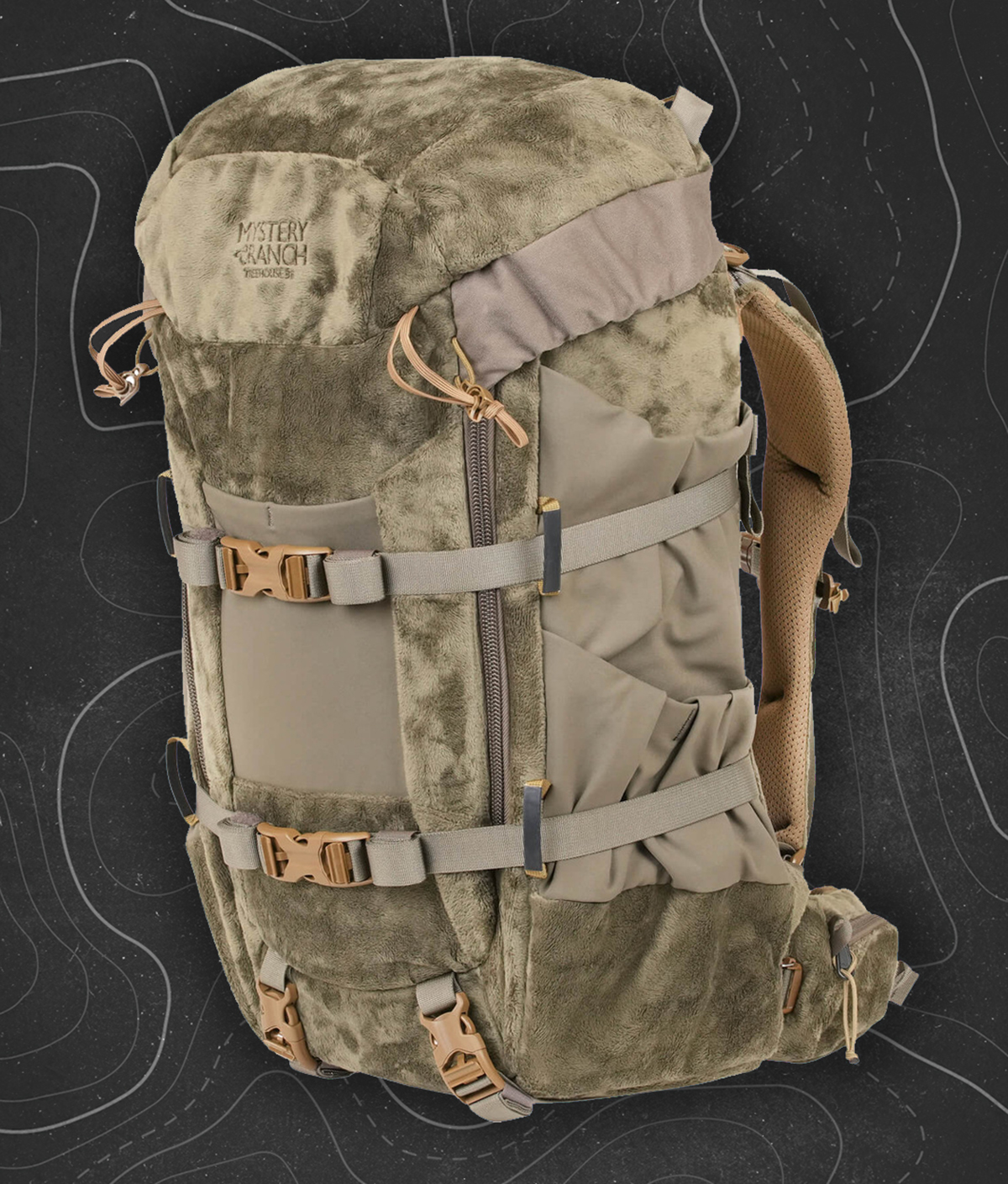 Keeping calls, optics, snacks, and other treestand essentials close at hand is tough without the right pack. That's why Mystery Ranch designed the Treehouse with whitetail hunters in mind. It features a reverse-attached lid and dual zippers so you can keep the pack hanging open to easily locate gear without spilling contents from 20 feet. At 4.5 pounds, the Treehouse 38 features 2,370 cubic inches of storage space with plenty of pockets and sleeves — plus accessory attachment options — for custom organization.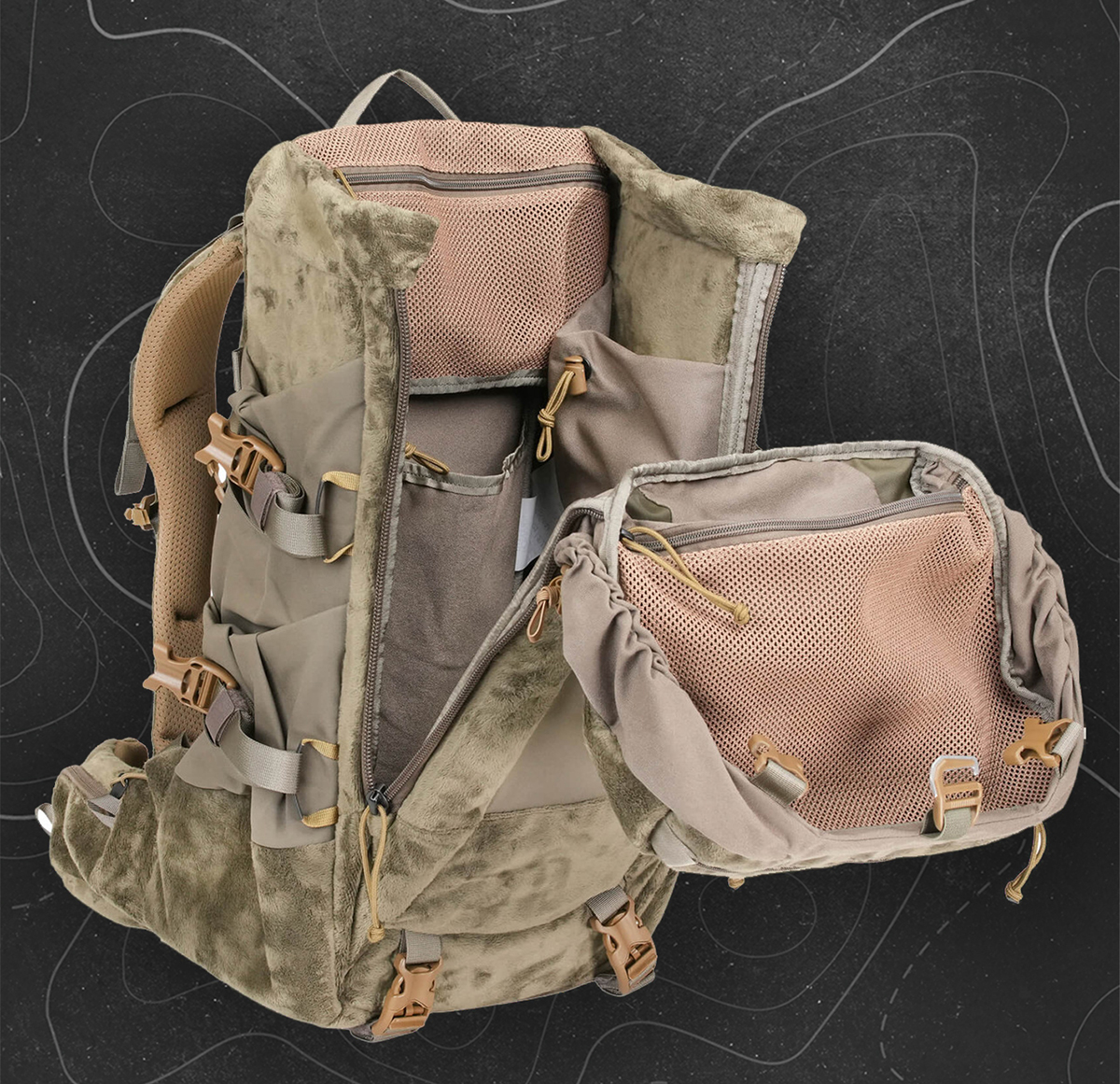 The pack features front compression straps for hands-free carrying of a bow, treestand, or climbing sticks, as well as a silent external shock cord for securing a trophy during the trek out. The bottom is squared off, so the Treehouse will stand on its own at the base of your tree or inside a ground blind.
New for this year, Mystery Ranch upgraded the Treehouse with an ultra-quiet fuzzy polyester exterior backed by durable 210D nylon. The revamped pack also got removable tree straps and a top haul loop for simple hook-free hanging. Water-resistant, comfortable, and stealthy, the Treehouse 38 comes in two sizes with adjustable shoulder and waist straps and is available in camo or solid colors. — Emily Kantner
RELATED – VSSL First Aid Stash and Stash Mini: Survival in a Can
---
Kifaru Pack Em Out Kill Kit
Price: $249.99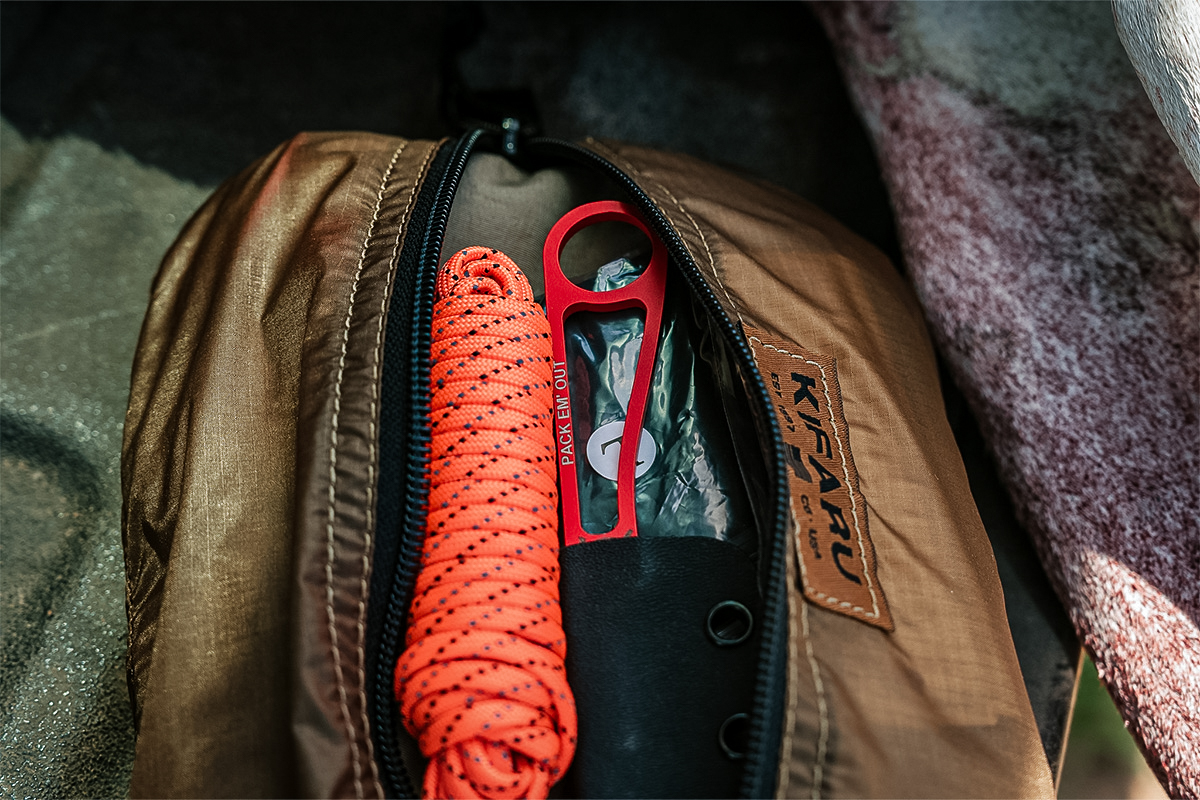 Every hunter needs a good kill kit in their pack. Don't know what goes in one or don't feel like making one? No problem, the guys and gals over at Pack Em Out have done the heavy lifting for you.
The Pack Em Out Kill Kit is the bare bones of exactly how I build my own personal kill kits. The kit comes neatly packaged in a medium Kifaru ultralight pullout. Inside you have four of Kifaru's hybrid game bags, which are my personal favorite. I recently packed out an entire boned-out caribou in a single bag. These game bags are made for the boned-out meat of larger animals like moose and elk and can easily fit whole bone-in-quarters of smaller animals like deer and antelope.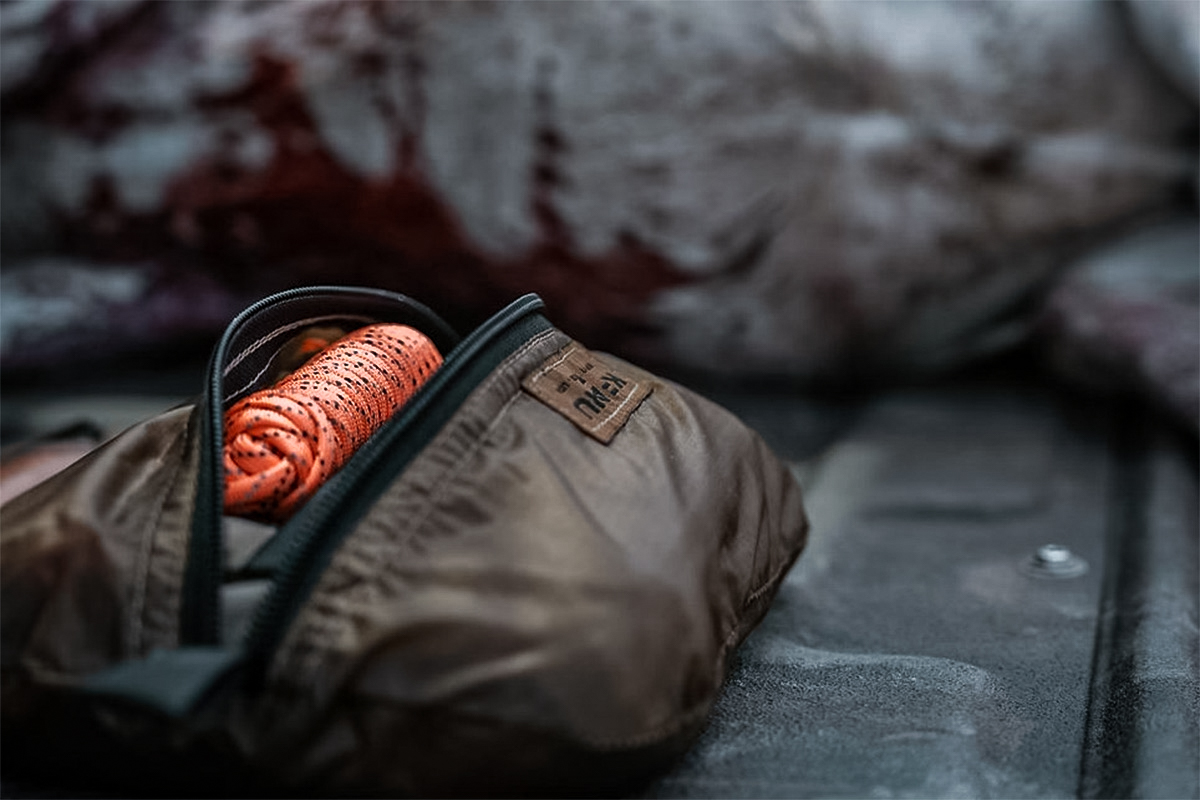 Every kill kit needs a good knife, or 10. This kill kit sports a Pack Em Out–branded Tyto Finisher replaceable blade knife and 10 extra S60 blades. You'll run out of game bags before you dull all 10 of those blades. Also included are three sets of rubber gloves and 15 feet of reflective paracord. Just add a pen and some tags to fill, and you or the hunter in your life has everything they need to break down any animal. — Michael Herne
GOOD GEAR – Be Ready for Whatever Life Throws at You With the BRCC Duck Camo Pullover Hoodie
---
KUIU Stalker 500 PRO
Price: $69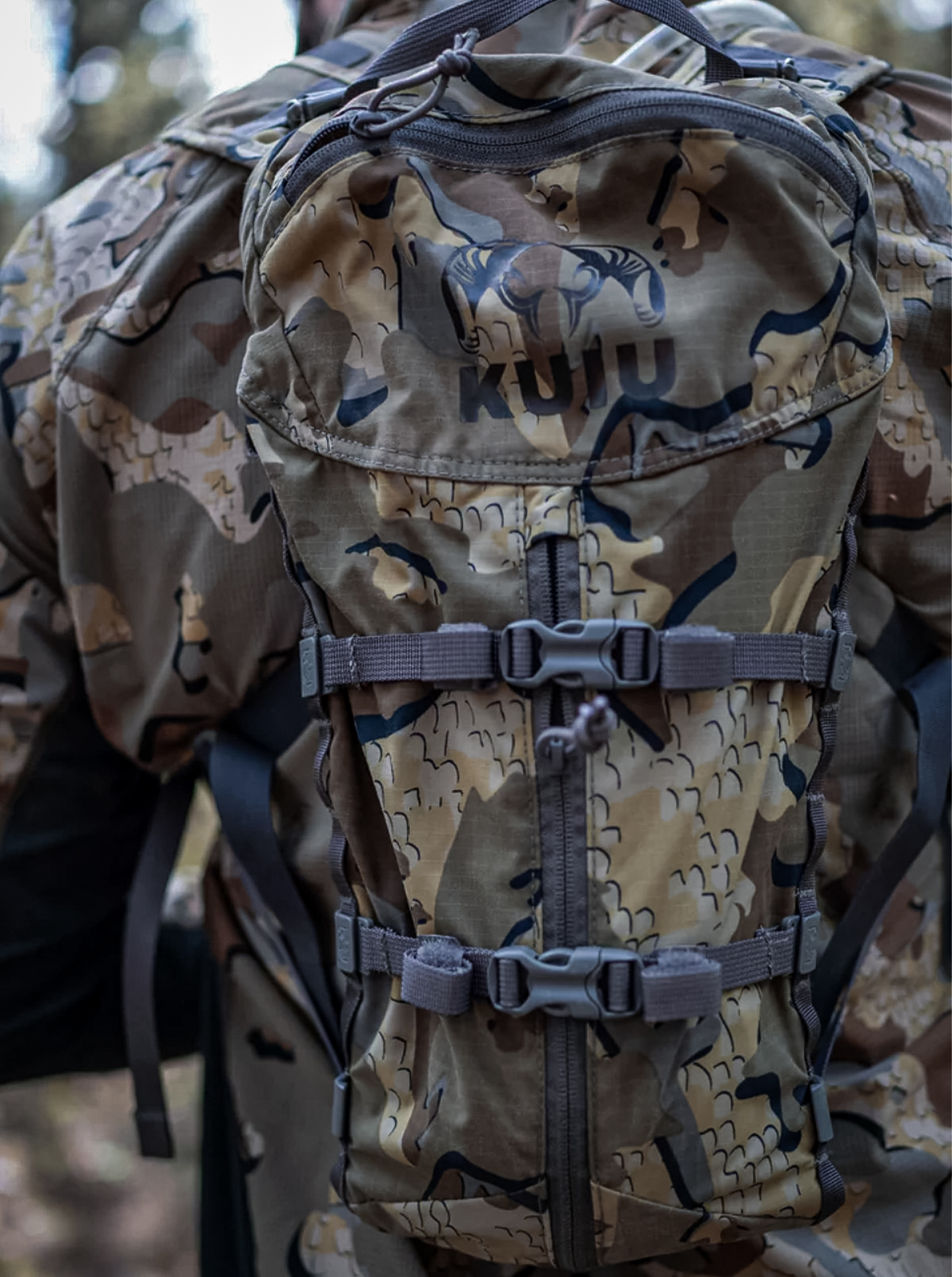 If you're looking for a tough, low-profile hydration pack that won't hinder your draw or snag on brush when you're on the sneak, the KUIU Stalker 500 PRO is the perfect bag for the job.
Perfect for physically active hunting situations, this 8.8-ounce bag isn't going to weigh you down. Featuring a rugged, water-resistant 160D Cordura Ripstop construction, the Stalker 500 PRO can take a serious beating. Despite its sturdy construction, the Stalker 500 PRO is surprisingly comfortable.
The bag also has a NEO Air Mesh backing for breathability, plus a removable back panel that provides extra support. The back support easily slips out when packability is your primary concern.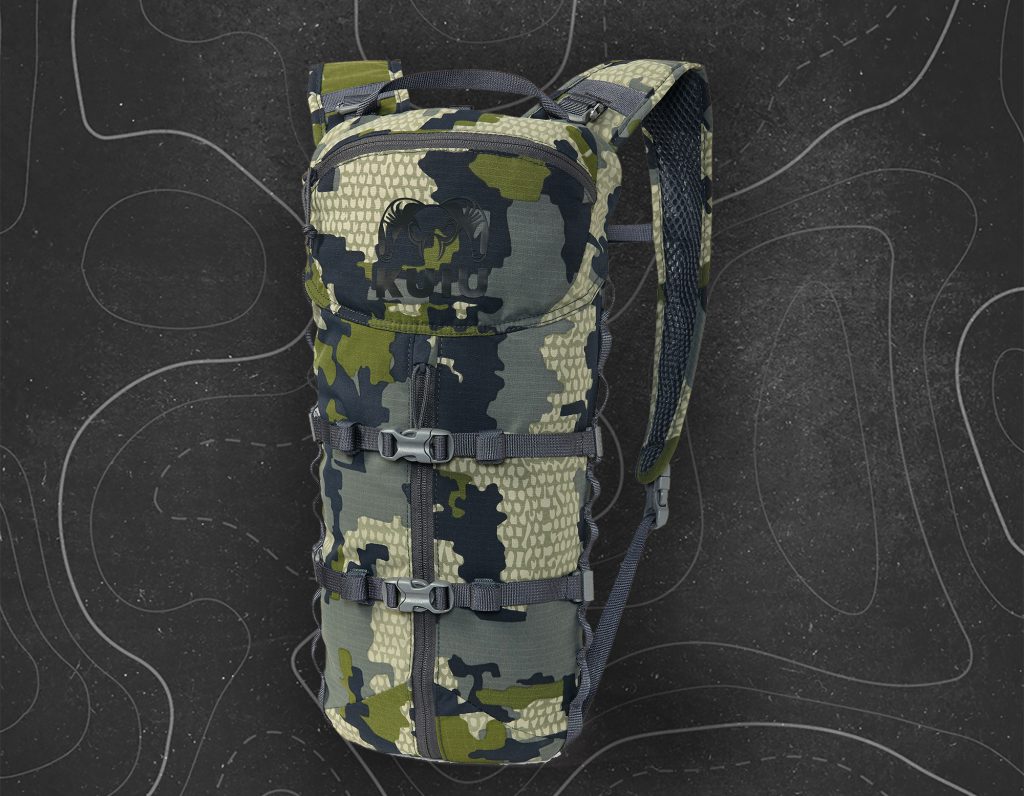 With only 500 cubic inches of storage space, the Stalker 500 PRO is a bit small to use as a standalone daypack. However, it efficiently holds everything you need for a final stalk — game bags, a field-dressing kit, GoPro, a celebratory snack, and a water bladder because dehydration sucks. With quick-detach clips at the top of the pack, the Stalker 500 PRO works seamlessly with KUIU PRO or PRO LT backpack. — Alice Jones Webb
RELATED – New Matador Backpack, Beast28 Helium, Targets Ultralight Hikers
---
Leupold RX-Fulldraw 5 Rangefinder
Price: $499.99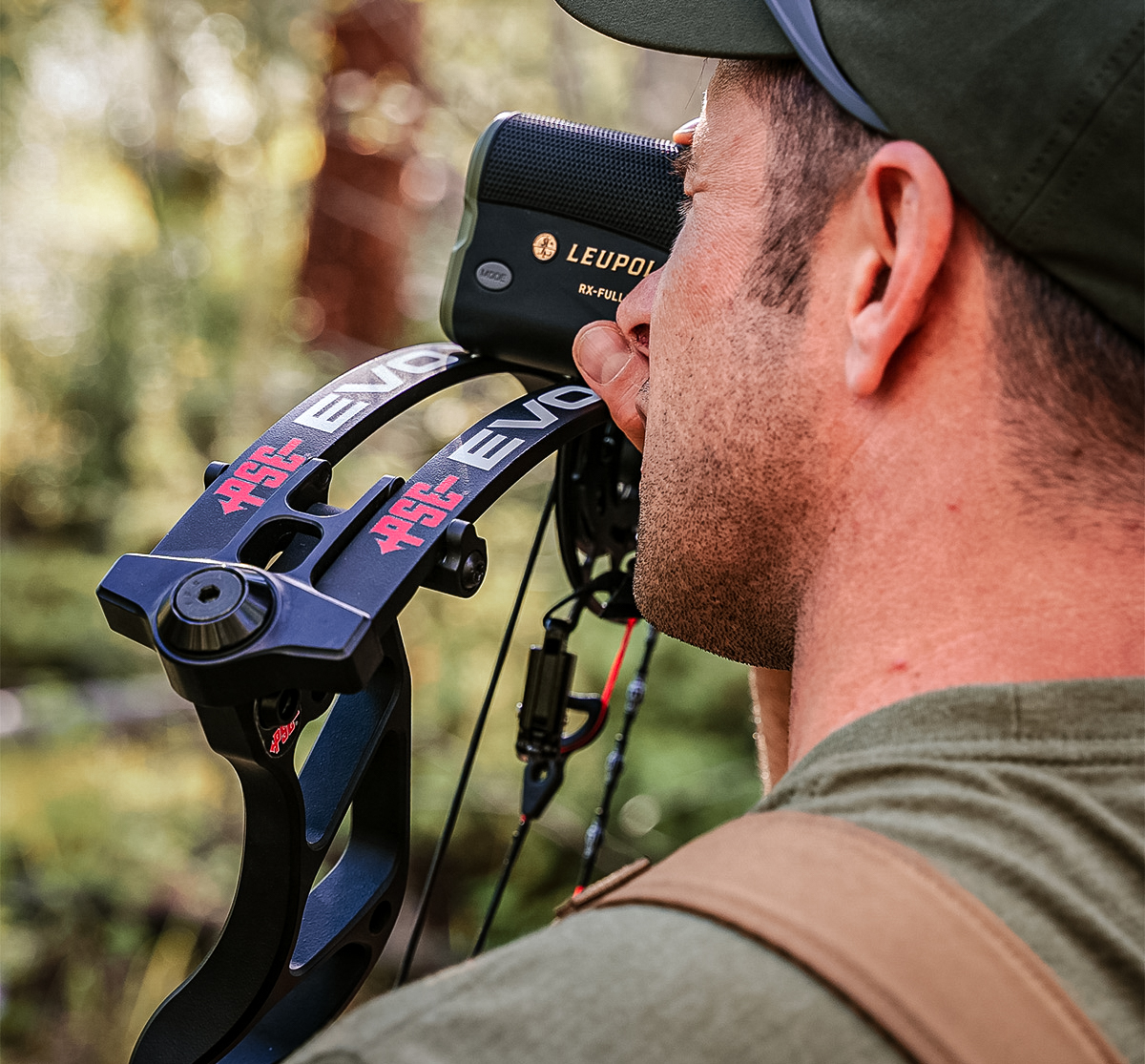 If you know someone who eats, sleeps, and breathes archery and bowhunting, the Fulldraw 5 Rangefinder is the gift for them. Leupold changed the archery rangefinder game when the company introduced the Fulldraw 4. Leupold continued to innovate and improve, and we now have the most advanced archery rangefinder I have ever seen — the RX-Fulldraw 5.
This rangefinder is the most accurate I have ever used, especially when shooting at steep angles where most other rangefinders fall short. The Fulldraw 5 achieves unmatched accuracy thanks to the built-in Archer's Advantage software. To achieve the best accuracy, the user must input several data points into the rangefinder.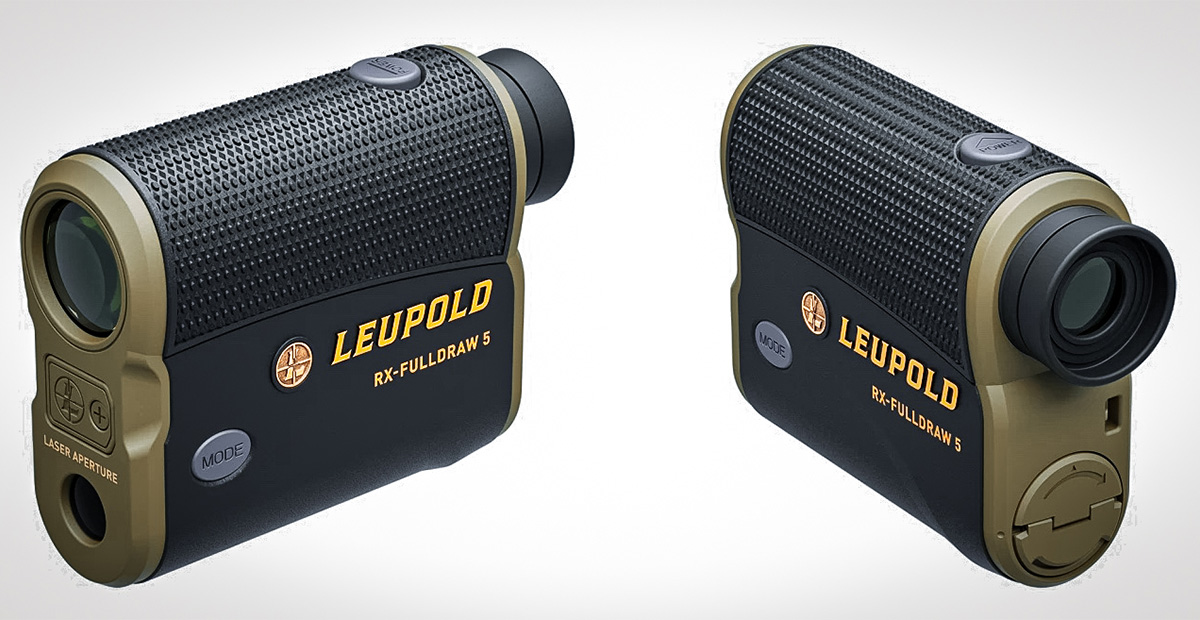 The Fulldraw 5 uses the archer's bow velocity, peep height, and arrow weight to provide the most accurate ranges and cuts for angled shooting. The device also displays the highest point of the arrow's flight to the target using Leupold's Flightpath Technology. This allows archers to ensure that their arrows make it unimpeded to their intended target.
The Fulldraw 5 also features many of the things one looks for in a quality rangefinder —6x magnification, quick range readouts, waterproof, compact, and lightweight at 7.5 ounces. It also has the ability to range in rain and fog using its Last Target mode. — Michael Herne
GOOD GEAR – Show Your Support for the Second Amendment With the BRCC Gun Club Mug
---
Montana Knife Company Mini Speedgoat
Price: $200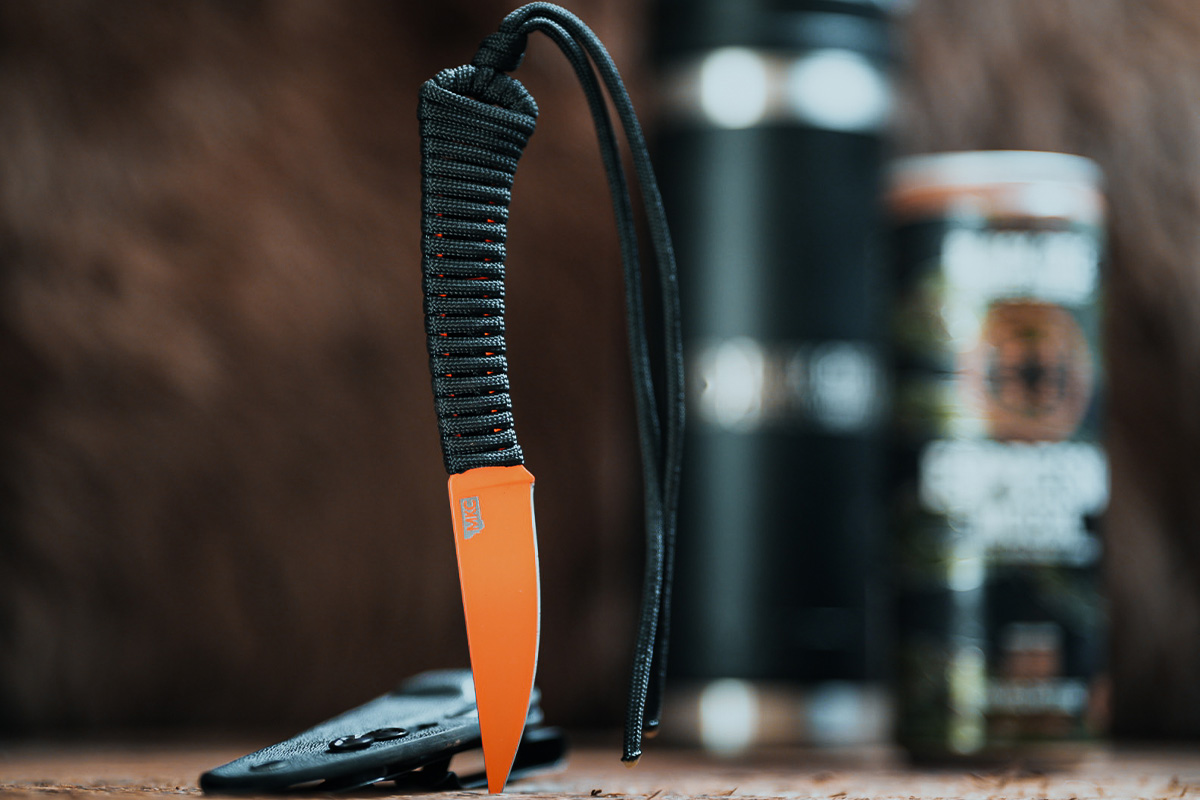 This little fixed blade from Montana Knife Company — the Mini Speedgoat, is the ultimate EDC knife. With its compact size and light design, it is perfect for carrying in your pocket, on your belt, or even on the waistband of your ranger panties (or whatever short-shorts you like best).
This 6.5-inch, 1-ounce piece of carbon steel is a perfect fixed-blade hunting knife for small game and birds, and it makes a great fish knife, too. It can also get the job done on larger game animals if necessary, but its big brother, the full-size Speedgoat, is better suited for that job.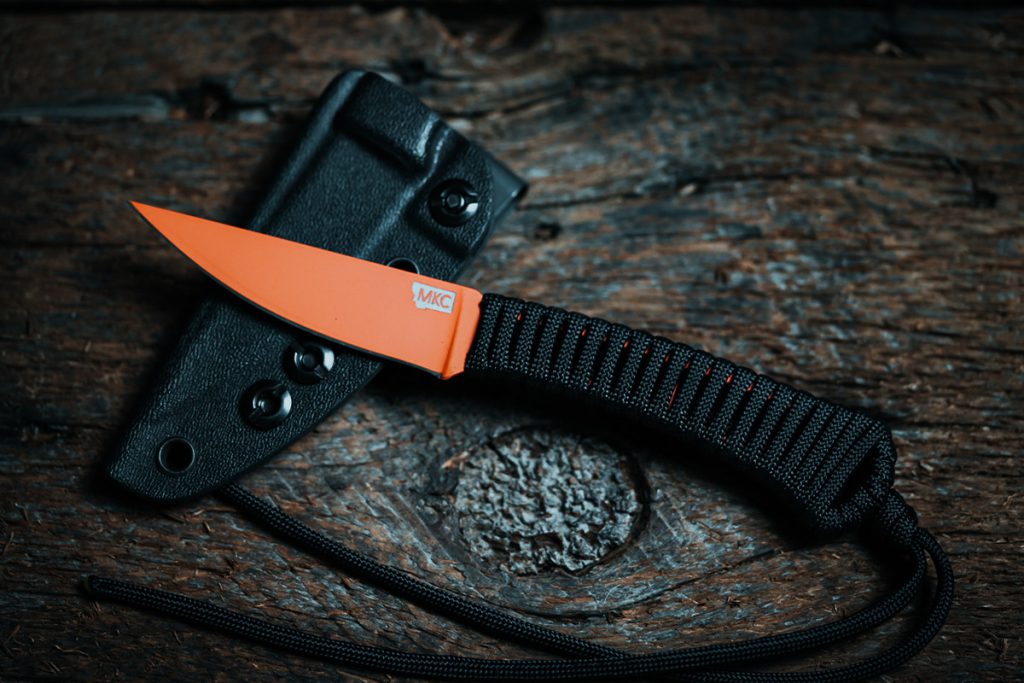 And let's not forget that all Montana Knife Company will take an astonishing beating and be passed down to your kids one day. And since anyone and everyone can find a good use for this endlessly useful blade, it's pretty much a slam-dunk gift. — Kurtis Frasier
RELATED – Gear Test: The New Maven CRF 1 Rangefinder
---
Nemo Tensor Alpine Ultralight Mountaineering Pad
Price: $229.95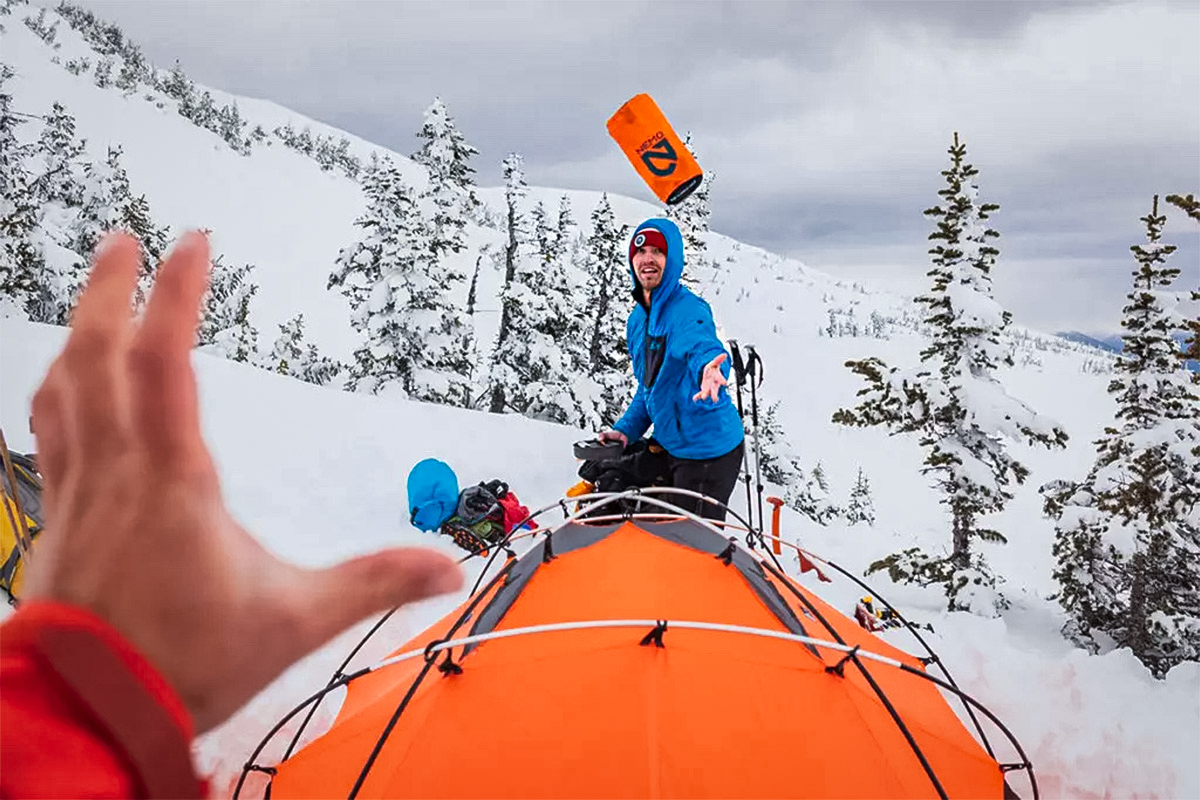 When it comes to sleeping pads, I have used the good, the bad, and the really bad. Nemo's new Tensor Alpine Ultralight Mountaineering Pad is my new favorite. It's been in my backpack and in the field with me for the last two months; I even used it to sleep on the floor of SEA-TAC Airport when I was stuck there overnight.
This pad packs down smaller than a Nalgene bottle, making it a phenomenal travel companion. This is the lightest and warmest pad I've used, weighing in at 1 pound, 1 ounce, with an R-Value of 4.8. Being lightweight and warm does not mean sacrificing comfort; the pad is 3 inches thick when fully inflated.
Nemo offers the Tensor pad in a long wide option for larger humans or people who prefer a little more surface area. The regular mummy is 72 x 20 inches, and the long-wide version is 76 x 25 inches. The larger version only weighs an additional 7 ounces (1 pound, 8 ounces total).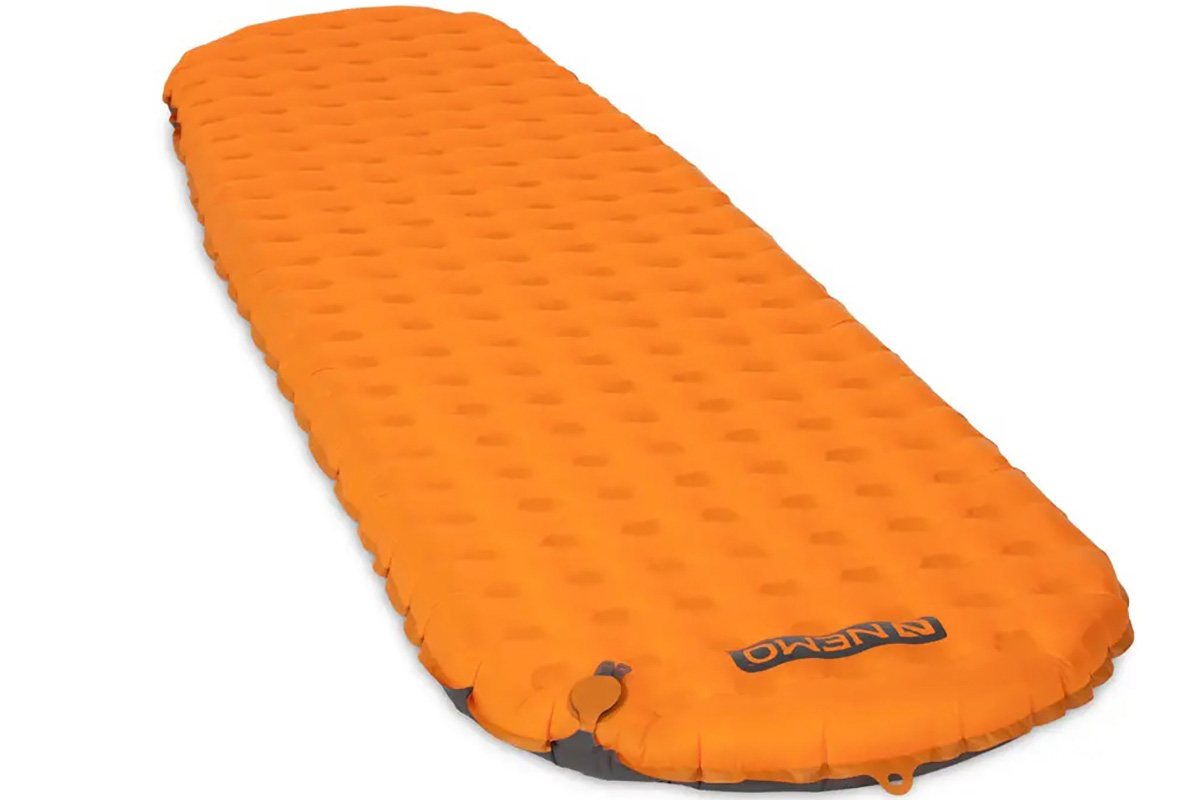 The pad gets its warmth while maintaining a light weight using three layers of Thermal Mirror metalized film. When fully insulated, you don't even know the film is there. The Tensor's Spaceframe baffles provide great stability and comfort. I'm a side sleeper, and I have yet to feel or touch the ground through my pad when fully inflated. This is the perfect gift for the camper or hunter who is sleeping in the field. — Michael Herne
GOOD GEAR – Conquer Your Taste Buds With the BRCC AK-47 Espresso Roast
---
Sitka Women's Ambient Jacket
Price: $299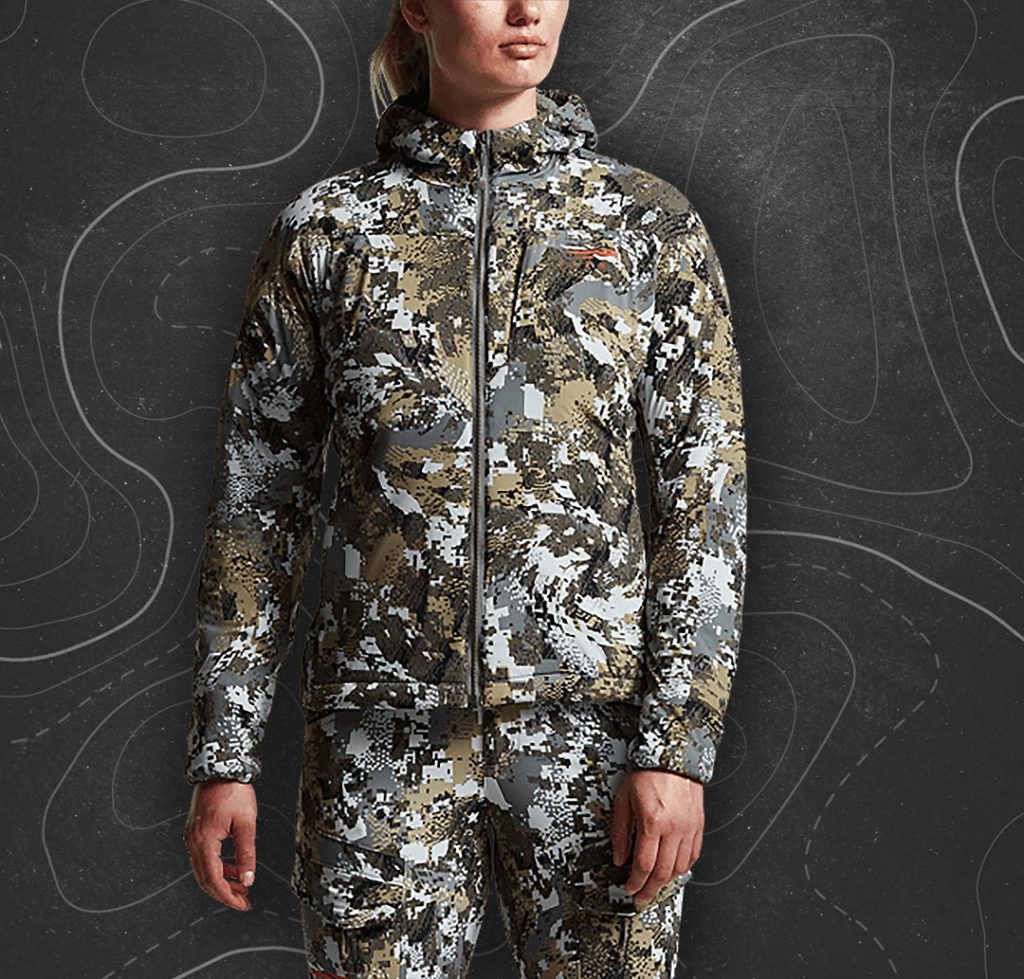 Big bulky layers are a barrier for bowhunters, but shivering in a treestand doesn't make for a fun (or effective) hunt. Too many times, I've had to make hard decisions on gear, trying to find a balance between staying warm and being able to draw my bow. This year, Sitka expanded its Ambient collection to include patterns for whitetail pursuits, and deer hunters everywhere rejoiced.
Sitka's Ambient Jacket features PrimaLoft Evolve insulation, which is not only lightweight and super packable but is also one of the most versatile layers I've ever worn in the woods. On the hike in or the drag out, it breathes well and wicks away sweat, so I don't overheat. It also provides plenty of warmth without making me feel like the Michelin Man in a treestand.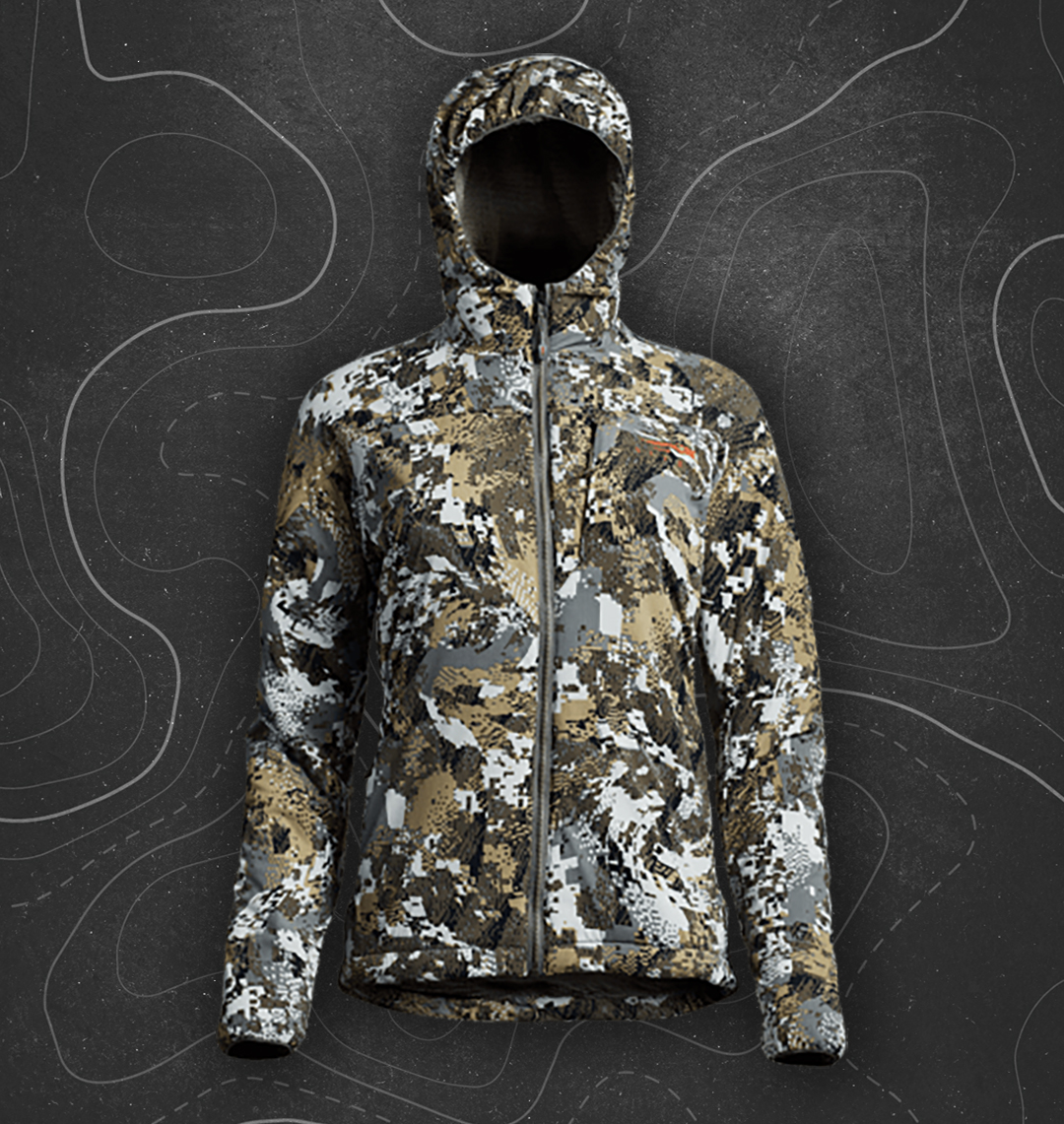 This is my new favorite jacket, and you'll rarely find me without it, whether it's stuffed in my daypack, pulled over a simple base layer, or sandwiched somewhere under an outer shell. And don't worry, guys, Sitka makes this jacket in men's sizes, too. We wouldn't want the ladies to have all the fun. Sitka Gear is offering up to 25% off select items now through Nov. 28. — Alice Jones Webb
---
READ NEXT – Essential Gear for Perfect Backcountry Coffee