You can whack the hell out of a screw with a hammer, but you'd be a lot better off using a screwdriver. Apply that same logic to hunting backpacks. Hunting backpacks are tools, and you want the right one for the job. You could, in theory, pack out an elk with a Jansport, but you'll carry small loads, your shoulders and legs will ache, and you might head straight to the ortho for a backiotomy afterward. You'd be better off with a meat hauler on a sturdy, lumbar-supporting internal frame.
Luckily, today's hunting backpacks offer serious specialization. A big-woods whitetail archery hunter has different needs than someone plunging deep into the backcountry for weeks at a time on an expedition-style hunt, and both of those hunters have different needs than a waterfowler. The outdoor industry has done the work to make kickass packs that meet specific hunting backpack needs. With a little research and a little thought, you can match your pack exactly to your hunt.
We'll discuss the need for hunting backpacks and then cover a list of packs that come tailor-made for different hunts.
---
What Should I Look for in Hunting Backpacks?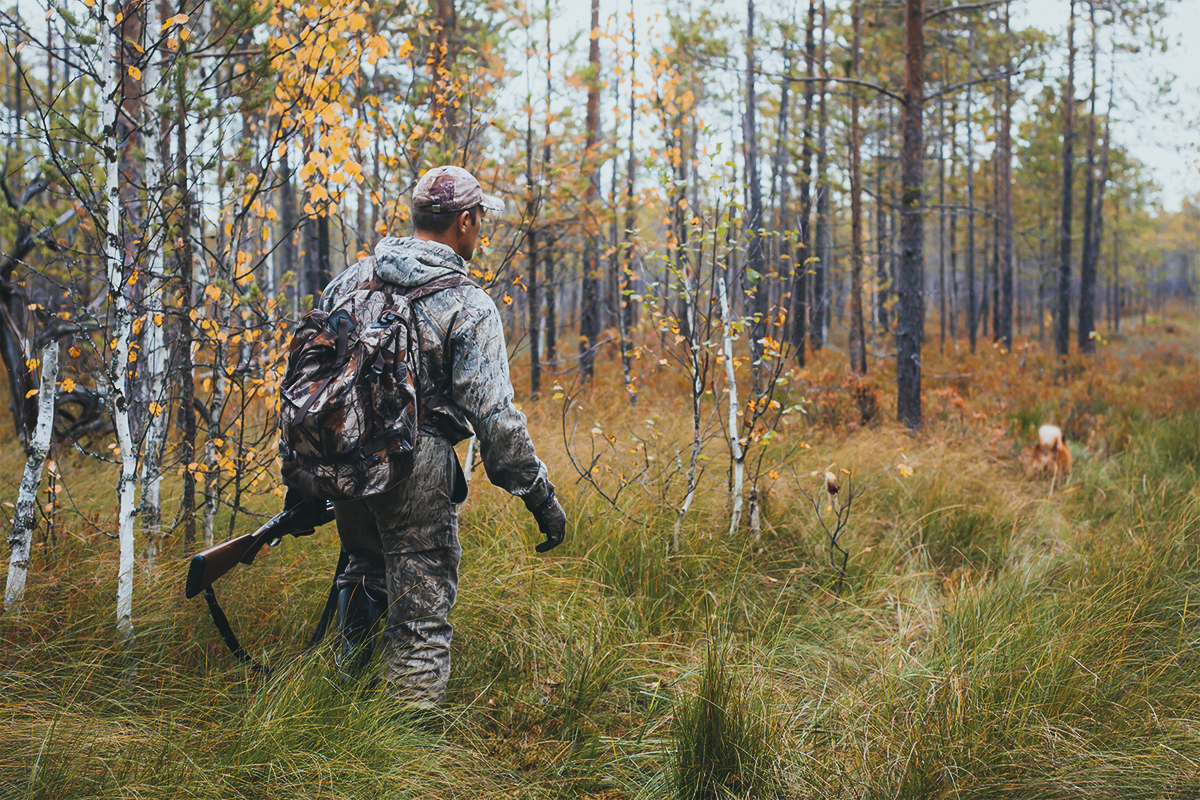 Before we talk specifics about hunting packs at ground level, let's take a 30,000-foot view of hunting backpack necessities.
When it comes to packs, as is often the case, you get what you pay for, so don't shy away from spending some coin on a good pack. Expensive hunting backpacks typically come from trusted brands, and behind the price tag is a research-and-development budget that funded collective months of testing in the field. Experts have tried to break it, and in doing so, they found and fixed the weak points. Testers have used it in everyday hunting applications, exposing design flaws and correcting them for ease of use. So, spend some money and buy from people who actually use their shit. You'll purchase better durability and design.
It's also useful to consider the best- and worst-case scenarios of a specific hunt.
Let's say you're prepping to moose hunt in Alaska: In the best-case scenario, you'll take multiple trips with 100 pounds or more of moose meat, hide, and bone on your back. In the worst-case scenario, you'll get soaked to the bone during a downpour while stumbling through a bog and eventually tipping over into the drink.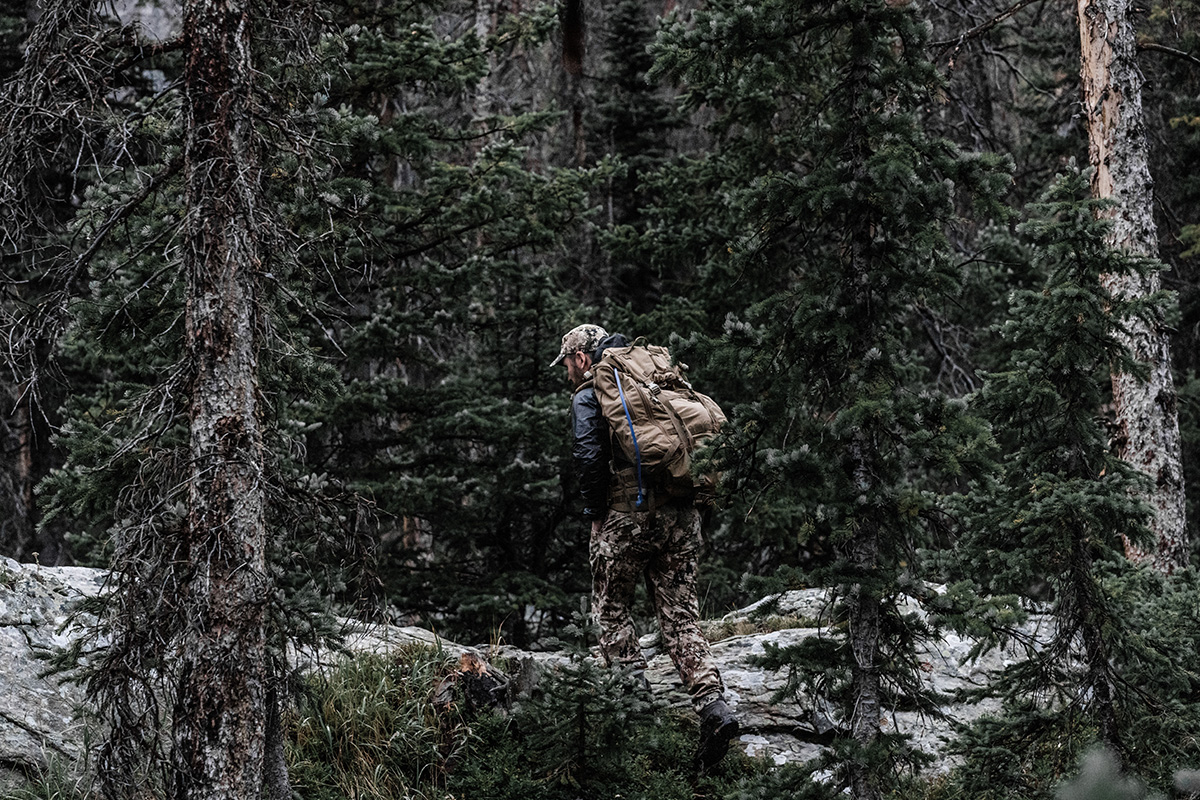 This little thought experiment leads to the conclusion that you'll need a pack made with a sturdy frame and durable material; you'll want comfortable shoulder straps and a waist belt that takes the stress off of your shoulders; you'll want load lifters for keeping the load centered and tight to your body. Plus, unless you want your gear swimming in mother nature's cold broth, you want a strong measure of weather resistance. We just learned a lot about what we need from one quick trip into our imagination.
Next, think about how you hunt or how you're planning to hunt. What gear do you need to carry? Are you bringing your pack up a tree and using it as an organization tool? Are you humping in for miles and carrying your house on your back? Get as specific as possible.
Think back to the times when you were in the field and thought, "Man, I wish I had…" That will bring you to the next step in choosing a hunting backpack: You'll realize the features that are most meaningful to you. Let's take a look at pack wants and needs for different types of hunting.
GOOD GEAR – Enjoy the Lore of the Fabled Tactisquatch With the BRCC Tactisquatch Roast
---
Best Hunting Backpacks for Different Types of Hunting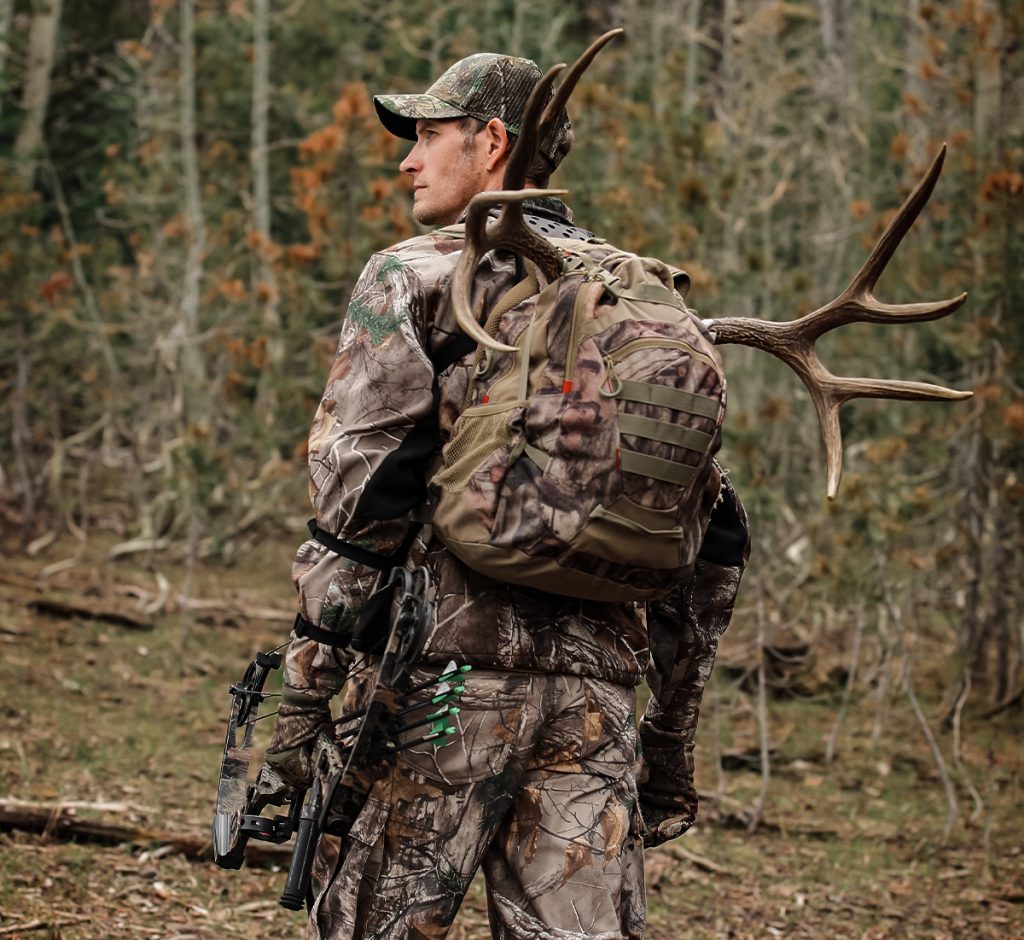 For illustration's sake, we'll cover a few common hunts that require a hunting backpack: public land whitetail archery hunting, single-day big-game hunting, backcountry big-game hunting, and waterfowling.
PUBLIC LAND WHITETAIL ARCHERY HUNTER
The public land whitetail archery hunter pushes in deep to sit for anywhere from 4 to 12 hours. They will carry heavy outer clothing layers, food, and water. They will also hump in a bow, plus a climbing stand, saddle, and climbing sticks. Easy access to calls in organized compartments is essential, as is a special place for the PB&J lovingly made the night before.
BIG-GAME DAY HUNTER
Day hunts present multiple scenarios. You might pound a ridge for a few hours before finding a glassing perch. After glassing, you might still hunt through a pine stand. As such, the day hunter needs a light, comfortable day pack that's easily worn for hours. It should have plenty of space for the hunter's layers (extra clothing), food, a kill kit, and a first aid kit. That space should be organized with zippered compartments that make for easy in-and-out access throughout the day.
Since the day hunter does a lot of moving, easy access to water is a huge plus. A frame with a detachable bag and a meat hauler are also desirable features for easy meat packing once the animal is skinned and quartered.
BACKCOUNTRY BIG GAME HUNTER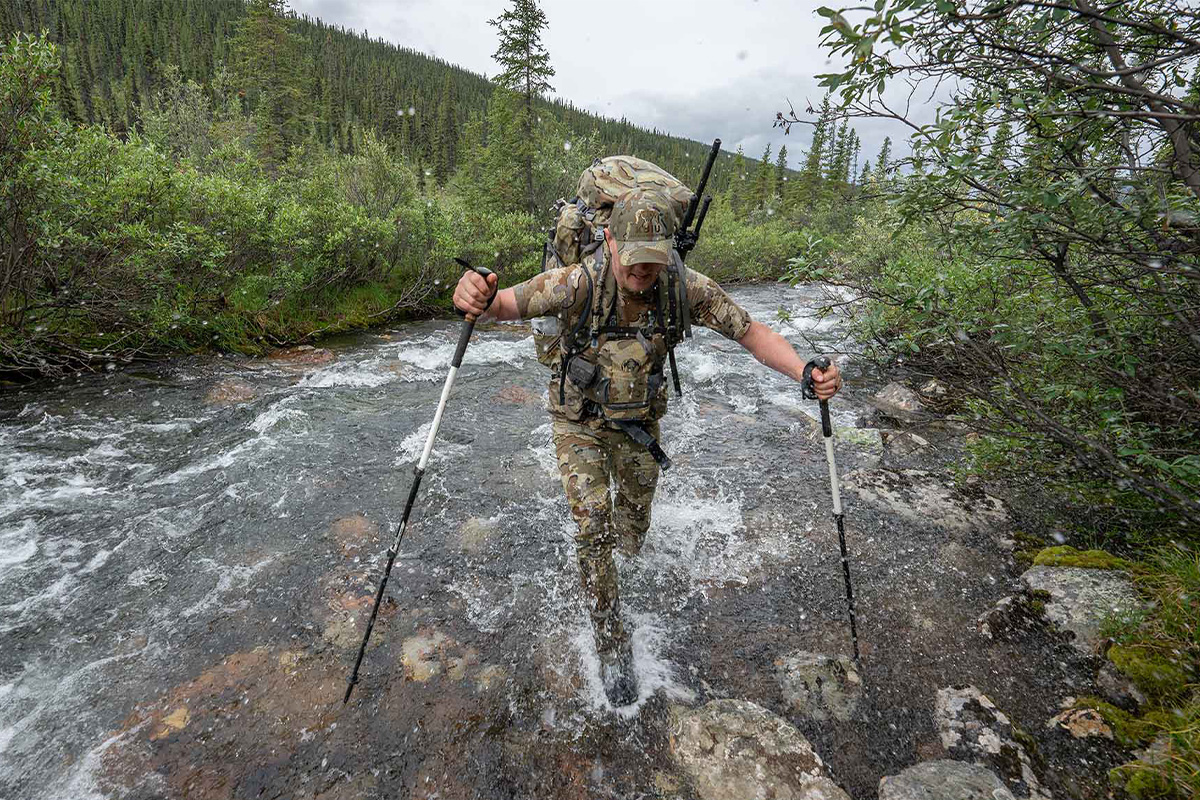 The backcountry hunter must start by considering weight and space. They need room to carry a lot of stuff, and every ounce counts. This type of pack is usually composed of a frame, meat hauler, and bag combination. A pack lid, or brain, increases carrying capacity while offering mobile access and, when full, a solid rifle rest.
Organization is also paramount, considering that the backcountry hunter might carry up to a week's worth of camping gear, food, butchering tools, game bags, etc. He or she also needs the ability to strap their bow or rifle to their pack in a way that balances the load. External compression straps are a must for securing the load and keeping it close to the spine.
WATERFOWLER
Waterfowlers — especially those who hunt creeks and timber — need a waterproof home for shells, layers, and, of course, their Little Debbie cakes. (No offense meant to the Hostess lovers out there.) It's also best if the bag is built to be secured to a tree trunk and offers a gun hook. Fowl nooses are also a must-have. Easy access to the main compartment with organization pockets rounds out the necessities.
With these considerations in mind, here's a short list of hunting backpacks that don't suck.
RELATED – Gear Test: The New Maven CRF 1 Rangefinder
---
Hunting Backpack Guide
---
SITKA CARGO BOX
Saddle and Stand Whitetail Hunting Backpack
Price: $419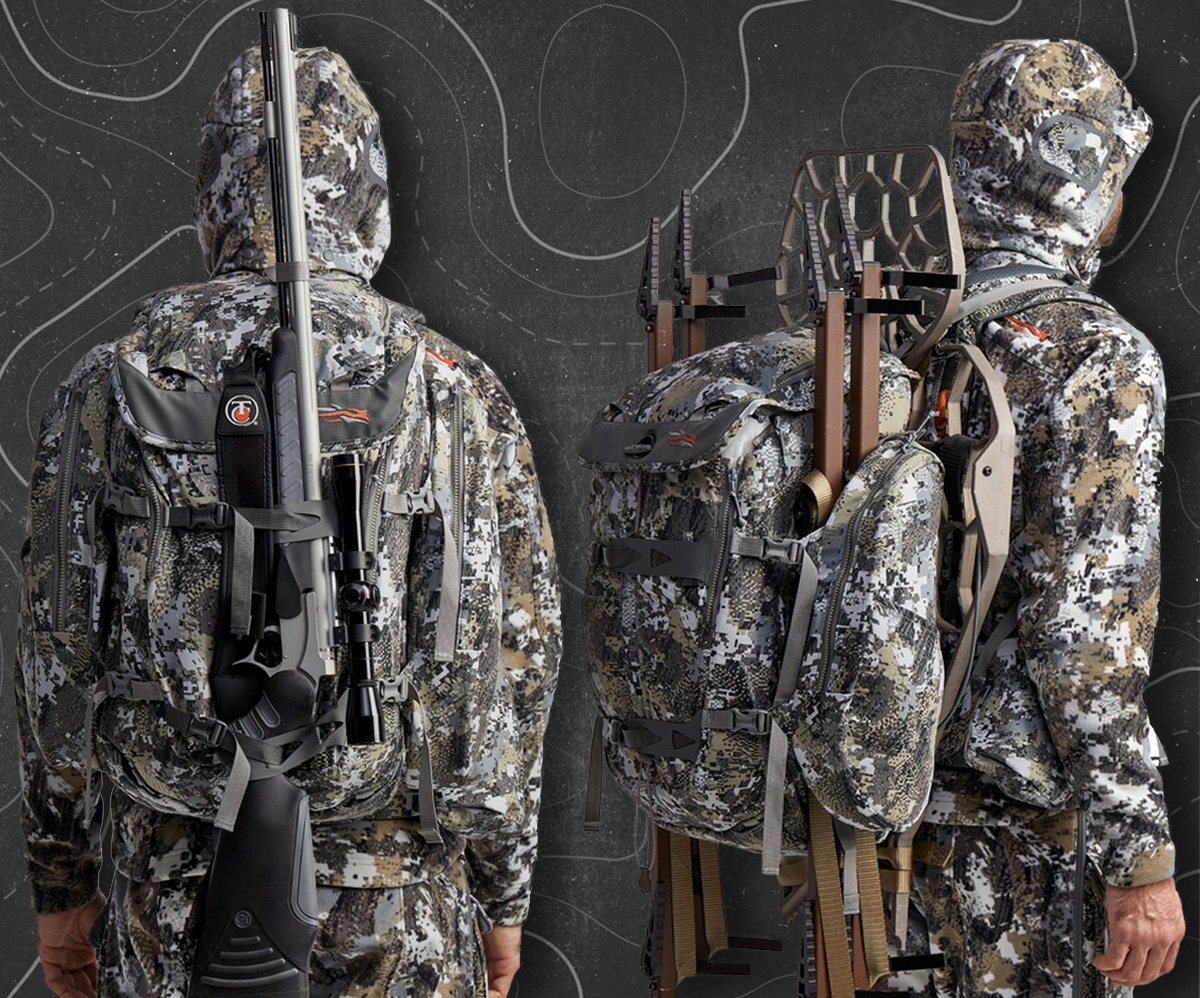 The Cargo Box is a bad mother. Designed by serious deer hunters, it's the most versatile whitetail hunting backpack that I've seen. It's a great option whether you're trudging through the big woods with a hang-on stand and climbing sticks or pushing deep into public land with your saddle.
It has 2,200 cubic inches of storage and 24 storage compartments, making plenty of space for your bibs, rain gear, and insulated jacket. The design also offers easy access to those storage compartments, making it easy to grab your grunt tube, bleat call, or, let's be honest, those snacks you told yourself you wouldn't eat as soon as you got up the tree. And the placement of the compartments is insurance against dropping your sammie, or your gear, to the forest floor.
The storage capacity and compartmentalized design are impressive, but they aren't what makes the cargo box shine — especially for the deep woods saddle and hang-on hunter. It's a bitch to go deep into the timber with a saddle or hang on while lugging your platform and sticks across the earth and carrying your bow. Most packs aren't set up to manage all of that. The Cargo Box is. You can fasten your hang-on between the main bag and the external frame and tie down your climbing sticks between the main bag and the wing bags. Your saddle platform, your bow, or your rifle — all easily strap to the front of the pack.
If you're a whitetail hunter looking for a kickass, all-around pack, check out the Sitka Cargo Box.
GOOD GEAR – Drink Black Rifle Wherever You Go With the BRCC VSSL Java Coffee Grinder
---
KUIU PRO VENTURE 2300
Day Hunting Backpack
Price: $165, $169, $185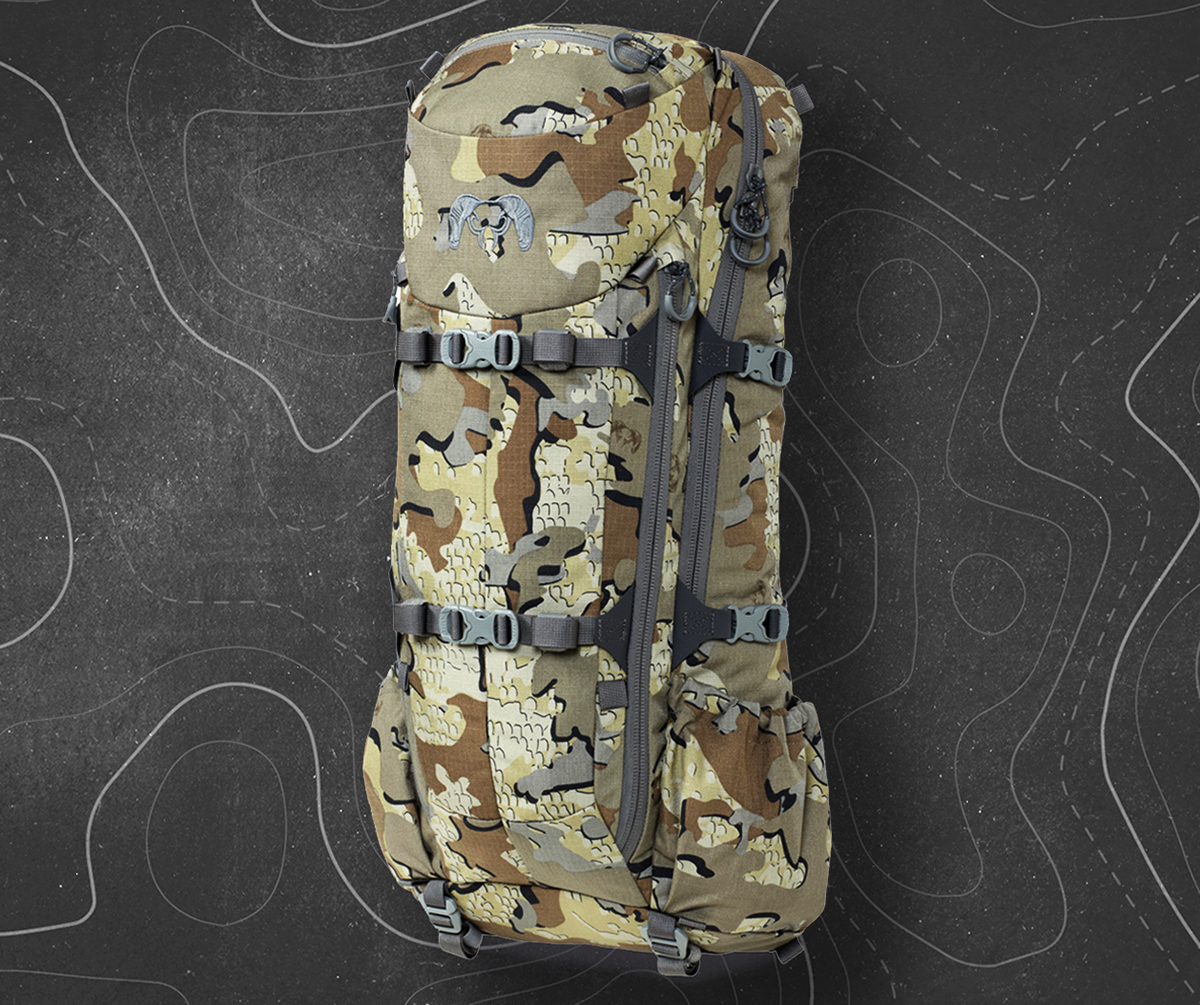 Folks who understand what goes down during day hunts and scouting missions designed the Kuiu Pro Venture 2300. Day hunts are about covering country areas on foot and with glass. It's built to spec to meet those demands.
This pack offers plenty of day-hunting carrying capacity (2,300 cubic inches) in a light package. The carbon fiber frame, suspension system, and 500D Cordura bag total less than five pounds. Its external, zippered compartments make for easy access and organization. You can get in and out of your pack all day without having to dig through your main bag. And it comes with a built-in hydration sleeve so you're not constantly dropping your pack to get your water bottle.
The internal and external strap systems make it easy to secure and compress loads. They ensure that your glass is safe and that the weight is as tight to your body as possible. And it features straps for securing your weapon to the bag.
The bag easily detaches from the frame, creating space for extra storage and meat hauling.
Kuiu sells each component of the system separately.
---
INITIAL ASCENT IA6K
Multiday and Expedition Backcountry Hunting Backpack
Price: $749.95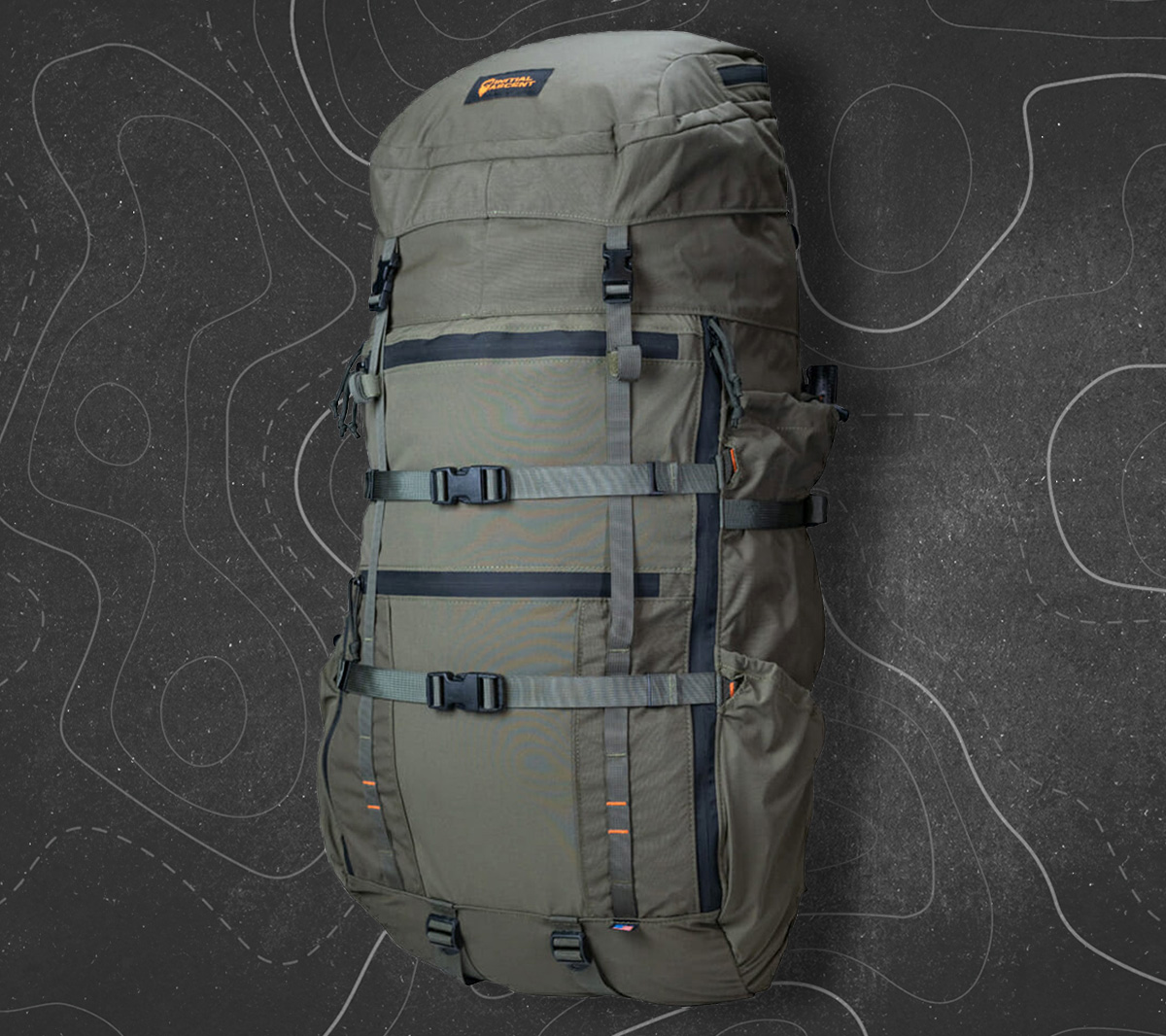 The Initial Ascent IA6K is a versatile pack system built on its triaxial carbon-fiber/composite frame. It's lightweight, modular, and can handle a ton of weight. I've used mine to pack out elk, mule deer, caribou, and whitetail. I've used it to carry everything I need for camping, hunting, and meat care up and down mountains.
The Integrous frame is the hero of this system. It's light, strong, and molds perfectly to your body. Side hooks on the top of the frame are great for carrying your rifle or hanging game bags full of meat. The waist belt has a killer lumbar support pad that saves your back during long-pack jobs.
The bag and pack lid combine to create 6,700 cubic inches of storage, enough for 10 or more days in the backcountry, yet it weighs only 2 pounds. And they're durably made of 500D Cordura. Add the pannier load carrier and you're up to 8,700 cubic inches. There is easy access to the main bag compartment via side zippers, and there are two smaller storage compartments on the front of the bag. Deep side pockets create secure storage for spotting scope and tripod. All are secured tight to the frame with external compression straps.
Modularity and organization are also important for backcountry hunts. The Initial Ascent system makes it easy to use the IA6K bag to get into camp, then quickly remove it to use only the lid and pannier for day hunt mode. Pack sacks and hip belt pouches add to the storage space while keeping your gear from devolving into a chaotic mess.
It's worth it to spend a little more to add on the pannier, pack sacks, and hip belt pouch.
GOOD GEAR – Jump Into Your Daily Routine With This Kick-Ass BRCC Women's ParaMug T-Shirt
---
SITKA TIMBER PACK
Waterfowl Hunting Backpack
Price: $239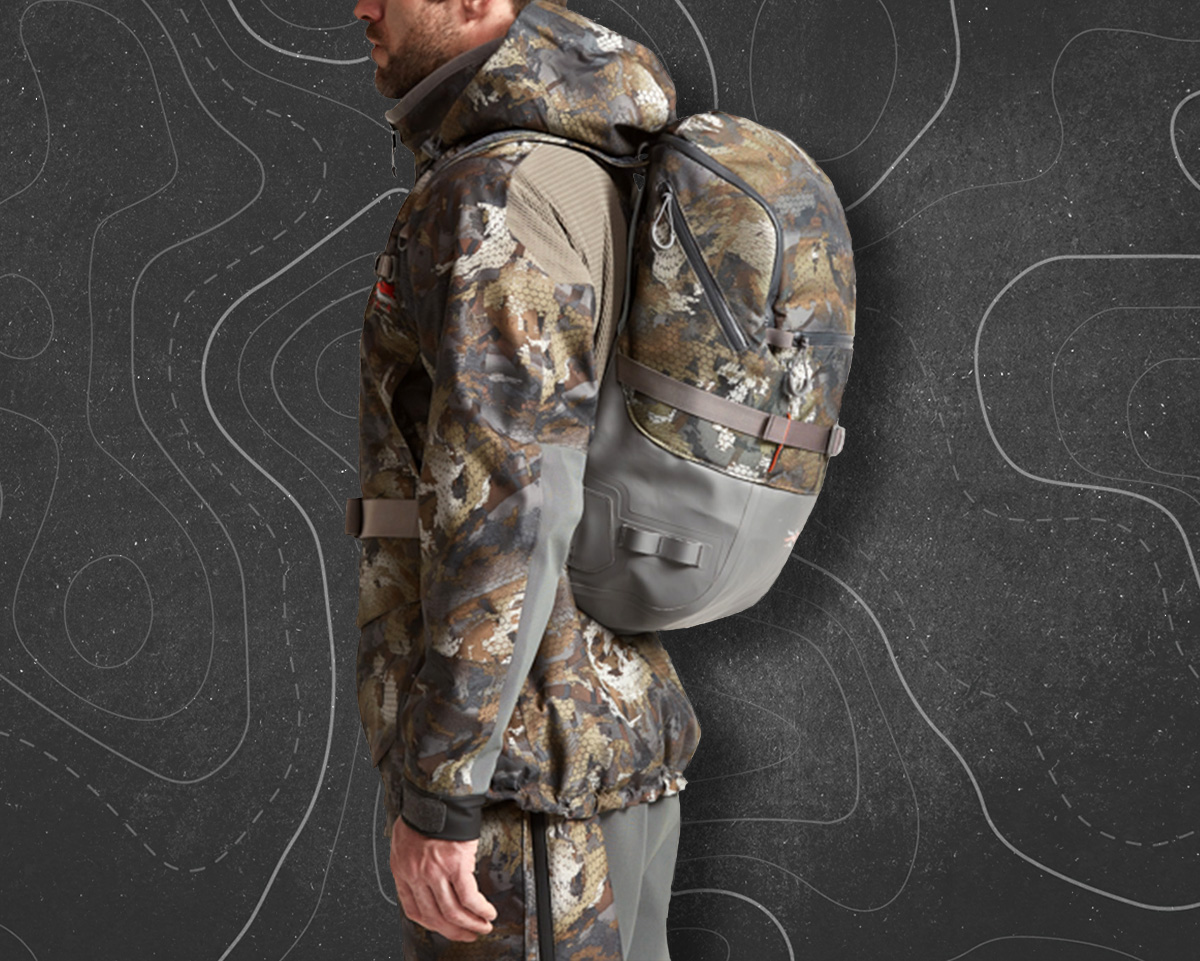 I've tossed the Timber Pack into and out of my kayak, dropped it in the mud, and secured it to big, old sycamores. I've strapped gadwalls, mallards, teal, and wood ducks to the fowl nooses. The Timber Pack has kept my layers and shells dry. It's served me well in all ways.
It has a large main compartment with a horseshoe zipper for easy access to layers and shells. There are multiple zippered mesh pockets for organization. The welded rubber bottom keeps the water and mud from seeping into the bag when on the ground or at the bottom of the boat, and the no-muck mesh shoulder straps make for easy cleaning.
My favorite feature is the burly tree strap with the aluminum gun hook. The strap keeps your bag out of the water while offering easy access. The gun hook makes easy work of grabbing your shotgun when the birds start to work.
---
READ NEXT – Deer Hunting Gear: What You Need To Get Started