This week, Ruger released a reboot of the legendary Marlin Model 1894 as the new Model 1894 Classic. Ruger's resurrection of an old fave is a welcome addition to Marlin's gradually returning lever action line-up that retains all the traditional Wild West, deer woods charm of the original.
Chambered in .44 Magnum, the newest addition to the Marlin 1894 legacy looks like it stepped straight out of an old John Wayne western. The rifle sports a traditional American black walnut straight stock and forend, satin-blued hardware, and a traditional semi-buckhorn folding rear sight.
There's nothing flashy about the new Marlin 1894, which is just as it should be. And although some shooters are questioning Ruger's decision to offer the 1894 Classic in .44 Mag, which is traditionally a revolver cartridge, Marlin first released the Model 1894 in .44 Magnum back in 1969.

The .44 is also a more-than-viable deer cartridge for big woods hunting, where shot opportunities are typically inside 100 yards. It's also a popular modern lever gun round, as evidenced by the success of Henry's Big Boy line of revolver-caliber lever guns.
The new 1894 will accept 10 rounds of .44 Magnum in its magazine tube for a 10+1 total capacity.
The essence of these workhorse lever guns has always been their utility, and Ruger (which has a solid reputation for building practical, everyday firearms for practical, everyday Americans) definitely seems to be staying true to Marlin's original values.
"Our focus continues to be on quality," said Ruger President and CEO Chris Killoy. "We remain committed to making firearms worthy of John Marlin's legacy. The fit and finish of this rifle is reminiscent of what was produced by Marlin craftsmen in New Haven, Connecticut, many decades ago."
RELATED — Uintah Precision Introduces Cool New Ar-15 Muzzleloader
---
Marlin is Back in the Game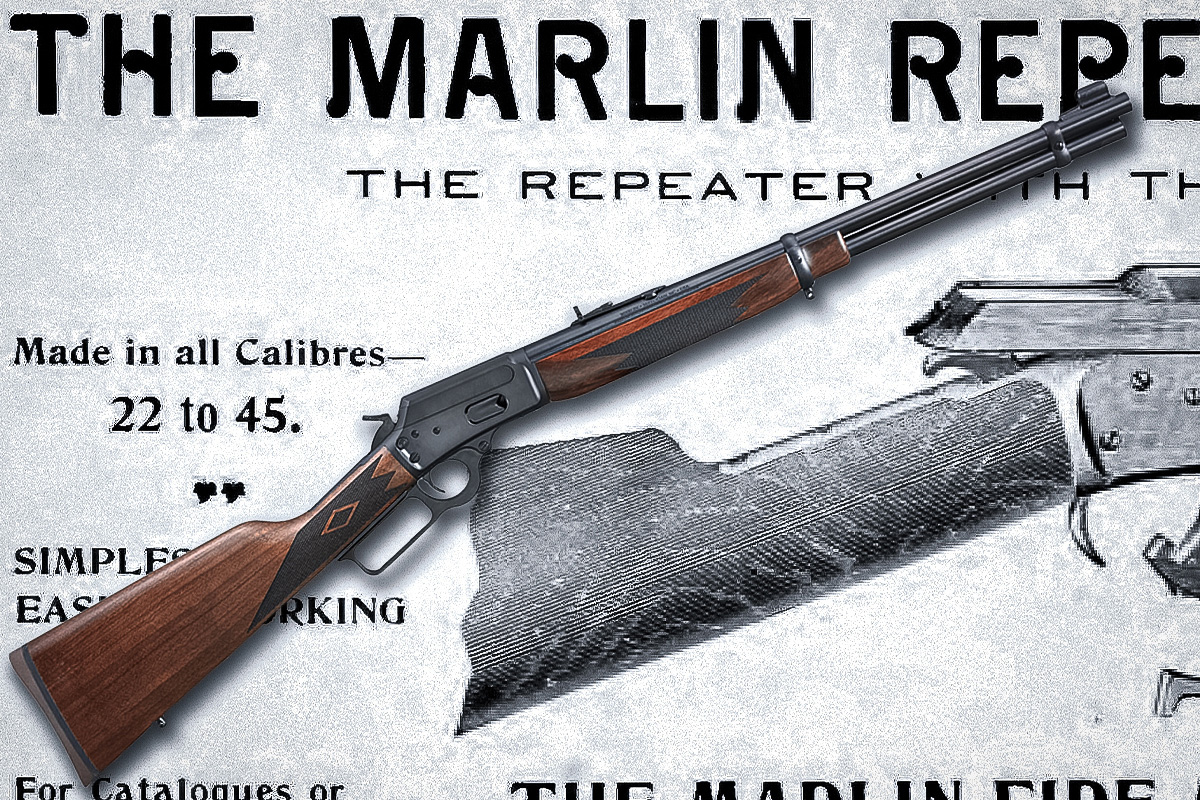 The Marlin name has long been synonymous with iconic lever action rifles. Famous for producing high-quality, flat-top, side-ejection lever rifles, Marlin was once considered the main competition for Winchester, one of the heaviest hitters in the firearms industry. Unfortunately, the brand went through some dark times after Remington Arms, a subsidiary of Freedom Group Co., bought it in December 2007.
Remington shipped Marlin's production equipment from its factory in Connecticut to Ilion, New York, but left behind copious amounts of experience and know-how, terminating hundreds of long-time Marlin employees.
Marlins produced under Remington had a reputation for shitty finishes and unreliable functionality. Questionable product quality and treatment of Marlin workers resulted in some die-hard admirers vowing they would never touch a "Remlin" with a ten-foot pole.
Fortunately, after Remington went bust, Sturm, Ruger, and Co. purchased Marlin Firearms for the bargain basement price of $30 million in 2020. Since Ruger isn't an investment bank and already knows a thing or two about firearms production (the company is the most prolific firearms manufacturer in the U.S.), things are looking up for the Marlin brand.
The first Marlin to roll off the new Ruger-owned assembly line was a stainless steel lever gun in .45-70 Govt., the Model 1895 Trapper (which I somewhat begrudgingly used as my base gun in my imaginary $6K dream build). Ruger followed that big game legend with the classic Marlin Model 336, which had long been an icon of the deer woods.
At SHOT Show 2023, Ruger promised the return of the beloved Model 1894 sometime this spring, but with Independence Day fast approaching, some lever gun freaks were starting to get antsy. (It's me. I'm some lever gun freaks.)
But now it's here, and all is right with the world.
Ruger has plans to release the 1894 in additional calibers and configurations in the future. Still, for now, lever action lovers will have to make do with a tubular magazine full of .44 Mag or .44 Special.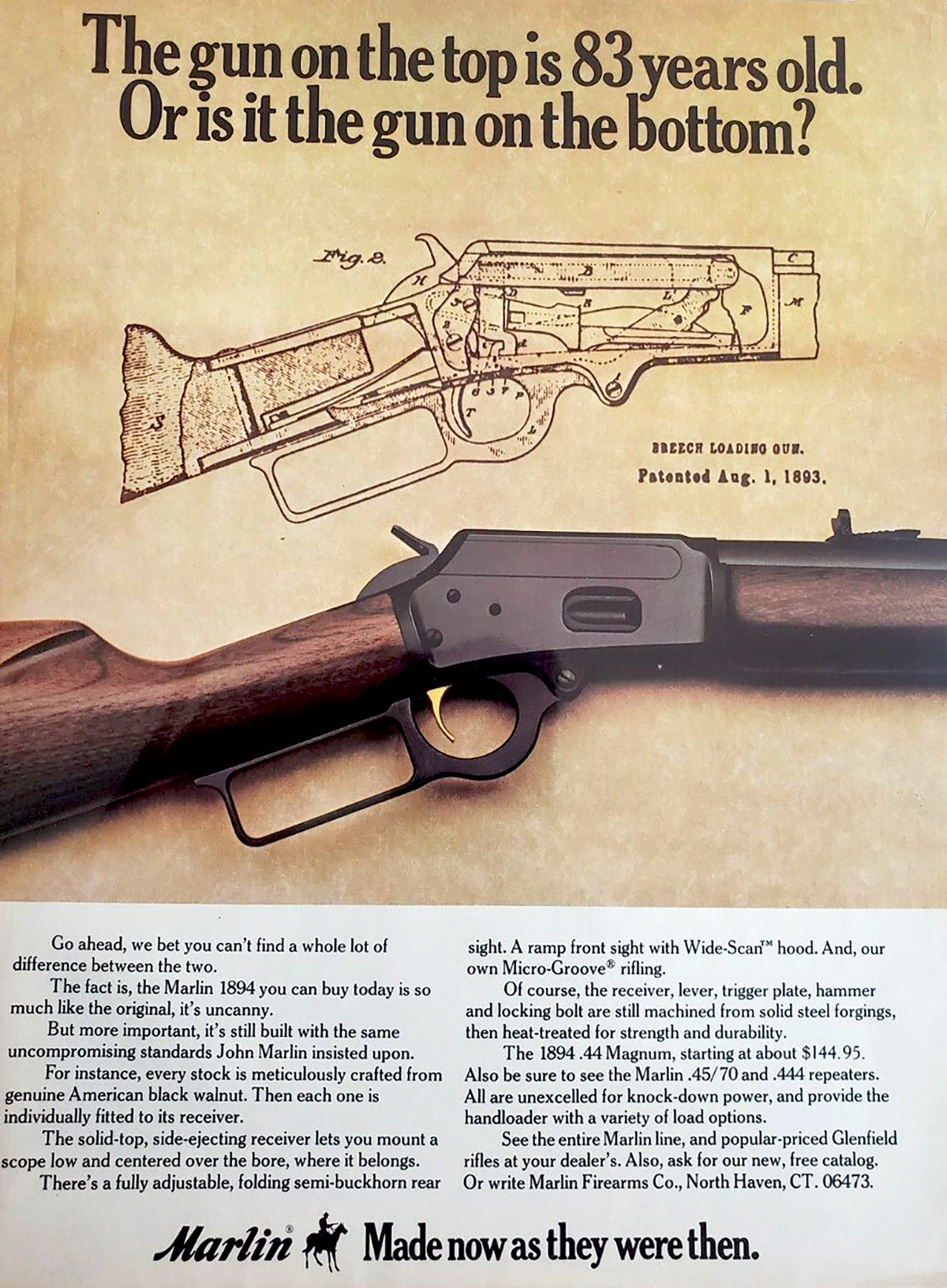 With limited availability and high market demand, these babies are expected to move quickly. Ruger is even warning customers against leaving deposits with retailers who do not have confirmed shipments. So if a Marlin 1894 is on your wish list, you should move fast before supplies run out.
RELATED — The Lever Action Shotgun: Why It's Only Popular in Movies
---
Marlin 1894 Classic Specs
Caliber: .44 Mag / .44 Special
Capacity: 10 / 11
Stock: American black walnut
Material: Alloy steel
Finish: Satin blued
Barrel length: cold hammer forged, 20.25 inches
Twist rate: 1:20 inches
Overall length: 37.74 inches
Weight: 6.4 pounds
Front sight: Brass bead with hood
Rear sight: Semi-buckhorn
MSRP: $1,239
---
READ NEXT — The Marlin 336 Is Back! Ruger Reintroduces a Classic Lever Gun