SHOT Show isn't just about guns and ammo, it's also one of the biggest venues for new knives and knife companies every year. Almost every major knifemaker shows up as do a whole lot of small bladesmith shops that always have something exciting and new to show off. Here are some of the best.
RELATED – Knife Steel: What You Need To Know To Choose the Best Blade for You
---
Benchmade – Narrows EDC Knife
Price: NA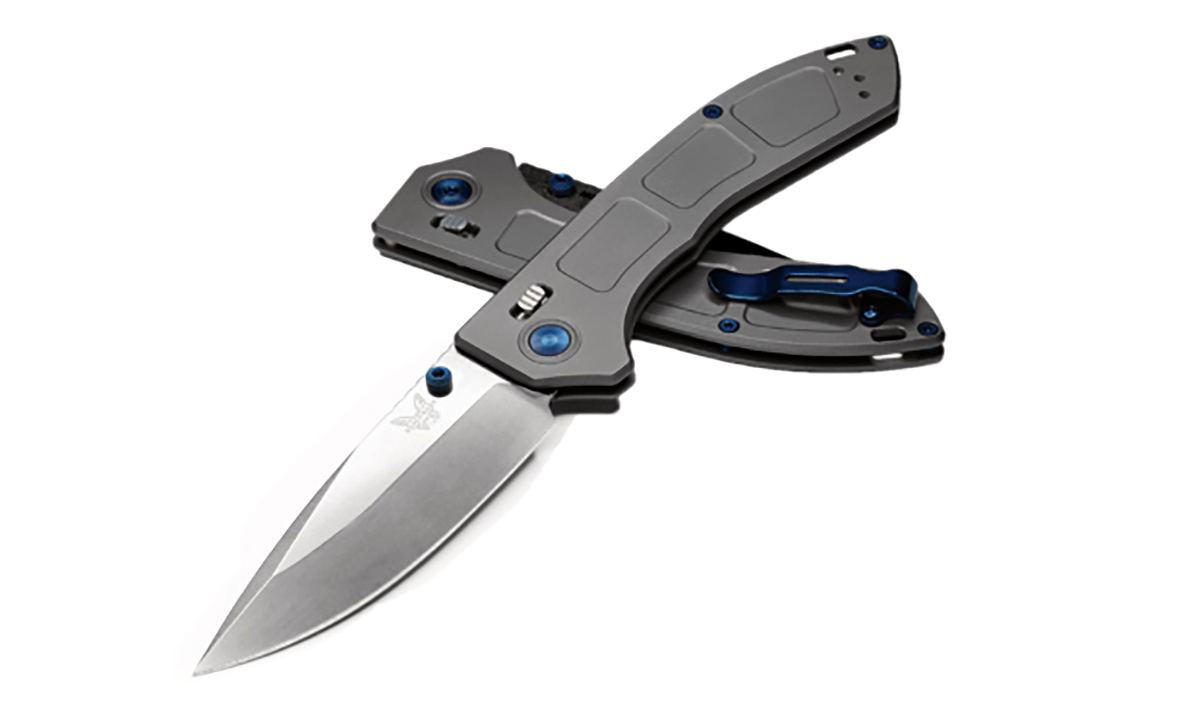 This blade is Benchmade's only brand-new knife for the year, and it's billed as the company's thinnest knife ever. The Narrows is 33% thinner than the Bugout — that's for Benchmade fans who measure everything against the Bugout. You know who you are.
It features super-thin, fully titanium scales wrapped around an S30V drop-point blade held open by the company's Axis Lock. All hardware is anodized.
---
Cold Steel Mayhem Folder
Price: NA

It's Cold Steel, so yeah, no duh, the new Mayhem is a ridiculous folder. And yeah, it's also brutishly awesome, and it's reportedly built like a tank. That's what CS is all about — this thing weighs 13 ounces.
The Mayhem is almost the company's biggest folder with a 6-inch blade that would be big for a fixed-blade knife and uses its ambidextrous Atlas Lock. The odd blade shape is — I'm going to call it a sweeping clip point. It has an imposing point that's backed up by a healthy amount of steel, so it's not fragile. The thing looks like it could punch a hole in a steel drum. The spine has a big dip that matches the sweeping belly of the edge with big-toothed jimping and a large swedge before tapering to the point.
What will it be good for? That's up to you to figure out, but it should be great for cutting boxes or carving really big sticks into points when you're bored.
It will be available in AUS-10A with a black G-10 handle, and a limited edition will come with an S35VN blade and a red and black G-10 handle.
Price: $214.99, $189.99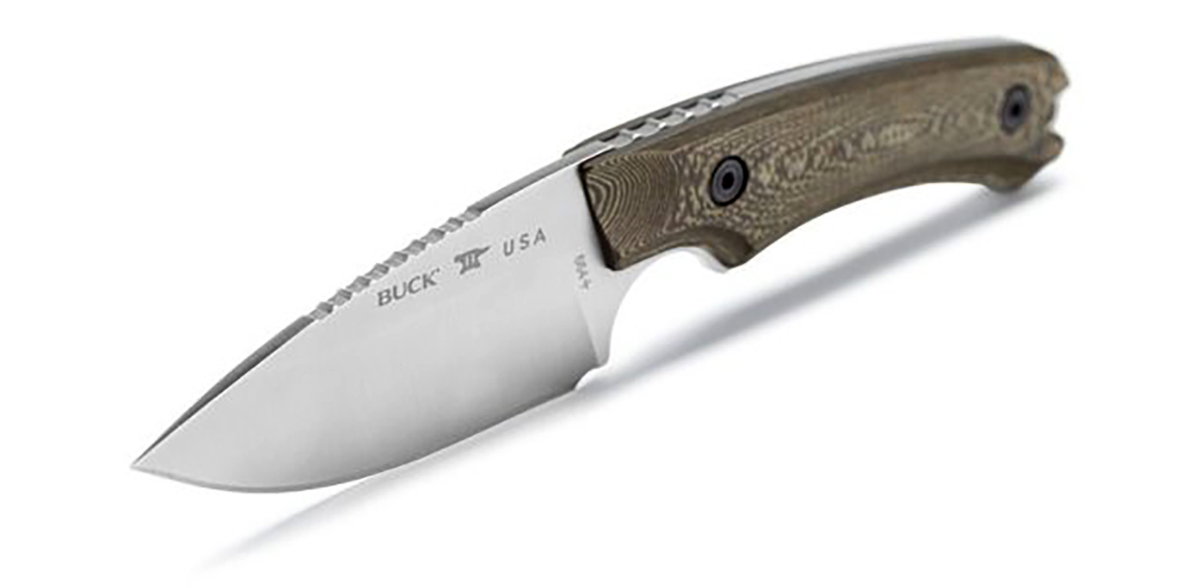 For 2023, Buck is showing some love to its fixed blade lineup with two new hunter-focused blades featuring all the state-of-the-art touches. 
Both the Alpha Hunter and Alpha Scout are different-sized versions of what is basically the same knife. The blades are made from S35VN steel, which is a solid-steel choice for outdoor use. The scales are available in either synthetic green-black Richlite or walnut Dymalux, a laminate material made from resin and wood. Both materials will stand up to the harshest conditions and lots of wear and tear in the field. 

The larger Hunter model has a 3.6-inch drop-point blade and is the perfect size for a hunting knife. It has a generous choil for the index finger and jimping on the spine so you can index your thumb easily by feel.
The Scout model is a sized-down version of the Hunter that would be perfect for field dressing small game or for careful work on large game with its 2.875-inch blade. It also has that same generous index-finger choil and jimping on the spine.

Both knives come with leather sheaths and are set to be released in Q1 2023.
Also from the fixed-blade department at Buck comes the new Brahma 117, a variation on the classic Buck 119. The old Brahma had a Ka-Bar feel with a stacked leather handle, but this version is available with classic steel, 420HC, and a classic Buck black phenolic handle, or a Micarta handle with S35VN steel.

Buck also gave a healthy update to its Paklite line, introducing the Paklite 2.0 family of skeletonized outdoor knives. It includes the 630 and the larger 631 and 635 models, as well as the Processor — a specialized meat-cutting blade. All with a GFN micro-scale and 420 HC steel or in a Pro version with Micarta scales and S35VN steel.

---
Price: $320

The newest entry in Kershaw's Zero Tolerance line is a reimagining of the discontinued ZT-9, which was a bayonet designed by Mick Strider. This iteration moves the design into a more practical format as a general outdoors knife with a 6-inch CPM_3V drop-point blade that will stand up to brutal use. The handle is olive drab G-10 scales with a classic guard. The knife comes with a Kydex sheath.
---
Price: NA
OKC has brought back its Bushcraft series of knives and added a Seax model. The knife is modeled on a blade from the 7th to 12th centuries used by the Anglo-Saxons from designer Dan Maragni. According to OKC, "seax" is the Old English word for knife. The 4.34-inch satin blade is made from 420 stainless, which means it won't hold an edge terribly long, but should be fairly rust-resistant and will sharpen easily. It has a simple laminated hardwood handle. 
"The deep clip forms a narrow point, which is optimized for fine cutting work and only 1/4 inch above the blade edge line to maximize cutting forces similar to a sheepsfoot blade edge. Overall the knife reflects the over-500-year tradition of functional seax design made with modern materials and technology."
It will ship with a black nylon sheath.
---
Price: NA

When a classic Ka-Bar USMC fighting knife is made, multiple blades are stamped out of steel at the same time. There's nothing wrong with a stamped-steel blade, but this production method is limited to softer steels — you simply can't stamp super steel; it has to be milled. Well, Spartan Blades, which has plenty of milling experience, has teamed up with Ka-Bar to create a high-end Ka-Bar milled from CPM Magnacut steel.
Magnacut is the new hotness in knife steels that is extremely tough with both high-wear resistance and high-corrosion resistance. It's basically a combo of the toughness of CPM-4V steel and the stainless properties of CPM-20CV.
Spartan is going to make the knife with the same processes it uses for its Gold Line knives, and it will certainly be a collector's piece, but it will also be the toughest damn Ka-Bar you've ever seen. Plus, it's being offered with a classic USMC leather sheath or Kydex.
Spartan says it's expected to be ready in April 2023. Drool. And if you aren't familiar with Spartan Blades' absolutely phenomenal and functional tactical fixed blades and folders, you should be.
---
Price: $100 each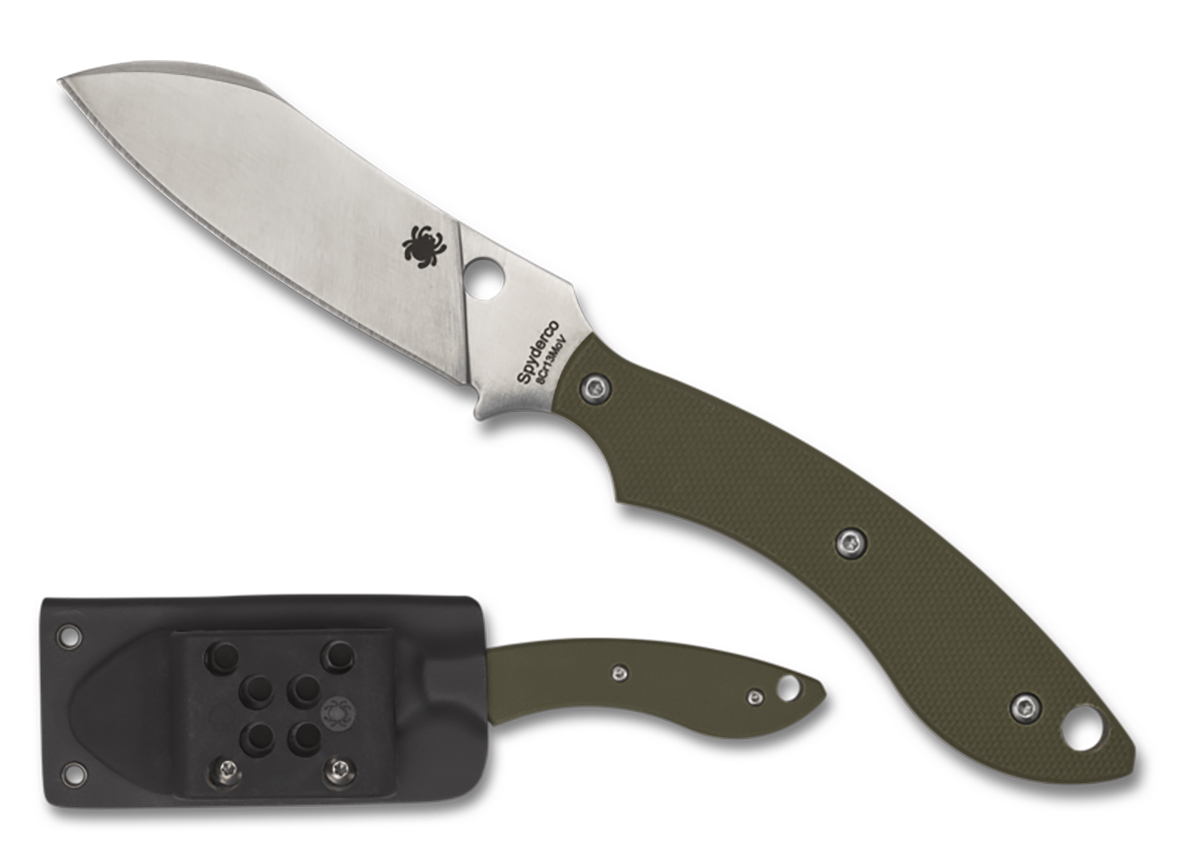 These two new fixed blades from Spyderco were designed by Sjoerd Stok, a Dutch artist and knife lover. He's also the marketing specialist for one of Europe's largest knife and outdoor gear retailers. The Stok Drop Point is a compact knife that's only 6.45 inches long in total with a 2.95-inch blade that was designed as an urban/concealed carry alternative to a folder. 
The interesting drop-point blade is full-flat ground from 8Cr13MoV steel with a swedge near the point. The handle is an olive drab G-10 with a large lanyard hole.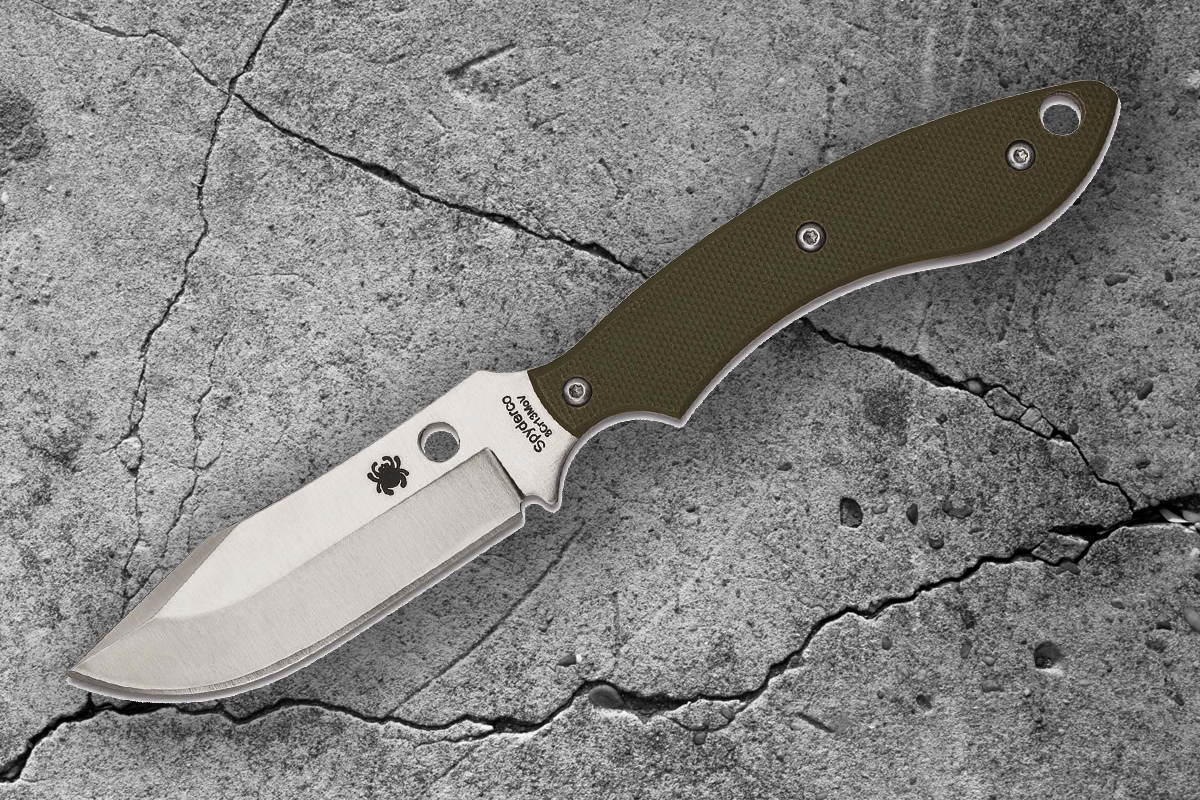 The Stok Bowie has a more traditionally shaped saberground Bow-style blade also made from 8Cr13MoV steel with the same handle as the Drop Point model and is similarly sized with an overall length of 6.45 inches and a 2.95-inch blade.
GOOD GEAR – Show Support to Our Law Enforcement With the BRCC Thin Blue Line Roast
---
TOPS Knives – Field Dog and ERSK Bushcraft Knife
Prices: NA

This interesting fat-bladed knife looks extremely handy and could be an incredible little hunting/field knife for almost any application. It would be interesting to see how it does dressing a deer, but it would obviously make a great trout and bird knife, which is its intended purpose. The handle is tan and black G-10 and features a bright orange insert that makes it easy to find in the brush, and it comes with an excellent leather sheath that can be worn horizontally or vertically, left or right-handed.
Interestingly, this knife was designed by Anna Espinoza, wife of TOPS founder and designer of many of its knives, Leo Espinoza.

This bushcraft blade was created by Irish knife designer Shayne Phelan, who runs the Eagle Ridge Survival school. If you look closely, the deceptively boxy handle is actually surprisingly ergonomic and includes a nice, deep indent for use with a bow drill. It has a fairly standard bushcraft knife profile with a modified scandi grind on the edge of the thick blade that sports a spearpoint tip that aligns with the center of the knife.
That tip features a sharpened top edge, a feature many bushcrafters favor because it makes it better for drilling holes for fireboards or for trap-making. The sheath hasn't been designed yet.
Check out more hot new knives from TOPS here.
---
READ NEXT – Cold Sharp Steel – A Guide To Putting a Razor Edge on Your Knife