I love TOPS. Nobody does ridiculously large but still functional blades better, and they also have a bevy of practical-sized knives that are built like absolute tanks. What's more, they're all made right in Idaho. Here's what they have in store for 2023. All these knives are still prototypes, so release dates and prices haven't been set — some are still waiting for sheath designs, but the earlier you get to work on allocating the annual knife budget, the better, amiright?
---
Streamside Dicer

TOPS had a number of new offerings at SHOT this year, including its second-ever filet knife…and it's a big'un.
The Streamside Dicer is a large filet knife with a thinner, more flexible blade and a bigger G-10 handle than the previous offering. That larger handle is orange and black with a black liner and a blade of 14CM steel, which is fairly massive at 8 inches.
---
Field Dog

This interesting fat-bladed knife looks extremely handy and could be an incredible little hunting/field knife for almost any application. It would be interesting to see how it does dressing a deer, but it would obviously make a great trout and bird knife, which is its intended purpose. The handle is tan and black G-10 and features a bright orange insert that makes it easy to find in the brush, and it comes with an excellent leather sheath that can be worn horizontally or vertically, left- or right-handed.
Interestingly, this knife was designed by Anna Espinoza, wife of TOPS founder and designer of many of its knives, Leo Espinoza.
GOOD GEAR – Have the Perfect Coffee for Armageddon With the BRCC Escape Goat Roast
---
Dive Knives – Sidekick Diver for Spearfishing and Snake River Rescue for SCUBA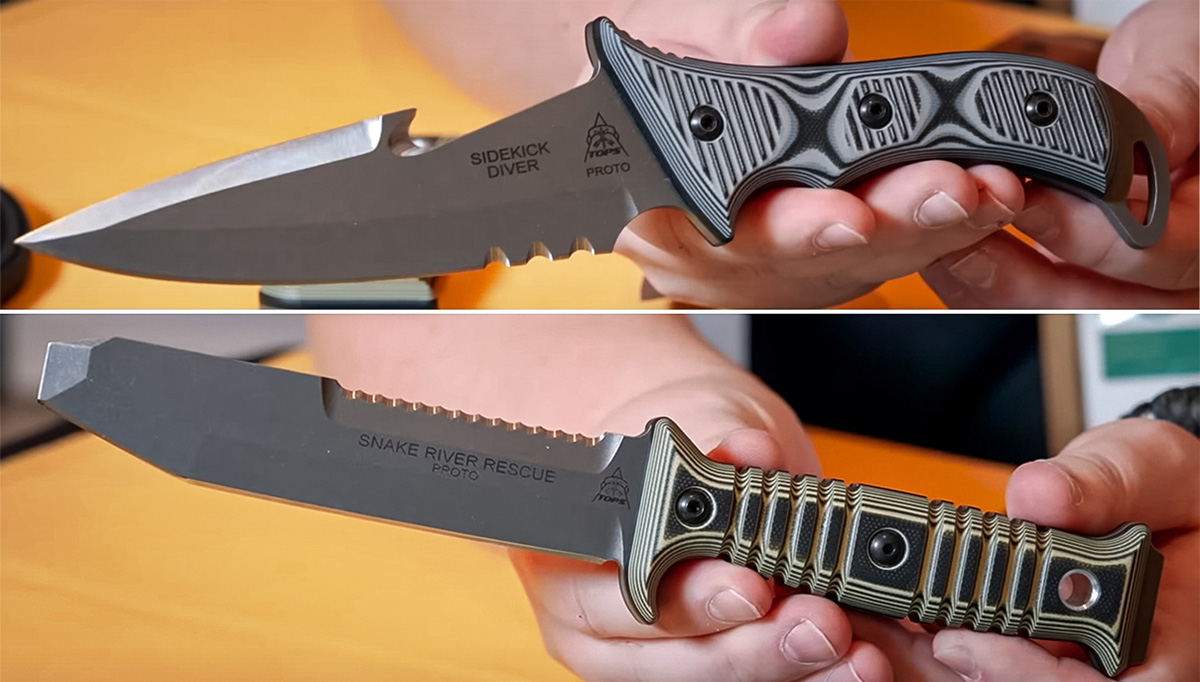 TOPS is getting into dive knives for the first time this year with two offerings. The Sidekick Diver is made for spearfishers with its robust point ready to dispatch a catch on the line. Plus, it can be sharpened to a double edge. It also includes three large serrations for cutting lines, as well as a deep cord cutter shaped into the spine. The overall look is amazingly badass, but every aspect is functional — which can be said of a lot of TOPS knives.
Next up is the Snake River Rescue knife made for SCUBA divers. It has a flat tip so it won't pierce hoses, serrations for cutting netting or cloth, and a tank-tapper at the pommel. TOPS hasn't settled on steel for either knife yet.
RELATED – $2.5K Knives and Cougar Sausages: Meet Master Bladesmith Josh Smith
---
ERSK Bushcraft Knife

This bushcraft blade was created by Irish knife designer Shayne Phelan, who runs the Eagle Ridge Survival school. If you look closely, the deceptively boxy handle is actually surprisingly ergonomic and includes a nice, deep indent for use with a bow drill. It has a fairly standard bushcraft knife profile with a modified scandi grind on the edge of the thick blade that sports a spearpoint tip that aligns with the center of the knife. That tip features a sharpened top edge, a feature many bushcrafters favor because it makes it better for drilling holes for fireboards or for trap-making. The sheath hasn't been designed yet.  
GOOD GEAR – Show Your Support for the 2A With the BRCC Gun Club Mug
---
El Pionero Self-Defense Knife
Ed Calderon worked in law enforcement in Mexico on the front lines of the drug war, but most of the knives he designs are based on his experience as a kid, well before he was a police officer.
So the story behind this knife goes, when Calderon was young, his mother would regularly carry some kind of small kitchen knife for defense and as a tool, usually something like a paring knife or a fruit knife. That was the inspiration for El Pionero.
Calderon's signature creeping skeleton logo is etched into the handle, which also features a groove cut into the back side for the index finger when the knife is held in a downward, stabbing grip with the blade facing inward — Calderon's preferred grip for a self-defense knife. It's shaped like a cheap paring or steak knife, but the full-tang blade is no-shit mean with a reverse grind to enhance the narrow tip's stabbing abilities.
Anyone who has taken a good self-defense class that covers knives knows a small blade can do just as much damage to an attacker, if not more, than a large one if it's sharp and if the user knows what they're doing. This knife is built on that idea.
---
READ NEXT – The Rise and Fall of Hollow-handled Survival Knives