In 1982, Sylvester Stallone starred in a movie that defined much of his career and introduced a character that would always be associated with a popular and unique style of knife. First Blood is the story of a Vietnam veteran and Green Beret John J. Rambo. As he's passing through a small town in the Pacific Northwest, he's hassled by a local sheriff and arrested. Brutal treatment at the hands of some deputies triggers his trauma from being tortured as a POW. After escaping police custody and fleeing to the mountains with nothing but his survival knife, Rambo eventually returns to the sheriff's town to wreak havoc and hunt him down.
Throughout the movie, he uses his trusty saw-backed survival knife to do everything from build traps to kill a wild boar. He uses the compass in the knife's buttcap to navigate unfamiliar mountainous territory, and the waterproof matches stored in the knife's hollow handle to light a torch in a blacked-out mine and the sewing kit to stitch his arm back together after a fall through a giant pine tree (that scene still looks real). And everyone wanted one instantly.
First Blood made over $125 million at the worldwide box office (that's in 1982 dollars), launched a five-film series, and inspired generations of survivalists. It also put the hollow-handled knives designed by Jimmy Lile for the movie on the map.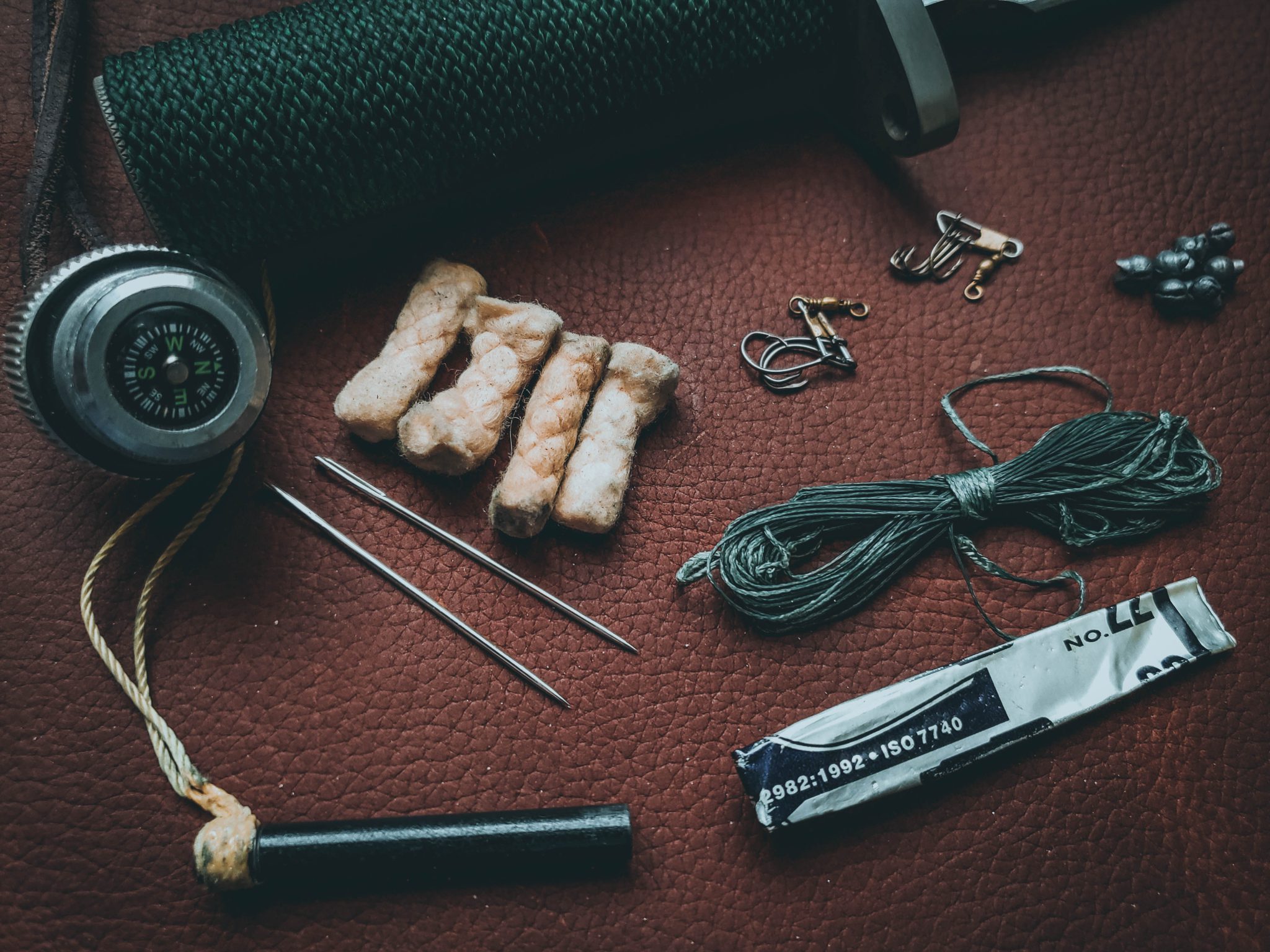 Hollow-handled knives weren't new in 1982. After all, the Randall Knives Model 18 was introduced almost 20 years earlier and was carried by some in Vietnam, and obviously served as inspiration for the first Rambo knife. Just as First Blood didn't create the survival/action movie genre but it elevated it, Lile did the same for this particular style of knife.
For more than 40 years, outdoorsmen have taken inspiration from this movie and have modified their knives and their sheaths to carry additional survival kit items. Today, survival and bushcraft knives are still carried with supplemental equipment stored in and around them.
Let's take a look at both the history of the survival knife kit, its merits, how it came to be, and the problems it endeavors to solve.
RELATED – Knife Steel: What You Need to Know to Choose the Best Blade for You
---
1980s – Survival Knives and Kits
The 1980s was the golden era of "survival knives," especially for those with hollow handles. The always contained a compass in the cap of varying quality and, whether genuine or a knock-off, the grip was always stuffed with micro survival kits including waterproof matches, fishing tackle, a scalpel blade, tinder, and — of course — a sewing kit. They all also had a small sharpening stone stored somewhere on the sheath.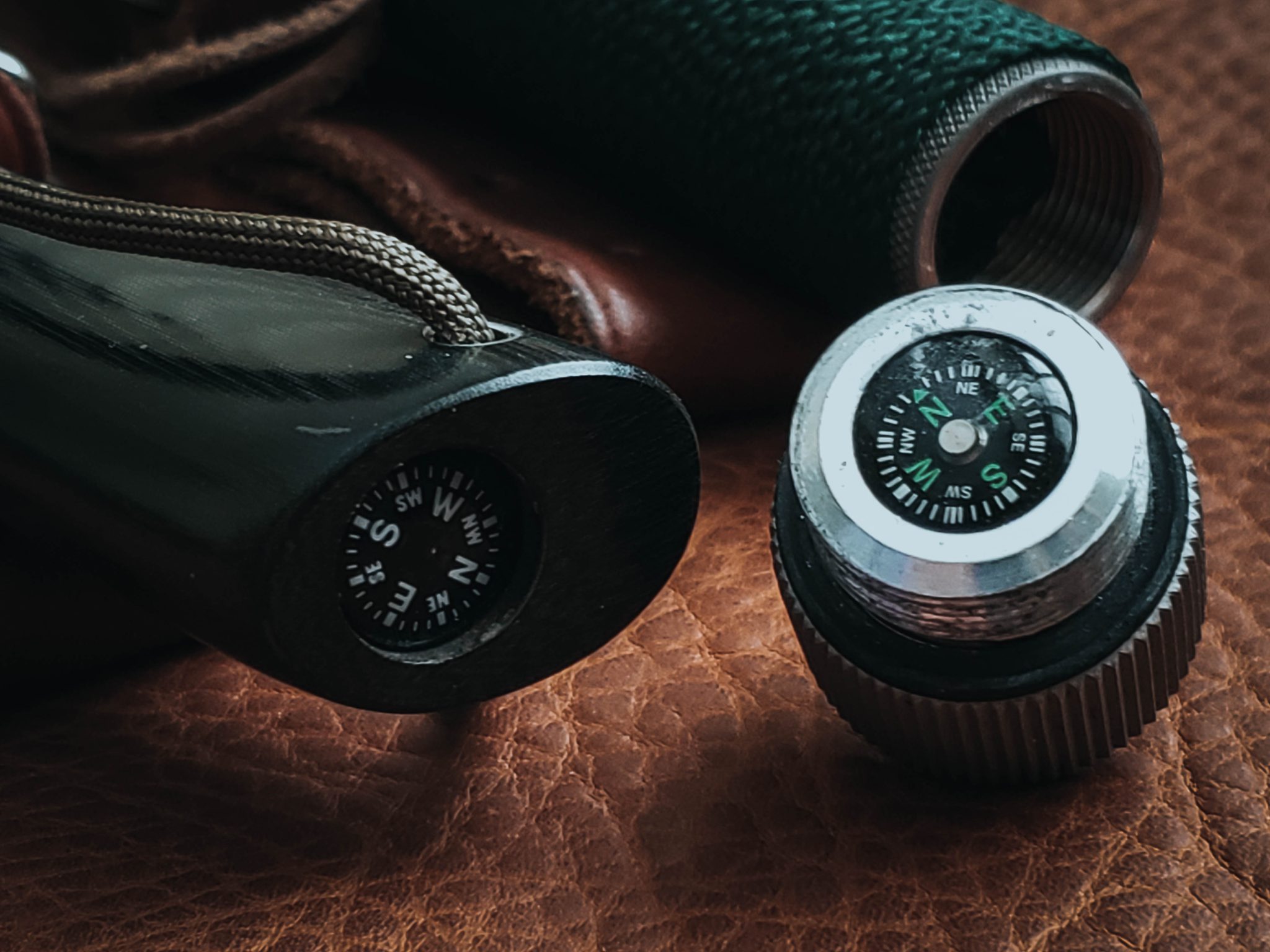 For years, the US military carried a sharpening stone in the front pouch of the survival knife issued to pilots, and some military personnel swapped the stone for a Doan's magnesium fire starter.
When Arnold Schwarzennegger wielded Jack Crain's survival knives in Predator (1987) and Commando (1985), they stepped into the spotlight alongside Lile's blades, including the updated Rambo knife he created for the first sequel, also released in 1985.
Even Buck Knives jumped aboard the Rambo knife train in the '80s with its now-famous and discontinued Buckmaster 184, which looked like the product of a Lile knife having an unholy affair with a grappling hook. No, seriously, it had spikes on the guard that were supposed to work like a grappling hook and it may be one of the most copied knives ever. There were also the knives from bladesmith Robert Parrish. 
In Europe, Spanish knifemaker Aitor came out with the Jungle King knife (which you can still buy) that included a kit and sheath very similar to that of the Rambo knife. All of these and many other popular blades owe everything to the knife Lile made for First Blood.
RELATED – Understanding Knives: Blade Shapes
---
1990s – Filling the Hollows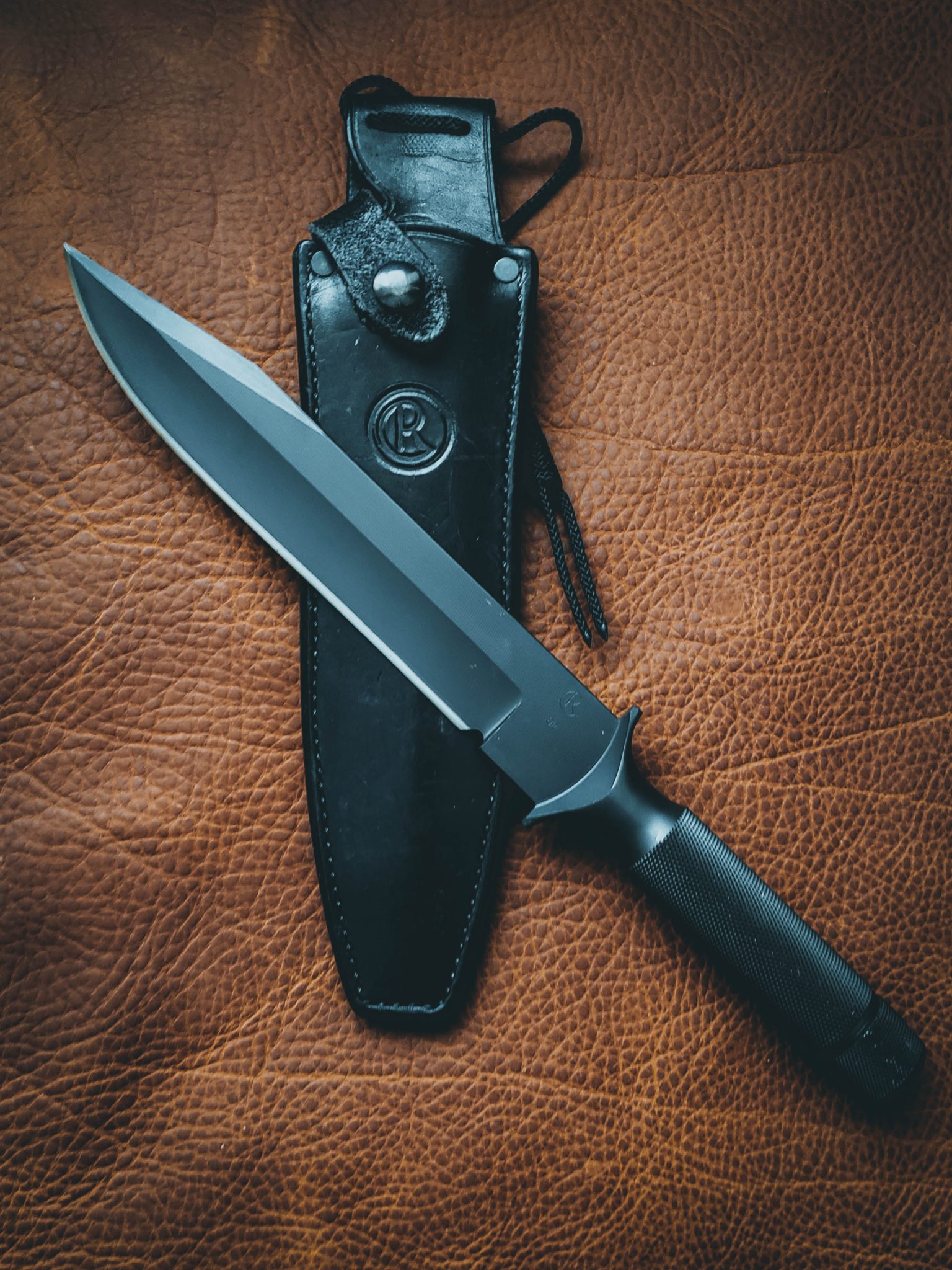 In the 1990s, a number of knives were introduced that remained true to the kit idea from the 1980s, but the carrying capacity was moved from a hollow handle (replaced with a preference for full-tang construction) to a pouch on the front of the sheath. While it is possible to build a rugged hollow-handled knife (see the previously mentioned Randall Model 18 or the modern Shrade SCHF1 survival knife with a multi-driver in the handle ), mass-produced knock-offs with shoddy construction and cheap materials gave this knife style a bad reputation.
Folks began believing that anything but a full-tang blade would eventually break at the hilt under strenuous use. So, they gravitated toward the undeniable strength and simplicity of full-tang knife construction.
Even Rambo bailed on the design in 1989. In Rambo III, the character used a large bowie-style knife designed by Gil Hibben that didn't have a hollow handle or any of the survival kit aspects of the first two blades. By 1993, the Lile knives were heavily spoofed in Hot Shots: Part Deux. The style of knife that breathed new life into the knife industry had become the butt of a joke.
The 1990s also saw the rise of the late "Doc" Ron Hood of survival.com, TOPS knives, as well as blades from Busse Combat, and Cold Steel. Hood once hosted a challenge that revolved around stuffing the hollows of a Becker knife handle with survival kit itens. These knives have remained popular to this day and have been produced by Ka-Bar for several years now.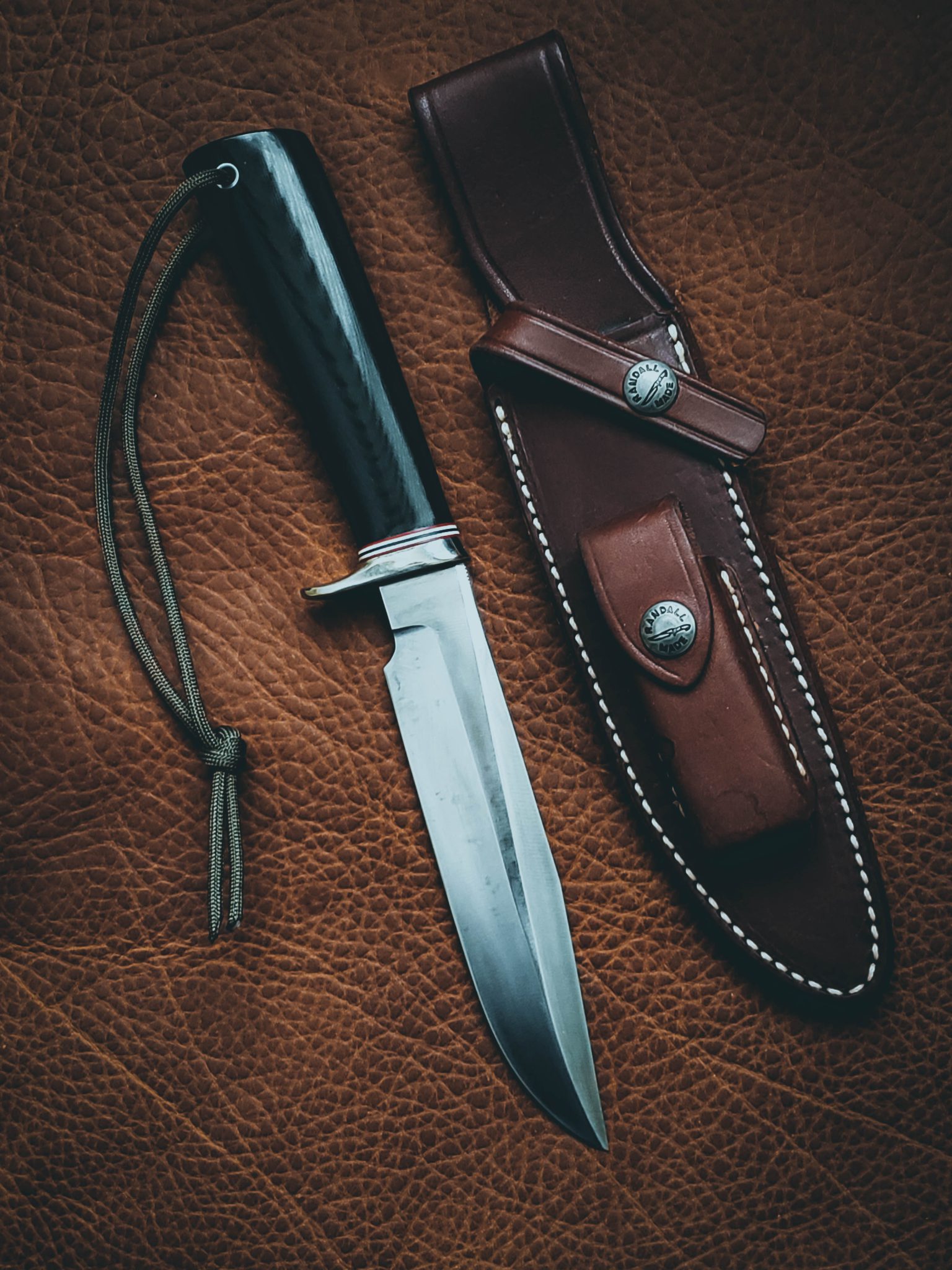 Some knifemakers from the '80s discontinued their hollow-handle designs as their popularity wanned and adopted newer styles. The 1990s also saw the publication of Everybody's Knife Bible and the video "SEAL Knife," which were promoted in survival magazines of the day. Customers began to see Mini-Mag Light flashlights and early squeeze LED lights packed with knives along with Silva compasses and large ferro rods.
Kydex sheaths also came along and grew in popularity over old-school leather. Knifemakers began including them standard and users began to wrap them with emergency cordage or slot them to work with auxiliary pouches. Some companies moved away from using the marketing magic term "survival knife" just as the term "survivalists" began to become a dirty word.
In the sheath pouch on newer designs you were likely to find a multi-tool from Leatherman, Gerber, or SOG.
of teh time often held either a Leatherman or the many multi-tools that followed the release of the first Leatherman tools, including those from SOG and Gerber.
RELATED – Gear Test: The Ultimate Replaceable Blade Knife Test
---
2000 – Present – Survival, er, We Mean "Bushcraft" Knives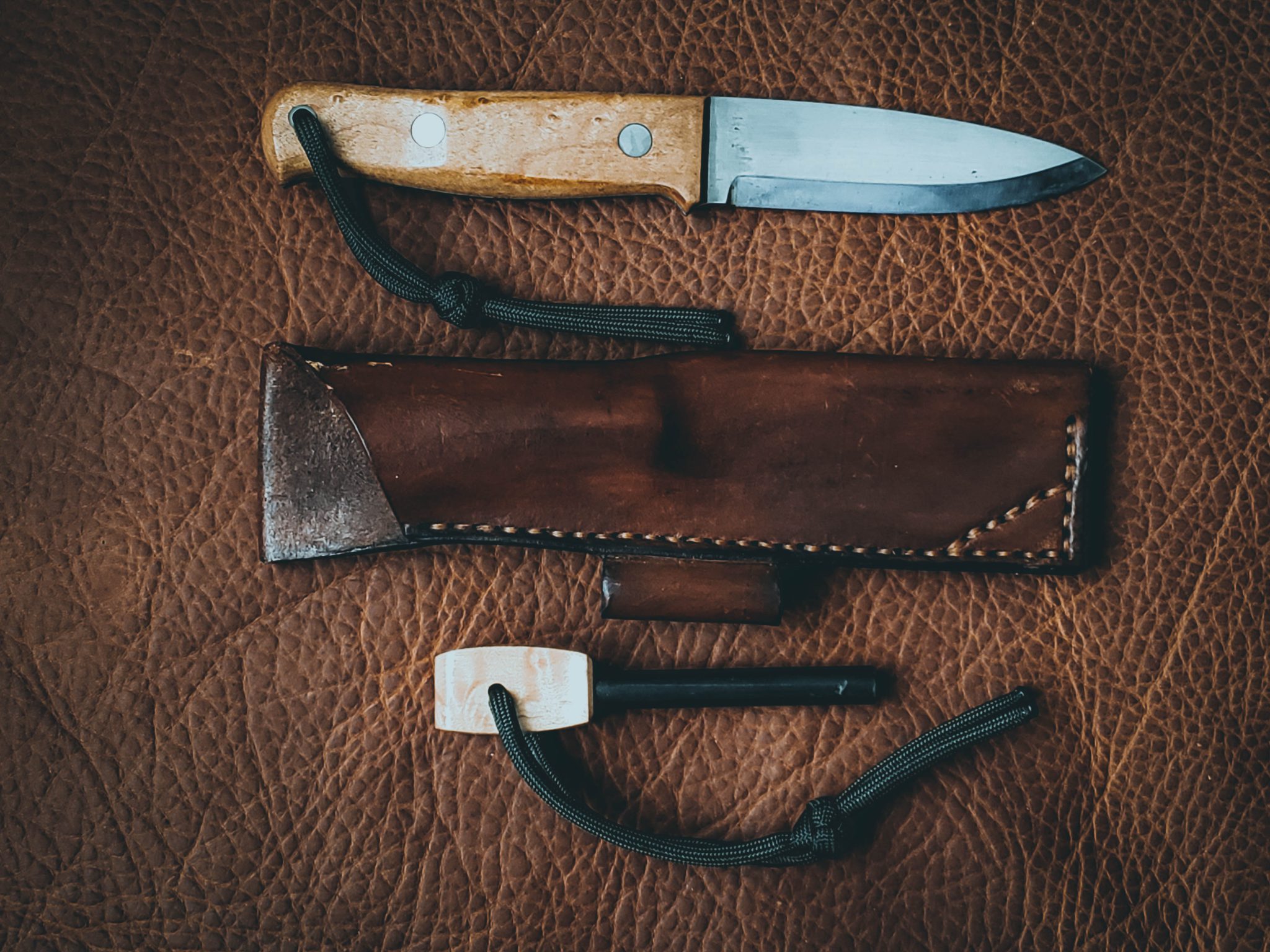 The concept of the "survival knife" and micro kits transitioned to the "bushcraft knife" in the early 2000s.
The Fallkniven F1 knife was introduced, along with the RAT knife from Onatio Knife Company (OKC), and then came the ESEE 3. Bark River Knives. Other knife companies started developing survival knives with smaller blades and with 90 degree spines tailored for scraping fire steels. The focus wasn't on carrying a kit of emergency items but rather a single full-size firesteel on the sheath and a multi-purpose fixed blade knife. Sometimes, this is augmented by a small folding knife for detailed work and a sharpening stone.
The survival items once packed into hollow handles and later into sheath pouches moved away from the knife and sheath all together to a possibles pouch or survival kit tin that, in some circles, was already popular for decades thanks to the British S.A.S. manual. Some kits were made out of waterproof match containers and taped to the exterior of the knife sheath in the same way the US Navy MK2 Combat Knife was often carried with a MK 13 Mod 0 flare taped on the outside.
The past 20 years have seen knife sizes and shapes eb and flow. Pocket knives labeled "tactical folders" were popular at one point, then large chopping knives were in style, followed by hybrid blade shapes like the Dave Beck WSK pattern made popular by the The Hunted (2003). Other survival knife kit concepts have included the Alaskan necklace with knife, fire starter, and tinder, and the Mora neck knife kit recommended by survival instructor Cody Lundin complete with an electrical taped butane lighter, as pictured in his book 98.6 Degrees: The Art of Keeping Your Ass Alive.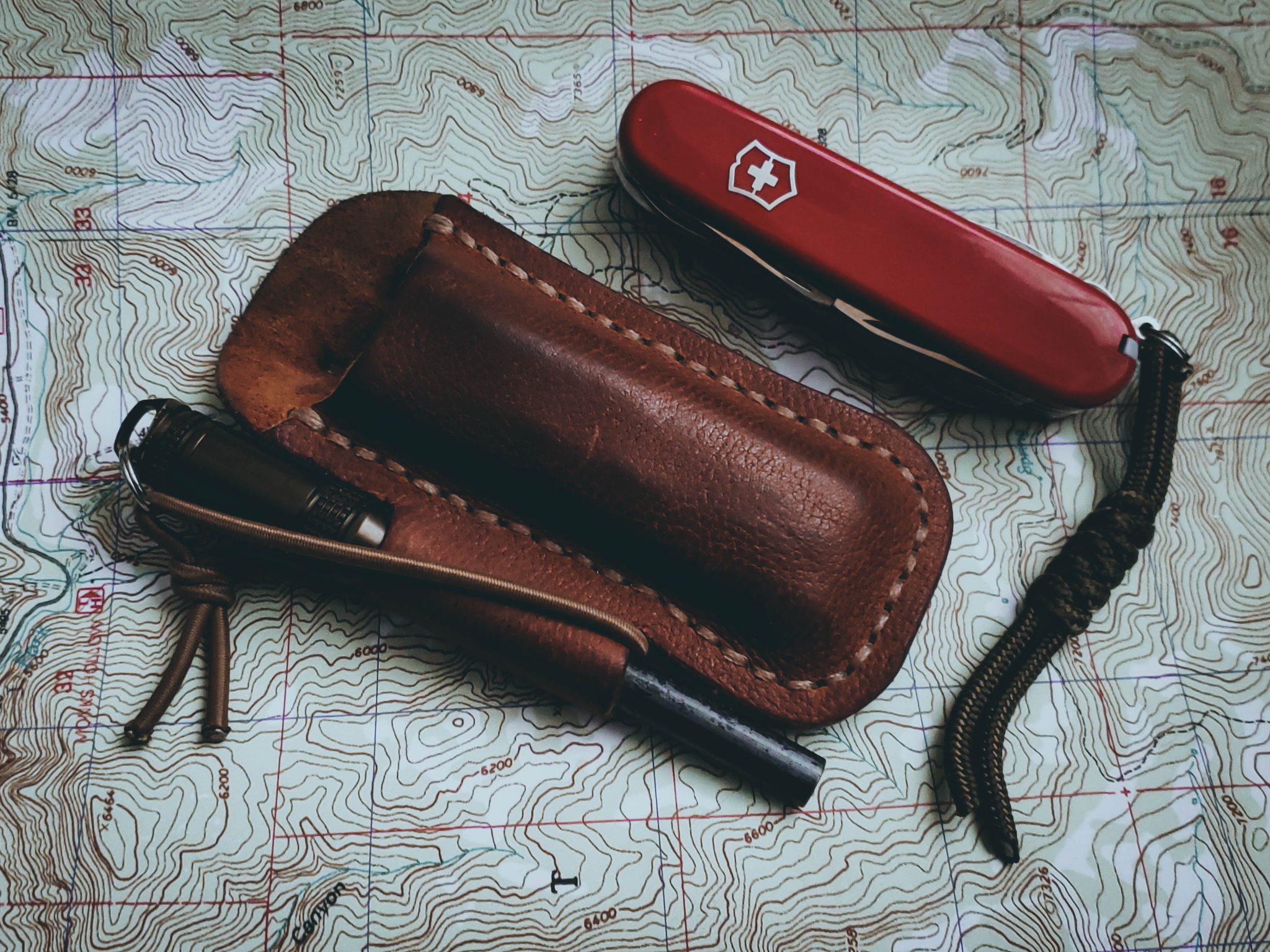 Some knifemakers have kept the hollow-handle knife game alive, including the now discontinued one-piece lineup from Chris Reeve, the one-piece SCHF1 from Schrade, and the knives made by the late Newt Martin of Martin Knives (and you can still get a Randall Mark 18).
While cheap survival knives that broke way too easily gave so-called '80s knives a bad rap, you'll be astounded by the prices some are fetching with collectors today. Call them cheesy or antiquated by today's standards, some of the quality survival knives from the '80s will outperform modern production blades while carrying survival kits.
Today, you can find survival kit components like lock picks, Kevlar thread, Miniature Cyalume glow sticks, cash, and other urban items packed next to urban survival and defensive blades. Perhaps the best example of this is the AMTAC Blades series (Northman, Minuteman, Magnus) that have integrated fire steels in the sheath as well as a flat velcro pouch on the back for additional modern survival equipment.
The shape and style of survival knives will continue to change but the micro survival kit concept is one that will likely never disappear. It's said, "a knife in the woods and you're rich" and while this is true, being wealthy is different from being rich. You can certainly do a lot with just a knife, but if you carry a knife with certain kit items, you can do more with less work and you can live better.
---
READ NEXT – Tom Brown Tracker: The Knife from 'The Hunted'