North Carolina BBQ enthusiasts will argue with South Carolinians until the sun rises in the West. What about? Whether or not North Carolina is the home of "original" barbecue. It's easy to see how the conflict came to be. Historical accounts of the Carolina colonies often blur the line between northern and southern cultural experiences or simply treat them with broad barbecue-mop strokes.
It's tough to pin down a definitive timeline given that everyone can point to their own research or family history. An online look at the "Carolina BBQ" landscape of recipes gives the impression that North Carolina holds the claim to all vinegar-based sauces, while the only authentic flavor to come out of South Carolina is the state's mustard-based gold sauce. Well, there may be some sauces with tomato added, too.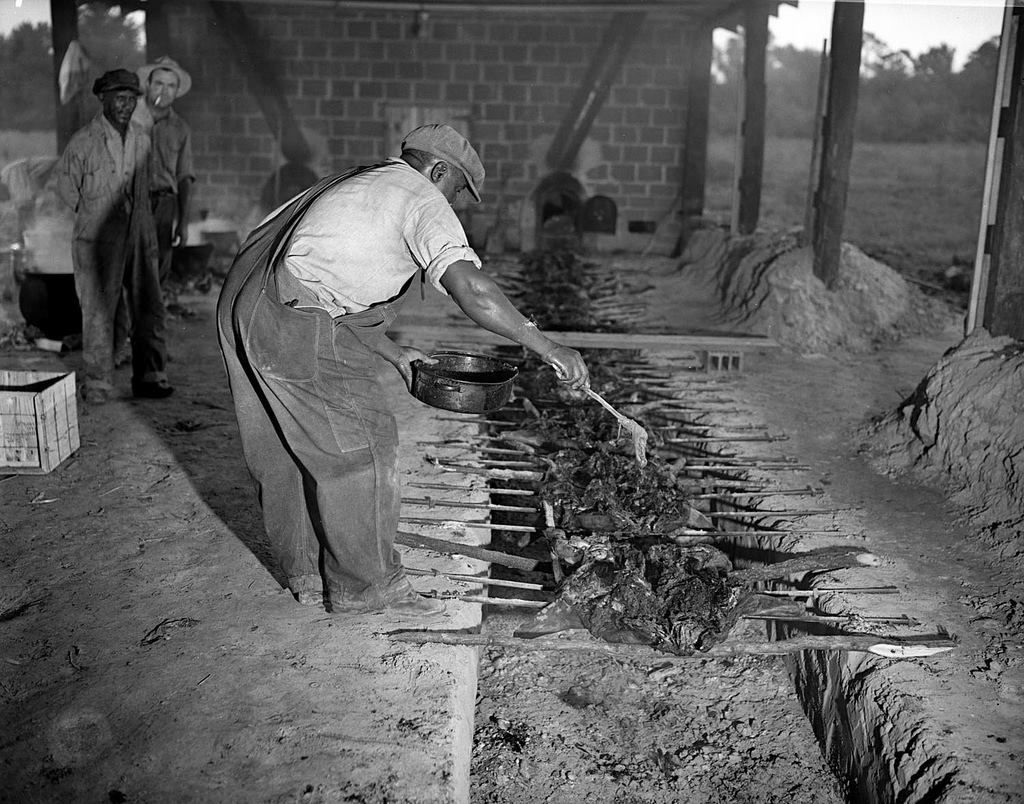 Honestly, the flames of "who made it first" are fanned more by regional pride and competition than anything else, especially since most barbecue recipes are essentially the same. Aside from some cultural or personal seasoning, the vinegar base is the starting block.
Chicken-or-egg arguments aside, North Carolina shares a similar divergence with South Carolina in barbecue flavors. The Tar Heel State clocks roughly a 50/50 split on sauce tradition. The east favors a vinegar and red pepper sauce, and the west/Piedmont/Lexington region leans toward a ketchup-and-vinegar-based style.
Related: Barbecue, Politics, and Alabama White Sauce
Eastern BBQ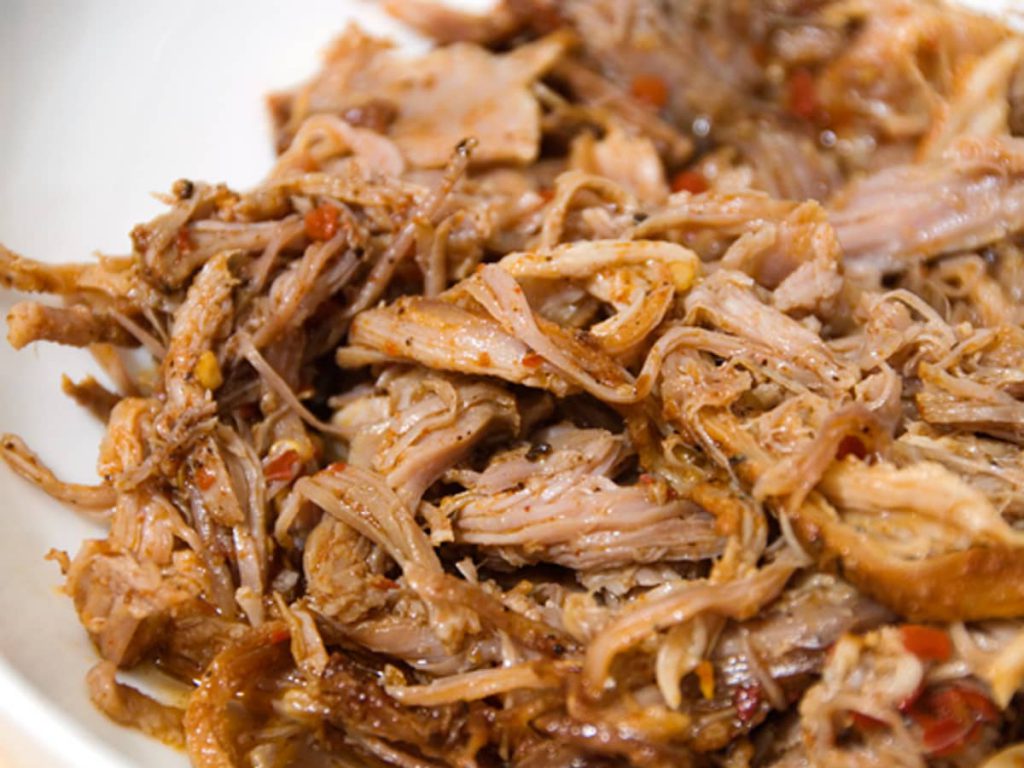 Holy Smoke: The Big Book of North Carolina Barbecue says barbecue in North Carolina must meet these three qualifications:
The meat must be barbecued — meaning cooked at a low temperature for a long time with heat and smoke flavoring the pork from a fire of hardwood or hardwood coals
The meat must be pork (whole hog, shoulder, or occasionally ham)
The meat is always served with a thin, vinegar-based sauce
Eastern-style barbecue sticks to these three criteria like white on rice. Like South Carolina, whole hog is the game. Pitmasters may fine-tune the sauce in subtle (or not so subtle) ways, but to stay "eastern" it has to be watery thin, with just enough bite at the side of your tongue and a little vinegar kick. Don't even think about adding ketchup. Any eastern-style sauce with a reddish color most likely includes Tabasco or cayenne pepper. 
Piedmont BBQ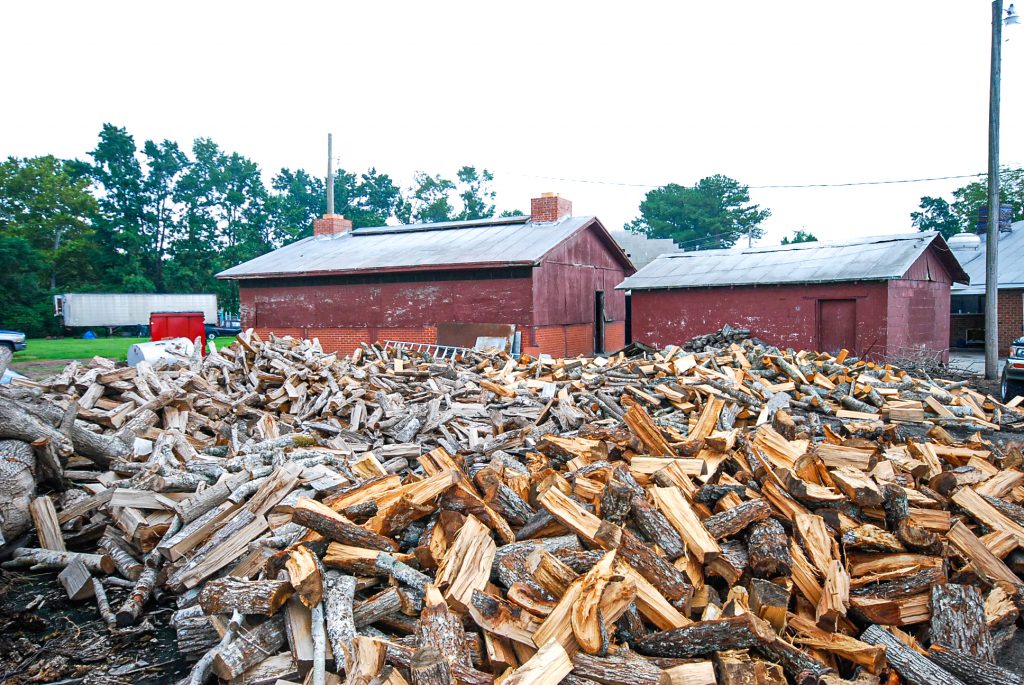 Piedmont- or Lexington-style barbecue starts with a pork shoulder. The cut is pit-cooked slow and low — as long as 90 minutes per pound — so this isn't a spur-of-the-moment meal. There are three bone-in cuts you want for your pit: the top shoulder, or "Boston butt," the lower portion, or the whole leg if you're feeding a crowd. 
A brine and dry rub are typical for the Piedmont style. The brine doesn't tenderize the meat for smoking; it preps the pork for the dry rub. For hickory-smoked shoulder, make sure the chips are dry. Soaking them in water will only make the dry rub come out gummy instead of crisping up like a thin skin on the meat. 
Best North Carolina BBQ Joints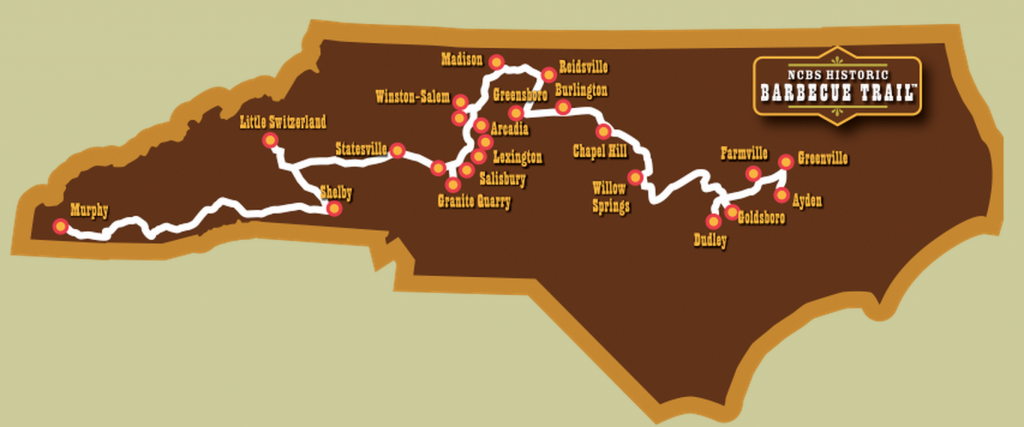 Related: Mississippi BBQ: Slow and Low in the Delta
Visit North Carolina created a list of 19 barbecue joints that make up the "cradle of 'cue'"—North Carolina's Barbecue Trail. Here are five of the Tar Heel State's favorite stops along the heavenly hog road trip.
Red Bridges Barbecue Lodge 
At any joint calling itself a lodge, you'd better be ready to settle in and get comfortable. Red and Lyttle Bridges opened their joint in 1946 as Dedmond's Barbecue, featuring outstanding slow-cooked pork. They renamed the popular spot "Red Bridges Barbecue Lodge" in 1949. The restaurant is still in the family two generations later. Given their all-night-long, slow-cooked Carolina barbecue menu, that's a recipe for at least a couple more generations of satisfied Red Bridges fans.
Skylight Inn 
Locals know the Skylight as Pete Jones' BBQ. A James Beard Award winner, Pete founded the business in 1947 at the age of 17. Skylight is a cash-only barbecue hot spot that sells pork sandwiches, quarter- and half-chickens, sides, soda or tea, and two desserts — that's it. Pete's son Bruce, nephew Jeff, and grandson Sam Jones now run the joint. From the looks of their success, the tradition is in excellent hands.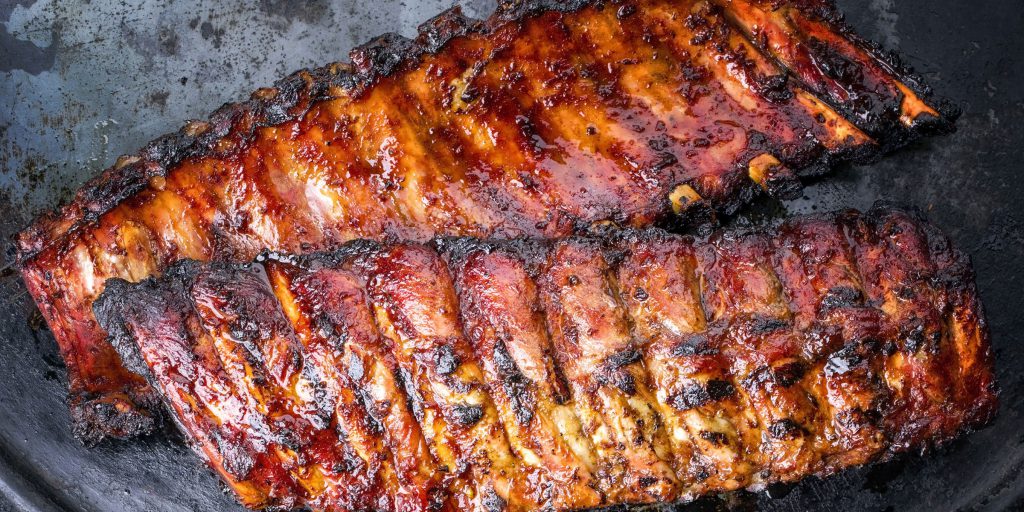 Grady's BBQ 
Steve Grady and his wife Gerri have been the heart and soul of Grady's BBQ since the day they opened their business in 1986. The two started with a bank loan and no real barbecue experience, other than Steve's time serving as a sidekick to his grandfather, who was a pitmaster when he was a kid. Today, their joint has a loyal following and even draws people from out of state. 
Hursey's Bar-B-Q 
Four generations of Hurseys have cooked barbecue in northeast North Carolina. In 1945, Sylvester Hursey grabbed his dad's favorite open pit, hickory- and oak-smoked pork recipe, created a "secret sauce," and went into business selling barbecue from his backyard. In 1946 he bought a building and was granted the first barbecue wholesaler license in the state. His son Charles joined in 1960, and Hursey's Bar-B-Q has been the go-to joint in Burlington ever since.
Stamey's Barbecue
Stamey's has been in the barbecue game for 91 years and is known for its "Lexington-style" pit-cooked, 15-pound pork shoulders and "secret barbecue sauce."  Each shoulder takes 8 to 10 hours to cook, which means Stamey's pitmasters start their days on pre-dawn patrol to deliver the slow-cooked goods.
Related: Texas BBQ: Big, Like Everything Else in the Lone Star State
North Carolina BBQ Recipes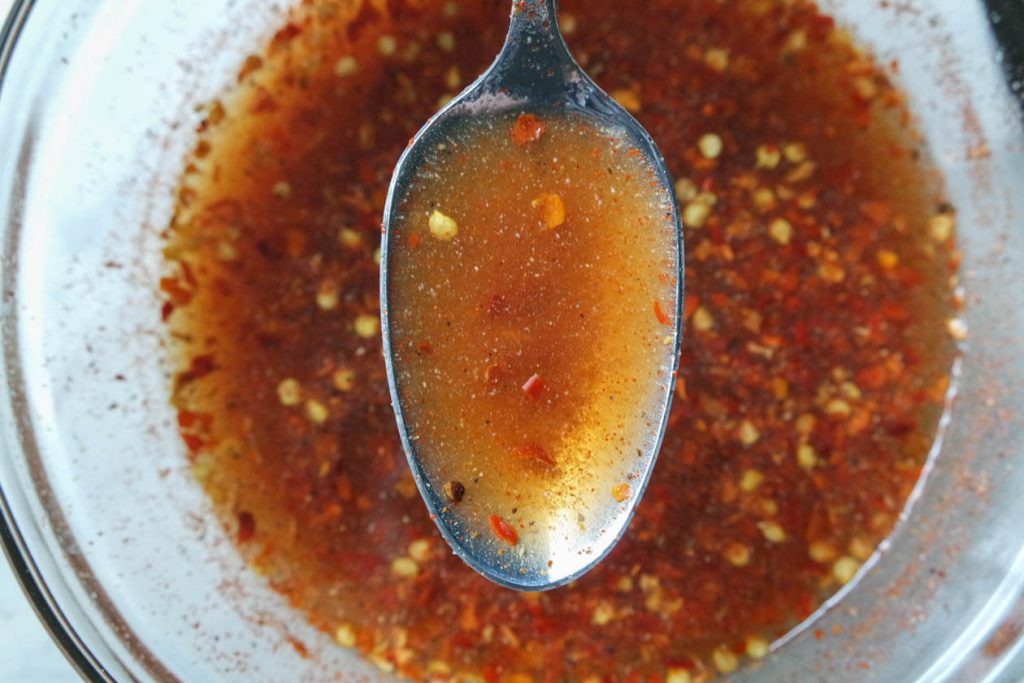 Eastern-Style
Recipes tend to have a unique element that separates one from another, but the baseline ingredients share a basic foundation.
Eastern North Carolina BBQ Ingredients
Cider vinegar
Crushed red pepper
Black pepper
Brown or white sugar
Salt
Directions
Use hot sauce in place of the crushed red pepper for a hotter or tangier kick. Mix the ingredients and let stand for at least 4 hours. No refrigeration is required.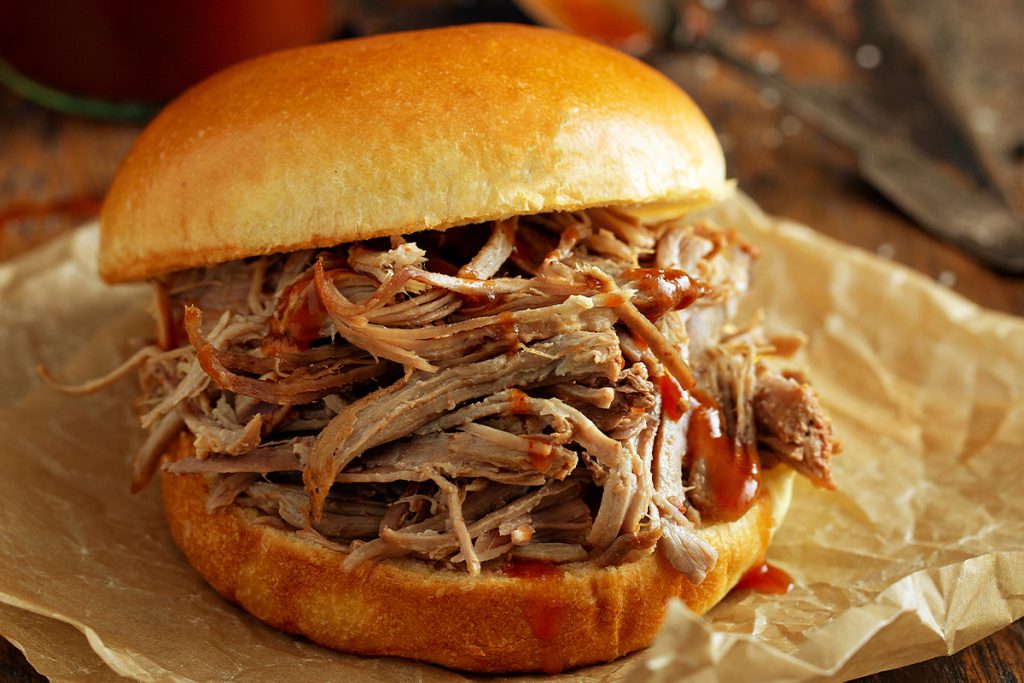 Piedmont-Style
Piedmont-Style Ingredients
Cider vinegar
Ketchup
Brown sugar
Hot sauce
Salt
Hot red pepper flakes
Ground pepper
Directions
Add molasses and cayenne pepper or hot sauce for some sweet or heat. Everything gets mixed in a big bowl and whisked until all the dry ingredients dissolve. The best way to serve and store is in a big mason jar. The sauce will keep for several weeks as long as it's refrigerated.
Read Next: Kansas City BBQ: 'The Sauce' Is King