In the second week of my 2019 elk hunt I was playing the public land shuffle — bouncing around forest service and Bureau of Land Management, or BLM, roads trying to locate elk while avoiding other hunters. No stranger to this game, I had pre-plotted some areas that looked promising for both escaping hunting pressure and finding elk. After driving to three different trailheads, I found the fourth was empty. I parked, readied my pack, and settled in for a few hours of sleep before my morning hunt.
Scouting spots sight unseen — on a computer or smartphone — then dropping a pin and driving to them like I did in 2019 is only possible thanks to technology, namely the GPS app for iPhone and Android OnX Hunt. But this comprehensive toolkit of maps and mapping tools is not cheap. Users have two purchase options — elite membership for $99.99 a year or $14.99 a month for access to all 50 states. Single-state map packages are available for $29.99 a year. I know you're thinking, $100 a year? I thought the same thing when I first subscribed — now I won't leave to scout or hunt without it. Here's why: 
Layers & Tools: Layers are map overlays, each containing specific information. OnX's three base layers are satellite imagery, topographic, and a hybrid combining satellite imagery with topo lines to give you the best understanding of the terrain you're looking at. OnX's powerful layers aren't just useful during the hunt; they're an essential part of my scouting process.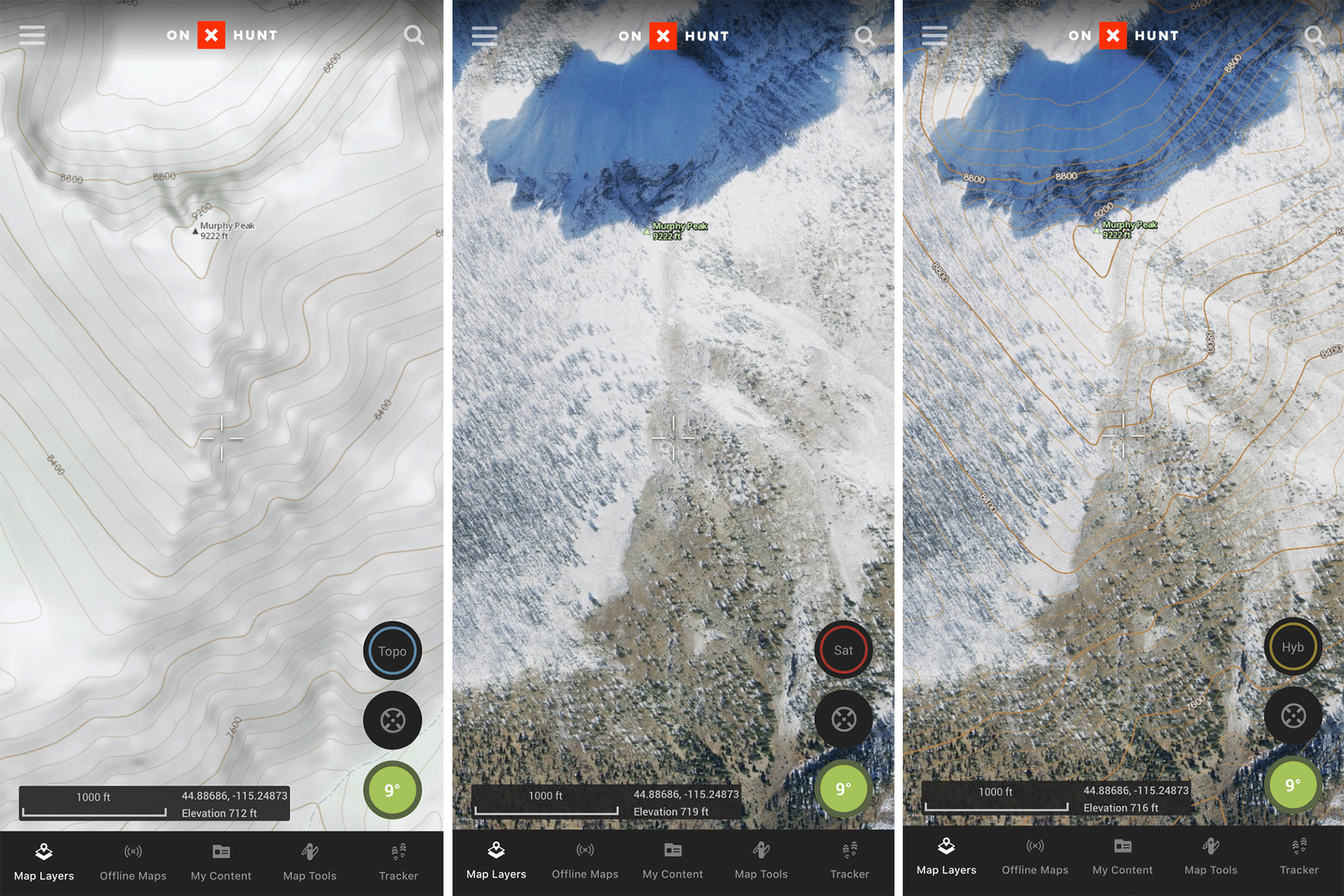 Layers like Government Lands, Possible Access, Public Hunting Areas, and Private Lands are extremely helpful when you're scouting or hunting new ground. These layers give you a good idea of what public land is available in the state you intend to hunt. Out West, national forest and BLM land are abundant. East of the Mississippi you're often limited to state lands like wildlife management areas. OnX has done the work for you and mapped out the boundaries of all types of public lands and hunting areas.
Private land boundaries — with property owner information — are available for most of the country, too. It's hard to overstate how big an advantage this is when scouting. For one, it keeps me on the right side of the law when afield. Second, it makes finding landowners to ask for permission to hunt a breeze. Using OnX Hunt here in Kentucky, I've been able to identify possible whitetail properties as well as the owner's information, so I can go knock on their door and ask for permission to hunt. After keying in on a general area, I leverage additional tools to narrow down specific locations I want to hunt and how to access them.
Using tools like the Motor Vehicle Roads & Trails and the Trails layers helps me plan routes into the areas I want to hunt. In conjunction with the Roadless Areas layer, I can identify spots that are harder for people to access. The Roadless Layer highlights areas that cannot be accessed by motorized means.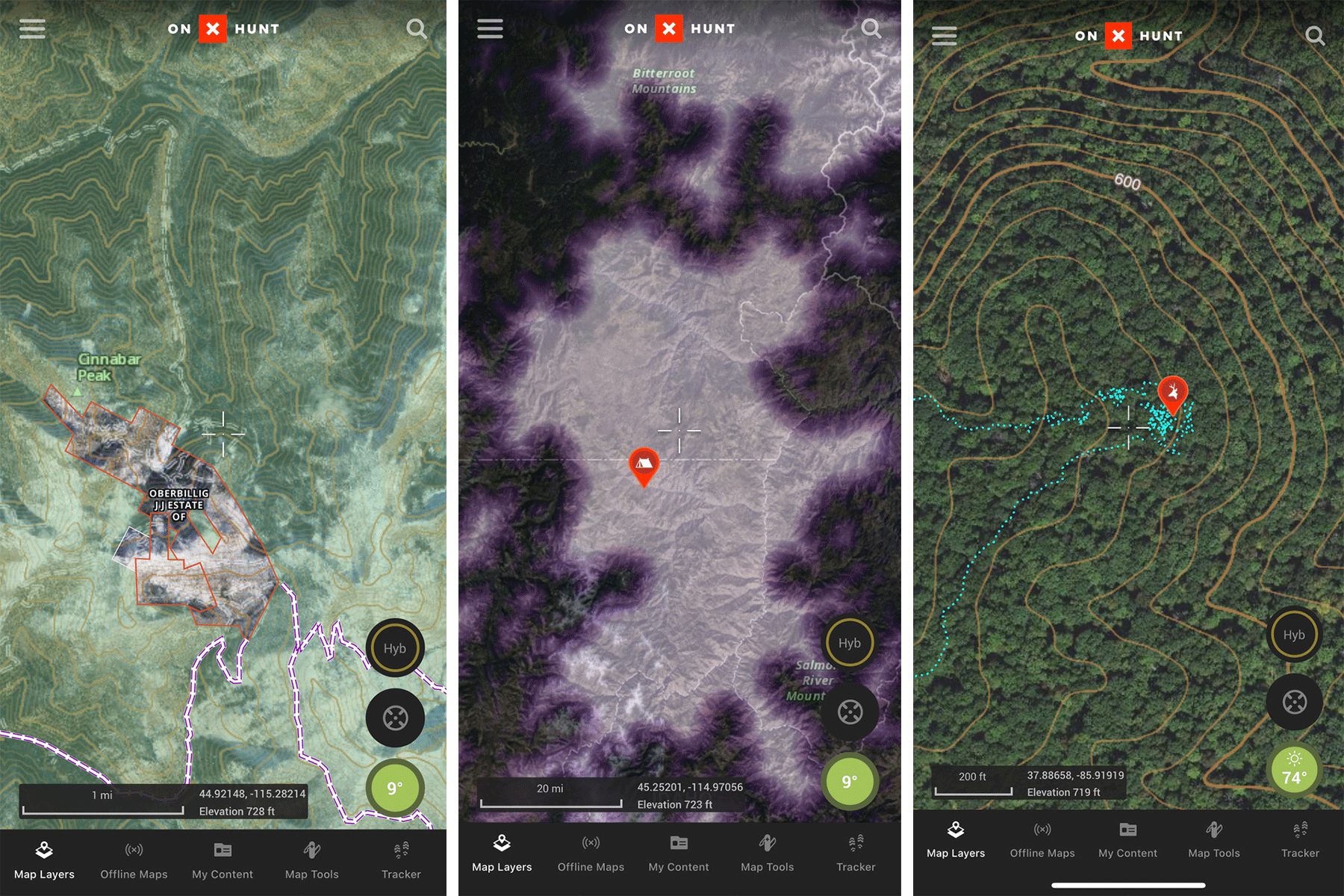 The Historic Wildfire and Timber Cut layers show areas that have been logged or burned and when the events occurred. Timber cuts and fires reduce tree cover, which allows sunlight to reach the ground. This generally results in the growth of new plants that deer and elk like to eat. Coupling this information with a good understanding of how animals use and travel over terrain will help you choose areas in which to focus your efforts.
Estimates & Waypoints: Aside from layers, OnX has additional tools to help hunters in the field. Use the line distance tool to estimate distances for routes, see how far you are from roads and trails, or estimate how far you are from the next ridgeline. You can add and label waypoints with your choice of over 70 unique graphics from trail cameras to treestands, and you can use OnX to navigate to those waypoints. It's great for not getting lost and for remembering exactly what was where when scouting.
Tracking: My favorite tool in the OnX kit is the tracker. When you start it up, you have a breadcrumb or dotted-line-style "track" for everywhere you travel while it's on. Uses for this are many. When I leave roads and trails behind, I turn it on to map where I've traveled so I can follow that route back out. The tracker has been critical to recovering animals when I don't have a good blood trail to follow — the feature allows me to grid-search an area and easily identify ground I haven't been over yet. Heading deep into the wilderness often means no cell reception, but OnX has you covered there, too.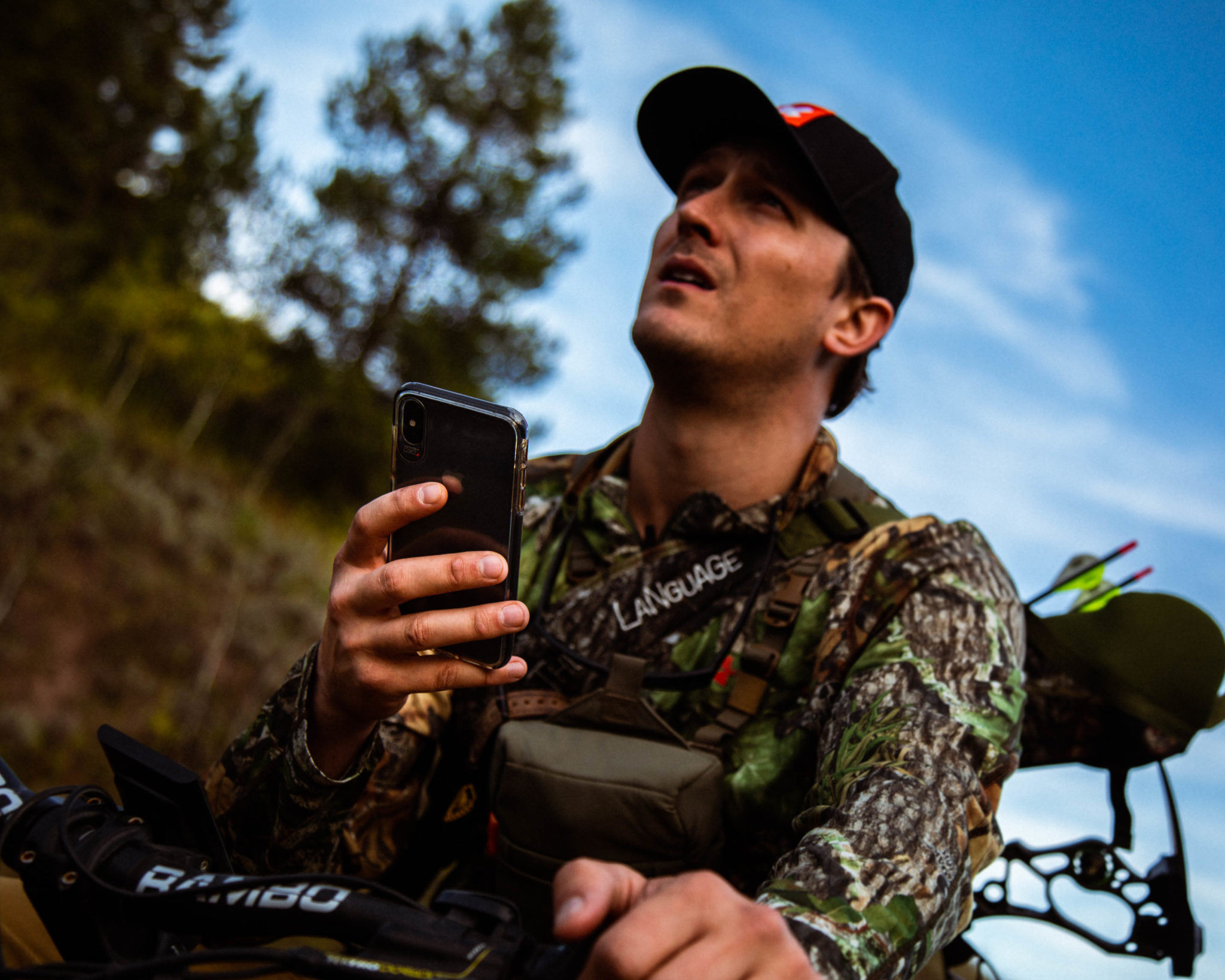 Off-Grid Service: No service? No problem — you can download map areas and layers you need for offline use. In this case, you have three choices: 5 miles wide at high resolution, 10 miles wide at medium res, or 150 miles wide at low res. I most commonly save medium-resolution maps because they provide more than enough detail to suit my needs. Another great feature of the app versus a standard GPS is that you're using a higher-resolution, brighter, and larger phone screen, which allows you to see more detail and makes it extremely easy to navigate. 
Desktop Scouting: With an OnX account, you can also access your maps via a web browser. You can do all the same tasks in the app on your laptop or desktop, and any updates you make will transfer to the app on your phone. This gives you a much larger view — your desktop monitor or laptop display instead of a smartphone screen — for planning trips. Additionally, you can easily share waypoints, lines, and tracks via text message with your hunting partners. Every year in mid-July and early August my phone blows up with OnX waypoints sent from my hunting partners doing their online research and scouting. A simple click of the link they sent opens my OnX app with their marker on the map and lets me investigate their work and save the marker for future reference. 
Is all this worth $100? For me, it certainly is. 
After hiking from the trailhead to my predesignated waypoint on OnX Hunt that morning back in 2019, I heard a bugle break the silence of the frozen morning. My preseason digital scouting had paid off, and it was up to me to seal the deal. After I tangled with the bull for the better part of an hour, he caught my wind in the changing thermals and headed for higher, rougher ground. The app, plus some know-how, got me on that bull. Whether whitetail hunting in the East or chasing bugles in the West, OnX Hunt is as much a part of my kit as broadheads and a skinning knife.