If we're learning anything from the 2023 SHOT Show and the handgun releases surrounding it, single-action, double-stack, 1911-style pistols are all the rage. Many credit Staccato (formerly STI) for kickstarting this trend. We've seen gunmakers big and small getting into the double stack 1911 or 2011 game, like the recently released Springfield 1911 DS Prodigy. But this gun — the Oracle Arms 2311 — is getting a ton of attention at the show for how much it stands apart.
The company doesn't even have a website up yet, just a page directing people to SHOT Show and the company's IG account, which boasts three photos and scant details at the moment. What we do know is that the new Oracle 2311 is a high-capacity hammer gun that's an interesting mashup of a SIG Sauer P320 frame and a double-stack 1911 — or more accurately, a 2011, since the Oracle pistol is a 9mm.
The modular polymer grip has a steel frame and slide assembly with an ambidextrous manual thumb safety, but there's no 1911-style grip safety. On top are tritium night sights, but word is that mounting plates for red dots are on the way.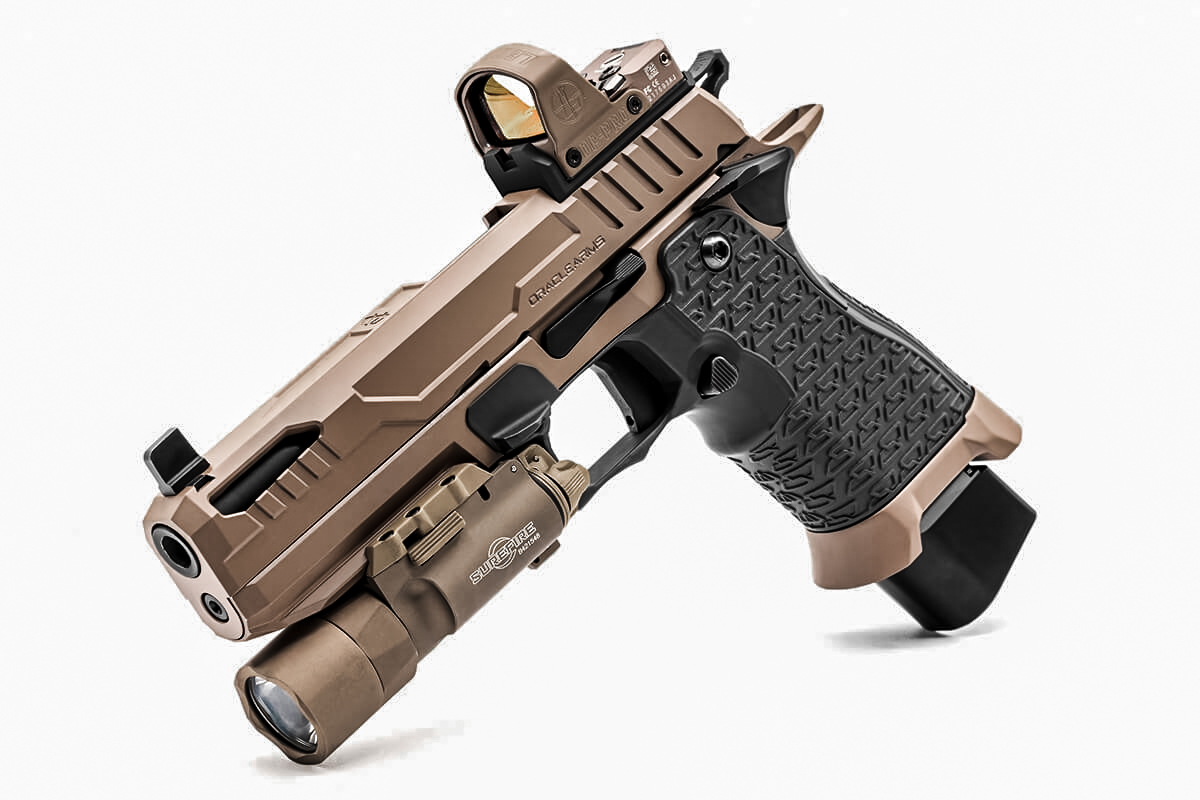 It also, as you may expect, uses SIG P320 double-stack 9mm magazines. Developing a reliable proprietary mag can often be the sticking point for a new pistol design — but the Oracle sidesteps it nicely and allows the many P320 owners out there to use the mags they already have.
"Our primary objective when designing the 2311 was to combine the fit, finish, speed, and trigger pull of a purpose-built single-action match pistol with the versatility and reliability of a striker-fired polymer duty pistol," the company said in a statement.
"Not only did we accomplish that, but we did so while wrapping the platform around a magazine that is roughly one-third of the cost of the competition that doesn't suffer from any of the common issues that current 'double-stack 1911' magazines are notorious for," it added. "To make the barrier to entry even lower, we priced the 2311 in a range that makes it approachable for the average enthusiast and recreational competition shooters."
The price will reportedly range between $1,700 and $3,000, depending on the model.
The controls on the Oracle 2311 are fully ambidextrous, and the pistol uses a SIG P365-style external extractor. Inside, the handgun features a link-less, bushing-less action (John Browning wept) that still uses the tilting barrel principles (John Browning smiled) but with camming lugs and a barrel-hood lockup.
Guns & Ammo says Oracle Arms is prepared to launch five configurations of the 2311 in 9mm: Compact, Compact Elite, Combat, Combat Elite, and a Competition model. They will presumably vary in barrel length, magwell flare, size, weight, and capacity.
The out-of-the-gate, all-black Oracle 2311 that was on hand at SHOT has a 5-inch barrel and uses a 17-round P320 mag. It had a pronounced ambi thumb safety and a flared magwell, which sound more like competition features than anything else. But it's a pre-production prototype, so it could just be a mashup of features that will be on the various forthcoming models.
GOOD GEAR – Wrap Yourself in the Warm Embrace of Freedom With the BRCC Freedom Flag 2.0 Blanket
---
Oracle 2311 9mm Pistol Features: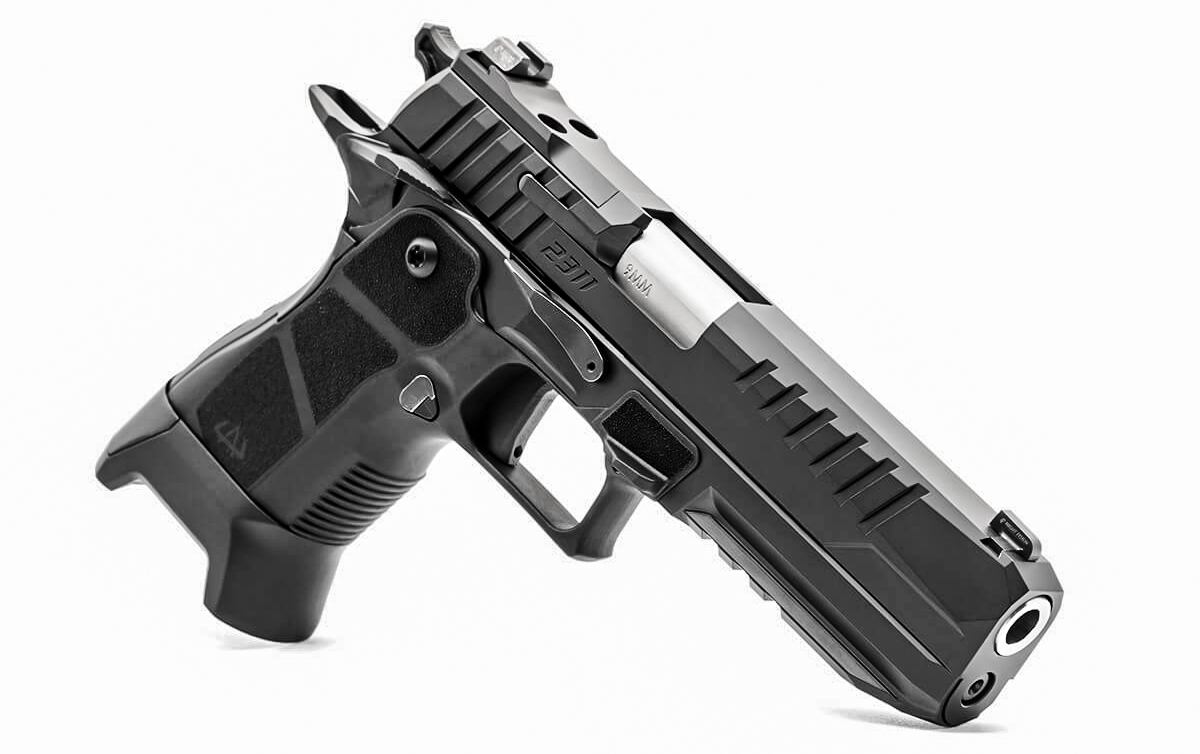 5 models forthcoming: Compact, Compact Elite, Combat, Combat Elite, and Competition
Uses P320 modular grip and mag well
SIG P320 magazine compatibility
SIG P365-style external extractor
Patented debris clearance channels in critical areas
Includes right-side slide lock with ambidextrous controls
Optics ready with four interchangeable slide plates expected
Linkless barrel and bushing-free design for easy disassembly
MSRP: $1,700 to $3,000
---
READ NEXT – Smith & Wesson Drops $699 M&P 5.7 Pistol With 22-Round Mags