If a ballot measure currently before voters in Oregon passes, the state will have the strictest gun laws in the entire country. Its passage will also likely result in the suspension of gun sales and purchases in the state, potentially for years, as the state creates a purchase permitting system from scratch that will cost taxpayers tens of millions of dollars. The initiative would also limit magazine capacity for nearly all firearms, including those with fixed magazines, to 10 rounds.
Measure 114 is on the state's Nov. 8 ballot as an initiative state statute, but because Oregonians cast their votes by mail and have done so for at least two decades, ballots will arrive at the homes of registered voters on Oct. 20. The measure requires only a simple majority to pass.
If it passes, its various provisions would go into effect in January. On a recent Howl for Wildlife podcast, Amy Patrick, the policy director for the Oregon Hunters Association (OHA), told Free Range American that it will take at least two years to stand up a permitting system for residents. There's no grace period, which means FFL gun sales would simply stop until purchase permits could be issued, potentially putting gun shops out of business and preventing state residents from exercising their 2A rights.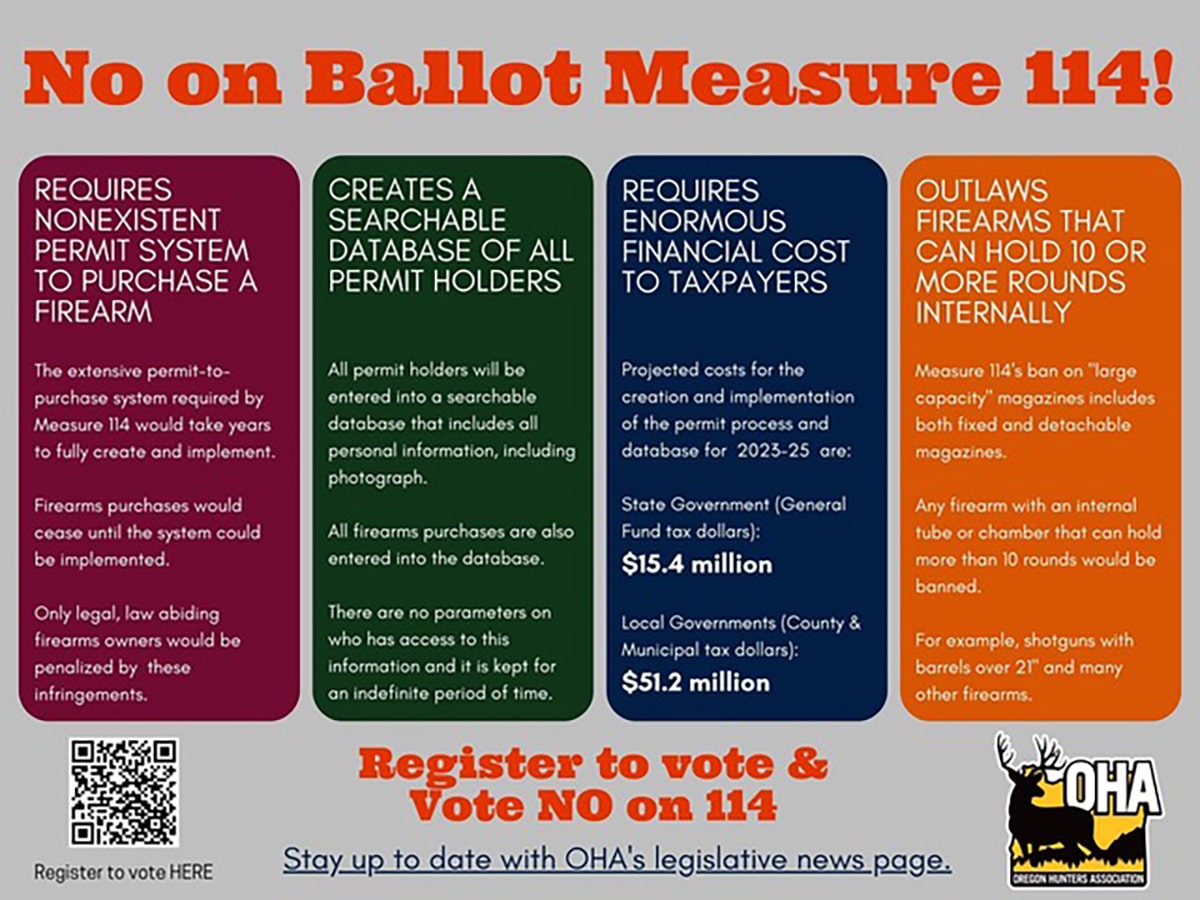 Currently, an Oregon resident who is an eligible gun owner must only pass a standard NICS background check at the point of purchase to buy a long gun or handgun.
"If you're in Oregon, the first thing you need to do is make sure you're registered to vote," Patrick said. "Unfortunately, there's a large number of the sportsmen community that that doesn't vote, and we need them terribly, especially in Oregon in this particular election. You have until Oct. 18 to register to vote. That's your first step. The second thing is to vote 'No' on Measure 114."
Recent polling says 51% of voters are in favor of the measure, she said.
---
What's in Measure 114
Permit to Purchase
The primary focus of the ballot initiative in question is the creation of an extensive permitting system for purchasing firearms in the state. Local law enforcement agencies would be responsible for handling applications, which would then be processed by the state police.
Those who wish to apply for a permit to exercise their Second Amendment rights would be required to submit photo ID and fingerprints and undergo safety training that includes a live-fire exercise. They would also have to complete a criminal background check and pay an application fee.
All permit holders would then be entered into a searchable database that includes all personal information, including their photo, according to Patrick. All future firearm purchases will also be recorded in the database.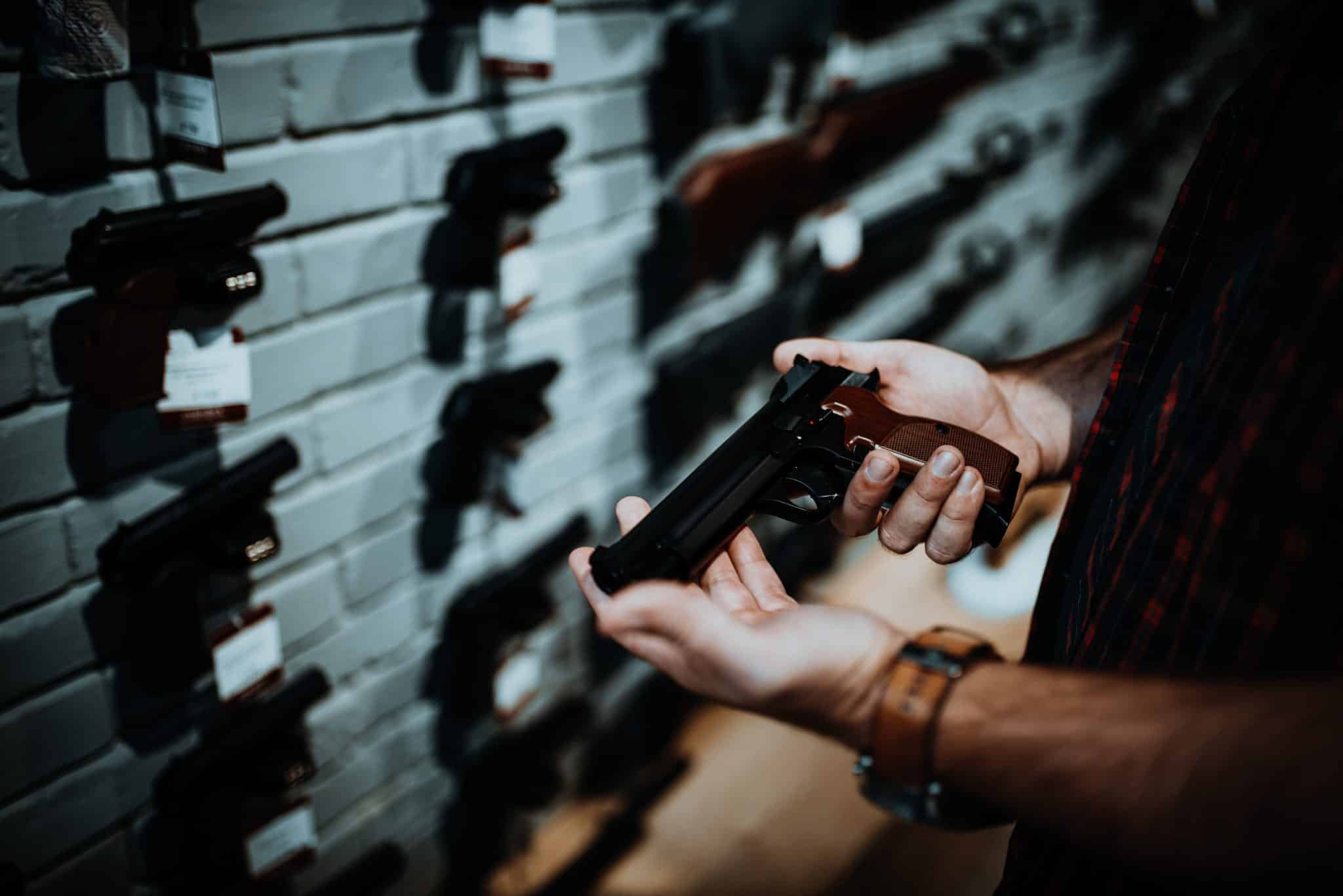 Patrick says there are currently no parameters on who would have access to the database and its information and that all indications show the info would be kept indefinitely.
Once a permit is granted, it would have to be renewed every five years.
---
Far-Reaching Magazine Ban and Capacity Limit
The other component of the initiative is a magazine ban that goes a bit further than similar bans in other states. Oregon Measure 114 would ban both fixed and detachable magazines that hold more than 10 rounds, with exemptions for lever-action firearms and rimfire firearms only (it isn't clear if all rimfires would be exempt or only those chambered in .22 LR). Patrick says that means pump-action shotguns and semi-autos that can potentially hold more than 10 rounds of 1 3/4-inch shells in tube magazines would likely become illegal, which would include hunting and defensive shotguns.
It is currently unknown if existing firearms and/or magazines will be grandfathered in any way.
---
Unique Hurdles
Measure 114 began as Initiative Petition 17 (IP 17), which needed just 112,020 signatures to become a ballot initiative and get in front of every voter in the state. Since it's not a bill, the requirements and timetables are comparatively loose.
"To be frank, I think that groups have found that it's easier [to go this route], even with the need to collect signatures. It's an easier route than the political fight in the legislature," Patrick said. "Gun bills have come up every session, and it's always a fight to try to protect ourselves there. So, I think these guys decided that it would be easier to go out to the public and […] get this on the ballot."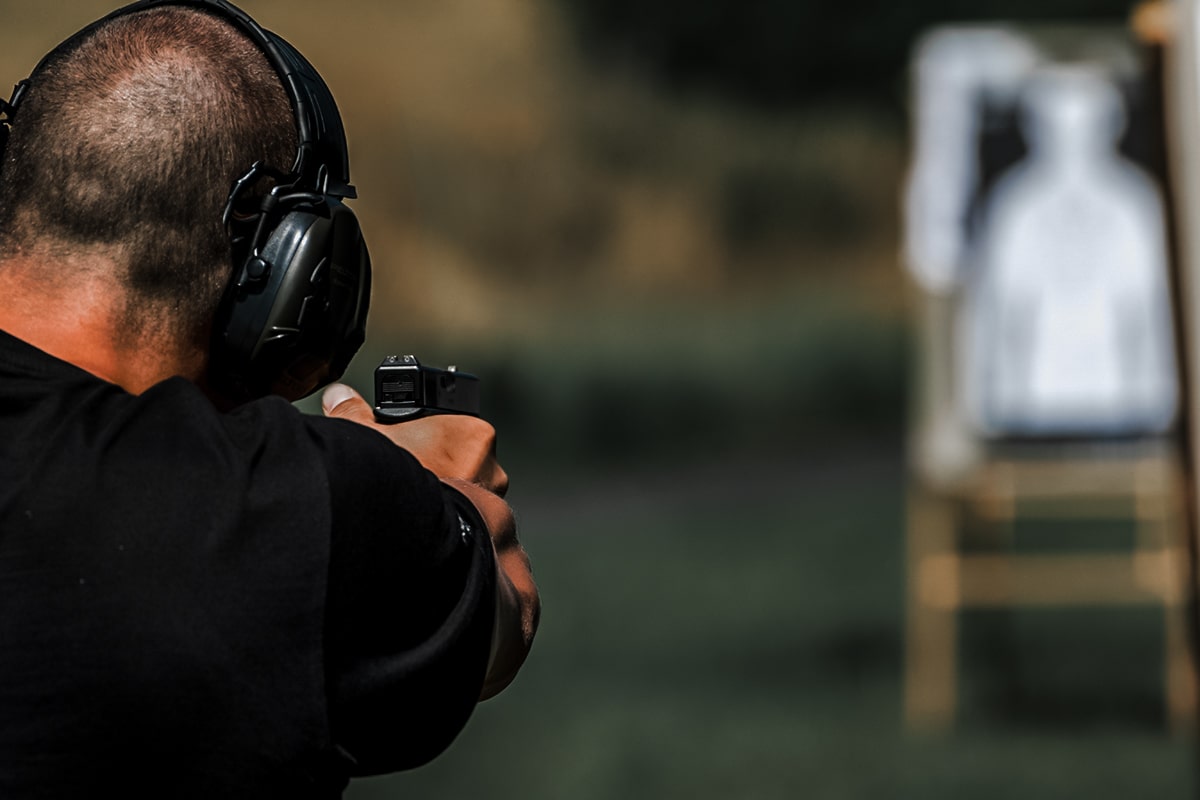 "They're marketing this as something that is going to make everybody safer," she added. "The name of this measure is the 'Reduction In Gun Violence Act,' I believe is what they're they're calling it, with no acknowledgment that these changes are going to have zero effect on criminal violence."
Patrick also says applicants will have to complete an "approved firearm safety course" as part of the permitting process, which must include a live-fire component. This caveat will make the process even more difficult and expensive to develop. Another requirement is a module on the "effects of homicide and suicide on individuals, the community, and the state as a whole."
"Those two components mean that most folks who already have a concealed-carry license or have gone through hunter safety do not qualify," Patrick said. "Most of those courses — hunter safety in particular — do not have a module for 12-year-olds on the damage that homicide and suicide do to a community, and not every course is going to have that live-fire component either. And they don't have a system for setting up that live-fire training, and the state has already said, 'We're not going to do it.'"
OHA said the projected costs for the creation and implementation of the permit process and accompanying database for 2023 through 2025 would be $15.4 million from the state's general tax fund and $51.2 million in county and municipal tax dollars.
---
Support and Opposition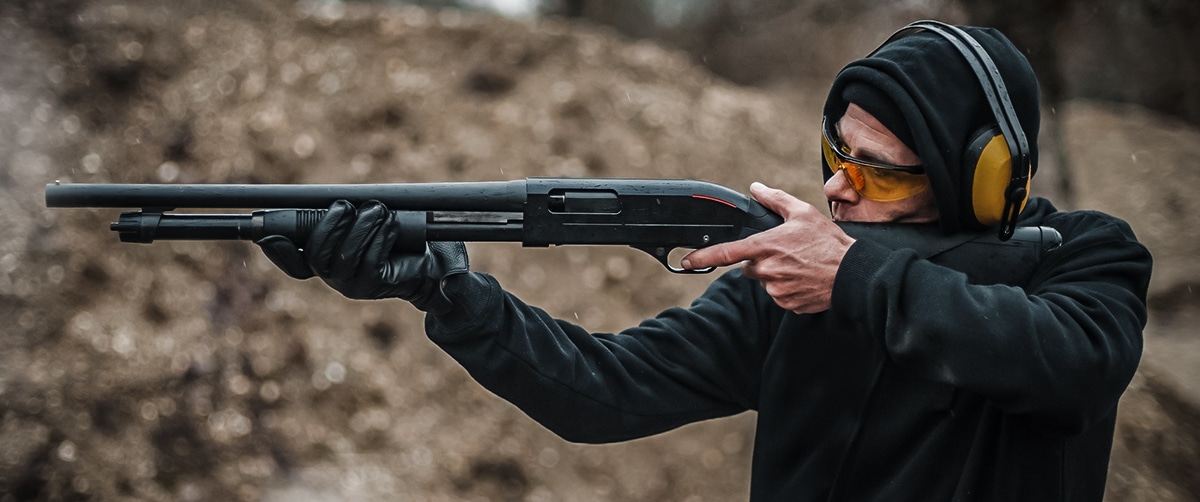 A local organization called Lift Every Voice Oregon is spearheading Oregon Measure 114 with funding from Safe Schools, Safe Communities Oregon. Patrick says the group, which is composed mainly of faith leaders out of Portland, used the recent mass shootings in Buffalo, New York, and Uvalde, Texas, to stoke support for the petition and now the ballot initiative.
"Rev. Mark Knutson, chief petitioner and pastor at Augustana Lutheran Church in Portland, said, 'I hope it shows how residents in a state can come together from many directions and address the public health crisis of gun violence with common sense and well-put-together legislation. I hope that people are inspired to say: We can do this,'" the Lift website states.
The measure is also supported by the Oregon Progressive Party, Oregon Nurses Association, League of Women Voters of Oregon, and the Oregon Alliance for Gun Safety.
While the Oregon Hunters Association is leading the charge against Measure 114, other groups focused on hunting and gun rights have entered the fray, including the Rocky Mountain Elk Foundation, the Congressional Sportsmen's Foundation (CSF), the National Shooting Sports Foundation (NSSF), and the NRA, among others.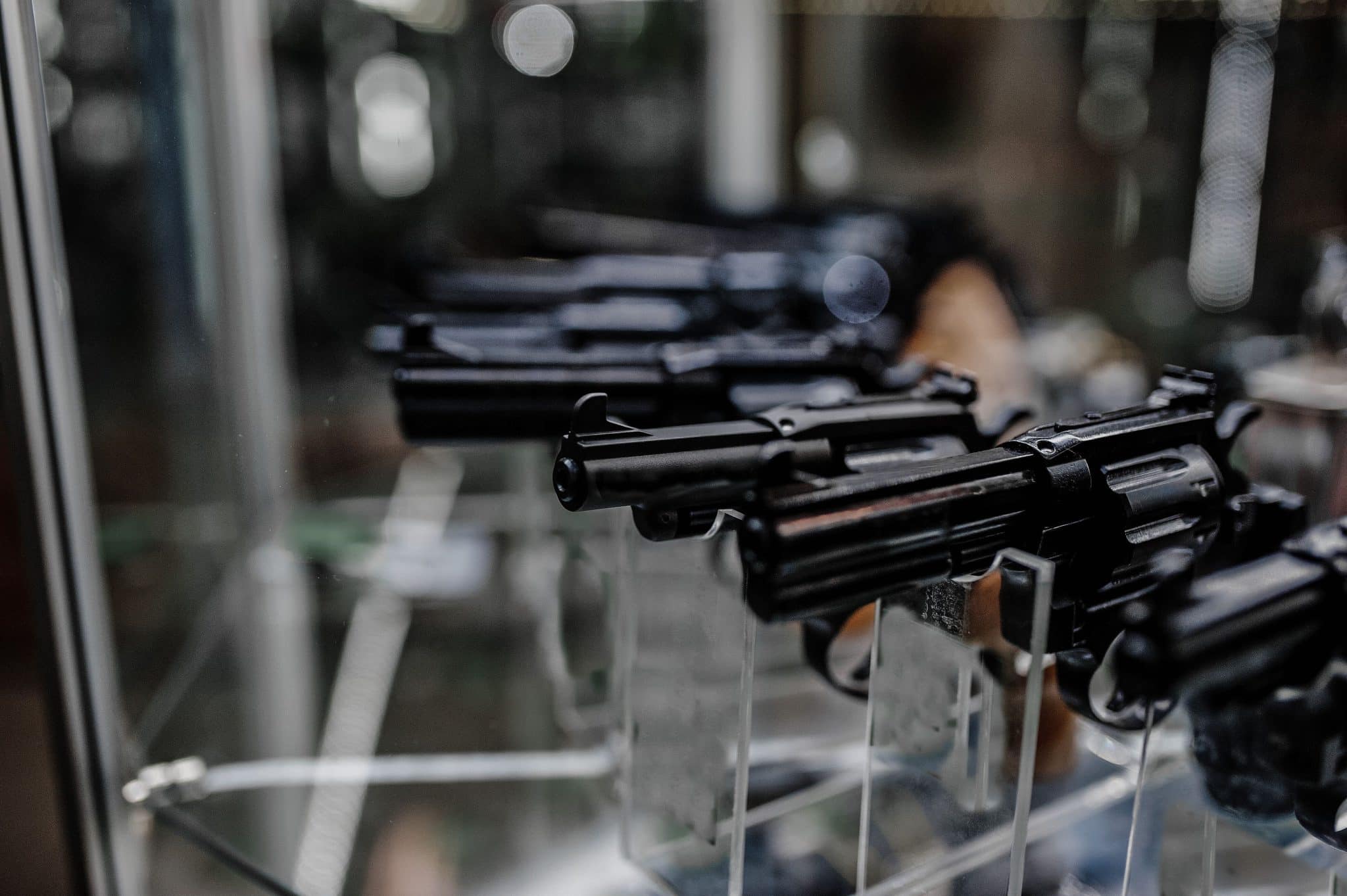 Aside from the impact on residents' 2A rights, if gun sales are halted for a considerable length of time in Oregon, it will have a significant impact on the Pittman-Robertson funds the state can generate, which help fuel the North American Model of Conservation, in addition to local efforts.
"Oregon's law-abiding hunters and shooters have long played a vital role in funding conservation and wildlife management efforts throughout the state," said the CSF in a statement when the measure was still a petition initiative.
"Under the American System of Conservation Funding (ASCF), a unique 'user pays —public benefits' structure, Oregon's sportsmen and women generate tens of millions of dollars each year for the Oregon Department of Fish & Wildlife," it continued. "These funds are generated through license sales and a 10-11% federal excise tax on sporting-related goods, including firearm purchases. If passed, [Measure 114] would impact conservation funding in the state by decreasing the tax revenue available for wildlife management and conservation."
While certain specifics about what the measure would require if passed have been outlined, the actual mechanism by which they would be performed has not — for instance, it says applicants will have to complete a live-fire module but does not say how or where the shooting will be done, whose guns and ammo are to be used, or who would pay for it.
Mark Oliva, the NSSF's managing director of public affairs, said the ballot initiative is far from "well put together" as Knutson claims, calling it "knee-jerk gun control" that could pose significant difficulties for the firearm industry in Oregon and that it allocates no funding whatsoever. It would also effectively turn Oregon into a may-issue state for all gun purchases.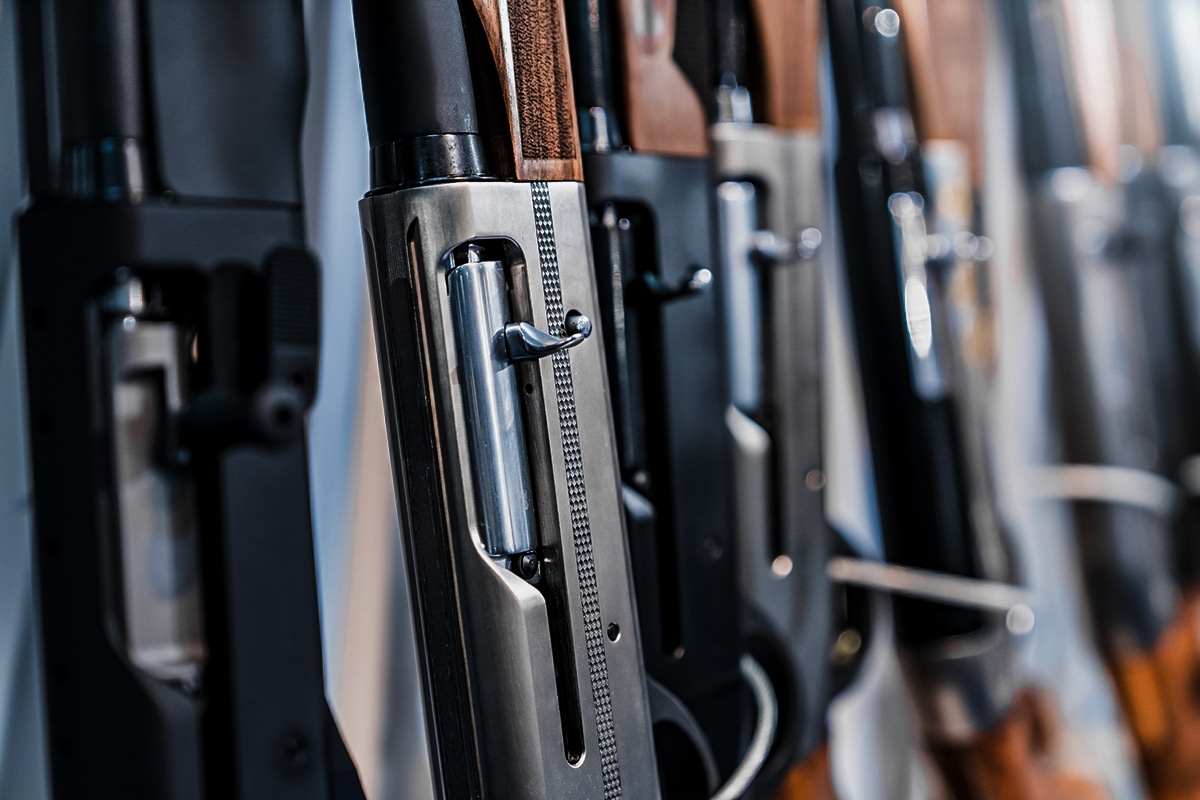 "Measure 114 is an unfunded mandate that doesn't spell out the criteria by which authorities would issue permits to purchase a firearm. Instead, it only dictates that local law enforcement would be required to issue these permits," Oliva told Free Range American. "That's problematic for two reasons. First, Oregon's law enforcement is woefully underfunded already, especially after local municipalities stripped funding through their 'defund the police' movements."
"It also presents problems in that it doesn't require law enforcement to issue these permits to purchase, it only gives them the authority and responsibility," he added. "That could result in a local police chief or sheriff deciding on their own that they choose not to do so, or that they can't do it because of lack of funding."
Oliva agrees that the impact on gun retailers and hunting in the state would be catastrophic.
"Without permits being issued, firearm retailers would suffer for the inability to transfer a firearm to a law-abiding citizen, and those citizens would be faced with having their rights denied due to lack of foresight and planning by special-interest groups," he said.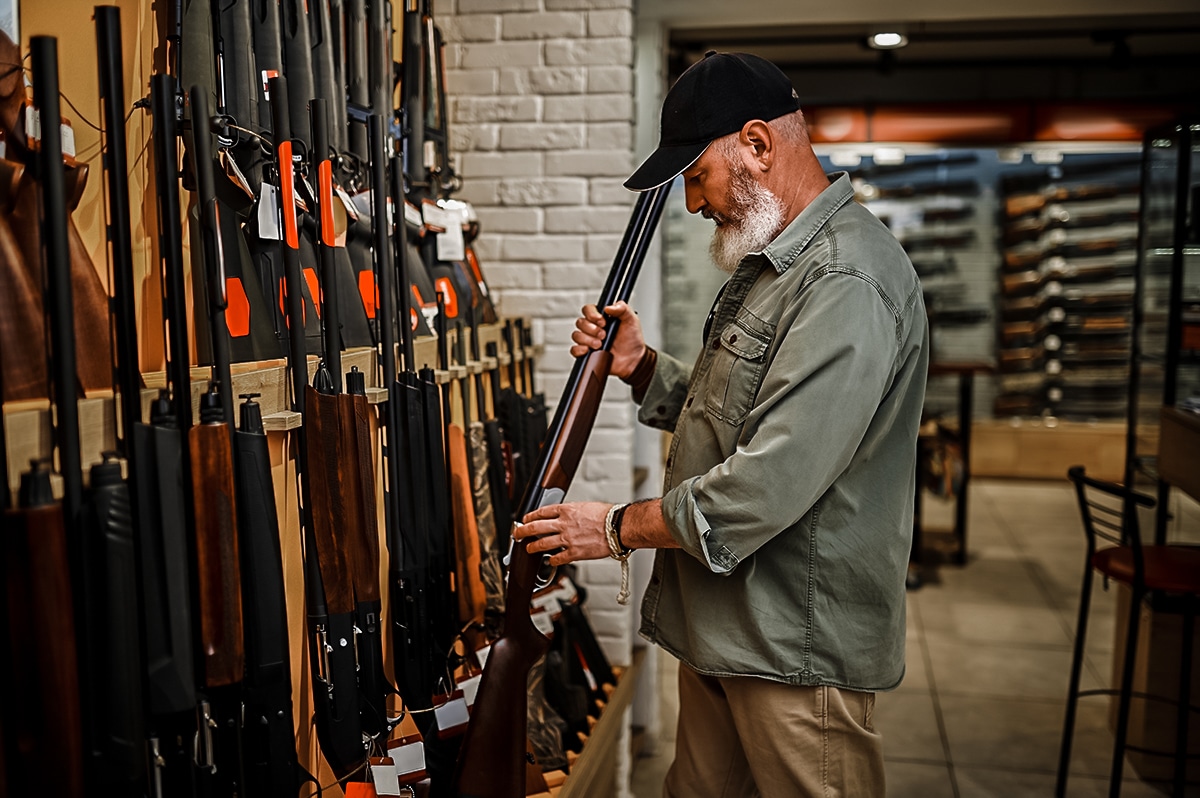 Patrick said that lawsuit challenges are already in the works if Measure 114 should pass, but the hope a judge might grant an injunction when a suit is presented that would allow gun sales to continue is cold comfort and no guarantee. However, the constitutionality of Measure 114 is extremely suspect, especially in light of the recent US Supreme Court Bruen decision, which disallowed any subjective criteria for firearms permitting or licensing.
"NSSF is a member of the coalition to vote down this proposal," Oliva said. "The proposal seems to not comport with the Bruen decision [handed down earlier this year] if these issues of subjective criteria are not resolved. None of that is spelled out in this ballot initiative, and if affirmed, this would deny fundamental Constitutional rights to law-abiding Oregonians."
What can Oregon residents do? Register to vote by Oct. 18 (you can do it online) and vote "NO" on Measure 114. If you don't live in Oregon, visit Howl for Wildlife's Action Den to find out what you can do to voice your opposition to this ballot measure.
---
READ NEXT – Are Hunters Seeing Shortage of Ammo as Seasons Get Underway?