Out of all the military and firearms training I've gone through, not one instructor has taught pistol whipping as a defensive tactic. Sure, in the Marine Corps Martial Arts Program, or MCMAP, they taught "one mind, any weapon," but it's not the same thing.
But if you fall down this particular internet rabbit hole, it seems like not a week goes by without a person grabbing a handgun and pistol-whipping someone else out of road rage or as some kind of criminal intimidation tactic. But, outside of the most extreme circumstances, is pistol-whipping a thing?
That's for the streets to decide, but there is another group of people who most definitely love pistol-whipping: Hollywood screenwriters. Heroes and villains alike have turned a firearm into a club innumerable times. In the worst examples, the pistol whipping knocks the victim out with one shot, and they remain unconscious just as long as the plot demands, always waking up with a little headache and not a cracked skull or orbital bone.
But let's look at some of the best pistol-whipping performances with a critical eye for cinema and general badassery.
---
5. Super Troopers – "You Mean Shenanigans?"
Pain scale: 0/5
Fear factor: 4/5
Swag: 3/5
Creativity: 1/5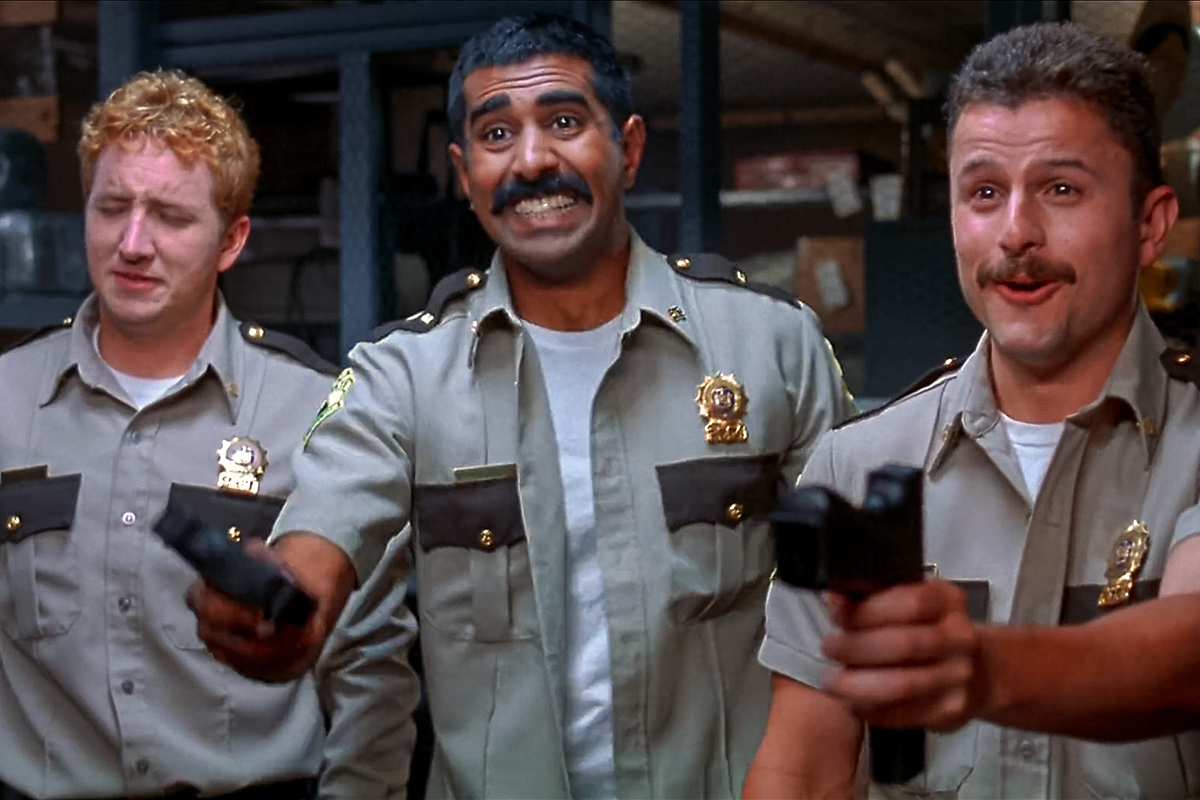 What veteran actor Brian Cox delivers as Captain John O'Hagen in the 2001 cop comedy Super Troopers isn't a run-of-the-mill assault but more of a psychological roller coaster. When his officers go on too long with their goofy schtick while criticizing resident dipshit and insufferable asshole Officer Farva, O'Hagan snaps a bit.
"I swear to god, I'll pistol whip the next guy who says shenanigans."
"Hey, Farva. What's the restaurant you like with all the goofy shit on the walls and the mozzarella sticks?"
"You mean Shenanigans?"
"Oooooooooohhhhhh."
In response, not one but two of the troopers offer their pistols to O'Hagen so he can make good on his promise.
There's a subtle detail that's very interesting: Both officers extend their pistol's grips first. This suggests that not only has O'Hagen used pistol-whipping to maintain good order and discipline in the past, but he has also done it enough times to make his preferred style common knowledge.
Using this grip, O'Hagen would have wielded his pistol muzzle-out. His subordinates must have wondered if he would open fire or strike them with the pistol. Holding a pistol by the grip, one can come down and hammer someone on the dome with the grip, or in this case, the baseplate of the magazine, or they can perform a pistol strike with a punching motion John Wick style.
A jab like this to the collarbone would cause significant pain without excessive deep-tissue damage — in other words, O'Hagen could beat fear into his officers and keep them ready to work the following shift — chilling stuff. Or maybe I'm making him out to be more sadistic in my head than he was meant to be.
Ultimately, O'Hagen does not pistol-whip Farva, though his eyes tell us he wants to. The scene is a classic, but since no actual pistol whipping occurs, it climbs no higher than fifth place.
RELATED – Intruder Meets 'Hacksaw' Jim Duggan and a .44 Magnum
---
Pain scale: 3/5
Fear factor: 4/5
Swag: 1/5
Creativity: 1/5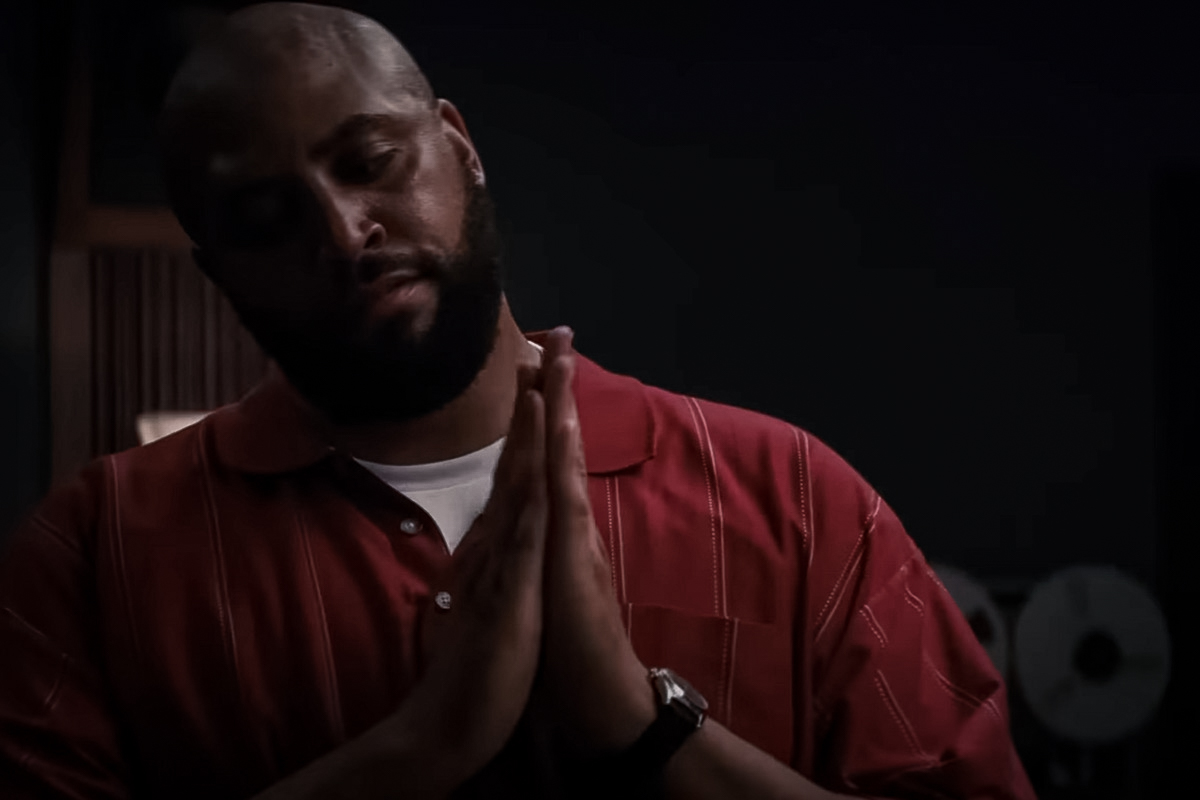 In the 2015 movie Straight Outta Compton, there is a scene in which the real-life rap mogul Suge Knight, played by R. Marcos Taylor, arrives at a recording studio to find that — horror of horrors — his favorite parking space is occupied. He jumps out of his car, confronts the unsuspecting driver, and proceeds to brutally pistol-whip the apologetic man as a shocked Dr. Dre looks on.
Like Captain O'Hagen, Knight prefers a firm handhold on the pistol's grip rather than its slide. He repeatedly strikes the man with the muzzle in a punching motion. What's interesting, though, is that Knight takes the time to drop the pistol's magazine before assaulting his victim — an interesting detail.
This shows that, although he is prepared to do violence, Knight is careful to avoid a negligent discharge. Notice that he does not rack the slide and must have been carrying his pistol in condition three.
Suge tosses his keys at the smashed-up dude on the ground, "Move this shit and park my car. And I better not see one drop of blood on that motherfucker."
Assuming an unmarked parking space is his and his alone makes Knight an asshole. Pistol-whipping someone for using it makes him an unpredictable asshole, which lines up with true stories of Knight's violent tendencies. But the tactical faux pas of carrying a modern pistol with an empty chamber makes him the biggest asshole.
GOOD GEAR – Enjoy the Best Drip Coffee You'll Ever Taste With the BRCC Just Black Roast
---
3. Goodfellas – Snubnosed Pistol Whipping
Pain scale: 5/5
Fear factor: 2/5
Swag: 4/5
Creativity: 3/5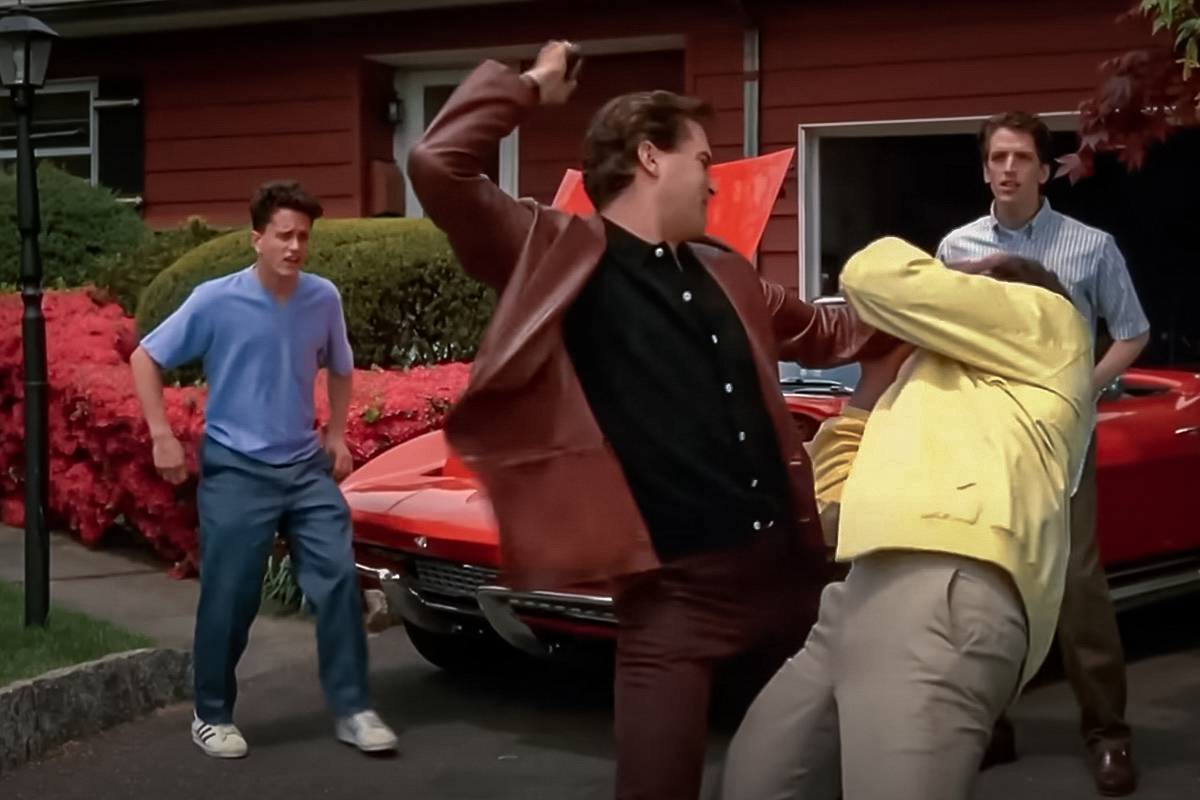 The late, great Ray Liotta gave us a bunch of unforgettable performances during his career, but his portrayal of the real-life mobster Henry Hill in Goodfellas (1990) might have been his best. This classic Martin Scorcese flick also provided a classic pistol-whipping scene for the ages.
When Hill is dating the woman he will eventually marry, she tells him her neighbor, Bruce, hasn't been so neighborly. One day, she calls him in tears to tell Henry that Bruce assaulted her while giving her a ride somewhere and ditched her on the side of the road.
Hill picks Karen up at a phone booth, drives her home, tucks his snubby revolver into his waistband, strides across the street, and pounds Bruce's nose into a hole in his face — repeatedly. He has a firm grip on Bruce's head by the hair with his other hand the whole time, so each blow hits with maximum force.
Hill wields his pistol with experienced flair, and Bruce's face is his canvas. His utterance of, "Whaddaya want, fucko, you want somethin'—" before getting his face caved in is the cherry on top.
Unlike the other characters on this list, Hill carries a snubnosed .38 revolver (a J-frame S&W Model 36, to be precise). He holds the gun backward, wrapping his hand around the grip and trigger guard with the small barrel pointing down. He swings in a hammering motion, using the muzzle to pummel some manners into Bruce.
In reality, the ass-kicking was a little more personal. In either case, it's not a fabulous day for Bruce.
Liotta gets credit for a quick draw — from his beltless slacks without a holster, no less. The click of his dress shoes, the burgundy leather jacket, and that fuckin' look on his face during his unbroken, menacing march back across the street is almost as chilling as the pistol whipping itself.
RELATED – '1923' Is Big on Adventure, Action, Atmosphere, and Hunting
---
2. Tombstone – Suprise Pistol Whipping
Pain scale: 2/5
Fear factor: 1/5
Swag: 4/5
Creativity: 5/5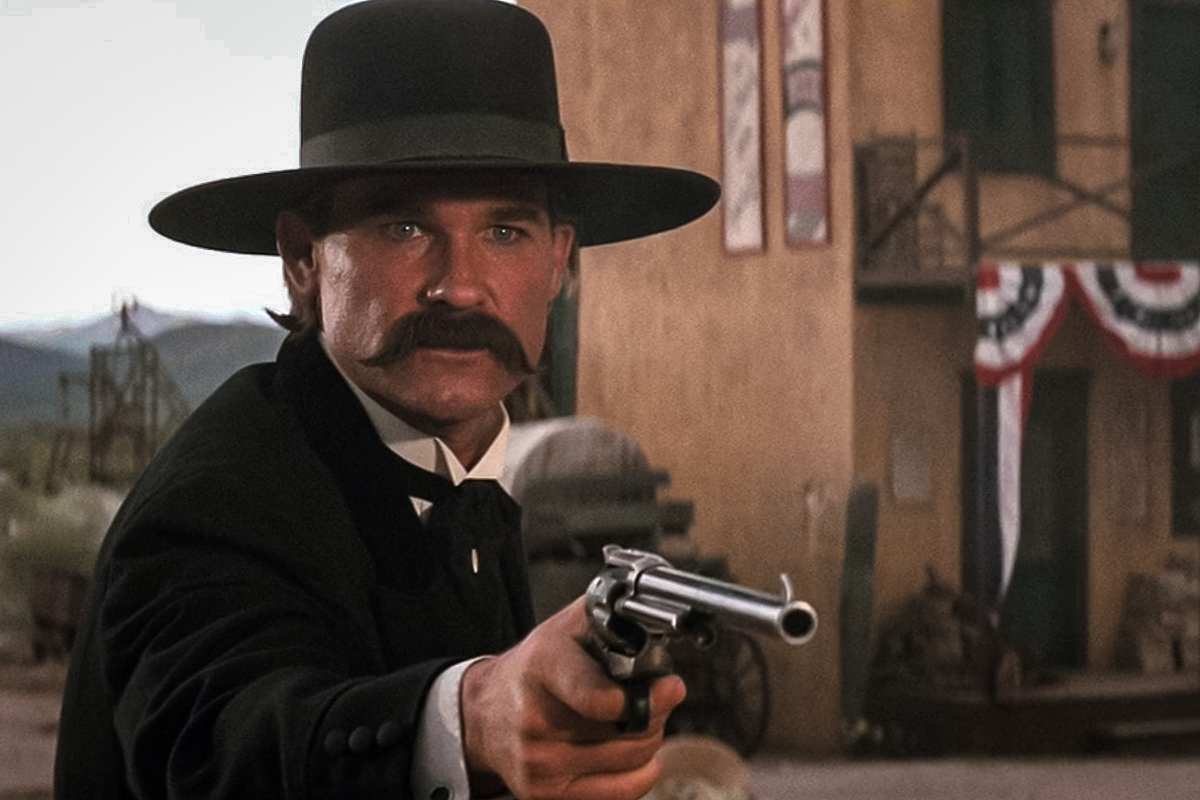 Bumping into a stranger and calling them a stupid bastard is a bold move — not particularly smart, but bold. Wyatt Earp, played by Kurt Russell in the 1993 movie Tombstone, shows just how big of a mistake that can be.
Earp bumps into the unruly Cowboy outside the Tombstone jail and tries to diffuse the situation by saying, "Easy, kid, I'm sorry."
"I ain't easy, and I ain't your kid. You can take sorry and shove it up your ass," he responds.
It's a great line, and Earp might have let it slide, but when the Cowboy flashes a pistol at his waist and says, "I'll fight you right now!" that's as far as Earp will be pushed.
In one swift motion, he snatches the man's own revolver from his waist and cracks him over the top of the head with the wooden grip, whack-a-mole–style. Lights out, kid.
This is the first of our scenes where a pistol is used like a hammer. This technique should be reserved for empty handguns since the barrel is pointing at you and all. But Earp gets a safety pass here; in the Old West, most folks who wanted to keep their toes carried their six-shooters with the hammer resting on an empty chamber.
I love the spontaneity, and pistol-whipping someone with their own gun is a serious power move. But this scene is a little more funny than intense, so it doesn't quite land the top spot. That honor goes to someone even cooler. King Kong ain't got shit on this next guy.
GOOD GEAR – Enjoy the Perfect Blend of Sweet and Salty With the BRCC RTD Espresso Salted Caramel
---
1. Training Day – Double Pistol Whipping…of the Nards
Pain scale: 5/5
Fear factor: 5/5
Swag: 5/5
Creativity: 5/5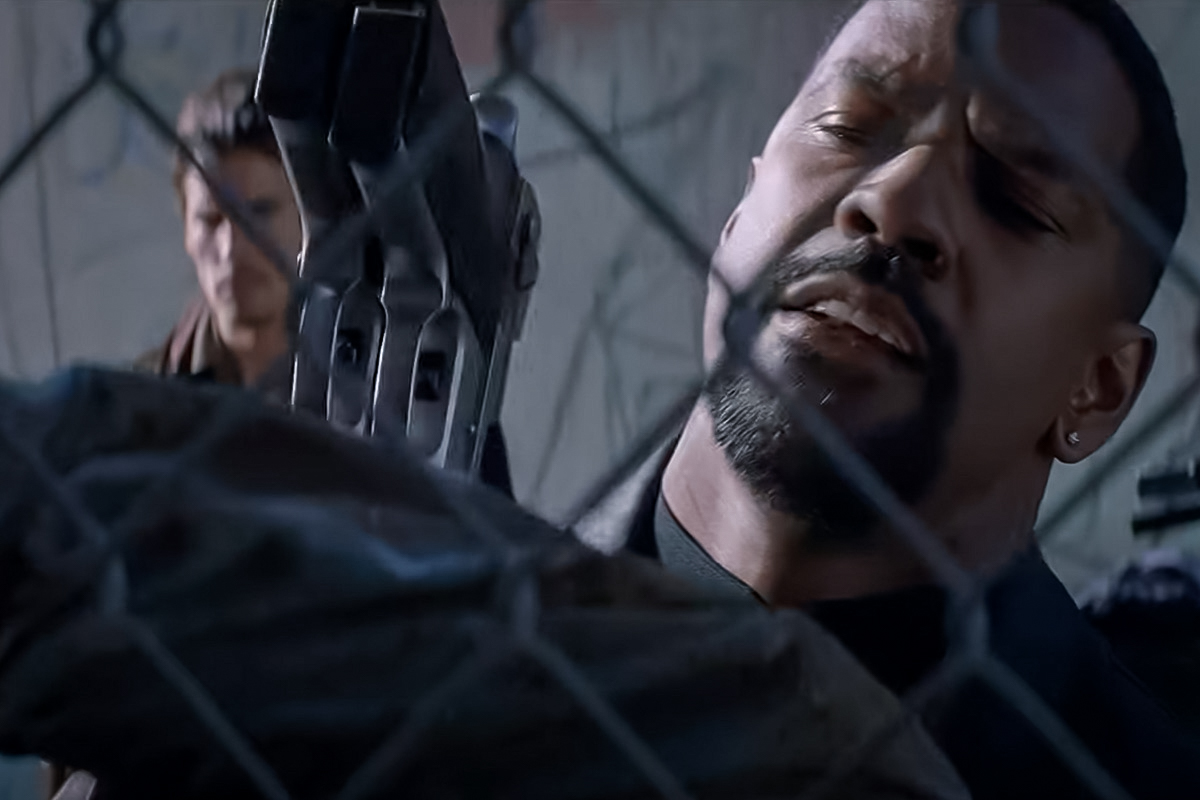 You had to know this one was coming, right? Training Day (2001) features one of Denzel Washington's best performances as LAPD Det. Alonzo Harris. In addition to a script full of quotable one-liners and a role that won him a Best Actor Oscar, Washington gives us the best pistol-whipping in movie history.
After Alonzo's partner apprehends a pair of scumbag criminals in an alley after a healthy street fight, Harris confronts one for mouthing off to him.
Harris flashes that wry smile that makes us hate and root for him simultaneously and starts clicking the barrels of his matching Smith & Wesson 4506 pistols against each other while verbally taunting his prey.
Finally, after threatening the criminal with the terrible violations he'll face in "the booty house" and possibly partial castration by .45 ACP, Harris holds the two pistols alongside each other with the grips facing out like a club, winds up, and swings between the man's legs like he's trying out a new driver at the range.
Like the character himself, everything about this pistol-whipping is unconventional and over the top. Why use one pistol when you can use two? Why constrain your strikes to the face region when the crotch is accessible? Yes, Harris is the villain in this movie, and yes, his muzzle discipline is atrocious. But this pistol whipping scene is simultaneously unforgettable, despicable, and totally badass.
---
Don't Try This At Home
These scenes are lots of fun, but they're also just that — movie scenes. In real life, you're more likely to lose possession of your firearm during a hand-to-hand physical altercation or send a round into your arm. Pistol-whipping can be effective, but it's an absolute last resort in any self-defense situation when everything else has gone terribly wrong.
---
READ NEXT – Jeremy Renner Likely Saved by Tourniquet After Plowing Accident