Made from lightweight titanium alloy
Modular design with four removable baffles
Entrance chamber serialized for easy upgrades
Compatible with various suppressor mounts
Taper-threaded baffles prevent backing off and carbon locking
Symmetrical baffle notches improve accuracy
Textured exterior helps dissipate heat and reduce mirages in sightline
MSRP: $1,099.95
There's a bold new player in the rifle suppressor game; Primary Weapons Systems has debuted its first-ever can, the BDE 762 Suppressor. All indications are that it's a solid beginning to what, hopefully, develops into a full line of suppressors.

Based in Boise, Idaho, the company started in 2008 as a rifle component company and has grown to be one of the largest firearms manufacturers in the Northwest. They moved into firearms manufacturing after developing their Long-Stroke Piston System, which they tout as bringing the reliability of an AK to their AR15 platforms. The company has continued its innovation trend with the new BDE 762 Suppressor.
"We feel confident that the BDE 762 has versatility and performance characteristics that simply can't be replicated with traditional suppressor manufacturing processes," says PWS CEO Nate Treadaway
The BDE 762 is shipping to dealers now with an MSRP of $1,099.95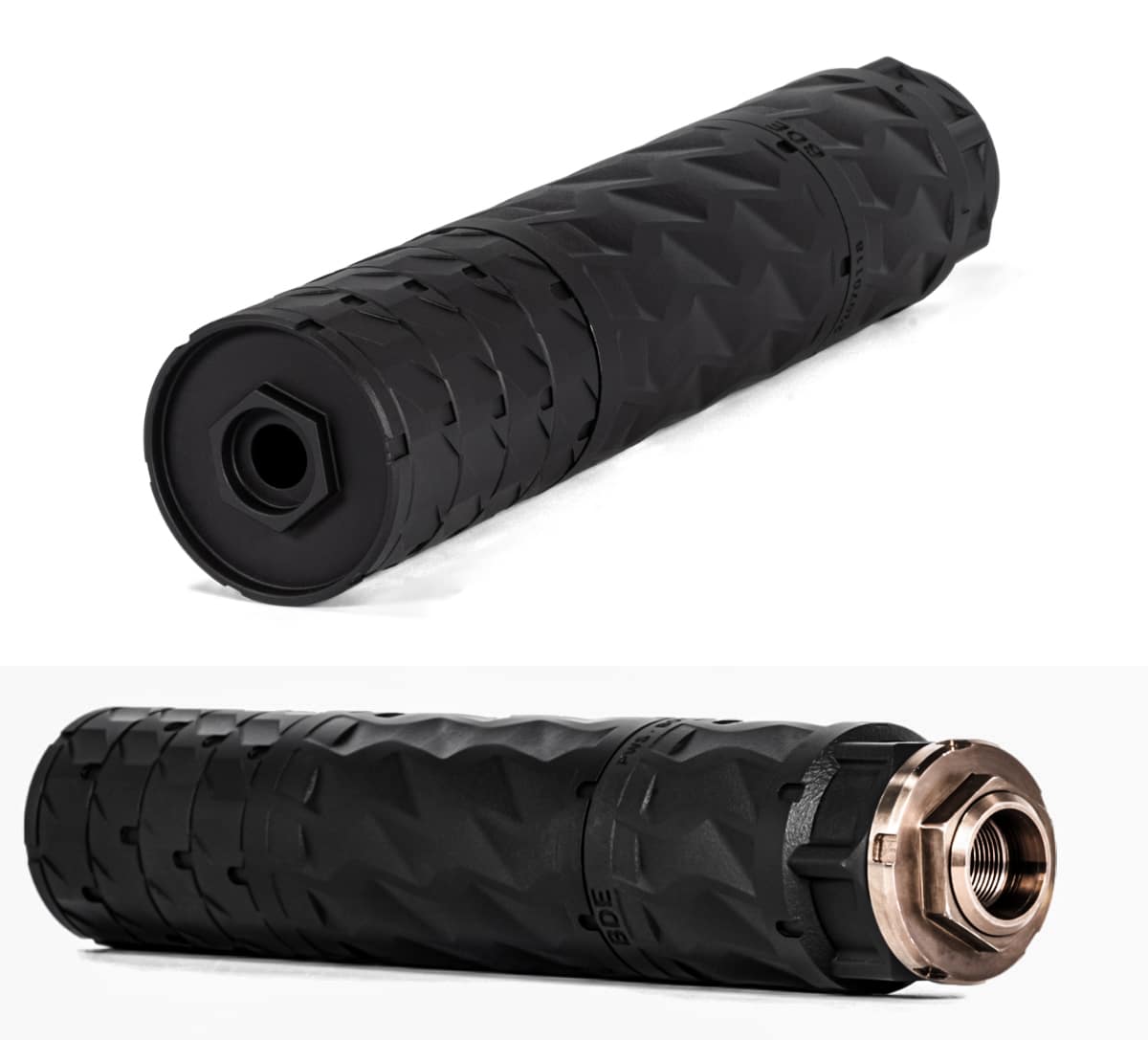 PWS created the new BDE 762 suppressor by using state-of-the-art 3D printing technology. The cans were then finished on CNC machines. This method has enabled PWS to build a lighter, more complex, and effective product than traditional methods can produce. The final steps are giving all components a titanium anodizing treatment and a high-temperature Cerakote finish.
Not only does the textured exterior look badass, but it also serves a purpose in dissipating heat and reducing mirage, keeping your line of sight clear.
Using titanium for the BDE 762's construction offers faster cooling, lighter weight, and a higher strength-to-weight ratio compared to similar suppressors constructed from stainless steel.
A serialized entrance chamber, coupled with a universal 1.375×24 TPI pattern, allows the BDE 762 to fit a ton of different suppressor mounts. And with four removable baffles, you can completely customize this can's performance and tailor it to your specific needs.
Additionally, taper-threading helps reduce carbon locking and loosening: common issues with suppressors.
Primary Weapons Systems BDE 762 Suppressor Specs:
Weight: 12.7-17.4 ounces
Length: 6.5-8.2 inches
Diameter: 1.75 inches
Calibers: up to .300 Win Mag

---
READ NEXT – Duck Camp Drops New Zip Waders for Waterfowlers