Every year on March 17, the beer and whiskey flow, corned beef and cabbage hit family dinner tables, and the White House fountain and Chicago River turn emerald green for a day. Saint Patrick's Day is traditionally the Roman Catholic feast day of St. Patrick, a missionary in Britain when it was under Roman rule who supposedly shooed every slithering snake off the Emerald Isle. 
In the 21st century, everybody becomes at least a little bit Irish on Saint Patrick's Day — a holiday in the U.S. that has unofficially become focused on bar crawls and heavy alcohol consumption, if you're still the age for that kind of thing. But that's only in America. 
In Ireland, March 17 is a religious holiday (practically every saint has a feast day), and since it occurs smack dab in the middle of Lent, there usually isn't a ton of partying, especially among Irish Catholics. It's basically another day in a long line of feast days celebrating a buttload of saints. 
So why did Saint Patrick's Day in America become an unofficial national holiday celebrating Irish-American culture and some of the beer-chugging, bar-brawling, partying-it-up stereotypes often associated with it?
Saint Patrick's Day as we know it on this side of the pond has roots that stretch back to America's foundation, specifically to George Washington when he was still a general, the Continental Army, and the American Revolution — and not to Old Boston, but to New Jersey.
GOOD GEAR – LIMITED TIME OFFER Celebrate St. Paddy's Day With BRCC Fool's Gold Roast
---
The Jockey Hollow Winter of Suck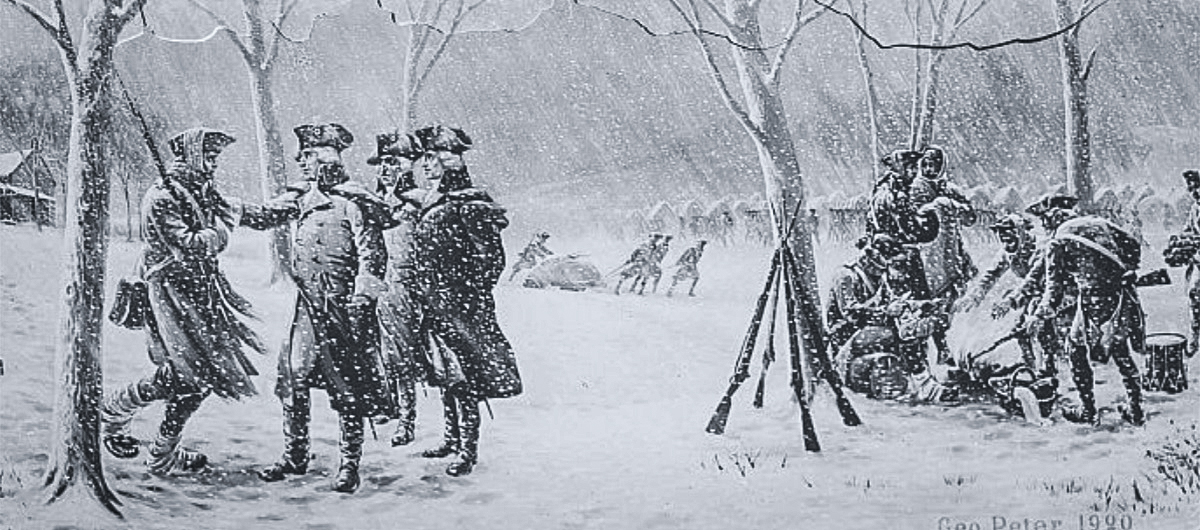 The winter that saw the dawn of the year 1780 pretty much sucked for the Continental Army encamped at Jockey Hollow near Morristown, New Jersey, which is now the Morristown National Historical Park.
Washington's men were used to brutal winters. The Continental Army lost nearly 2,000 troops to exposure, disease, and starvation at the Valley Forge winter encampment just two years earlier, but compared to Jockey Hollow in 1780, Valley Forge was a pleasant walk in the park.
That year was one of the coldest winters of the war. There were 28 recorded snowstorms that buried the camp in up to 6 feet of snow, and soldier huts were crude and drafty.
Supplies were also pretty paltry. Shoes, shirts, and blankets were hard to come by, and soldiers often went five or six days without bread. The men were so desperate for food that they turned to eating dogs, shoe leather, and even tree bark.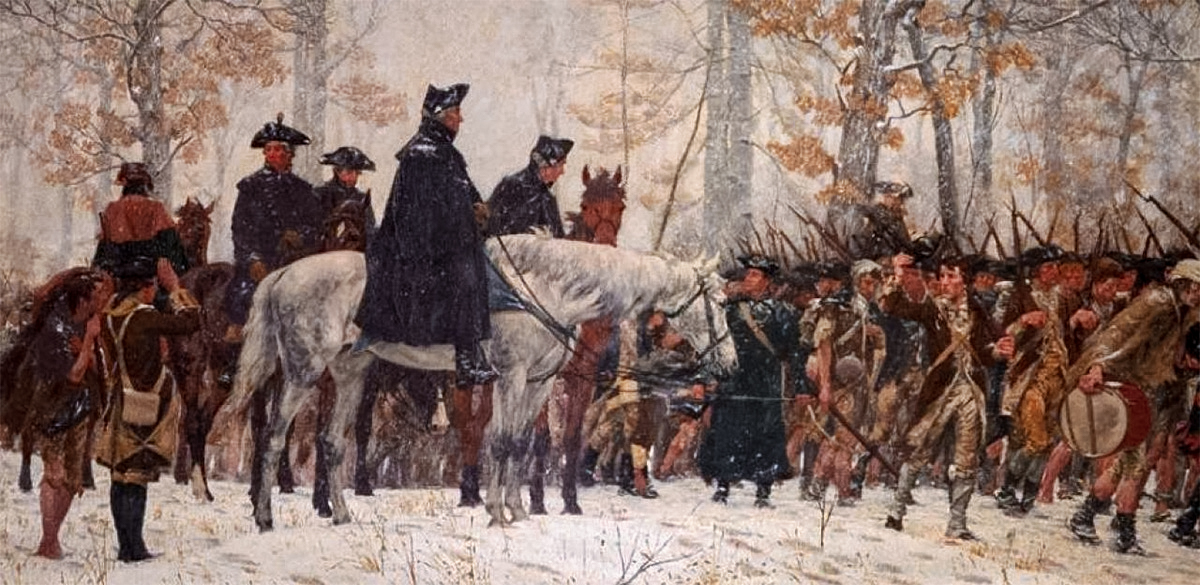 Hunger rippled through the ranks, and widespread desertion and mutiny loomed. Gen. Washington knew he needed to do something to improve morale, or he would find himself knee-deep in something far worse than snow.
He did what any decent boss in his buckle-festooned shoes would do — he gave the troops a single day off. It wasn't Christmas, either. Nope. They had to shiver their way straight through the Yuletide season, chewing on sticks and snacking on stray dogs. 
Instead, Washington gave them Saint Patrick's Day as a much-needed respite.
RELATED – Why Theodore Roosevelt Was the Most Badass President Ever
---
Why Saint Patrick's Day?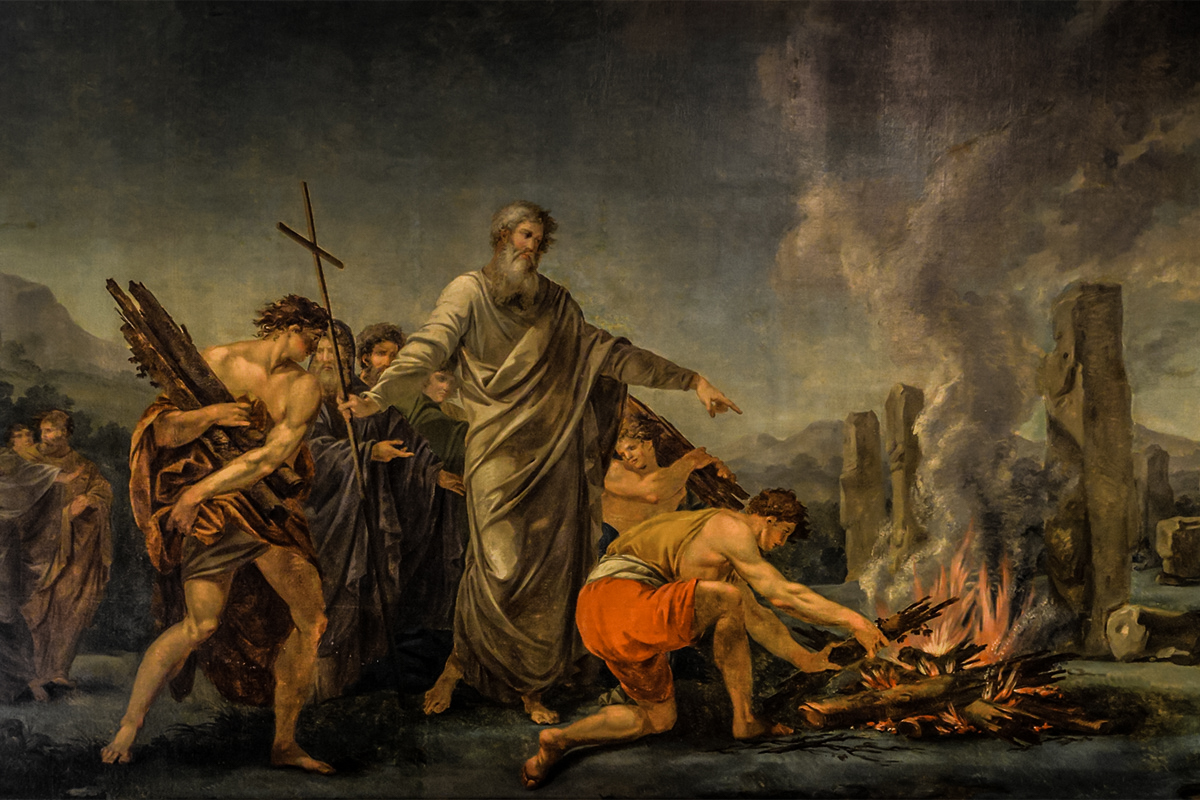 Washington's Saint Patrick's Day decision had nothing to do with his own heritage. With an undeniably English ancestry, he didn't have a drop of Irish blood coursing through his patriotic veins. 
What he did have was a major soft spot for the Irish, partly because a large portion of the Continental Army (as much as 25%) were Irish by birth or ancestry. Two regiments from Pennsylvania were more Irish-born than American-born. Plus, the army's leadership was largely from the land of Erin, with generals of Irish descent leading seven of the 11 brigades wintering at Morristown. 
Even more important than the solid Irish legacy of the army and its leadership, Washington was motivated by Ireland's general fuck-the-British attitude. 
Across the ocean, unrest was brewing, and Ireland was working on its own rebellious struggle against the British king. An emerging Irish patriotic movement was demanding the removal of restrictions imposed upon Irish commerce by the British Parliament.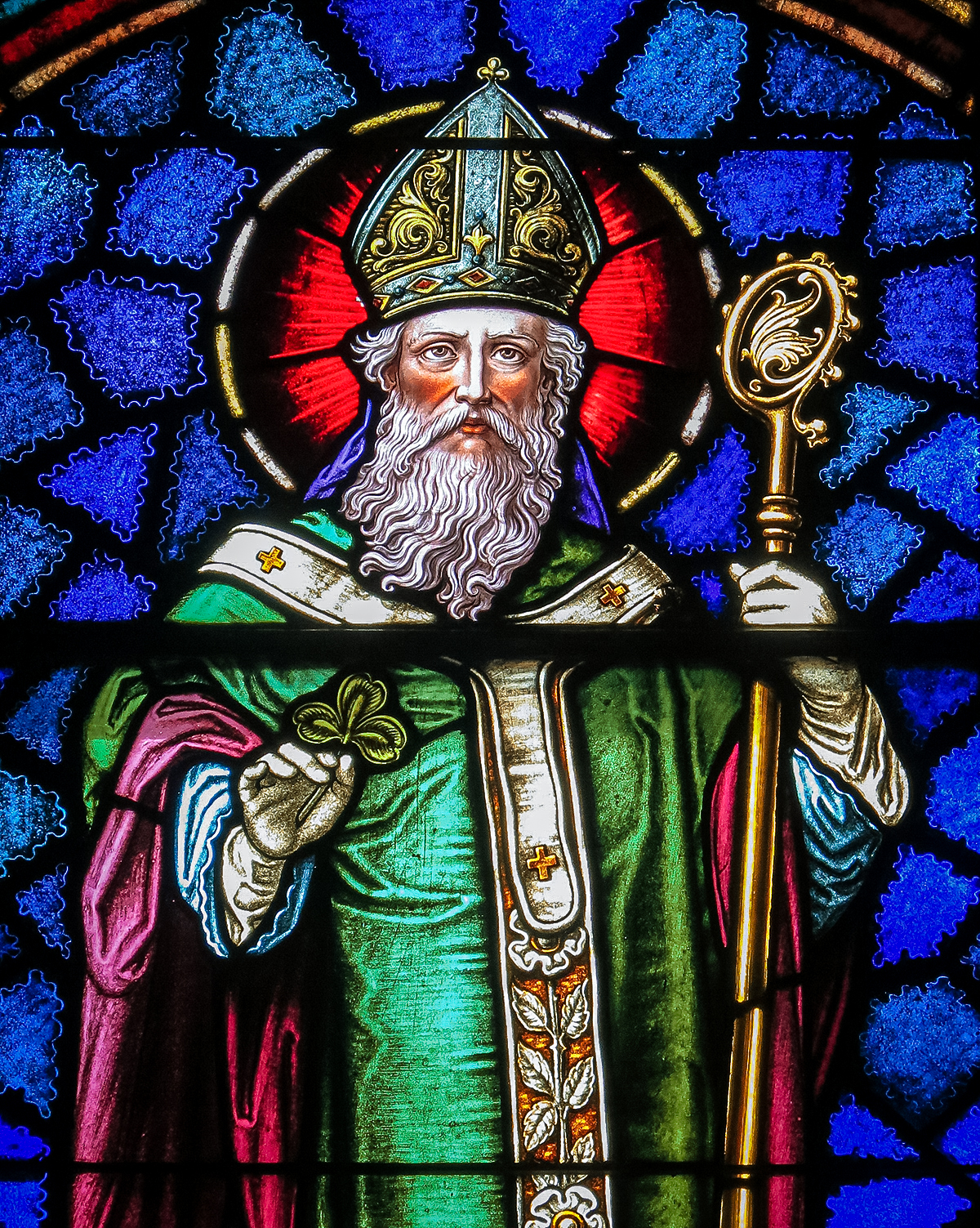 Ireland's struggle was starting to look an awful lot like young America's own freedom-seeking donnybrook. 
However, there was certainly more to Washington's support for the Irish cause. Ever the military strategist, Washington understood that the British crown would be seriously distracted by the Irish acting up so close to home. 
England's attention and resources would be divided if the Irish stole some of the rebellion spotlight from the American colonies, which would be a serious boon for the weak and war-weary Continental Army.  
GOOD GEAR – Show Your Support for the 2A in Style With the BRCC Black Rifle AR Pullover Hoodie
---
Saint Patrick's Day Orders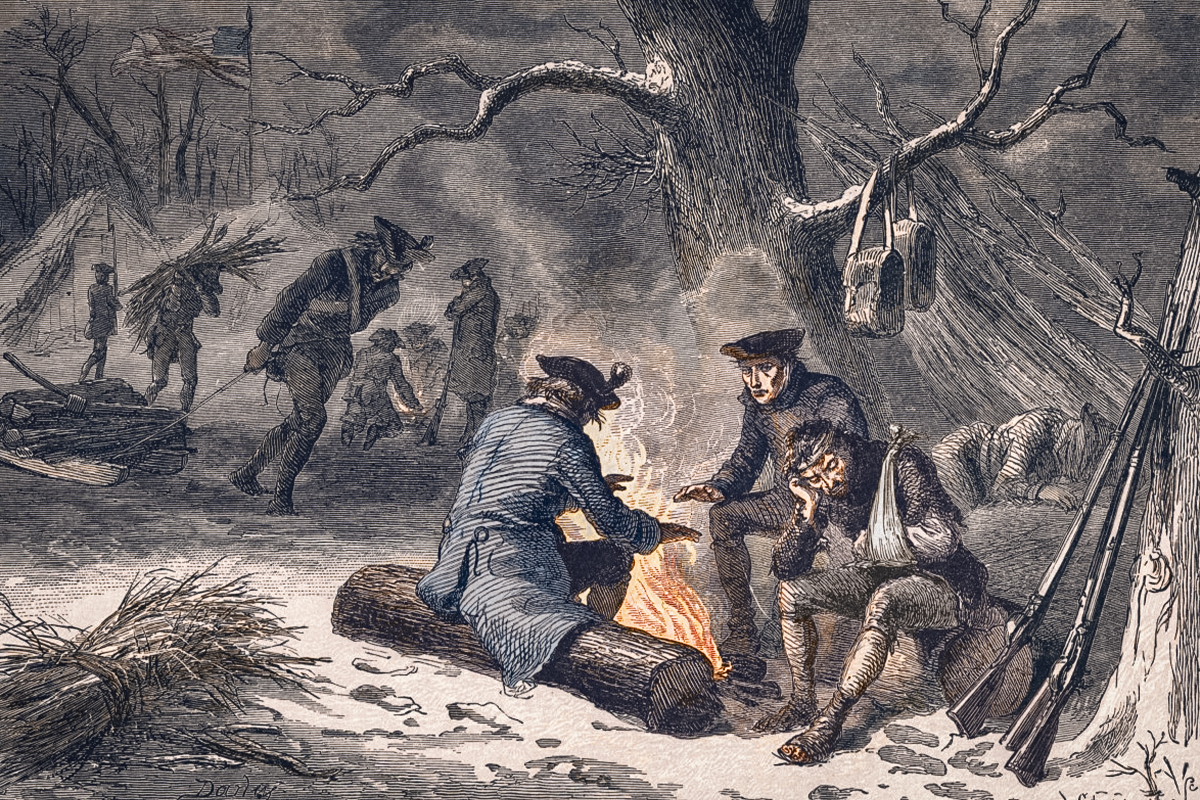 Motivated to recognize the heritage of his soldiers, show support for Ireland's cause — and, most importantly, boost the army's morale all at the same time — on March 16, 1780, Gen. Washington signed the official order for a Saint Patrick's Day camp holiday.
"The General congratulates the army on the very interesting proceedings of the Parliament of Ireland and the inhabitants of that country which have been lately communicated, not only as they appear calculated to remove those heavy and tyrannical oppressions on their trade but to restore to a brave and generous people their ancient rights and freedom and by their operations to promote the cause of America.
"Desirous of impressing upon the minds of the army, transactions so important in their nature, the general directs that all fatigue and working parties cease for tomorrow the seventeenth, a day held in particular regard by the people of the nation."
However, the Saint Patrick's Day celebration of 1780 wasn't a free-for-all. Washington's strict parameters to ensure the party didn't turn into a total rager, as Saint Paddy's Day shindigs are wont to do.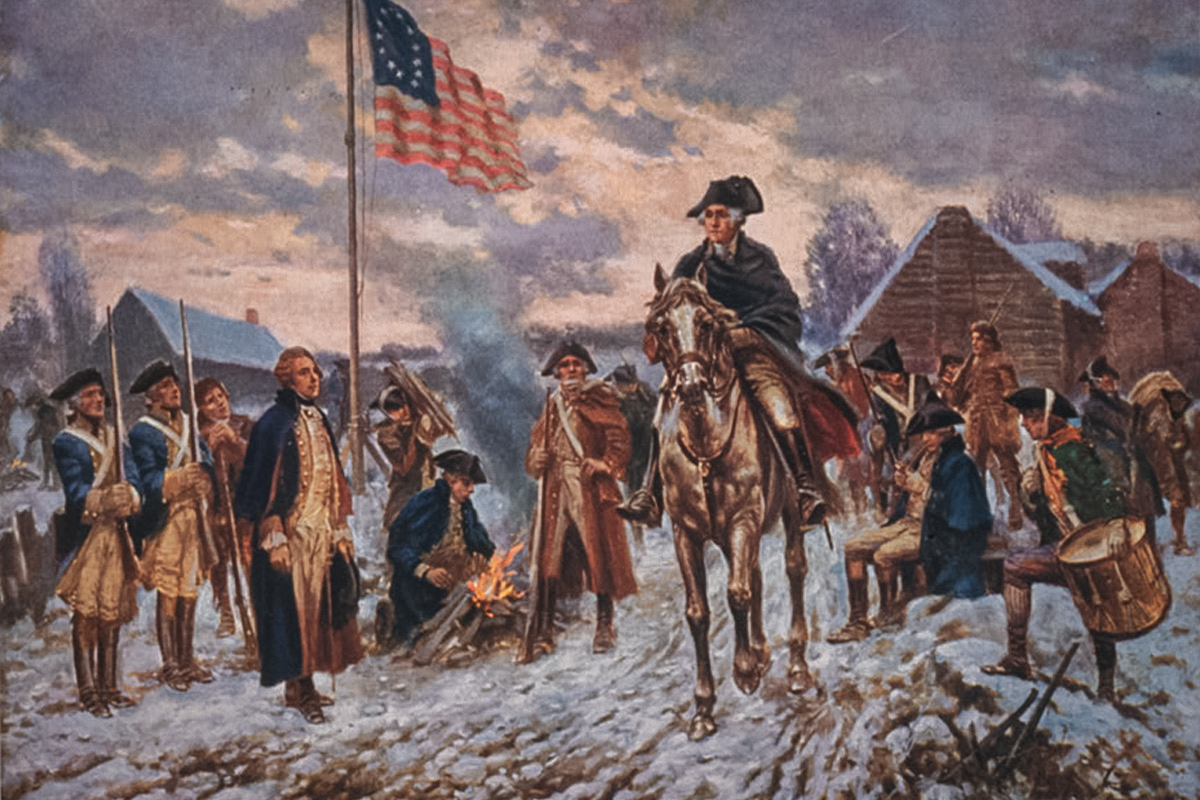 The "celebration of the day will not be attended with the least rioting or disorder," Washington commanded.
He also ordered his officers to stay inside and troops to remain within the encampment.
While the Continental Army didn't guzzle heaping pints of green ale, they did turn it up. One regiment had a party complete with music and dancing, and Col. Francis Johnston, commander of the Second Pennsylvania Brigade, bought a hogshead of rum for his men. 
Despite the alcohol and party atmosphere, the Irishmen apparently kept their overall cool. There are no records of overly raucous behavior, and since no one went all Conor MacGregor on anyone else, the celebration must have been relatively tame by stereotypically Irish standards.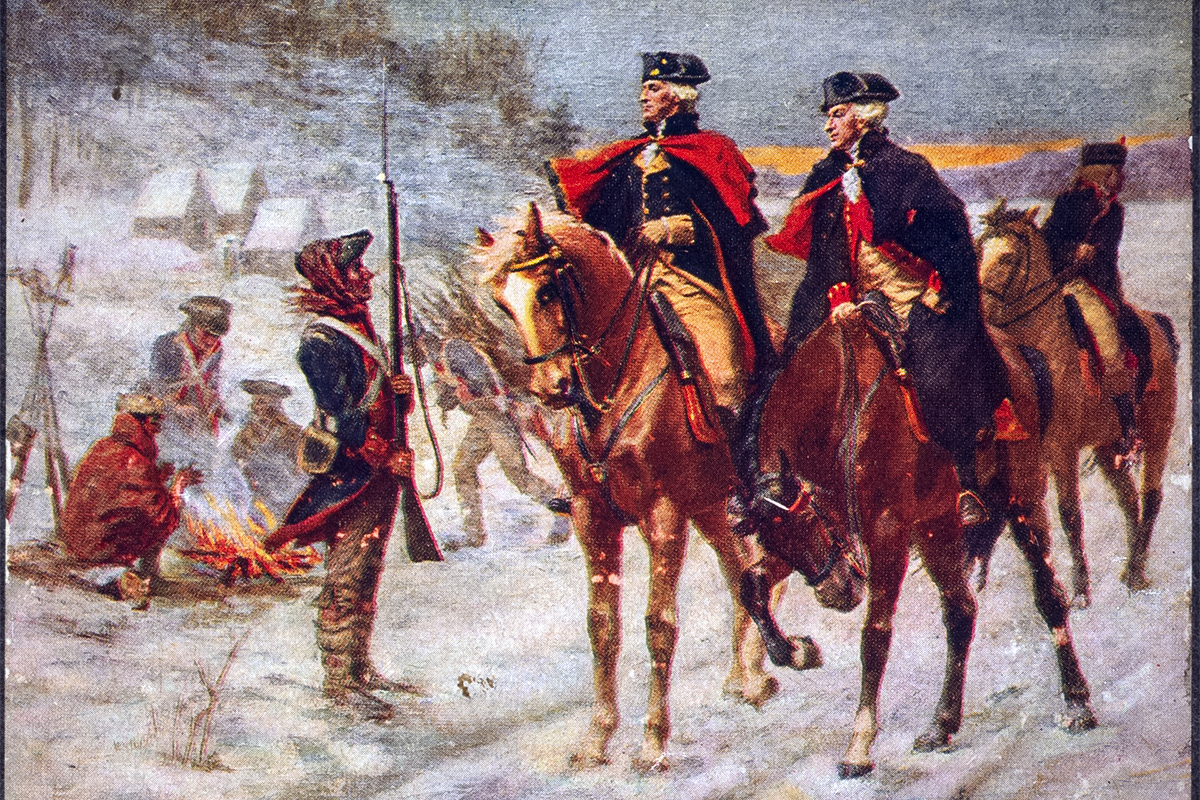 Not to drop too many spoilers, but Washington's iteration of Saint Patrick's Day holiday helped prevent mass desertion among the ranks. The Continental Army, which contained a healthy dose of soldiers with Irish surnames, went on to secure liberty almost 140 years before their Irish cousins would accomplish the same.
This nod from the father of our nation certainly helped solidify Saint Patrick's Day as part of  American culture, helping it continue through Westward expansion, the industrial revolution, and the rise of '80s hair bands to become the emerald-festooned holiday we know and love, whether we have Irish roots or not.
So when we're swigging Guinness and throwing back shots of Jameson this Saint Patrick's Day, we should probably raise a toast to George Washington and the Irish soldiers under his command that helped cement your red-blooded American freedom.
---
READ NEXT – History of American Football: You Can Thank T.R. For the NFL