The best part about fishing with Big Spoon Sportfishing isn't all the fish you catch but the snacks that Capt. Chris Bomysoad serves up on the water. "Fishermen," he likes to say, "fish on their stomach," so this New York guide keeps his clients fed.
Bomysoad's go-to boat snack is an easy-to-make, dry-brined, and smoked lake trout fillet. The end result isn't quite fish jerky, but it's close. Sweet and savory with a pepper kick, it's a killer snack on the water or on the road.
"Lake trout works great with this recipe because of the high fat content," Bomysoad said. "Any trout or salmon, bluefish, mackerel, sailfish, and fatty cuts of tuna will work well, too. Stay away from walleye, perch, bass, wahoo, snapper, or any flaky, lean white fish."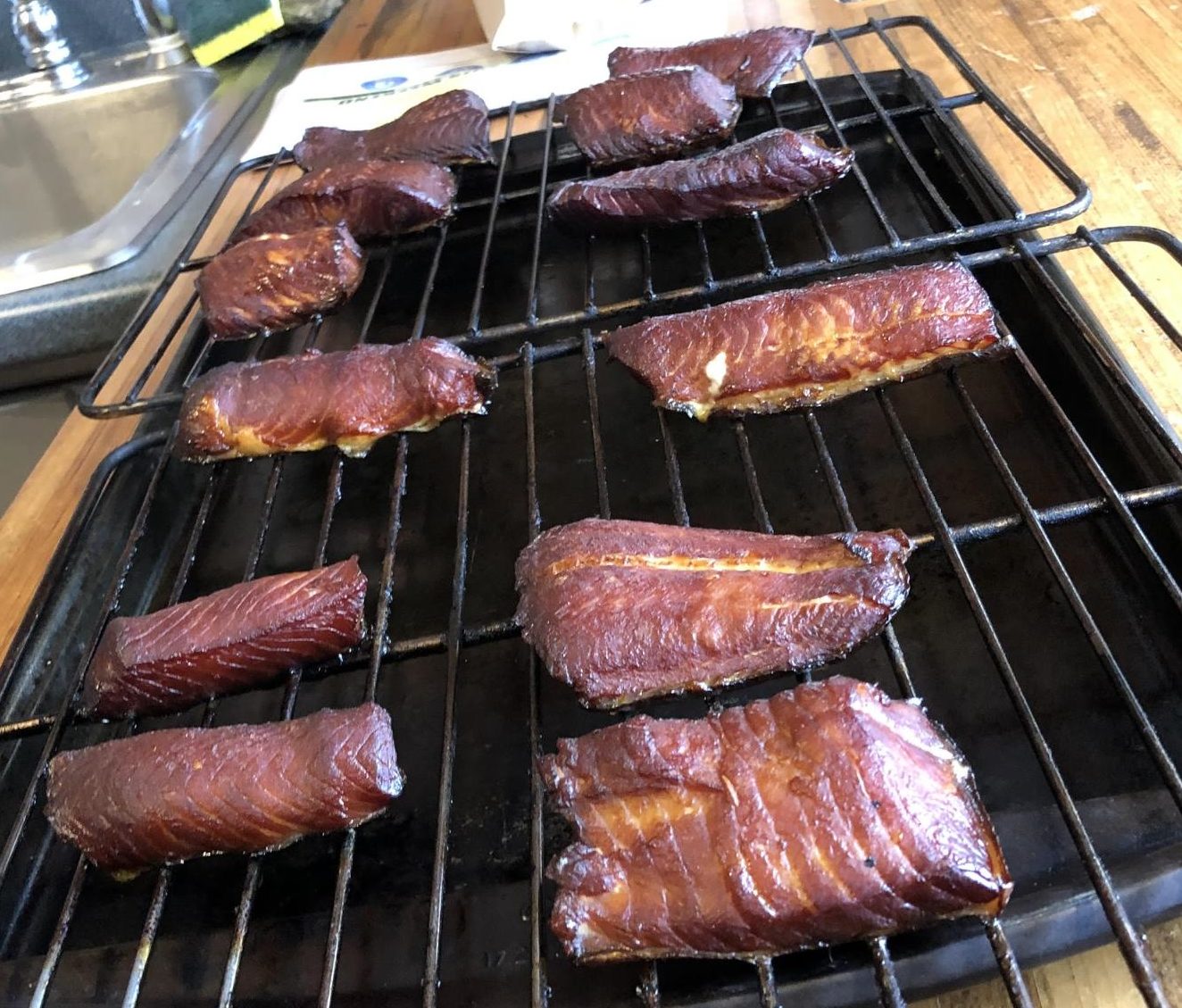 INGREDIENTS
4 to 6 large fish fillets

3 cups brown sugar

1 cup kosher salt (must be noniodized salt)

2 tablespoons garlic powder

1 tablespoon black pepper

1 teaspoon cayenne pepper
DIRECTIONS
Leave the skin on the fillets and dry them well. Pull or cut any pin bones from the meat. Cut the fillets into strips to increase surface area for brine and smoke penetration. Cut thin for a jerky-like finished product or thicker for a fish stick-like snack.

Mix the dry ingredients into a dry brine. If you tweak the amounts, ensure you're at a 3:1 ratio of brown sugar to kosher salt. Garlic powder and pepper can be spun up or down to taste.

Pro tip: Know your terms. A "dry brine" is not a rub. Rubs add flavor. A brine cures. This mix is actively curing the fish.

In a glass baking dish, spread out a base layer of the dry brine. Place the meat on top, skin side down, then generously pack the remaining brine on top of the fillets. Cover with plastic wrap, and place in the refrigerator for 45 minutes to 1 hour. When the dry brine turns to a syrup-like texture, it's done.

Rinse the fillets well with cold water. Place meat on smoker racks on the kitchen counter, pat dry, and allow to air-dry for 45 minutes to 1 hour. A tacky patina, called the "pellicle," will form on the surface of the meat. This helps the smoke "stick" to the fish.

Load the smoker with apple, cherry, alder, or maple wood (or pellets if you're using a Traeger), and fire it up to 170 to 180 degrees. When at temperature, put the fillets on for 2 to 3 hours, checking throughout for doneness.

The fish is fully cooked when it reaches an internal temperature of 145 degrees. For a drier, smokier end product, leave the fillets on until they develop a deep mahogany-brown color. If you cut them to a jerky-like thickness, stop the cook at your desired texture.

Optional: To give this treat a real candy flavor, brush the fillets with real maple syrup or honey at the 1.5- and 2-hour mark. Then take this snack fishing, and you'll be motivated to stay on the water all day — and catch more lakers.
Read Next: The Ultimate Guide to Making Wild Game Jerky