For as long as there have been hunters, there's been wild game jerky—at least as best we can tell. Ötzi the Iceman—a 5,300-year-old hunter found frozen solid in the Italian Alps—had a last meal of dried ibex and red deer meat. Archeologists have found sun-dried jerky in ancient Egyptian tombs. The Incas pounded Alpaca meat flat and sun-dried it, too. Their word for this delicacy, "Ch'arki" which translates to "dried meat," is where most experts think the English word "jerky" comes from.
Making good wild game jerky—I mean really good jerky—is not that difficult. There are four basic steps to master: meat selection, meat cutting, drying, and storage.
1. Select the Right Meat for Making Jerky
Nearly any piece of meat can be dried and eaten. But dehydrating meat intensifies and concentrates flavors. A questionable piece of inner loin that got a little gut juice on it during the field dressing process will only get more stinky when dried. So, the freshness and overall quality of meat you select for making jerky are paramount.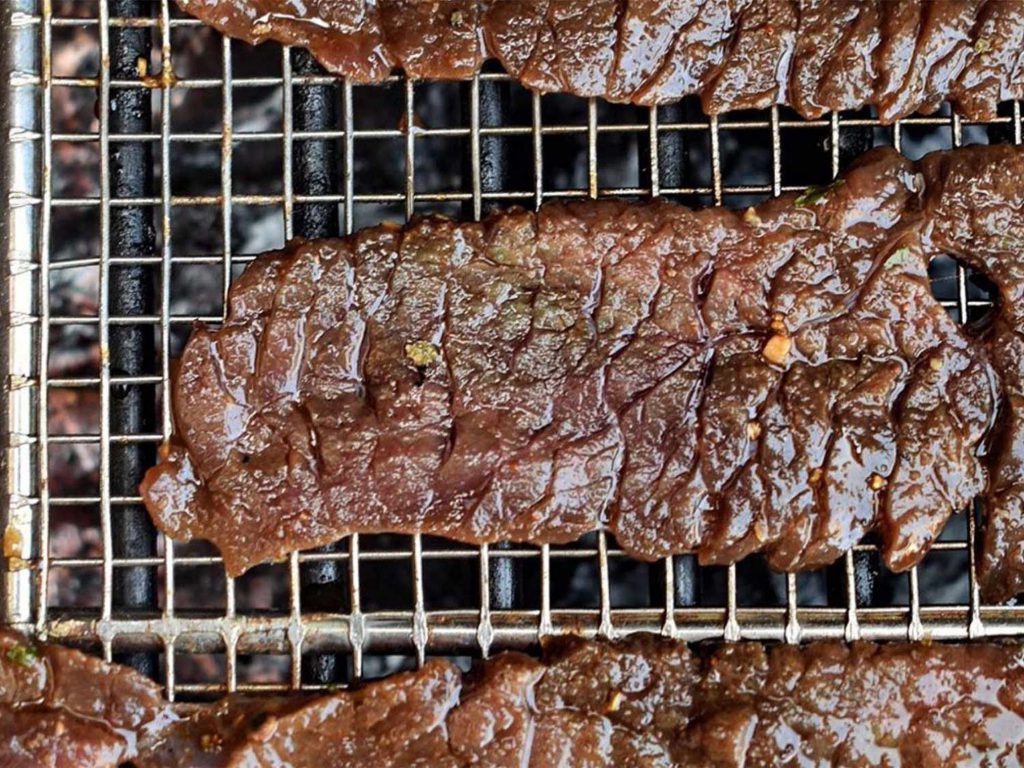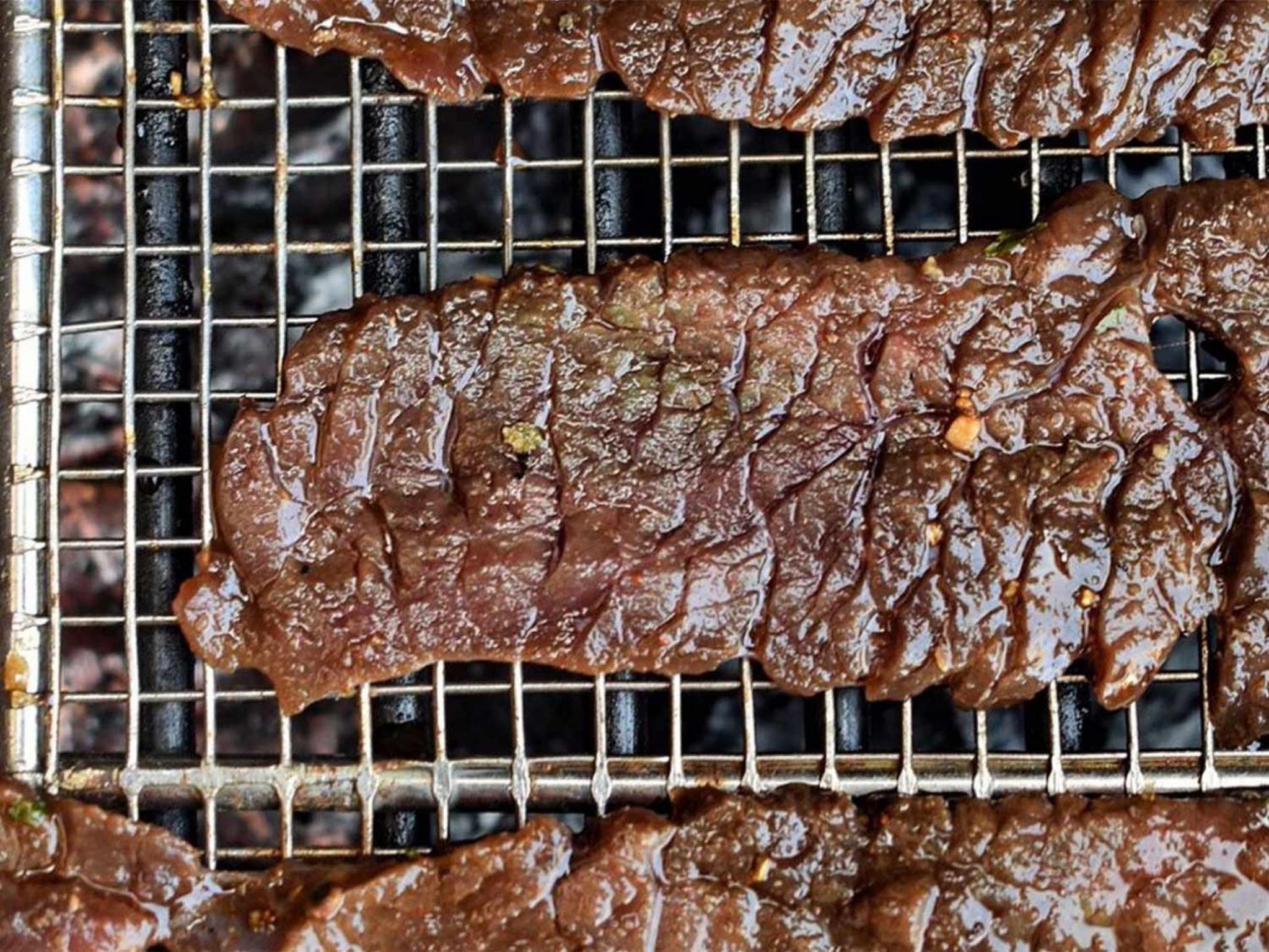 Fat is problematic. Beef or pork fat can add oodles of delicious flavor. Deer fat, not so much. Fat also has a higher water content than muscle meat, so fatty cuts take longer to dry and often dry out unevenly. Fat also spoils, so any jerky with fat in the mix will spoil sooner than one made with lean-meat.
Lean cuts from wild game with little intermuscular fat work best for home-made jerky. Large cuts that can be sliced into long, thin strips work best, too. Backstrap makes first-rate jerky with little work involved, save the slicing. Hindquarter cuts of beef are the typical go-to place for most high-end commercial jerky, so the large round roasts of deer, elk, or moose hindquarters work great, too.
2. Cut or Grind the Meat
Muscle meat has grain, and individual muscle fibers run together in a more-or-less uniform striation—like a straight-grain piece of hardwood. If you cut against the grain, or perpendicular to these fibers, the jerky will generally be softer and easier to chew. If you cut with the grain, it will be tougher, stringy jerky. Nine times out of ten, against the grain is a better jerky cut.
Most experts recommend cutting jerky meat into strips ⅛ to ¼ inch thick. Chef and jerky fanatic Jeremiah Doughty, of fromfieldtoplate.com, says the thinner the better. He recommends home butchers cut their strips about as thick as the spine on their kitchen knife, and no thicker than ⅛-inch. Paper-thin jerky with bold spices has a definite high-class feel. When done right, thin-sliced jerky almost melts in your mouth.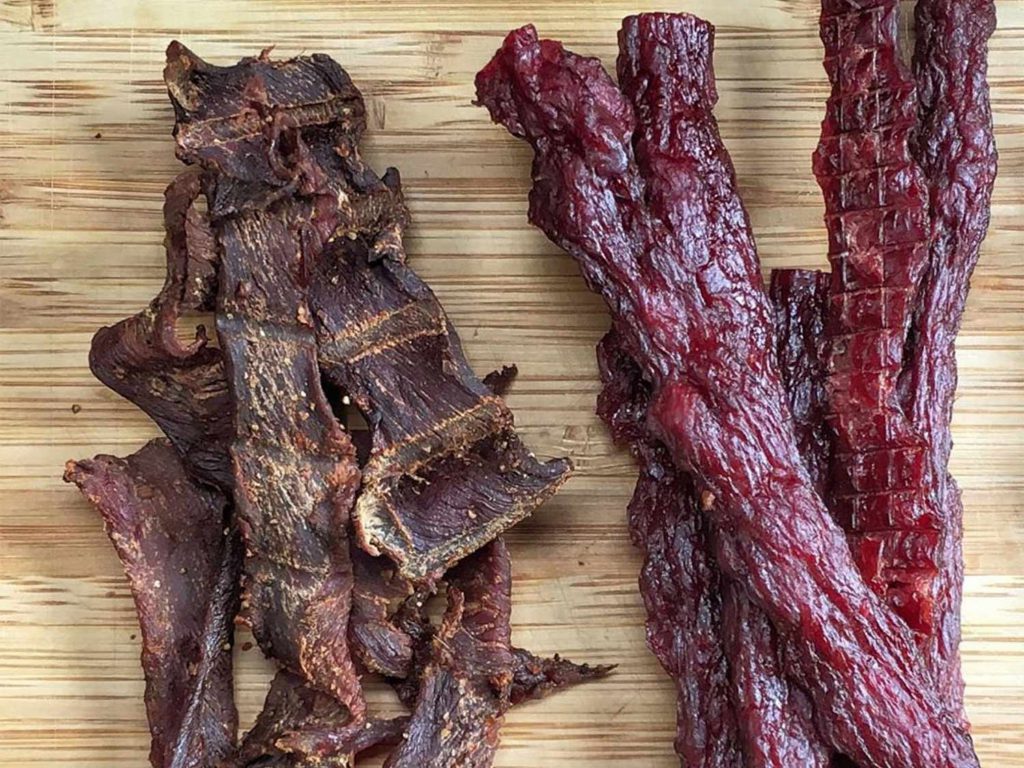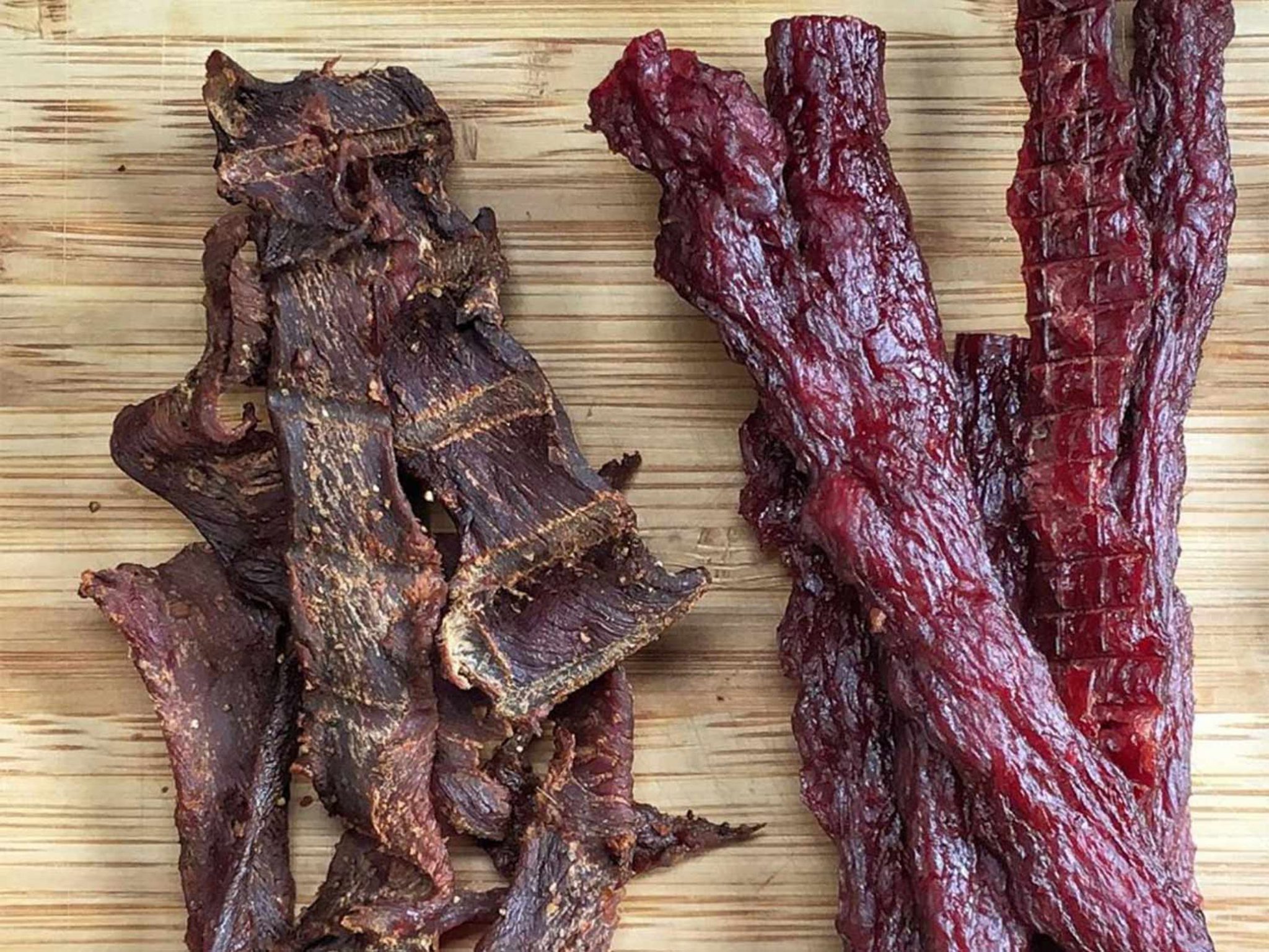 To make cutting easier, put the piece of meat in the freezer for an hour or two. In a semi-frozen state, it's easier to cut precisely.
If you don't have large premium cuts of meat to trim down, you can make ground-meat jerky. Remove all the silver skin and fat from the meat, and run it through a meat grinder through the smallest grinder plate as if you're making burger—twice. Spiced and piped with a jerky gun, it's possible to make Slim-Jim-like snack sticks that are compulsively good. Ground meat jerky is also a good use of the whole-meat trimmings that inevitably come from butchering a deer at home.
3. Use One of the Three Most Effective Drying Methods
There are many ways to dry wild game jerky, but chefs and sportsmen alike tend to do one of three: oven drying, dehydrator drying, or smoking.
1. Oven Drying
Oven drying is perhaps the simplest way to make jerky. All you have to do is lay your jerky strips on a rack and put them in your home oven at its lowest setting. If that temperature is above 160 degrees, prop the oven door open with a golf ball or a pencil to let some heat escape.
2. Dehydrating
With a dehydrator, the same principle is at work. A dehydrator is basically a low-heat vented electric oven with a fan to keep air flowing. Rack the meat strips and set the dehydrator between 135 and 165 degrees. The USDA recommends heating meat to an internal temperature of 160 degrees before or after dehydrating at lower temps, as that's the temperature at which Salmonella and E. Coli die off.
4. Store Your Wild Game Jerky
Read Next: Fish Candy: Dry-Brined and Smoked Lake Trout
This story originally ran on July 15, 2020, on fieldandstream.com.