There's a new addition to Springfield Armory's arsenal, and this time it comes in the form of a Saint Victor 9mm carbine with an MSRP of $1,299. It's the manufacturer's first pistol-caliber carbine, but it carries over many of the components, materials, and attention to detail that have made Saint Victor rifles, carbines, and pistols chambered in 5.56 and .308 so successful.
This new addition to the PCC market hits a sweet spot for a lot of buyers. Like other options in the $1,000 to $1,500 AR market, it comes with a few nice touches that you'd likely purchase on your own to upgrade an entry-level AR. The nickel-boron-coated trigger should be noticeably smoother than what you'd get on a budget lower receiver, and the flat face is a nice touch.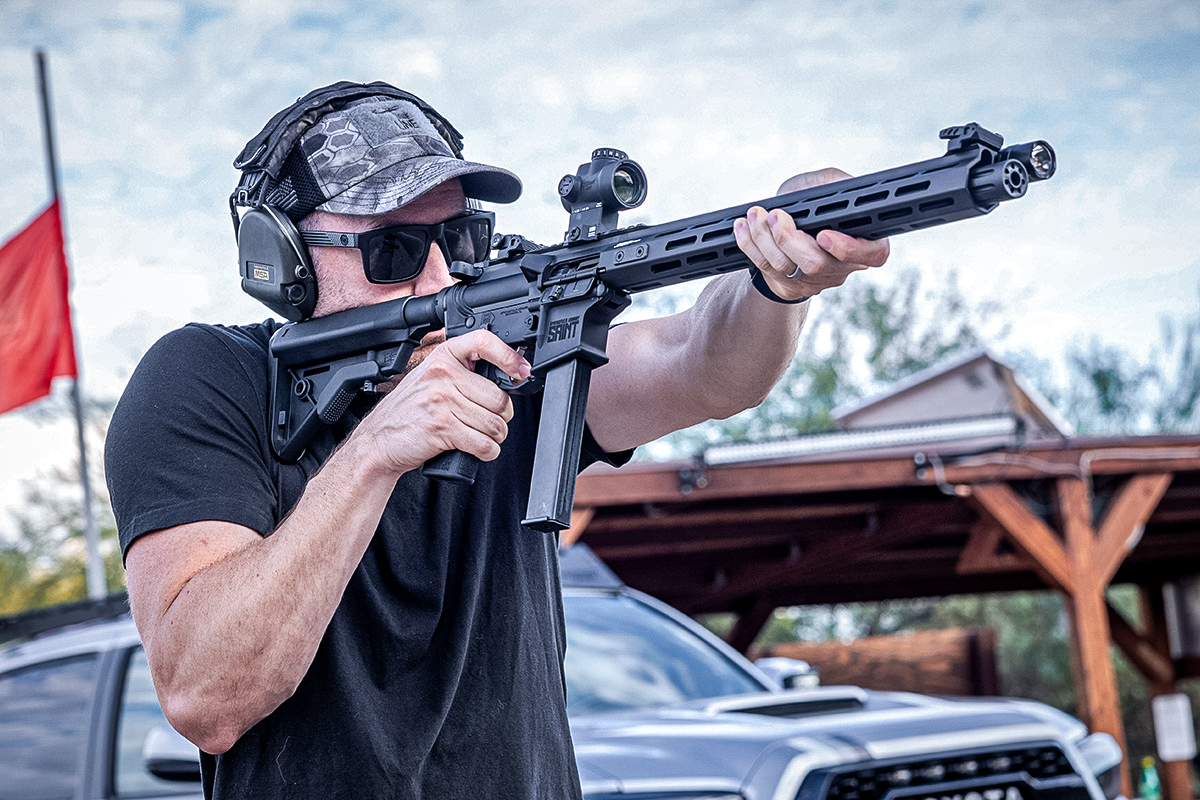 GOOD GEAR – Satisfy Your Cravings With the BRCC Peru Arabica Power Llama Roast
Furniture includes a collapsible stock, a pistol grip, and a trigger guard from B5 Systems. The free-floating aluminum handguard is slotted for M-Lok accessories. It's all capped off with an in-house forward blast diverter.
At the same time, Springfield kept the build sheet reasonable to prevent the price from getting out of reach. The charging handle, flip-up iron sights, and chrome-moly vanadium barrel are all fairly basic components that get the job done without affecting the bottom line.
Springfield also sells the Saint Victor 9mm Carbine with only one 32-round Colt-style magazine. Many of you would probably like to see Glock magazine–compatibility. But there probably isn't a reason to prefer one over the other unless you already own a bunch of Glock magazines and want to save some money. It would be nice to get more than one magazine with a gun that costs four figures, though.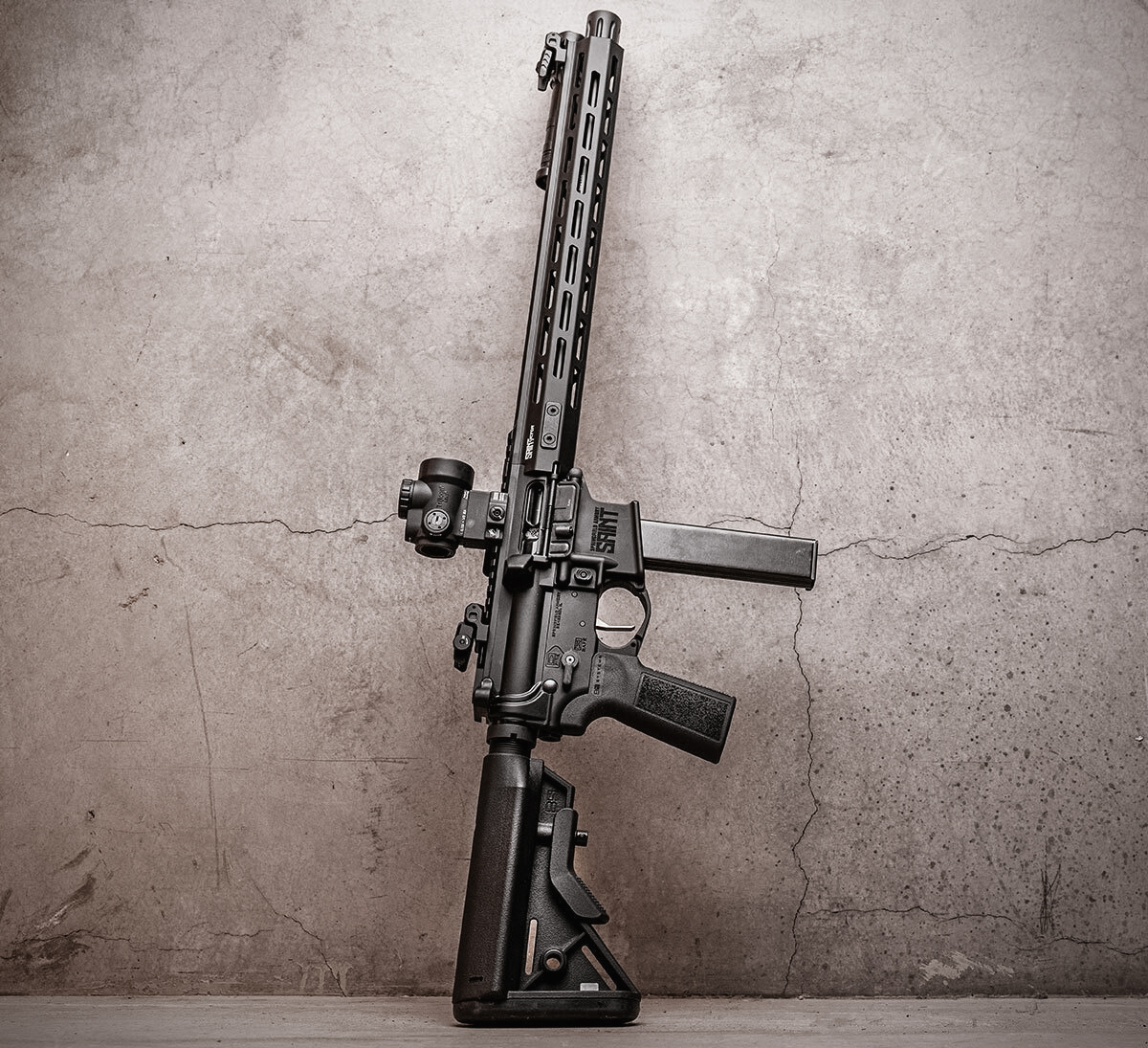 Beyond the basics, there are some advantages to this PCC that you can't see. Possibly the most significant is the fact that it was designed from the drawing board to be a 9mm platform. That means the direct-impingement gas system, bolt carrier group, and magazine well were all intended to operate with a 9mm cartridge from day one.
The result is a gun that should run much smoother and more reliably than a standard 5.56 AR design that has been modified to shoot 9mm.
Now, let us address the elephant in the room. You might be wondering about the practicality of sending 9mm rounds on a journey down a 16-inch barrel, and rightly so. You certainly don't need that much real estate to contain the combustion of a 9mm cartridge, so there isn't an appreciable ballistic advantage associated with using a carbine-length barrel. This PCC and others like it exist for legal reasons.
RELATED – Hunting Alaska With the New Silencer Central Banish Backcountry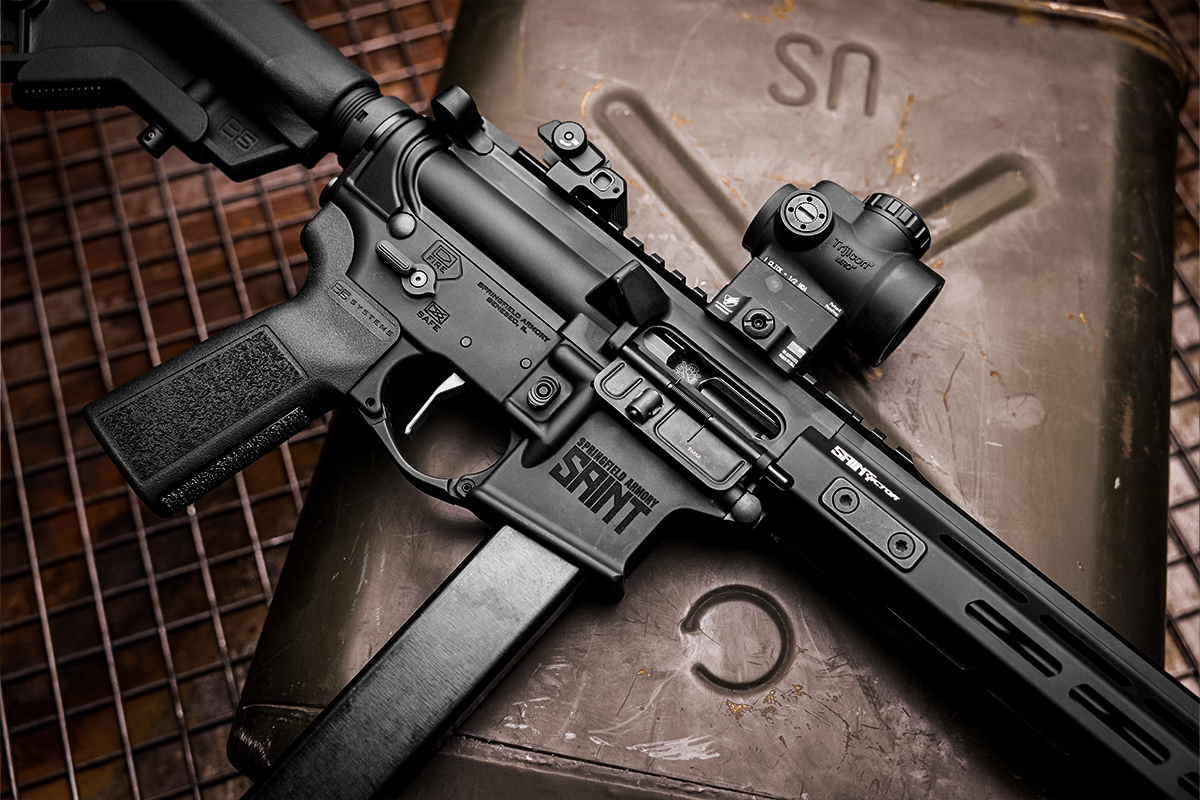 A 16-inch barrel makes purchasing and owning the Saint Victor 9mm Carbine a much simpler and cheaper process since it avoids the ever-changing regulations regarding pistols, pistol braces, and short-barreled rifles. This gun can simply be transferred as a long gun, making it more accessible to more gun owners.
There is certainly a case to be made for owning a pistol-caliber carbine, whether you're in the market for a range gun or a home defense weapon. A PCC, like the new Saint Victor 9mm Carbine, brings the added value of familiarity for many shooters since it's built on a full-size AR platform. That also means that the sky's the limit when it comes to swapping out components and adding accessories.
GOOD GEAR – Store Your Coffee, Ammo, or Your Whiskey With the BRCC Coffee Can
---
Springfield Saint Victor 9mm Carbine Specs

Price: $1,299
Caliber: 9mm
Capacity: 32+1
Weight: 6.9 pounds
Barrel: 16 inches, CMV with a melonite finish
Twist: 1:10
Upper/lower receiver: forged 7075 T6 aluminum
Operation: direct impingement
Furniture: B5 Systems Bravo stock, B5 Systems Type 23 P-Grip pistol grip, free-floating aluminum M-Lok handguard
---
READ NEXT – 7mm PRC: Savage Expands Rifle Lines for New Cartridge