The annual Athlon Outdoors Rendezvous has become a major event that lends itself to a lucky few getting an early glimpse of new products that could shake things up once they hit the market. Sometimes it's simply a chance to get more quality time with products that have been available to shooters, as well as giving the manufacturers a chance to download more pertinent and in-depth info to us enthusiasts. This year the sampling of long-range rifles and optics impressed.
---
Long-Range Rifles
The long-range side of Rendezvous remains a much-anticipated segment. We get to shoot at extended distances (1 mile) in challenging and often tricky wind conditions. This allows us to get a grasp on the level of performance these products are capable of in real-world settings. The course of fire is challenging, with environmental conditions that can change at a moment's notice.
This year didn't disappoint in the tactical long-range department. Targets from 100 yards to a mile were on tap, and the weather in the Tetons did what it does best. Luckily, the manufacturers brought out solid pieces for us to shoot.
---
Barrett MRAD MK22

The MRAD is simply awesome. Every sample of this rifle, no matter where I've encountered one, has been an absolute tack-driver—a term that I think is nauseatingly overused but completely applicable to Barrett's award-winning and military-solicitation-winning long-range precision rifle. I guess you could call it a true sniper rifle.
While several versions of the MRAD have shown up at past Rendezvous, this year, we got a taste of the MK22 Advanced Sniper Rifle System, which is the rifle deployed by our elite warrior units.
The MK22 is a bolt-action repeater featuring a multi-caliber capability that few possess. It can be modified to chamber eight different calibers, including long- and short-action options, and can accommodate multiple barrel lengths.
MK 22 Features
The MK 22 features a full-length monolithic upper receiver with a Pic rail that runs the length of the top. The handguard includes slots in the 3, 6, and 9 o'clock positions, which can be utilized via M-LOK attachment-type accessories.
The MK22 has an incredible drop-in match-grade, two-stage trigger. It's fully adjustable as well with a crisp break. This trigger, coupled with the tool-less adjustability of the foldable stock for length of pull and comb height, makes the Barrett beyond easy to shoot precisely no matter the shooter's experience level. It also features an action that is ultra-smooth, with a bolt handle placement that makes operation simple for right- or left-handed shooters.
Shooting the MRAD out to a mile, especially chambered in 300 Norma, was an absolute joke and every run of the bolt is perfect, making you feel like a rock star all the time. The MRAD MK22 as well as all the MRAD models are of the highest quality and performance levels in the precision space.
---
SIG Sauer Cross
SIG's Cross made its debut at our 2020 Rendezvous. The Cross comes in as a lightweight, multipurpose, do-all bolt-action rifle that I like to refer to as the "everyman's" bolt-action rifle.
The Cross takes minimalist and maximizes capabilities by being modular and feature-rich. The core of the Cross is a one-piece receiver that reminds one of an AR-type platform. This design is to improve rigidity and accuracy.
The receiver gets a barrel much like that of an AR platform, with a barrel nut and barrel extension with a pin that mates up to a slot in the receiver. This means the Cross barrel can be changed out fairly easily, and Sig has different lengths available depending on what caliber. Speaking of caliber, the Cross is available in 6.5 Creedmoor with an 18-inch barrel as well as .308 and the elusive 277 Sig Fury with 16-inch pipes.
The Cross is highly adjustable, especially for being so basic in nature. The length of pull and cheek pad height can all be easily changed, and the stock folds too. It's sure to fit any shooter well.
Don't let all the "minimal" and "basic" terminology fool you. The Cross performs like any quality precision rifle should with excellent accuracy that's easy to call upon. Thousand-yard shots with consecutive and repeatable impacts in a package that's easy to live with. It will make a believer out of anyone.
---
ZEV Technologies Large Frame Billet .308

Precision is not only left to the bolt actions. Plenty of gas-operated rifles are capable of extended range entertainment, and ZEV is delivering the goods with its Large Frame Billet rifle chambered in .308.
If the name ZEV appears on it then it's going to be an eyeful of delight, and this rifle doesn't disappoint. The billet upper and lower are 7075-T6 and machined to perfection with aesthetic styling and cues to make anyone envious.
It features a match-grade 16-inch barrel from 416R SS with a beautiful bronze PVD coating that is most excellent. The twist rate is 1:10 and it has a mid-length gas system. The barrel is topped with a ZEV muzzle brake to tame the recoil, which it does along with an H3 buffer. With this combination, ZEV is claiming sub-MOA accuracy, which I have no reason to doubt based on my 500-yard stroll with it in Idaho.
The trigger is an ATC AR Gold model featuring a flat face. The breaking weight is clean 2.5 pounds which helps in the accuracy department as well. Where the gas gun shines over the bolt is its ease of operation. No bolt to run, just press reset, press, and the short reset on the AR Gold trigger makes short work of this.
Controls are ambidextrous, which this southpaw long-gunner loves. I sat down behind the ZEV and confirmed some hits at 300 then shot it at 500 yards. After a few consecutive hits I knew what I needed to. The ZEV will deliver fast and accurate shots and look dang good while doing it.
---
CZ 600 Series

CZ is no stranger to rifles of all sorts. From big-bore hunting rifles to take large game in Africa, to police sniper rifles, and one of the best .22 trainers to ever exist, CZ has a whole host of offerings for the precision-minded shooter.
The 600 series bolt action was on tap during the Rendezvous, and it represents a new direction for the bolt-action side of CZ, with new technologies, materials, design, and focus. The goal is to meet the needs of many shooters, which while sounding like the right thing to say, is a difficult idea to execute.
Think of the 600 series as a multi-role bolt action rifle with versatility as the key feature. Meanwhile, there are several models in the 600 lineup: Alpha, Range, Trail, and Lux, each with its own set of unique and specific features for the particular shooter.
The Range most closely resembles the long-range precision shooter's anatomy with a heavy contour, hammer-forged barrel, and a sub-3/4 MOA guarantee for five shots. This guarantee is verified before any rifle leaves the factory.
The Range features a beautiful laminated wooden stock with adjustable comb height and a button hook with pic rail to attach a monopod or bag rider. It also gets QD stud beneath the forend and on either side.
The receiver of the Range is drilled and tapped for Rem 700-type scope bases, so compatibility should be a breeze. The heavy barrel is 24 inches long and is threaded for a suppressor or brake as well.
An\ adjustable, single-stage trigger makes its way into the Range to help ensure the accuracy of the rifle. The Range is chambered in 6mm Creedmoor or .308. Choose wisely before you hit the Range.
---
Long-Range Optics
EOTech Vudu Optics Line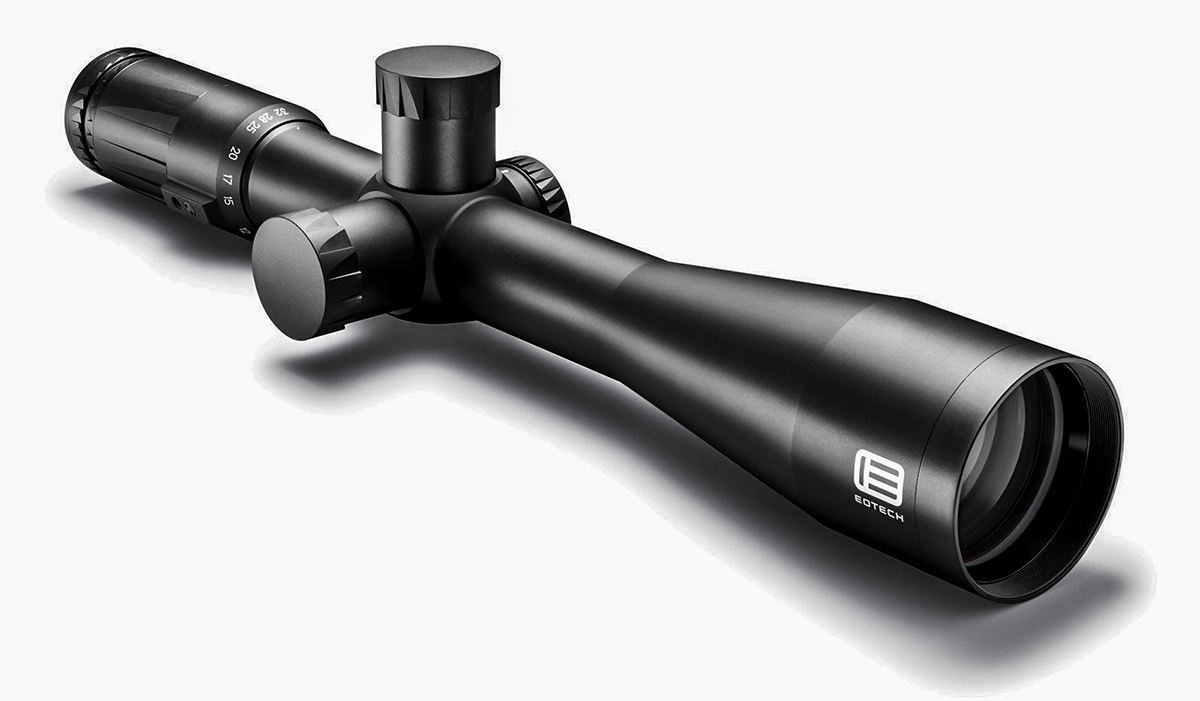 The EOTech Vudu line has been going strong for several years. I've had extensive run on the 5-25×56 and it has performed well with excellent glass quality and accurate tracking in a rather compact package.
When a magnification range that high isn't necessary, Vudu has both 1-6 and 1-8×24 offerings as well, each offering excellent glass and easy-to-use reticles. An 8X option is good for gas guns, but a little more is needed for any precision work, and 10X is about the cutoff for that. Thankfully, EOTech now has an option to fit the bill with its new 1-10×24 VPO (variable power optic).
The new 1-10, like any good precision optic, is available as a first focal plane scope, so the reticle will grow and shrink with the magnification setting. This means that measurements taken through the optic with the reticle will be correct no matter the magnification settings. Yes, the reticle can get kind of small on the "1" setting, but illumination will help make it visible for the role that magnification is intended for.
I was able to use the Vudu 1-10 to fire effectively to 500 yards mounted on top of a custom 6.5 Creedmoor bolt-action rifle. Such an optic will easily let the shooter go further than that. What the 1-10 offers is high-level versatility within certain parameters.
Other features include excellent turrets, with .1-MRAD adjustments on the MIL version and .25-minute adjustment on the MOA version. It also features an included throw lever.
---
Axeon 6-24×50 Long Distance Shooting Rifle Scope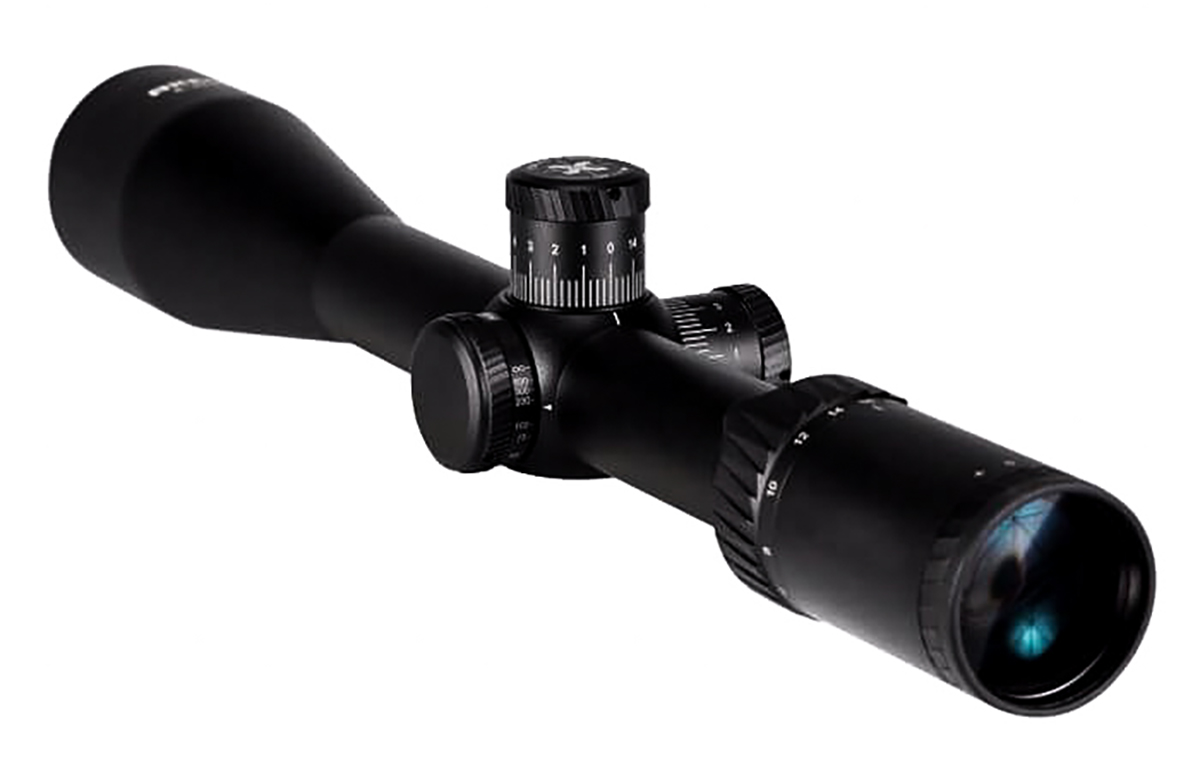 The budget-minded shooter is looking for products that can deliver performance without breaking the bank, and Axeon may have the goods in its 6-24×50 Long Distance Shooting Rifle Scope.
Featuring a 50mm tube and fully multi-coated objective lens, the Axeon SF Long Distance Scope has the right stuff for the precision shooter. A 30mm tube also makes its way on board, making it easy to find rings for attachment.
There are several other features that will bring a smile to the end user's face, adding even more value to this optic. The tactical turrets are exposed, so making quick adjustments to elevation and windage is easy and no worries about losing caps. The turrets come zero-reset adjustable. It also features side parallax adjustment to get it dialed in just right. The reticle is a Mil-Dot version featuring 1/4-MOA adjustments with audible clicks.
The optic proves rugged as well, delivering a lot for a price of $299.
---
Riton 7 Conquer Optic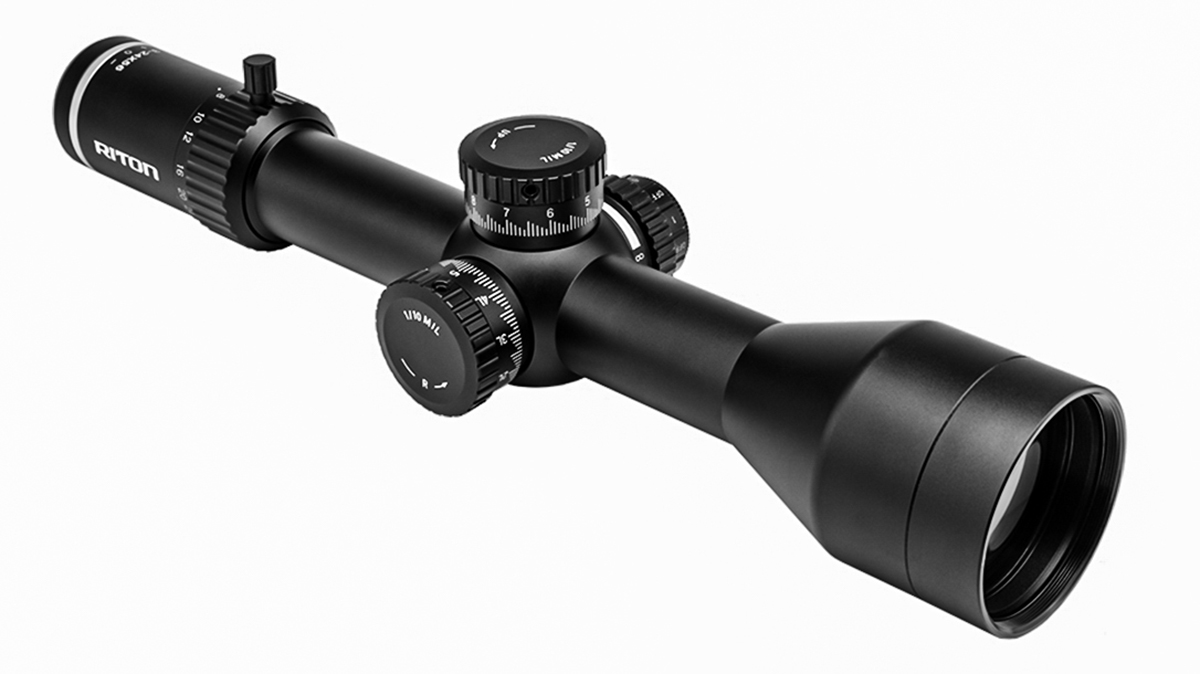 Riton is a Rendezvous favorite due to its ability to consistently bring new optics products in every category, from reflex sights to spotting scopes, LPVOs, and my favorite, long-range precision optics. And Riton has proven over and over again that you can have great performance at an affordable price—something I've long disputed.
The 7 Conquer 3-24×56 is one such optic. The 7 Conquer has Riton HD/ED glass. A bright and clean picture awaits the user. The reticle is an illuminated first focal plane type, so ranging will be consistent across the magnification range. The Oden reticle is a Christmas tree type and is easy to see. While it may seem intimidating, it is full of information for the trained shooter and will allow for easy and accurate holds for elevation and windage. The reticle also features six levels of illumination and auto shut off.
The turrets on the 7 Conquer are excellent with great feedback. It's a MIL type with .1 MRAD adjustments and a Zero Stop feature, meaning you'll always be able to get your dials back on track should you lose your way.
Waterproof and shockproof, durability is a thing with Riton optics, and the 34mm tube takes abuse well. I have shot the Riton's to a mile and beyond, and they always perform at a high level. They also feature a Lifetime Warranty, but you're not likely to have to use it.
This content was originally posted by Ballistic magazine in March 2022.
---
READ NEXT – 5 Rare Survival Rifles Designed for Air Force Crews