Stuffed peppers rank up there with meatloaf, spaghetti, and chicken pot pie as staples of the American dinner table. Many of us grew up eating stuffed bell peppers on an almost weekly basis as a cheap, quick, and filling meal to feed a family. But stuffed peppers aren't something to make solely for frugal or sentimental reasons. Stuffed peppers are just plain delicious. 
Most stuffed pepper recipes revolve around bell peppers that are…stuffed with ground meat (usually beef or turkey) mixed with rice and vegetables and then baked. They're often cooked in some sort of sauce and topped with cheese and an herb garnish.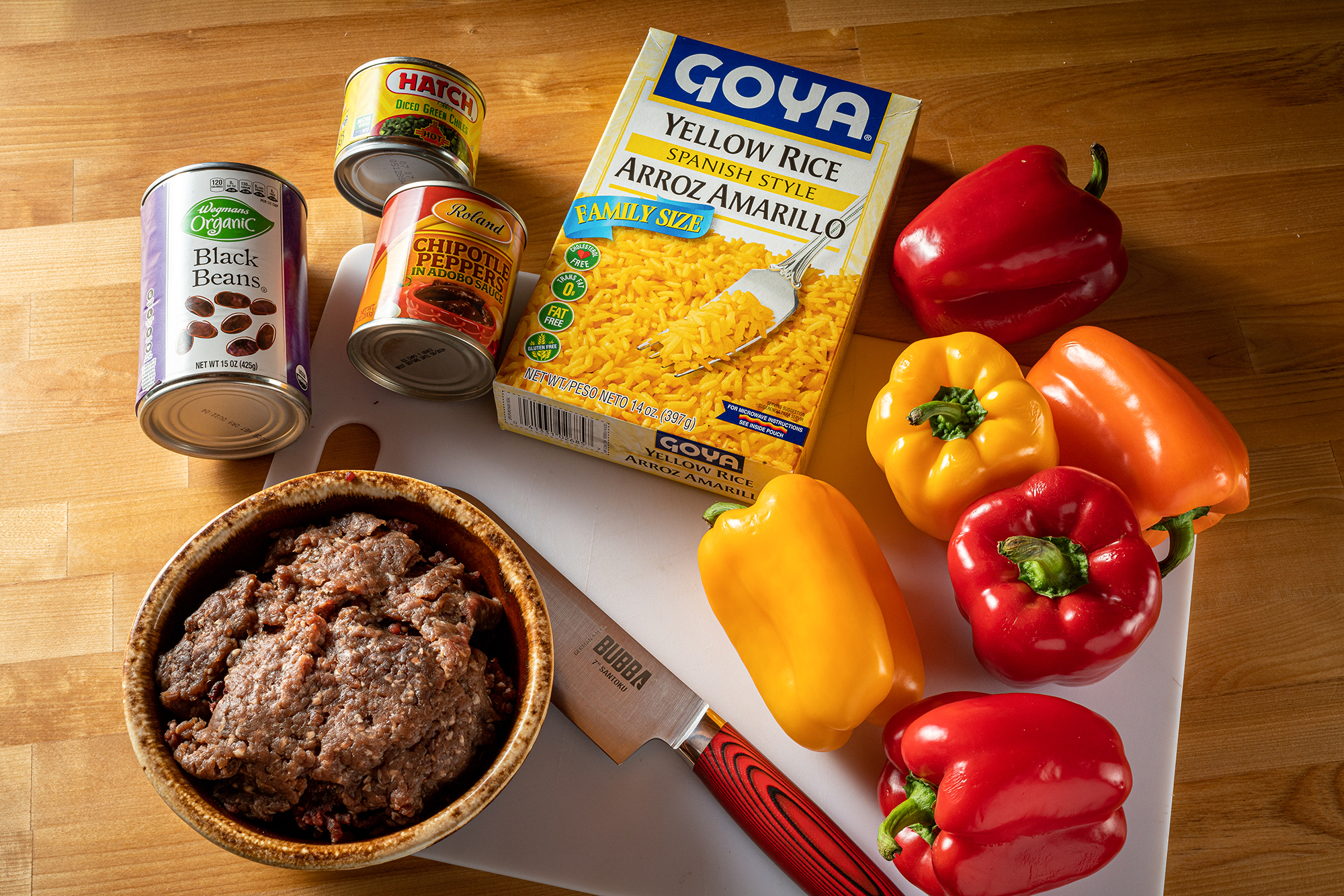 While many cultures have their versions of stuffed peppers, in America, they are most often cooked with an underlying Italian theme. But one of my personal favorite stuffed pepper recipes is a Tex-Mex-style stuffed pepper made with ground wild game meat. This recipe calls for ground venison, Spanish rice (you can also use any long grain rice or even brown rice), black beans, hatch chiles, a chipotle sauce, and a topping of shredded cheese, cilantro, and crema.
What I love about this recipe is the great balance of flavors. It's got the whole palate covered, from spicy and smokey chiles, sweet peppers, and savory filling, to gooey cheese and the cool contrast of the crema to tie it all together. It's also easy to make and doesn't require a lot of prep time or preplanning. Really any ground game meat can be used to make stuffed peppers, but I've mostly used ground whitetail deer meat.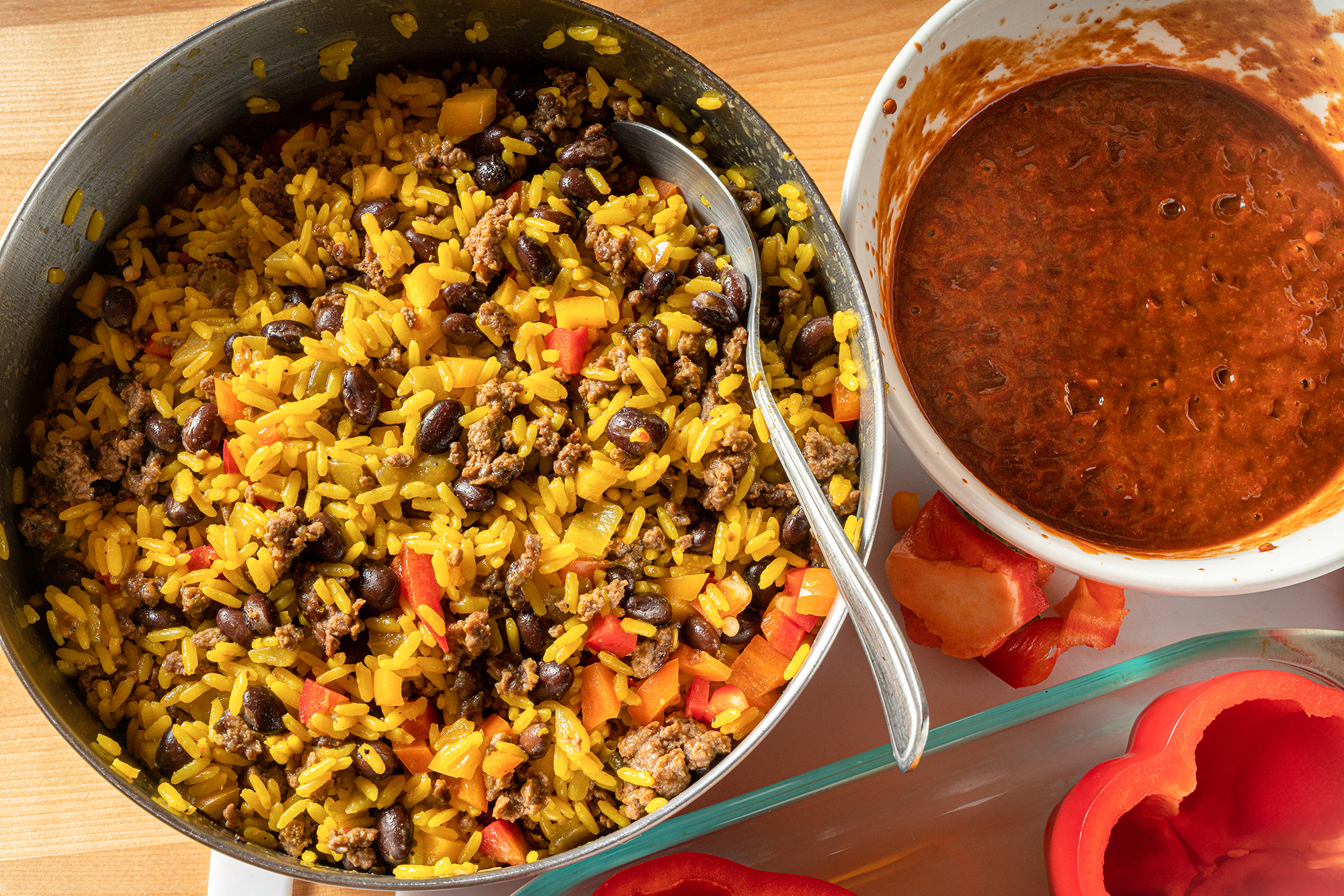 This recipe yields enough filling for about a dozen peppers, and I usually make a batch of six to eight. With the excess filling, you can make more stuffed peppers or use it for burritos, nachos, crunch wraps, or other recipes. I usually just eat mine out of the mixing bowl with a spoon in my boxers like a chad.
RELATED – How to Make Country-Fried Deer Heart
---
Ingredients for Venison Stuffed Peppers
1 21-ounce box Spanish rice or equivalent
6-12 bell peppers
1 pound venison meat, ground
1/2 cup yellow onion, diced
1/2 teaspoon cumin
1/4 teaspoon kosher salt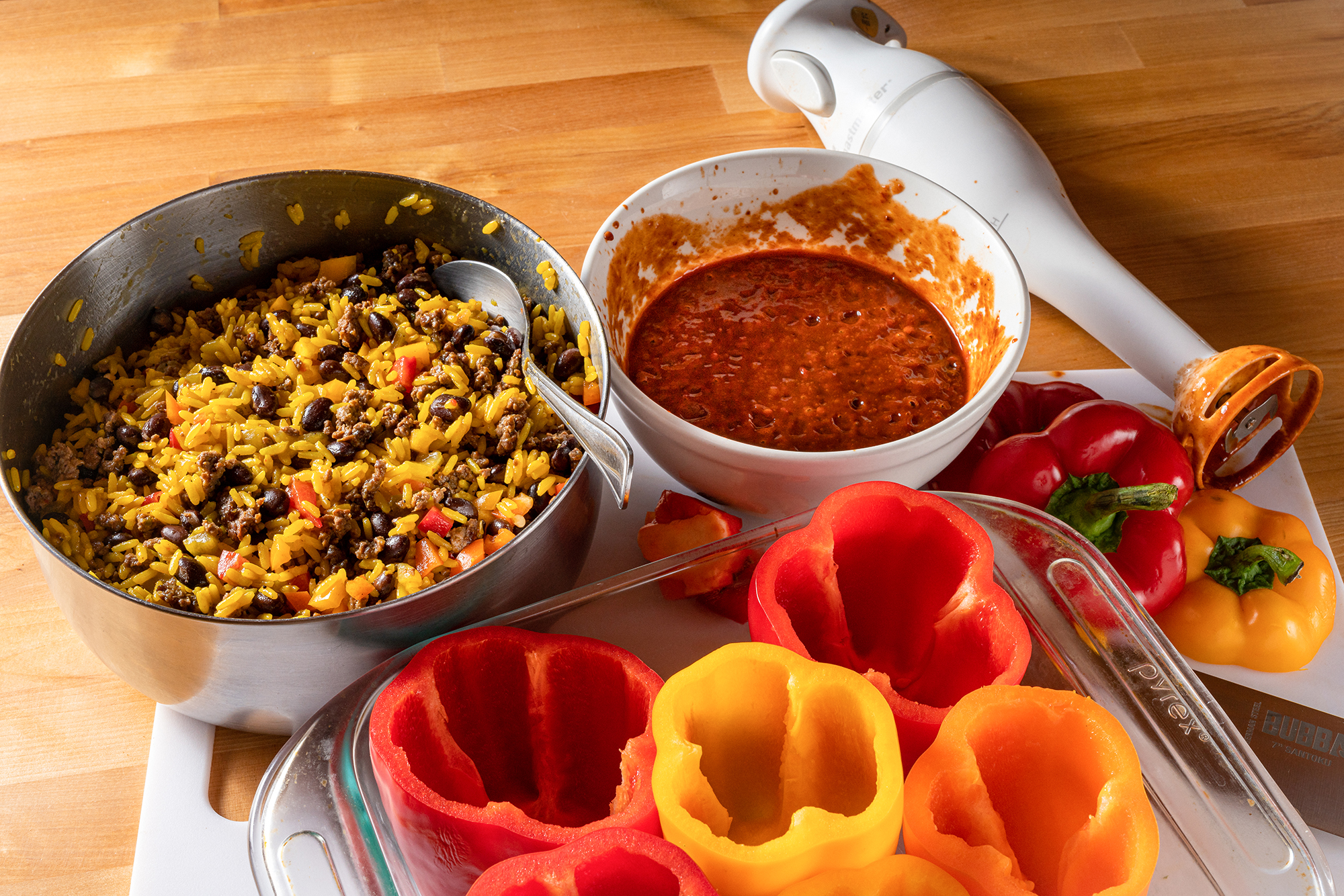 1/2 teaspoon paprika
1 15-ounce can black beans
1 4-ounce can hatch chiles
1 4-ounce can chipotle peppers in adobo
1 cup beef or game stock
Mixed shredded Mexican cheese (or queso blanco), cilantro, and crema (sour cream) for topping
RELATED – Recipe for Rabbit: Spice up Wild Game Meat Tandoori Style
---
Directions
Preheat the oven to 350 degrees.
Follow the directions on the box of Spanish rice and cook it until almost done but slightly al dente.
Cut the tops off the bell peppers, and remove all seeds and pith from the inside.
Remove the stem and dice the edible portion of the tops of the peppers.
Saute the ground venison and diced onion in a pan with a little olive oil. Add the salt (and pepper if you want) and other seasonings. Stir continuously until the meat is cooked through.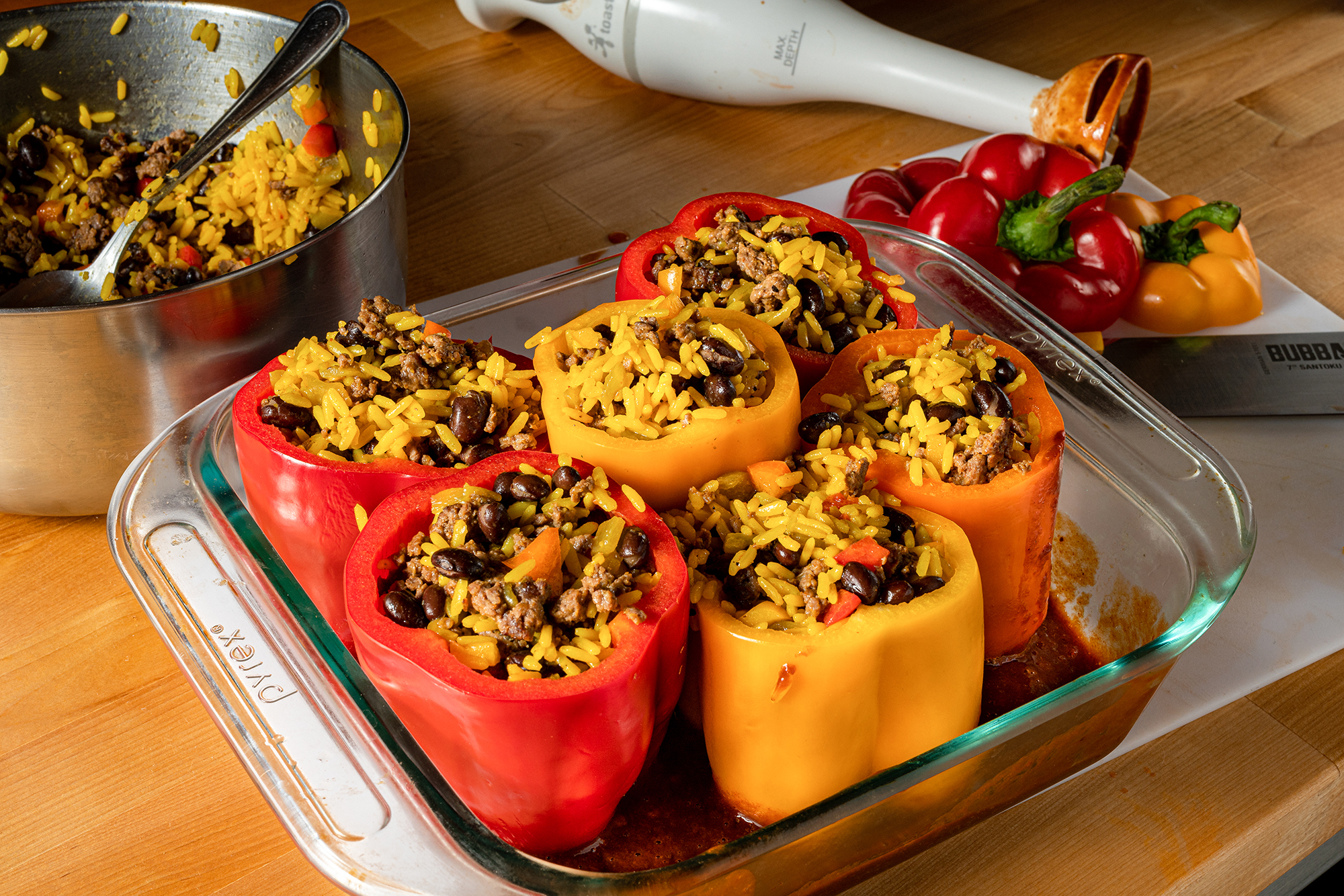 Transfer the meat to a mixing bowl and add the black beans, rice, hatch chiles, and the diced pepper tops. 
Mix everything together and spoon it into the bell peppers until the peppers are full. 
In a separate mixing bowl, add the chipotle peppers in adobo sauce and pour in the beef stock. Pulse the mix in a food processor, blender, or using a stick blender until smooth.
Pour the chipotle sauce into the bottom of a tall-sided baking dish, then arrange the stuffed peppers with the tops facing upward.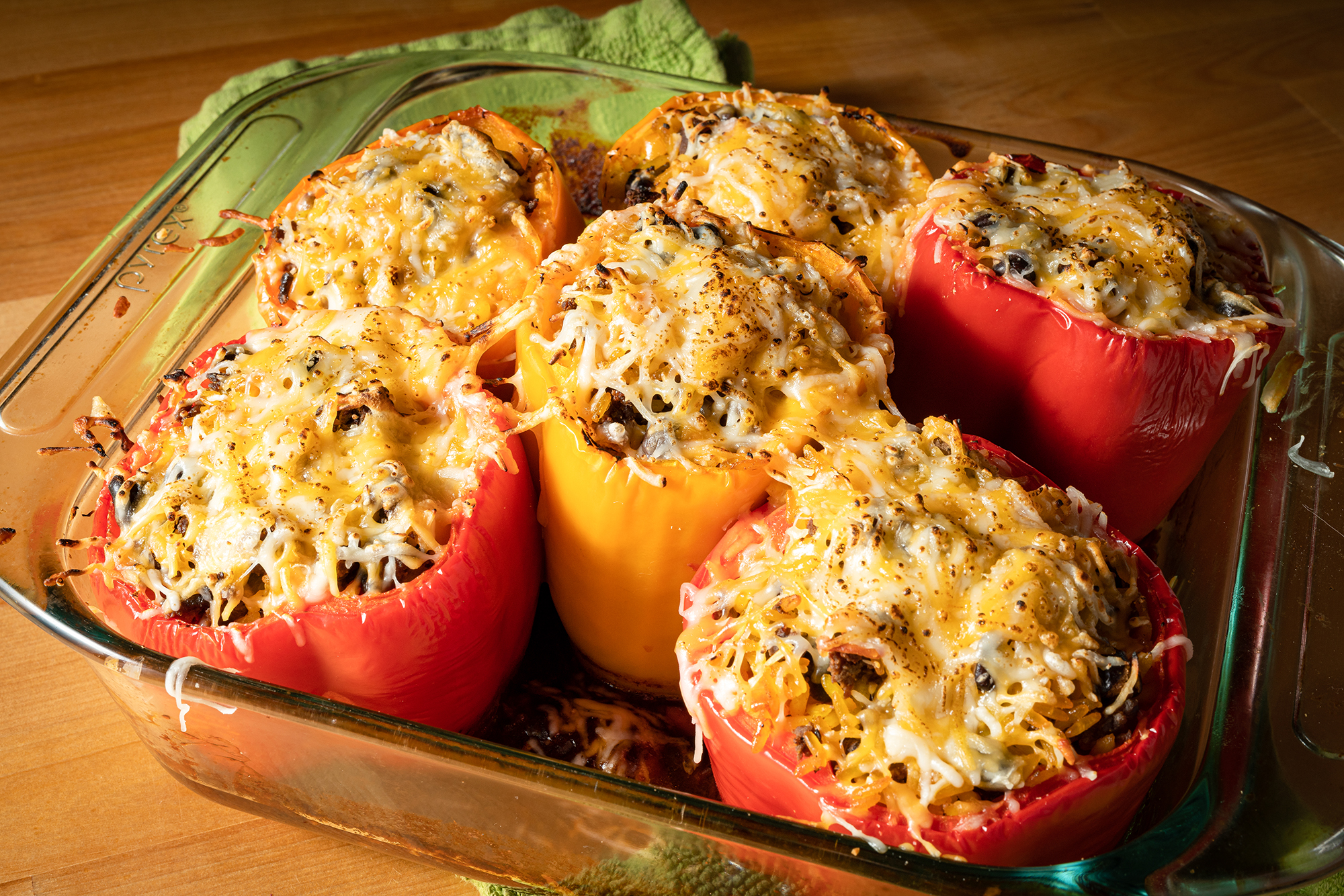 Cover the dish with aluminum foil and bake for about 30 to 45 minutes.
Remove the aluminum foil and sprinkle a generous amount of a Mexican shredded cheese blend over top of the stuffed peppers. 
Bake for another 5 minutes, or until the cheese has melted and is slightly browned.
Sprinkle cilantro or chopped parsley on top and served with a small dollop of crema or sour cream if desired.
---
READ NEXT – Venison Ragu: A Classic Wild Game Recipe