The 444 Marlin is a brush-busting SOB capable of taking out most of the big-game species in North America. This powerhouse brings a lot to the lever-gun table, making powerful handgun calibers like the .44 Magnum look weak and pathetic in a carbine.
Once touted as the most powerful lever gun round on the market, the 444 is a renowned cartridge that demands respect. It has undoubtedly taken every game animal in North America and cemented itself as an American classic, walking amongst giants such as the .30-06 Springfield, .30-30 Winchester, and the seemingly timeless .45-70 Government, which this round was intended to replace.
You will never be under-gunned with a 444 Marlin.
---
History of the 444 Marlin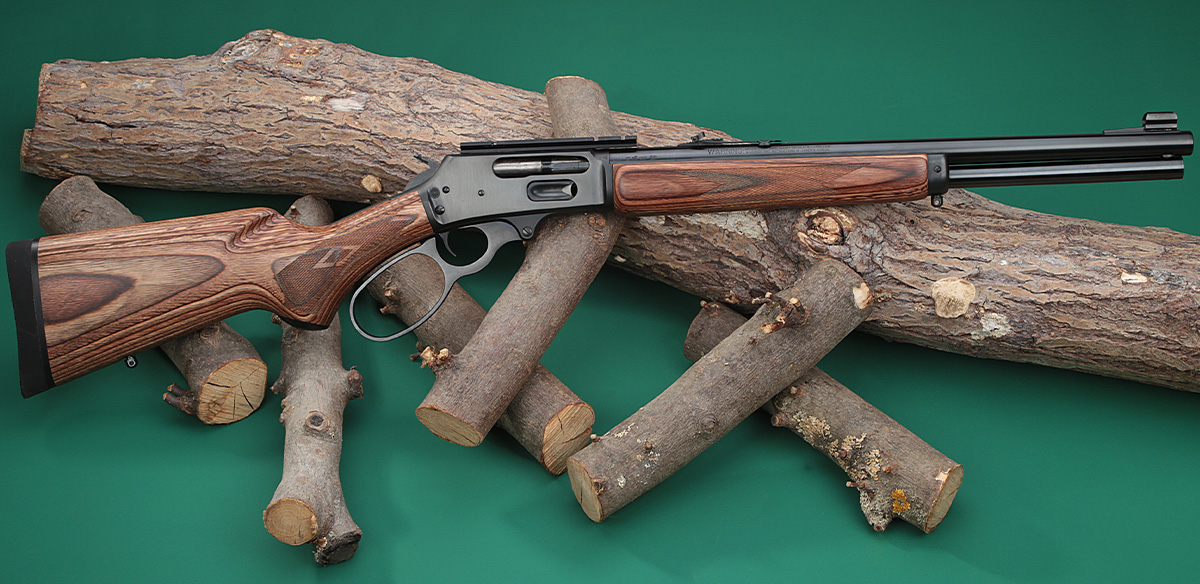 First announced in 1964, the 444 Marlin became the market's most potent lever-action rifle round. It is a high-pressure round with a straight-walled case designed as a hunting cartridge. It produces an impressive 1 1/2 tons of muzzle energy, leaving other lever-gun cartridges looking weak and underwhelming. At the time, nobody was making .45-70 ammo anymore, and there was no hard-hitting, big-bore lever-gun round to take its place — until the 444 came along.
Thomas Robinson and Arthur Burns were the two brains behind this powerhouse. Robinson worked as Marlin Firearm's director of research, while Burns was the manufacturer's metallurgist who helped make it all possible. The 444 Marlin started life as an unfinished .30-06 casing drawn out straight, and the base turned down to create a rim. It uses .44-caliber bullets that are 0.429 to 0.430 inches in diameter: the same as those used in the .44 Magnum.
Marlin developed a lever-action rifle for the new cartridge from a slightly modified Marlin 336 — a classic lever gun. All the changes to the 336 were internal and allowed for the larger dimensions of the new cartridge while slightly beefing up the action. This new model was appropriately designated the Model 444, or Marlin 444. It sported a 24-inch barrel and used the company's famous micro-groove rifling at a 1:38-inch twist rate.
Burns brought the prototype cartridge and rifle to Earl Larson of Remington. Larson presented it to the powers that be, and Remington agreed to produce new 444 Marlin ammunition. In 1965, 444 Marlin ammo and the Marlin 444 rifle both went into full production. In 1999, the twist rate was changed to the faster 1:20, and Ballard-style rifling was available.
GOOD GEAR – Hit the Waves on the Beach With the BRCC Lava Panther Roast
---
The Power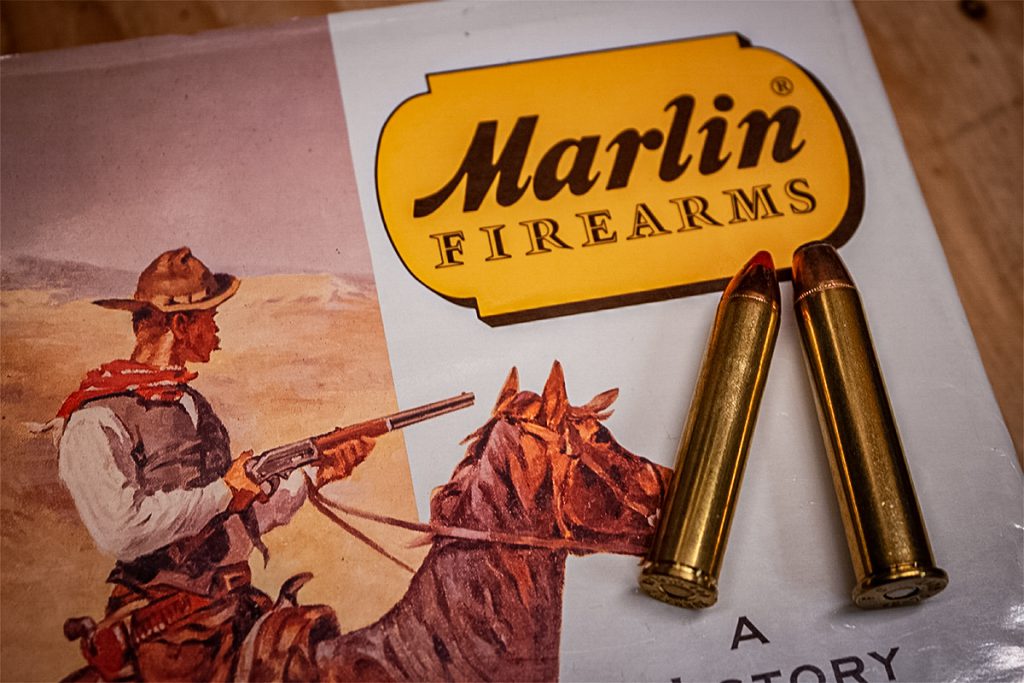 The initial 444 Marlin load brought to Remington used a 240-grain .44 Magnum pistol bullet. This bullet moved at 2,350 fps, or 550 fps faster than a .44 Magnum shot out of a rifle barrel. With this load, the energy is just shy of 3,000 ft-lbs. at the muzzle. This produces about as much energy as a 150-grain .30-06 loaded to 3,000 fps.
When brought to market in 1965, Marlin advertised the 444 as having very high "shocking power," more than the .338 Winchester Magnum beyond 100 yards.
"Although muzzle velocity and energy are commonly used as comparative figures to weigh one cartridge against another, they lack certain elements which bear a direct relationship to shocking power," Marlin stated in its 1965 catalog. "These figures include bullet diameter, shape, and construction features — all of which are vitally important in translating sheer energy into shocking power."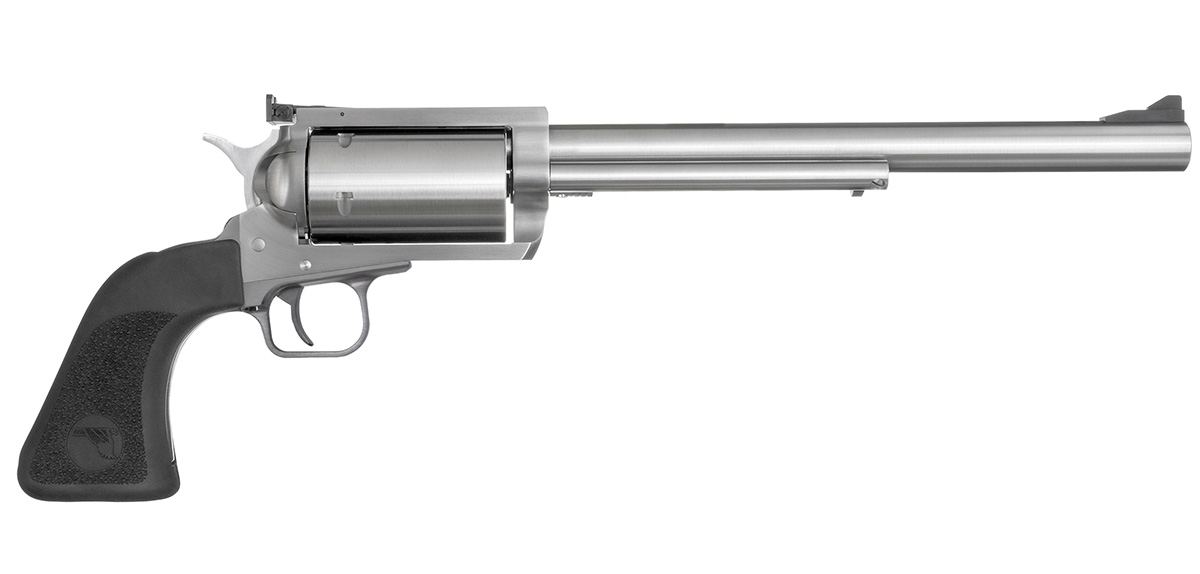 The 444 Marlin can be loaded with bullets as heavy as 335 grains; Hornady provides load data for the 444 bullets up to 300 grains. When loaded to Hornady's specs, velocities of 2,000 fps can be achieved with that bullet weight.
This load produces energy similar to that of the .308 Winchester, yet, with a chamber pressure of 42,000 psi, this cartridge can be considered a light magnum and is relatively low pressure compared to modern magnum cartridges that easily reach 62,000 psi.
RELATED – How Cowboy Guns Were Really Carried in the Old West
---
What Game Is a 444 Marlin Good For?
The 444 Marlin is an excellent straight-walled, big-bore hunting cartridge for a lever gun. Unlike most big-bore cartridges, the recoil is manageable, similar to a .30-06. Also, being a straight-walled cartridge, the 444 is legal to use in states with restrictions on flatter shooting bottleneck cartridges.
There are lots of opinions among hunters about what makes a given cartridge big or powerful enough — or too powerful — to use for this or that sized game. Most of those opinions are based on two factors: energy and penetration. Penetration is largely dependent on bullet construction and sectional density (SD). The SD density is calculated using the bullet weight and diameter.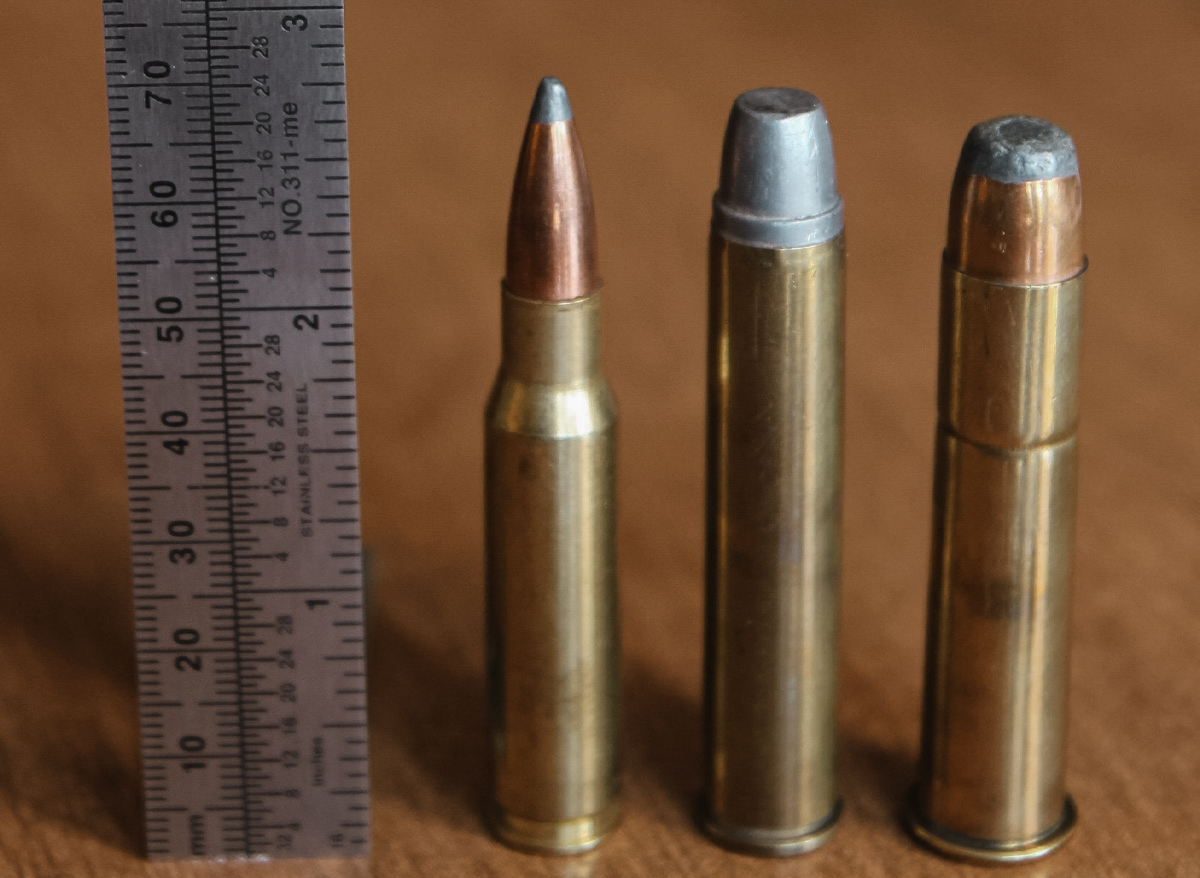 Theoretically, the higher the SD, the better the penetration. Penetration is a hard metric to gauge as it is also affected by shot placement and whether or not the bullet hits bone. So, let's look at the other factor: energy.
The chart below is helpful in understanding how to match a round to a game animal from an energy perspective. This is straight out of P.O. Ackley's book, Handbook for Shooters and Reloaders, and is widely accepted as the standard. Keep in mind that the figures below represent the energy at impact, not muzzle energy.
| | | | |
| --- | --- | --- | --- |
| Game Animal | Minimum | Adequate | Preferred |
| Deer, Antelope, Sheep, Goat | 900 ft-lbs | 1,200 ft-lbs | 1,500 ft-lbs |
| Elk, Bear up to 600 lbs | 1,500 ft-lbs | 2,000 ft-lbs | 2,500 ft-lbs |
| Large Bear, Moose | 2,100 ft-lbs | 2,800 ft-lbs | 3,500 ft-lbs |
Using this chart as a reference, the 444 Marlin can take large bears and moose. While it could be seen as overkill for whitetail deer, it is a great brush cartridge and will get the job done. Dead is dead.
GOOD GEAR – From Active Days To Everyday Comfort, the BRCC CAF Skull Pullover Hoodie
---
Ballistics Comparison: 444 Marlin vs. .45-70 Govt
444 Marlin
.45-70 Govt
Bullet Weight
300 grain
300 grain
Bullet Diameter
.430
.458
Velocity
2,000 fps
2,100 fps
Sectional Density(SD.)
.232
.204
G1 Ballistic Coefficient
.245
.197
Energy (ft-lbs) / Drop (in)
Muzzle
2,664 / -1.5
2,938 / -1.5
50 yards
2,186 / +0.6
2,418 / +0.5
100 yards
1,784 / 0.0
1,979 / 0.0
150 yards
1,452 / -3.8
1,612 / -3.4
200 yards
1,184 / -11.7
1,312 / -10.4
250 yards
979 / -24.4
1,076 / -21.8
---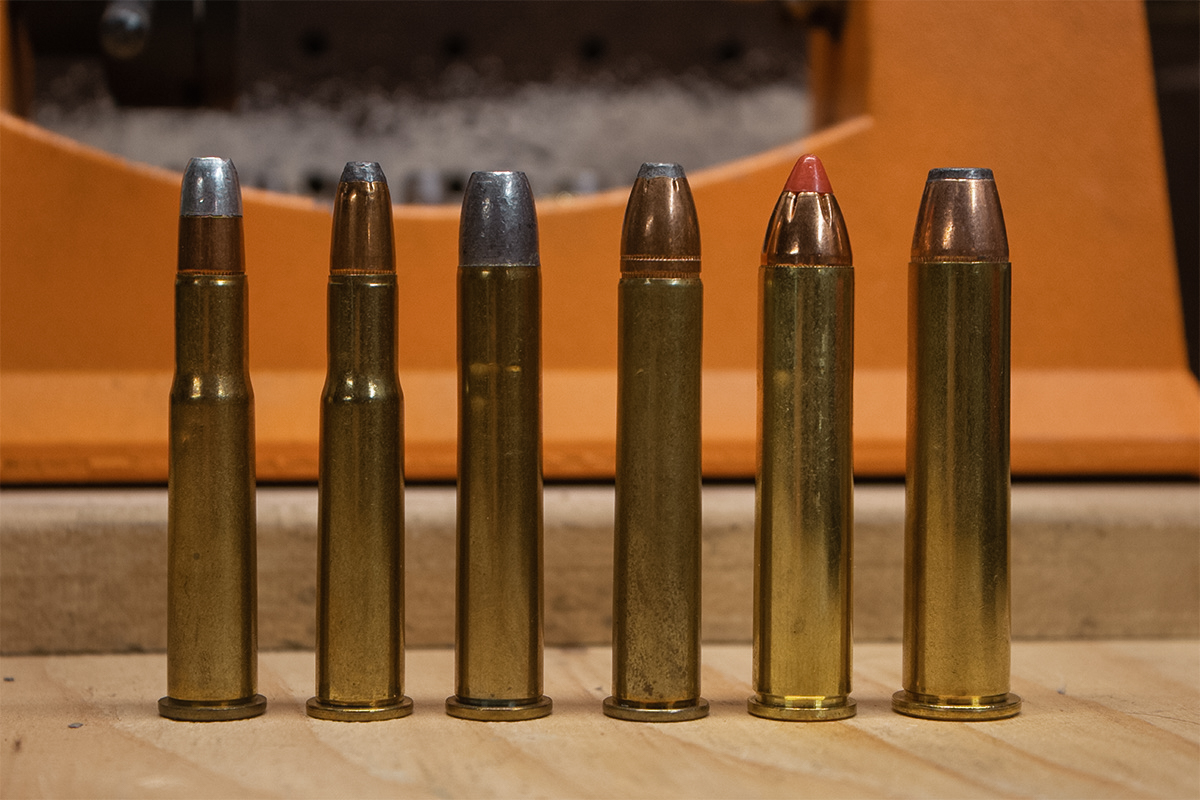 The 444 Marlin is close in class to the legendary .45-70. Often seen as being outdated, the .45-70 has been around for a long-ass time: since the 1870s. It is still popular because of its incredible versatility. Currently, it is the most popular big-bore, lever-gun cartridge available today. So how does the 444 Marlin compare?
Dimensionally, the two could be mistaken for one another by the untrained eye. The max case length of the 444 Marlin is .100" longer than the .45-70. The 444's diameter of the case and the rim are slightly smaller. As far as case capacity goes, the .45-70 has a larger internal volume, so therefore, it can hold a little more powder and push higher velocities with the right powder.
When using similar 300-grain bullets, the 444 Marlin has the upper hand with penetration. It has a slightly higher sectional density as the diameter of the bullet is .028" less. Once again, the penetration is largely affected by bullet choice and shot placement, but assuming everything else, including velocity, is equal, the 444 has the upper hand here.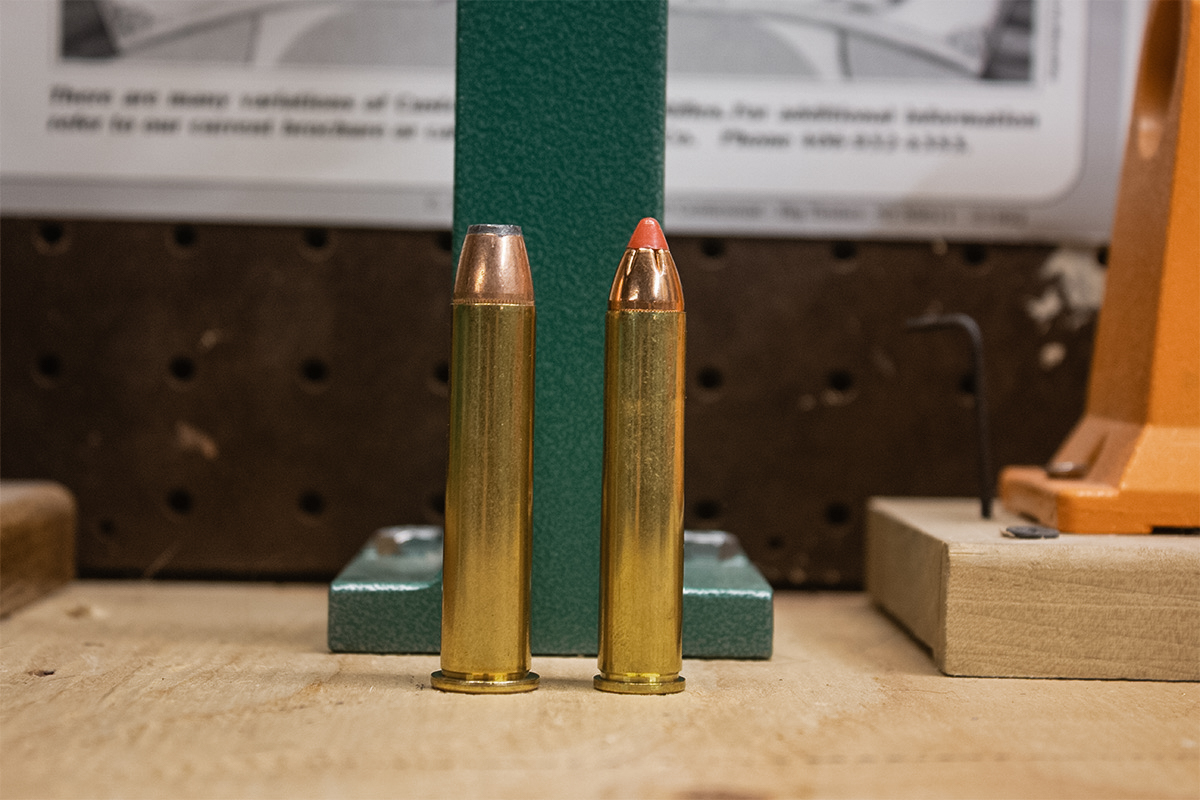 When loaded at a similar pressure safe for lever guns, the .45-70 can get an additional 100 fps over the 444 Marlin. That translates to it doing a little bit better ballistically. Trajectory-wise, they shoot within a half inch of each other out to 150 yards and within three inches out to 250 yards.
While neither of these trajectories can be labeled as flat, the .45-70 has less drop than the 444 Marlin out to 200 yards. The .45-70 Govt also has an advantage in energy over the 444 Marlin at every distance.
So what advantage does a 444 Marlin have over a .45-70? Here's a hint: it's not found in its ballistics. The 444's slightly smaller dimensions mean it can be chambered in lighter, smaller-framed guns.
A direct comparison of these two calibers is unfair, as they are designed to be in different bullet weight classes. However, one thing is undeniable: Both calibers kick ass in the field.
RELATED – 22 Eargesplitten Loudenboomer and Other Cool Wildcats
---
Does Marlin Still Make a 444?

In 2020, Ruger announced its acquisition of the Marlin firearms brand from Remington. Ruger has restarted production of Marlin firearms since, but so far, the new iteration of the storied brand has only released the Marlin Model 1895 in .45-70. Therefore, Marlin does not offer a rifle chambered in the 444 at the moment, but many are hopeful that will soon change.
Although Marlin doesn't currently make a 444, other gun companies do. C. Sharps Arms Company in Big Timber, Montana, offers its single-shot Winchester 1885 Highwall in the 444, as does Magnum Research, which offers its BFR Revolver in the cartridge: A handful, no doubt!
On the ammo side, factory rounds are still produced by Hornady and countless boutique manufacturers. Hornady offers different loads in its LeverEvolution and Superformance ammo lines. The LeverEvolution version is loaded with the company's famous 265-grain ballistic-tipped FTX bullet that is safe in tubular magazines. The Superformance uses a 265-grain Interlock or soft-point bullet and can get an impressive 2,400 fps without increasing pressures.
GOOD GEAR – Wear a Hoodie That's Stylish With the BRCC Reticle Duck Camo Pullover Hoodie
---
The Future of the Cartridge

The 444 Marlin rifle won't be found on the shelves of every sporting goods store anytime soon, and the cartridge has definitely been relegated to niche status.
It never attained the general popularity that the .30-30 or .30-06 did, and it doesn't need to. Most deer hunters aren't shooting 100s of rounds a year, and a couple of boxes of ammo might last them a decade or two. The 444 will continue to make its mark in the hunting world for many years, putting meat in the freezer from Florida to Alaska.
---
READ NEXT – 6mm ARC: A Compact Long-Range Round You Should Know About