Most of us were introduced to tandoori cooking through Indian restaurants and buffets. Tandoori refers to food cooked in a tandoor, which is a large cylindrical oven, often made of clay or metal. Tandoors and similar ovens are an integral part of many ethnic Asian and Middle Eastern foodways. Using one, or at least the cooking method can create one of the most flavorful and interesting recipes for rabbit that you're likely to find.
Tandoori-style meats (often chicken, lamb, and goat), as well as flatbreads, like naan, cooked in a tandoor, have become synonymous with Indian cuisine in America. Beyond the oven itself, meat that is cooked tandoori style is defined by a characteristic bright red color and a heavily spiced yogurt-based marinade. The bright red hue usually comes from food coloring, not from the spices or cooking process.
Although wild game is not generally the best choice for dry-heat cooking methods such as tandoori, you can absolutely pull it off with proper planning and maybe an extra step or two along the way. Rabbit, pigeon, dove, squirrel, and other small critters can be cooked in the tandoori style, as can cuts of venison and other big game, either as small roasts or cut and skewered.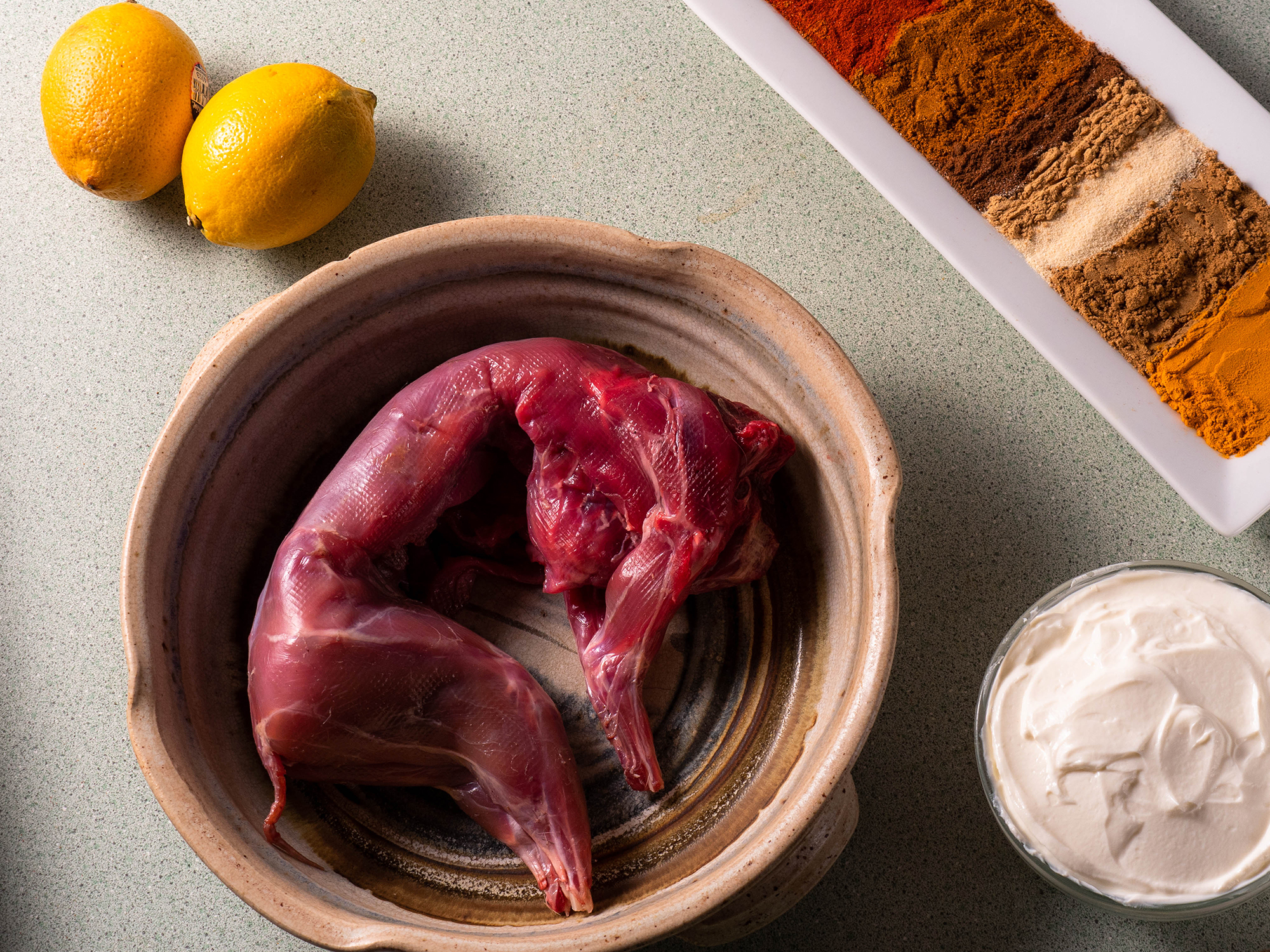 If you have a legit tandoor, wood-fired pizza oven, Big Green Egg, or a similar toy in your backyard, those will obviously work the best for cooking tandoori style. But the rest of us can make it work using an oven, broiler, or grill. You could also use a smoker or pellet grill if you don't mind mixing flavors. Hell, it would probably be pretty damned good.
The biggest challenge with cooking lean wild game tandoori style is keeping the meat from becoming dry and tough. A longer marinade will help significantly to tenderize and keep lean wild meat from drying out.
Brining or injecting the meat using a tenderizing curing salt solution can also help a lot, but it's optional and adds at least a couple of days to the process. Whatever method or tool you use, you will likely want to add moisture and steam at some point during the cooking process. This can be done in a number of ways, depending on what and how you choose to cook, but evaporating water in the oven or covering the meat in aluminum foil for a period of the cooking process will help ensure a more tender, moist outcome.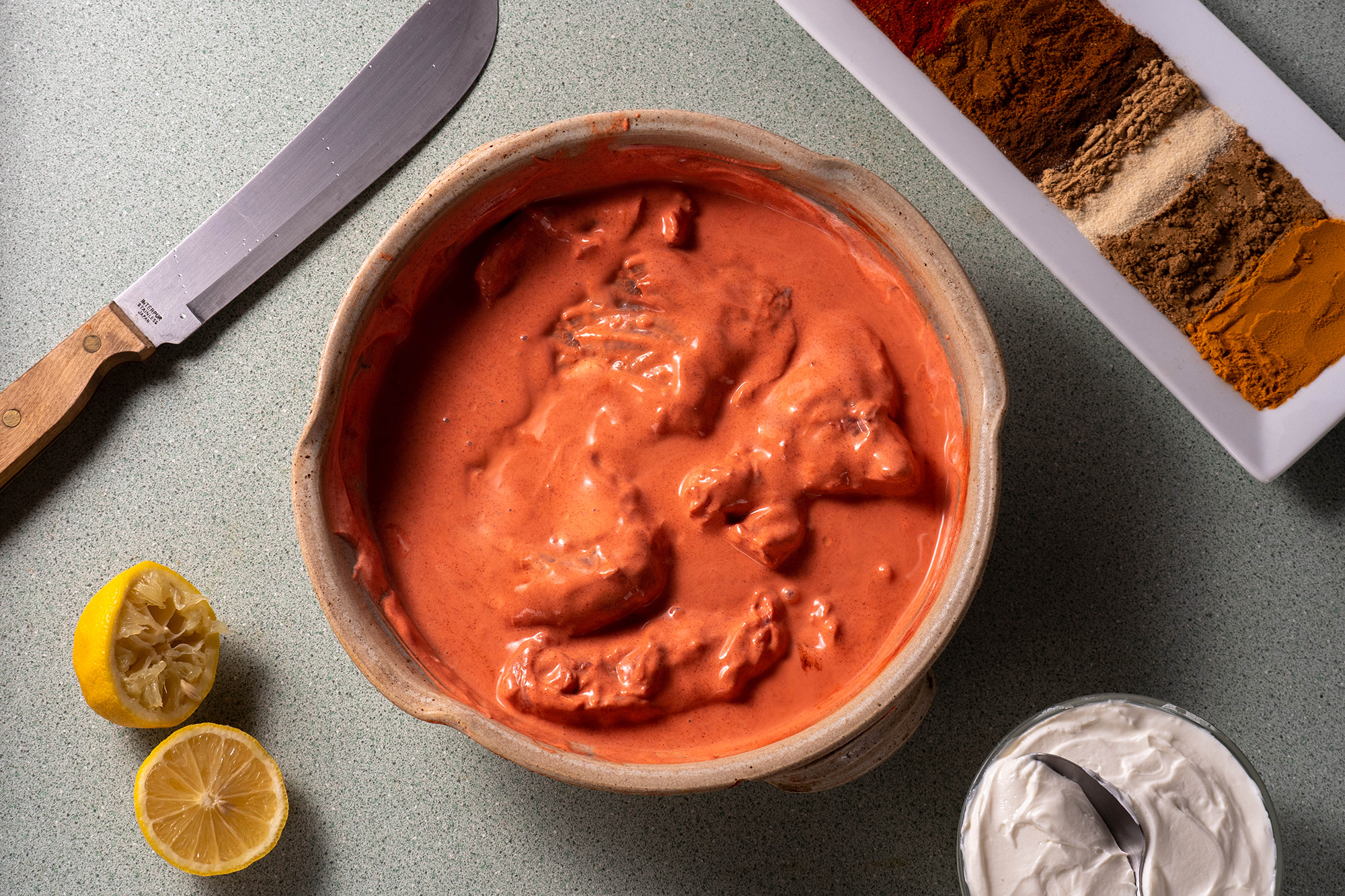 For seasoning and marinating the meat, you can choose to use a premixed tandoori spice packet, which often includes the dye, or make your own spice blend and either add or omit the food coloring. I personally like to do a mix. I will use a tandoori spice blend, but also incorporate additional spices to fill out the flavor I'm looking for (read: more cayenne pepper to make the dish hotter). Simply mix the spices with yogurt and lemon juice, and marinate your meat in that for a few days before cooking.
For this recipe, we're using cottontail rabbit and cooking it in the oven to keep things as simple as possible. There will certainly be some trial and error involved when adapting this recipe to the tools, methods, and meats you have available.
RELATED – Mexican Bbq: As Authentic as It Gets
---
Tandoori Rabbit Ingredients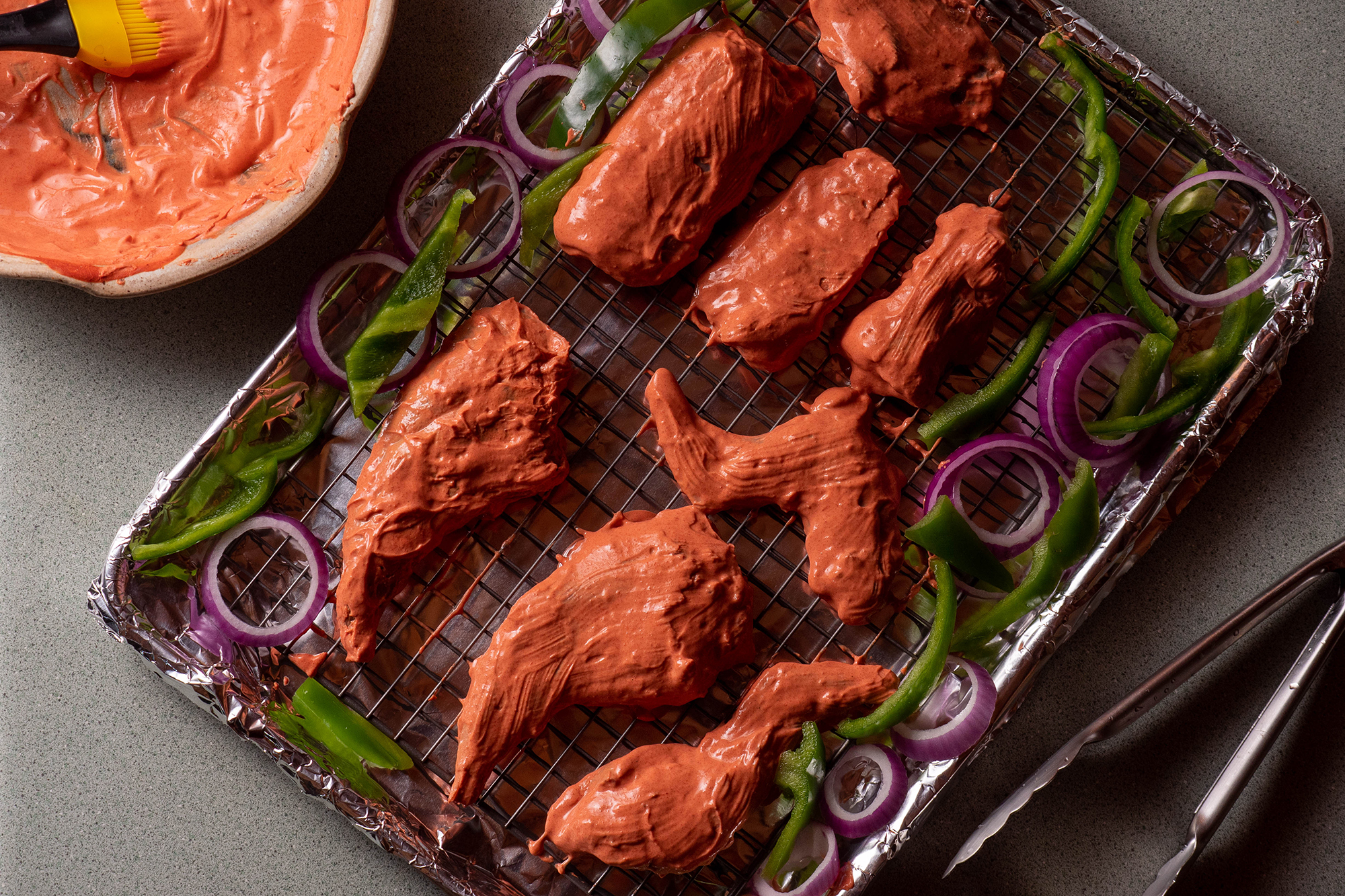 1 whole rabbit
2-3 lemons, juiced
2-3 cups Greek or plain yogurt
1 oz. packet Kikkoman Tandoori Chicken Seasoning Mix, or equivalent alternative
3/4 tablespoon cayenne pepper
1 teaspoon kosher salt
2 teaspoons cumin
2 teaspoons garam masala
1 teaspoon ground coriander
1 teaspoon ground ginger powder
1 teaspoon turmeric
1 teaspoon paprika
1/2 teaspoon ground clove
Extra Ingredients for Serving
Naan bread
Roast peppers and onions
Basmati rice
1 cup yogurt
2-3 tablespoons of cucumber, diced
1/3 cup dill, finely chopped
1 tablespoon lemon juice
1/2 teaspoon cumin
---
Directions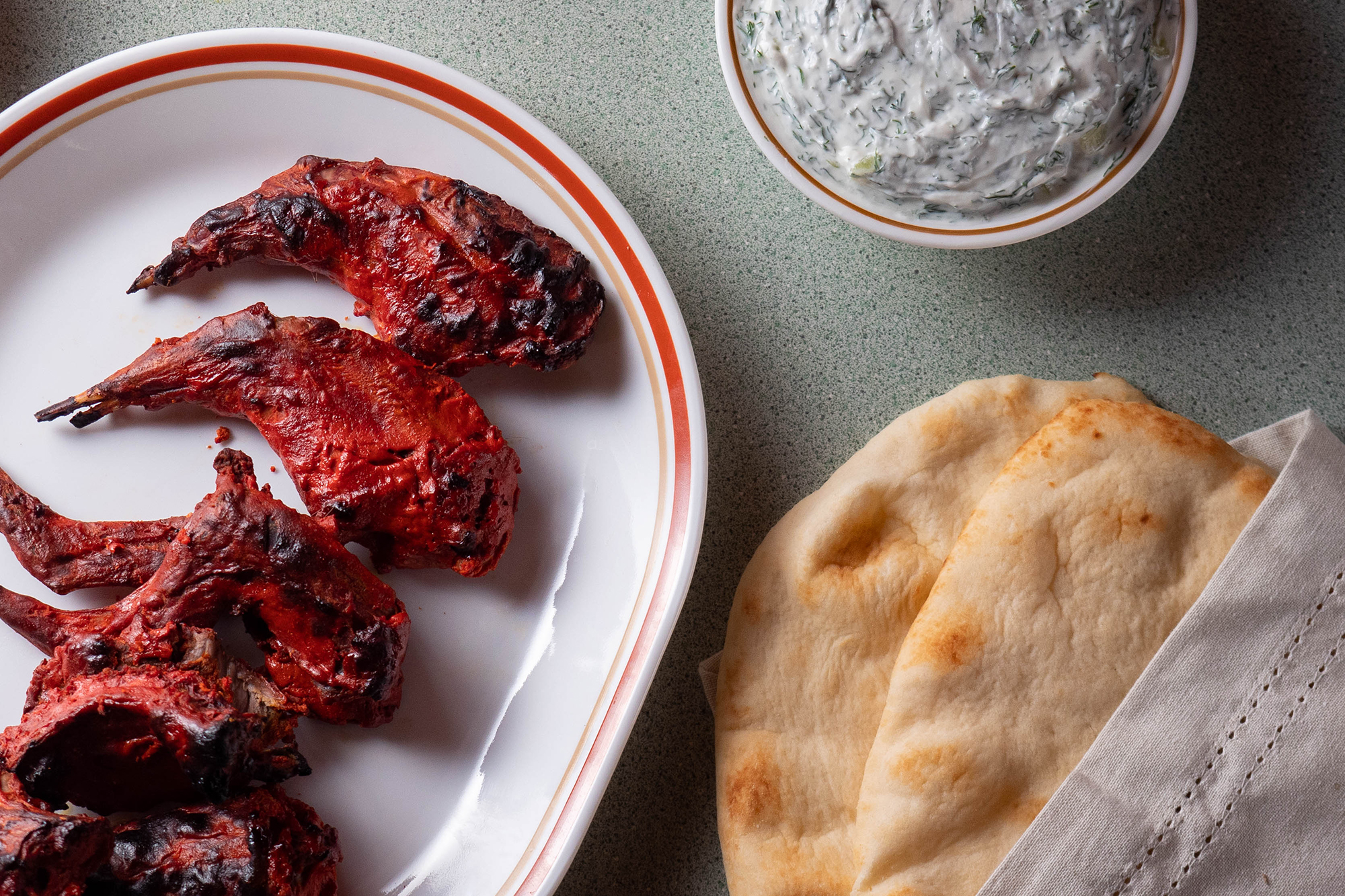 Clean and quarter the rabbit. Using a cleaver, cut the body behind the last rib and in front of the pelvis, creating three torso sections. Split the saddle (rib section) down the spine into two symmetrical pieces for a total of 8 pieces of rabbit. If you plan to brine the rabbit, as mentioned above, do it now and brine for a few days.
Mix the juice of 2 to 3 lemons into 2 to 3 cups of yogurt.
Mix the tandoori seasoning packet and any additional dry spices and seasonings in a bowl, then fold it into the yogurt.
Submerge the rabbit pieces in the marinade and refrigerate for a few days, up to a week if the rabbit is fresh.
Preheat the oven to 425 degrees.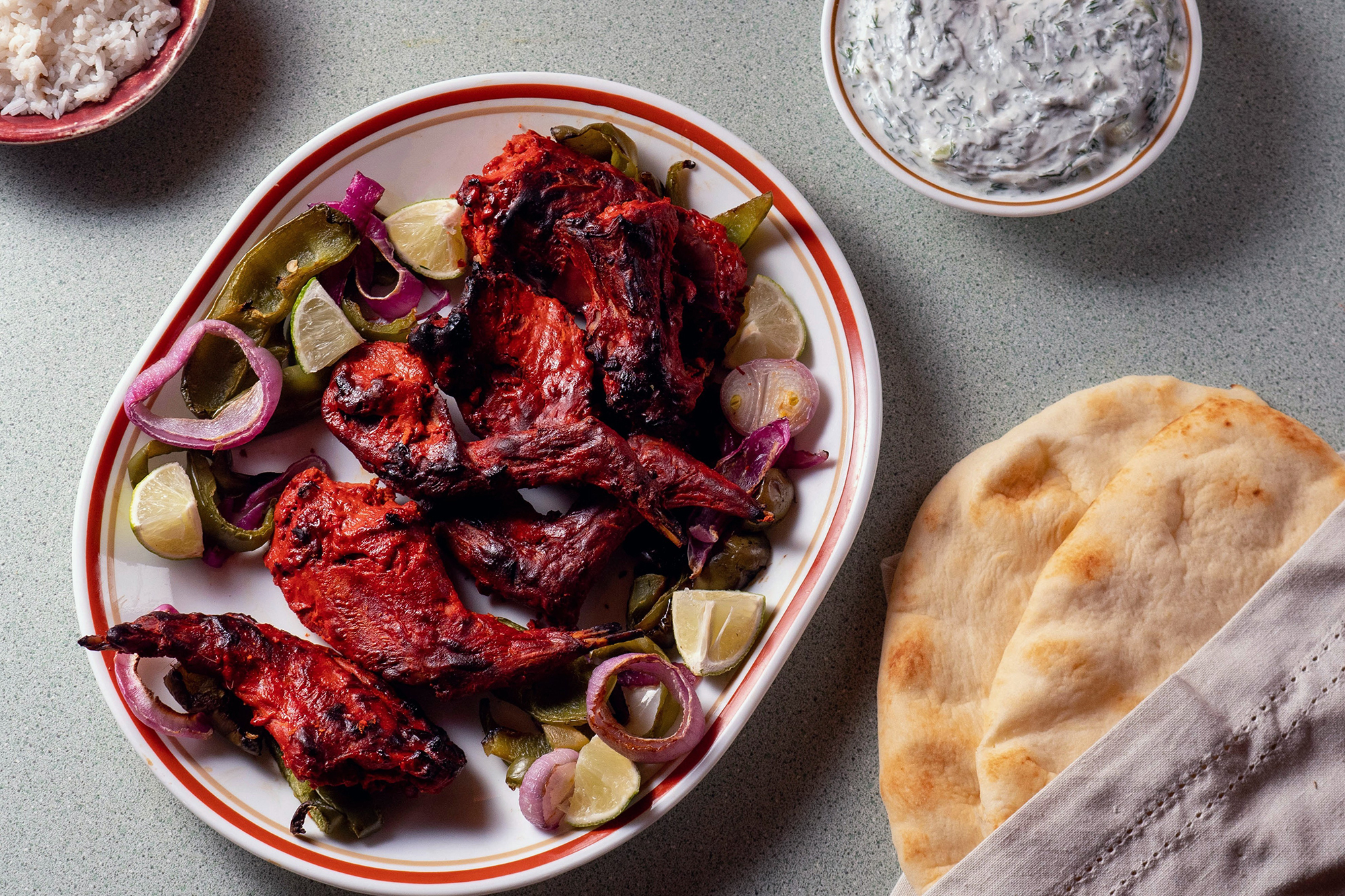 Place the pieces of rabbit onto a wire rack over a sheet tray, and bake for about 10 to 15 minutes.
Pull the tray out of the oven and place rings of peppers and onions around the outside of the wire rack. Pour about a cup or so of water onto the bottom of the sheet tray, and continue to bake for another 15 to 20 minutes. You can place a loose-fitting aluminum foil tent over top of the baking sheet to collect steam, but it's not necessary. Continue to bake until the meat is cooked through but tender.
Remove the rabbit from the oven and serve with the peppers and onions, some warm naan bread, basmati rice, and a side of yogurt mixed with diced cucumber, dill, lemon juice, and cumin

---
READ NEXT – Classic Venison Osso Buco Is Stupid Simple and Guaranteed to Impress