"Ragu" is one of those words we see on menus and hear in conversation all the time, but most of us have no idea what it actually is. As if things weren't confusing enough, sometimes you see it spelled "ragú," and sometimes "ragout." There's even a jarred sauce company named RAGÚ that's in pretty much every supermarket in America.
To set the record straight: They are not all the same thing.
Ragu is an Italian pasta sauce that is generally made with ground or shredded meat, as well as wine, and usually tomato. It is similar to and even encompasses other Italian pasta sauces such as bolognese. Ragout, on the other hand, is a stew of French origin often made with braised meat and/or vegetables and served with potatoes or another starch such as couscous, hence the spelling.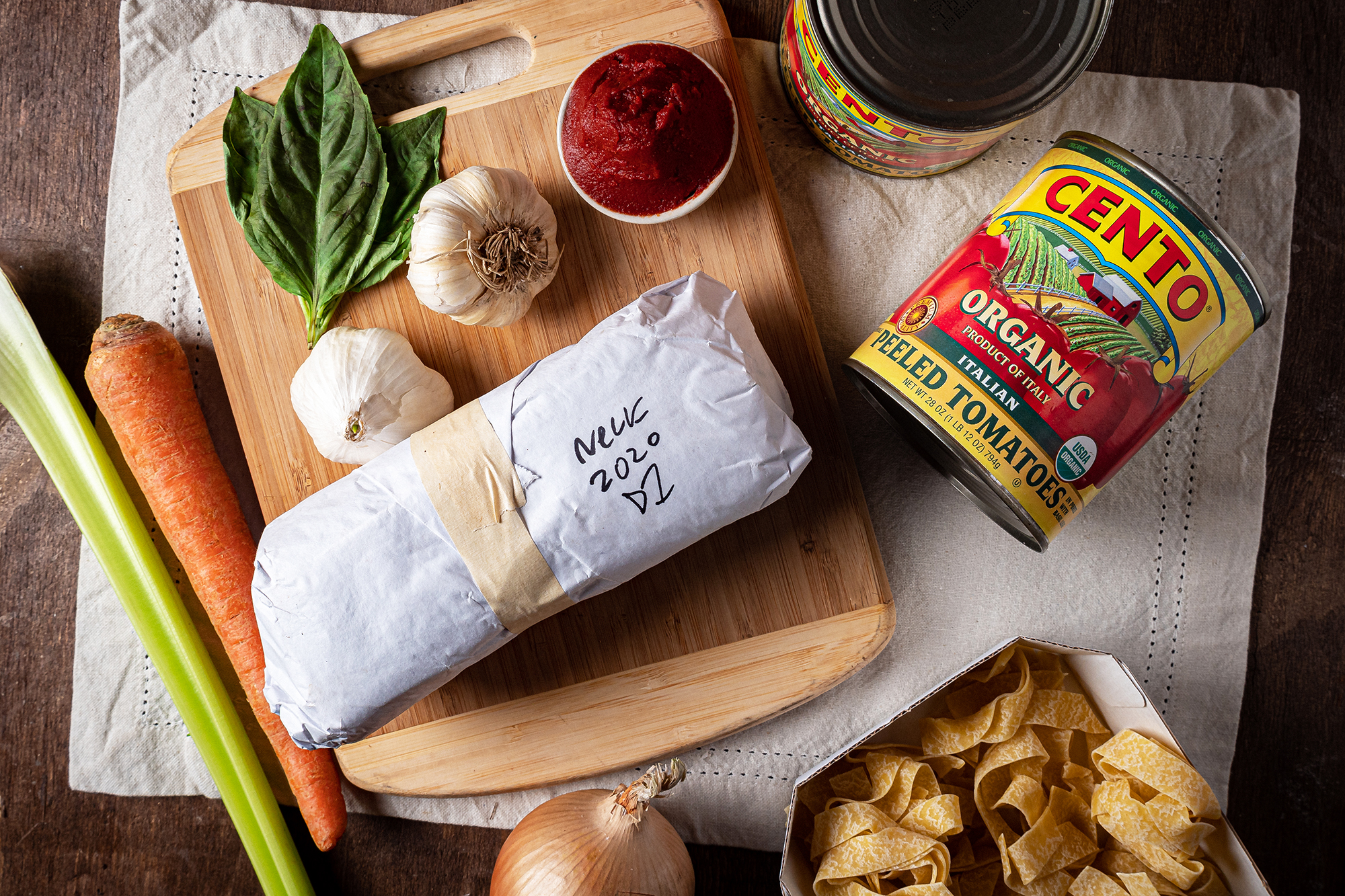 While they are both amazing in their own right, ragu with pasta is one of my absolute favorite meals of all time. I was first introduced to the Italian ragu while I was working in a restaurant years ago. I learned to make it using the scraps and rib meat from the process of butchering (ironically) a Frenched rack of lamb.
It wasn't until some years later that I started using wild game. A friend of mine made a venison ragu using a neck roast for a conservation dinner, and it was absolutely amazing. Looking back, I can honestly say it was one of those pivotal meals that shaped how I think about wild game cooking.
Since then, I've made venison ragu almost religiously. My favorite version uses venison neck roasts, but both shanks and rib meat are excellent options. You get a more intense flavor from using a slow-braised, tough, bone-in cut of meat compared to ground meat. The sauce benefits dramatically from the slow breakdown of connective tissue and nutrients from the bones.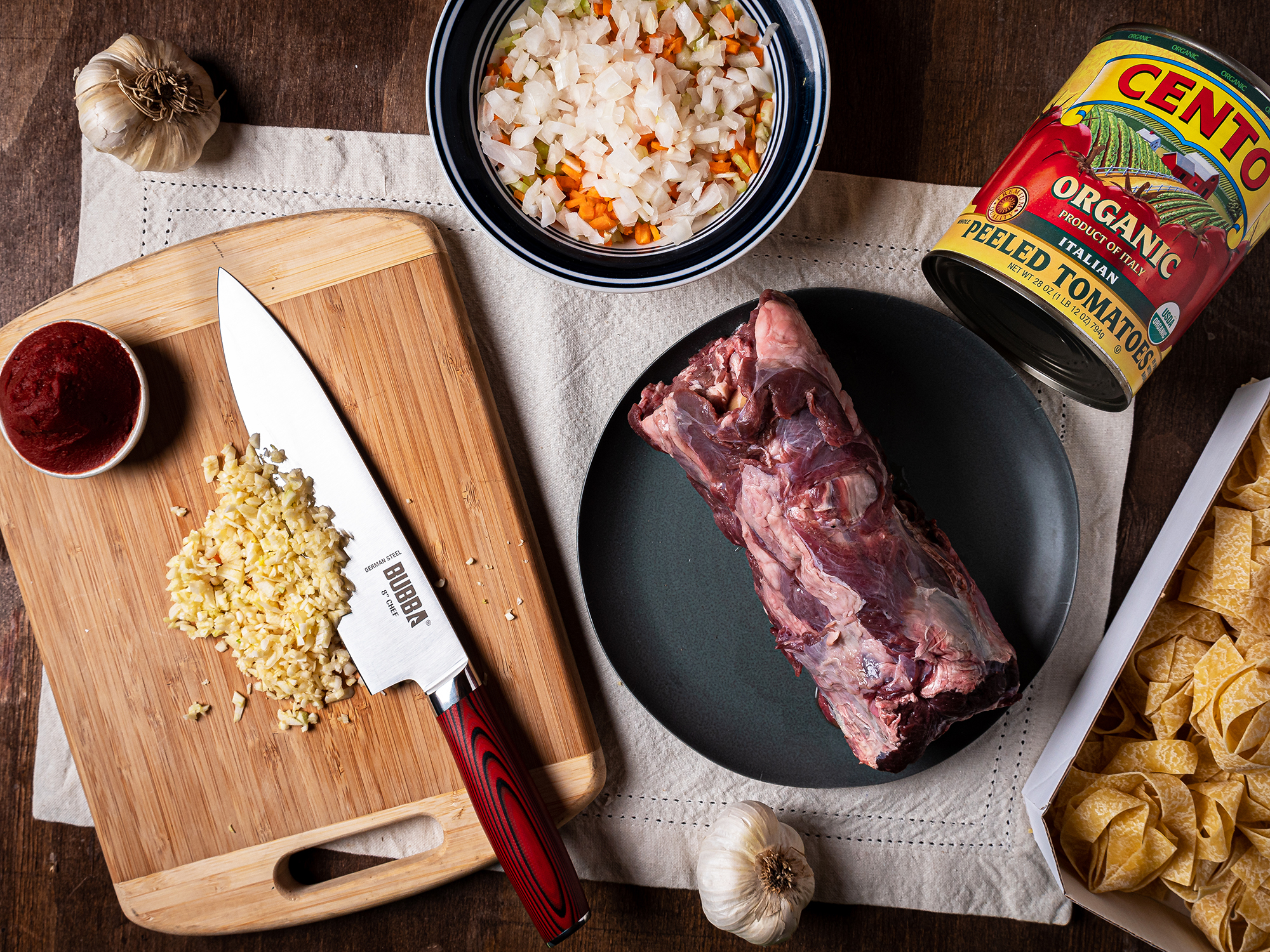 Once cooked, neck roast meat is tender, silky smooth, and stringy in a good way. It also clings to pasta well, so you get a bit of everything in each bite. It's a dish that no matter how many times I make, I never get sick of eating.
Here's a simple recipe for venison neck roast ragu that you can make at home, but there are plenty of ways you can modify it for your own tastes and different cuts of meat. This recipe calls for pappardelle, but another pasta like rigatoni is a fine substitute.
RELATED – Get a Little Classy With This Venison Wellington Recipe
---
Venison Ragu Ingredients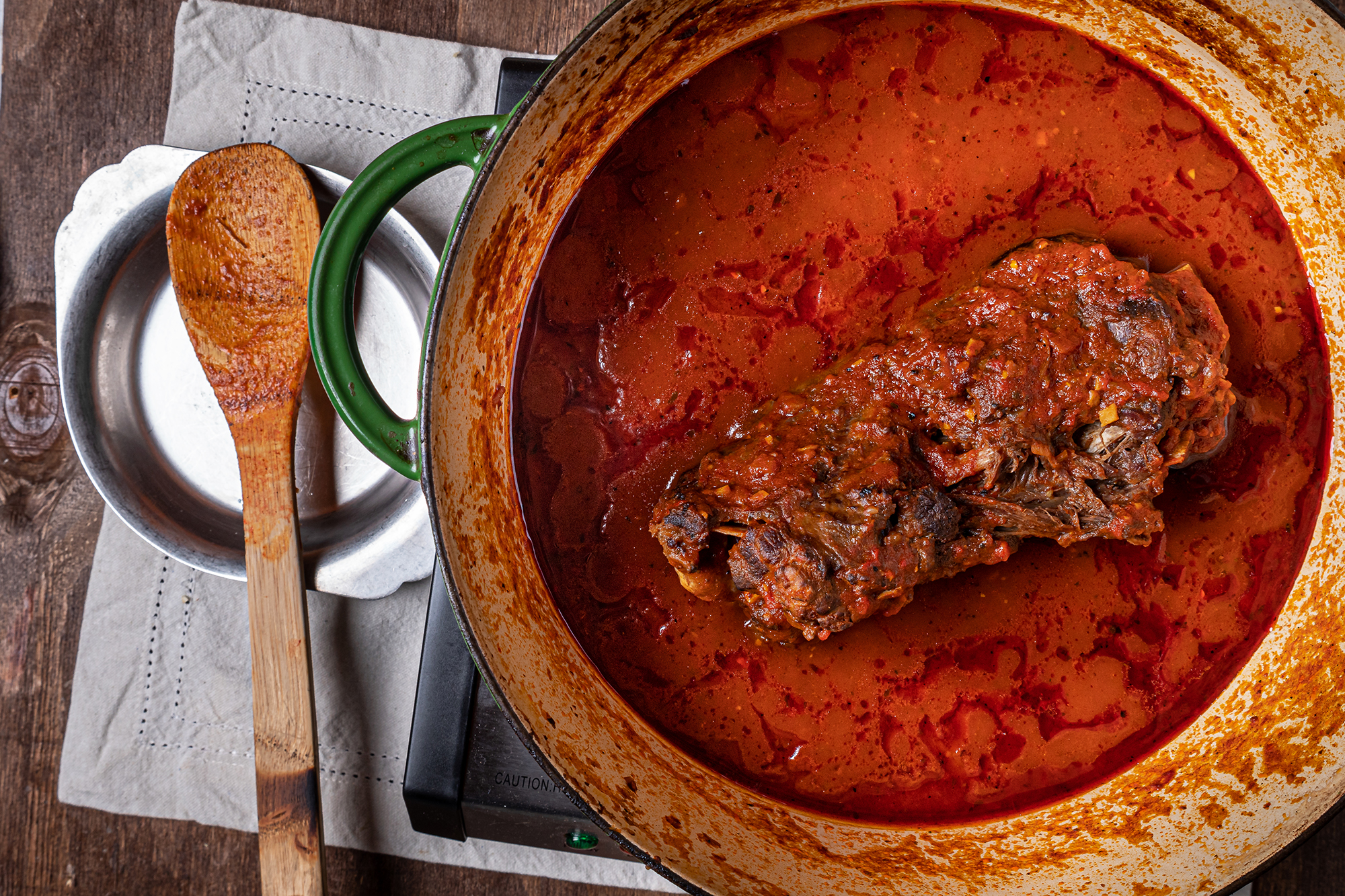 1 venison neck roast
1/2 cup olive oil, divided
1/2 cup garlic, minced
1 carrot, peeled and minced
1 stalk celery, peeled and minced
1 Spanish onion, minced
2 tablespoons tomato paste
1 cup white wine
1 28-ounce can of whole peeled tomatoes
2 cups chicken or game stock
1 teaspoon fresh or dry oregano
1/2 teaspoon onion powder
1/2 teaspoon garlic powder
1/4 teaspoon ground cinnamon
1 teaspoon kosher salt
1/4 teaspoon black pepper, ground
1 box pappardelle, or other pasta
1 tablespoon heavy cream
1 ounce butter
1/4 cup Parmigiano Reggiano
1/8 cup basil for serving
RELATED – Classic Venison Osso Buco Is Stupid Simple and Guaranteed to Impress
---
Directions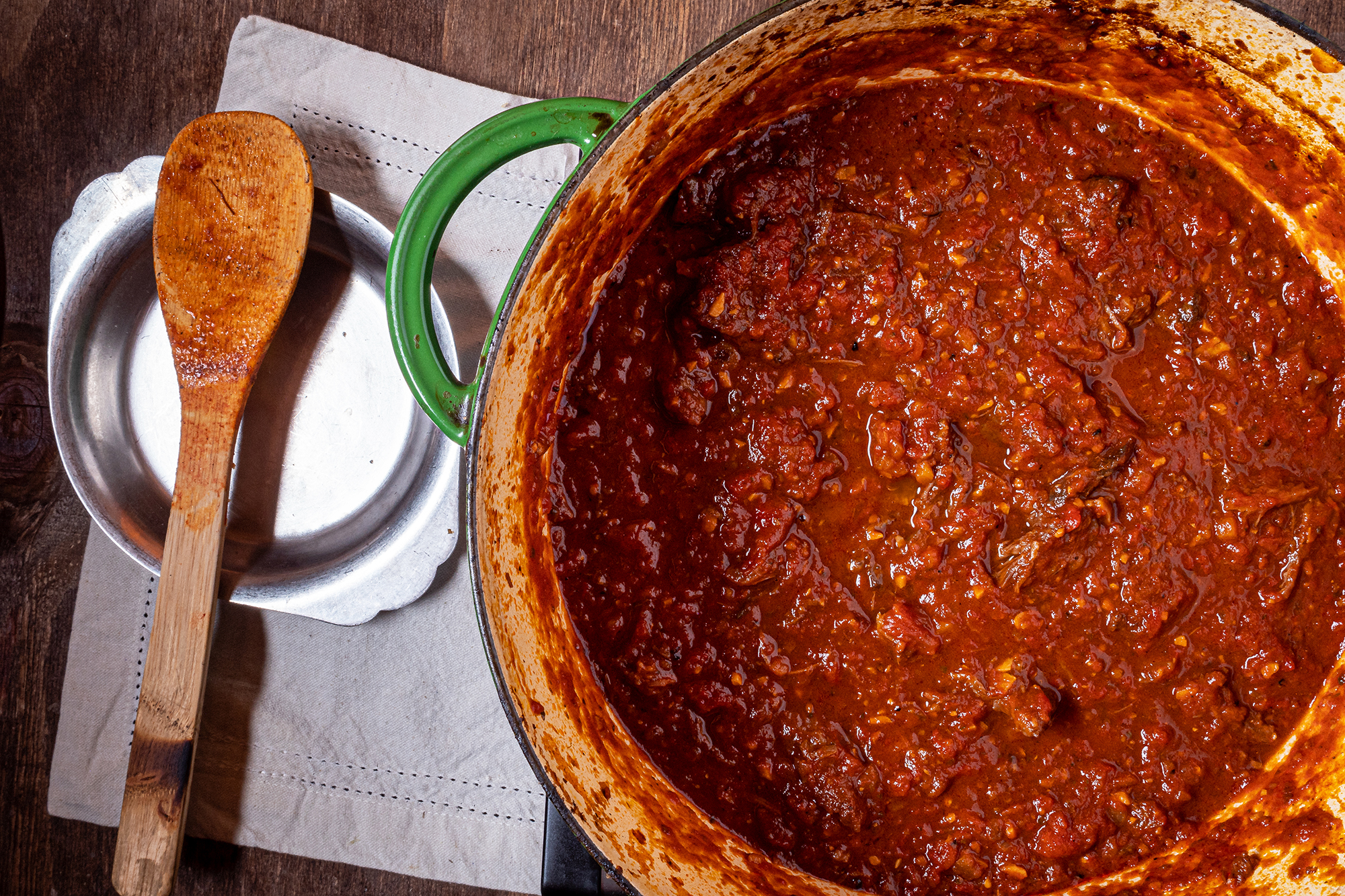 Remove the spinal cord from the neck roast by reaming it out with a long, pointy object. I use an old arrow with a field point.
Put a dutch oven on low heat and add a dash of olive oil.
Sprinkle the roast with salt and pepper, then sear it on all sides in the dutch oven.
Add the minced garlic and vegetables and sweat them for a few minutes. Add the tomato paste and mix it around the meat and vegetables. Stir and cool for another two to three minutes.
Deglaze with wine, then add the canned tomato, stock, herbs, and seasonings.
Simmer on low for at least three to four hours — longer is better. During the winter, I'll cook it on the woodstove. You could also cook it in the oven at 350 degrees. You'll want to stir it occasionally no matter how you cook it.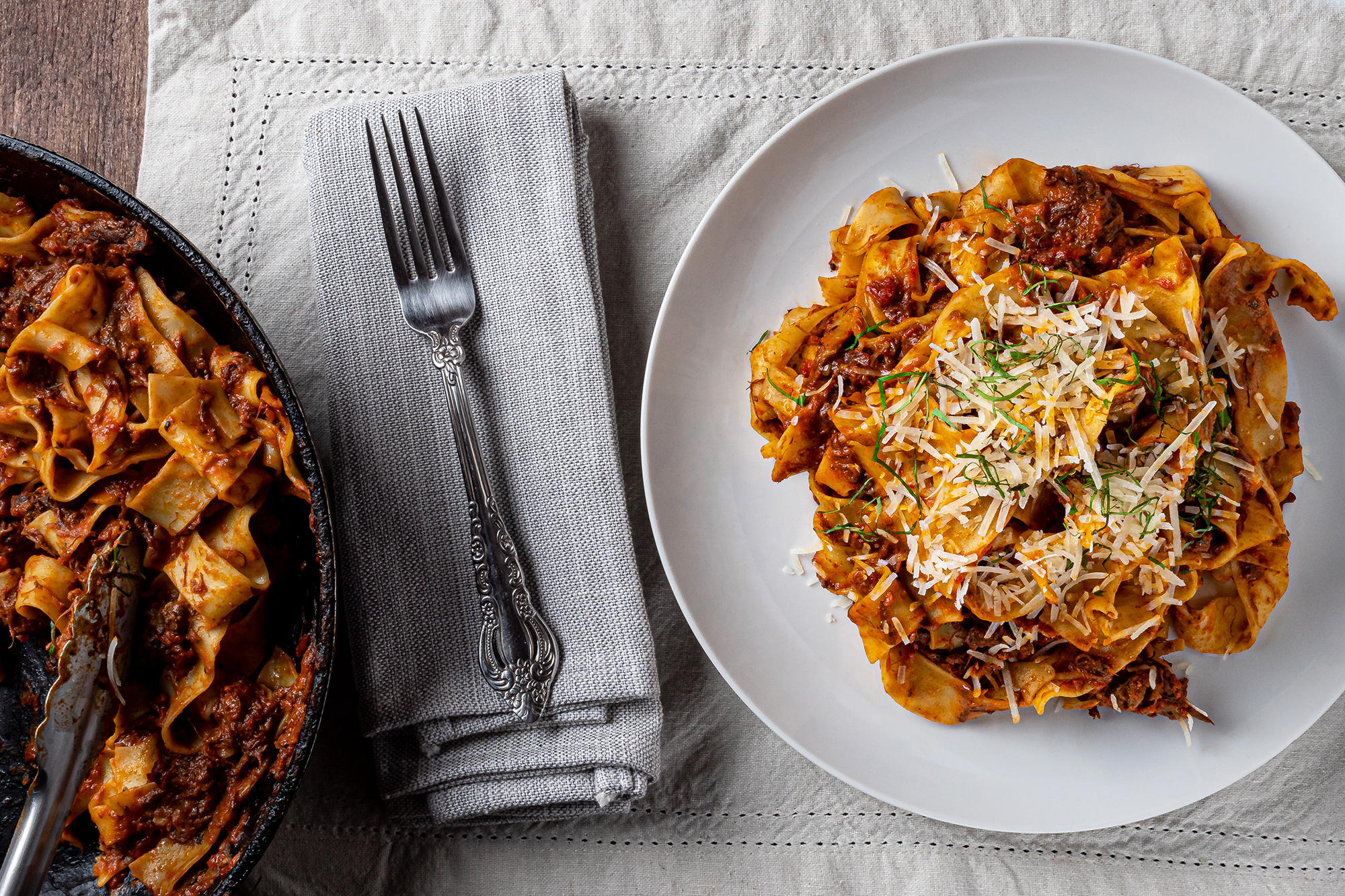 Once tender, pull the meat off the bones and shred it into the sauce, then discard the bones.
Cook everything together for another 10 to 20 minutes.
Bring a pot of salted water with a dash of olive oil to a rolling boil, then cook your pasta until al dente. Drain, toss with a little olive oil, and set aside.
Heat a sauté pan on low heat with about a teaspoon of olive oil. Add about two cups of the ragu to the pan with a pat of butter and a tablespoon each of heavy cream and shredded Parmigiano Reggiano.
Transfer your pasta to the pan, and toss until it is fully covered by the sauce.
Serve with more shredded Parmesean and a chiffonade of basil if you'd like.
---
READ NEXT – This Ground Venison Crunchwrap Is Way Better Than Taco Bell