The Osceola turkey, also known as the Florida turkey, is unique, and that uniqueness isn't due to coloration, build, or vocal nature. What makes the Osceola a super-special bird is its location. There are many go-to states for Merriam, Rio Grande, and Eastern subspecies, but only Florida has the Osceola.
This subspecies of wild turkey can be found only in specific Florida locales, making taking one all the more amazing. Nope, hunting a turkey in the Sunshine State doesn't guarantee you an Osceola kill, as the state has a booming population of Eastern birds as well.
---
Where To Chase an Osceola Turkey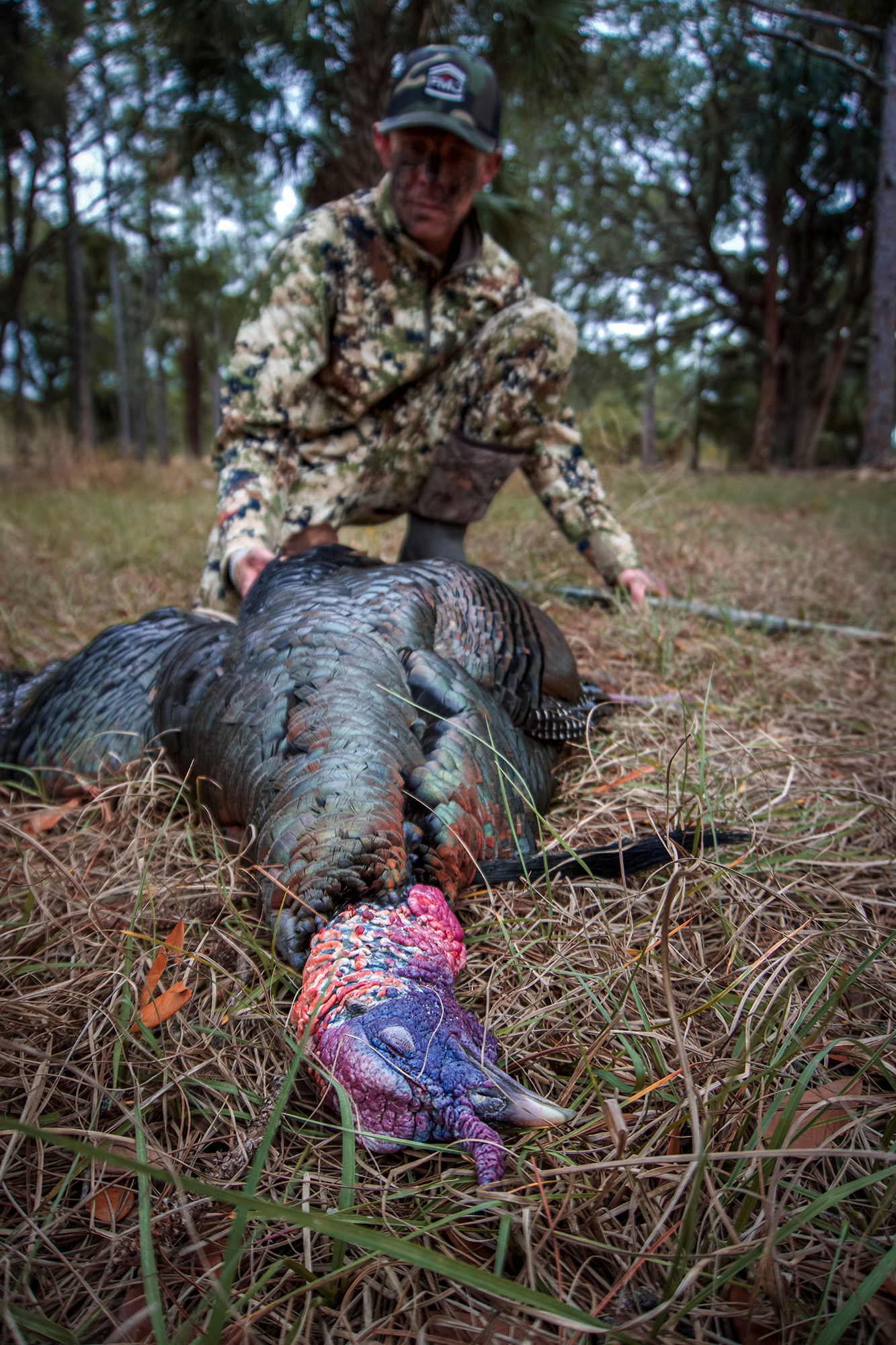 Based on years of research, wildlife biologists have drawn an imaginary line that separates the habitats of Eastern and Osceola subspecies. The line starts in Nassau County on Florida's east coast, runs along the Nassau County-Duval line, follows the county line of Duval County, and slices through Bradford County.
The line then follows the northern county lines of Union, Alachua, Gilchrist, and Dixie counties. Draw that line on a map, and every bird south of it is an Osceola, and every bird north is an Eastern. Simplify things by staying south of Orlando.
RELATED – New Sitka Turkey Hunting Gear for 2022
---
Osceola Turkey Distribution and Population
Biologists estimate the Florida Osceola turkey count at 100,000 birds, and they prefer the state's swamps, palmettos, and cattle pastures. Ancient swamps filled with giant cypress trees allow the birds to escape pressure. These swamps are also full of bug and reptile life, which are the favorite food sources of the Osceola. On a Florida Osceola hunt a few years back, I watched a tom slurp down a small snake. Other great grub items include dragonflies, beechnuts, acorns, and grasses like carpet and chufa.
Cattle are a kingpin industry in south Florida, and Osceolas love to wander cattle pastures as they scratch and peck through cow pies in search of food. Cattle pastures surrounded by swamps or giant oaks are great Osceola haunts.
---
Osceola Description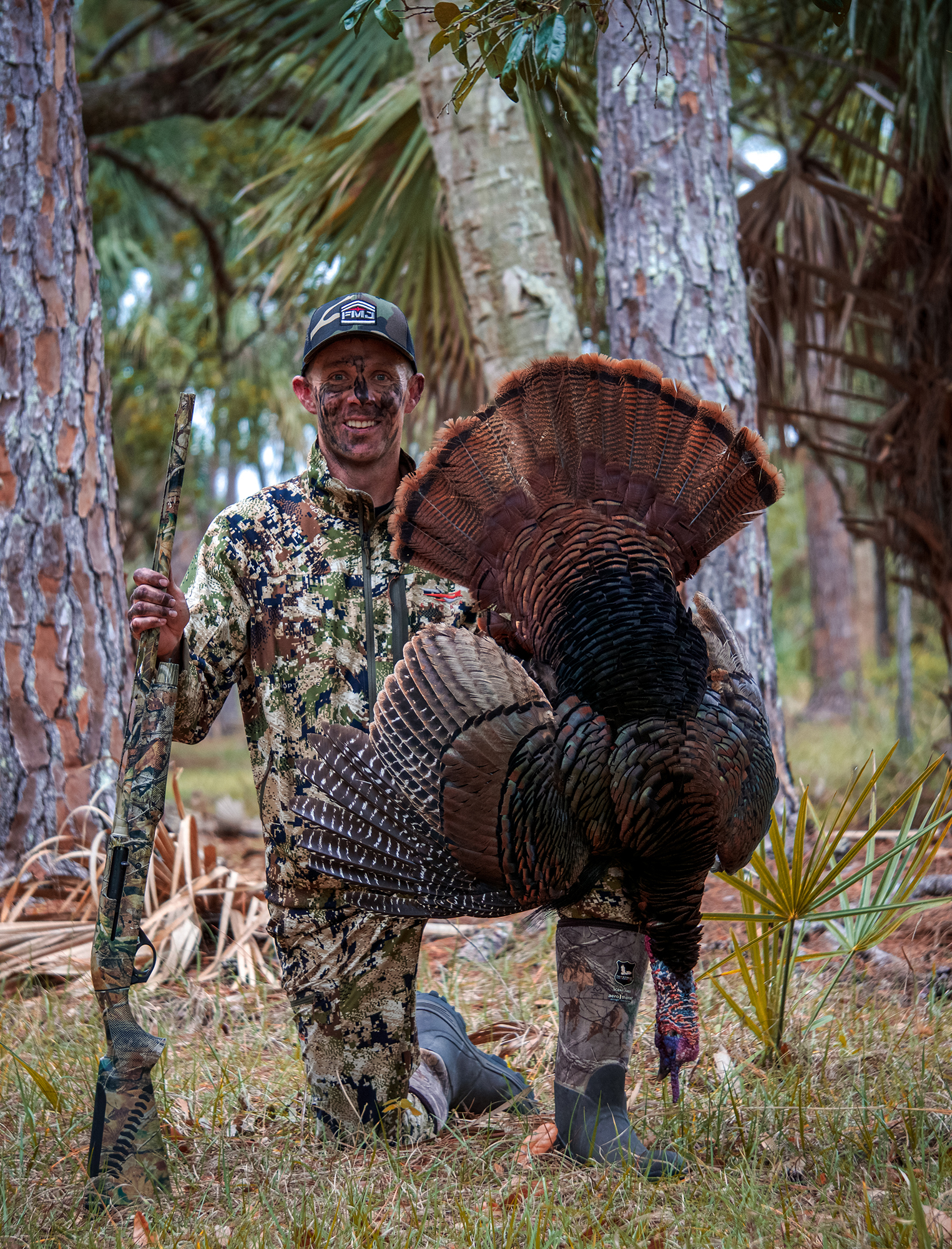 These swamp dwellers are the tawniest of the wild turkey subspecies. A mature male will rarely weigh more than 20 pounds, and females weigh between 8 and 12 pounds. The wings are mostly black with small white bands, and the tips of the tail fan are dark brown.
The birds have long legs, strong gobbles, and spurs that will make even the most seasoned turkey hunter drool. On average, the Osceola will have a shorter beard than its Eastern cousins, but beards can still get quite long and sport a brushy build.
RELATED – Escarole and Beans With Smoked Wild Turkey Wings
---
A Real Challenge
Florida is full of predators, and these birds know it. For this reason, most Osceola birds roost over water, deep in swamps, making an off-the-roost ambush unlikely. Mix where they roost with the fact that boy birds don't gobble much, and you have a real challenge on your hands. Osceola birds know the more they talk, the more predators can pinpoint them, and for this reason, aside from on-the-roost gobbling and the occasional on-the-ground gobble, they aren't overly boisterous.
Most successful Osceola hunters spend their time finding where the birds want to be an hour or two after flying down. Once they find such a location, most tote in ground blinds or build extensive natural hides and wait.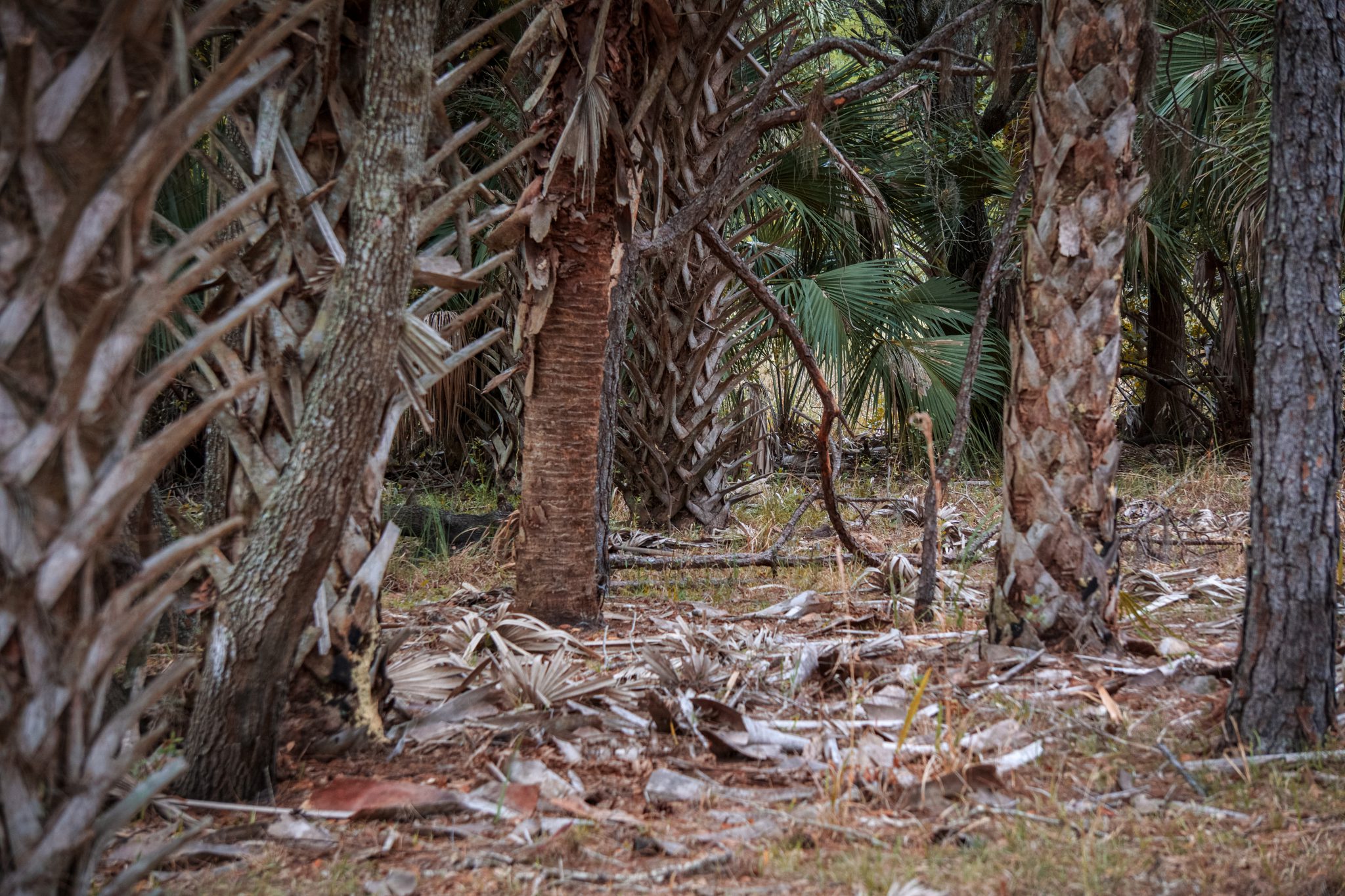 Typically, birds fly, sometimes a reasonable distance, to an open cattle pasture where they will spend the day searching for food and parading around for hens.
When in the Osceola woods, keep in mind that the gobbles you do hear, due to the area's dense air and thick vegetation, often sound soft and far away. Twice on my Florida Osceola hunt, I guessed birds to be over 500 yards away — one was only 50 — and had I not been with a seasoned Florida guide, I would never have completed my grand slam.
I also discovered these birds, and I was hunting private land to be the most difficult of any wild turkey subspecies to call in. The crafty Osceola will test your patience, often coming in totally silent, only to catch you swatting at a mosquito.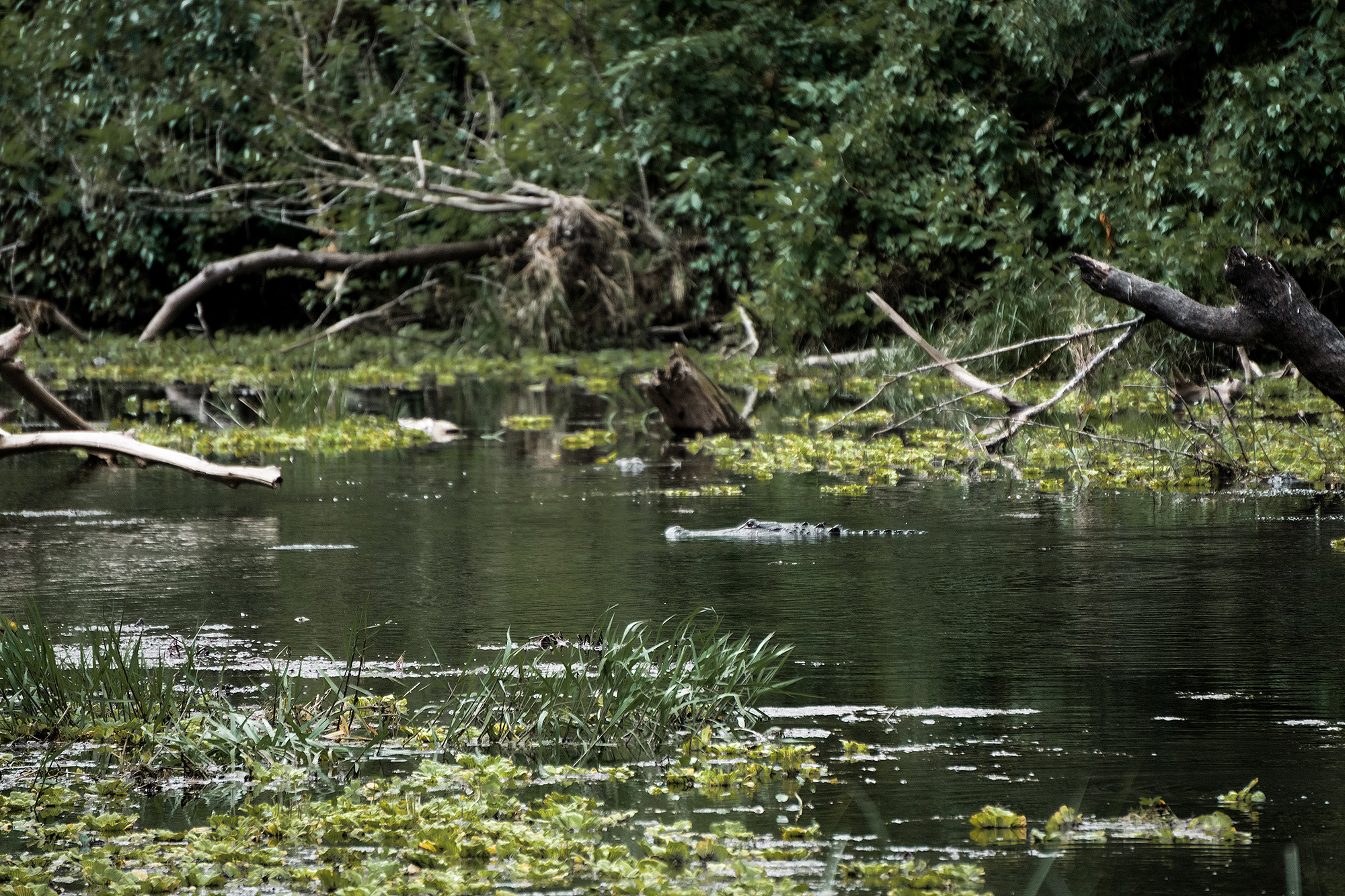 Most Florida Osceola guides don't use decoys unless hunting open pastures. Setting up in strut-and-feed zones in or along the edge of thick cover are the top methods for success.
RELATED – Starter Kit: Gear Up for Turkey Season
---
Pay or Go Public
Florida has plenty of public ground, but most natives have access to airboats, allowing them to hunt spots your knee-high boots aren't going to get you. Add local pressure with grand slam chasers, and public ground can be elbow to elbow.
Be careful if you decide to take a walk on the wild side and move through a Florida swamp with a combination of dry and wet ground. The state is full of alligators, and I saw lots of them on my turkey hunt. In addition to gators, one of my swamp walks put me in close quarters with multiple cottonmouths as well as a swarm of ground hornets.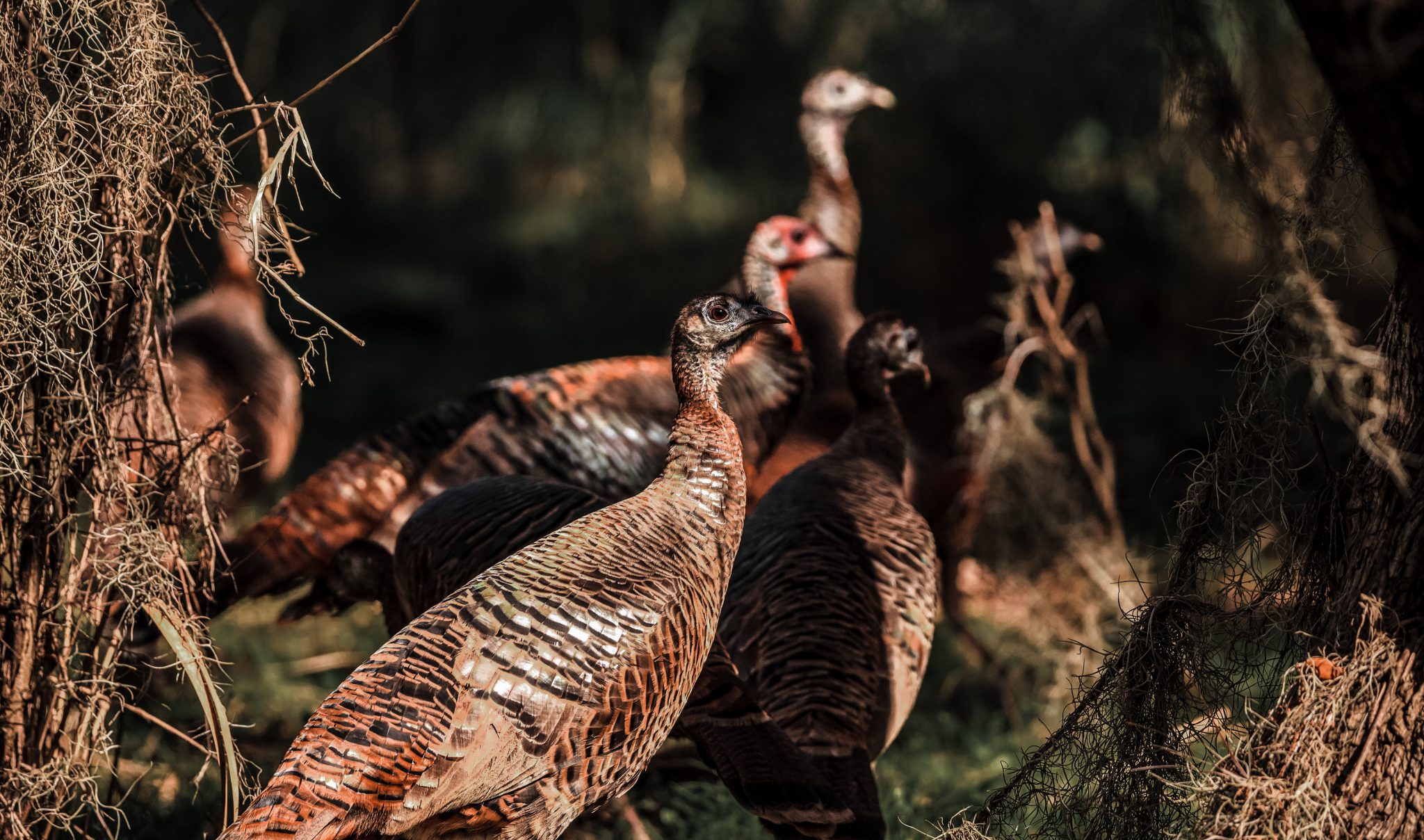 Going with an outfitter costs money, and with turkey hunting increasing in popularity, most Florida outfitters have a waitlist. Still, if you want to maximize your chances of finishing your grand slam, I highly recommend booking with one. Quality outfitters will have access to great ground, and most, due to the secretive nature of these birds, will have ground blinds set out for shotgun and bow hunters in pre-scouted areas. Ground blinds boost concealment and allow hunters to sit and wait in comfort.
Another option, thanks to social media, is networking. The turkey crowd is a close bunch, and the chances are good that if you have access to solid Merriam, Rio, or Eastern dirt, you can pull off a trade with a Florida native.
---
READ NEXT – DIY Public Land .410 Turkey Slam in the First 2 Weeks of Turkey Season