The .410 remains incredibly, improbably popular. A lot of people use a 410 shotgun for a lot of things, most of which the little shell is completely unsuited for. The skinny .410 hull doesn't hold much shot to begin with, and it often shoots terrible patterns. It's a lousy choice for all but very close-range bird hunting, and the people who hunt with them tend to be either experts or idiots.
The experts talk about picking their shots carefully. The idiots tell you the tiny bore of the .410 just naturally holds tighter patterns, and for good measure, they may also tell you a .410 slug shoots flat, just like a centerfire rifle, and is great for sniping deer at 100 yards. They are wrong, but not much I say will change their minds.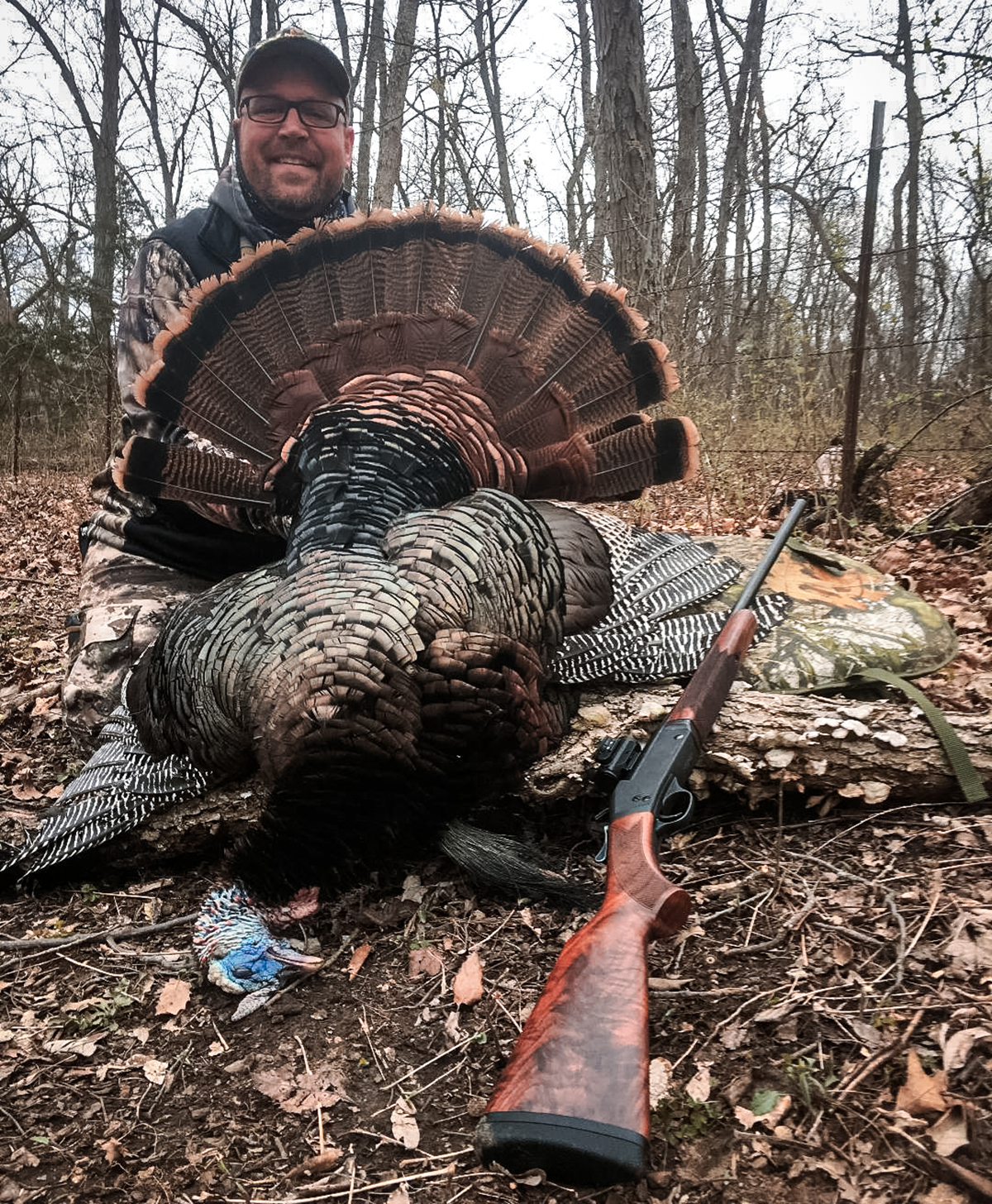 This is not to say the .410 is without its uses and unique charms. The recent advent of Tungsten Super Shot (TSS) pellets led to the improbable rise of the .410 as the hot new gobbler gun, and if you're willing to spend $5 to $6 per shell, you can absolutely kill turkeys up to 40 yards away with a .410 that you will barely notice is slung on your shoulder.
The .410 is a fun, recoilless, humbling gun to shoot skeet with, and I don't mean "humbling" in the boastful way people use it now, as in "it's humbling that I was able to break 25 straight with a .410." No, it's humbling, as in, "The .410 will kick your ass on the skeet field."
The .410 does make a good small game gun, especially for squirrels. It's also a fun gun for shooting, um, things (milk jugs, broken toasters, bags of flour) and for general pest control. The 410 shotgun remains tremendously popular, and nothing bad I say about its ballistics will change that. It is undeniably a fun gun to shoot, and that's precisely the reason I own one.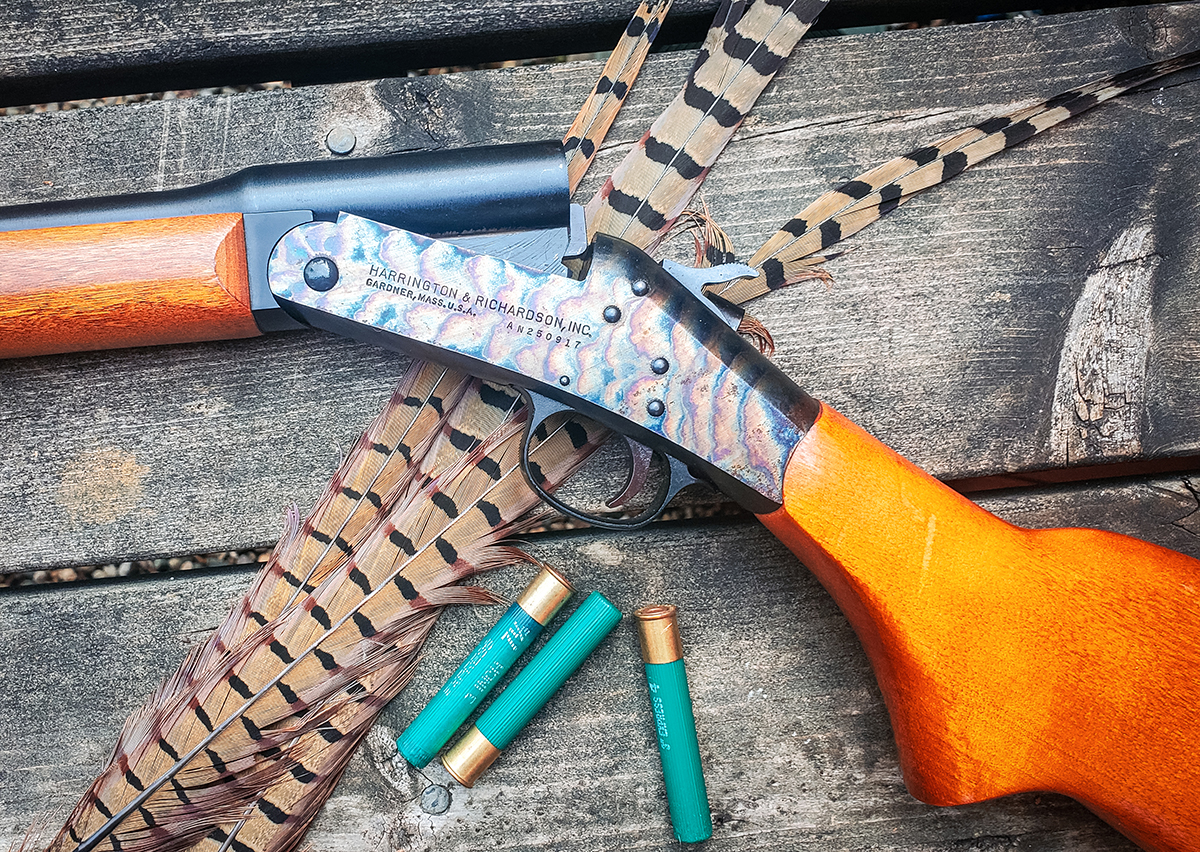 RELATED – Is the 20-Gauge the New 12-Gauge?
---
.410 Shotshell Specs
The .410 is the only shotgun caliber that is actually known, caliber-style, by the diameter of its bore. If it were named as the other shotgun gauges are by the number of lead balls of bore diameter that equal a pound, it would be a 67-gauge. Let that sink in.
The standard .410 cartridge is a 2 1/2-inch shell that contains half an ounce of lead shot. The more common length .410 you'll find today is 3 inches, which can hold 3/8 ounces of small steel shot or 11/16 to 3/4 ounces of lead. There are .410 buckshot loads with three to five 000 pellets stacked one on top of the next, and you'll also find 1/4-ounce .410 slugs. There are some self-defense loads that use different projectiles, like the mix of discs and pellets found in Winchester PDX1 Defender .410 shells.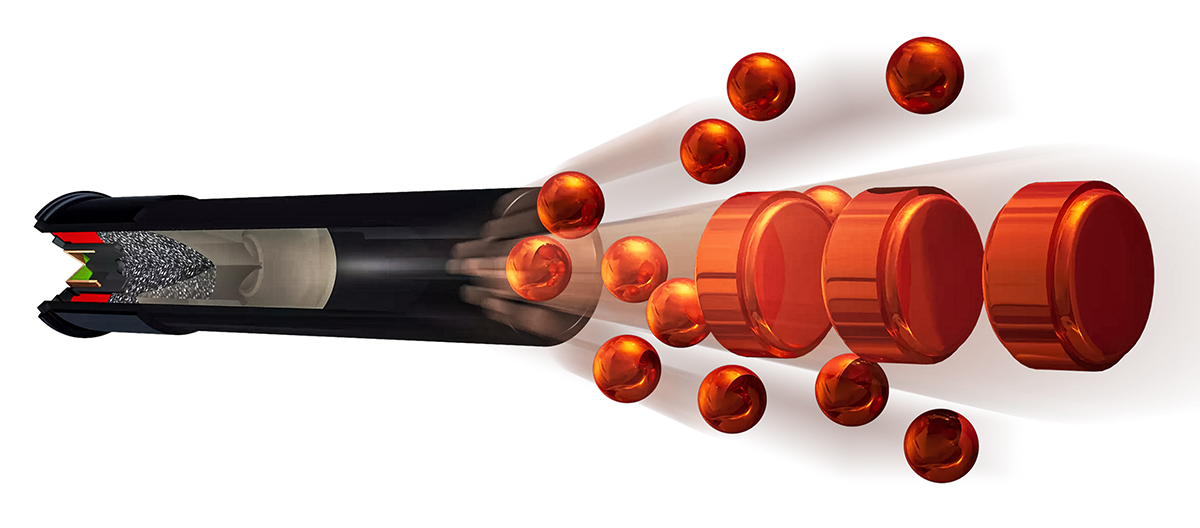 The .410 suffers from low pellet count that, combined with a narrow bore, means a large percentage of the pellets either touch the bore and are stacked in a low, narrow column where, under the setback forces of ignition and a 0-to-900-mph increase in velocity, many of the pellets become deformed and don't fly straight. Rather than holding shot together "like a rifle," the .410 squishes and scatters pellets. For this reason, the difference in pattern efficiency between .410s and other gauges is huge.
Shotguns chambered for .410 are often quite light if they're built on true, scaled-down .410 frames. Target guns or .410s built on 20-gauge frames, as is common, might weigh the same as a 20-gauge. And you will find some guns in .410, like lever-actions, that have no equivalent among the other gauges.
RELATED – Why Hunters Pattern Their Shotguns: Dialing-in Your Turkey Killer
---
410 Shotgun History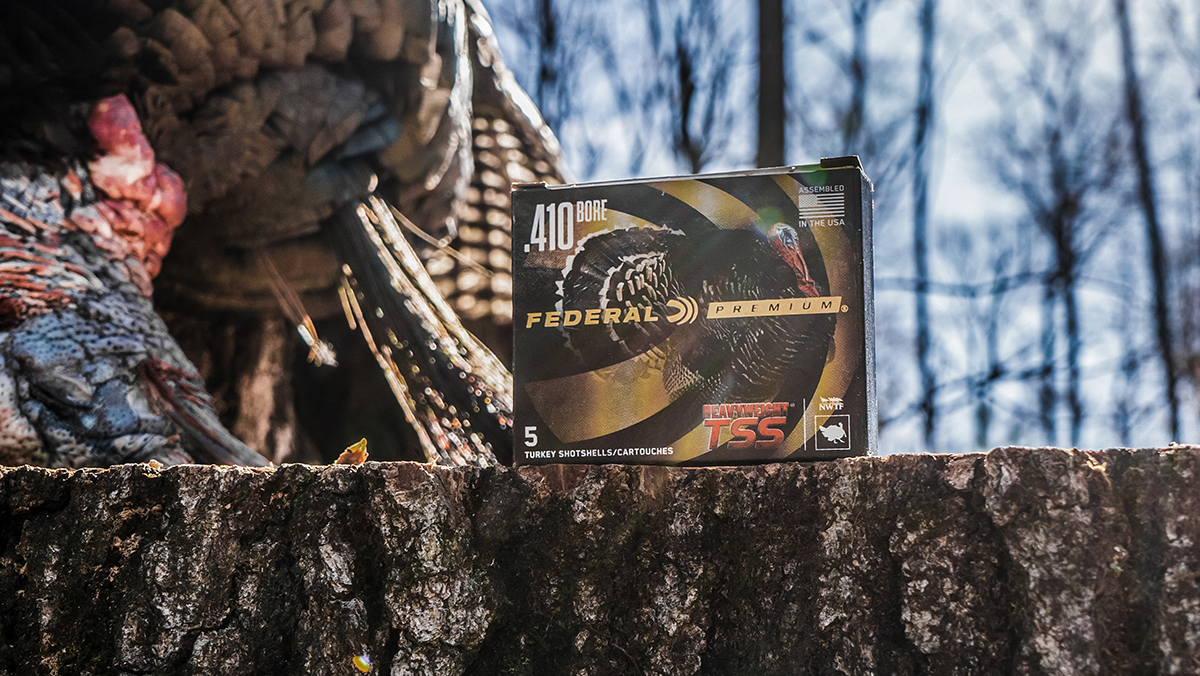 The first .410s, most of them 2-inch cartridges, appeared in England in the mid- to late 19th century. One early use of the .410 was as a cartridge in cane guns, which were exactly what they sound like: self-defense-optimized walking sticks with pop-up triggers and pull-open chambers that could hold a single shell.
Although .410s were also made as conventional shotguns, back then they were seen as a chambering more appropriate for pests. Frederick Robinson, Second Marquess of Ripon and the most famous shot of Edwardian England, was supposed to have kept his eye sharp by potting dragonflies with a .410.
In this country, the .410 started appearing around the turn of the century. In 1915, H&R started selling 410 shotgun models. The .410 got a boost in the 1920s when the game of skeet included the .410 as one of the four gauges (well, three gauges and a caliber) used in competition.
In the 1930s, Winchester introduced a .410 pump, the Model 42. To make the gun appeal to hunters as well as skeet shooters, they gave it the first 3-inch .410 chamber and rolled out a new, heavier 3-inch .410 hunting load. The new 3-inch shell became so popular that plenty of people have never seen a 2 1/2-inch .410 shell. And from the 1930s on, the .410 enjoyed steady popularity. Besides target shooters and hunters, naturalists and museum staff used .410s to collect small birds without ruffling too many feathers.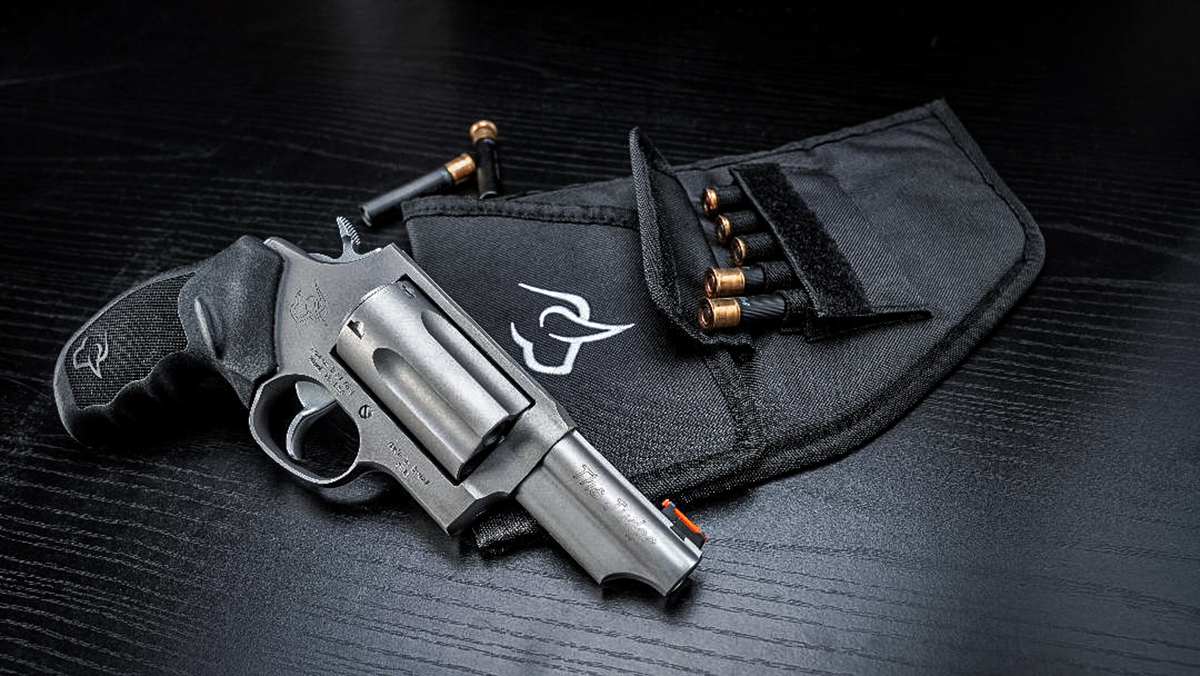 In 2006, Brazil-based gunmaker Taurus single-handedly took the .410's popularity to another level. They came out with "The Judge," a massive revolver designed to shoot both .410 shells and .45 Long Colt cartridges. It was an unconventional 410 shotgun and an immediate hit. Shortly after the Judge appeared, I happened to visit the Federal ammunition plant, where I saw stacks of fresh-made .410 ammo, most of it buckshot. "Ever since the Judge came out, we haven't been able to load enough .410 shells," my tour guide told me.
There have been several variants of the five-shot Judge, and although it hasn't proven as popular, Smith & Wesson soon followed the Judge with its .410 six-shot Governor.
Five or so years ago, the .410's popularity surged again with the introduction of TSS: very dense tungsten-iron pellets that had previously been known only to a small cult of reloaders and turkey hunters. TSS went mainstream with ammo giant Federal and boutique ammo maker Apex producing factory turkey loads. Because the pellets are so dense, shot as small as No. 9 can hit as hard as lead No. 5s, and you can fit a lot more No. 9s into a .410 hull than you can 5s.
All of a sudden, .410s were turkey guns, and people went nuts for them. At the 2018 National Wild Turkey Federation Convention, Federal sold every last .410 TSS shell it had brought to Nashville in 45 minutes. The .410 remains as popular as ever today.
RELATED – Modern Turkey Loads: Worth the Money, Maybe
---
A Few 410 Shotguns to Get
There are 410 shotguns made in pump, semi-auto, O/U, side-by-side, single-shot, and some actions you won't see in other shotguns. Here are a few guns to think about.
---
Mossberg 500

The ubiquitous Mossberg 500 pump gun comes in a cute .410 version. Like many .410s, the regular field guns come with a fixed full choke. Given how badly .410s pattern, full is not a bad choice, even for closer shots. This 410 shotgun has the same top-tang safety and smooth action we have all come to expect from Model 500s.
There is also an M500 .410 for turkey hunting that has screw-in chokes, Mossy Oak Bottomland camo, sling-swivel studs, and is drilled and tapped for a scope or red dot. Both versions have 24-inch barrels. The wood-stocked M500 sells for $473, the turkey gun for $566.
---
CZ Drake

A solid, no-frills shooter, the CZ Drake is a great 410 shotgun choice if you have an O/U itch to scratch and don't want to spend a lot doing it. With a 28-inch barrel and fixed IC/Modified chokes, it's a gun suited to informal skeet and sporting clays as well as dove hunting on those days when shots are close.
It has extractors, not ejectors, so you have to pluck the empties out of the chamber, but that's no hardship, and it makes it easier to save hulls for reloading (and if you've seen the price of .410 ammo lately, you might want to reload it). The walnut is plain, with a satin finish, and the metal is gloss black, not blue. It's an understated gun for the understated price of just $765.
---
Henry Lever Action .410

Chambered for 2 1/2-inch shells only, these .410s from Henry Repeating Arms are built on .45/70 frames and look just like a lever-action carbine or rifle. But, they are smoothbores, have choke tubes, and hold six 2 1/2-inch .410 shells. They have iron sights and are drilled and tapped for a scope.
You could use either model of 410 shotgun for squirrels or general plinking fun. The basic 24-inch barrel, walnut stock version lists for $1,063. There's also a synthetic stock tactical version with a rail for a light or laser and a threaded muzzle for a can. Or there's a cut-down, 15-inch barrel "Axe" version with the butt stock lopped off behind the grip.
---
Taurus Judge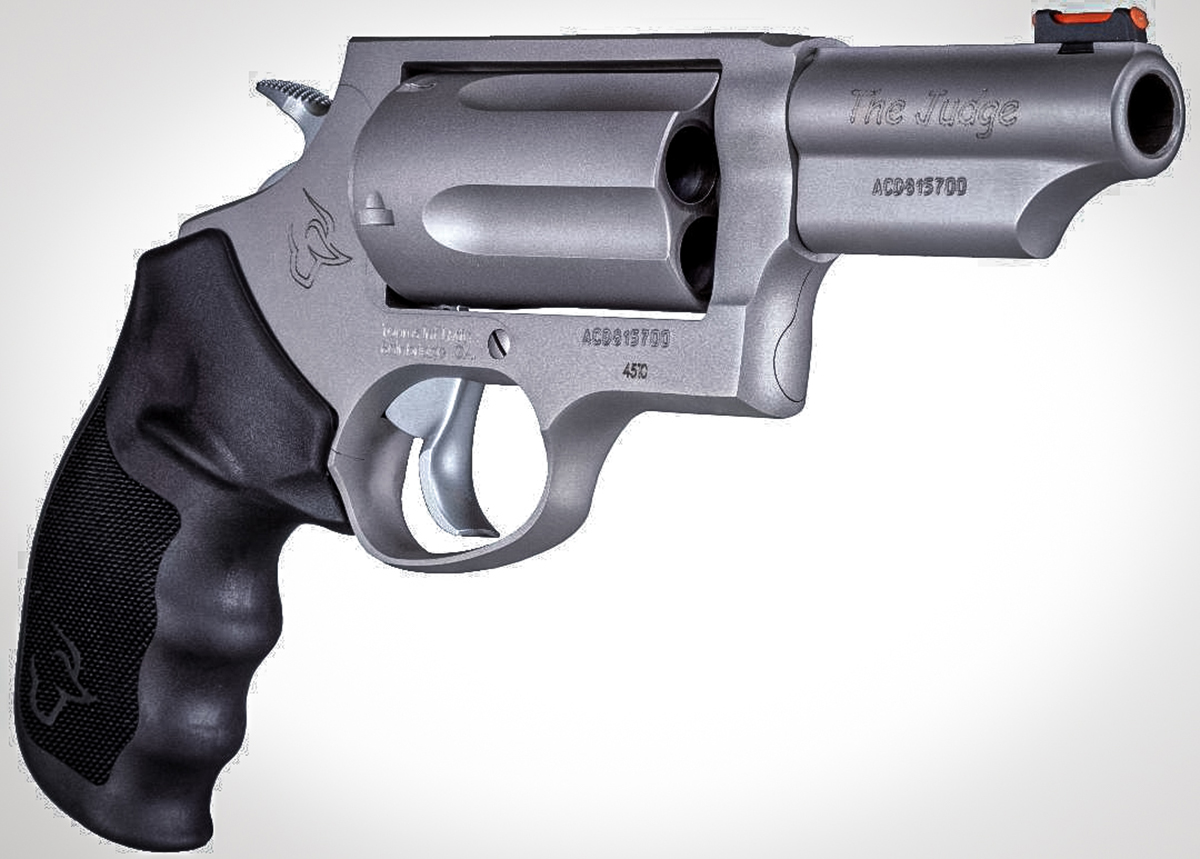 The Judge shoots .45 colt and .410 interchangeably. To shoot bullets accurately, the Judge has shallow rifling. When you shoot shotshells from a rifled barrel, the barrel imparts spin to the wad as it travels down the bore, and as that spinning wad releases the shot upon exiting the muzzle, it spreads faster than it would coming out of a smoothbore. So your shot patterns will open quickly — good for snakes, home defense, and sneaking up on milk jugs — but not good for longer-range patterns in any gauge, much less .410.
It's also a chunk of a gun, which is a good thing because while the .410 is mild-mannered for a shotshell, it kicks in a handgun. There are 11 models in the Judge lineup, all 5-shot revolvers of 2 1/2-, 3-, or 6-inch barrel lengths, chambered for .45 Long Colt/.410 with the exception of the terrifying Raging Judge, which shoots .45/.410, and the very powerful .454 Casull. Prices start at $501 for the 2 1/2-inch barrel, polymer-framed Public Defender and go up to $1,167.75 for the Raging Judge.
RELATED – Is There Still a Reason for the 10-Gauge Shotgun to Exist?
---
.410 Ammo
Boss is one of the many shotshell companies loading TSS .410 turkey ammo. Their shells contain 13/16 ounces of 9-shot, which translates into almost 300 pellets with the penetration power of lead 5s. To match that pellet count with 5s, you'd need 1 3/4 ounces of shot, which means carrying a 12-gauge. Loaded with ammo like that, the .410 is the real thing, not a gimmick, for turkeys. The shells do sell for $60 per 10, though.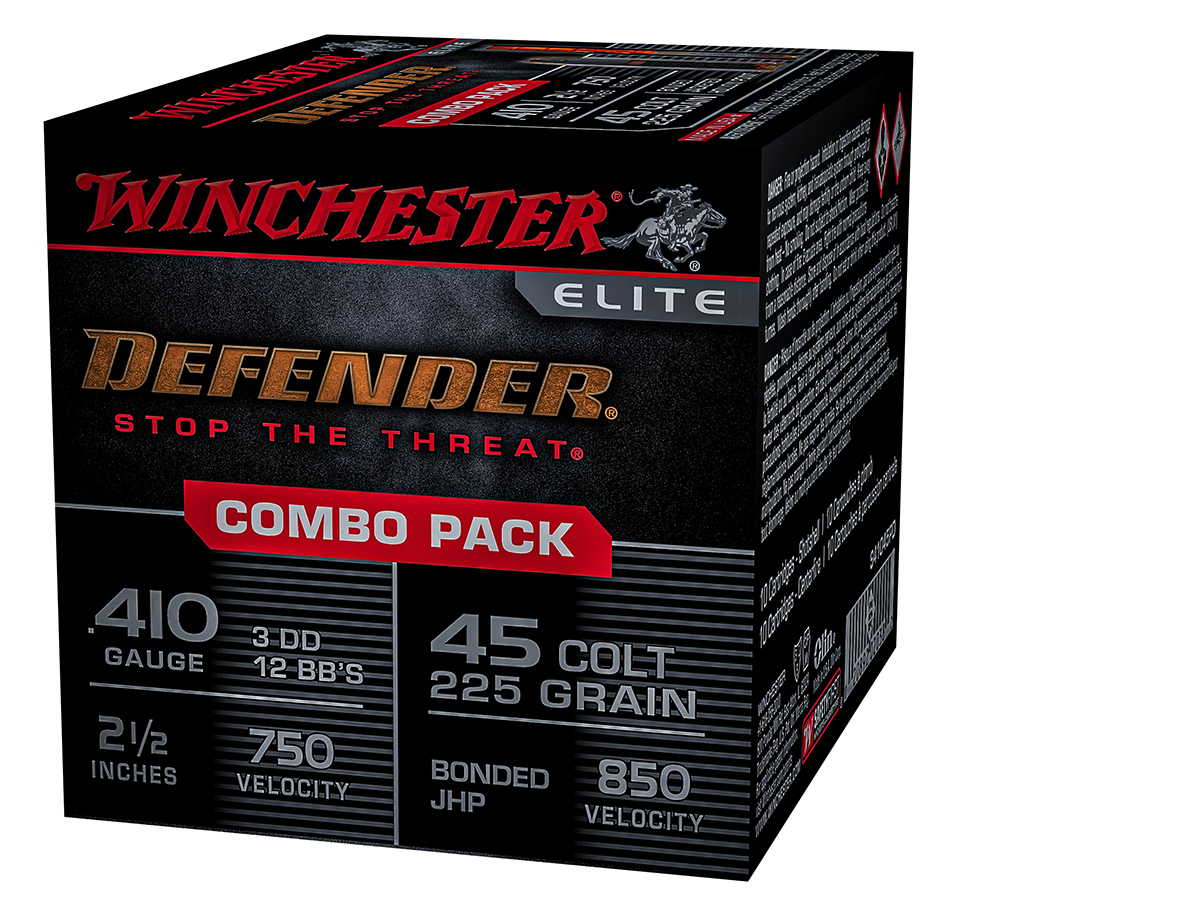 Winchester AA remains the gold standard for target loads, and you can choose among four 1/2-ounce, 2 1/2-inch offerings: 9-shot for skeet, and 7 1/2, 8, and 8 1/2 for sporting clays. Winchester also has a 3-inch, 3/4-ounce Diamond Grade load of very hard 7 1/2-shot for those who would like to hunt turkeys with a .410 but without paying TSS prices. Diamond Grade shot is very hard, very good stuff, but this is still a load for inside of 30 yards. Set the decoys close and you'll be fine with it.
Also, specifically for the Judge, Winchester sells a 20-round combo pack of 10 .45 Long Colt 225 grain-bonded, jacketed hollow points and 10 2 1/2-inch Defender .410 shells containing three .410 disks layered on top of a dozen BBs. (Important safety tip: The Judge shoots .410 and .45 Long Colt interchangeably. Other .410s and .45s do not).
Federal offers Personal Defense Handgun .410 ammo intended for the Judge. The line comprises 2 1/2- and 3-inch shells with small but, you have to think, effective at close range payloads of 4-shot, 4-buck, or 000-buck. There is also a 3-inch, 1/2-ounce Power-Shok slug in the Federal lineup. Federal, as the first big manufacturer to offer TSS turkey loads, has them in .410 as well.
---
The Future of the 410 Shotgun

Those of us who are annoyingly pedantic about ballistics believe that the 28-gauge should replace the .410, as it's an all-around better smallbore. But it never will. Americans love .410s and always did, even before there were Judge revolvers and TSS turkey loads. And now, with those two innovations, interest in .410s is high.
People will keep giving kids .410s as their first guns. The .410 probably is the best gun for introducing newcomers to turkey hunting. People will hunt, plink, and shoot pests and targets with .410s, too. As long as the .410 remains a class in skeet and sporting clays, there will be interest in it, and it will always be America's "fun" shotshell.
---
READ NEXT – 16 Gauge: What the Cool Kids Are Shooting