Brandon Crimmons, a firefighter from White House, Tennessee, has won the fishing package of a lifetime — Black Rifle Coffee Company's Ultimate Outdoor Giveaway. Crimmons landed more than $110,000 worth of prizes, including a brand-new Toyota Tacoma and a Bass Cat bass boat. A firefighter for the past 10 years, currently with the White House City Fire Department, Crimmons also works as an emergency medical technician for the county ambulance service. 
Last year, the Crimmons family was hit pretty hard. Brandon's wife, Stephanie, lost her father suddenly in December 2020, and that was quickly followed by her losing her job because of the pandemic. Things were looking down until retired sergeant major and BRCC professional angler Jamey Caldwell showed up in White House.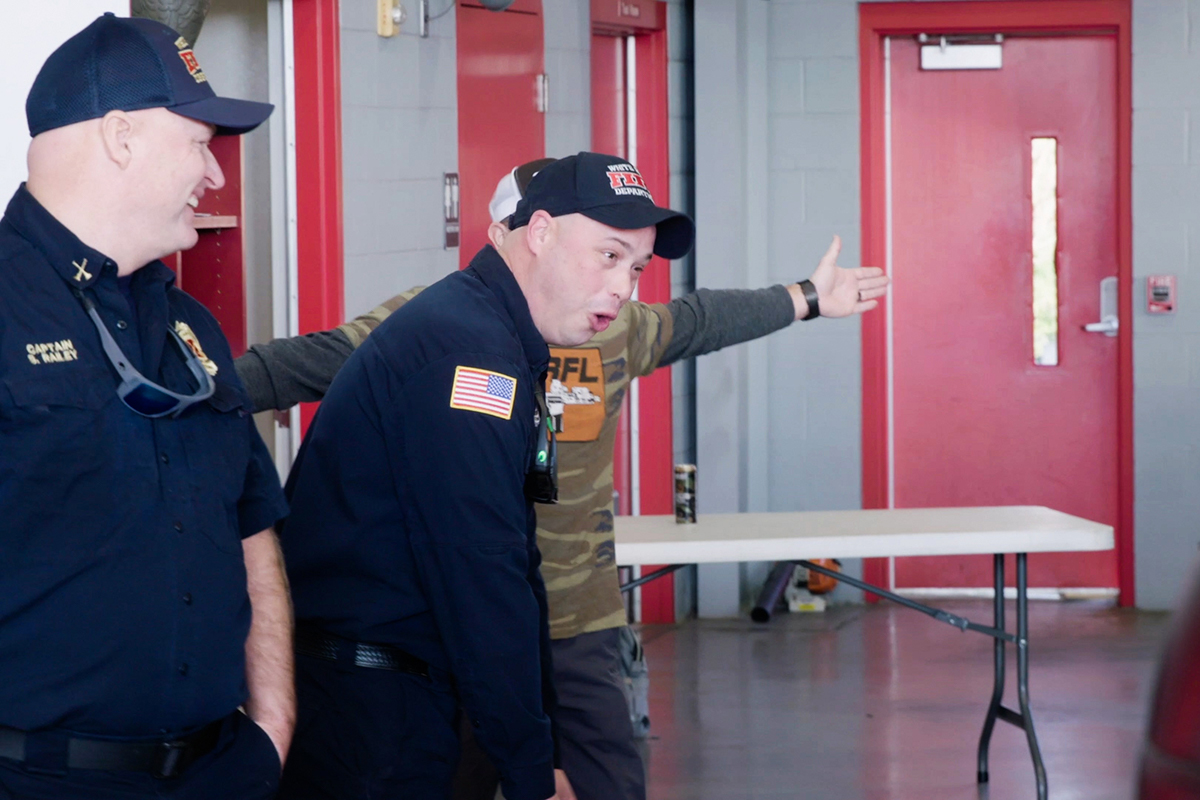 "Our captain called us and he said, 'Hey, I need you guys to come down to the station,'" Crimmons said. "And he was real secretive, real picky about it, [saying] 'Hey, don't pull around back or anything like that — just stop at the kitchen door and come in."
Crimmons and his fellow firefighters were met by their captain, Shawn Railey, at the station. They were walked into the training room, where they waited for a short minute. Then, Railey came in and told everyone but Crimmons to "thin out" — and Crimmons began to think he might be in trouble for something. Railey walked him out of the room and down a hall to where Caldwell waited.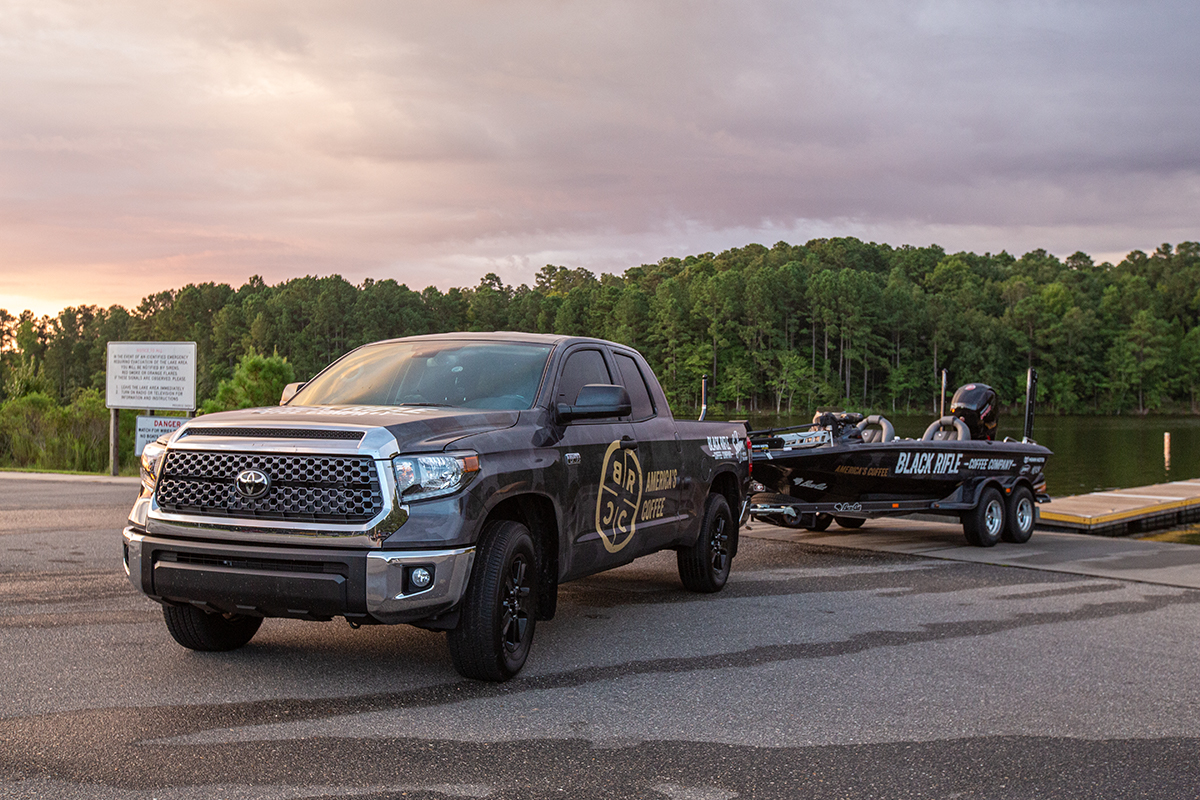 After introductions, Caldwell asked Crimmons if he had a boat. Crimmons, a die-hard fisherman who runs a small lure business called Backdraft Tackle, said no.
"I might be able to do something about that," said Caldwell as they started walking toward the bay where the firetrucks park. On the other side of the door awaited Stephanie and their 2-year-old daughter, Tori, along with Crimmons' fellow firefighters.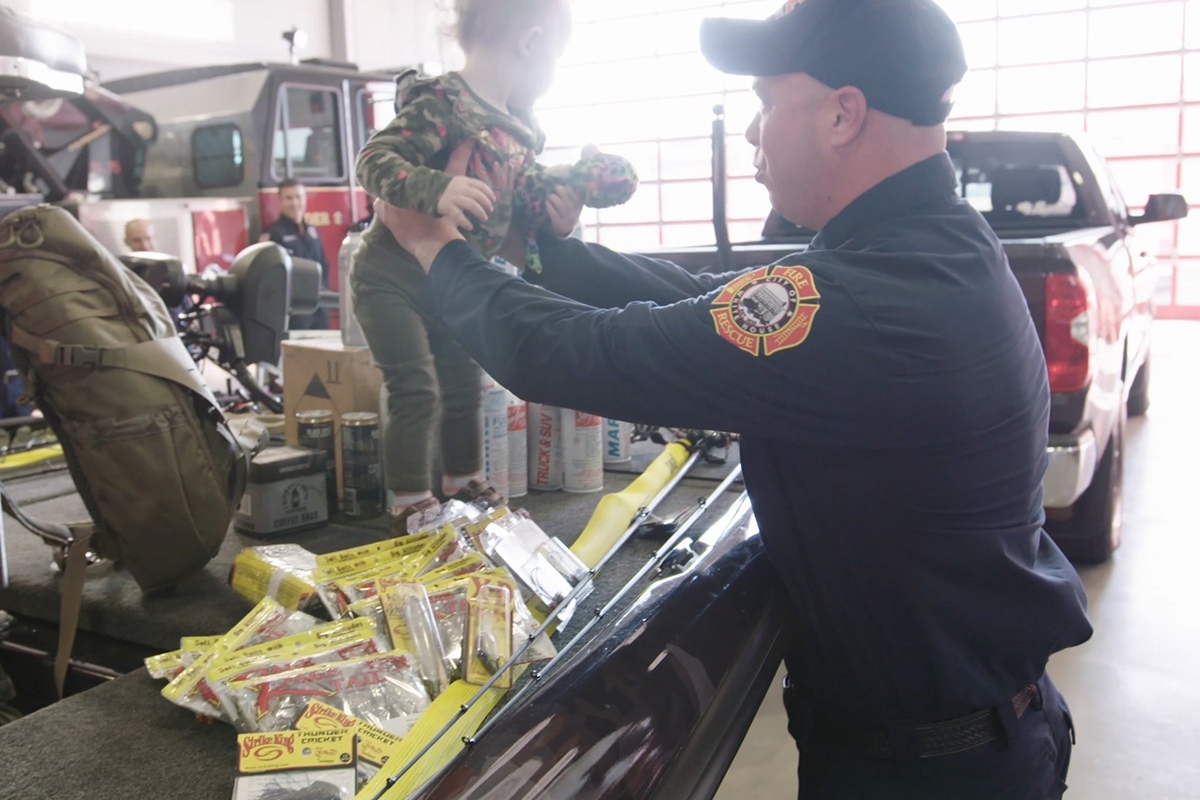 They walked through the door to where a brand-new Bass Cat boat rested on a trailer hooked up to a shiny new truck, loaded with Black Rifle Coffee, several fishing rods, lures, hunting equipment, and many other items valued at over $110,000. 
"I didn't know what to say — I was blown away by the whole thing. It was wild, man, just mind-blowing," said Crimmons. "I mean, winning this was just a huge boost [for me and my family's] psyche and morale, and it couldn't have come at a better time, honestly."
Crimmons has been fishing since he was old enough to hold a fishing rod and reel. He was excited for his daughter — that the truck, boat, and gear would help him create happy memories with her, much like his own experiences as a kid fishing with his dad. 
His fondest childhood fishing memories involved sauger fishing with his dad below the dam on Pickwick Lake, which straddles the border between Tennessee and Alabama. Like most kids, he had a limited attention span, but his dad would hand him the reel as soon as a fish was hooked. Crimmons said his dad always kept him engaged, and even though he didn't hook the fish himself, his dad would congratulate him for every catch, which created a drive to fish even more.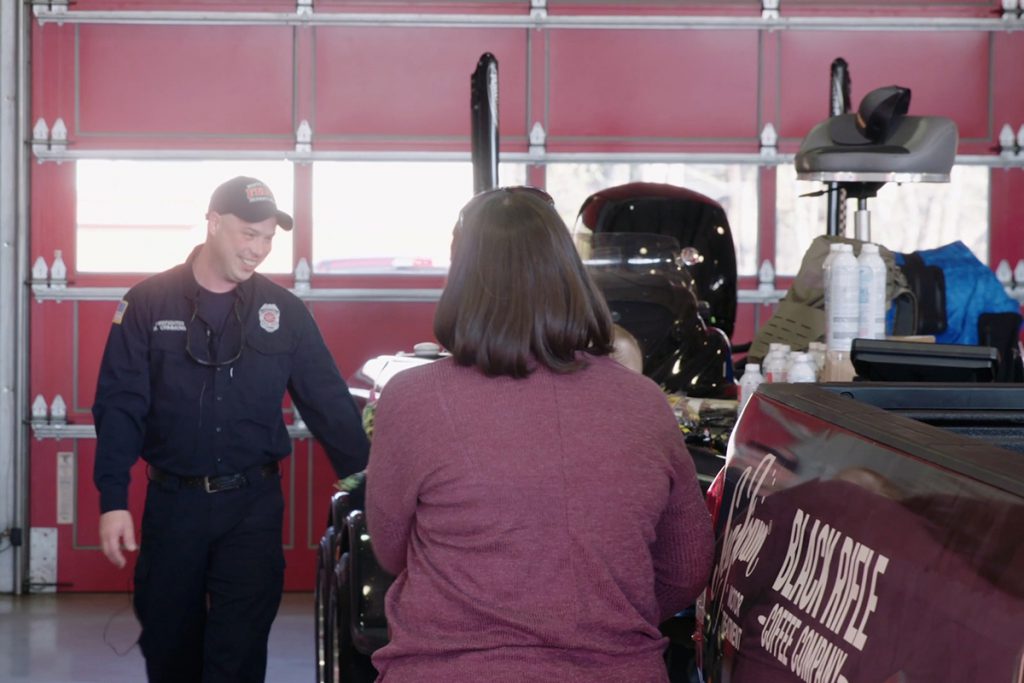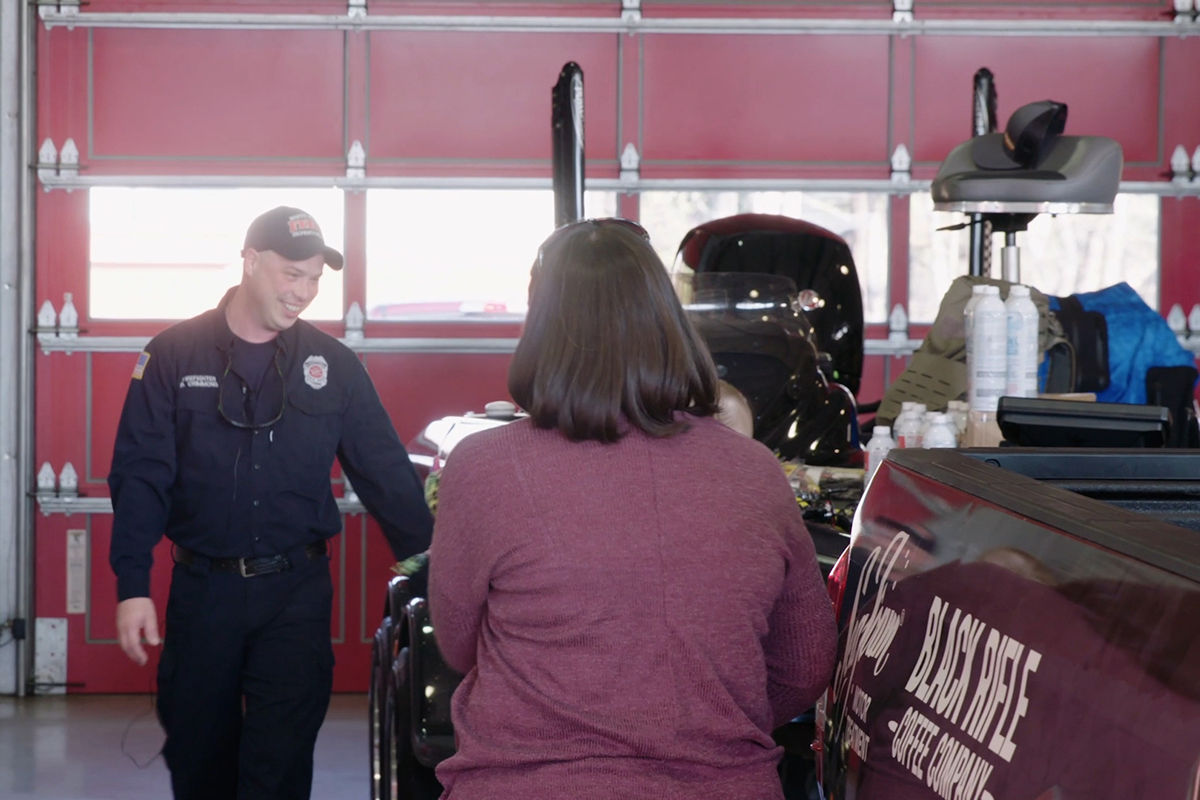 Now, with his new gear, he's going to be able to give his daughter a fishing experience unlike anything he imagined as a child but nevertheless just as fun. All the latest technology on his new boat is a game changer when it comes to fishing with precision, Crimmons said, and he'll be able to get his daughter out on the water catching fish after fish when she's old enough. 
Not only does this contest win set him up with enough fishing gear for his daughter and wife and himself for years to come, but it will also help Crimmons with his aspirations to fish as a pro. So far, Crimmons has competed as a co-angler in several fishing tournaments, most recently in FLW's Phoenix Bass Fishing League in the Music City Division. He plans to participate in what is now called Major League Fishing, with his new gear. 
"I won't say that I deserve anything because I don't. I don't deserve anything in this life," said Crimmons humbly. "This was definitely a blessing, and it definitely came at a very good time."
Railey, Crimmons' fire captain, disagreed, telling BRCC: "There's nobody that deserves this any better than him."