---
Difficulty: Easy
Prep Time: 30 minutes
Cook Time: 45 minutes
Serves: 2 – 4
---
Shepherd's pie is one of those dishes that's worth more than the sum of its parts. Sure, ground meat, mixed vegetables, and mashed potatoes are great on their own, but when combined into a shepherd's pie, they are transformed into something even better.
Shepherd's pie might not be the fanciest or most interesting dish on the planet, but it hits the spot when you want something hearty and filling without a ton of work involved. It's blue-collar, down-home comfort food at its best.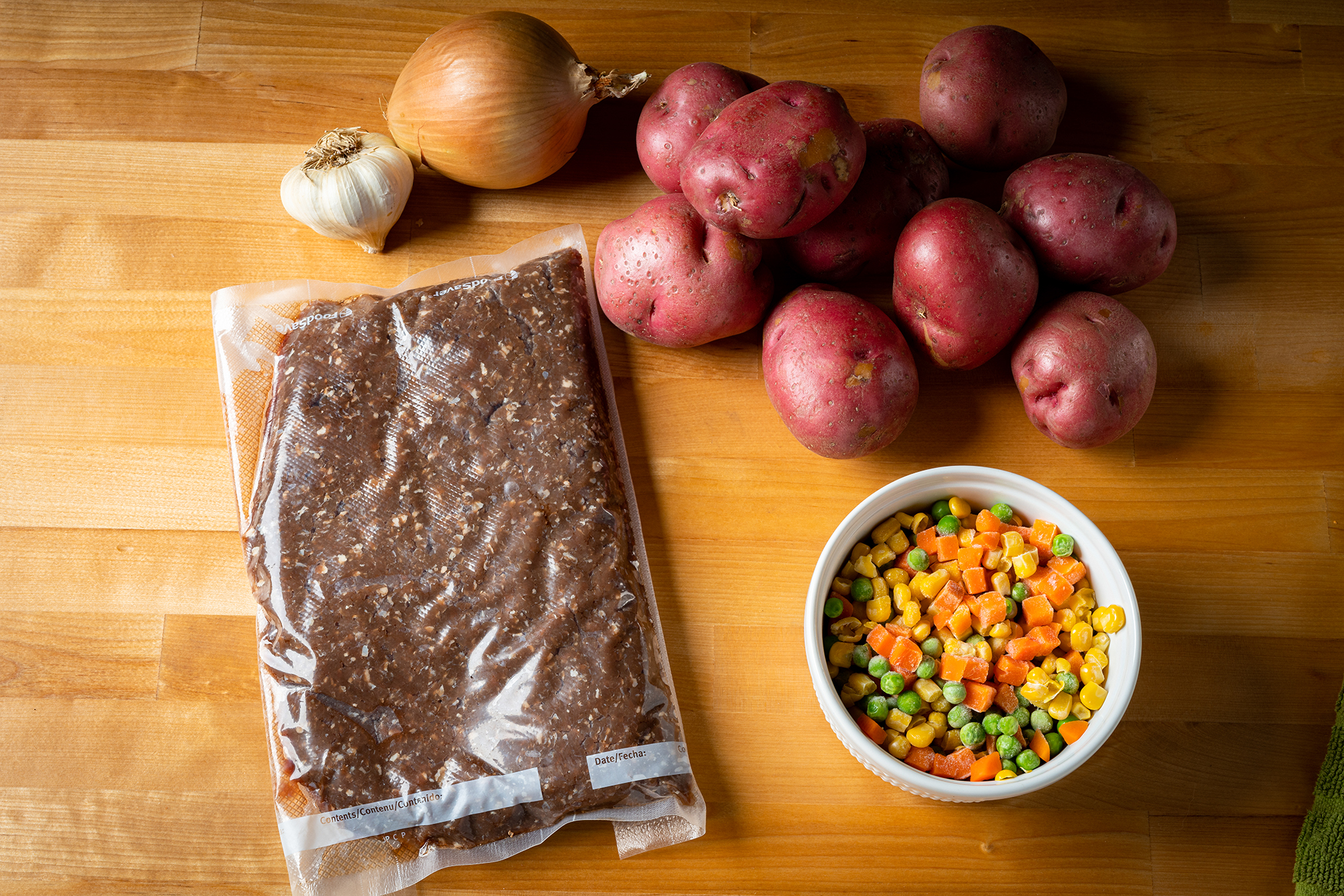 Making a shepherd's pie is easy. All you need to do is cook some ground meat with chopped onions, mix them together with peas and carrots (and corn if you like), and top everything with mashed potatoes in a baking dish. Then just bake the pie until the top layer of potatoes is nice and browned, and serve with a simple gravy.
Some people refer to a recipe that uses ground beef or lamb as a shepherd's pie, but people who care about such things will tell you a shepherd's pie uses ground lamb, and that using ground beef makes it a cottage pie. Whatever. No matter what you call it, wild game meat is an excellent protein for a shepherd's pie.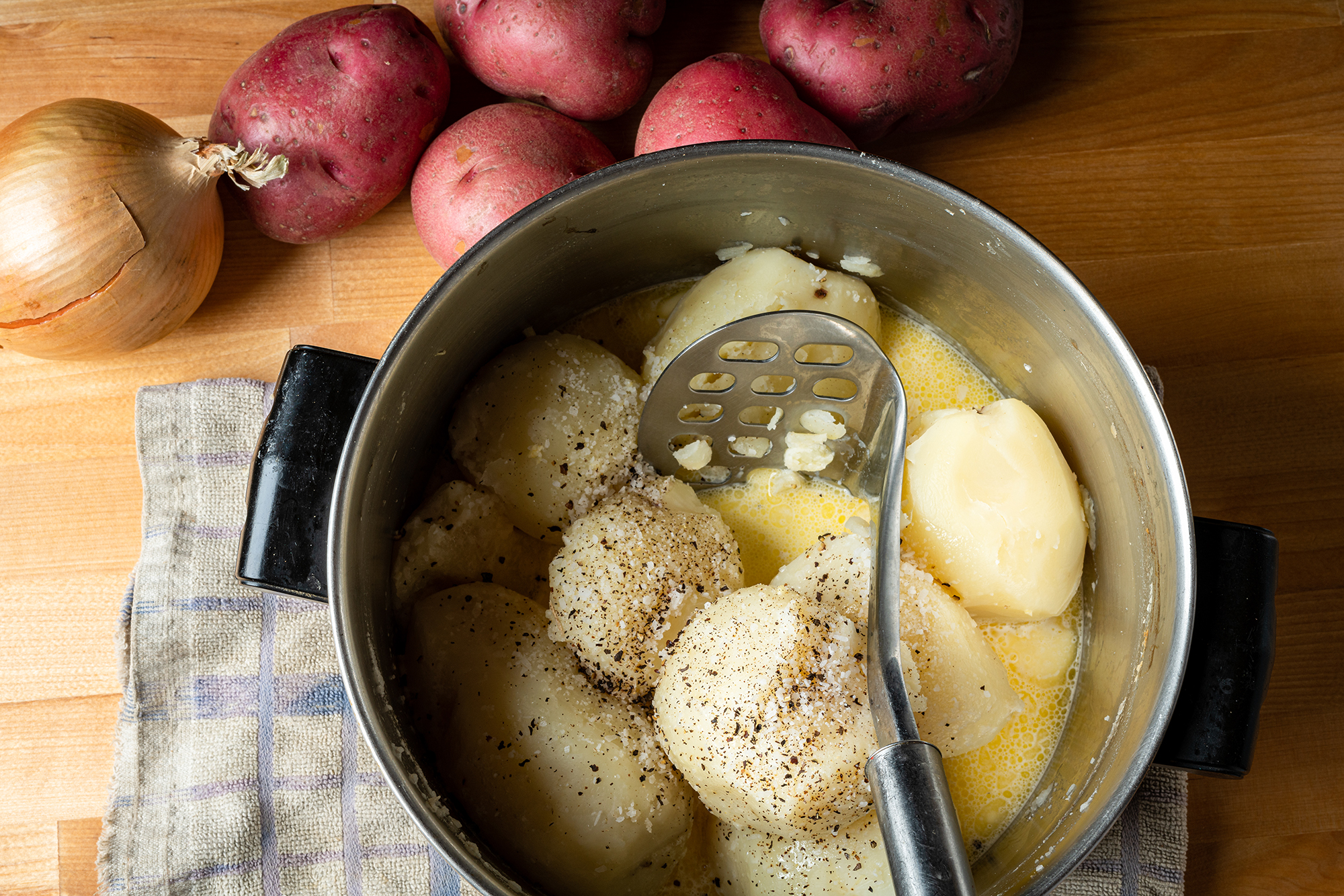 With the right treatment, even lean game meat can yield a delicious, moist filling that's not dry or crumbly. I've always made shepherd's pie with ground whitetail venison because that's what I typically have on hand, but really any ground big game will work just fine. If fresh vegetables are available to you at the time, they are obviously preferable, but there's nothing wrong with using frozen or canned veggies for shepherd's pie.
While the formula for shepherd's pie is pretty straightforward, there are all sorts of directions you can take it. This recipe is about as traditional as it gets, but don't be afraid to riff a little. When I was working in restaurants, I used to serve a shepherd's pie with an egg on top. It was glorious, with a little bit of the rich yolk in each bite.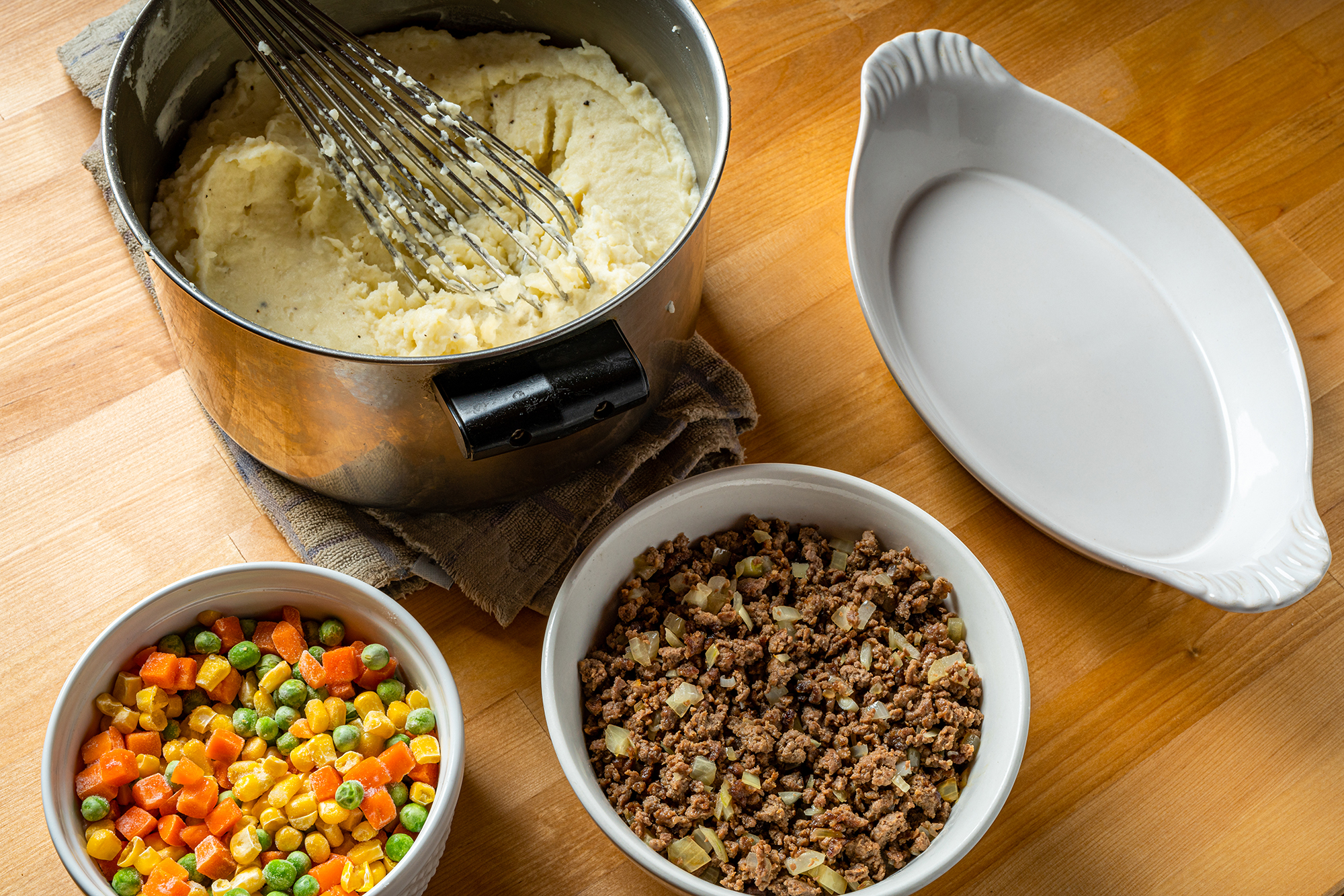 Feel free to add cheese to the potatoes, use chopped meat instead of ground, substitute the veggies — whatever you want to do.
This recipe will yield 1 to 2 casserole dishes, depending on the size, and feed 2 to 4 people
---
Venison Shepherd's Pie Ingredients
2 pounds red potatoes, peeled
1 cup heavy cream
2 ounces unsalted butter, divided
1 clove garlic, finely minced
1/2 pound venison, ground
1/2 teaspoon kosher salt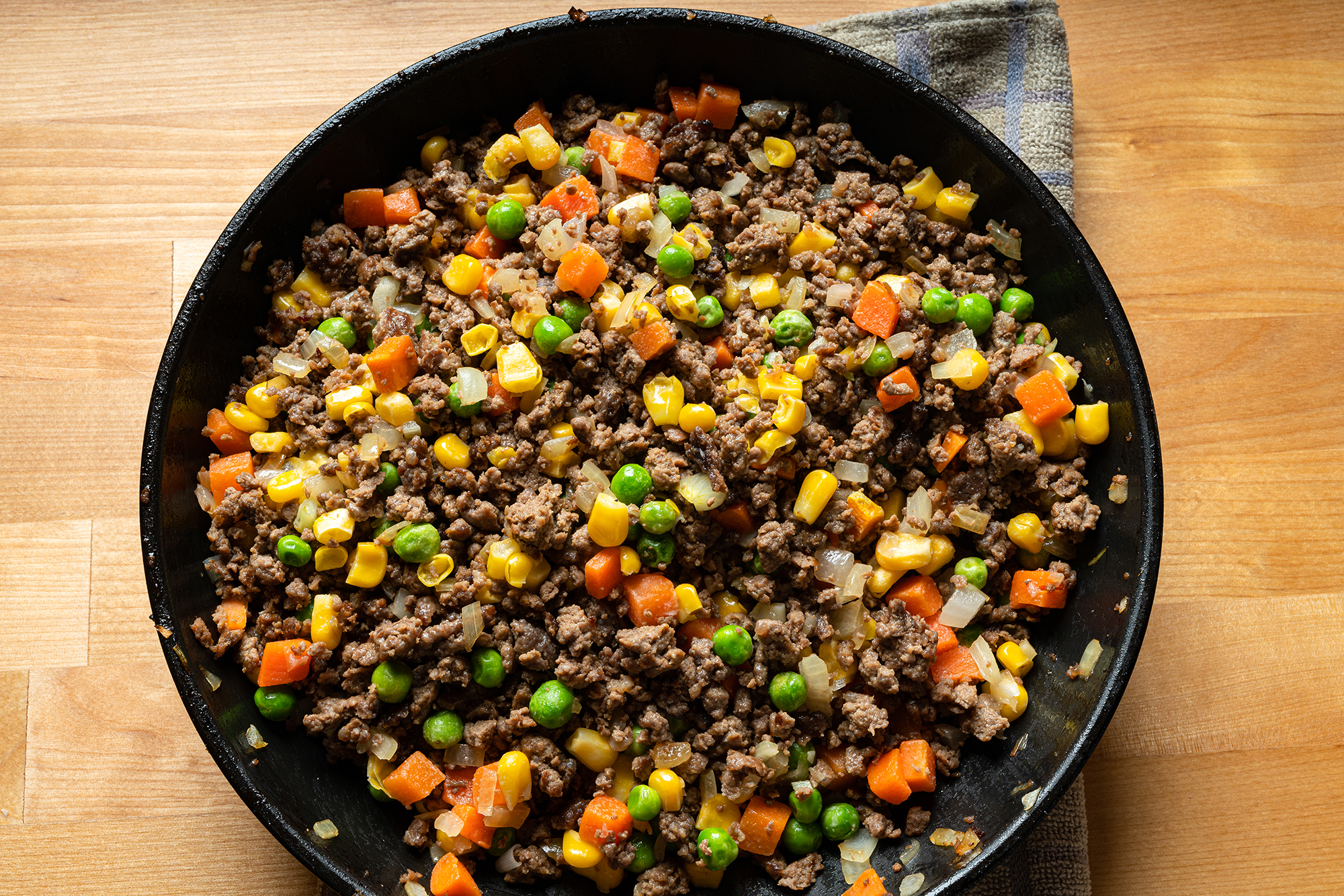 1/4 teaspoon black pepper, ground
1/2 cup yellow onion, diced
1/2 cup carrot, cubed
1/2 cup peas
1/2 cup corn
1/2 tablespoon olive oil
1/2 teaspoon Worcestershire sauce
1/2 teaspoon all purpose flour
---
Gravy Ingredients
1/4 cup all purpose flour
1 ounce butter
2 cups beef or game stock
1/8 teaspoon kosher salt
1/16 teaspoon black pepper, ground
1/8 teaspoon garlic powder
1/8 teaspoon onion powder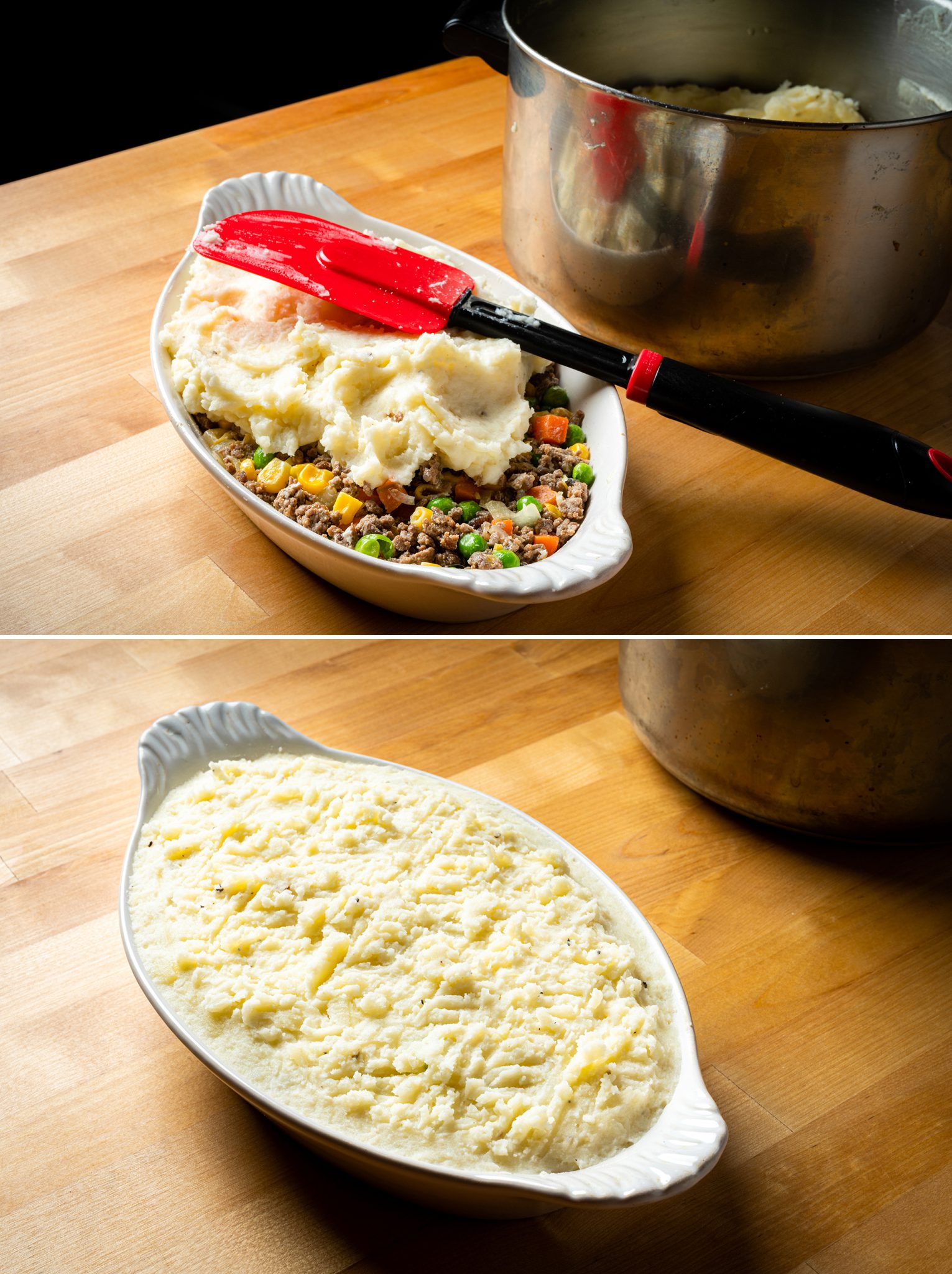 ---
Instructions
Preheat the oven to 400 degrees.
Peel the potatoes and place them in a stock pot. Fully cover with water and bring to a low boil over medium high heat. Cook the potatoes until they can easily be pierced by a fork — about 30 minutes.
Drain the potatoes, then return them to the stock pot. Add the heavy cream, butter, salt and pepper, and garlic. Return the stock pot to the stove on very low heat, and whip them with a manual or electric whisk until smooth. Turn off the heat and set the mashed potatoes aside.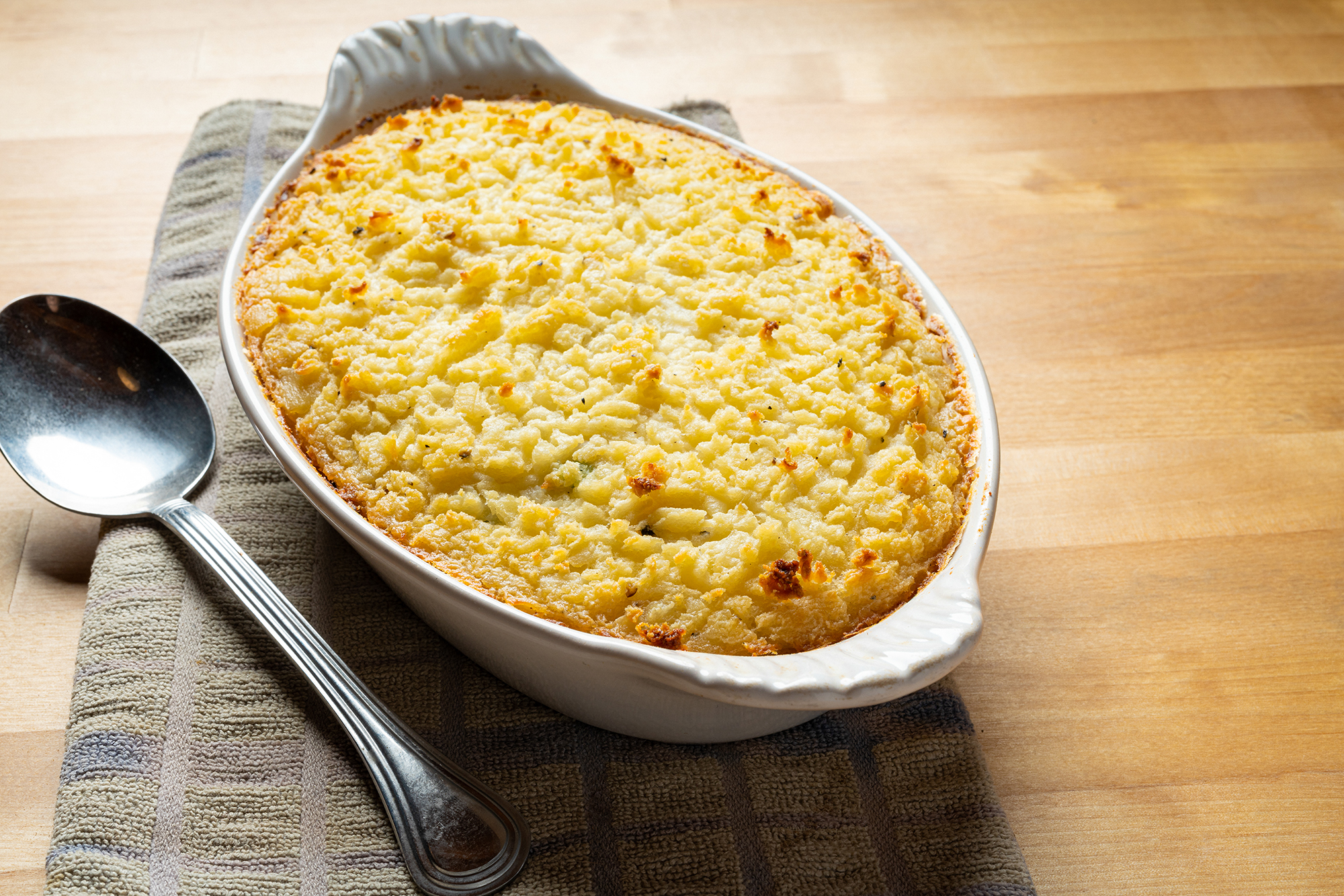 Saute the ground venison in a little olive oil on low heat. Add a pinch of salt and pepper and stir continuously so the meat cooks without browning or clumping. Add the onions, carrot, peas, and Worcestershire sauce to the meat mixture and cook for just another minute or so, until the onion starts to become translucent. In the last few seconds of cooking, stir in a large pat of butter and a generous pinch of all purpose flour.
Transfer the sauteed venison and veggies to a casserole dish. Either spoon and spread or pipe the whipped potatoes over top of the filling until the entire dish is covered. Transfer to the oven and cook for roughly 45 minutes to an hour.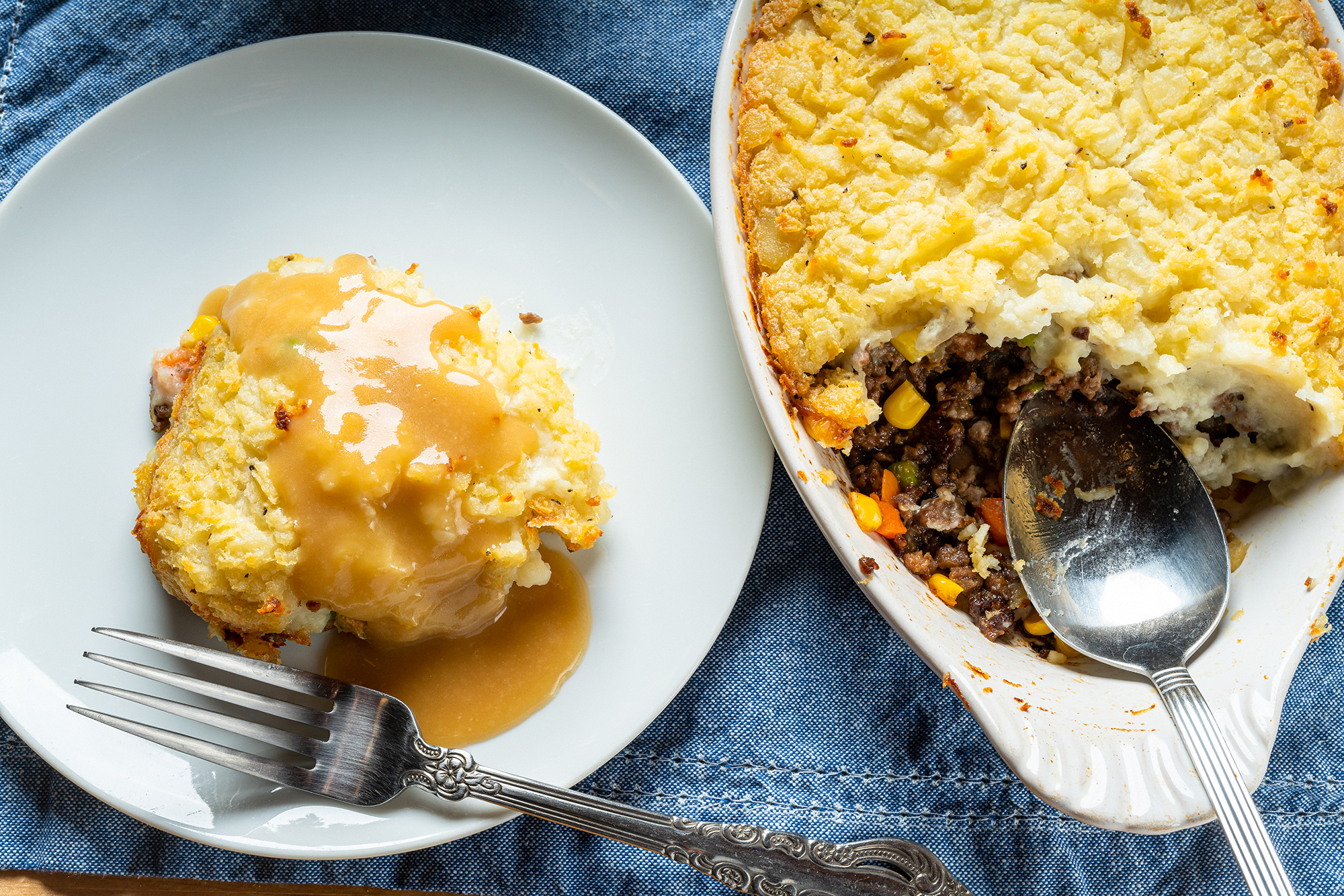 Prepare the gravy. Melt the butter in a saucepan on low and whisk in about 1/4 cup of sifted all-purpose flour. Slowly whisk in the stock, along with a pinch each of salt, black pepper, and onion and garlic powder. Continue to cook and whisk until a thick gravy forms. Adjust the seasoning to taste.
Serve a scoop of shepherd's pie with a drizzle of gravy and enjoy.
---
READ NEXT – How to Make Country-Fried Deer Heart