How the hell do you top a vehicle build that pairs a Prius with a Vulcan cannon?
By marrying a Tesla with twin miniguns, of course.
Black Rifle Coffee Company co-founder, and resident mechanical genius, Richard Ryan cooked up the Prius Vulcan back in 2018, and he knew the next step was to take a cooler car, namely a Tesla Model X, and inject it with extreme firepower. The plan was not modest. He set out to outfit a Model X EV with deployable wings that extend from the rear doors, each bearing a 5.56 rotary machine gun capable of spitting out a couple thousand rounds per minute. Plus, the car needed to have a fully operational, top-notch espresso bar in the back.
Impossible? Nope, just difficult. The result is this WWII Jeep-themed electric vehicle of death that blends one of the most technologically advanced vehicles on the road with two of the most cutting-edge, high-volume, electrically driven 5.56 machine guns in the world.
The Black Rifle Coffee Tesla's unassuming rear gull-wing doors rise at the touch of a button, and two arms automatically lower to form weapon-bearing wings, not unlike those on an attack helicopter. Each is topped with a Profence PF556 minigun capable of putting literally thousands of rounds on target in a few seconds.
It's deadly, it's a technological marvel, and it makes great coffee. It's a fire-breathing dragon of awesomeness that's also environmentally conscious AF. It's the GI Joe vehicle you always wanted, brought to life, with extra BRRRRRRRT.
How did the Black Rifle Coffee Tesla Model XR556 come to be? It was a long and challenging road that required a lot of talented people to put forth their absolute best under an extreme time crunch during a worldwide pandemic that screwed supply chains up but good. Ryan said to hell with COVID and forged ahead.  
Building the Black Rifle Coffee Tesla Model XR556
If Ryan had built the car in normal times and had been able to stick to his original plans, he says the BRCC Model XR556 would have been even more intense.
"When I say I was looking at weapon systems, people immediately think all you're probably talking about are firearms," he said. "I was looking at rockets, missile systems — I was looking at Little Bird rocket pods and different things like that I could incorporate, because, you know, why not?"
Pandemic-spurred logistical difficulties meant Ryan had to downgrade his ambitions to just a couple of 5.56 miniguns.
"The build shouldn't have taken that long. We just kept running into roadblocks," he said.
After choosing a direction, Ryan reached out to Empty Shell, a company that produces the XM556 Microgun designed and engineered around the 5.56 NATO cartridge. Their XM556 is smaller and lighter than some current 5.56 belt-fed firearms used today while packing more firepower. When Jesse Ventura shot a .308 M134 Minigun in Predator, he needed some movie magic to stay upright and unbroken. He could probably have held the XM556 in one hand. Maybe.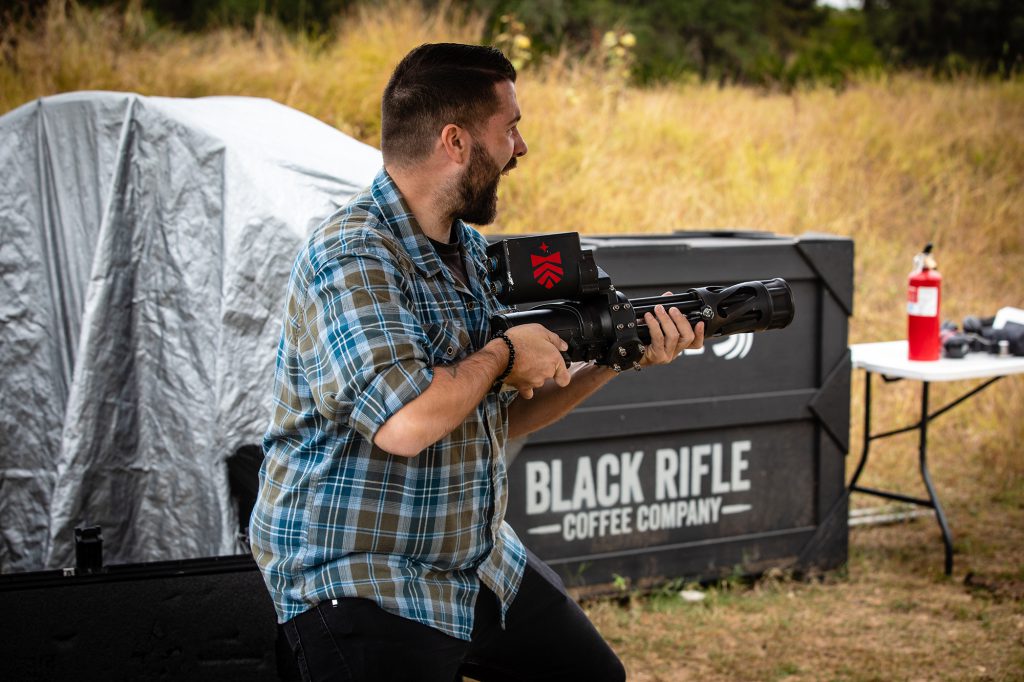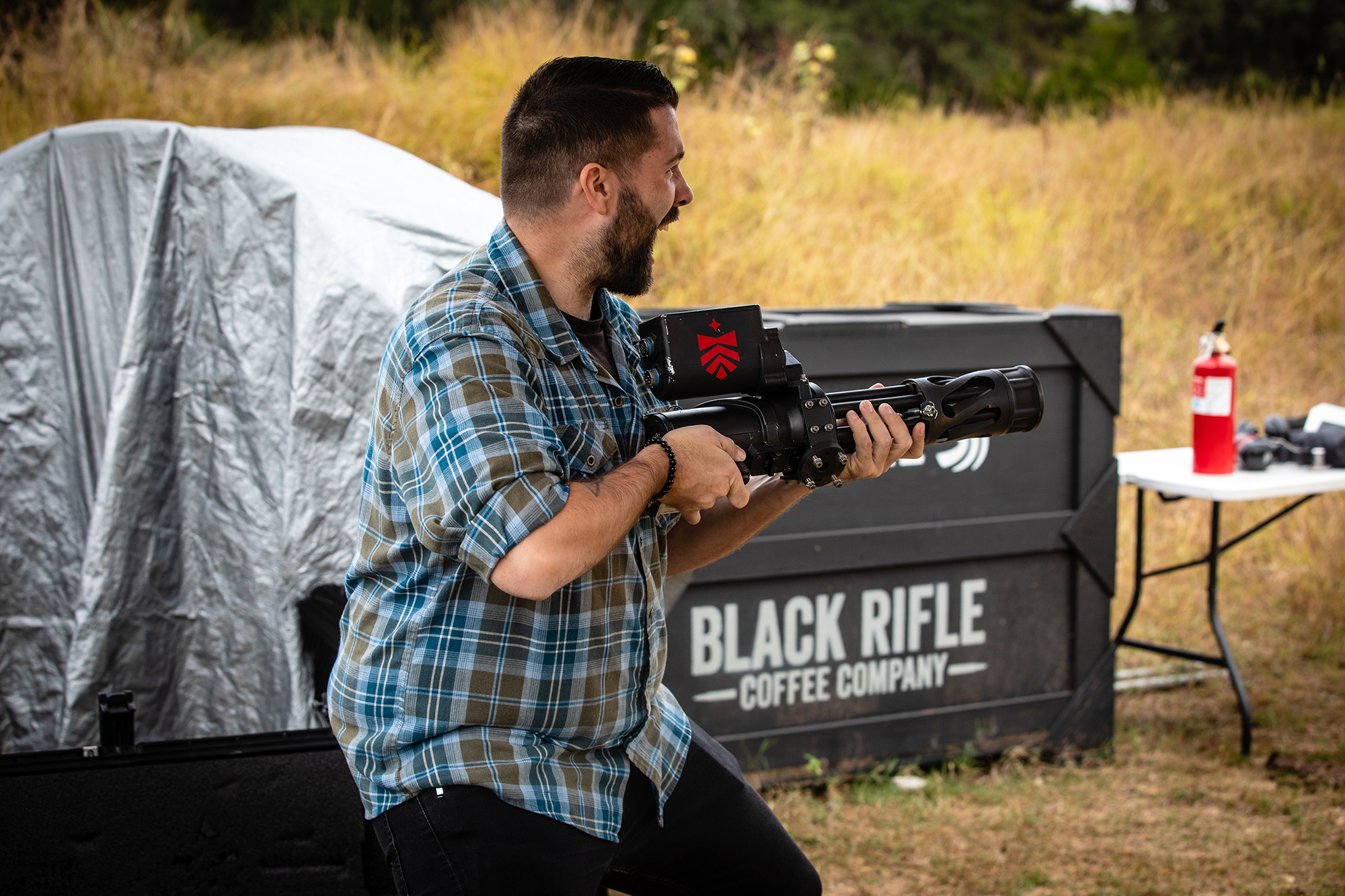 "They brought their prototype out a few years ago and showcased a guy shooting it handheld, which is kind of groundbreaking in a lot of ways," Ryan said. "I've shot a .308 Minigun, an M134, handheld before, and man, it is a beast."
Using guns chambered for the much softer recoiling 5.56 round meant that Ryan and his team could get more creative with the Model X build without reinforcing everything to handle all the torque generated by a .308 Minigun. Plus, the folks at Empty Shell said they could ramp up their variable cyclic rate to a blistering 12,000 rounds per minute.
"I was like, 'Hey man, if we can get two Empty Shell guns going at 12,000 rounds per minute, that's 24,000 rounds per minute of sustained fire. That's insane! That's two laser beams coming off of it!"
Everything was shaping up, but then, more roadblocks.
The XM556 isn't a production firearm; it's still technically a prototype, so there isn't any kind of inventory to pull from. It got down to the midnight hour, and it just wasn't happening.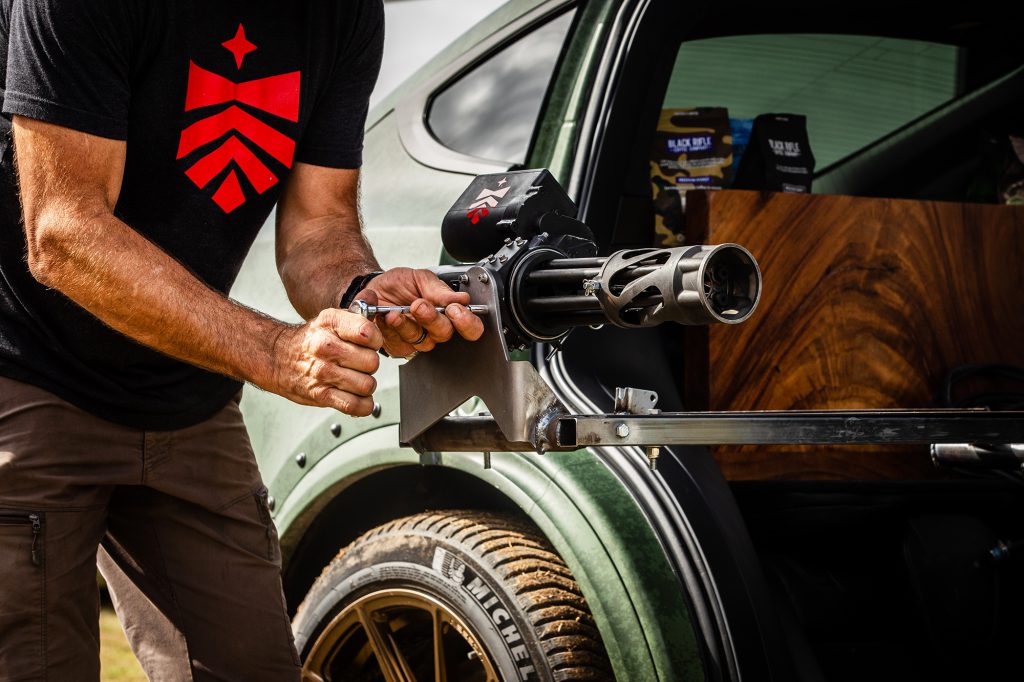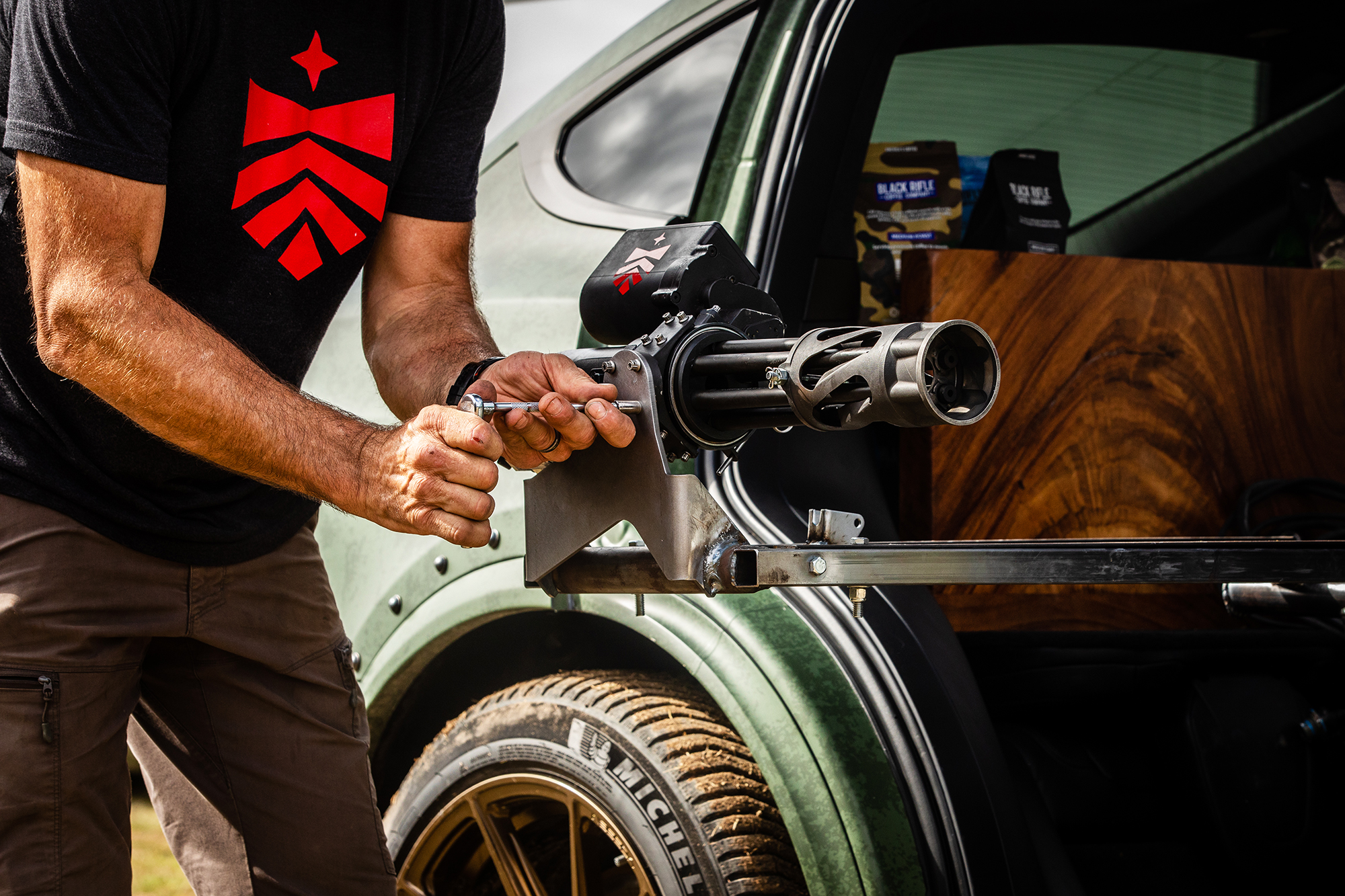 "I reached out to the guys at Profense; I think they may be one of the only other companies that manufactures a 5.56 rotary gun. They're also innovating in that space, and they have a brushless motor design on their rotary gun, and they have a unique GCU (gun control unit)," Ryan said. "I asked them if they would be willing to come in and kind of save the day on this project."
Profense answered the call as time was winding down in October. Many months of planning were coming down to an absurdly tight deadline.
"All of this has happened here in the last 30 days," Ryan said. "We've been working on this project for a year and a half, and in the last 30 days, these dudes came through. They brought their welding machine out and were fabricating right up to the last minute before shooting. Fortunately, they have a weapon system that's already been brought to market."
The Profense rotary gun has variable speeds and the GCU displays the remaining rounds on an LED screen, something that's super cool and has been a significant hurdle for these types of weapon systems.
"The great thing was that those dudes there were so willing to help facilitate making things happen.
"You always want to work with people who are subject matter enthusiasts. You hear the term 'subject matter expert' all the time, but experts can sometimes be part of a legacy system that may be reluctant to innovate or do fun and exciting things. These guys are enthusiasts."
But Ryan found out in short order that heavily modifying a cutting-edge EV Tesla is a lot more challenging than gutting a $2,000 Prius.
"The mounting [of the guns] itself was a huge hurdle," he said. " I thought I was going to be able to do this with local fabricators; I didn't think I was going to have to use a Tesla Authorized Service Center."
Ryan says his team got as far as removing the middle seats from the Model X he bought for this project and immediately realized they might be in over their heads quite a bit. He hit pause and reached out to a friend who runs the service center at a Tesla dealership.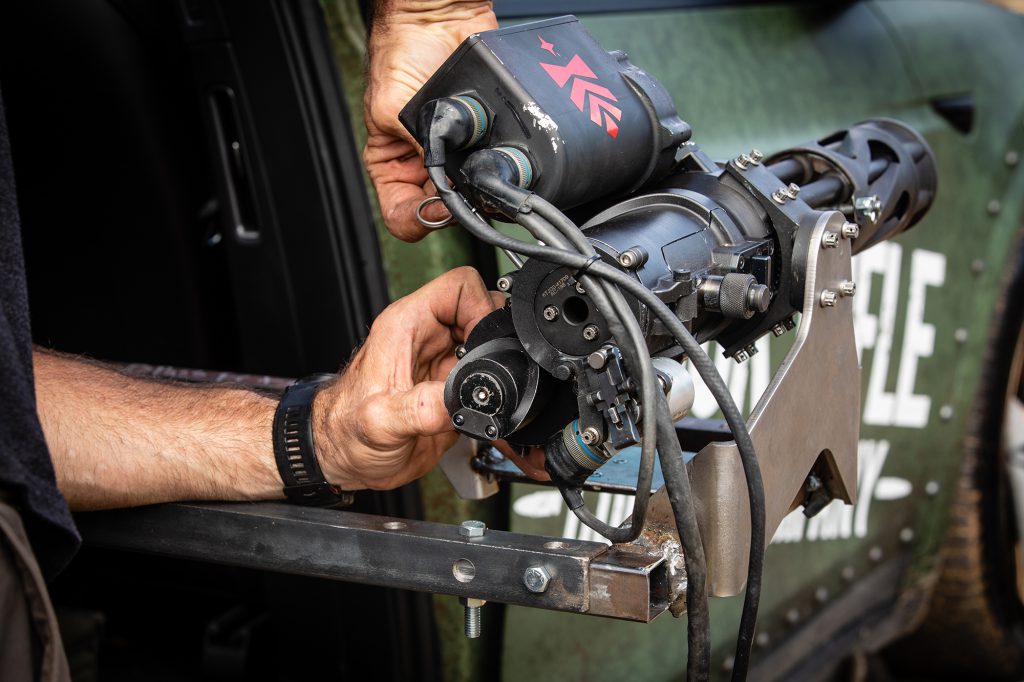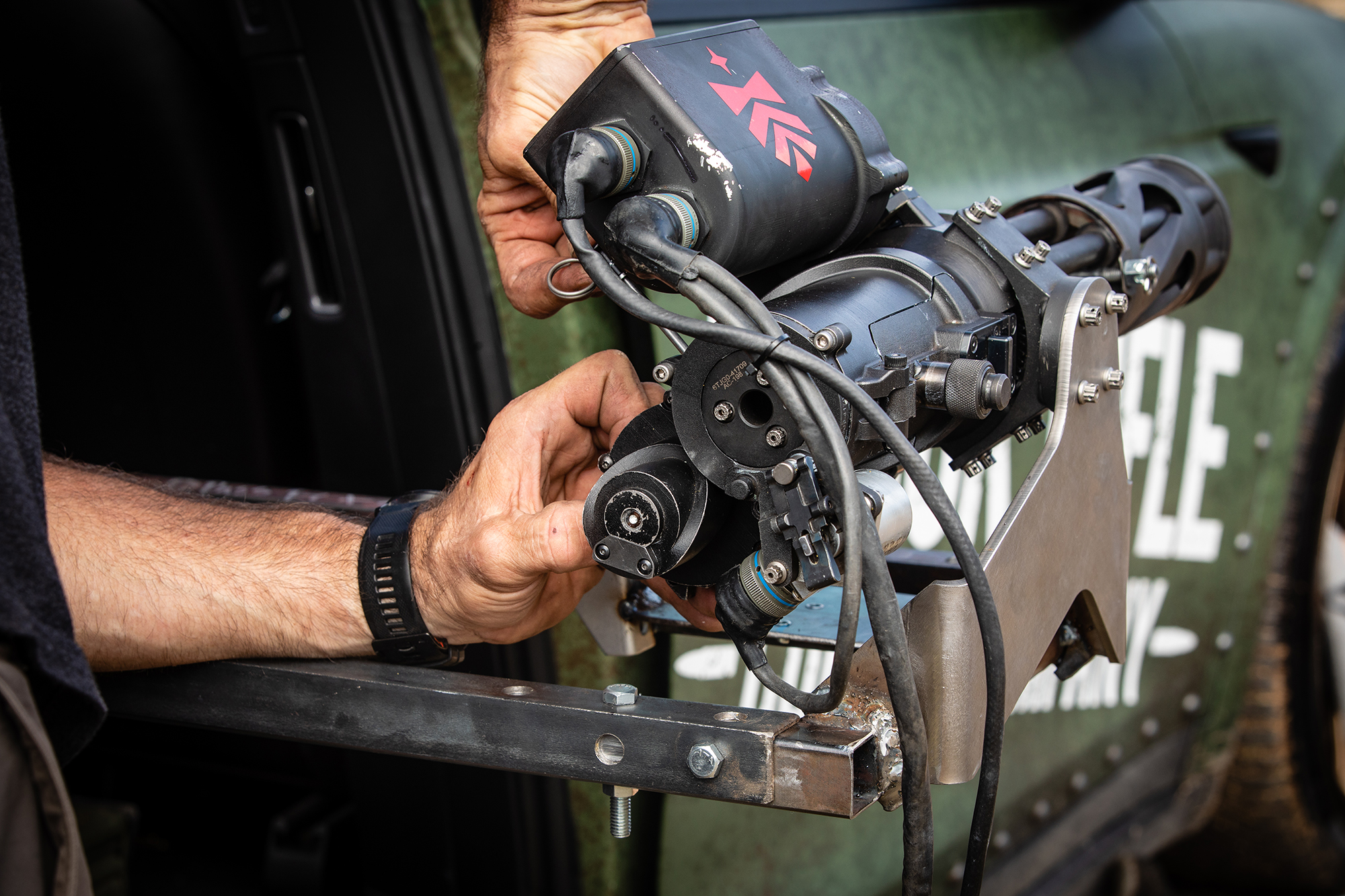 "He's like, 'Oh, you're taking the seat out, huh? No, don't do that. The second you do that, you're going to void your warranty.' So that was the point of no return.
"You know, the funny thing was, going into the video and the fabrication, I had no idea if my partners at the company were going to reimburse me for the car or the build. It was just something I wanted to do, so I purchased the car in advance, not knowing whether I would have to sell it afterward.
"Then he tells me there are all kinds of sensors in the seats that are measuring the weight and body position of the people sitting in them, and that will modulate the airflow of the airbags in the event of a deployment. Saying they're a smart car is an understatement. They are extremely sophisticated vehicles."
After doing some research, Ryan found very few people are modifying Teslas or working on custom EVs. Finally, he found Unplugged Performance, which is based in southern California near the Tesla facility.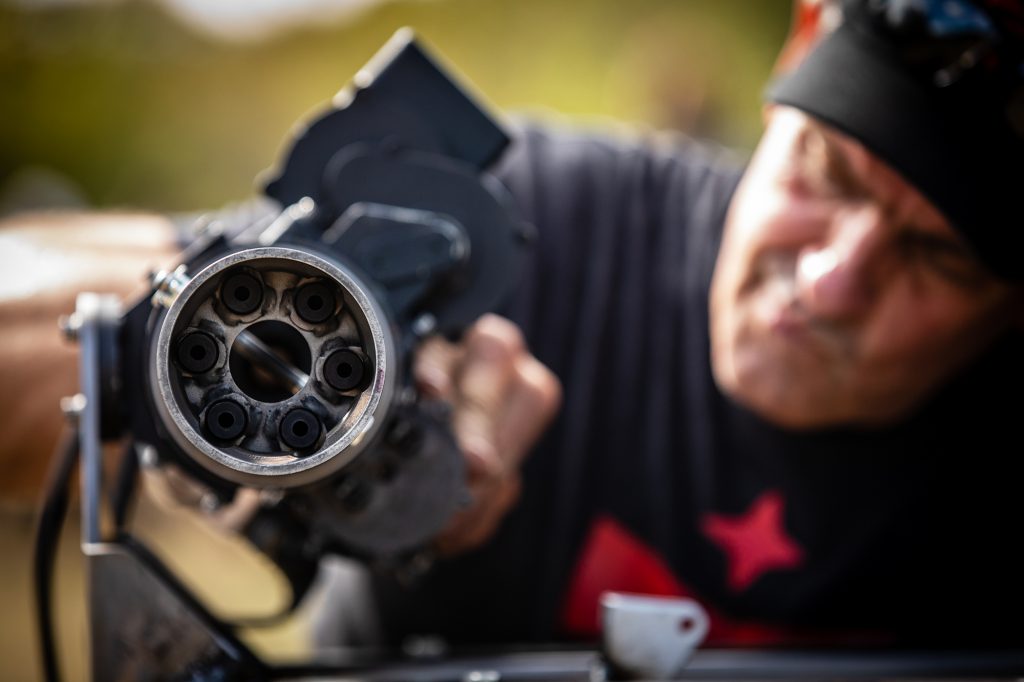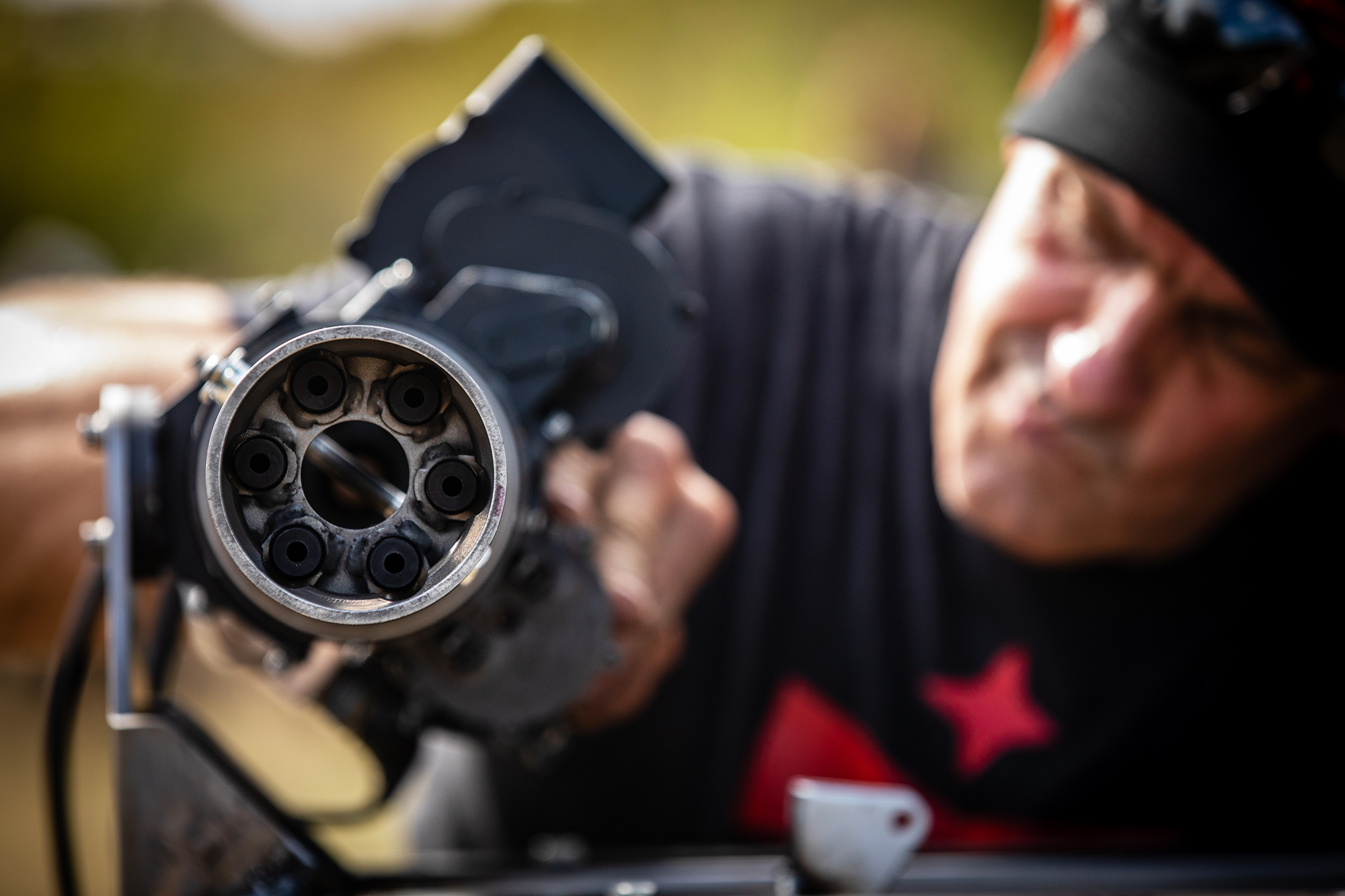 "They had a Pikes Peak Hil Climb race car that they built. They totaled it two days before the race and essentially tore down that vehicle and took another Tesla from a local dealer, and rebuilt the car from the ground up in 48 hours. I was like, 'Oh yeah, these dudes know what's up.'"
Feeling that he'd stumbled upon another group of subject matter enthusiasts, Ryan reached out, and his hopes were confirmed. The guys at UP pointed him toward technicians and fabricators who would get the Model X project over the goal line.
The Tesla traveled to Colorado Springs, where the fabrication work began.
Jumping Circuits
"Taking all the sensors out and such required some very high technical proficiency," Ryan said. "They were jumping circuits and closing loops and doing certain things to kind of trick the car into thinking that the seats are still there, for instance. When you look in the car now and see the ammo cans in front of the mounting system — those actually hold the guts and the sensors and everything that were required to make this happen and to make the vehicle think the seats are still there."
The Profense rotary guns, like their larger .308 predecessors, are electrically powered, and the juice comes directly from the vehicle's batteries.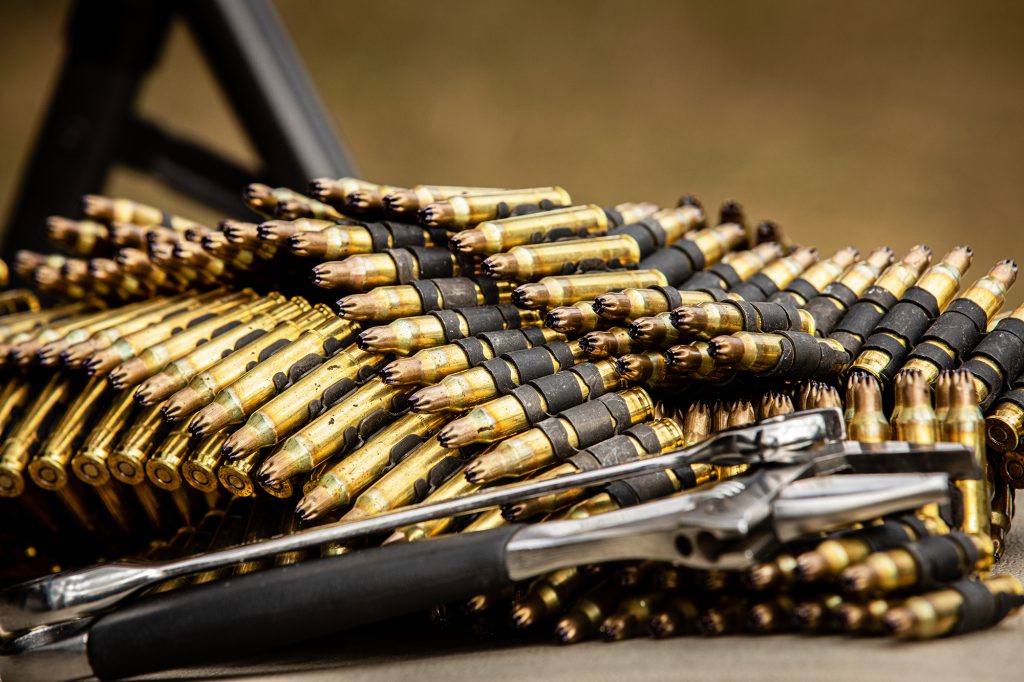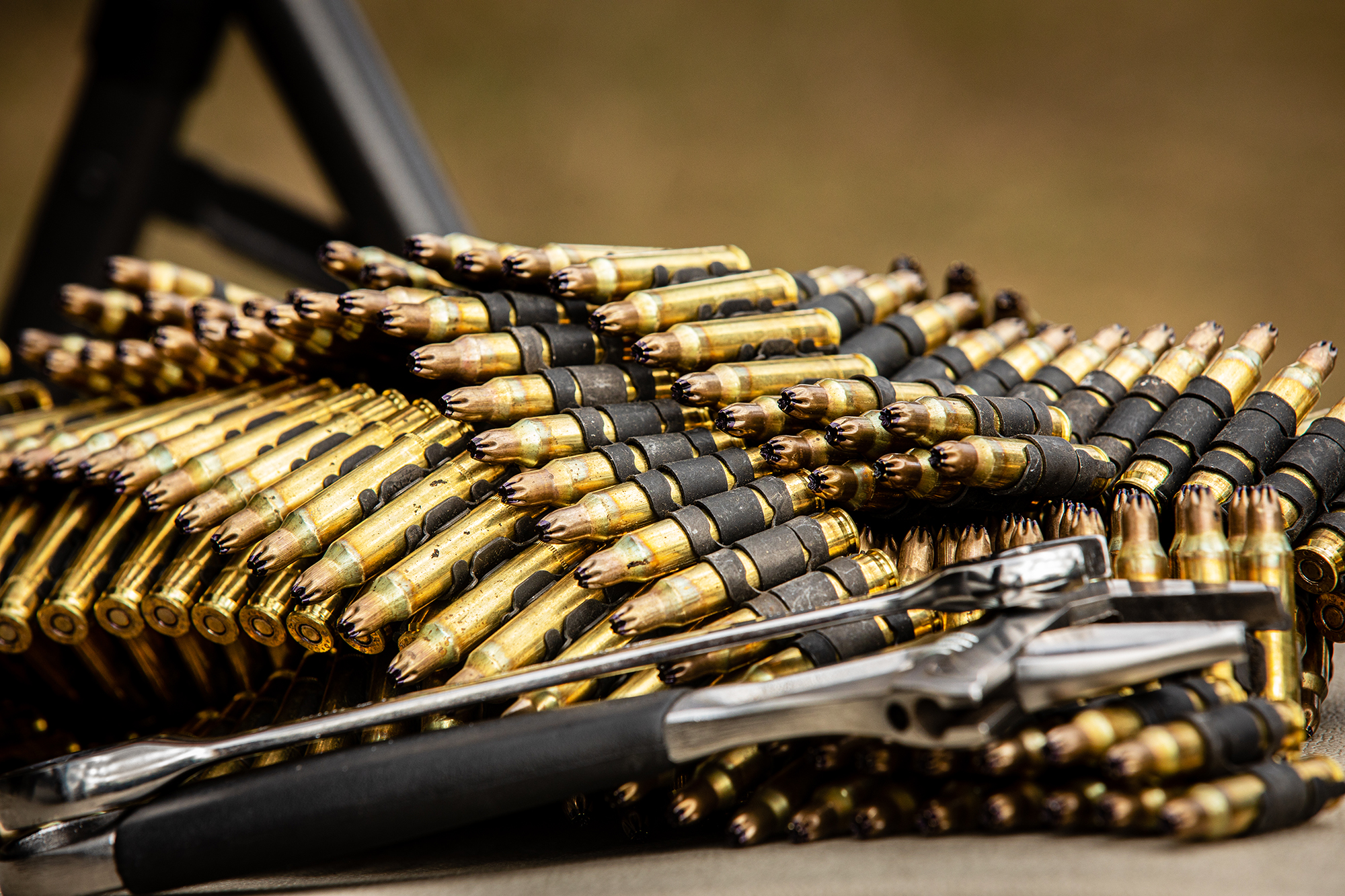 "Brian Cannon, who was spearheading a lot of the fabrication stuff on the mounting system, was adamant about wanting to tie the electrical system into the vehicle to show that it can be done, and in a way that was safe and effective," Ryan said. "He wanted to use electronic motors and solenoids to actuate and deploy the telescoping arms on the system. It's a little bit slower than a gas pneumatic system, but it's cool keeping with the electric theme."
The GCU on the Model XR556 is configured so that it can be fired from the passenger seat or driver's seat, or it can be fired from outside the vehicle. Ryan says the GCU can't be fired remotely — yet. But he's working on it.
But the BRCC Model XR556 also had to be a mobile coffee bar that looked awesome so people would be psyched about taking photos with it at various events in the future.
A woodworker friend of Ryan's who runs a custom shop in Dallas created a custom walnut inlay for the back of the vehicle to match its interior.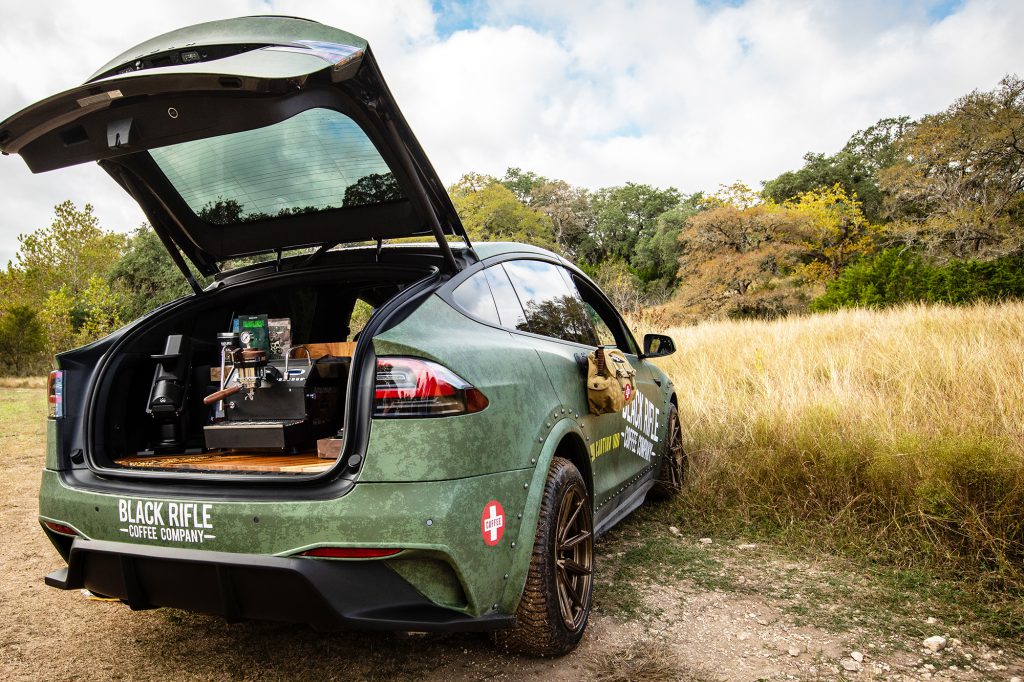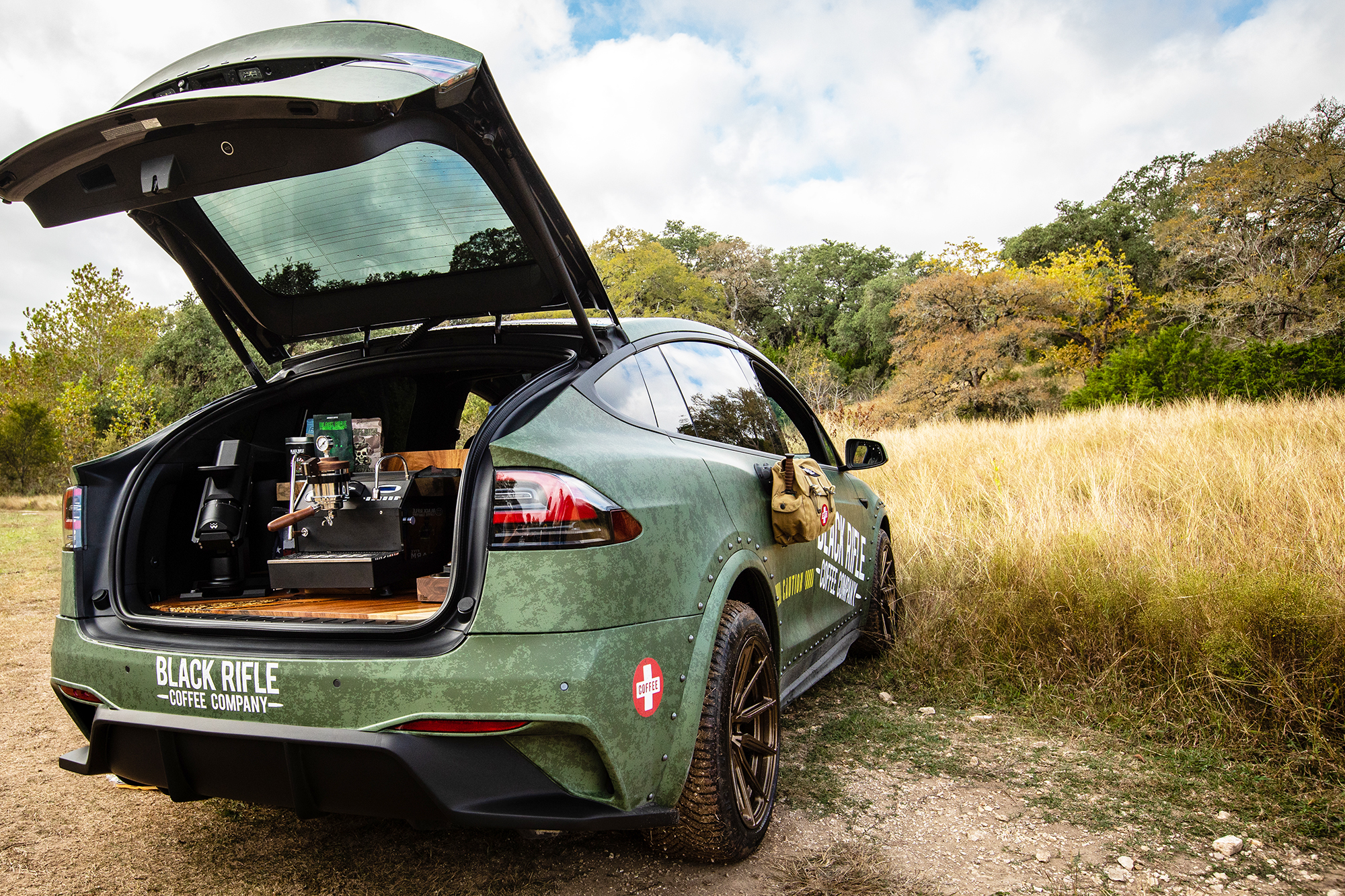 "So I've got this custom trunk cover and everything for the La Marzacco GS3 espresso machine to sit on. We've got a Weber Workshops EG-1 grinder. Everything about it has that premium look and feel," Ryan said. "When you go in the back, you can legit make espresso drinks. It's not just a visual gimmick; it's all functional. There's a Gold Zero Yeti power station in the trunk area that powers all the equipment, and I wanted everything to be able to separate and break down for transport."
There's also an electrically powered cooler in the "frunk" to keep a stockpile of BRCC ready-to-drink coffee products chilled to perfection.
The Finishing Touches
After a body kit was added along with some custom wheels and full-vehicle wrap, the Model X project was nearing completion and just needed some final touches.
"I wanted little visual elements so that when people see it in person, they're like, 'Oh, that's cool.' I wanted the headrests to have velcro pile on them with the Black Rifle Coffee reticle logo so that it would have that operator-hat kind of feel and so we could put patches on there if we wanted. We did black and espresso-colored seats inside, and we ultimately decided on an odd kind of Jeep vibe to the whole car, like the old-school Willys, with the medic cross and our Coffee Saves logo on it. I wanted to do as much as we could, include as many little touches as we could," he said.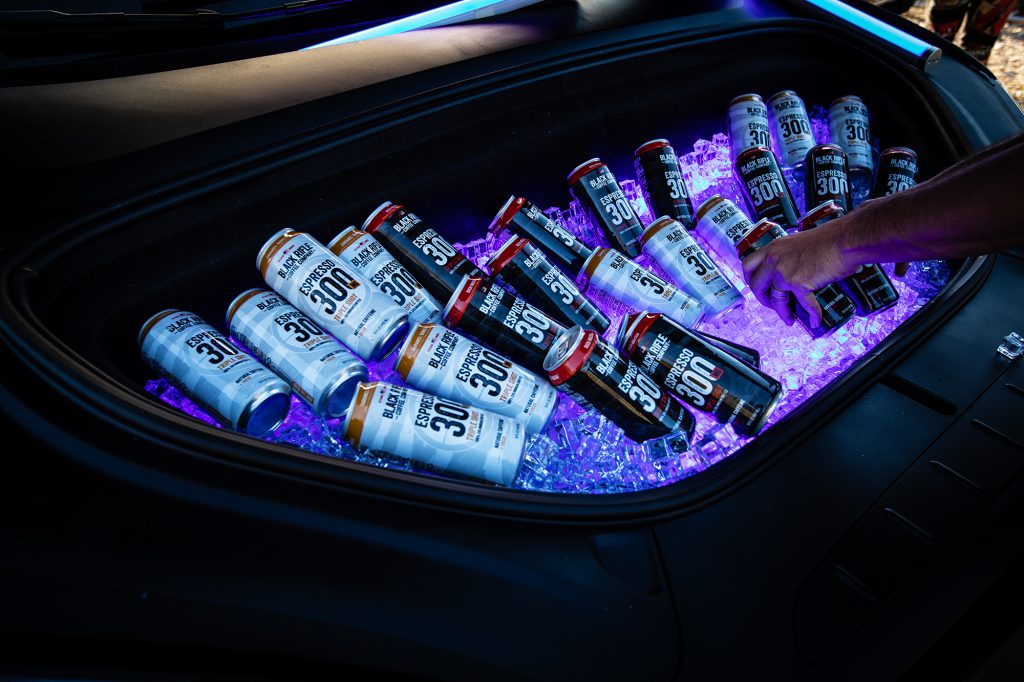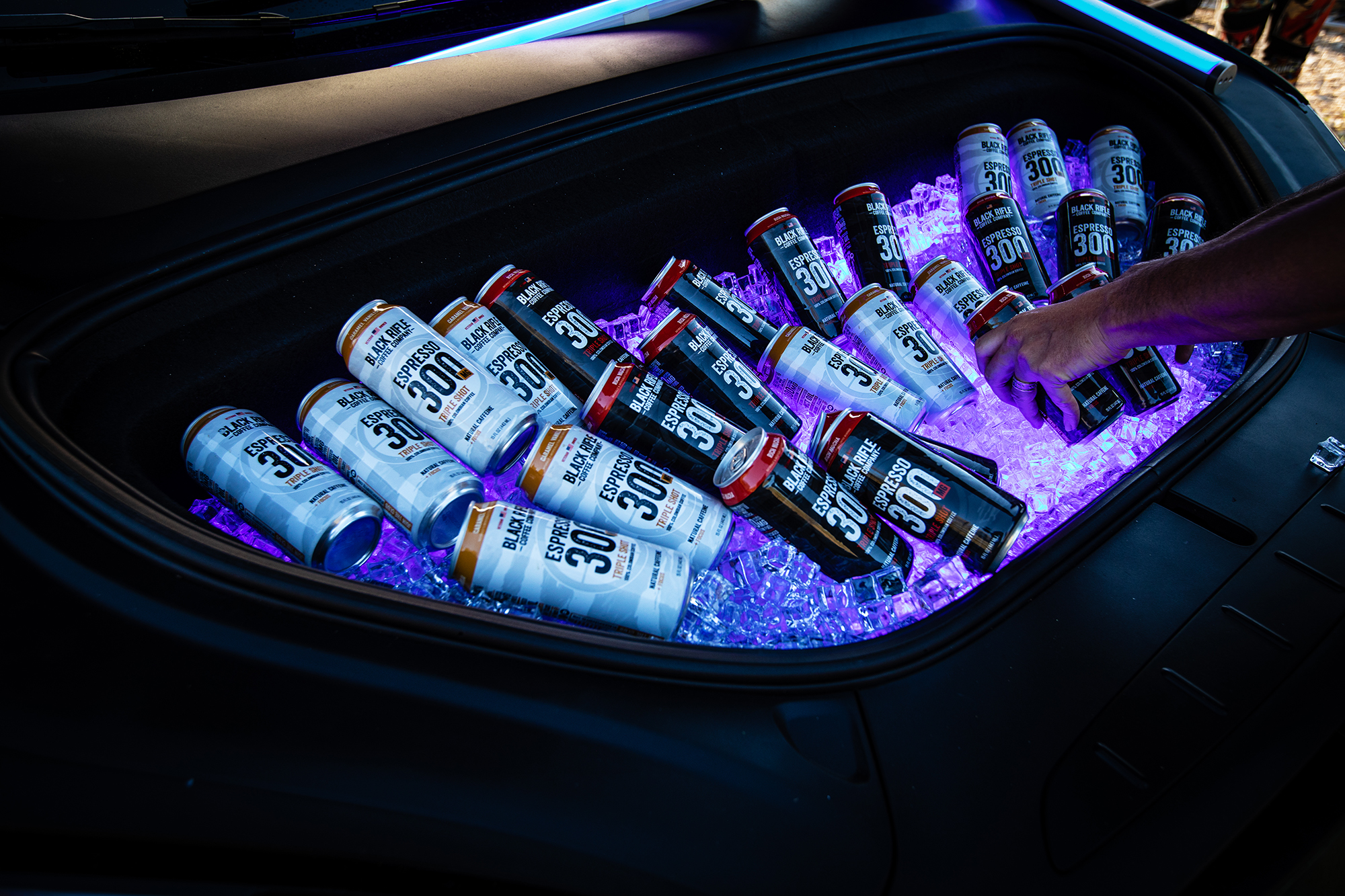 In the end, after about 120 hours of work spread out over many months with lots of frustrating stops and starts, it was all worth it, Ryan said, but the vehicle is not finished — and probably never will be.
"I'm super stoked, but honestly, the verdict is still out as far as I'm concerned. I want to see it at SHOT Show. I want to see it at coffee shops. I want to hear what people have to say about it. It's kind of a work in progress," he said. "We're going to keep filming videos with this. We're still going to be doing new content. I want to mount the GCU on the coffee bar. But I really want to get feedback from people because it's one of those projects where I think the more input we have and the more we hear what people want to see, the better it's going to be.
"I feel like any person who does anything creatively that's any good — they're not ever really happy with it. They just have deadlines."
Ryan isn't sure where or when the Black Rifle Coffee Tesla Model XR556 will make its first public appearance but says it will definitely be on the show floor of SHOT Show 2022 in Las Vegas.
Read Next: The Free Range American 2021 Holiday Gear Guide